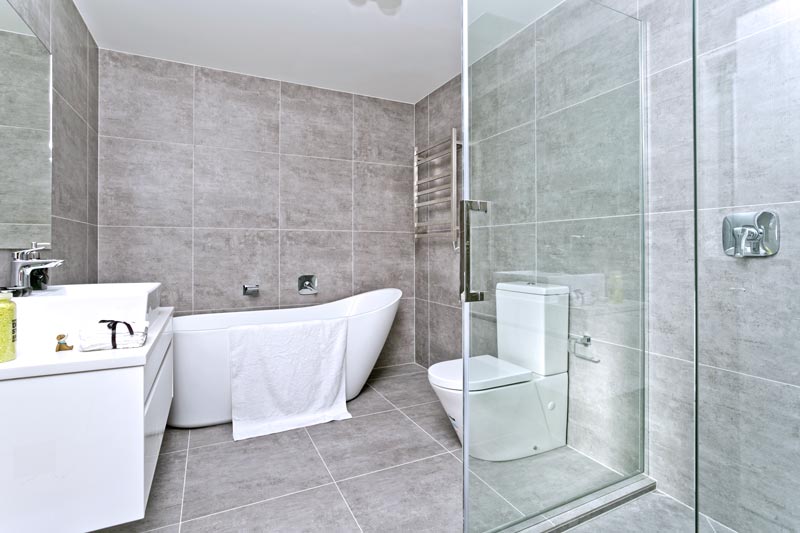 10 Inspirational Renovation Ideas for Modern Bathrooms
Are you thinking about renovating your bathroom? check out these 10 inspiration renovation ideas for your next renovation project.
1) Smooth Curves
Smoothly rounded curves are in, in the bathroom that is!
Invest in some super new bathroom furniture, to give your bathroom a modern and sneakily easy-to-clean appearance. As there are no corners for dirt and grime to get trapped in you will be able to whisk around your bathroom in mere minutes, leaving it gleaming clean and shiny!
2) Floor to Wall
In smaller bathrooms carry the tiles or pebbling (whatever you have on the floor) up the walls to create the illusion of a larger space. Likewise, break up large rooms with clearly defined transitions between ceiling and wall, and wall and floor.
3) Old-Fashioned Glamor with a Modern Twist
Hang an ornamental chandelier and use ornate picture frames (suitably waterproofed, of course) for a luxurious, old-fashioned and glamorous bathroom. Keep the edge of modernity by teaming this retro beauty with modern wallpaper and vibrant shades of paint.
4) Splash of Color
The brighter the better for your accent color! Lime green, teal and cerise are all big this season so splash them around your bathroom. If possible get hand wash and soap that match these colors too, in order to pick out your chosen color scheme even more.
5) Fitting Furniture
Fit furniture to bathroom, rather than force in pieces that you like having seen them in a spacious showroom.
Overlarge fittings will look awkward and clunky and they will take up too much precious floor space so that any décor scheme will end up looking cramped. Opting for smaller pieces will always be better in the long run.
6) Bright Accent Wall
The modern fad is for the accent wall, one wall of any room picked out in a different color, and this works, even (perhaps even especially) in a small bathroom! If you make the décor cheerful and attractive, this will distract people from the small dimensions!
7) Reflect on Life
A good quality mirror can make all the difference when you are modernizing your bathroom. Choose a good quality new mirror to replace an older dated one and see how your bathroom comes to life!
8) Lighting Up Your Life
Sometimes all a tired old bathroom needs is to be cast in a new light – literally! Update your light fittings and invest in a snazzy new shade (making sure that you pop in a lovely bright bulb at the same time) and see the improvement that good lighting can make!
9) Layers of Color
Layer your color scheme around the bathroom picking out your chosen colors (two or three in smaller bathrooms; not more than four in very large ones!) in everything from the floor mat to toothbrush holder to even the towels and toothbrushes themselves. Seeing your color scheme at every instance will give the décor a tremendous polish and completeness.
10) Where's the Wood
Especially treated to be both waterproof and attractive, wooden features are must-have for a warm and welcoming modern bathroom. Be sure to get the right, treated, wood as a peeling, rotting bathroom will not appeal to anyone!
Credit: My-Bathrooms.co.uk
---
Still have questions unanswered? schedule a no-obligation consultation with the team at Superior Renovations

---
Or call us on  0800 199 888