We specialize in what makes your home YOU
Meet the Faces behind Superior Renovations
At Superior Renovations, we put much importance on carefully hand selecting our team members. We take our time to assemble our tight-knit community of masterminds who are specialists in their respective fields. We employ experts from all construction and renovation industries to offer our clients the best quality service and solutions, designed, implemented and maintained to give you an exceptional experience and result for your home renovation project.
What do we all have in common? 
We all believe in three things that we consider as the most important when it comes to our company culture and hiring the right people.
Loyalty
Are they loyal to the company, to the team, to the brand, to the clients? Will they be client-centric in their decision making and business development?
Harmony
How well do they work and gel with other people on the team? How is the chemistry? It's not enough to find A-grade players who are not A-grade team members.
Results
Do they have the abilities, the capacity to perform the task at a  world-class level? Can they produce results on a consistent basis? Is their decision-making process solution based?
Allow us to introduce ourselves
Meet the faces behind Superior Renovations
Managing Director & Co-Founder
Kevin Yang
Kevin is the co-founder of Superior Renovations. He has applied his project management skills with a number of service based business in New Zealand, working in that capacity for over 20 years. He responsible for leading the management team towards the vision of becoming New Zealand's most recommended renovation company. He is also Managing Director of Life Maid Easy (Franchise based service company).
He was born and raised in China. He and his wife, Judy, have two twin daughters and have live in Auckland for the last 20 years.
General Manager & Co-Founder
Steven Ngov
Steven is one of the co-founders of Superior Renovations – he has a background in business development, strategy, marketing and systemization. He currently holds a position as General Manager, responsible for building sustainable growth strategies and systemising internal operations for scalable growth. He is also currently the co-founder and Marketing Director for Digital Zen, Digital Marketing Specialists for a Cryptocurrency start-up Asura Coin and Advisor for Life Maid Easy.
Born and raised in the heart of New Zealand, Auckland – he thrives on the challenge of growing scalable businesses and exploring creative strategies to disrupt traditional forms of marketing/operations.
Head of Project Management
Sunny Zhang
It always fascinating to Sunny how dynamic the construction industry in Auckland is despite the housing market at its all-time high, people still want to renovate homes to improve their quality of life. He believes that this is exactly what we are all striving to do – evolving and always improving.
Before Superior Renovations, Sunny was owner and project manger of multiple new build sites, while he enjoyed his role in the new build sector, he yearned for something more creative, challenging and fast-growing. Being a project manager at Superior Renovations appealed to him as he could draw on his previous managerial skills but also gave him the opportunity to get involved in the design and management aspect of a renovation project. He loves that no two days are the same as every client is unique and so are their needs.
Sales/ Project Manager
Jin Park
Jin plays an important role in the training and management of the sales/project management team for Superior Renovations – his experience comes from his past positions in managing 300+ employees (Global Fashion Brand) and management of 50+ employees (Factory for Fisher and Parkel). Jin's strong and extensive background in management, training and development of both internal and external personnels has contributed immensely to Superior Renovations steady growth, client/employee retention, strict quality assurance process, and overall morale.
Born and raised in Korea but now resides in Auckland with his wife and 2 young daughters.
Head of Marketing
Swati Tiwary
Swati is a strategically-minded marketing professional with 9 years' experience in both client and agency-side roles. She first joined Superior Renovations as part of our Digital Marketing team before progressing into Marketing Manager and now Head of Marketing. Swati is passionate about bringing our brand to life in a meaningful way for Superior Renovations internal team, clients and range of other partners. The challenge for Superior Renovations in Marketing is the ability to grow in a sustainable way but also not losing ourselves amongst the growth – Swati's role in Marketing is the ability to communicate who we are, connect with the right audience in a meaningful way, and be able to add value where it's possible – not just to prospects, but to clients, past clients and key stakeholders.
Head of Accounts
Elaine Liu
Her role at Superior Renovations is providing a structured and strategic analysis of how the company should set its financial goals. She played a vital part in creating accounting and financial policies for our internal and external stakeholders based on results from our back costing reports. She also create financial reports and advice on matters of sales and profit margins. In short her role has a direct impact on the profitability of the business.
Her role primarily includes:
– Advising our shareholders on the benefits and risks of capital investments of projects by appraising cash flow
– Providing financial advice on business structures, plans and operations
– Introducing and maintaining accounting systems, and advising on the selection and application of computer-based accounting systems
– Providing assurance about the accuracy of information contained in financial reports and their compliance with statutory requirements
– Examining operating costs and organisations' income and expenditure
– Preparing financial statements for presentation to directors, management team and staff who hold portions of responsibility
Her advice to young accounts would be to find a company that allows you to create, nurture and improve yourself and interests. It is truly amazing when you can see your efforts make a difference to the company you work in.
Project/ Site Manager
Xingyi Chen
Project/ Site Manager
Nick Cheng
Accounts Assistant
Leanne Li
Designer/ Renovations Consultant
Eunice Qin
Meet Eunice Qin, a versatile Designer and Renovation Consultant with over a decade of expertise in interior design, urban planning, and performance design for residential and commercial spaces. Her disciplined approach, adaptability, and hunger for learning set her apart.
Design Manager: 2.5 years at a new build company, orchestrating innovative design projects from concept to execution.
Spatial Designer: 2.5 years refining her craft, infusing life into spaces through creative vision.
General Manager: Led a custom bathroom vanity supplier, showcasing her business acumen and design finesse.
Interior Designer: 3.5 years with a leading kitchen company, a testament to her creative prowess.

Eunice Qin's journey epitomizes design excellence and innovation. Her presence elevates our team, making every project a canvas for transformative design.
Design Manager
Dorothy Li
Dorothy is our youngest renovation designer with a specialisation in Kitchen designs with more than 4 years of experience in the industry. She is always looking at upskilling her design skills by educating herself on the ever evolving materials available today in the renovation industry.
She loves the creativity of mixing and matching several textures, colours and materials to create a perfect space that is beautiful as well functional. She knows that little details matter in design to make a perfect bathroom, kitchen, or any other space in a home. She especially loves designing contemporary and classic kitchens.
She loves the outdoors and can often be found hiking around Auckland in her spare time. She feels that connecting with the outdoors spurs her creativity and keeps her grounded.
Sales Manager
Cici Zuo
She is one of the newest members at Superior Renovations. She is fun, outgoing, and confident in her work and advises our clients about ideas for their kitchen, bathroom or for a full home renovation. She is one of our renovation designers and creates 3D renderings/models for their renovation.
 She has 4 years of experience creating and designing functional and beautiful homes in Auckland. She loves engaging with clients to understand their needs and her friendly personality makes her a favourite amongst our clients.
Cici has 3 kids and loves spending time with them by going on adventures and doing fun activities like ice skating on the weekends.
Administration/ Sales Support
Mashira Pritoma
Mashira is the glue that holds everyone together inside the office to ensure everything is running smoothly.  She recently graduated from Massey University with a major in Marketing Management .
She is very passionate about customer service and environment. Her attention to detail has also proven to be an important asset to our project managers, clients and office staff as nothing misses her eye when it comes to coordination and organisations of day to day activities. She has a sunny and warm demeanour which enables her to forge meaningful relationships with our clients and everyone she comes into contact with.
Her responsibilities in Superior Renovations include:
– Coordination of daily appointments with project managers/clients and internal office staff
– Verbal and written communication with stakeholders
– Office Management and Administrative Duties
Showroom Consultant
Sinan Sun
Marketing Assistant
Judy Kim
Judy is one of our two Marketing intern, currently on her last year of studies at Auckland University of Technology. She works aside Swati and Vicky to create new Marketing ideas for Superior Renovations. Judy has a bubbly and friendly character that loves being around and socialising with co-workers and people in general! She currently majors in Marketing, minoring in Data Analytics and is always ready to learn new things. Outside of work and studies, Judy loves fashion, clothes and keeping up with the latest fashion trends… and shoes! In the future, Judy dreams to travel more and move to London.
PS: Judy looks less frightened in real life than she does in the photo.
Marketing Assistant
Vicky Dai
Vicky is one of our newest team members and is also one of our intern marketing assistants. She is in her third year of her business degree doing a double major in marketing and management at Auckland University of Technology. Vicky is also somewhat of a foodie and is always excited to try new restaurants from different cultures with her friends. In her free time, she enjoys cooking, catching up on Netflix shows and the occasional once a month gym session.
Showroom Consultant
Jane Xu
Finance Specialist
Linda Eagleton
Linda prides herself on high levels of customer service and communication. It is important that you fully understand the process and feel comfortable at all times. She will work beside you and represent to the bank to achieve the best possible results for you.
Whether you are a first home buyer and new to the process of buying a home or an experienced property owner, Linda will guide you and communicate with you throughout the process, so you have a full understanding of each and every stage.
Linda is committed to providing the very best advice to achieve the results for you and her service goes well beyond securing a one-off mortgage. As your advisor you can expect Linda to work with you for the life of your mortgage; understanding your financial goals and plans and recommending solutions to help you achieve them. As your situation changes she will continue to review your mortgage to ensure it remains best suited to your current needs.
Finance Specialists at Loan Market
Property Maintenance
Brenda Griffiths
Brenda has years of experience in managing various cleaning teams around Auckland (specialising in Builders Cleans). One of the best things she said about managing teams was meeting her clients and their friends. She has recently joined as a quality control manager for Builders Clean Made Easy – she is responsible for looking after all our clients cleaning needs during and on completion of their renovations. She also trains her cleaning teams to make sure that they are always performing to our standards.
She also regularly carries out quality checks during and after the cleaning is done. If you have any feedback regarding our cleaning quality then please do not hesitate to contact Brenda.
She also loves swimming, reading, walking and fine dining. Her Favourite book is Two Mrs Brown and her favourite movie is the Notebook. She likes any type of seafood so she loves going to the seafood festival in the viaduct.
Quality Assurance and Training Manager for Builders Cleans
Media Production & Videographer
Andrew Wang
Having worked some high-profile clients in the past, Andrew heads up Superior Renovations videography department. Responsible for developing videos, animations, voice-overs and more for our clients homes. Andrew is skilled in everything from Production and content to design. He's quite the singer and showman aswell! and is known to serenade in front of groups on occasion.
Office Cheerleader
Tofu the Pug
Responsible for keeping everyone happy including our clients – a key player in client/employee retention!
Registered Architect
Louie Kang
Louie has been working in the New Zealand construction industry for the past 15 years.  During this time, he has worked as a Lead Project Architect, a Contract Manager, a Building/Fire Compliance Officer and a Fire Consultant. Louie has been reviewing and writing fire reports for the past 11 years.
Currently, he is responsible for all the fire engineering works produced under Casa Consulting Group. He also shares his time on initial concept works and daily practice management.
Director of CASA Consulting Group
All of our renovation team members are trade qualified or well on their way to being there. We need a consistent high level of workmanship to provide what our clients demand. We have combined experience of well over 80 years giving you tried and tested peace of mind your project is in the right hands.
Min Kim – Designer
Fiona – Designer
Michelle Lin – Designer
Candice – Kitchen Designer
Cici – Designer
Sophia – Designer
Ben Yu (Team Leader) – Bathroom Renovation
Kai Zhang (Technician) – Certified Plumber
Jason Wu (Team Leader) – Kitchen Renovation
Sam Huang (Technician) – Tiling Specialist
Xun Zhi Zheng (Team Leader) – Painter and Plasterer
Sky Yang (Project Manager) – Carpentry
Jack Sun (Project Manager) – Roofing and Painting
Perry Pan (Project Manager) – New Build and Extensions
Nicholas Li (Project Manager) – Landscaping
Alex (Team Leader) – Painter and Plasterer
Carlos Kang (Team Leader) – Painter and Plasterer
Li (Technician) – Flooring Specialist
Derrick Wang (Team Leader) – Painter and Wall Papering
Brian Lin (Technician) – Certified Plumber
Ben Xie (Team Leader) – New Builds/ Extensions
Judy (Project Manager) – Flooring
Winda Lang (Technician) – Glass Installer
Gina Collins (Supplier)  – Shower Glass
Fema Chan (Project Manager) – New Build/ Renovations
Benjamin Li – Certified Electrician
Chris (Technician)  – Carpet Flooring
NETWORK OF TRUSTED AND REPUTABLE SUPPLIERS
We have worked with a variety of suppliers forging valuable relationships with a range of reputable experts in their respective fields with a great attitude towards the end result. Not only do these specialists/suppliers deliver to the highest standards, they also share our building philosophy. These associations ensure our clients receive the best possible service from reliable professionals.
Of course, you are most welcome to utilise your own suppliers, we work very well with others and may even add them to the list.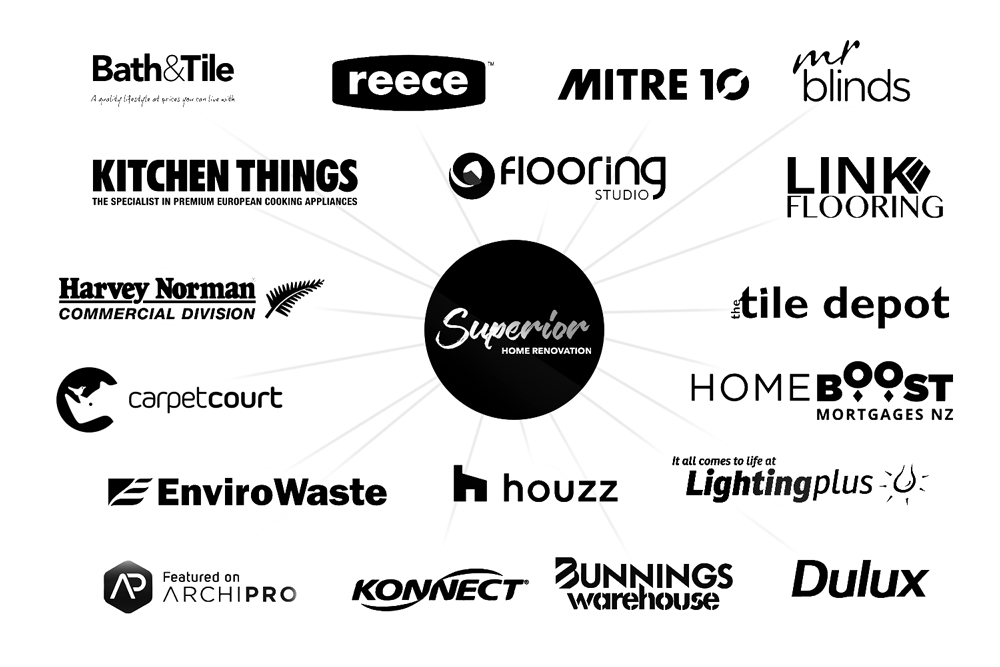 KEEN TO WORK WITH US?
We're always on the lookout for great suppliers, contractors, and specialists. Drop us your details in the enquiry form and we'll be in touch.