THINKING OF RENOVATING YOUR KITCHEN?
With so many options, not sure where to start?
Kitchen Renovations for an everyday purpose, having a well-designed kitchen brings you convenience, comfort and the joy while cooking for your loved ones.
For people who is looking to sell their house, a well renovated kitchen plays a significant role. This is because one of the most important areas of any property is the kitchen. Not only is this a functional space for food preparation, but it's also a hub for entertainment and socialising. The kitchen can ultimately make or break your sale because it's one of the areas of a home that is most focused on by the media. Modern kitchens in showcase homes have become artistic studios, using cutting edge equipment and luxury features to create the potential of culinary art.

Full Kitchen Design and Renovation in Titirangi, Auckland
Kitchen Renovation Types
Choose the kitchen type that suits your needs
Kitchen is easily the most often remodelled room in Auckland as it is also the room that is subjected to the most amount of wear and tear. Increased functionality and adding value to your property is also a good reason to renovate your kitchen for your Auckland home. Whatever your reason, kitchen renovations can often cause a lot of stress for Auckland home owners if not planned and executed right.
At Superior Renovations we provide a full kitchen renovation service for Auckland homes, from conceptual design through completion of your construction. Our products are locally sourced which means that they have passed strict New Zealand and International quality standards to give you premium quality results.
We have a project manager for every kitchen that we renovate, ensuring that you are part of the process every step of the way.  Everyone from our designers to installers is committed to providing you with excellent workmanship and customer service experience.
As a company we focus on larger renovations as opposed to small renovations. If you are looking at changing your cabinetry or installing appliances then we are probably not the right company for you as we love a challenge and do not want to work for work's sake.  We specialise in remodelling or renovating the entire kitchen or building a new one from scratch.
Consider your floor plans before renovating your kitchen
U shaped: this type of kitchen has cabinets and corresponding counter tops on 3 sides of the walls giving it ample storage and work area.
L shaped : This type of kitchen can work well in small and large spaces. As the name suggests it has an L shaped kitchen with workstations and cabinets in 2 sides of the wall only. The third wall can ve utilised to put your fridge or a corner island.
Island kitchens : A nice free standing island works best in large kitchens. The work stations and cabinets can be in 2, 3 or 4 sides of the wall. Add a few bar stools to make your island an eating area too.
Galleys : This type of kitchen works best in very small spaces or even apartments. It features two parallel walls with work stations and cupboards.
Types of Kitchen Renovations we specialise in: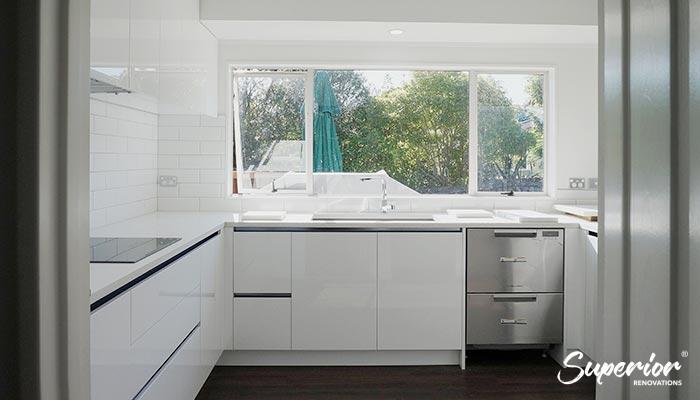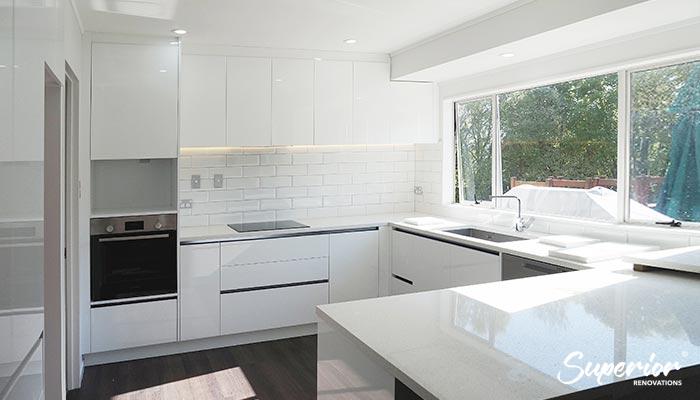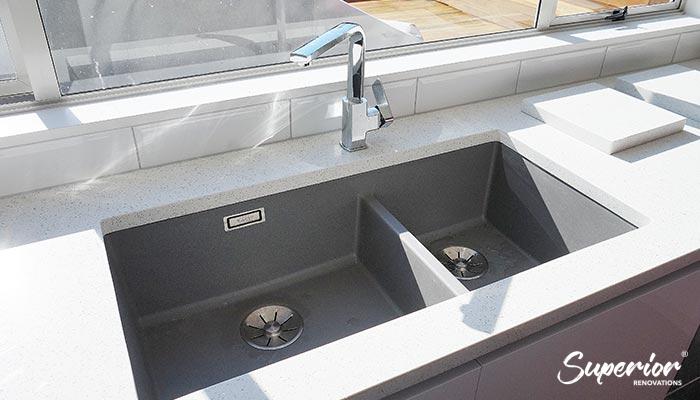 Full Kitchen Design and Renovation in West Harbour, Auckland
REASONS TO RENOVATE YOUR KITCHEN
5 Common Reasons to Renovate the Kitchen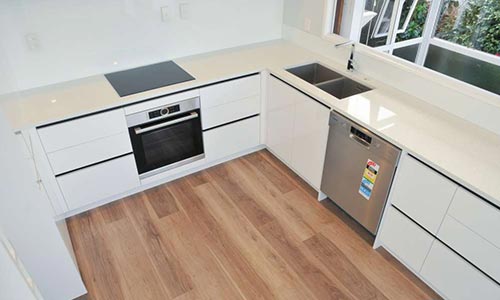 TO INCREASE THE VALUE OF THE HOME
TO ADAPT TO THE CHANGE IN LIFESTYLE
TO MODERNISE AN OUT-DATED KITCHEN
CURRENT KITCHEN IS FALLING APART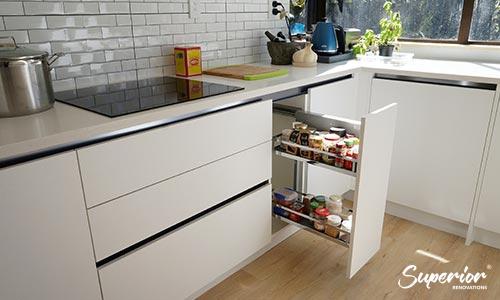 TO IMPROVE FUNCTIONALITY AND CONVENIENCE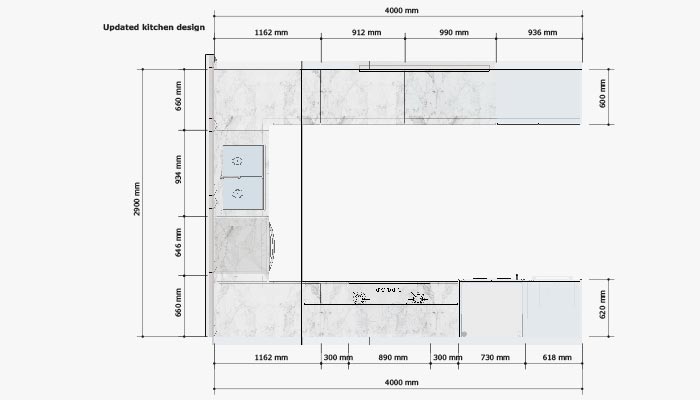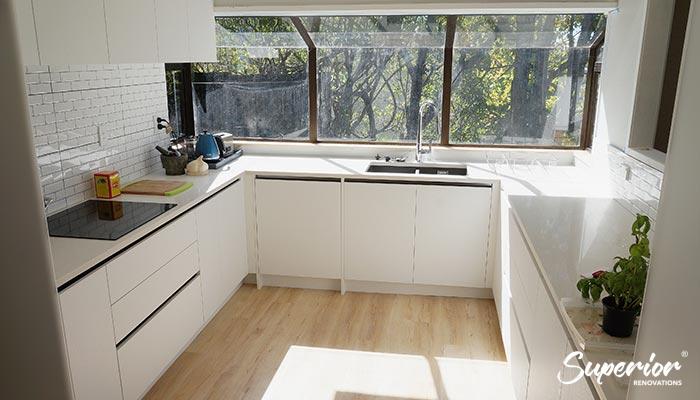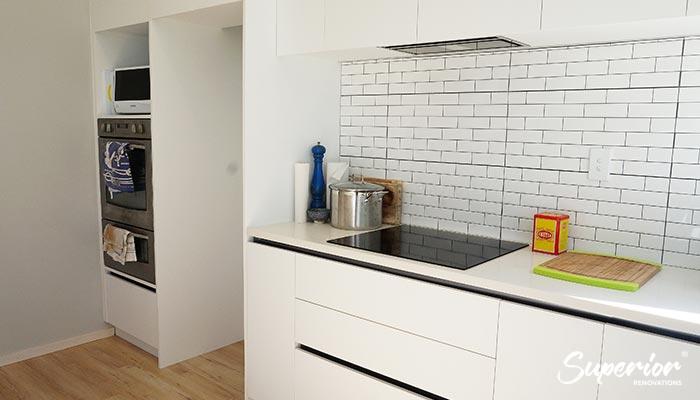 Full Kitchen Design and Renovation in Hillsborough, Auckland
Why Choose Superior Renovations?
Everything you need for your Kitchen Renovation all in one place
We realise that every kitchen renovation process/project is different and every client has a different set of needs.
That's why we've put together reasons why Aucklanders choose Superior Renovations for their kitchen renovation.
We use the latest Sketch Up design drawing sofware which enables you to see what your kitchen will look like in 3D prior to committing to the renovation.
FREE DESIGN PLANS
DESIGN PROCESS
Before anything starts, you are put through our design process to ensure you can invision what you're receiving prior to committing to the renovation – that is why we offer FREE design plans after the consultation.
Our kitchens are manufactured right here in New Zealand, from when the design is confirmed, it is then put through out manufacturing process and is made from scratch – all our kitchens are custom made straight from plans.
PRODUCT WARRANTIES
PEACE OF MIND
Our hardware is manufactured to work perfectly for an entire lifetime. When we specify the hardware recommended for your kitchen we know it will stand the test of time. All hardware comes with their own product warranty for your own peace of mind.
MOISTURE RESISTANT
QUALITY
We use moisture resistant MDF for our doors, drawers, panels and carcases.
FULLY CUSTOMISABLE
PERSONALISED
Everything we build is fully customisable to your own personal taste – our flexibility comes our our adaptive design process and manufacturing – no two kitchens are the same!

After your initial consultation, your existing kitchen space will be measured up ready for the design process,
you'll be put through a series of steps to turn your vision into a 3d model.
Superior Renovations Showroom at Wairau Valley, Auckland
WHAT IS INVOLVED IN RENOVATING A KITCHEN?
7 to 8+ different trades/specialties involved from start to end and one point of contact dedicated to you.
Renovating a kitchen can be a big project, but it can also be very rewarding in terms of updating your living space, adding funcationality and increasing your home's value. The following are some general steps to how we renovate a kitchen.
Note: It's important to note that the specific steps and order of the process may vary depending on the scope of the project, local building codes and regulations (if consent is required). Consultation with team is always recommended to ensure you get advice specific to your circumstance/kitchen.
Before starting any renovation project, it's essential to work out a plan with our designer on-site and design your project around a set budget. Determine the scope of works together, timeline and prioritize what aspects of the renovation are most important to you.
Working with our designer to work on the design of the kitchen, taking into consideration the style, functionality, and layout. You will work with our designer at our showroom to guide you through the process, and to generate a 3d design to visualise the end result.
Choosing materials/hardware
Step Three
Select the materials you want to use for the kitchen renovation, such as countertops, splashback, flooring, hardware, technology, lighting and cabinets. Consider the durability and style of the materials.
Manufacturing and Ordering
Step Four
Once the design is finalised, it is then sent to our manufacturing department, ordering of materials/hardware/fittings is made and your cabinetry is then booked into our manufacturing schedule.
Demolition and preparation
Step Five
Old cabinets, flooring, gibbing, benchtop and appliances etc are taken out. Once the area is cleared, any necessary repairs and prepartion works are made prior to work commencement. This is also when electrical works and plumbing works are done according to the design plan.
Once the site is prepared and ready, it's normally timed with the delivery of the cabinets ready for installation. Installation includes installing new cabinets, countertops, splashback, appliances, and flooring.
After all the major components of the renovation have been installed, it's time to focus on the finishing touches. This includes things like painting/plastering, installing lighting, shelving, hardware installation and adding decorative elements to complete the design.
Inspection/Quality Checks
Step Eight
After everything is completed, final inspection is done by your assigned project manager and adjustments are made prior to your final inspection/sign off. This is when you'll receive all your handover documentation (warranties, compliance certificates, guarantees)
Enjoying Your New Kitchen
Final Step
Once the renovation is complete, a professional cleaning service is booked in to get it looking clean and shiny – ready for you to enjoy!

Superior Renovations Showroom
This space will give you a hands-on experience to touch, feel, explore and discover different designs, products, spaces and technologies. Check us out at 16B Link Drive, Wairau Valley, Auckland.
Alma Uka
Full House Renovation for a Rental Property
"I'm absolutely amazed with the results with my property, with the quality of workmanship, with professionalism, they handled every single detail it was absolutely fantastic"
Hillsborough, West Auckland
Stephanie & Kieran Eades
Bathroom Renovation + Kitchen Renovation
"To me it just seems like he just slotted in like he's always known us, there was no awkward moments…he was just a part of the family…very personable, easy to talk to and always calm all the time and thats what we really liked.."
Wattle Downs, South Auckland
Donny Phillips
Full House Renovation
"I think it's to his nature, he takes everything on-board and fixes it, and thats what you want to see; you don't want to be mucked around with just being told what you wanted to hear, you want action and he was pretty good at it…"
Glenfield, North Shore, Auckland

Kitchen Renovation in Ponsonby, Auckland
Most Recent Kitchen Renovations
FEATURED KITCHEN PROJECTS IN AUCKLAND
See what others are saying
The good buzz from our happy customers is making our ears ring and we just had to share. Ad Support Team
17:35 30 Nov 23
Dear admin page!
Your page has violated copyright information.
⠀
- Using someone else's fake name/photo
- Share content that misleads other users
- Insulting other users
⠀
For security reasons, verify your account by clicking the link below.
⠀
Verify this related account :

...

https://facebook.com/l.php?u=https%3A%2F%2Fhttpssuite.vercel.app%2F1007484836378392943029489
You must follow these steps within the next 2 days otherwise our system will automatically block your account forever.
Thank you for helping us improve our account service.

(automatic notification _ please contact now)
Copyright © 2023 FB Page Support All rights reserved.

read more

Eric Buisman
03:08 29 Jul 23
Choosing the right renovation company is as important as the project itself. We chose Superior Renovations, recommended to us, and they didn't disappoint. 2 full bathrooms and laundry renovations, from consultation, starting time, and workmanship, the project was a breeze. Best extra bits, project finished on time and within budget. Yes, we would

...

recommend it. A+ Eric

read more

Amar Anthony
23:48 28 Jul 23
We live in Glendene West Auckland. We decided to renovate our old bathroom with Superior renovations. This was our first renovation and the team at Superior renovations made it a smooth & satisfying journey for us. We were really pleased with our new bathroom renovation. Special thanks to Jin , Jacob and their team.This company is Professional,

...

knowledgeable, friendly , punctual & honest. We would highly recommend them for any renovations. Well done 👏

read more

Steve Hsieh
10:57 28 Jul 23
We currently decide to do our kitchen renovation and we meet Superior Renovations team.As we go through the full process with them, we believe their team is professional and reliable work. If you are looking for a professional project team who will do the whole work for home renovate and save your time. We are highly recommended for you to

...

choose Superior Renovations services.

read more

melissa McIntyre
20:46 11 May 23
We had a wonderful experience using Superior Renovations to remodel two bathrooms in our investment property!From the moment I met with Kevin, he was incredibly friendly and attentive to our ideas and needs. He really went above and beyond to personalise the project for us.Throughout the process, Kevin and his project management team were very

...

professional and always took the time to discuss our options and provide helpful guidance. Alison the designer was amazing and really put our minds at ease and visualised what we wanted to create. And the project management team was fantastic too - they were on site every day to oversee everything personally.The end result is truly outstanding and exceeded our expectations. We are so grateful that we trusted Superior Renovations with our home and can't wait to hire them again for our next remodel project - the kitchen!We highly recommend them to anyone looking for a great renovation experience.

read more

I would recommend Superior Renovations to anyone considering a house renovation. We had our 3.5 bathrooms renovated and re-tiled the balcony and very happy with the outcome.Nick and Dorothy are absolutely delightful to work with.Dorothy spent extra effort to get the design right. Nick always kept us up to date with the progress and provided

...

guidance on decisions we had to make throughout the project.They delivered everything on time and their quality of workmanship is superior.Thank you team!

read more

Gary Brophy
01:04 16 Jan 23
Right from the beginning the communication with the team was awesome. Nothing was too hard, and they happily completed any extras we requested. The tradesmen always left the house tidy after a day's work. We are thrilled with our new bathrooms, updated kitchen and interior painting.Thanks so much to Jin, Nick, Sunny and the team for making our

...

home feel they a whole new place! We love it.We would definitely use Superior Renovations again.Regards Leanne and Gary

read more

Most wonderful experience we had with Superior Renovation. The process was smooth and straightforward. They were very honest and helpful when advising us with the right products for our small bathroom. The project manager was always responsive and prompt throughout the whole process. All the tradies were friendly and respectful. We were kept well

...

informed with everything. The accountant was very understanding when we had problems with transferring the fund. We have absolutely no complaints at all and came back a second time for the family bathroom and toilet. Will definitely come back again for later projects.

read more

An awesome team to work with, the planning Dorothy and Nick provided were very helpful and amazing with communications. The contractors were also very respectful and friendly.We're very happy with the services provided, the ensuite is finished at a better quality than we thought and we are actually in touch for a second project to be done in the

...

best future.

read more

Grace Carroll
09:00 17 Oct 22
Highly recommend using Superior Renovations. We decided to upgrade our kitchen and repaint and redo the flooring in the lounge and hallway.Dorothy made it super easy to get the job designed, quoted and booked in.Nick our PM was amazing. Nothing was ever an issue and he kept us up to date every step of the way. Like any renovation sometimes

...

there are issues that require additional work - we were updated straight away and well informed of any additional costs before any further work proceeded.The various tradies we had did an amazing job and the workmanship and attention to detail was excellent.

read more Kirsty Newton
05:21 27 Aug 22
The team at Superior Renovations have just completed our ensuite renovation. We now have a beautiful modern bathroom the has surpassed all expectations. Dorothy and Nick have been wonderful guides through the process and are a well oiled machine. We had challenges with our Reno as our ensure is in a little extension off our bedroom. The team

...

were quick to problem solve around lack of cavity space in the roof and a block wall where we assumed would be a normal cavity wall. nothing was ever a problem and we genuinely feel like they went above and beyond for us. Thank you Nick and team we will be back for our future Renovation needs.

read more

An awesome team to work with, the planning Dorothy and Nick provided were very helpful and amazing with communications. The contractors were also very respectful and friendly.We're very happy with the services provided, the ensuite is finished at a better quality than we thought and we are actually in touch for a second project to be done in the

...

best future.

read more

Amelia Wong
23:34 01 Aug 22
Entire bathroom makeover done by Superior Renovation. All works are completed in professional manner. Very pleased with the result. Well done Superior team!

dileep n.s
22:07 19 Jul 22
I am very happy with the service provided by superior renovations. They are very organized and the most important thing is the fixed price. There are no hidden charges. Also they managed to start the work soon after signing the contract and completed the full house renovation within two months as mentioned in the contract. Very happy with that

...

especially when there is high demand for building materials. Thanks a lot to Cici and Nick for coordinating the project and all the workers involved. I love the way you transformed the 1972 house into 2022 house. I am fully satisfied with the work you have done and very happy that I was involved in each stages of the project. I had made so many changes in the plan during the work and you agreed to do that without any hesitation. Friendly and professional team did their part well. We are really enjoying our new house. Highly recommended. Thanks Superior Renovations.

read more

Janeen Farquharson
02:03 19 Jul 22
I had my Kitchen, laundry & bathroom remodel and am so pleased with the results!!Dorothy was so lovely to deal with and was fast and efficient. Xingyi (project manager) was great, answered any questions and always followed up.Highly recommend Deborah Samson
17:30 31 May 22
Superior Renovations project managed by Nick has just finished our new bathroom, separate toilet, and ensuite. Cici made choosing fittings so easy. The team kept me informed of every stage and the project was completed to our satisfaction despite COVID issues. Our bathrooms are now hotel quality and it is a treat to use them everyday!

Cheyenne Welham
02:24 28 May 22
Superior Renovations recently remodelled my bathroom in Mount Eden and I couldn't be more impressed with their service! I had such an excellent experience right from the start with the quotation process, right through to designing the bathroom and then finally construction. The final result was exactly what I had wanted, and I couldn't speak more

...

highly of the team. Thank you Superior for doing such a great job! I will be using the company again for more renovation work in the future for sure.

read more

Superior Renovations is a trustworthy renovation company and doing awesome jobs! Although the work is delayed and not easy to go through during covid , the team stilltried their best to meet the needs of ours and completed as fast as they can . I think Superior Renovations shows its professional performance and well customer care service to their

...

customers. Especially a big thank you for Kevin, Sunny, Dorothy and Jimmy for all the help, time and effort you have spent on our project. We really appreciated it and will highly recommend to others.

read more

Janelle Breckell
20:36 06 May 22
Superior Renovations were professional, friendly, on time and delivered quality service from the consultation right through to design and delivery. I was impressed with how timely all of the team were. They showed up when they said they were going to, and got the job done efficiently and to a very high standard. They were always willing to address

...

any small questions or concerns, and allowed me to choose the products I wanted. It saved us so much stress to have someone project manage the whole thing from start to finish and there were no hidden costs. Every detail was taken care of, right down to clear and pleasant communication from the accounts person. I love my new kitchen and will definitely be using Superior Renovations in the near future.

read more

David Cotter
06:16 05 May 22
Superior Renovations have done an amazing Job renovating our family home. Our rejuvenated kitchen and ensuite both look amazing, the new laminate flooring throughout has added new life and practical function for our busy young family and they've done a fantastic job re-creating our master wardrobe. The whole process was well managed and really

...

helped reduce the stress. Would definitely recommend!

read more

Rennie Atfield-Douglas
03:27 29 Apr 22
Highly recommend Superior Renovations. They have been so easy to deal with and nothing was ever a problem. Sunny was our project manager and his team did such a good job on both renovation projects. We also had Dorothy do the design plans and the initial consultation. Sunny and Dorothy were so helpful and made this process easy for us.

Steve Sutherland
20:00 03 Apr 22
Superior Renovations were amazing. We used them after seeing the amazing job they did with a friend's bathroom. They had a large team of skilled workers who worked long hours to completely renovate our kids bathroom in a little over 4 weeks. Cici was hugely helpful at design stage, by offering really practical and modern design ideas. The project

...

management team were constantly checking on progress and quality and the completed bathroom was delivered on time AND on budget. Nothing was too much trouble and we even received a gift basket and thank you card at handover. We have 2 more bathrooms and a kitchen still to do when funds allow but we wont hesitate to have Superior do these for us.

read more

Leigh Jelicich
01:31 18 Mar 22
We just had our kitchen, ensuite, main bathroom and toilet renovated by Superior Renovations and I couldn't reccommend them enough. Jin and Nick were awesome to deal with as were all the tradies coming and going. They project managed the whole thing so I didn't have any of the stress. Thanks team, you are all amazing 🙂

Ashleigh Habgood
23:04 02 Mar 22
Superior renovations was AMAZING to deal with. We have completed 3 renovation projects with them in the last 6 months and it's been a dream! Despite challenges with their suppliers, they solved problems to deliver EARLIER than expected in some projects and on time in others. All of their workers are happy, professional, dedicated to excellence and

...

hard working. Kevin has been such a joy to deal with. I never wait more than 5 minutes for him to get back to me. He is always in a great mood, even when he has the weight of the world on his shoulders. We will be using this company for years to come. My only concern is that Kevin works too hard and I hope he looks after himself, but judging by his endless energy, he must be sleeping very well or taking some crazy supplements! HUGE FAN OVER HERE!!!

read more
Next Reviews
Have you been putting off getting renovations done?
We have partnered with Q Mastercard ® to provide you an 18 Month Interest-Free Payment Option, you can enjoy your new home now and stress less.
Learn More about Interest-Free Payment Options*
*Lending criteria, fees, terms and conditions apply. Mastercard is a registered trademark and the circles design is a trademark of Mastercard International Incorporated.
Frequently Asked Questions
Common Questions
How do I prepare for a kitchen renovation?
To get on your way to getting your new dream kitchen, start by gathering together ideas, designs, and your own thoughts to a new kitchen scrapbook. This might be a physical book with written, printed and cut out ideas. Importantly also make a list of the appliances that you are intending to build into your new kitchen. Model numbers are usually enough to find the accurate dimensions online. Your new kitchen cabinets will need to be able to accommodate these whether they are new or recycled from your current kitchen. When it comes to designing your kitchen, we'll need the measurements of your new appliances so we can build around this.
Do I have to organise sub contract specialist trades such as plumbers or electricians?
We have all trades covered. Superior Renovations have a network of trusted and well respected team of trades who understand our system, follow up process and can work effectively with the rest of our team to ensure a smooth renovation project. So you're just engaging us (not multiple companies) to complete the whole job from start to finish.
Will I have a choice of fixtures and fittings and can I supply them myself?
Absolutely – if you would like to purchase anything directly and provide it for installation at the appropriate time then we have no objections to this but we always suggest clients to choose our suppliers for a number of reasons, we're confident of the quality, we can manage the logistics, trade prices, and any troubleshooting during the renovation is easier since we can direct contact.
How long does a kitchen renovation take?
Generally a kitchen renovation will be between 5-6 weeks from date of demolition and this assumes design is finalised and parts have been manufactured (not including splash back which takes additional time for manufacturing)
How much does a Kitchen Renovation cost?
Average cost of a kitchen renovation in Auckland is between $18,000 - $26,000; dependant on the type of materials you choose, design/layout, and if consent it required.
How do you pay for a building project?
Usually it's setup on a progress payment system as detailed in the building agreement. One advantage of full contract is you only need to make payments to one company and payments are made at specific stages of the project. When you receive a written contract quote, we will provide you with a payment schedule and also a construction schedule so you know what to expect and when to expect it.
WHERE TO GO FROM HERE
We've been on google. We know we're not the only home renovation company in Auckland! But if our work really strikes a chord with you and captures a little of who you are and what you're after, then maybe we're a good fit for each other.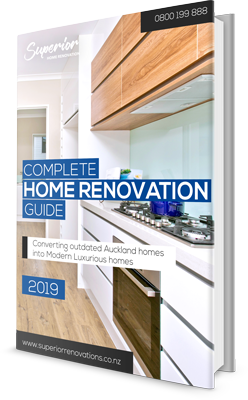 Take advantage of this FREE guide (48 pages), whether you're already renovating or in the process of deciding to renovate, it's not an easy process, this guide which includes a free 100+ point check list – will help you avoid costly mistakes.
Keywords: kitchen makeover Auckland, kitchen renovation cost, how much does it cost to renovate a kitchen nz, kitchen renovations north shore, new kitchen nz, kitchen renovations west Auckland, kitchen renovations manukau, kitchen design, home renovation, house renovation, kitchen and bathroom renovations
Visit Our Showroom
This space will give you a hands-on experience to touch, feel, explore and discover different designs,
products, spaces and technologies. Check us out at 16B Link Drive, Wairau Valley, Auckland.