THINKING OF MODERNISING YOUR KTICHEN?
Is it time for an upgrade?
Contemporary and Modern kitchens are not one and the same thing. Modern designs are in fact the most misunderstood design. Modern kitchens reflect a post war era between 1920's and 1930's when functionality and style was on the rise with no frills and luxury of the past. They boasted clean angular lines with geometric patterns.
Contemporary designs on the other hand are anything which is the current mood of the market. They represent a move away from tradition, with sleek lines, neutral colours and virtually no accents. Some contemporary designs also incorporate other designs to add a bit of zing to the interiors.
There is certain uniqueness to modern and contemporary kitchens which can only be achieved if your renovators have a thorough knowledge and experience in building them. Superior Renovations has a dedicated team that focuses solely on designing and renovating contemporary and modern kitchens. They specialise in such kitchens and will work with you and your project manager to bring your vision into reality.


We provide a full service from conceptual design through completion of construction. Your free consultation will be the perfect time to discuss the renovation where you can meet our project manager. The project manager will be on site throughout the renovation process and give you constant updates on the progress of your renovation.
Contemporary kitchens:  Contemporary kitchens boast the current mood of the Auckland market. They use materials such as laminate, stainless steel and glass. They have an elegant and simplistic look about them without too many accents. However contemporary kitchens in no way are as boring as they may sound. They in fact use sleek lines, and angular shapes to their advantage to give you a look that represents the future. Some contemporary styles incorporate other styles to add a bit of flavour.
Modern kitchens:  Modern kitchens are a combination of functionality and style using geometric shapes or designs with either bright or neutral colours. They incorporate metal with wood or tiles with few accents.
Donny Phillips
Full House Renovation
"I think it's to his nature, he takes everything on-board and fixes it, and thats what you want to see; you don't want to be mucked around with just being told what you wanted to hear, you want action and he was pretty good at it…"
Glenfield, Auckland
George Gaffley
Renovation of 2 bathrooms
"It felt like a friendship kind of relationship, There was alot of communication and trust.. I would come home after work and see something has else been done..Life is much easier, theres no fighting over who using the shower first and the renovation was fantastic"
Manurewa, Auckland
WHERE TO GO FROM HERE
We've been on google. We know we're not the only home renovation company in Auckland! But if our work really strikes a chord with you and captures a little of who you are and what you're after, then maybe we're a good fit for each other.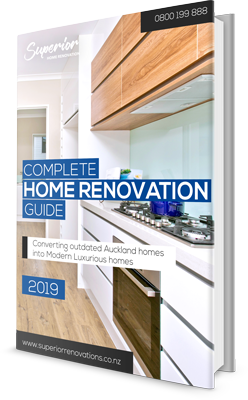 Take advantage of this FREE guide (48 pages), whether you're already renovating or in the process of deciding to renovate, it's not an easy process, this guide which includes a free 100+ point check list – will help you avoid costly mistakes.
Keywords: kitchen makeover Auckland, kitchen renovation cost, how much does it cost to renovate a kitchen nz, kitchen renovations north shore, new kitchen nz, kitchen renovations west Auckland, kitchen renovations manukau, kitchen design, home renovation, house renovation, kitchen and bathroom renovations