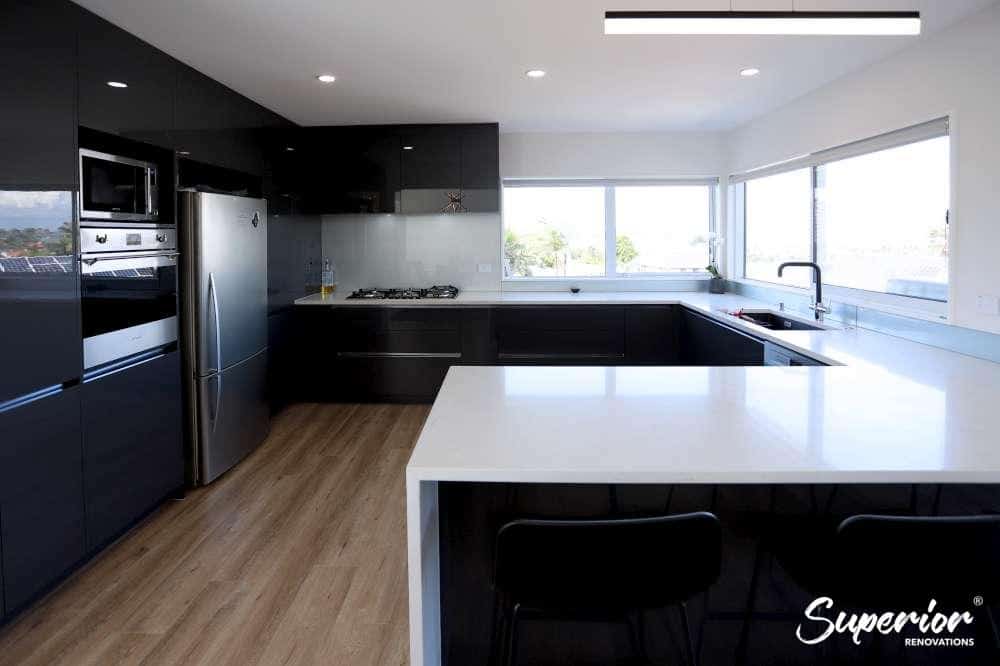 Kitchen Renovation Cost Calculator NZ for 2023 (Updated)
Kitchen renovations are an important part of any household makeover. There are lot of things to consider for example vinyl vs tiles, new cabinetry and more. Kitchen renovations can potentially increase the value of your home by 10%. Most of our clients renovate their kitchens to add functionality and comfort to suit their lifestyle.
What goes into a full kitchen renovation?
Planning and design: The first step in a kitchen renovation is to plan and design the new layout. This involves considering your needs and preferences, as well as any limitations of the existing space. You may work with a kitchen designer or contractor to create a 3D rendering of the new kitchen.
Demolition and removal: The next step is to remove the old cabinets, countertops, and appliances. This can involve tearing out walls, removing flooring, and disconnecting plumbing and electrical systems.
Structural changes: If you are making any structural changes to the kitchen, such as removing a wall or adding a window, this is typically done at this stage.
Plumbing and electrical work: Once the old kitchen has been removed, the plumbing and electrical systems can be updated or moved to accommodate the new layout. This may involve installing new plumbing fixtures, rewiring the electrical system, and adding new outlets and switches.
Flooring and wall finishes: Once the plumbing and electrical work is complete, the new flooring and wall finishes can be installed. This may involve laying new tile, hardwood flooring, or laminate flooring, as well as painting or installing new wallpaper.
Cabinets and countertops: The next step is to install the new cabinets and countertops. This may involve customizing cabinets to fit the new layout, as well as selecting the type of countertop material, such as granite, quartz, or marble.
Appliances: Once the cabinets and countertops are in place, the new appliances can be installed. This includes the refrigerator, range, oven, dishwasher, and any other appliances that are part of the new kitchen design.
Finishing touches: The final step is to add the finishing touches, such as lighting fixtures, cabinet hardware, and decorative elements. This helps to create a cohesive and polished look for the new kitchen.
Overall, a full kitchen renovation can take several weeks to several months to complete, depending on the scope of the project and any unexpected challenges that may arise. It is important to work with a reputable contractor who can help manage the project timeline and budget, and ensure that the final result meets your expectations.
Superior Renovations
The Average Cost of a New Kitchen Renovation in Auckland
Outdated decor, cumbersome layout and faulty appliances can take the joy out of cooking. These things usually lead to people wondering about renovating their kitchen. However the starting point can often leave people feeling overwhelmed and delaying the project altogether.
Determining a budget for your kitchen renovation
Assess your current kitchen: Take a step back and look at your kitchen. What is it that actually makes your current life harder in the kitchen? Is it the space? the functionality? inconvenient layout or the dated bench-top, cupboards and design. Your next step should be to see what your needs are as a family and how you use your kitchen. For example if you entertain a lot then you might want to get an island added. However if you do not cook much then you might just want to upgrade a few things in the kitchen. Always renovate based on what your family uses the kitchen for. In terms of design and themes, do some research on kitchen renovation ideas. There are plenty of resources online which can help you get a rough idea of the type of style your family prefers.
Plan a Budget: Your budget will determine the extend of renovation that can be carried out. Your budget will eventually determine your plan. Moving plumbing and electric outlets can prove to be expensive. Hence if your budget does not allow it then think about working with the current layout of your kitchen. Our

kitchen renovation cost calculator below

will give you a basic idea on how much different aspects of a new kitchen renovation will cost in NZ and Auckland. You can also check our blog written by Jimmy our renovation expert on how much renovations cost in Auckland for the year 2020.
Research and choose the right company: Every renovation company offers something unique to its clients. However not every renovation company will provide what you need in terms of renovations. Hence choose the company carefully to fit your needs. Do some research online and meet various companies to see how they conduct business. This will give you an idea of what they will be like during the renovation process. When you meet representatives from a company, always ask them for their past case studies, references from their old clients, the warranties and guarantees they will provide. Check out our checklist to see what questions to should be asking your builder/company.
The cost of a new kitchen will depend on your layout, personal preferences, quality of chosen fittings, bench-top choice, tiling options, extra extras and the list goes on! We've outlined the average costs below to give you a quick idea, but you can enter your exact details into the kitchen hen renovation cost calculator to receive a rough estimate.
For many Auckland homeowners, revitalising their kitchen is top of their home renovation wishlist. Renovating your kitchen from an exhausted and run-down space into a modern room perfect for cooking and dining is a dream that many of us have. However most of us  are unsure of the kind of costs involved in kitchen renovations. From cheap fitted kitchens that can be done yourself, to a high-end bespoke kitchens, we've put together a guide that can help you to budget for a new kitchen.
A bit about the Kitchen Cost Calculator (NZ)
When looking at the price of renovating a kitchen especially in Auckland, it is important to understand what this price actually covers. Generally, when looking at the cost of a Kitchen Renovation, the prices you will see will cover the price of the units themselves (ie, the cupboards and cabinets), demolition, plumbing, flooring, electrical works, gas fitting, and the cost of installing them in your home. Prices will also generally exclude the cost of appliances – such as ovens, fridges, extractor fans and dishwashers.
This Kitchen Renovation Cost Calculator is designed only for you to get an indication of what you can expect to invest based on the provided information. There are additional factors that could have an impact on the cost of the project. The estimate pricing also reflects what we do which is a full kitchen renovation, custom-designed and manufactured, not for partial renovations/alterations. The fixed estimates for each cost factor is also based on averages, so allow a 10-15% variance.
Eg. For removal of a load bearing wall, additional plumbing, new added kitchen etc)
Common add-on to Kitchen Renovations
Where to send the results?
Please fill in your details below and your results will be sent straight to your email inbox. (double check your junk mail folder)
To sum up
Is the Kitchen Renovation Cost Calculator (NZ) free to use?
Yes, it was developed by Superior Renovations for the purpose of providing costings for kitchen renovations to visitors, and it this was partly triggered by popular request.
What is the average cost of a standard Kitchen Renovation?
The average cost (inclusive of materials, design, proejct mangement, labour, plumbing and electrical) can range from $19,000 to $29,000 dependant on choice of materials/fittings. Not including cost of appliances.
Does renovating a kitchen require building consent?
Renovating a kitchen does not require building consent unless there is alterations to the buildings structure such as removal of a wall.
Please note: Whilst all information is considered to be true and correct at the date of publication, changes in circumstances after the time of publication may impact on the accuracy of the information. The information may change without notice and Superior Renovations is not in any way liable for the accuracy of any information printed and stored or in any way interpreted and used by a user.