Westmere, Auckland
Rustic Style
Bathroom Renovation
---
Completed on October 2020
RENOVATION
Project Managed By
Kevin Yang
Managing Director/Project Management
kevin@superiorrenovations.co.nz
0800 199 888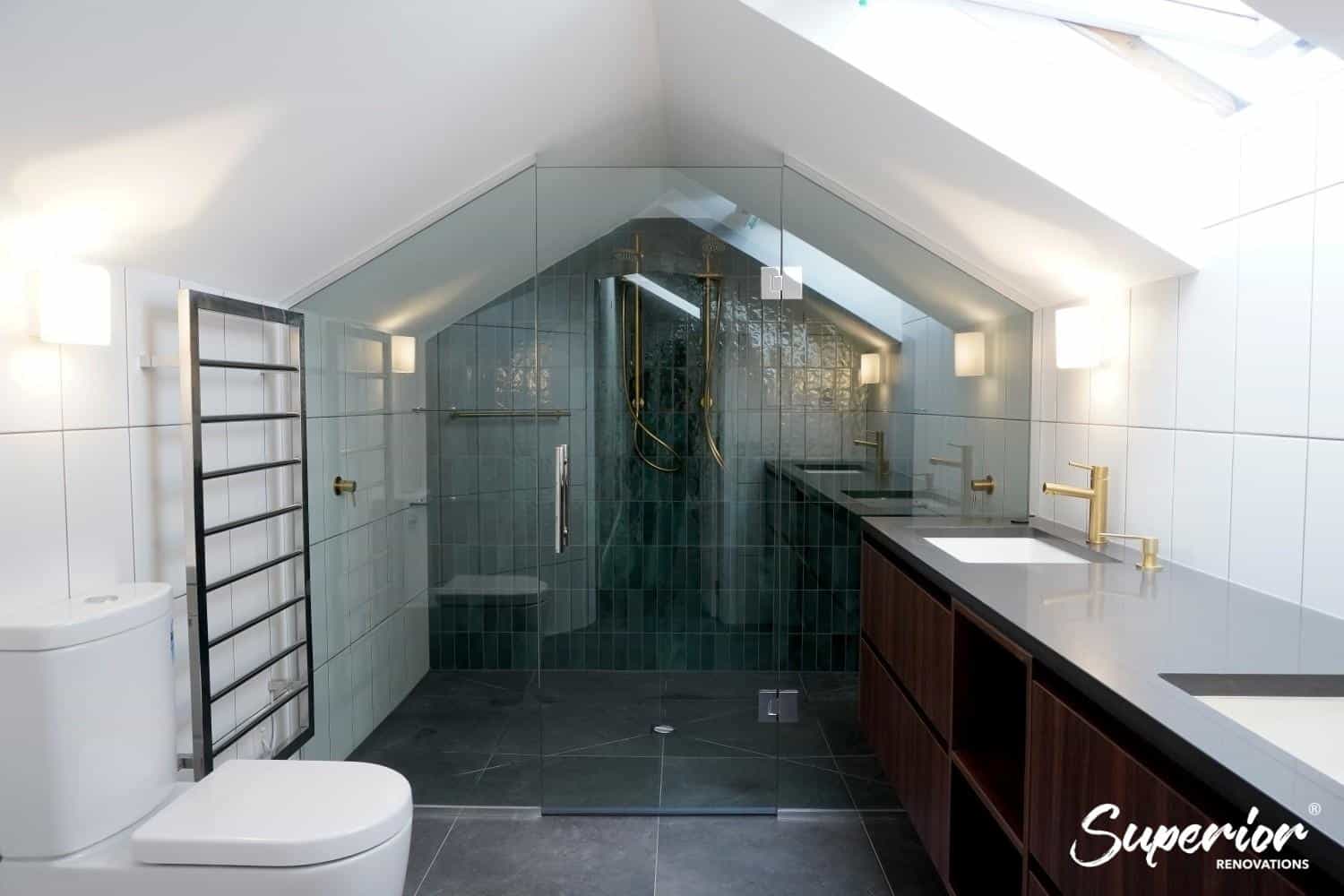 Rustic Style Bathroom Renovation
Project Finish Date
October 2020
This bathroom we renovated in Westmere was a credit to our client's artistic vision. Bathrooms of today are far from the clinical looking white bathrooms of the past. Bathrooms today are a space of relaxation and comfort after a long day of work.
This bathroom was designed keeping comfort, relaxation and aesthetics in mind. This bathroom features a large wet area with Green Artisan tiles on one wall to 'add a pop' of colour. These tiles contrast well with large dark tiles to create a moody look.
Floating wooden looking vanity was custom built to cover one side of the wall. This spacious vanity also features a 30mm stone engineered countertop with double sinks. Golden accessories were installed throughout the bathroom to add colour and a sense of luxury to the bathroom.
Design Highlights
This bathroom was fully renovated by removing all old fixtures and tiles. Wet areas are becoming increasingly popular with clients who want a larger shower area. This bathroom is a great example of how far design has come when it comes to bathrooms. This rustic bathroom has all the classic features of natural elements that make a space look warm and inviting. The use of green tiles as a feature wall adds depth to the wet area by making it a calm and serene space. Matte gold is often used in rustic design and was hence used in the design of this bathroom. The heated towel rail and LED lights add modern comforts available today to this rustic bathroom.
Wet area
Custom cut glass to create a division between the rest of the bathroom and the wet area
Large 600 by 600 grey tiles were installed on the floors
Artisan Moss Green Gloss 6.5×20 were installed as a feature wall of the wet area
White subway tiles were installed in the walls adjacent to the feature wall
Full waterproofing of the wet area
Custom Built Vanity
We custom built a large vanity with MDF boards from Melteca (high water resistant)
The vanity was built to offer plenty of storage for our clients
30mm custom built black matte finish stone engineered benchtop was installed
2 large rectangular sinks from Reece were installed
Matte finish gold taps and soap dispensers installed
Matte Gold

Accessories

and Flooring
Matte Gold accessories were used as plumbing fixtures. They add a sense of rustic luxury to the bathroom
Large dark tiles were used to make the bathroom appear larger and add a dramatic look to the bathroom