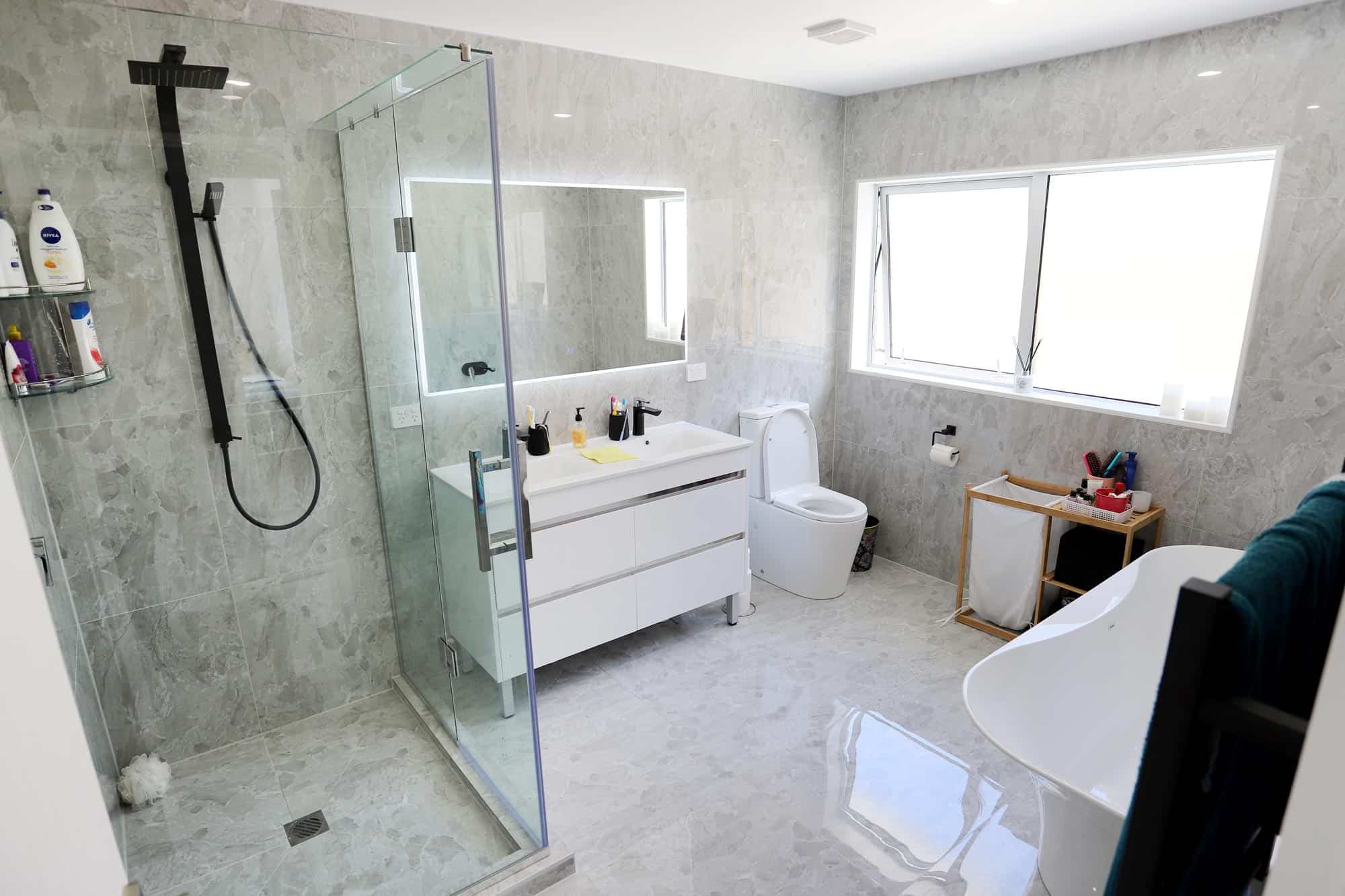 Bathroom Renovation Cost Calculator NZ for 2023 (updated)
Bathroom renovations are an important part of any household makeover and there are a lot of things to consider, vinyl vs tiles, new cabinetry and more. Bathroom renovations have great potential to increase the value of your home for resale, or make it more functional for your family.
Here are some factors that can impact the cost of renovating a bathroom:
Size of the bathroom: The larger the bathroom, the more materials and labor will be required, which can drive up the cost of the renovation.
Type of renovation: A complete bathroom remodel, which involves moving fixtures and updating plumbing and electrical systems, will typically cost more than a simple cosmetic update.
Materials used: The cost of materials, such as tiles, fixtures, and cabinets, can vary widely depending on the quality and style selected.
Labor costs: Labor costs can vary depending on the scope of the renovation, the experience and expertise of the contractor, and the location of the project.
Consent fees: Depending on where you live, you may need to obtain permits for certain types of bathroom renovations. These fees can add to the overall cost of the project.
Plumbing and electrical work: If your bathroom renovation involves moving fixtures or updating plumbing and electrical systems, these costs can add up quickly.
Accessibility needs: If you require an accessible bathroom with features like grab bars, a walk-in shower, or a raised toilet, these modifications can add to the overall cost of the renovation.
Design choices: Certain design choices, such as high-end finishes or custom-built cabinetry, can also impact the cost of the renovation.
By considering these factors and planning carefully, you can create a realistic budget for your bathroom renovation and avoid unexpected costs along the way.  When renovating a bathroom, there are certain factors that can be difficult to anticipate and can impact the overall cost of the project. Here are a few things to consider:
Hidden damage: Once you start tearing apart walls and floors, you may uncover hidden damage, such as water damage or mold. This can require additional work and materials to fix, which can increase the cost of the renovation.
Unforeseen complications: Sometimes, unexpected complications can arise during the renovation process, such as unexpected plumbing or electrical issues. These complications can require additional work and materials to address, which can drive up the cost of the project.
Delays: Renovations can be impacted by unforeseen delays, such as backordered materials or unexpected construction challenges. These delays can extend the timeline of the project and add to the overall cost.
Changes in design: If you make changes to the design or scope of the project midway through the renovation, this can add to the overall cost of the project.
Permit or inspection fees: As mentioned previously, building permits may be required for certain types of bathroom renovations, and inspection fees may be charged to ensure that the work meets building standards. These fees can add to the overall cost of the project.
To factor these variables into your costings, it is important to set aside a contingency fund in your budget. This can help cover unexpected costs and ensure that you are prepared for any unforeseen challenges that may arise during the renovation process. Additionally, it is important to work with a reputable contractor who can help identify potential challenges and develop a realistic budget and timeline for the project.
This Bathroom Renovation Cost Calculator (Updated on January 2023 to reflect market prices of product and labour) is designed only for you to get an indication of what you can expect to invest based on the provided information  – but there are more factors that could impact on the cost of the project (Eg type of cabinets, type of tile, repair work required, necessary plumbing works, custom requests etc)
Once you've generated an estimate and completed the form – you would be emailed a break-down of costs and estimate – we will then follow up with you to discuss your estimate and answer any questions you may have.
Bathroom Renovation Cost Calculator (2023)
What kind of bathroom are you looking to undertake?
Only applicable if you are getting a full bathroom renovation, to be installed prior to tiling.
10
Length x Width (metres) = Square Metre
Cost of tiling will be calculated on average cost of product cost.
Normally done together along with the bathroom renovation because it works out to be more cost-effective.
If there is going to be additional plumbing or structural changes involved, it's likely you'll require consent. For more information about this, visit this blog https://superiorrenovations.co.nz/what-renovations-need-building-consent-in-auckland/
A common add-on for those who currently have a low pressure hot water cylinder, it will give you more options for fittings and improve water flow and heating efficiency.
Where to send the results?
Please fill in your details below and your results will be sent straight to your email inbox. (double check your junk mail folder)
To sum up
Is the Bathroom Renovation Cost Calculator (NZ) free to use?
Yes, it was developed by Superior Renovations for the purpose of providing costings for bathroom renovations to visitors, and it this was partly triggered by popular requests.
What is the average cost of a standard Bathroom Renovation?
The average cost (inclusive of materials, design, project management, labour, plumbing and electrical) can range from $18,000 to $24,000 dependant on choice of materials/fittings.
Does renovating a bathroom require building consent?
Renovating bathroom does not require building consent unless there is alterations to the buildings structure such as removal of a wall, or change in the plumbing (adding or removing)
Please note: Whilst all information is considered to be true and correct at the date of publication, changes in circumstances after the time of publication may impact on the accuracy of the information. The information may change without notice and Superior Renovations is not in any way liable for the accuracy of any information printed and stored or in any way interpreted and used by a user.