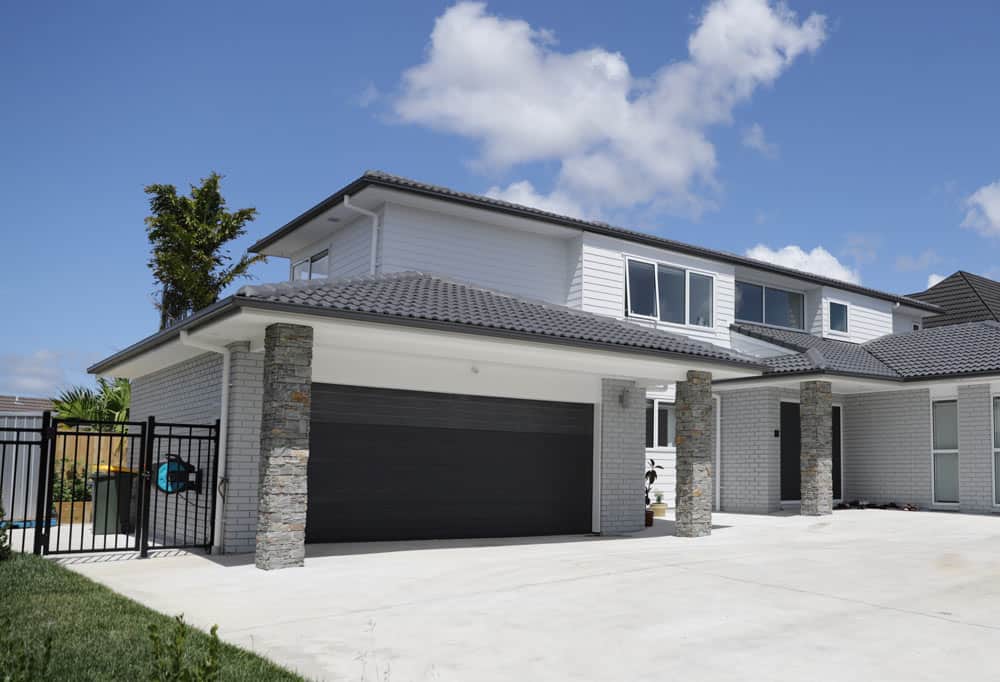 Cost to build a new garage in Auckland – Superior Renovations®
In New Zealand, 92% of households have at least one vehicle according to One Roofs (2019) research so it's not a surprise that most home buyers and renters are looking for property that has a garage. Does it actually add any value to the property? Not as much as people think but in short, it adds 2-3% to the sale price of the house – however it's different for all locations (eg it will be perceived as more valuable in an area like Central Auckland, people are paying $50,000 to $75,000 just for a car park)
"In many locations, prices for properties with garages were in line with median values – in other words having a garage is the normal market expectation," says says Valocity's director of valuation, James Wilson.
This trend of having a garage is also reflected in the new builds in recent years with the majority having an internal garage. Today 87 percent of garages are internal (known as under main roof, or UMR in council parlance) in Auckland.
In our recent blog on converting a garage to a granny flat, we've found that it's not limited to just using it to store a vehicle, here are some examples of other uses:
Work from the home area/ office
Gym area
Gaming/Entertainment area
Hobby room
Storage
Laundry
Workshop
If converted, it can also be used as an extra bedroom or 2nd dwelling, or to be rented out for extra income. The options are endless hence why it's a popular demand for most home buyers/renters.
There are of course a lot of different options to consider when you're building a garage as such, internal garage, detached garage, materials, extra facilities and size. A custom built garage can start from $40,000 (low end) up to $100,000 for a high end garage.
Are there cheaper options to get a new garage?
There are cheaper options such as kit-set garages constructed from Aluminium and Galvanized steel that starts from $4,000 up to $10,000 (comes unassembled) from sites such as Trade Tested.
This doesn't include installation costs, foundation works, consents, and custom work required. Any building above 10 sqm with all four sides enclosed requires consent and the cost of consent can vary dependant on where you're located. However on their website, it does say that it comes with come with assembly instructions, Specifications and diagrams.
Here's an example – https://www.tradetested.co.nz/sheds-carports/garages/single-garage-4-4m-x-7-2m-widespan-ironsand.html
In this article, we explore options about building a new garage from scratch at three different price points. Keeping in mind that this is only to be used as a guide for research purposes.
What factors determine the cost of building a garage?
The size of the garage
You can actually build any size garage you want if it's detached, and if you are legally allowed. With that said, there are standard size garages that most homes adhere to which are:
Double garage: 6m x 6m with a 5.2m door width
Single Garage: 3.4m (wide)  x 5.8m with a 2.6m door width
Dependant on the size of the garage, this affects the cost in terms of labour and material costs. In most newly built homes in Auckland, a single garage is smaller in length than a double garage and this is due to size constraints of the block of land the house is built on.
Excavation and Site Preparation
Like any build, preparing the site prior to construction is an essential part of the project. It's very difficult to give an estimate for this because it varies for every property dependant on the current condition of the ground, whether levelling is required, foundation work, amount of demolition work, and clearing/landscaping work required.
Foundation
If you're building a detached garage or extending your home to build a garage, then no doubt foundation will be required prior to the build and it's normally slab foundation in most cases. It will also be required if you're extending from your existing house to build the new garage.
Walls for the garage
After the framing of the garage is complete, you'll need to consider what you want for the garage walls such as if you want insulation, have it covered up with gib, or leave it as a frame (which is fine if you're just using it for storage). Basic dry wall for an interior costs around $750 to $1,500, while insulation for new construction costs about $500, assuming it's pink batt insulation.
Exterior material of the garage
Once of the framing is done, you'll also need to decide what material you want for the outside of the garage; and it really depends on what is important to you, whether it' costs, or appearance (to match the house) or longevity.
Typical materials for siding and trim for a garage include:
Aluminum
Fiber cement
Vinyl
Stucco
Wood
Roof type for the garage
Like the choice of material for the exterior of the garage, your choice of material for the roof also depends on what is important to you. The most common choice for homes is asphalt shingle but this is not the case for garages. For most Auckland garages, aluminum is the most popular choice due to durability and being cost effective.
Typical materials for garage roof:
Metal from $50 per square metre
Membrane from $75 per square metre
Concrete and clay from $60 per square metre
Slate from $200 per square metre
Copper from $250 per square metre
Asphalt from $60 per square metre
Utilities
It's common to have electricity running to the garage, which provides for wiring the garage door opener, installing lights, and at least one electrical outlet. However in addition to this, you may also want to have water running in the garage. All these additional features will require consent, if you're building a garage that includes living space (2nd dwelling) then you'll also require resource consent. You will pay between $60 and $90 an hour for an electrician when building your garage and expect the wiring to take anywhere from 4 to 16 hours, depending on the scope of the job and if excavation is required, expect a total of $240 to $1,440 in electrical work.
Flooring
Most garages in Auckland are concrete slab foundation but you also have an option to put in industrial carpet (for a Single garage – $500 – $700 & Double garage – $1,000 – $1,300) which is becoming a lot more common especially if you're planning on using the space for other purposes (besides parking the vehicle). You can also look at sealing the concrete flab foundation or coat it in epoxy to help it last longer, at a rate of around $600.
Important Design Principles for Garages
These are design principles communicated by the Auckland Council, your architect will be aware of this when they're drafting up plans for consent but it's something to keep in mind if you're still researching and deciding whether to build a new garage or not. For the full document by Auckland Council, visit  http://content.aucklanddesignmanual.co.nz/regulations/design-for-the-rules/Documents/Design_Element_R3-Garages.pdf
R 3.1 Garage doors should generally be set back a minimum of 0.5m from the front facade of the house. This helps make the habitable rooms of a house more visually prominent than the garage.
R 3.2 A garage should be no more than half the width of the street elevation of the house. This design principle also applies to shared driveways serving more than 10 dwellings if the principal pedestrian entrance to dwellings is accessed from the driveway.
R 3.3 Garage doors should be setback a minimum of 5m from a site's front boundary, this ensures that any car parked in front of the garage does not hang over the public footpath.
R 3.4 Large garage doors can present a visually blank frontage when viewed from the street. Consider ways in which the design of garage doors can provide visual interest while remaining in keeping with the design and character of the dwelling. This could include dividing double garage doors into two single garage doors, and/or the use of various design elements such as windows, smaller scale panels and changes in materials or colour.
R 3.5 For developments involving multiple dwellings, consider providing vehicle access from a rear service lane, this avoids creating a series of garages and vehicle crossings on to the street.
R 3.6 Maintain clear visibility to the road and footpath from driveways. This ensures vehicles exiting a site are able to see passing pedestrians, including children. Keeping fencing low or visually transparent near the driveway can help with this.
R 3.7 It is recommended that at least 50% of the front yard must be landscaped and separate from vehicle areas.
How much does it cost to build a garage on a basic budget? 
For the basic garage, the average build cost is $35,000 which includes timber framing, foundation, roofing, manual garage door, and aluminium exterior. You'll be a single bay garage within this price range, however 2 bay garages can be achieved dependant on choice of material.
How much will it cost to build a garage on a mid-range budget? 
For a mid-range garage, the average build cost is $50,000 which includes a double garage, seal concrete floor, plasterboard walls, automated garage door, electricity and maybe running water. Some clients will also choose have plasterboard put on top to form a ceiling, but it all depends on your needs – without it means you could utilise that space as storage.
How much will it cost to build a high-end garage? 
For a high-end garage, the average build can start at $60,000 and then go up from there dependant on added amenities. With this price range, you'll be able to get more parking spots, added space for office, bathroom, storage and it will be powered.  The flooring could be a combination of garage carpet or polished concrete, the options available become a lot more at this price range. You'll also have more choice with the material of the roof, exterior and garage door.
| | |
| --- | --- |
| Garage Type | Average Cost |
| Basic Garage | $35,000 |
| Mid-Range Garage | $50,000 |
| High-End Garage | $60,000 + |
---
New Garage Cost Calculator
Have you tried our new garage cost calculator? this might help you give you a better idea of cost, check it out here.
---
How about the cost of building an attached garage?
For an attached garage, we would normally classify it as an extension and there are more factors to consider due to changes to be made to an existing property. The cost of an attached garage, or if you're converting an existing space to a garage can go from $60,000 – $100,000 +
Garage Door Costs
While there are double garage doors, which uncover both cars at once, it is more common to have one door for each vehicle stored in the garage so that each has its own access.
Garage doors come in several materials, each of which has attributes to consider:
| | |
| --- | --- |
| Door material | Cost for single door |
| Vinyl | $500 – $800 |
| Aluminium | $750 – $1,500 |
| Fiberglass | $1,050 – $2,150 |
| Wood | $1,250 – $2,600 |
| Steel | $1,400 – $2,100 |
Garage Door Opener Costs
The price of a garage door opener varies depending on the model, but you can expect to pay between $300 and $500 supply and installed.
General Garage Building Process
Keeping in mind that this is just a basic process, every project is different and comes with it's own challenges and there are a vast range of variables based on each and every clients needs.
The ground is cleared and levelled
Pouring of concrete to form foundation slab
A frame is laid, and the walls and roof are erected
The interior frames are put up (if any)
Roof is put up to minimise chances of moisture ingress
Exterior cladding is to be done
Installing of insulation
Electrical work is carried out
Plasterboard is put up against the walls (or left bare)
Shelving or storage units may be installed
Flooring is done (either sealing the concrete or putting in garage carpet)
If there is no driveway currently, one will be constructed, and the new garage doors will be installed and hooked up.
Any windows will also be installed.
Attached vs Detached Garage
There are big differences between the two and one involves alterations to an existing property – and requires the old structure to connect with the new, so the level of complexity in an attached garage is a lot higher than a detached garaged. But in saying that, most people prefer an attached garage because of the convenience of not having to go outside.
However, the benefits of a detached garage (other than being more cost-effective) is that there won't be any exhaust fumes going into the home. The decision all comes down to personal preference (what you plan to use the garage for) and your property (what can and can't be done). There isn't really a straightforward answer to this question of one or another.
What are the current trends in Garages?
Battery Backup – Garage doors run on electricity. If the power goes out, you won't be able to open the garage door – so a backup battery system can help, and not only for the garage but for the house.
Exterior Lighting – If you have an outdoor area or space, it is a good idea to look at installing outdoor lighting around the garage to utilise the space around it.
Gutters and water tanks – Your new garage should have the same gutters as the rest of your home to direct rainwater away from the structure but you can also consider using this to collect water into a water tank – and this can be used for gardening.
Office/ Gym – Garages are not only used for cars, but if the space allows, creating a separate space as an office/ gym has been quite popular in recent years.
Workshop Area – Garages can be used for many things, including workspaces. So when you're building your garage, have a think about storage and the equipment you own.
Additional Considerations and Costs
Adding a garage to your property typically has a return on investment of 60% to 80%.
If your workplace uses flammable items in the garage, keep in mind that there is a danger of fire for not only the garage but your entire home. This risk is lowered for detached garages.
Consents are required for detached garages over 10sqm, and is required for attached garage. Resource consent may be required as well is it's going to be an additional dwelling. Please check with Auckland council or consult with an architect to ensure you're building within the regulations.
A few more important things to know when building a garage
Make sure you talk to a project manager and an architect
So you understand your regions regulations and zoning laws, it's different for all regions, but it would give you an idea of what can be done as a starting point.
Decide if you want an attached or detached garage
There is a big difference between the 2, the process/cost for each is also vastly different – once you've spoken to an architect to see what can be done, and what the challenges are (from the builder), from there you can generally make an informed decision.
Make a choice between a single and double garage
You'll need to decide how big you want the garage if the space allows, this decision is made before any plans are done otherwise you'll be making unnecessary changes along the way.
Plan your driveway carefully
If you already have a carport, your current driveway may be sufficient. If you don't, and you need to build a driveway to the new garage – you'll need to make sure there is enough space and allowance (with the boundary) that it will be permitted. Check this first before deciding where to build the garage.
Think about the design
It's not something people think about when it comes to building a garage, but it does take up quite a bit of space, so making sure it's consistent with the current look of your house, and keeping in mind the street appeal is still important.
Be clear on how much you're willing to spend
Like any renovation or build, it's very easy to get carried away especially with unnecessary features/ amenities that you didn't originally planned for. So have a fixed budget in mind for your build and work within that budget, then decision making becomes a whole lot easier.
---
New Garage Cost Calculator
Have you tried our new garage cost calculator? this might help you give you a better idea of cost, check it out here. Cost to build a garage calculator nz
---
To conclude
If you're thinking about building a garage, preparing and planning is very important and this includes choosing the right company to carry it out. Budget blow outs happen in projects that are either not properly managed, budget not made clear from the start, choosing the wrong materials, not having a contingency budget for unforeseen expenses, or not anticipating an expense. Like all renovations, it's very easy to overspend when there's such a wide range of options and price ranges – but being clear from the start and having a plan to work within will help making decision making during the project a whole lot easier. Lastly, as you've read in the article, there are many variations and factors that come into play when building a garage so make sure you negotiate a fixed price contract with your builder/renovation company to ensure no surprises – and be clear on what is not included so this is built into your budget.
Please note: Whilst all information is considered to be true and correct at the date of publication, changes in circumstances after the time of publication may impact on the accuracy of the information. The information may change without notice and Superior Renovations is not in any way liable for the accuracy of any information printed and stored or in any way interpreted and used by a user.
To wrap up
How much does it cost to build an attached garage?
The average cost to build a two-car garage in Auckland is around $50,000 – $100,000 +
Does a new garage add value to the property?
Yes, based on sales prices with and without a garage, on average there is a 2-3% increase but it varies in different regions.
How much does it cost to build a single detached garage?
The average cost for a garage this size is around $35,000.
What insulation should I use for garage walls?
We would recommend pink batts as it's commonly used in most Auckland homes.
---
Still have questions unanswered? schedule a no-obligation consultation with the team at Superior Renovations

---
Or call us on   0800 199 888
---
References:
---
Have you been putting off getting renovations done?
We have partnered with Q Mastercard ® to provide you an 18 Month Interest-Free Payment Option, you can enjoy your new home now and stress less.
Learn More about Interest-Free Payment Options*
*Lending criteria, fees, terms and conditions apply. Mastercard is a registered trademark and the circles design is a trademark of Mastercard International Incorporated.