Titirangi, Auckland
Contemporary Artisan
Bathroom Renovation
---
Completed on October 2020
RENOVATION
Project Managed By
Kevin Yang
Managing Director/Project Management
kevin@superiorrenovations.co.nz
0800 199 888
Artisan Contemporary Bathroom
Project Finish Date
October 2020
Most old homes are not very well insulated or have a good exhaust system in bathrooms which means that they are often prone to mould. Tracey faced a similar issue with her downstairs bathroom in Titirangi.
"The bathroom was old, the shower door had started to rot and the extractor fan didn't exist" says Tracey when asked about her initial motive to renovate. She had renovated her upstairs bathroom in the previous years and wanted this bathroom to have a similar design element.
"I didn't want just a generic plain bathroom but wanted it to be similar to my upstairs bathroom" says Tracey. This bathroom's design was definitely a credit to Tracey's keen eye for design and aesthetics. This small bathroom was beautifully designed to maximise the space and make it appear larger.
Tracey's bathroom may look like a simple renovation but in fact it required a lot more technical attention as compared to other bathrooms. The reasons for these are as follows:
Using small floor tiles meant that there was more grouting as compared to if we had used larger tiles.
We used our senior tiler to lay the floor tiles because we needed his higher skill set to correctly lay tiles with patterns so they were aligned perfectly with each other to form a cohesive design.
The expertise required to tile this bathroom also meant this bathroom costed a lot more compared to bathrooms that use large format tiles.
Full Bathroom Renovation 
This bathroom was renovated using Artisan designer tiles for the floors and white subway tiles on the walls. We then installed a glass door tiled shower with the same tiles as the rest of the floor and walls. The glass shower opens the space and the tiles that were extended till the shower gives this bathroom a continuity which makes it look more spacious.
The floating vanity gives the bathroom a cleaner and less cumbersome look. This wooden vanity also adds warmth to the black and white bathroom by bringing an element of nature within the space.
Flooring and Wall Tiles
The tiles used in this bathroom really made a huge difference in the design of this bathroom. As Tracey did not just want a generic white bathroom, it was important to add design elements that worked well together within a small space.
The patterned floor tiles create a sense of drama in the bathroom which are complemented by matte subway tiles used on two out of four walls. The subway tiles add texture as well as a 3D component which draws your eye towards this corner. The wall behind the vanity was painted white to ensure that the vanity was the star of the show
Floor Tiles 
It was important to not make the bathroom feel closed in, hence it was decided to use the patterned tiles on the floors instead of the walls.
Floor tiles – Artisan Deco Uno 200 x 200 Glazed Ceramic. Friction tested SRV = 26 from Tile depot
Wall Tiles
We tried to keep the walls neutral and white to make the bathroom look more spacious. We used white subway tiles to add texture as well as a design element for the bathroom. We used black instead of white for the grouting in order to match the black in the floor tiles.
Wall tiles – City White Matt 100 x 300 BX 1.2 M2 Glazed Ceramic from Tile depot with black grouting
A combination of light and dark grey shiny hexagonal tiles were installed in the shower niche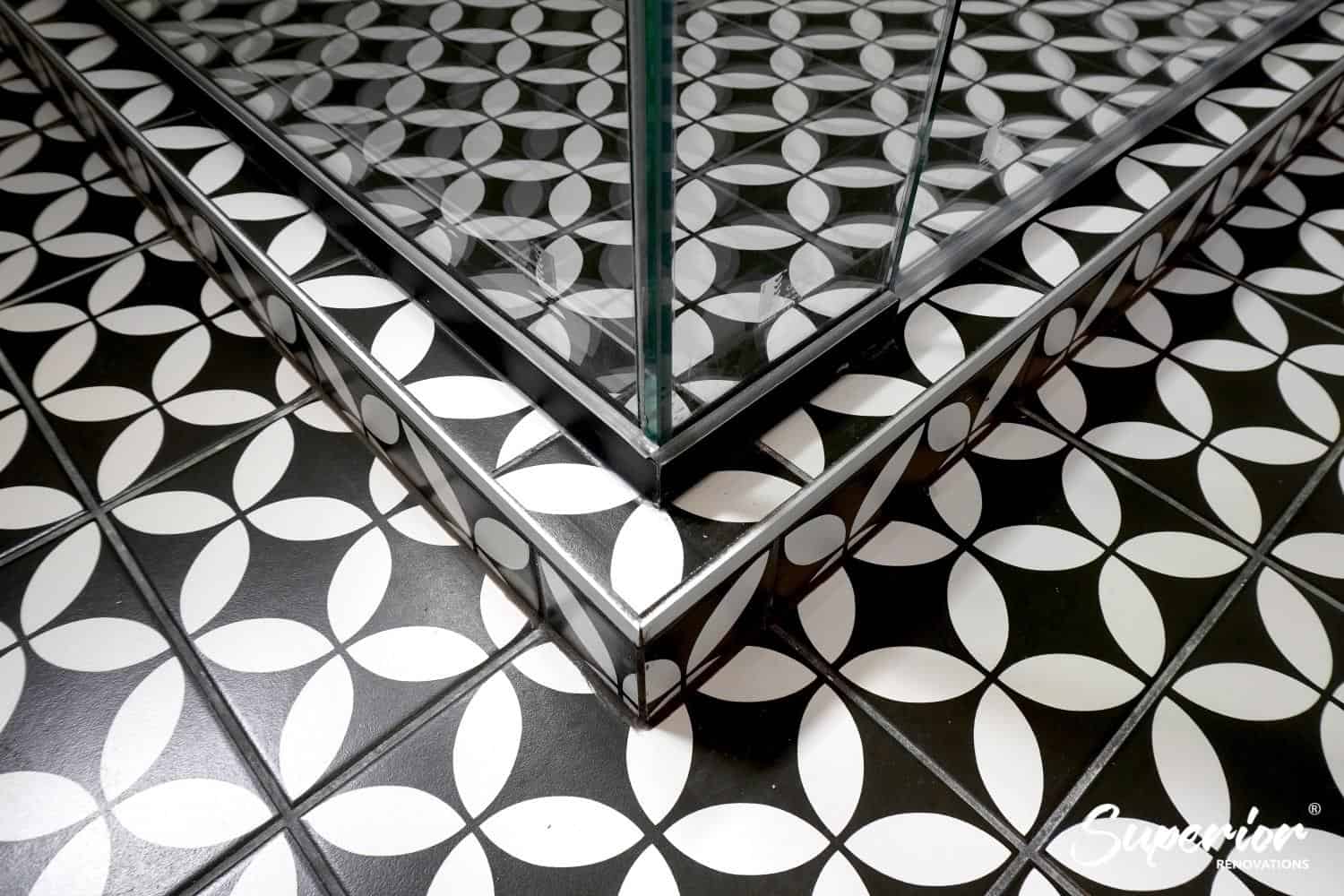 We installed a floating vanity instead of a standing one to make the bathroom look less cumbersome. A wooden vanity was chosen to add some warmth to an otherwise black and white bathroom. The black line framing the wooden vanity adds continuity to the design by matching with the black fixtures as well as floor tiles. A similar design was chosen for the storage cabinet as well.
St Michel vanity, mirror and Storage cabinet used. For the Vanity we used a Southern Oak Wilderness door with a soft black matte titanium strip. A 900mm White St Michel Dante Mirror cabinet installed on the wall. A 2409 – SM Sussy Basin installed in the vanity. Black matte Methven tapware installed with the sink. For the storage cabinet we used a St Michel City tower 1740 with 2 doors with a southern oak wilderness front a black velvet titanium strip.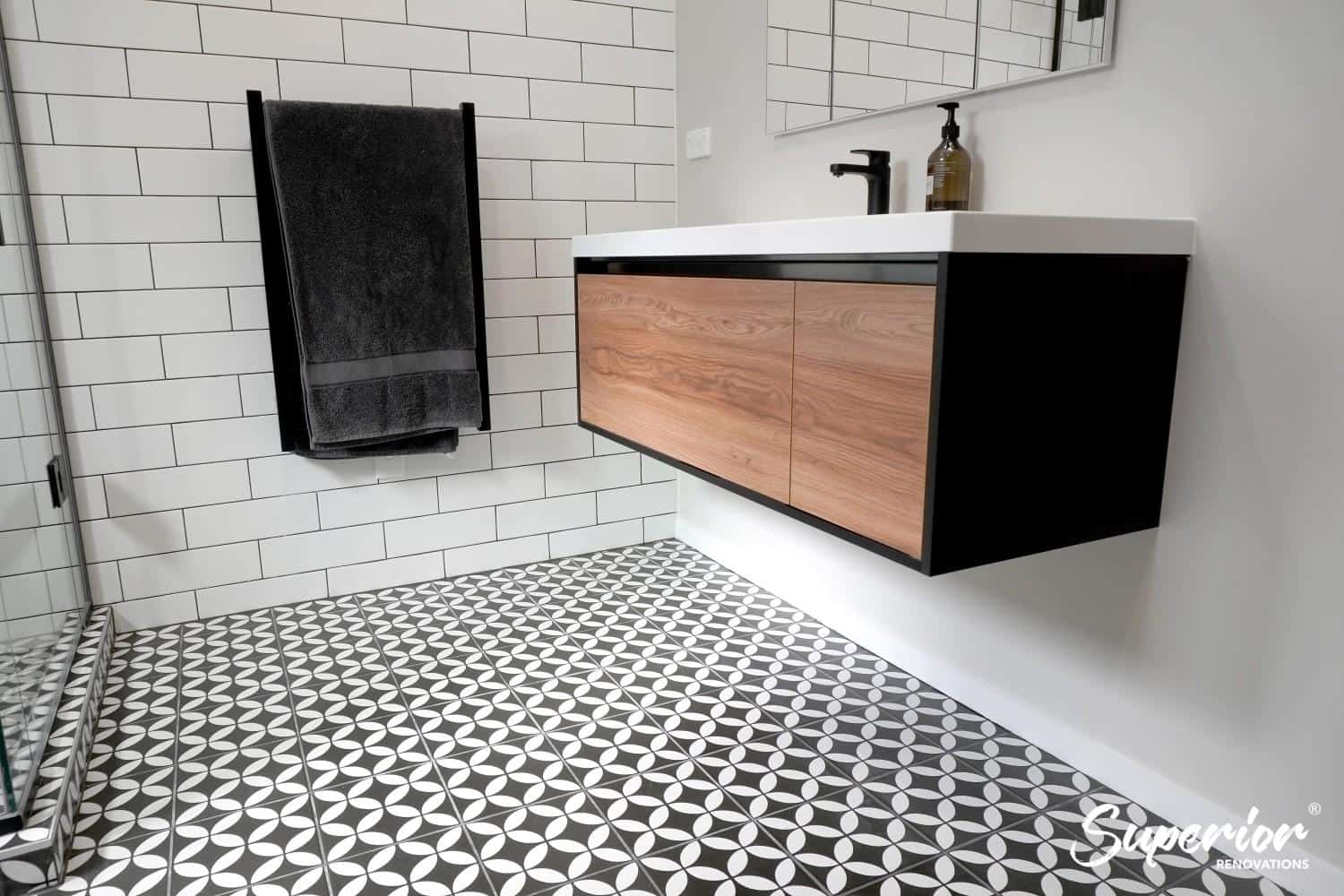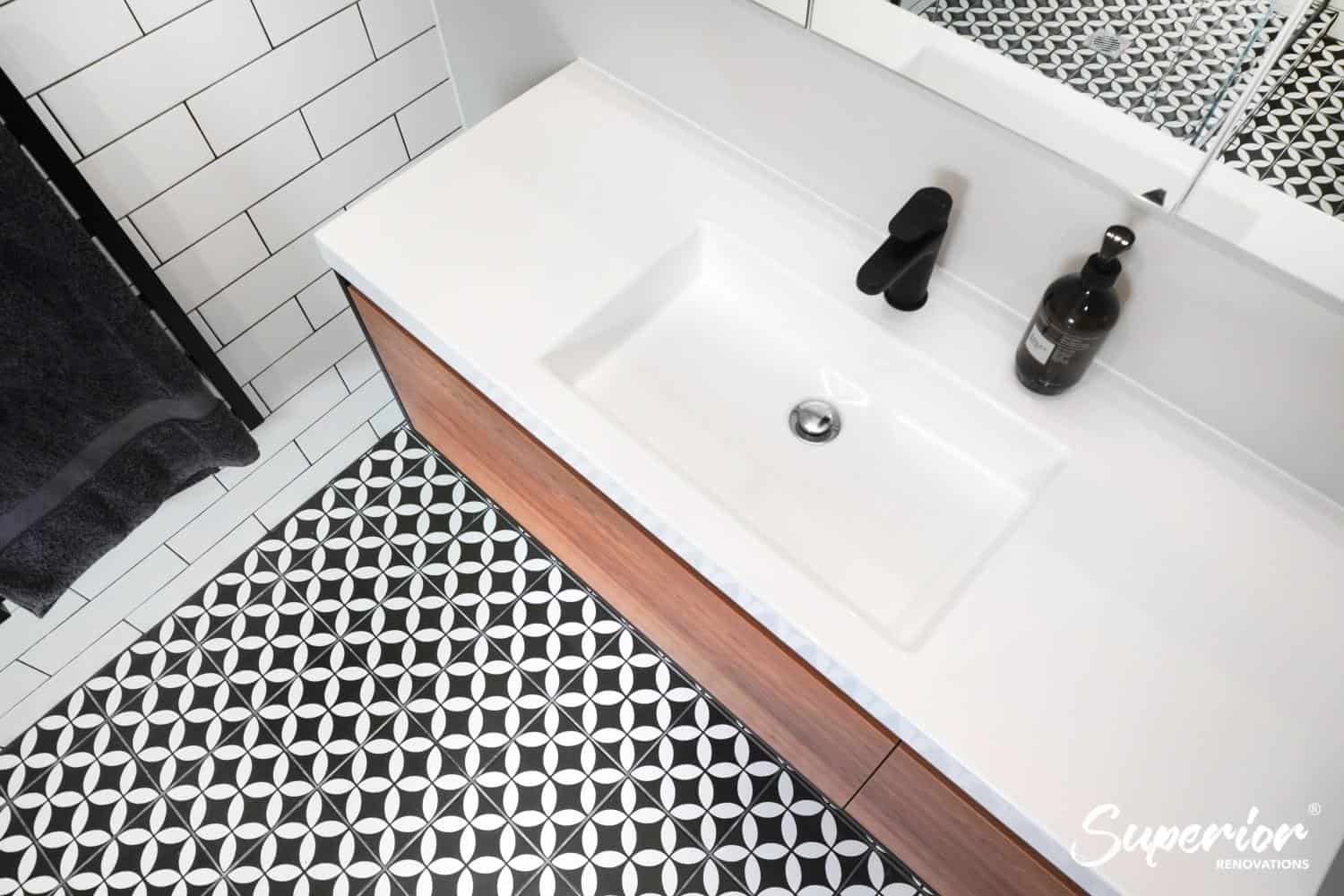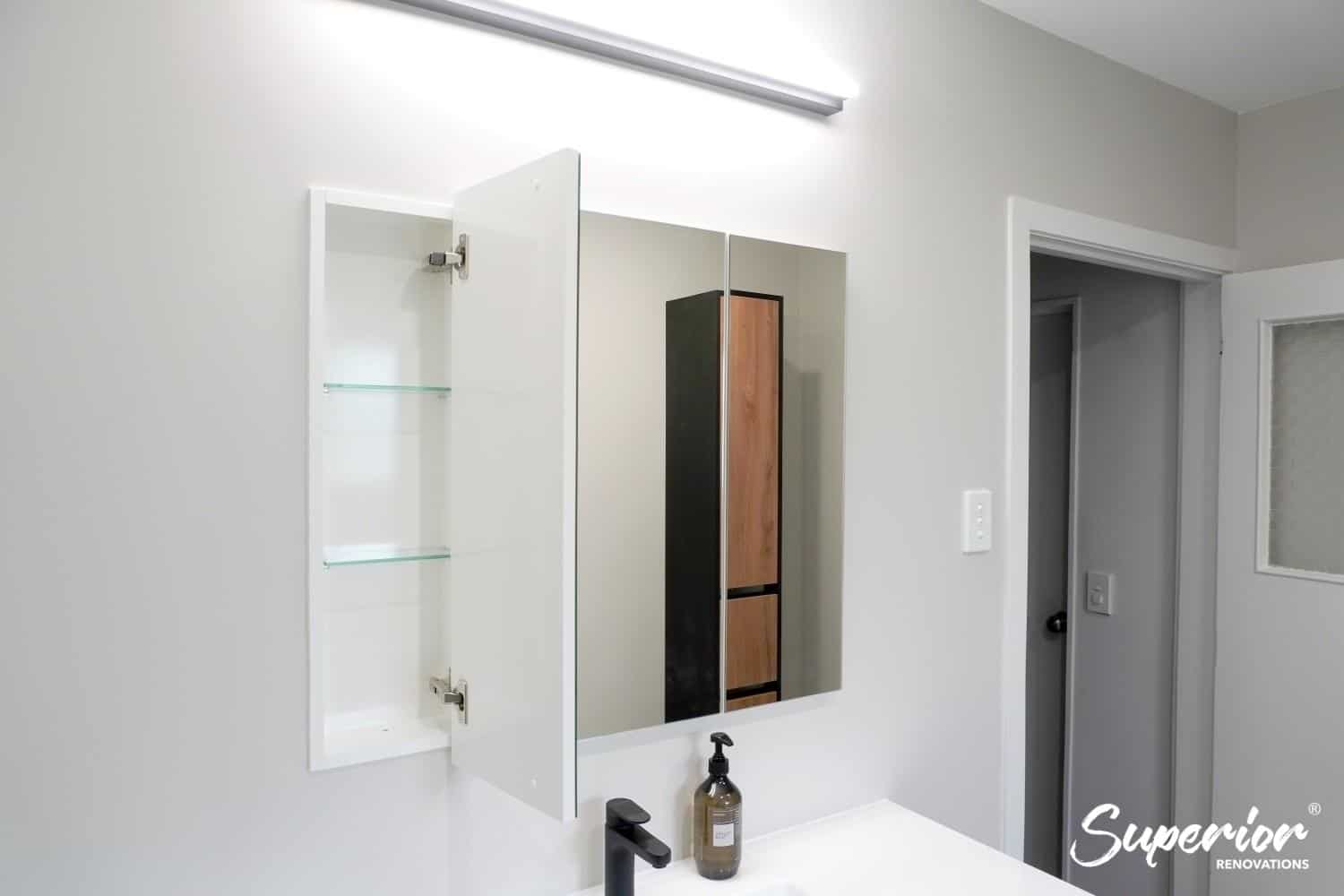 Tiled Shower
Floor and wall tiles were extended to the shower
A tray was installed which was at a higher level than the rest of the bathroom
The walls and floor were water proofed
Custom built glass was installed
Matte black shower fittings from Reece
Mizu Soothe shower mixer in matte black installed
A shower niche was created in the wall to store accessories
Toilet
Evora Back to wall suite with a low profile sea from Renoarts bathroom
Black matte toilet roll holder from Reece
A heated towel rail was installed