Half Moon Bay, Auckland
Full Renovation
of a New Family Home
---
Completed on Oct 2020
RENOVATION
Project Managed By
Jimmy Zhou
Project Management
jimmy@superiorrenovations.co.nz
0800 199 888
Full home renovation of a dated home
Project Finish Date
October 2020
Our client bought this house and wanted to renovate before moving in as this was an old house which is mostly an issue with a lot of our clients. Our client had a set budget and wanted to make as many changes as she could to make it comfortable and modern to suit her lifestyle.
Our client wanted the renovation to be completed before she could move in but was temporarily living across the road from the house we were renovating. As a doctor she had a busy lifestyle and wanted to renovate with a company that could manage the entire process. She decided to get a few quotes before deciding as she had never renovated before and this was a very new arena for her.
She got a total of 6 quotes from renovation companies around Auckland but decided to go with us because of her interaction with Jimmy. While she was convinced about the expertise of all the renovation companies, she felt that Jimmy understood her needs a lot better.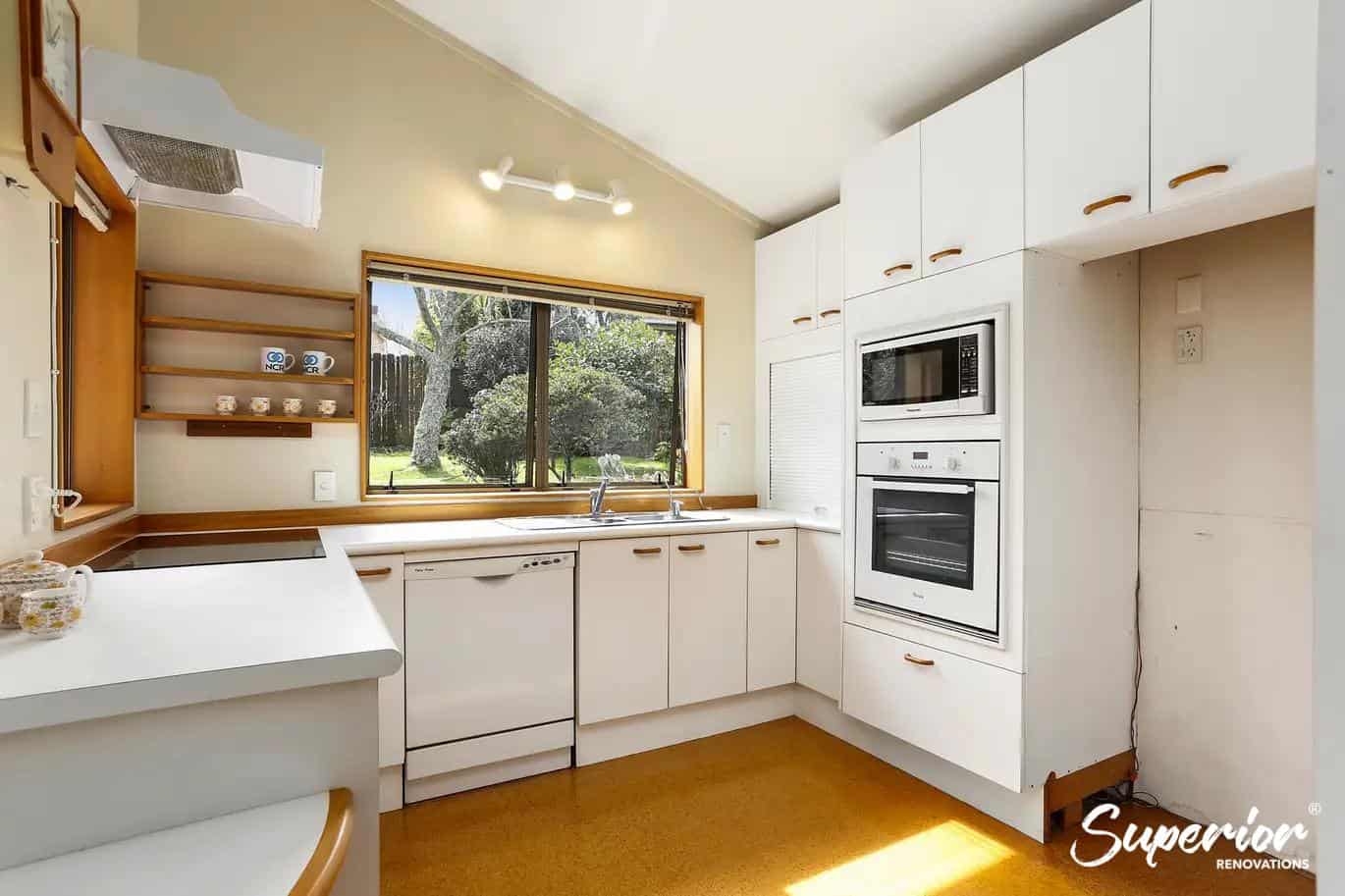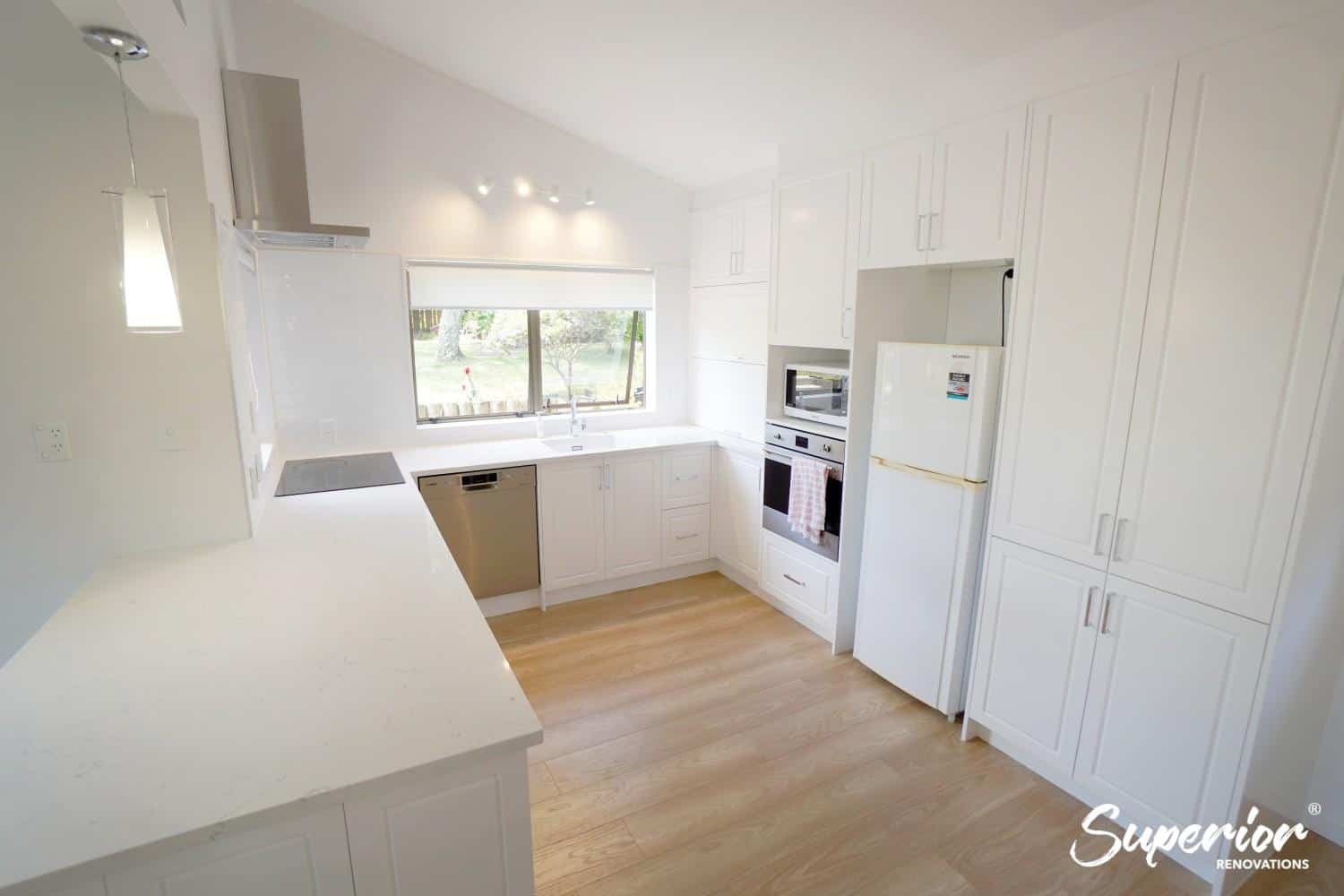 "Jimmy was just so friendly and did not shut down any of my ideas. He was young and energetic and more willing to listen to me than a lot of other people I spoke to" said our client about her first interaction with Jimmy and the reason why she decided to go ahead with us.
We started this renovation in early August of 2020 which was just before the second COVID 19 lockdown in Auckland. This posed a few challenges for our teams as we had to work through a level 3 lockdown and had to put strict protocols in place to be able to complete the renovation within the timeframe.
Our client was living across the road from the house that we were renovating, and she was very happy about the dedication of the teams. When asked what she loved the most about her renovation she said "All I can say is that your teams were very hardworking. I would take my dogs for a walk in the mornings and evenings and they were always there working on the agreed schedule".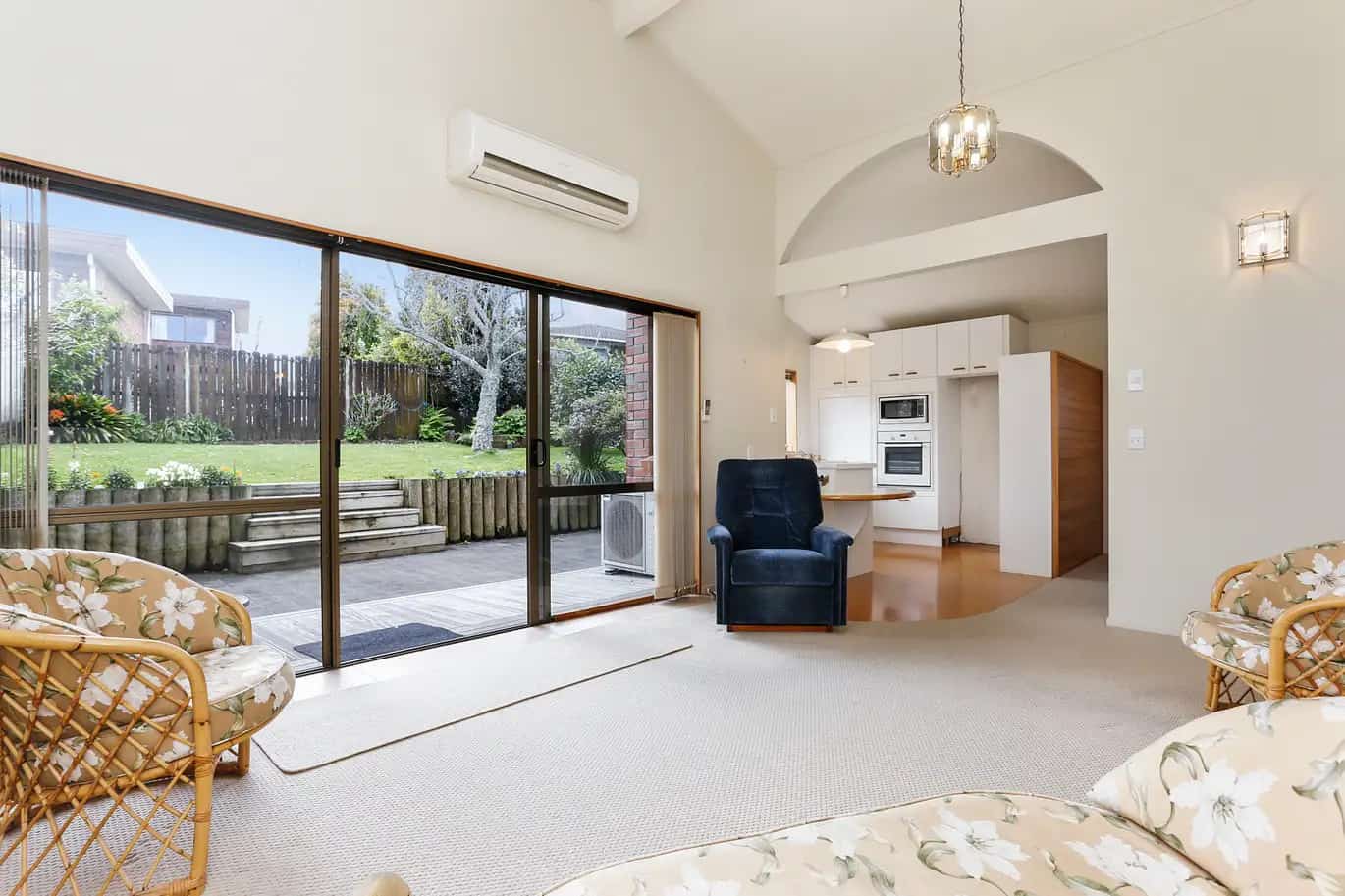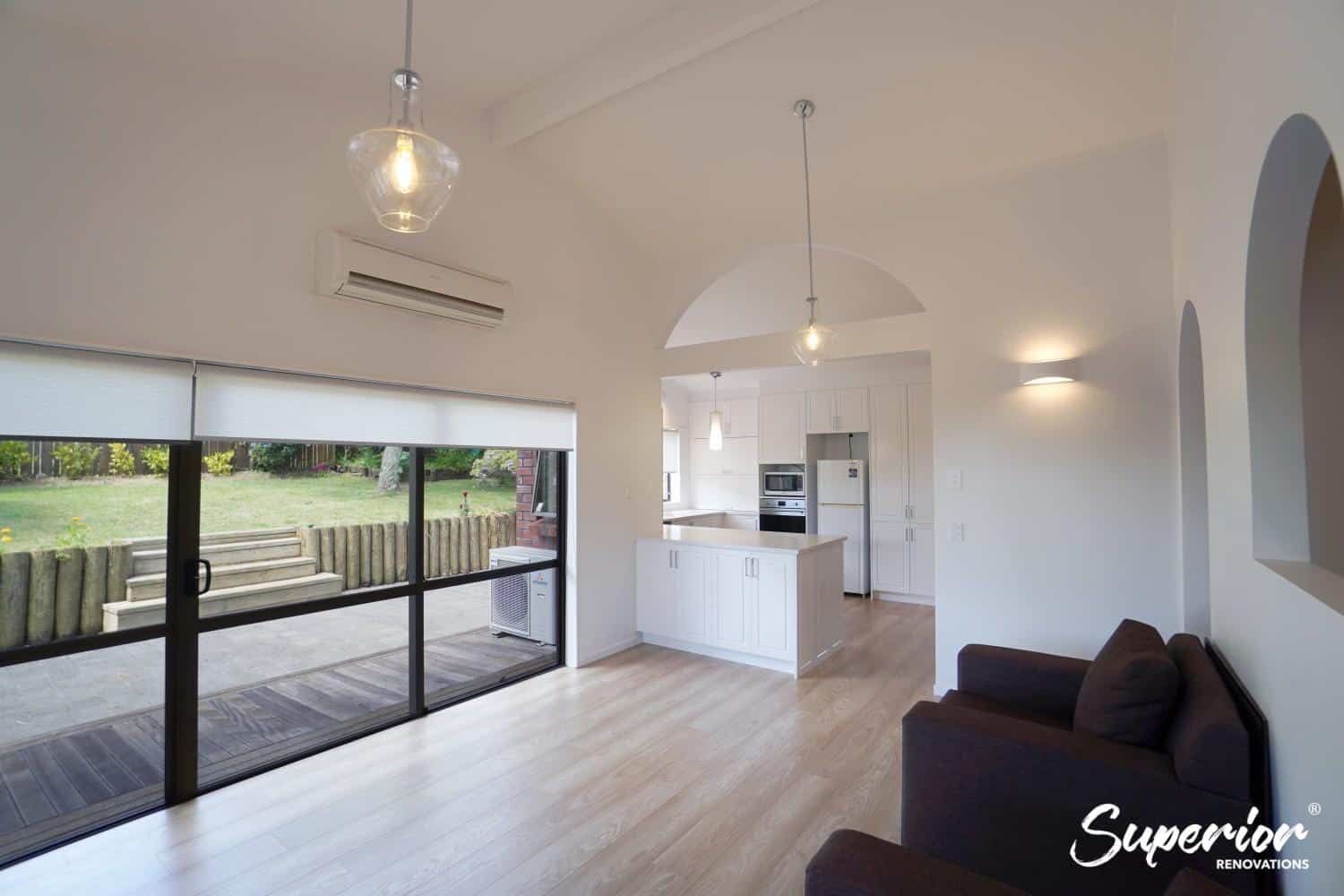 Full Wallpaper removal and Repaint 
The house did have its unique challenges as it had very high ceilings which had wallpaper on them. We had to put up scaffolding throughout the interiors to remove the wallpapers and repaint the entire house.
Internal scaffolding erected throughout the house
All wallpaper was removed
All the holes were fixed
Extensive plastering done
1 undercoat and 2 top coats were applied
The entire house was carpeted
All carpets removed throughout the house
The staircase was re-carpeted
We tiled the living, dining, kitchen, hallway, entryway and all bedrooms with a tile that was made to look like Oak wood.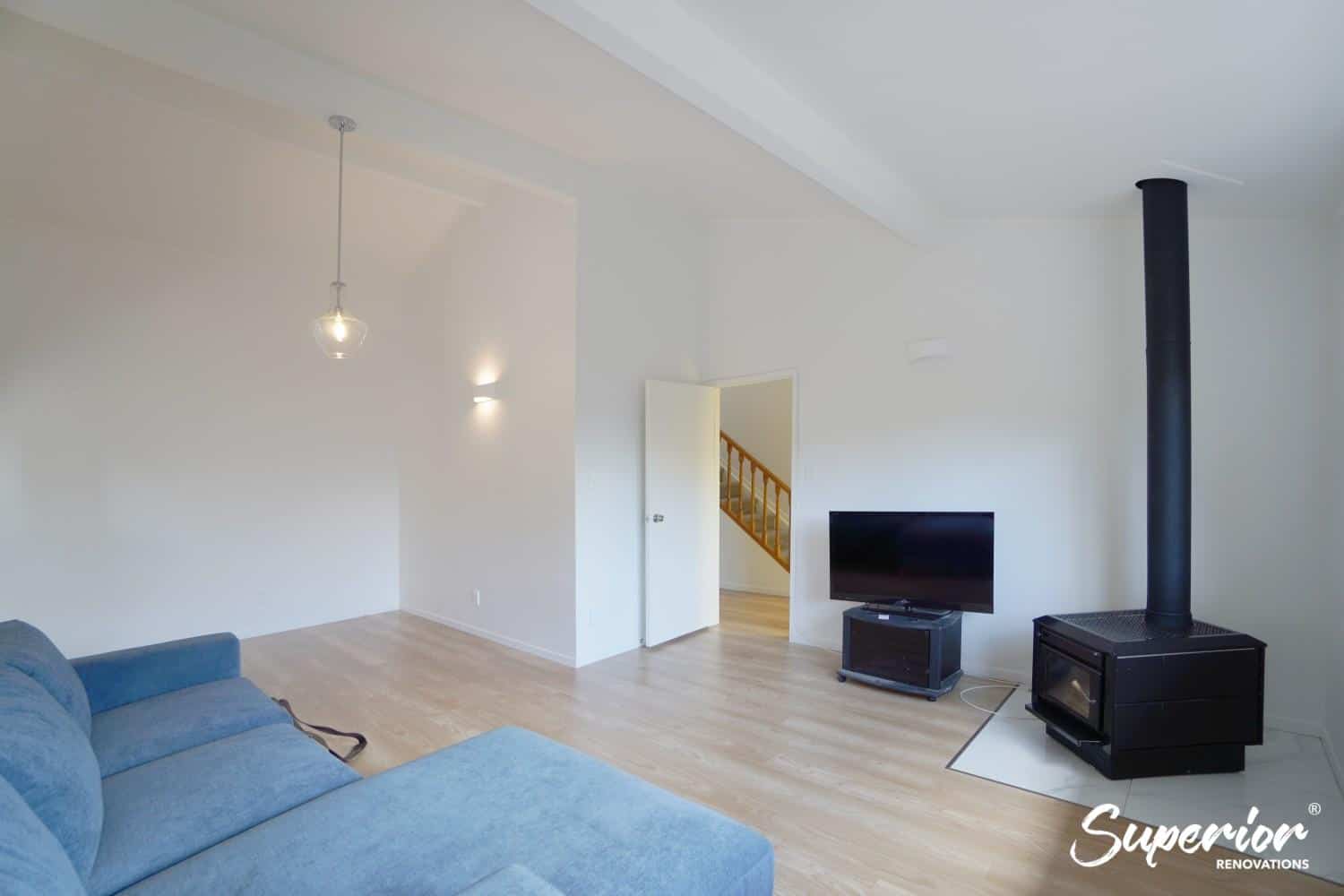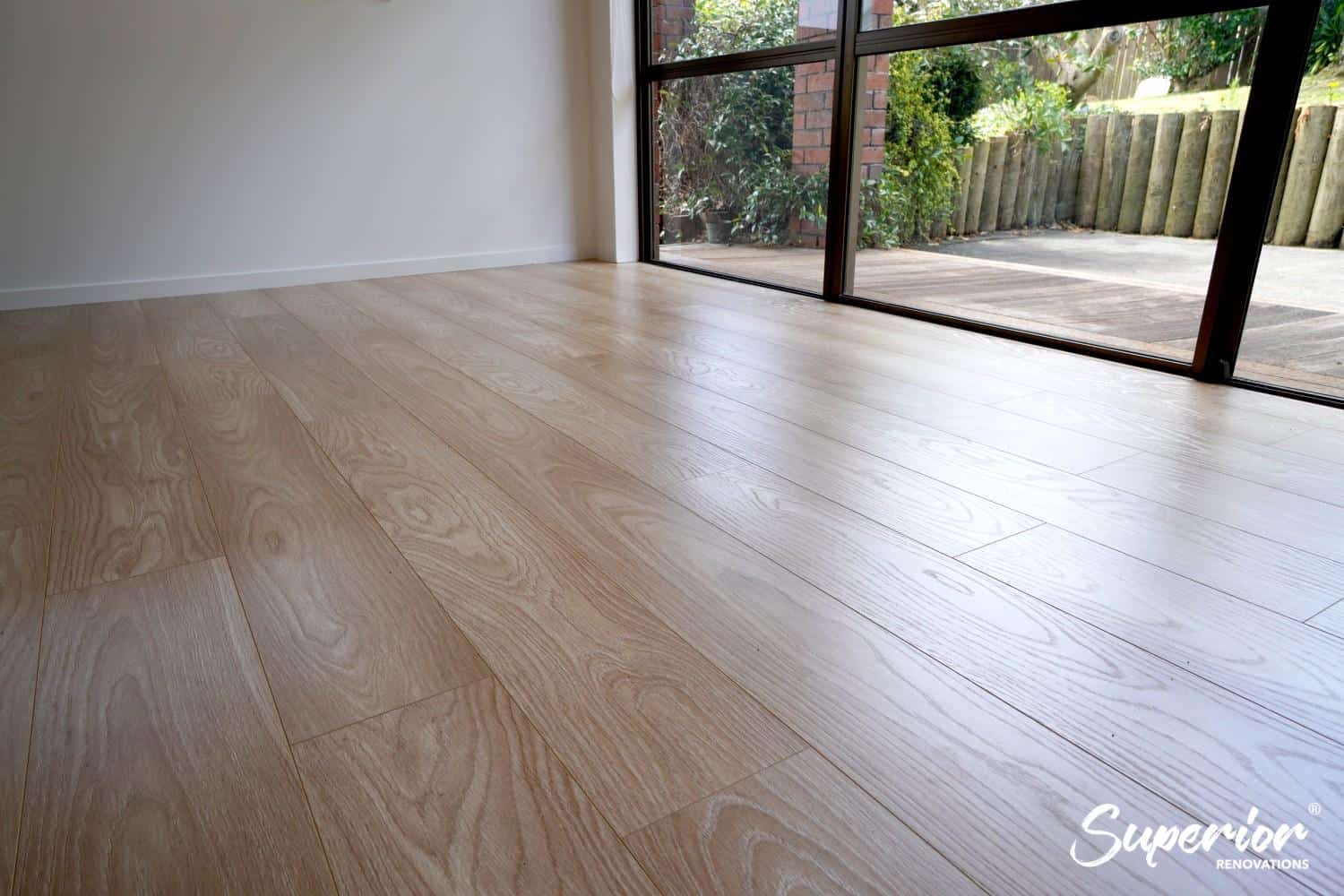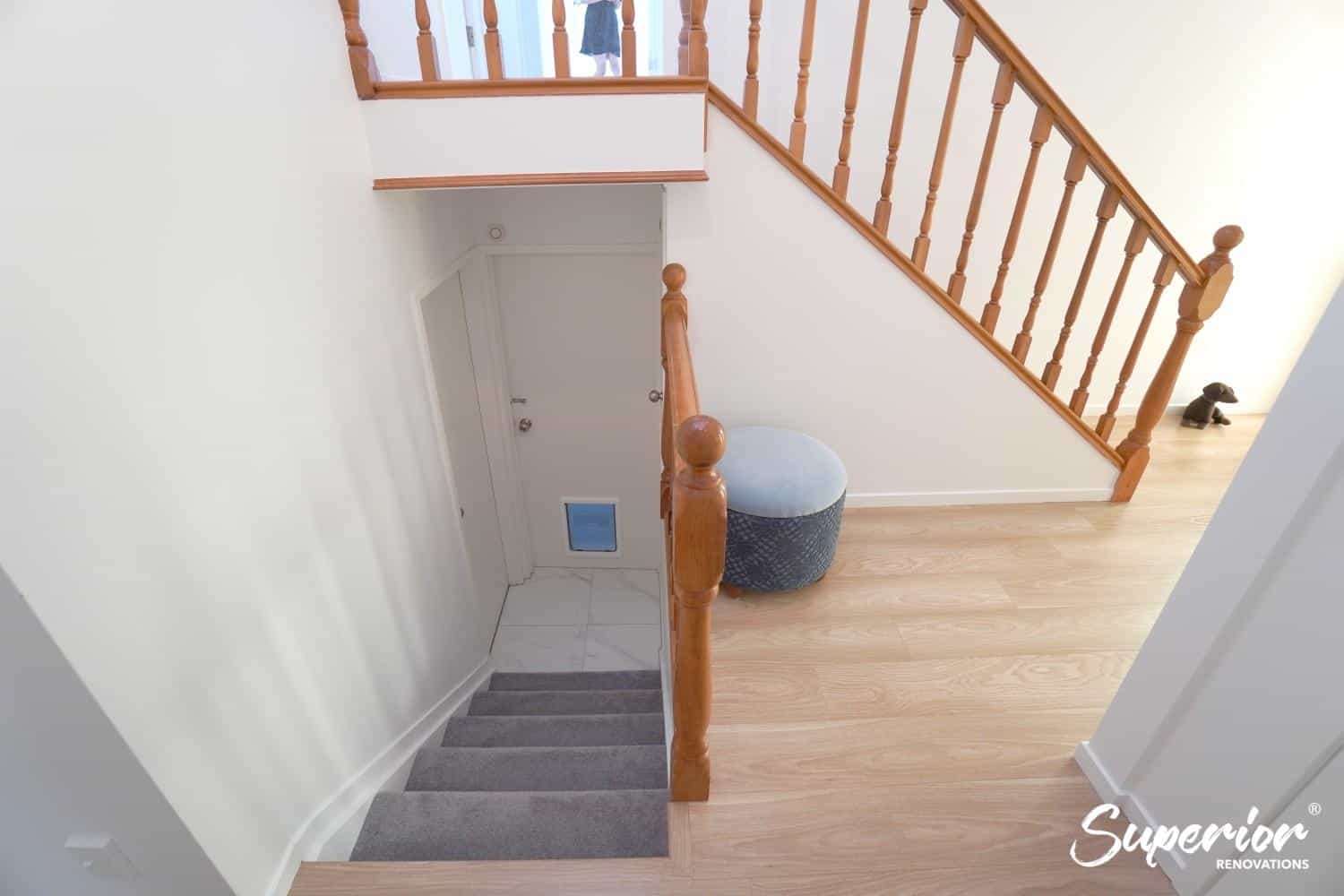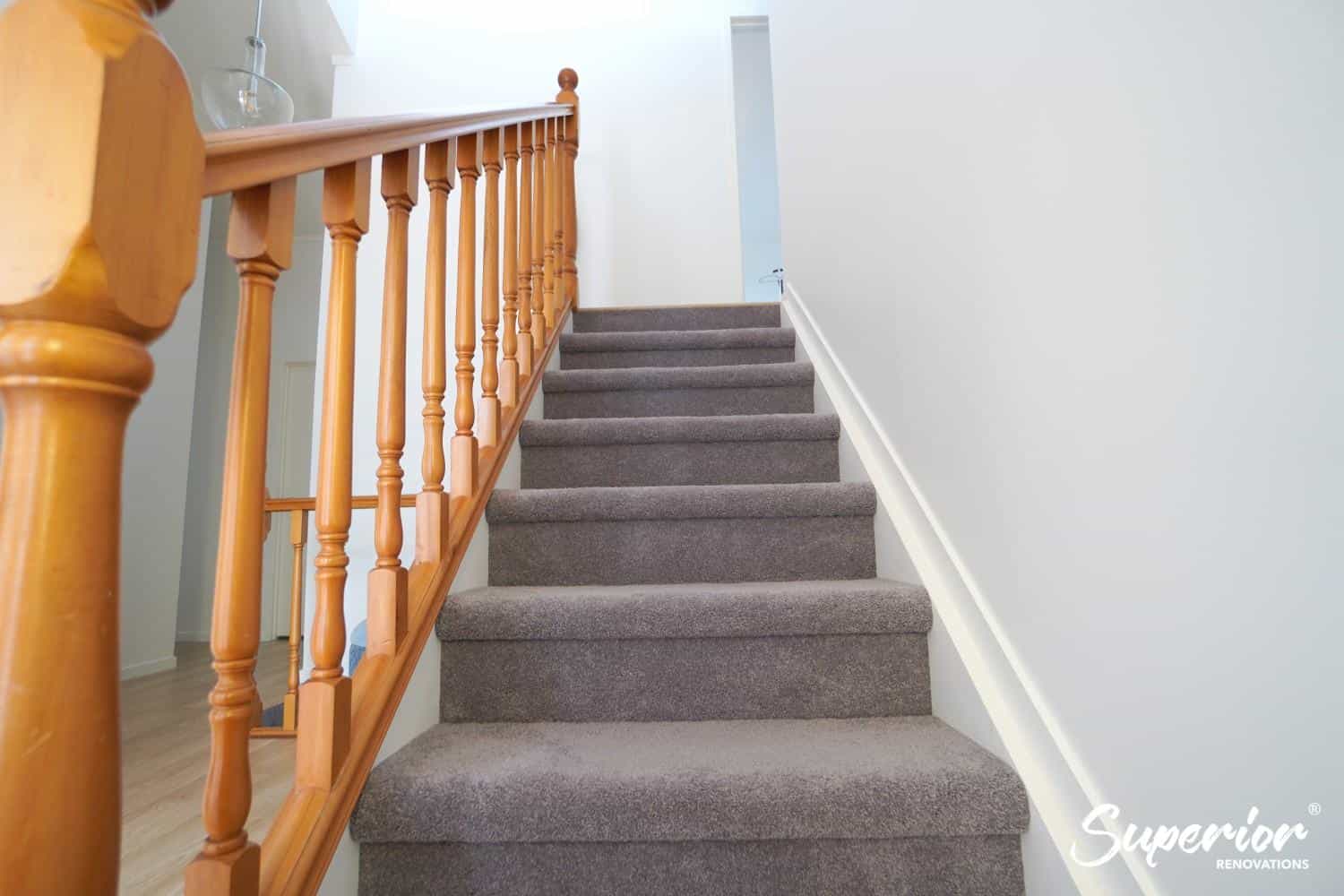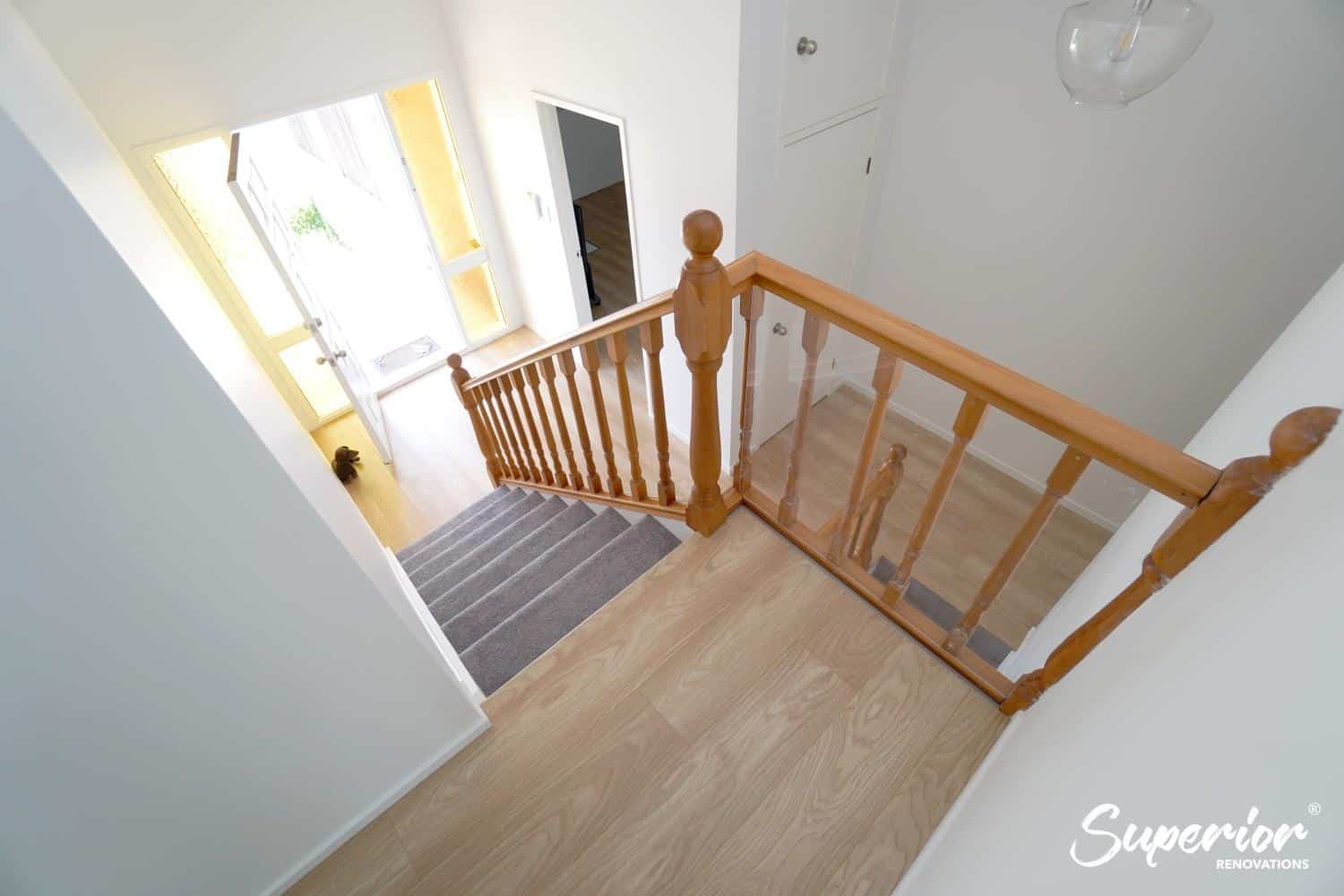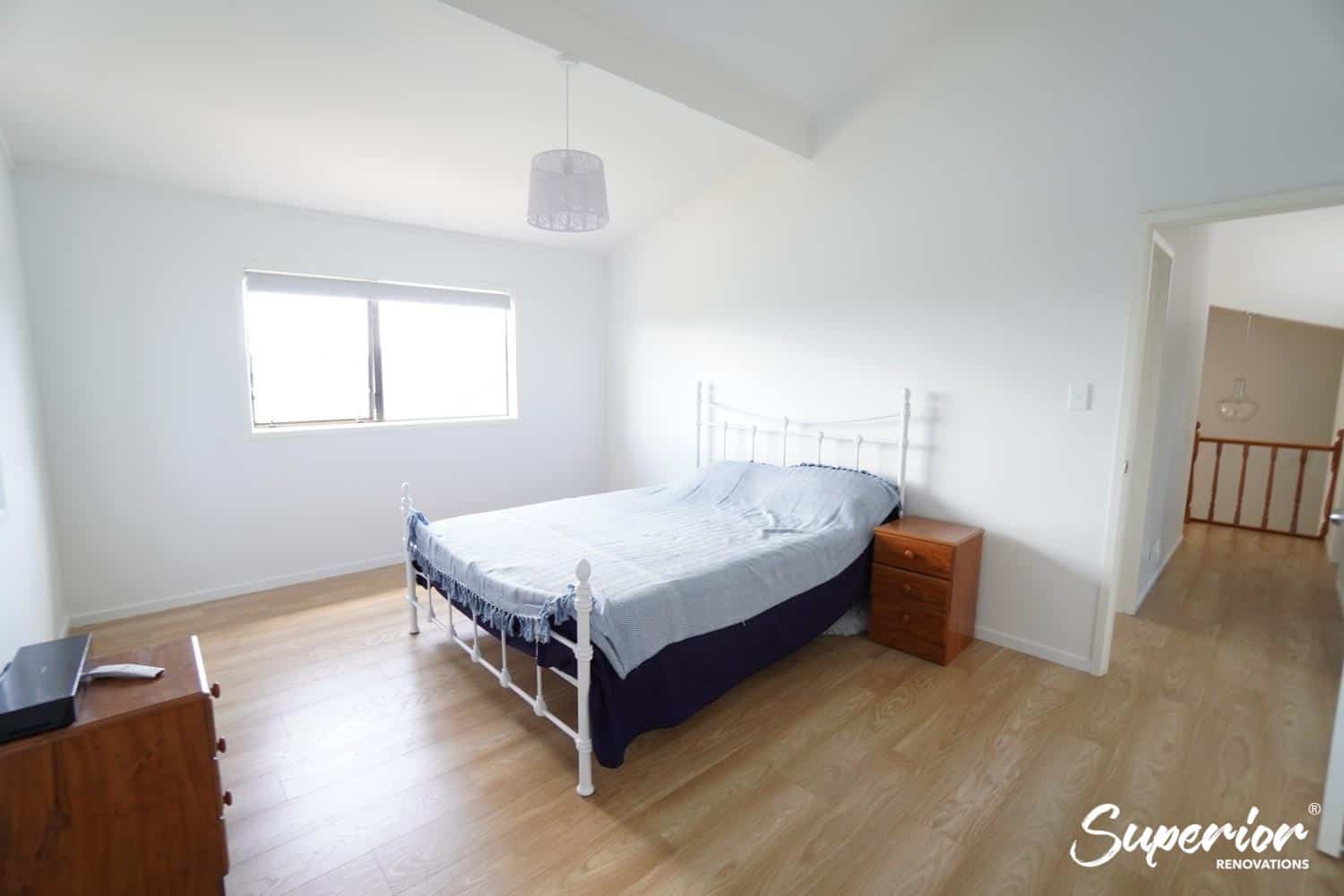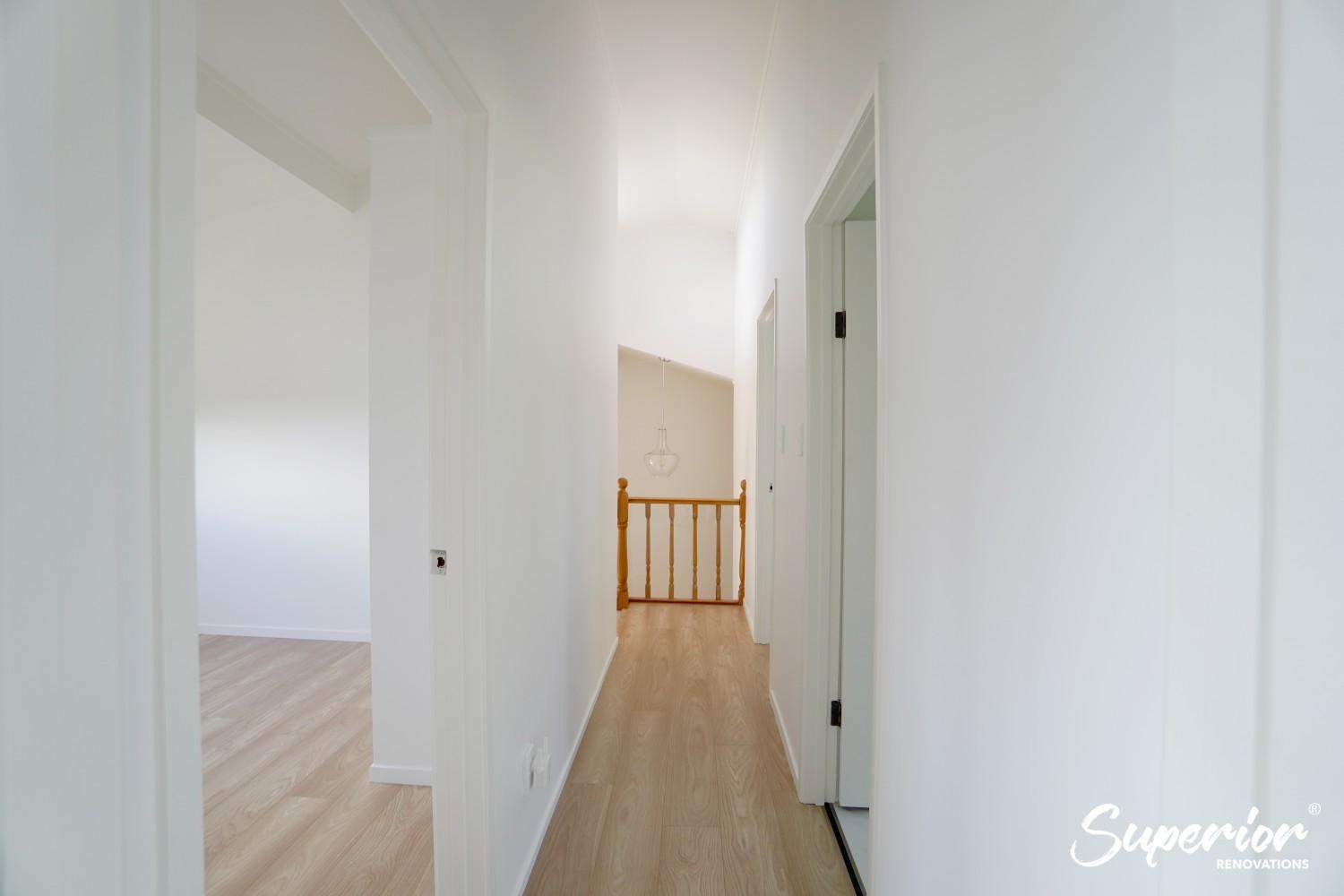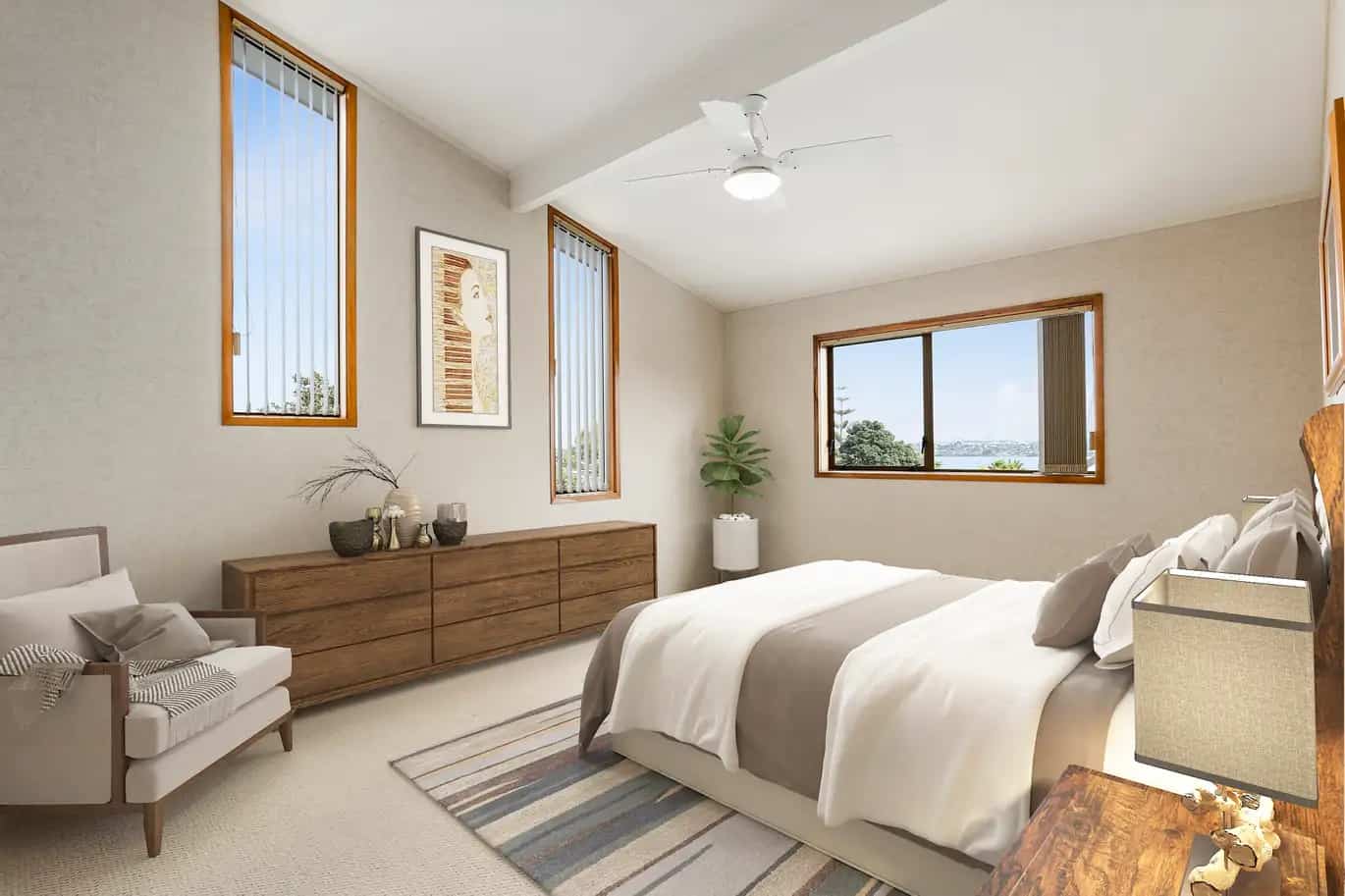 Custom Kitchen Design
+ Renovation
A wall was demolished between the dining room and kitchen to make it an open plan space. The old kitchen had laminate cabinets with drab brown accents. The kitchen was fully renovated with a contemporary design in mind. We could not go too modern as it did not match with the arched doors and windows that were featured throughout the house.
While we did use some modern elements like soft close cabinets, we decided not to incorporate a no handle set up as it did not complement the original architecture. Instead, we custom built the cabinets with MDF Melteca which was wrapped in Dezignatek Thermoform with a vintage pattern to give the cabinets a vintage look. We also installed dull black handles to give it a contemporary look.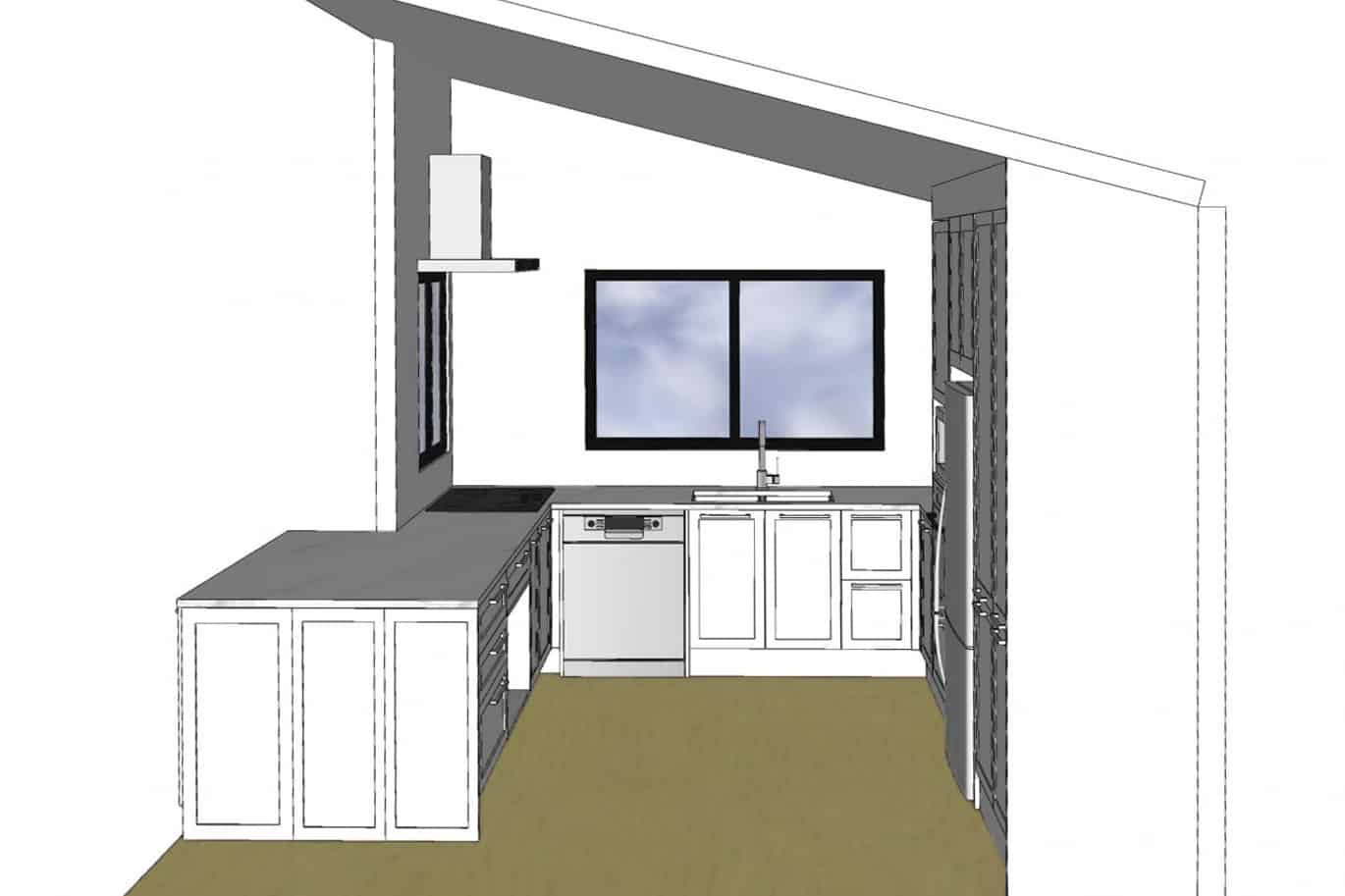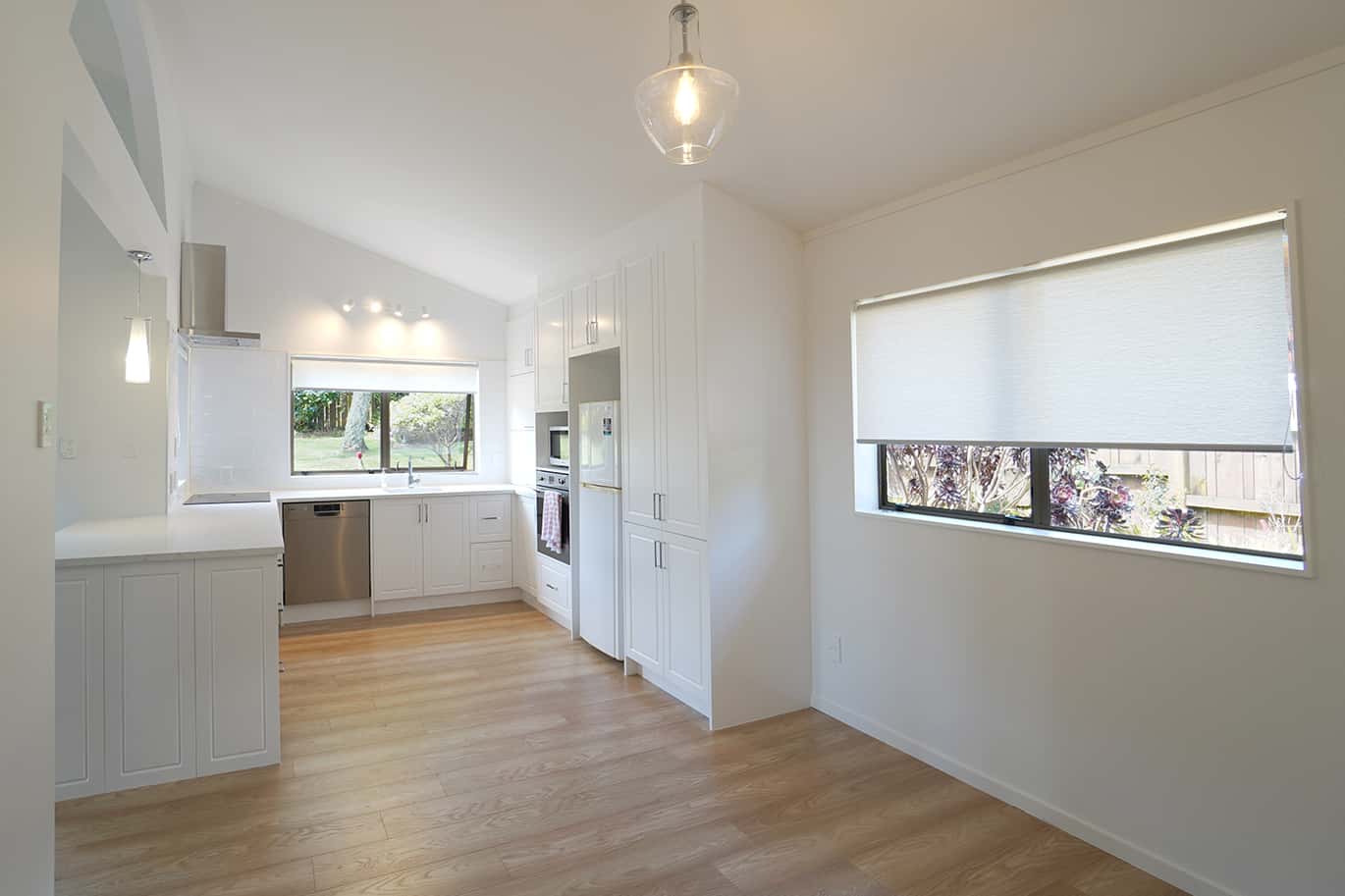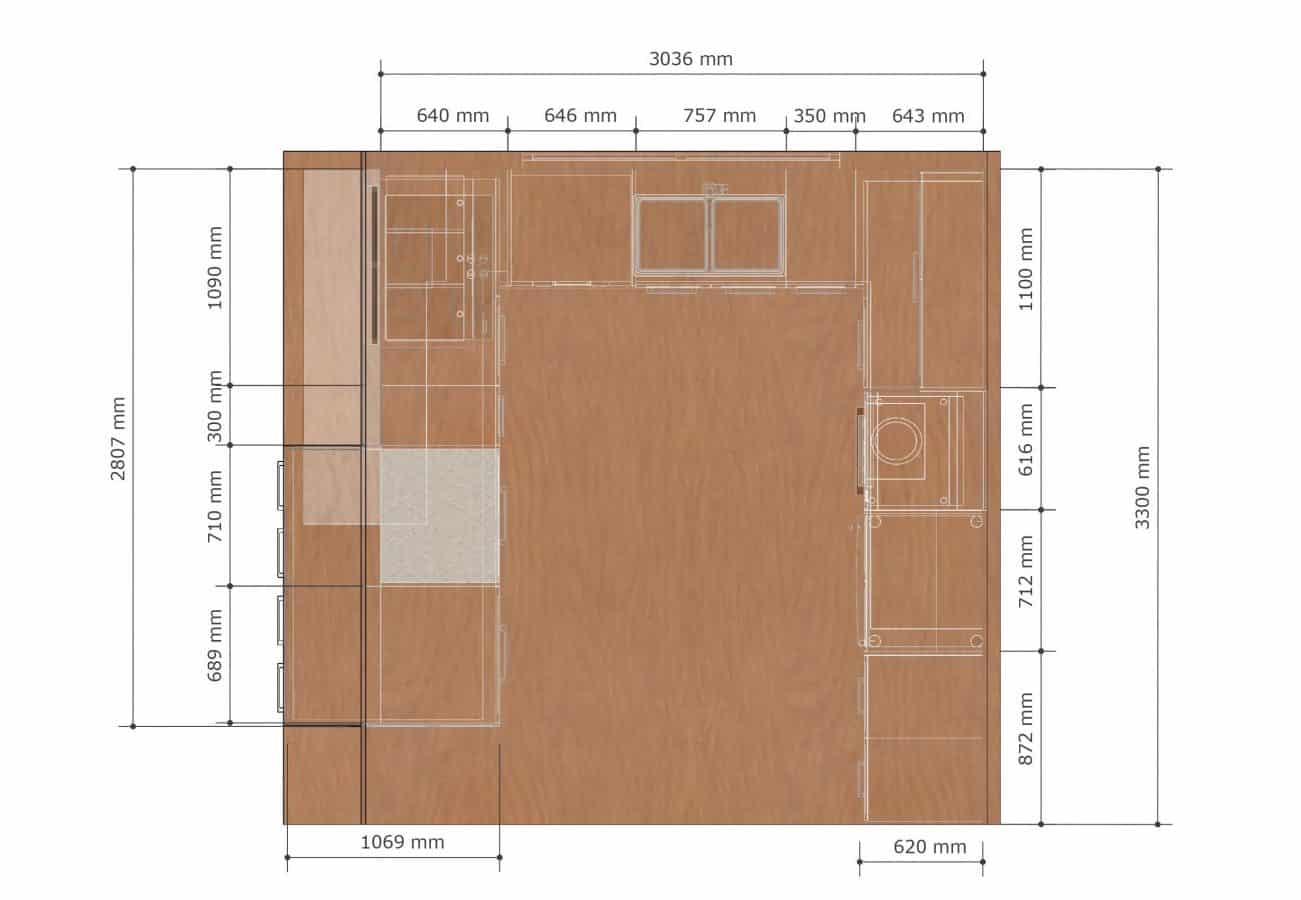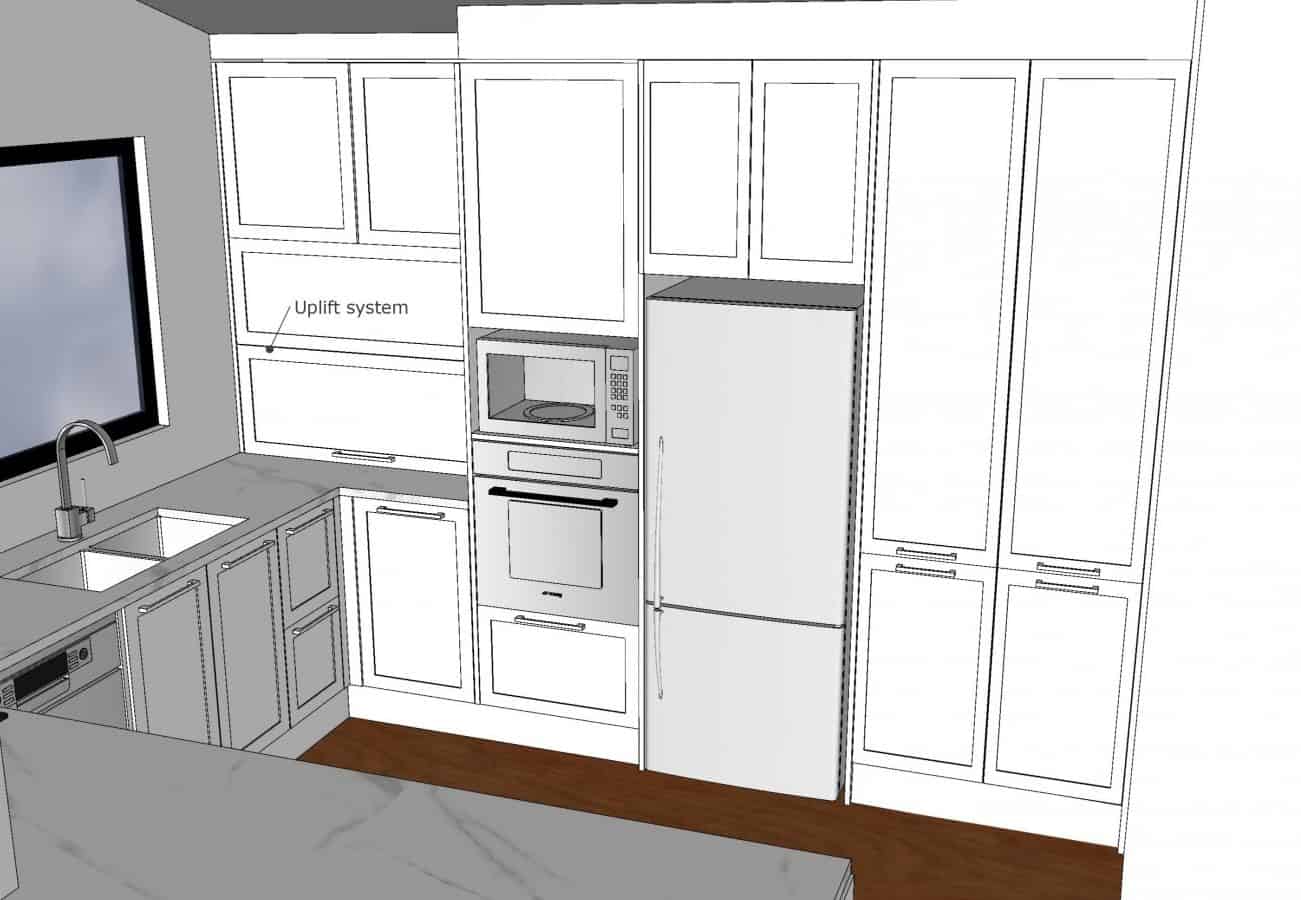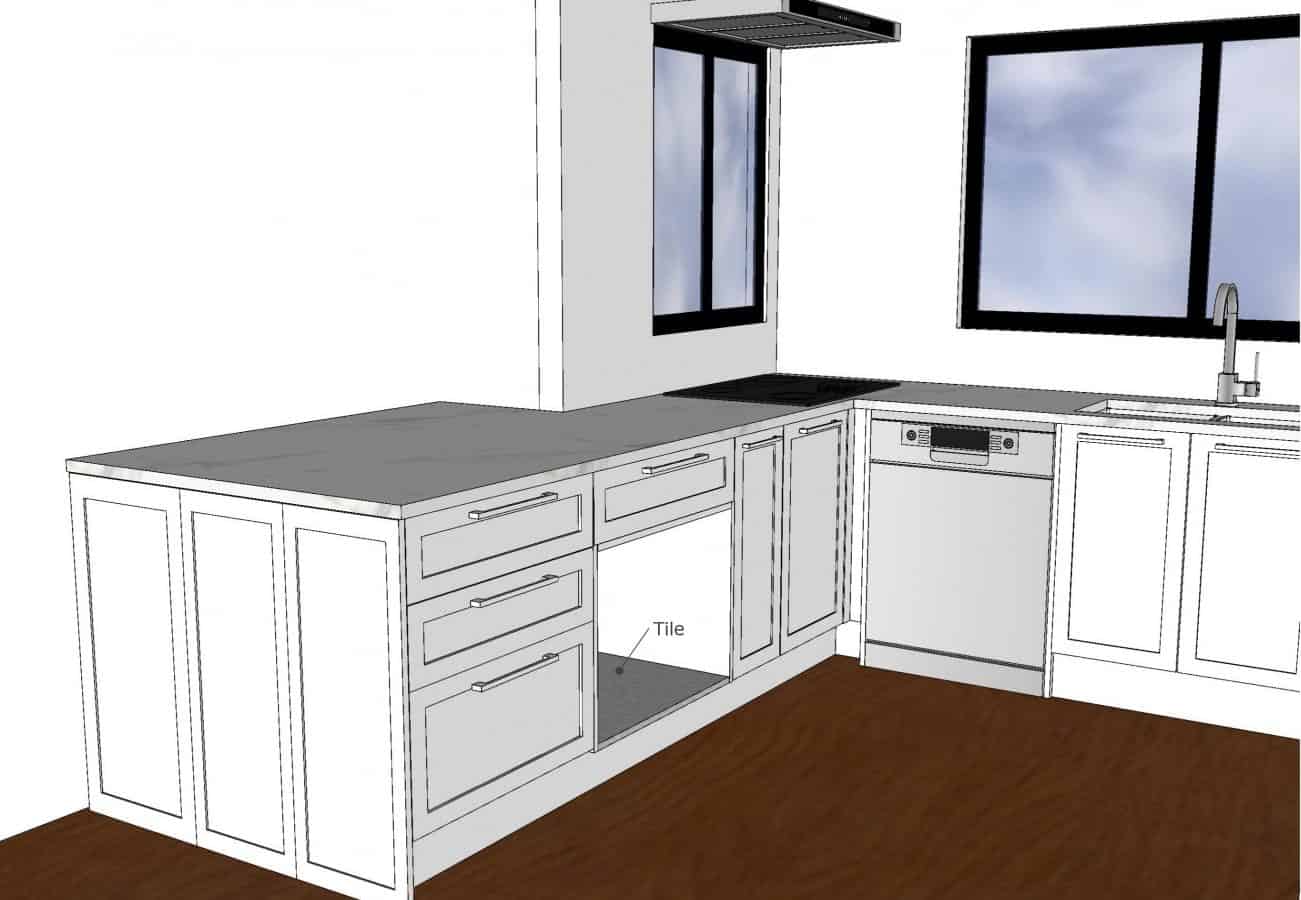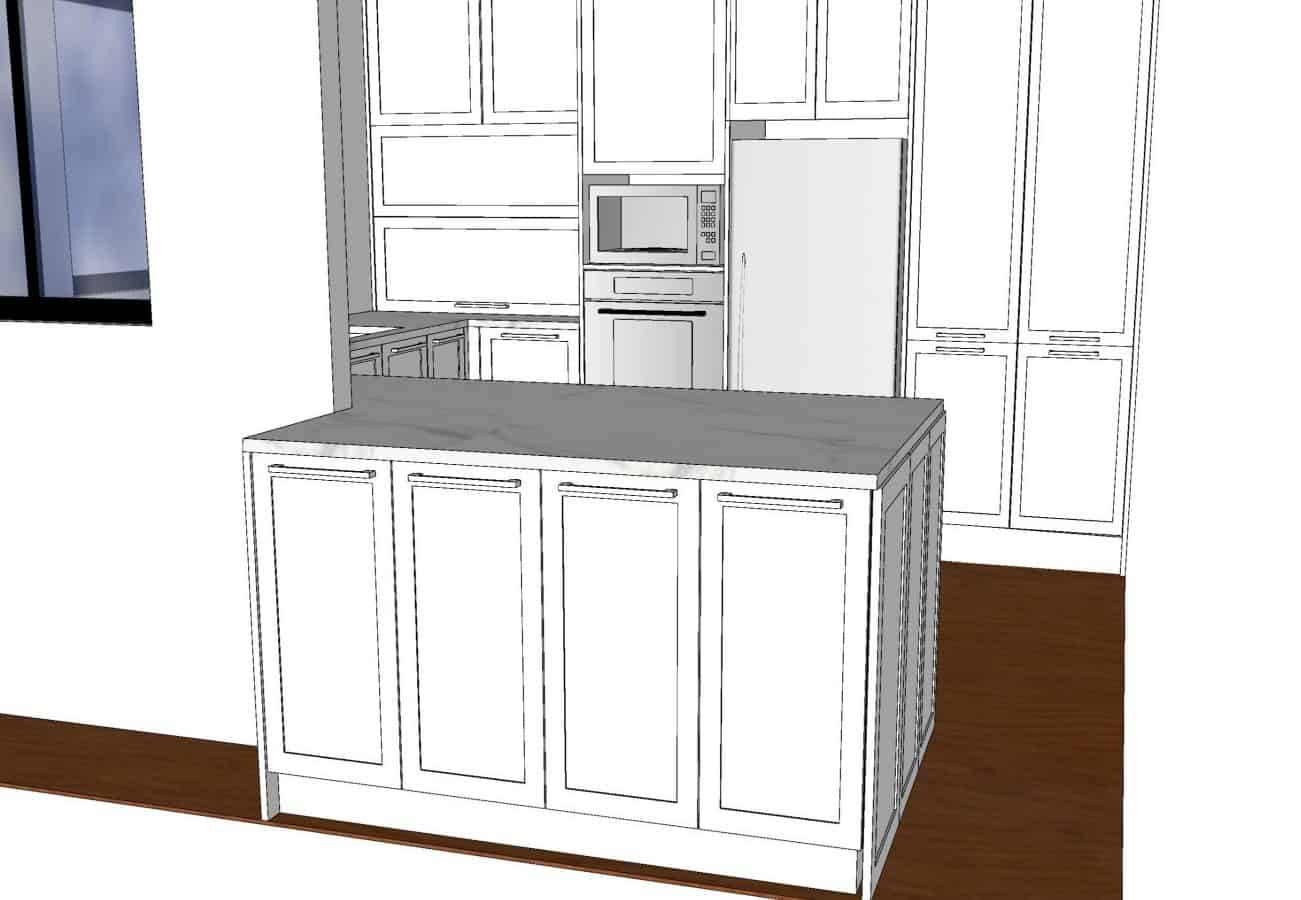 Custom Built Cabinets + Benchtop
MR particle board used for the carcass
HPL plywood sink carcass (high water resistance)
Melteca cabinets custom built as shaker style cabinets (high water resistance)
30mm stone engineered benchtop with a marble look
Top mount Blanco Silgranit sink installed keeping durability in mind
Matte finish handles used for all cabinets
Modern and convenient appliances and Fixtures
Induction stove top and range hood
Blum soft close hinges
DTC soft close drawer runners
Blanco Silgranit stone sink for durability
Incinerator installed
Pull out rubbish bins
Pull out storage cabinet with in built shelves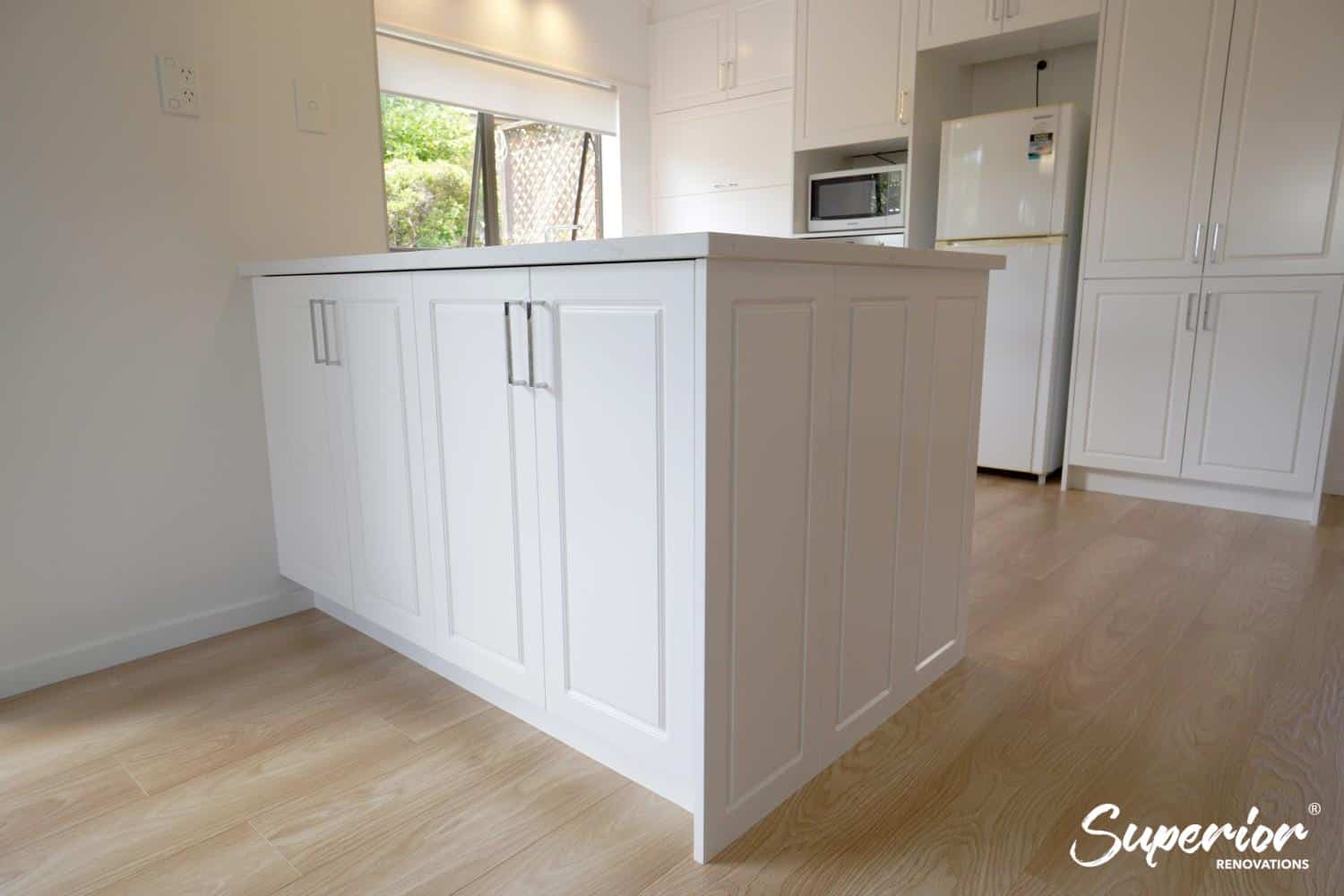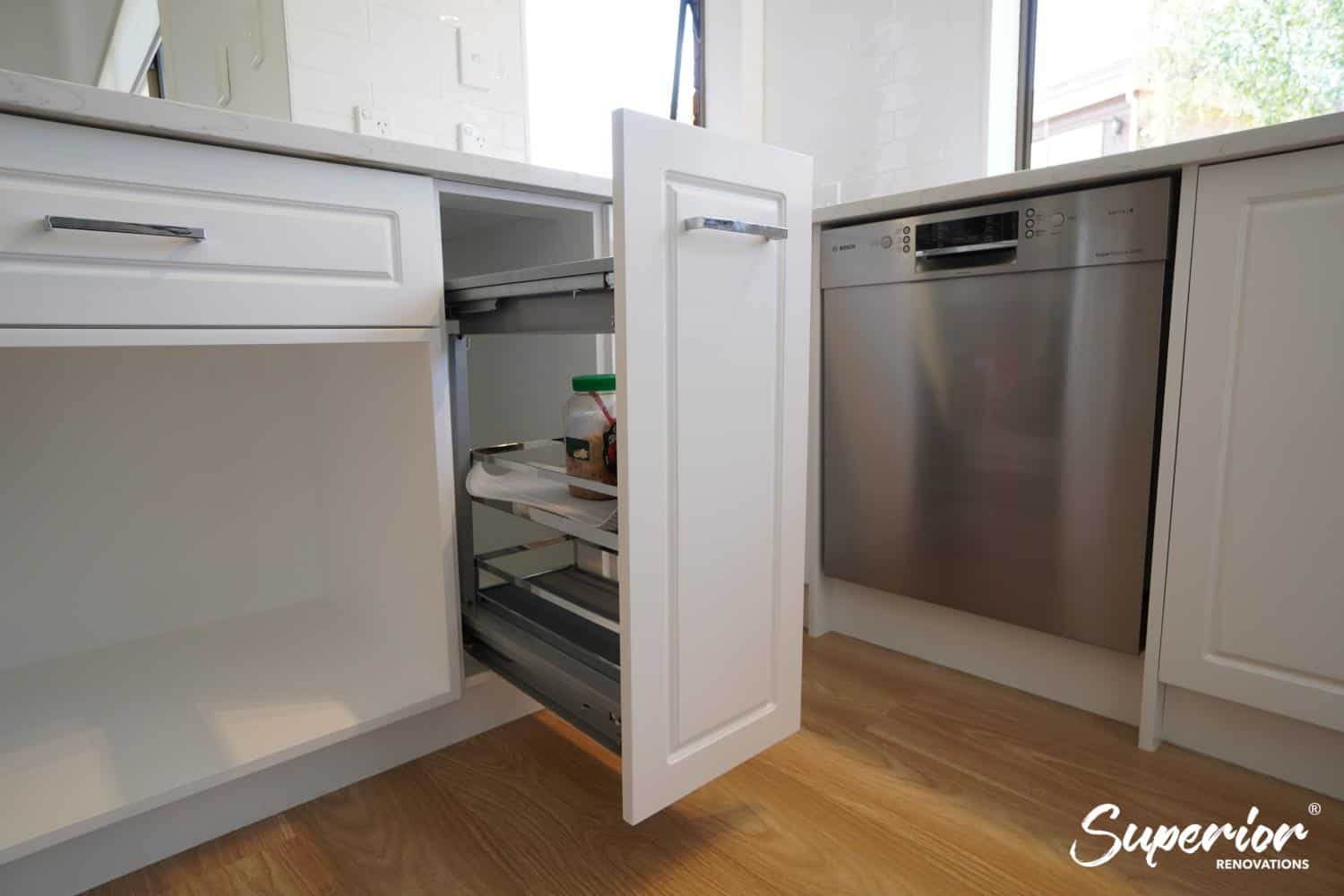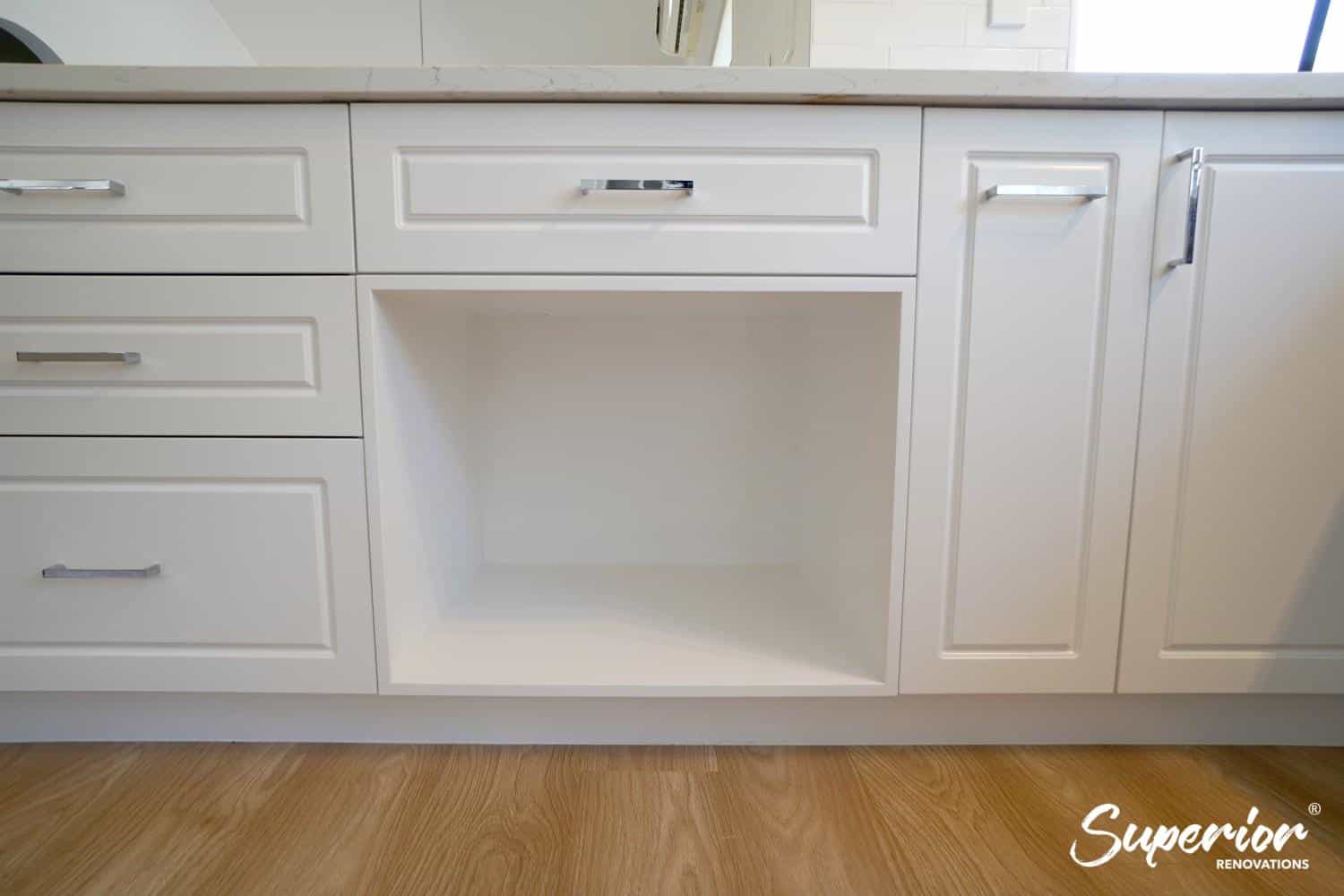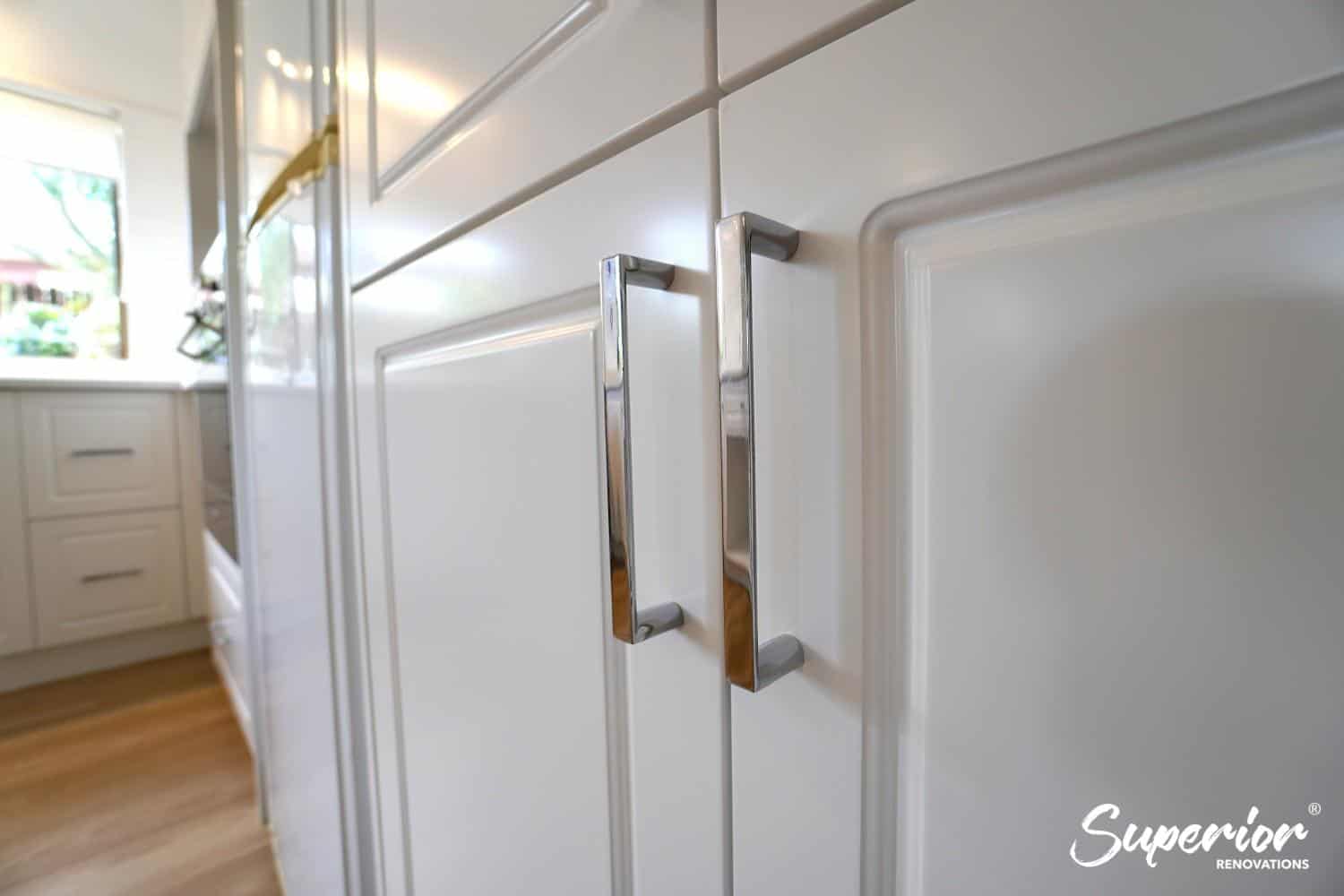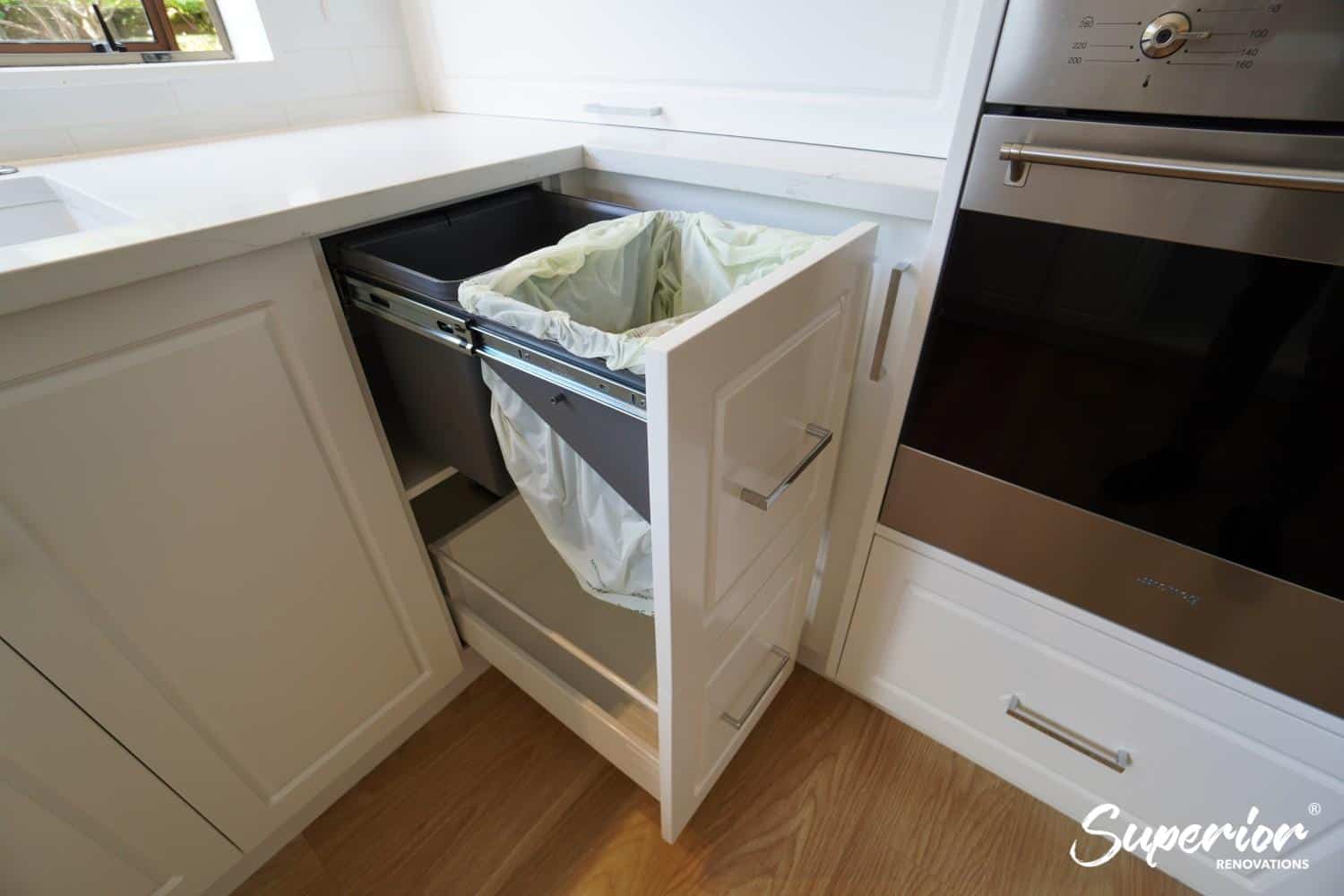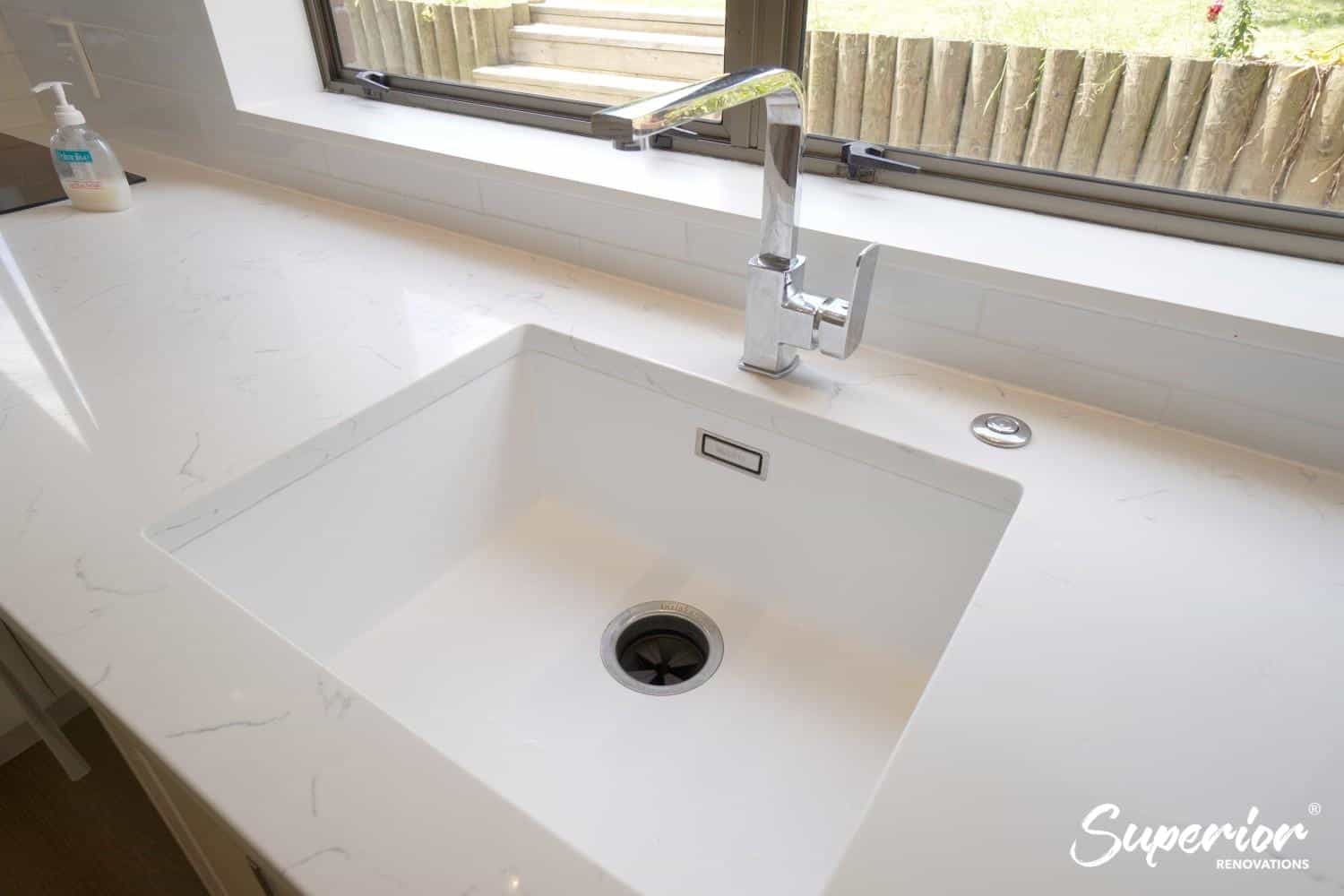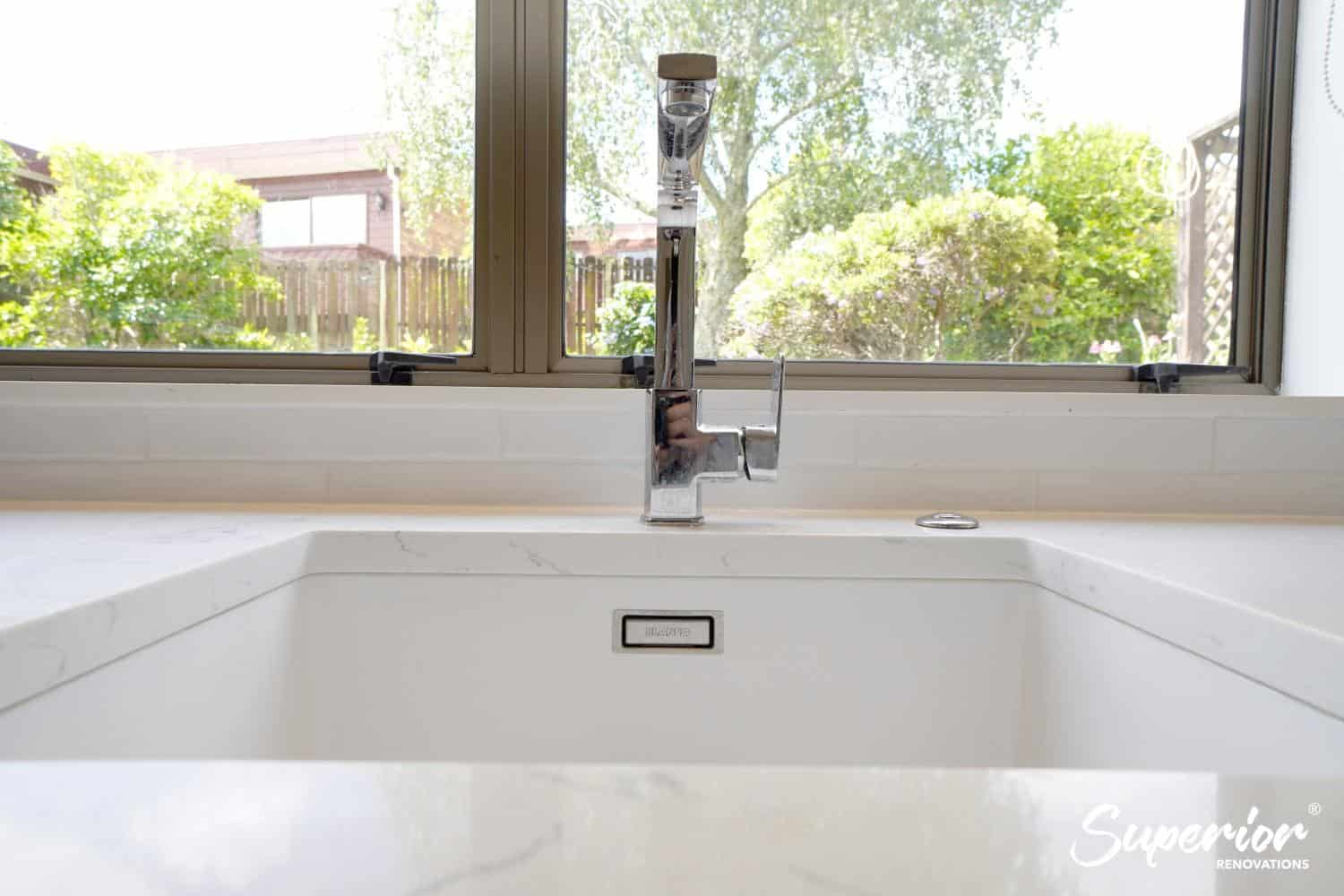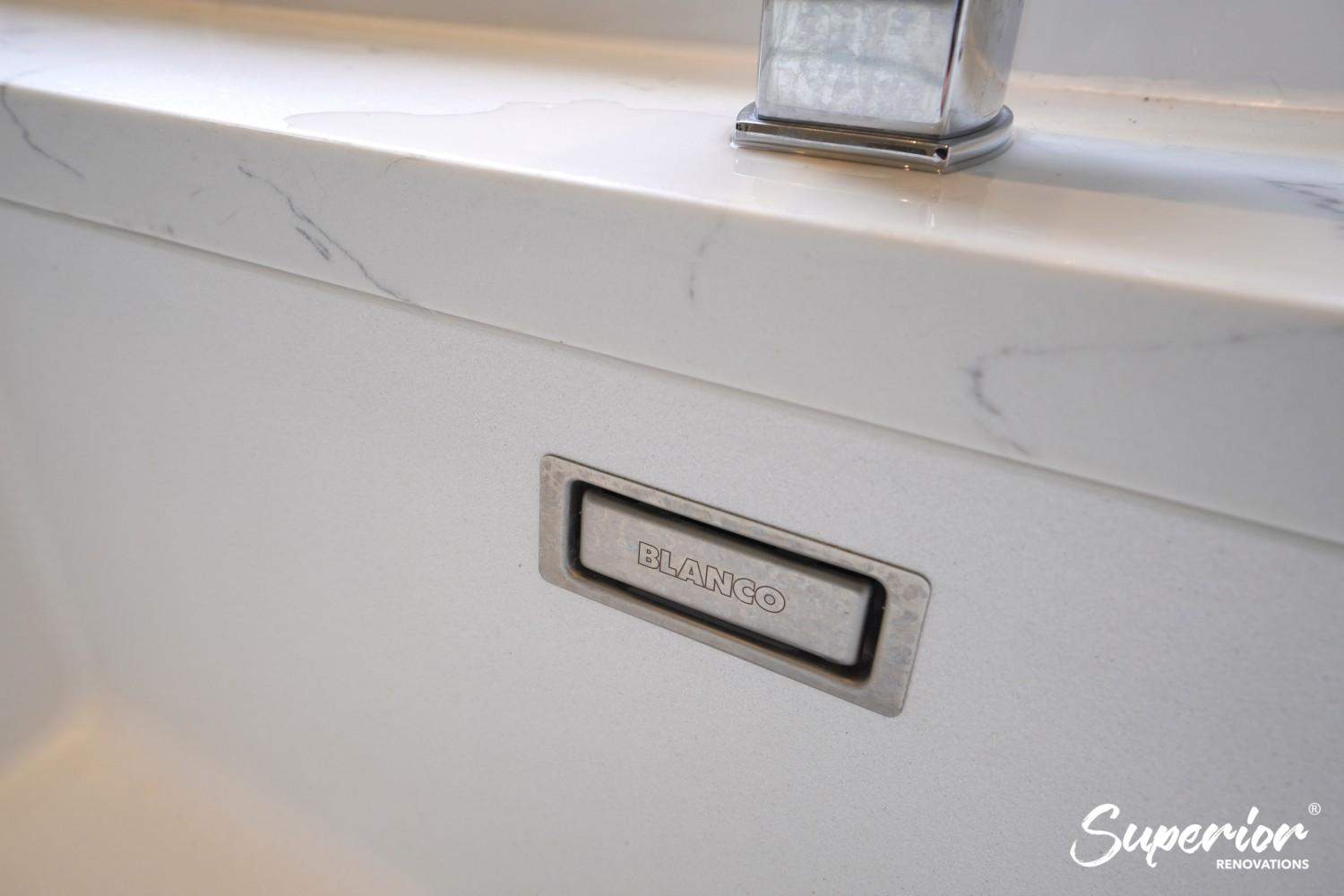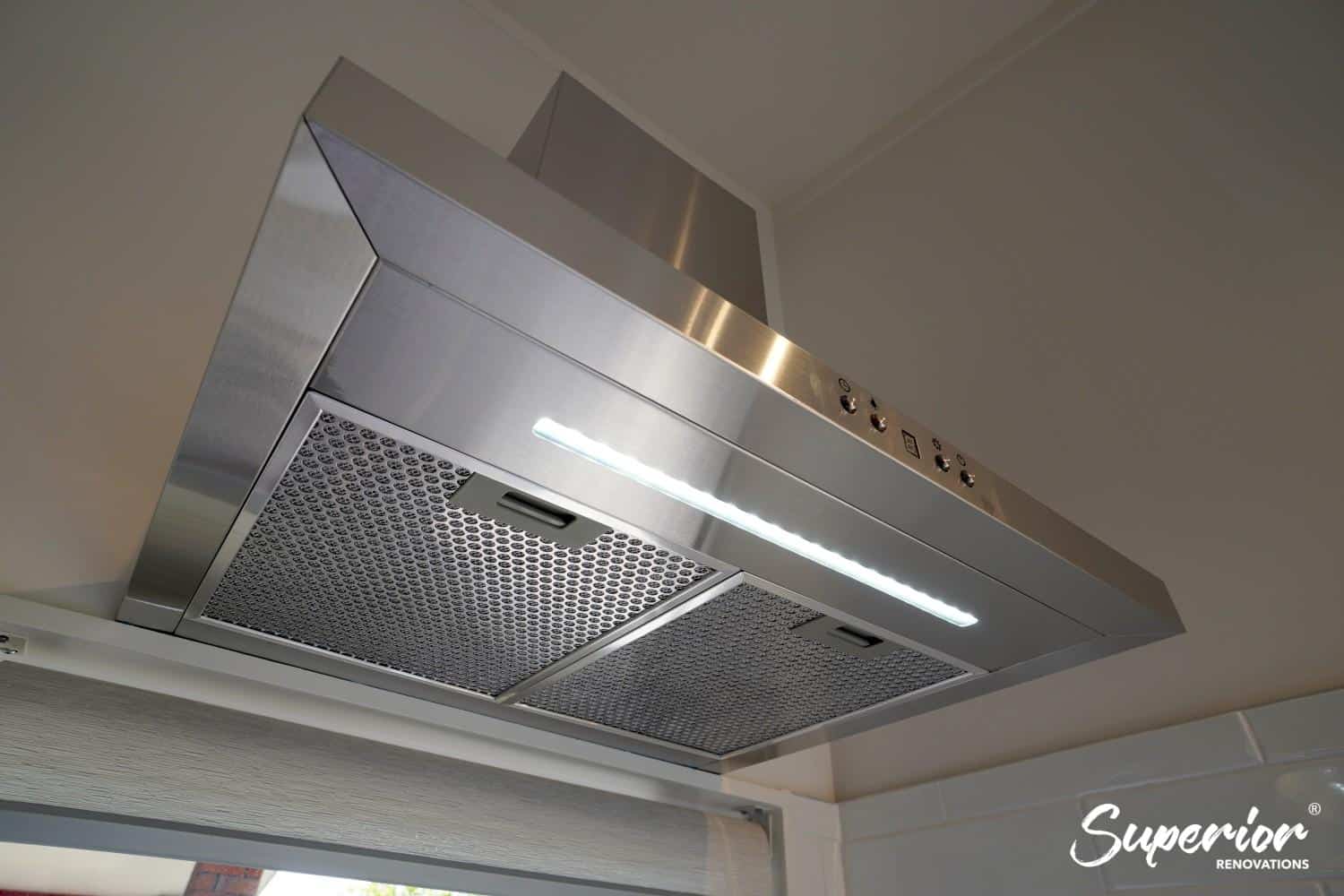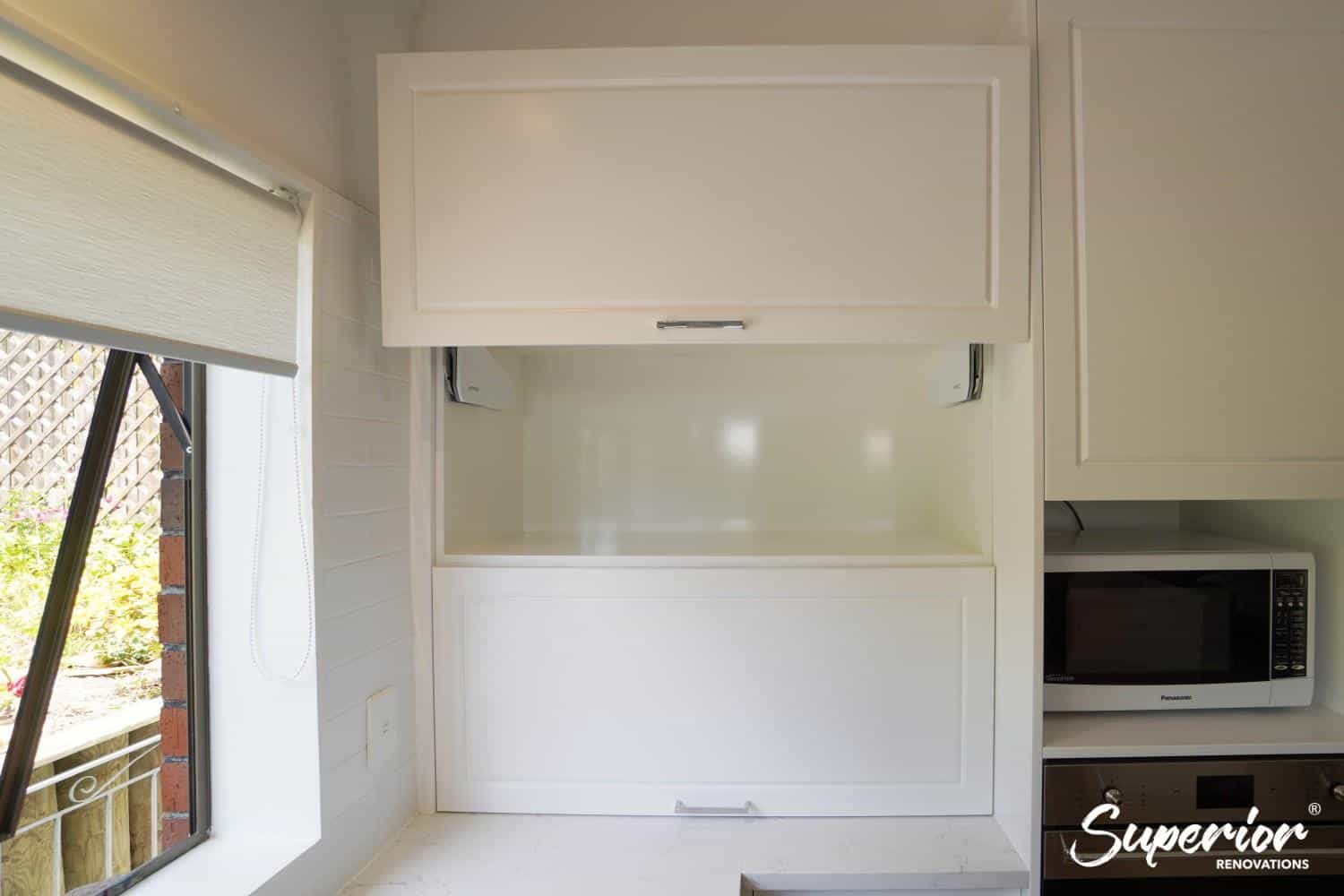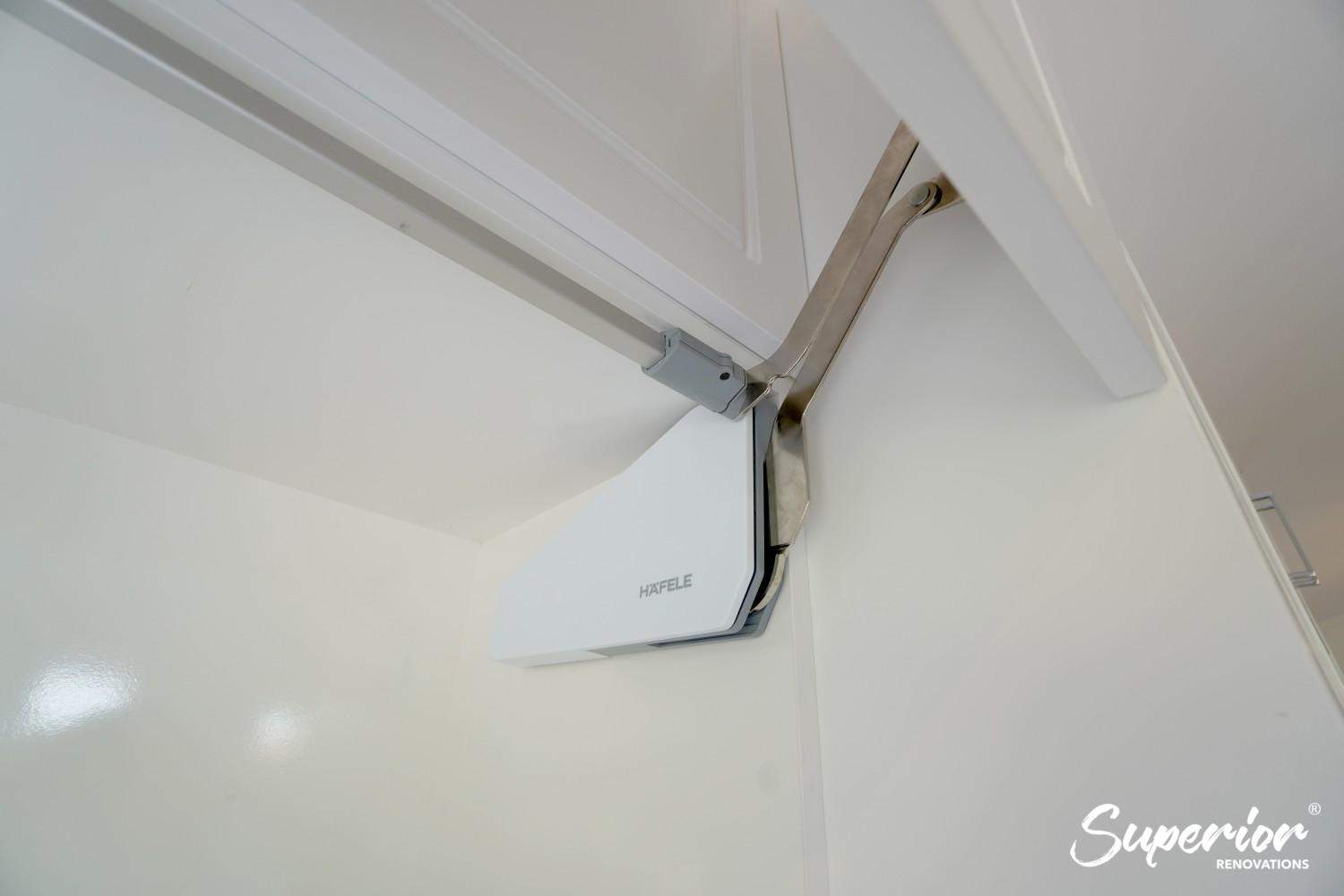 2 Bathroom Renovation + Laundry Renovation
The bathrooms were fully renovated to make them lighter and brighter spaces which could be used as an area for relaxation. We also built a walk-in wardrobe for the master bedroom which opened into a large spacious bathroom with a tiled shower and custom-built double vanity.
Main Ensuite
All previous fixtures and flooring were demolished
A double vanity and benchtop was custom built with extensive storage
Spa like double sinks installed
Tiled shower (waterproofed) with custom built frameless shower screen
600 by 600 veined tiles used for the floors and walls
Toilet installed
Guest Bathroom
All previous flooring and fixtures demolished
Custom built single vanity and benchtop with a spa like sink
Sink in bathtub installed with protective screen
600 by 600 veined tiles installed on the floors
Toilet installed
Ceilings and walls repainted
Laundry
A laundry nook created in the garage
Tiling of laundry area
Plumbing and electric work re-done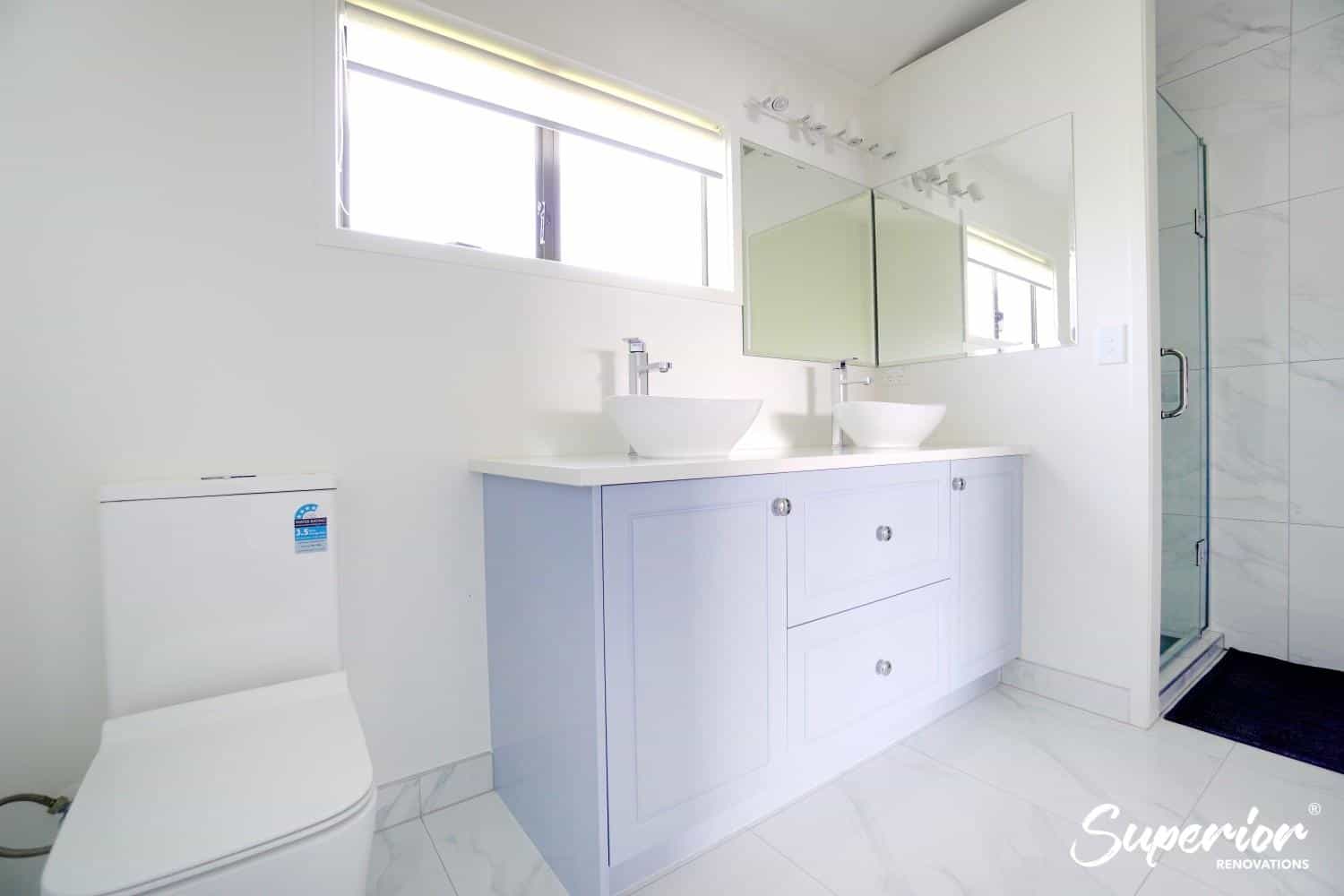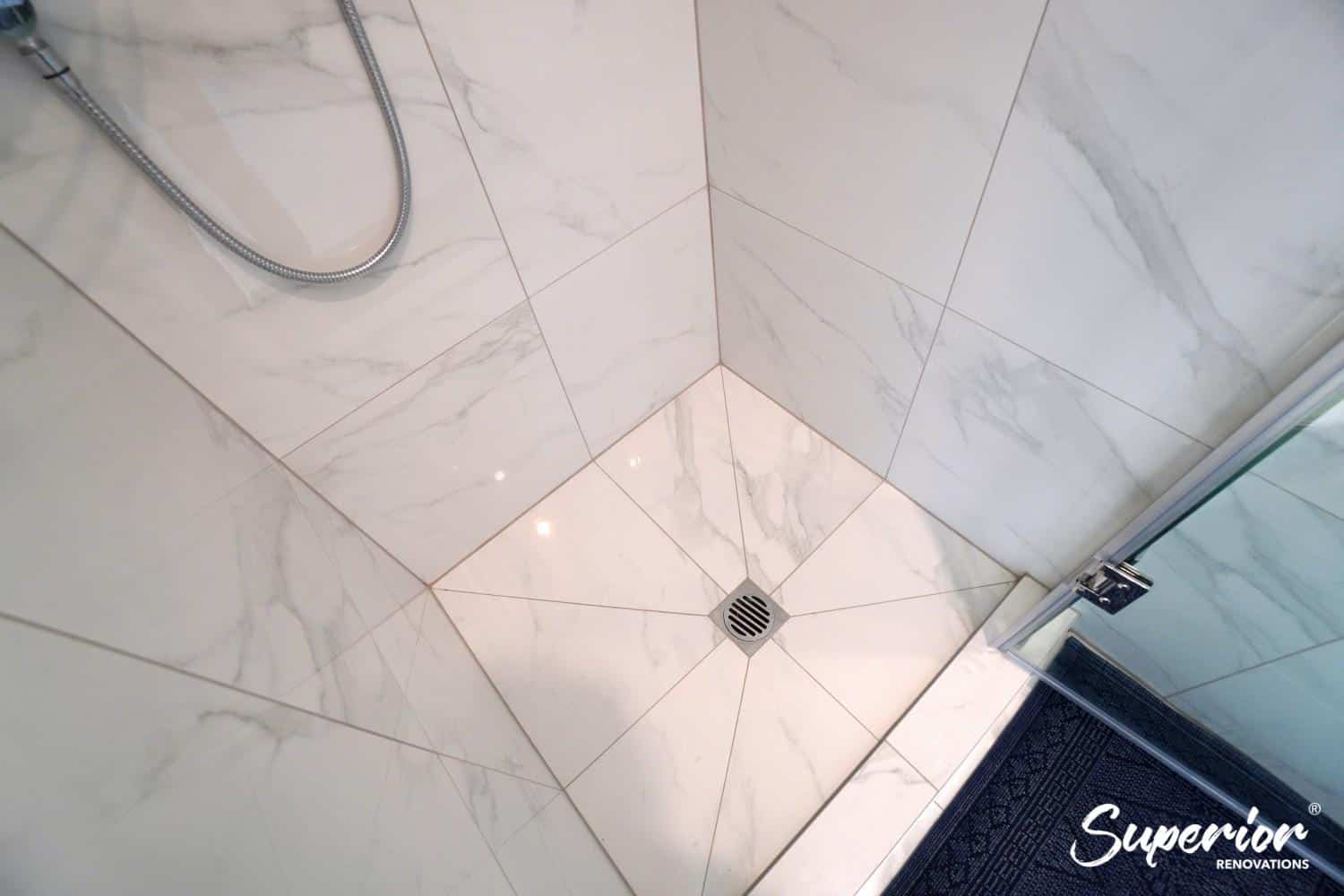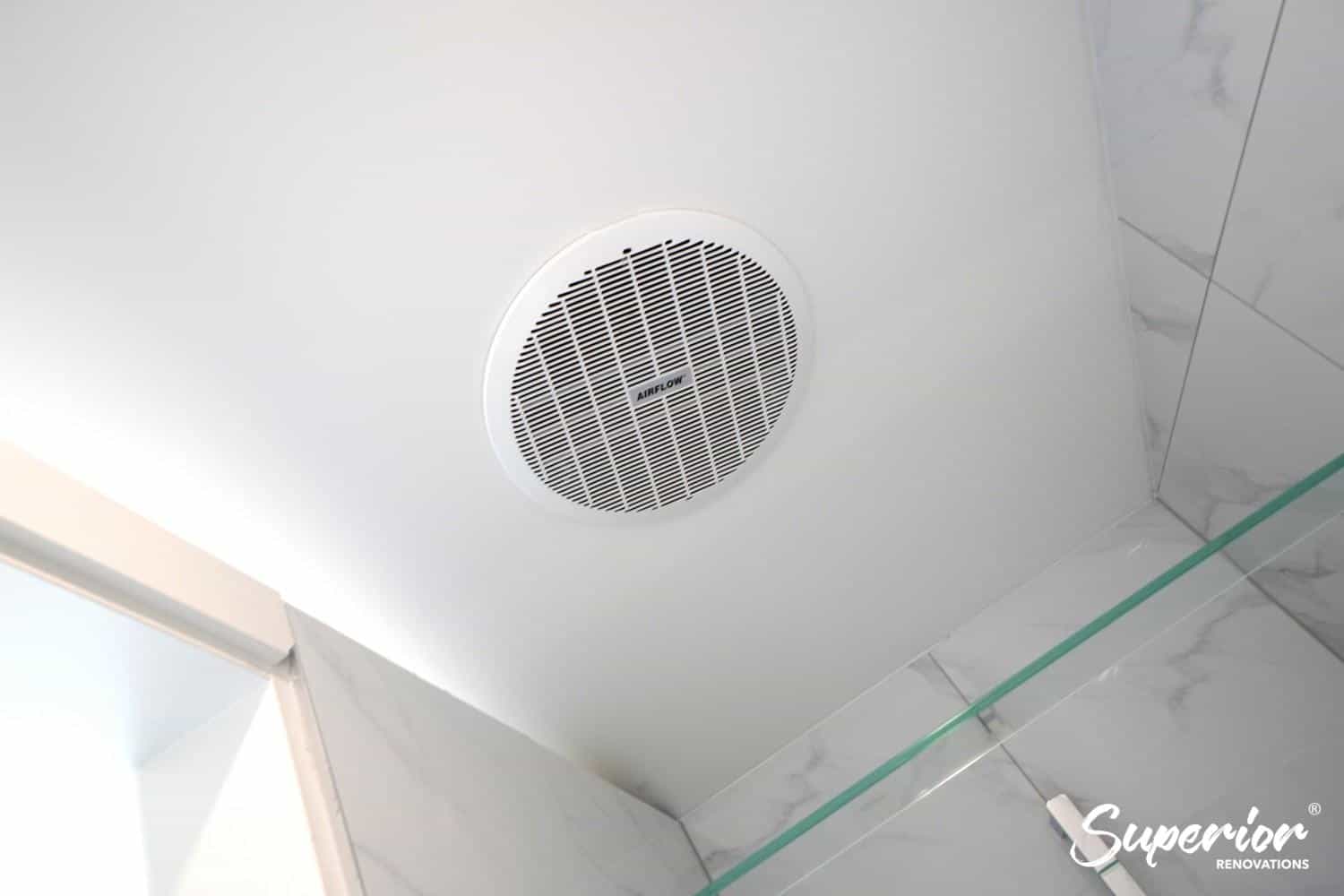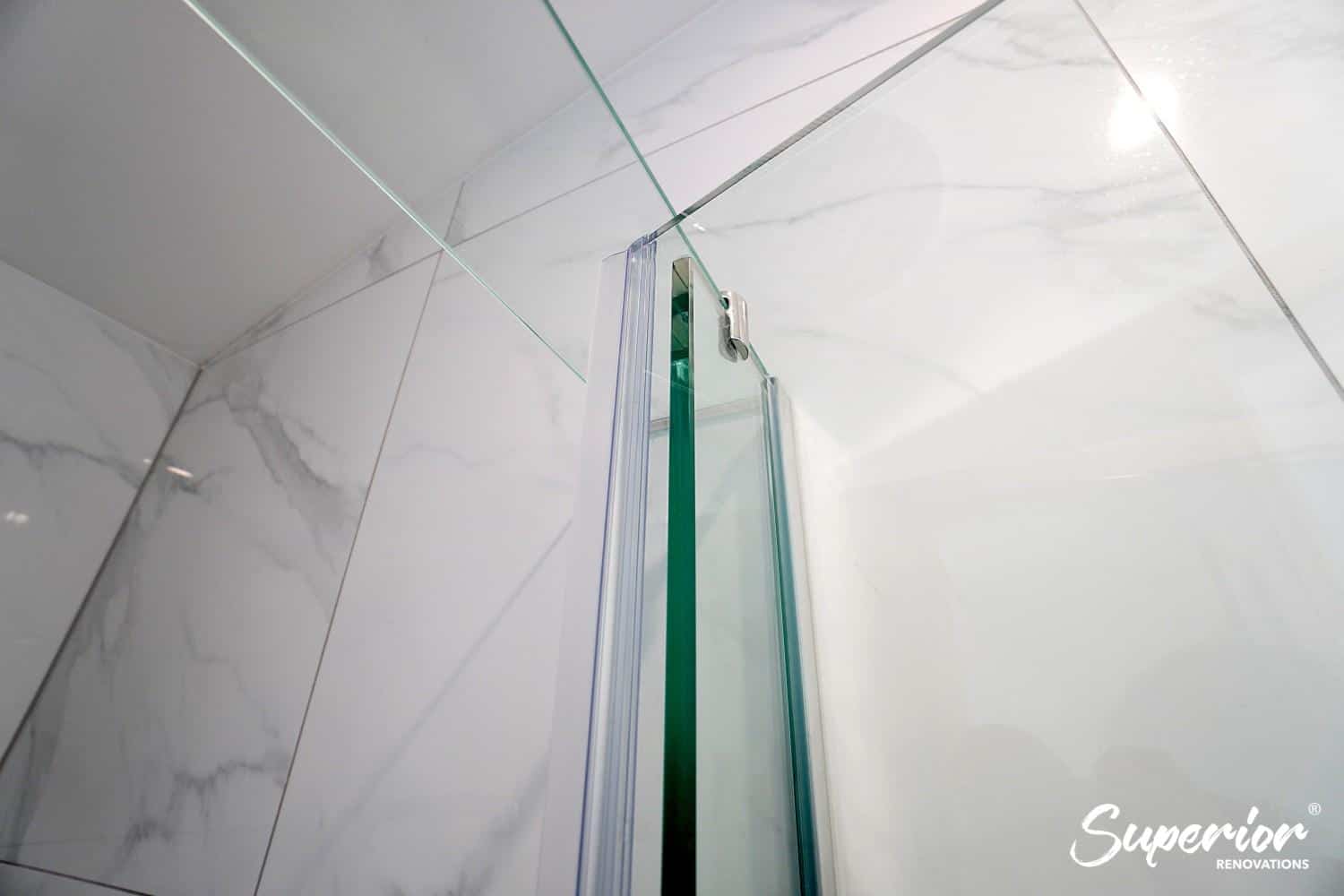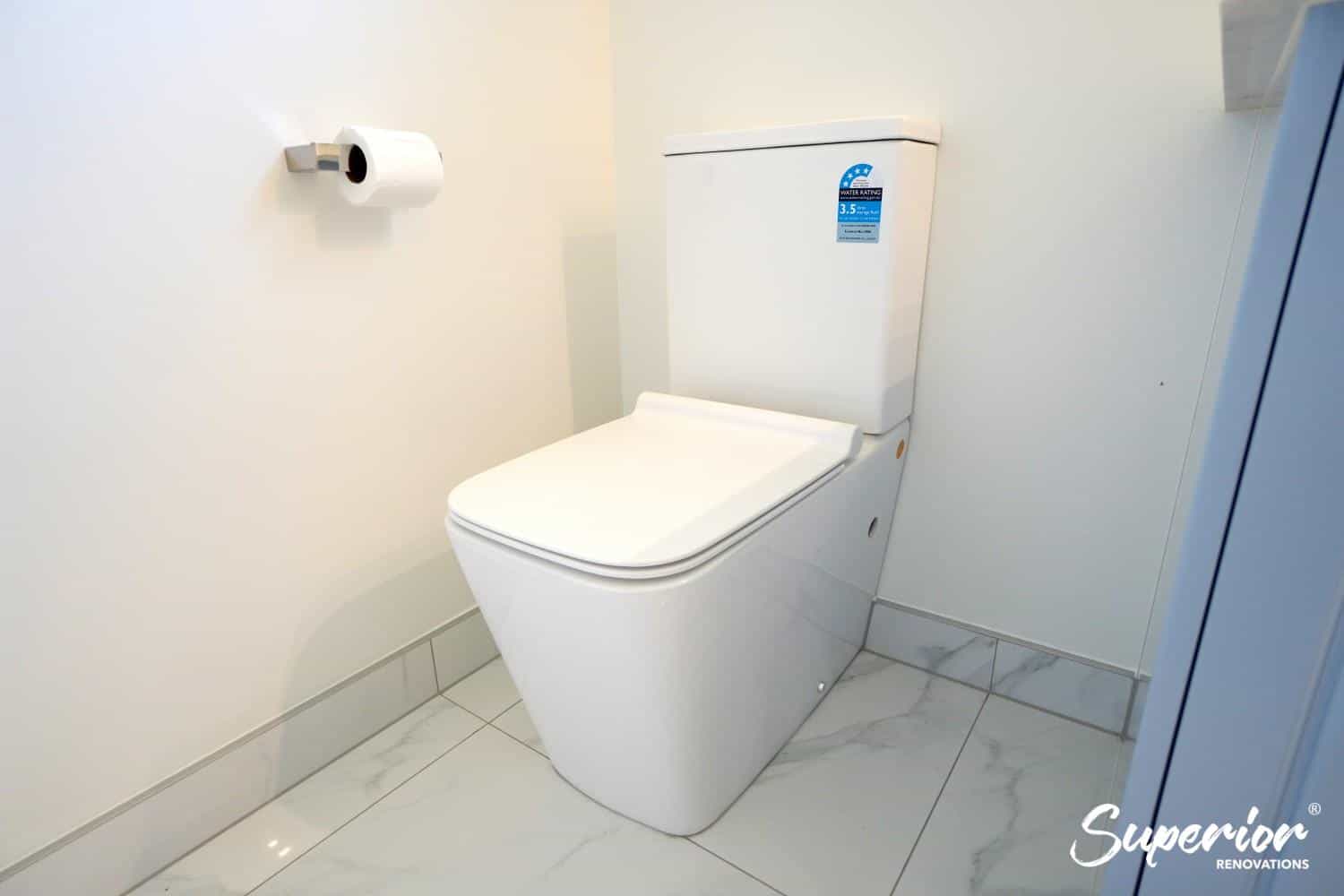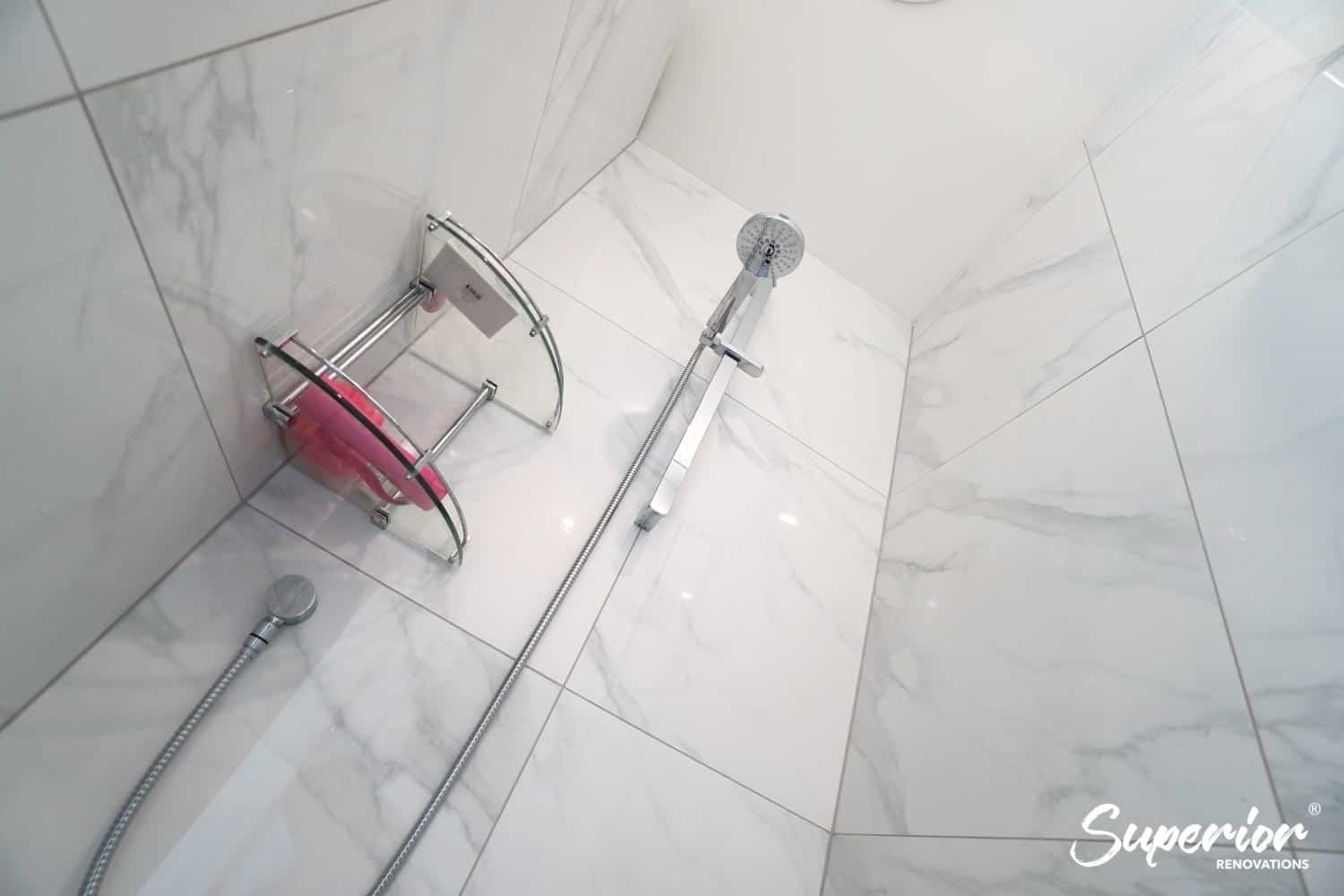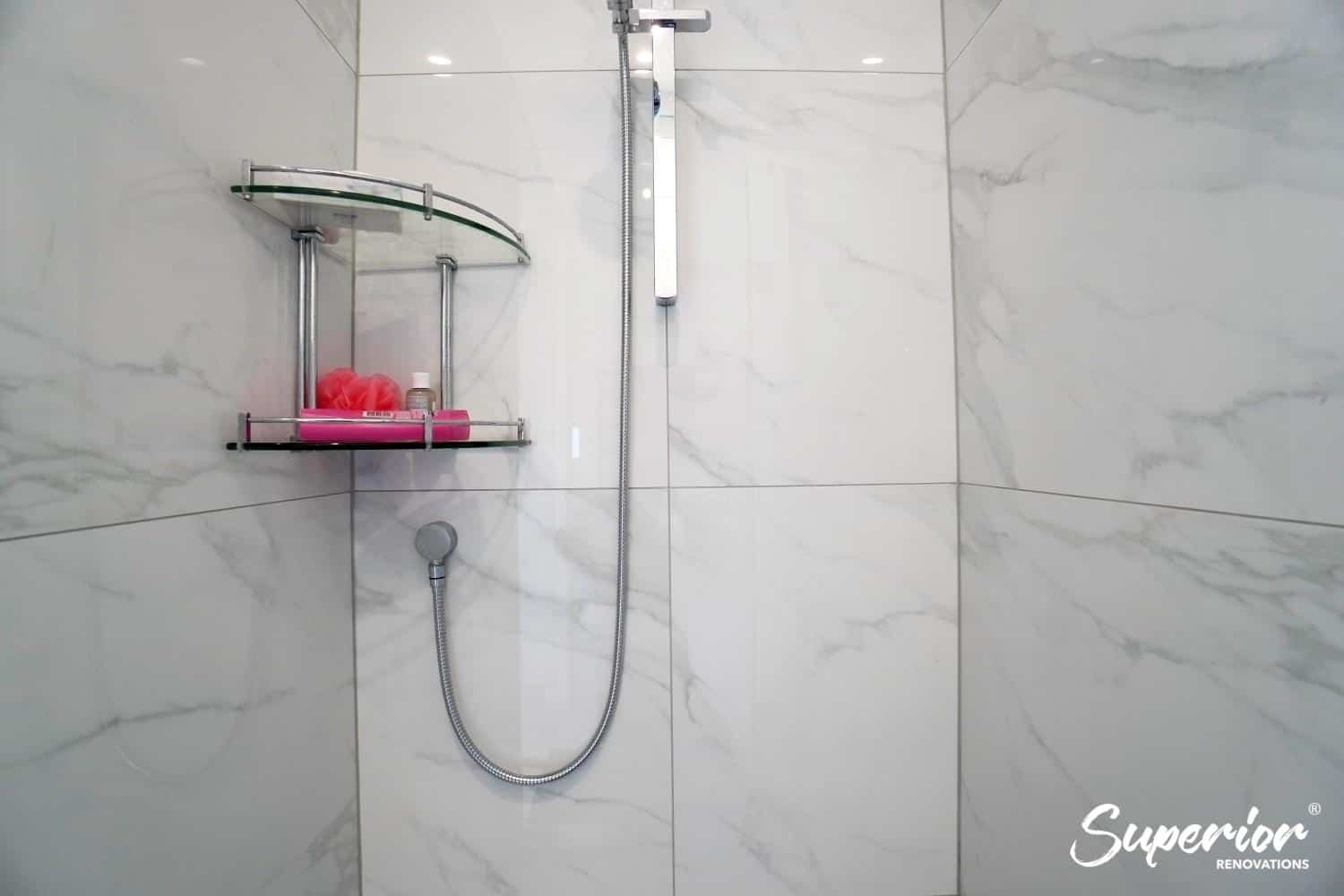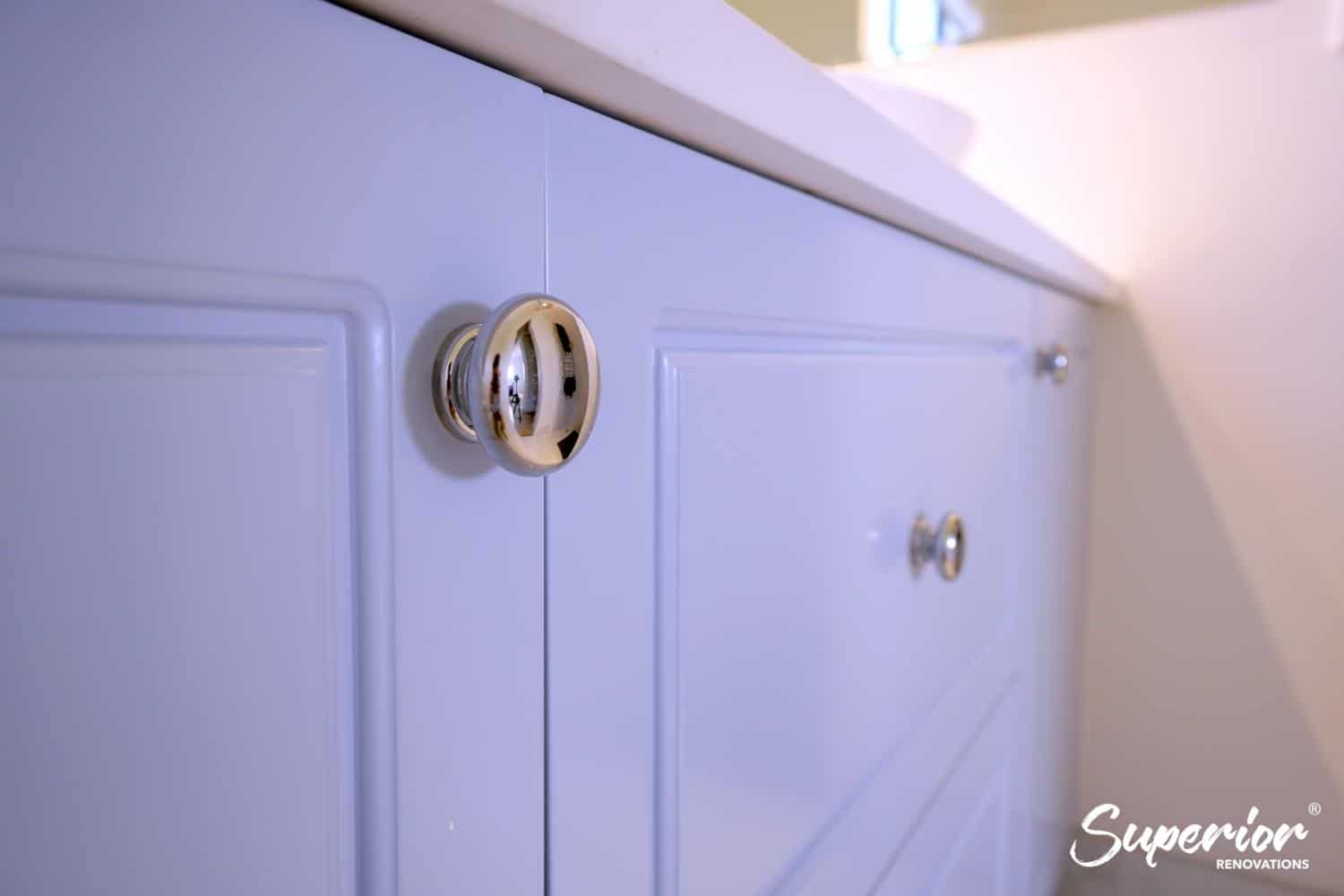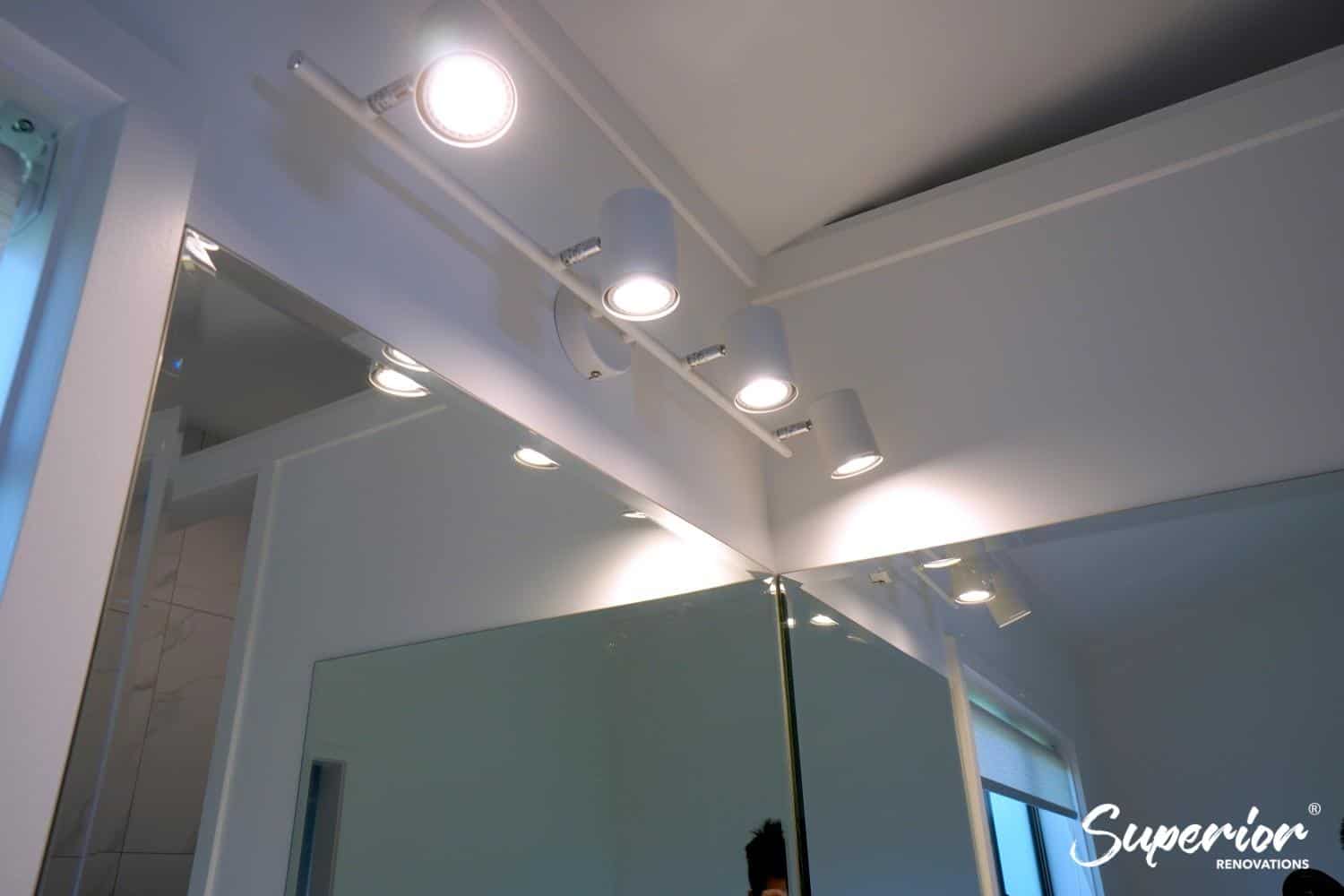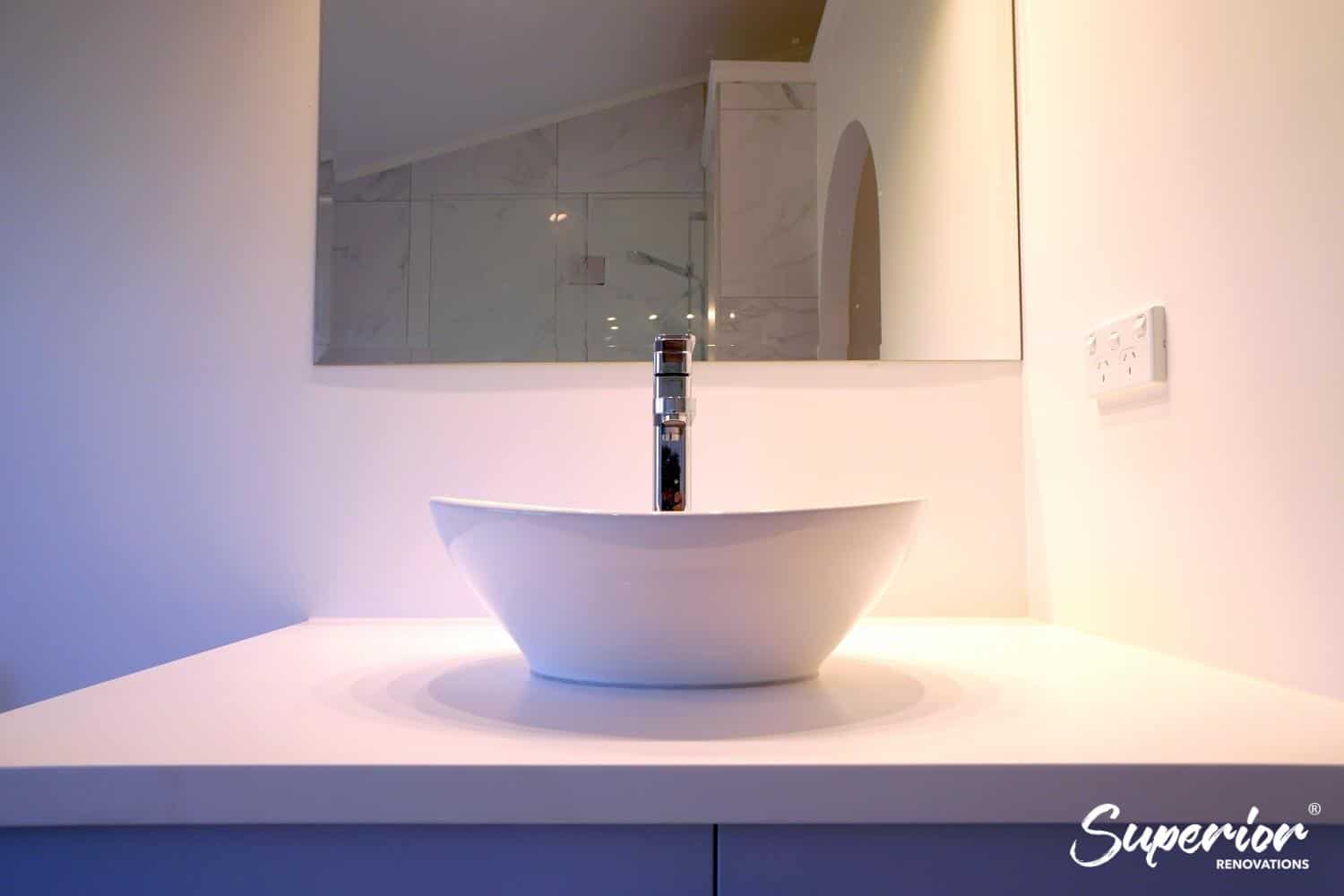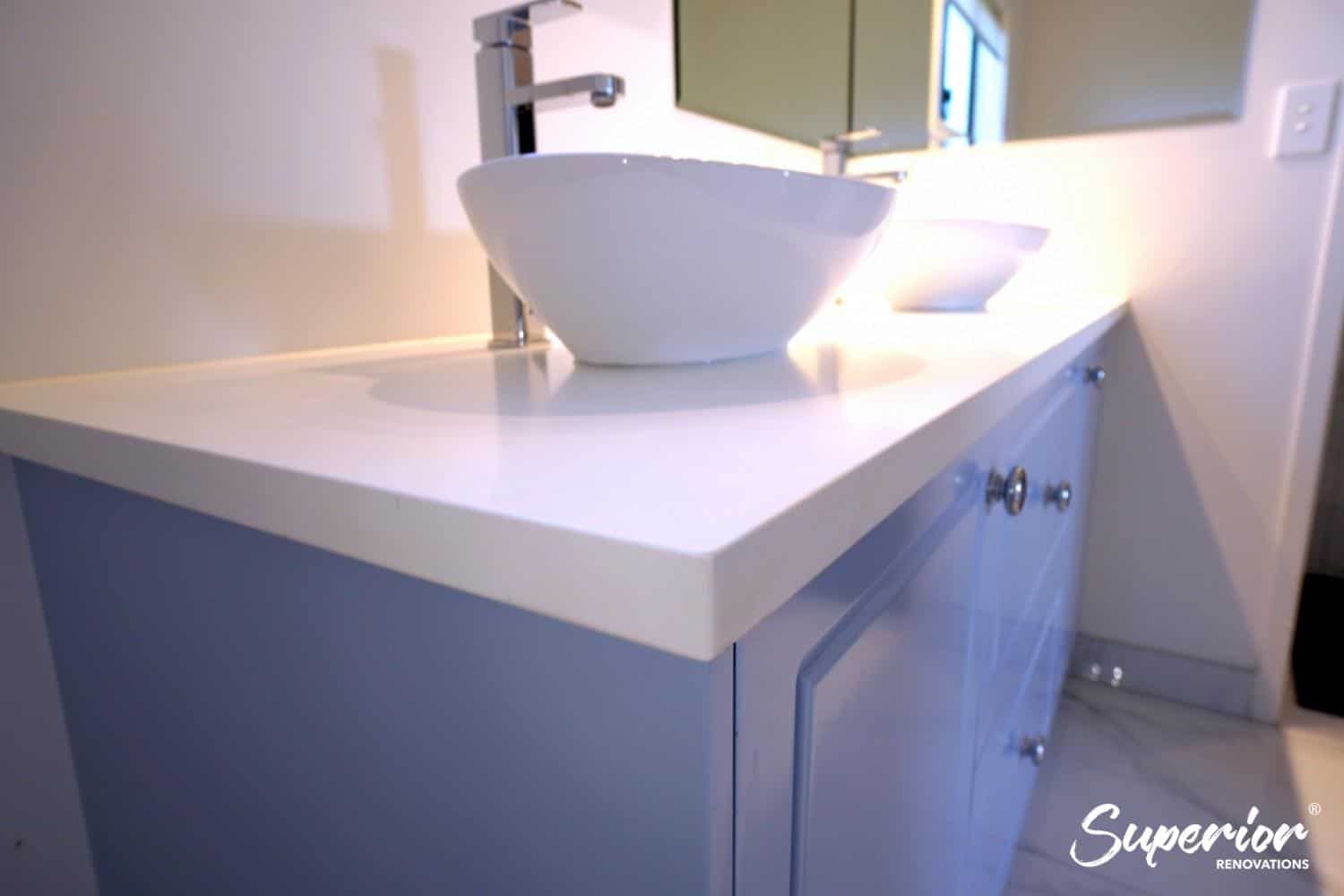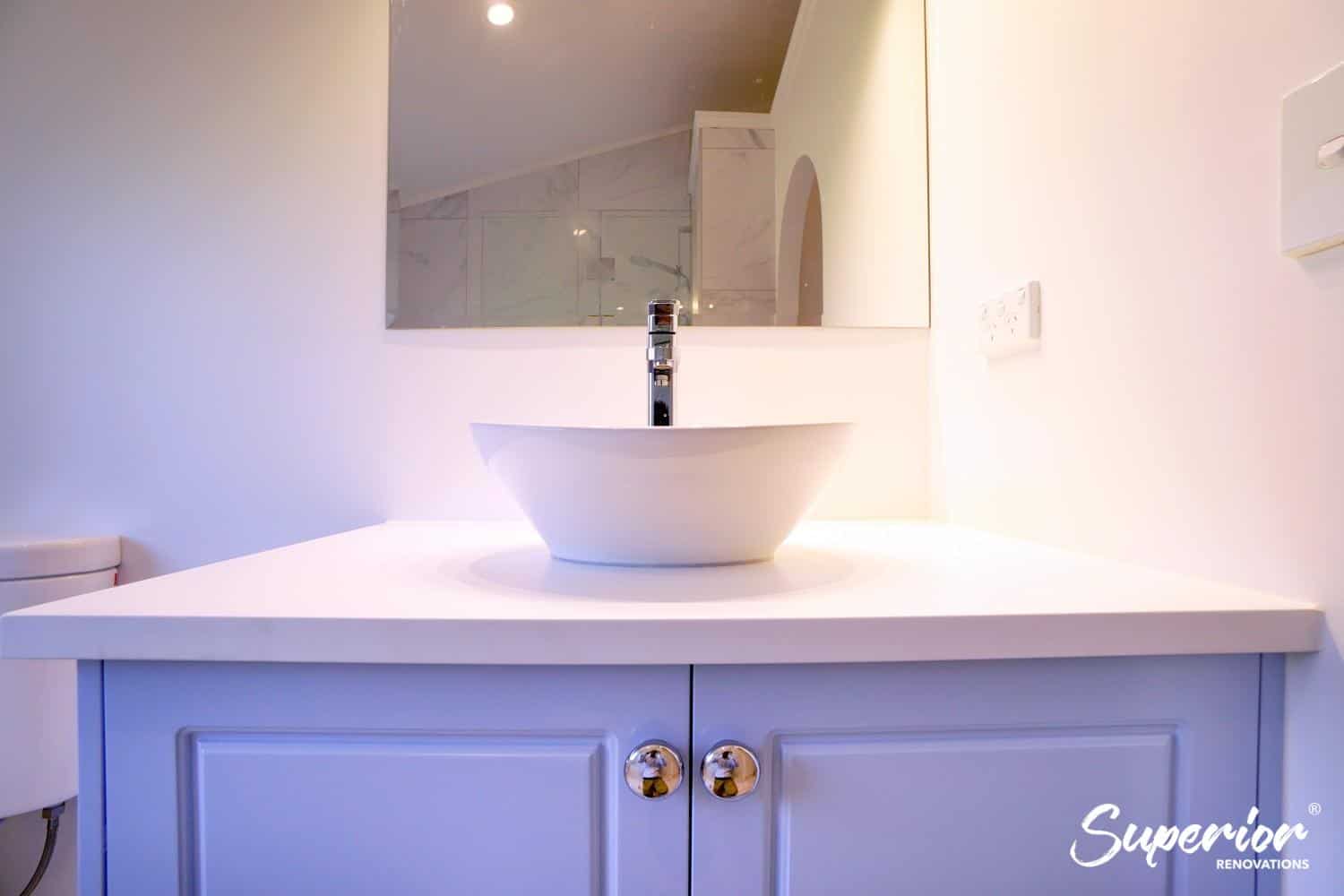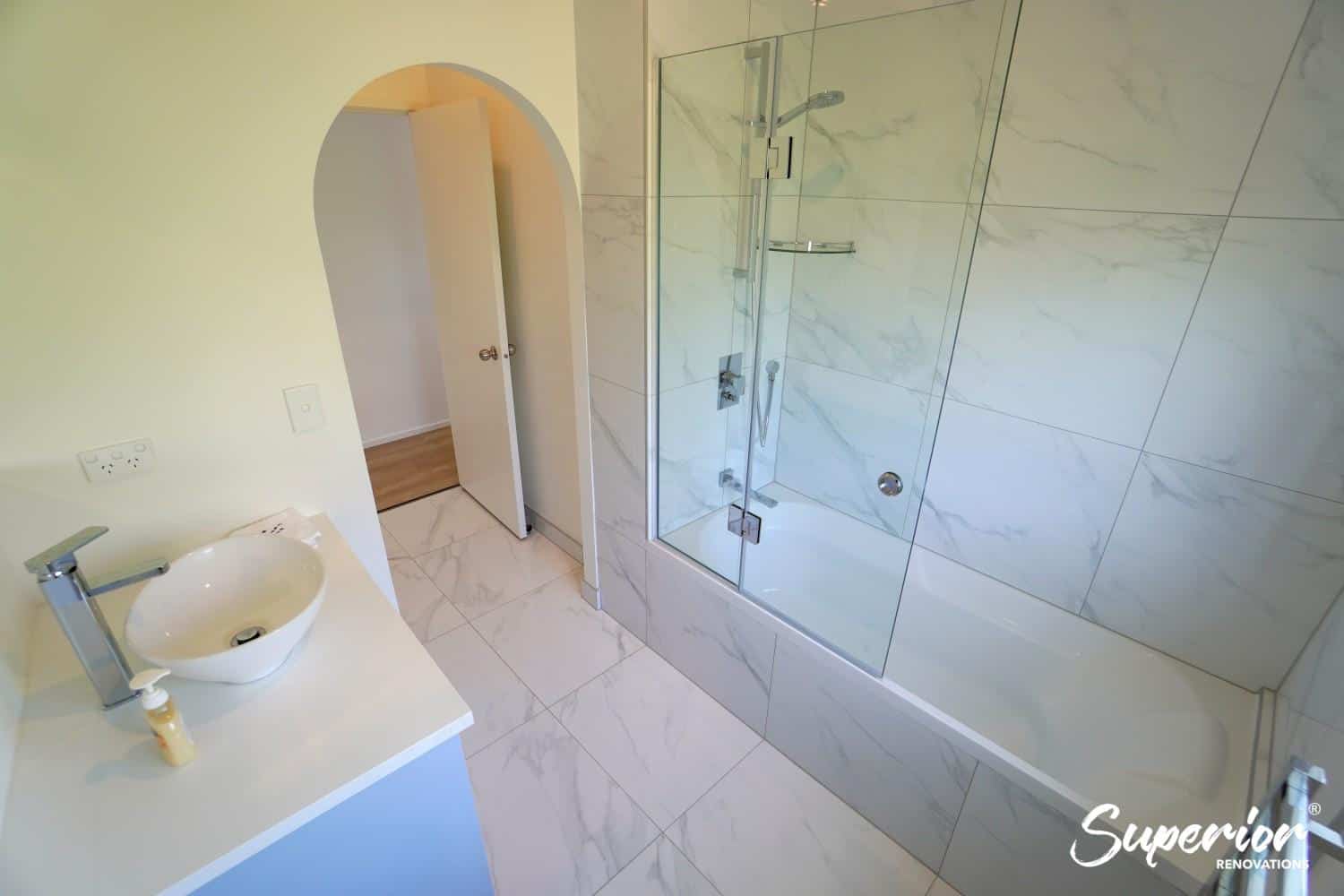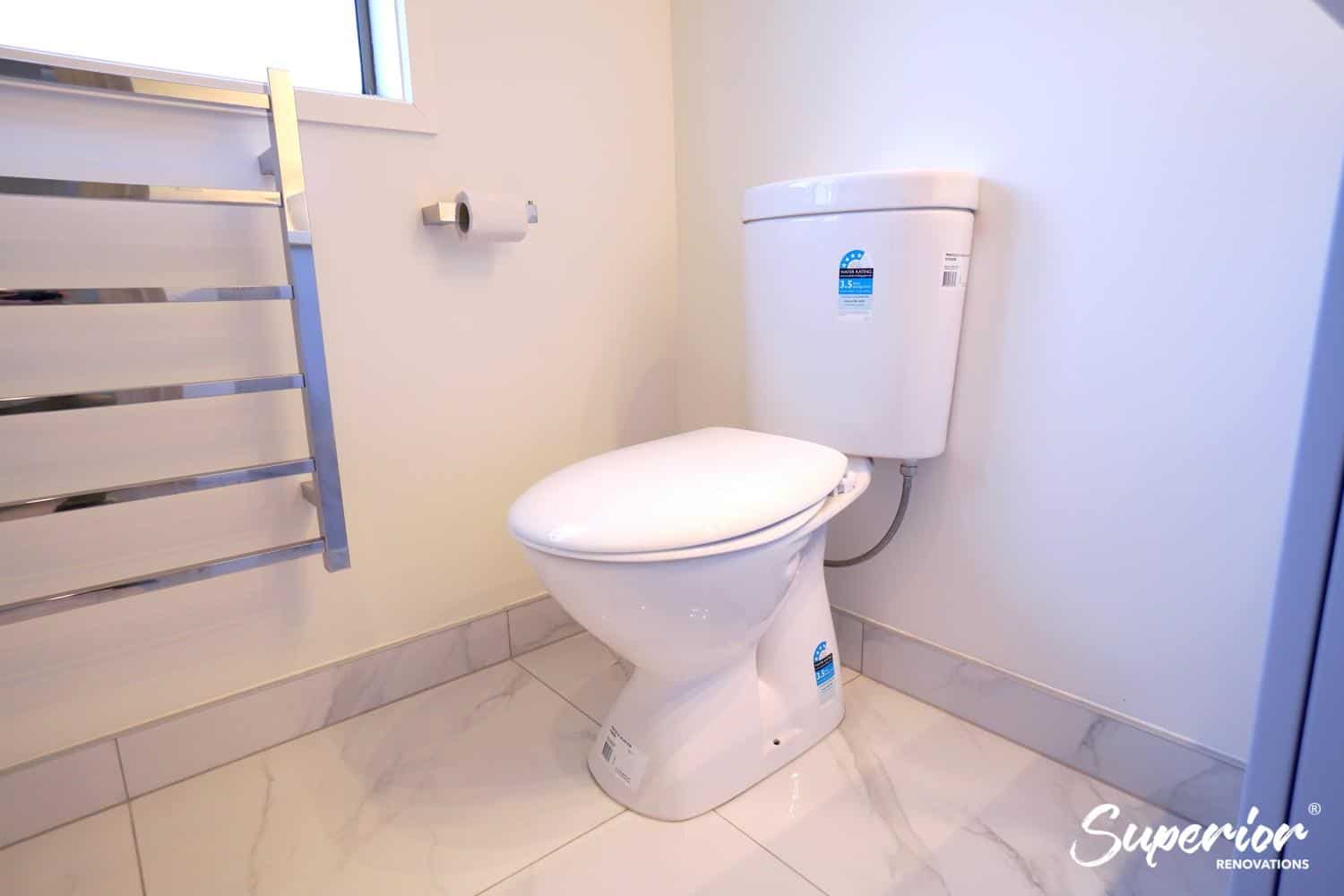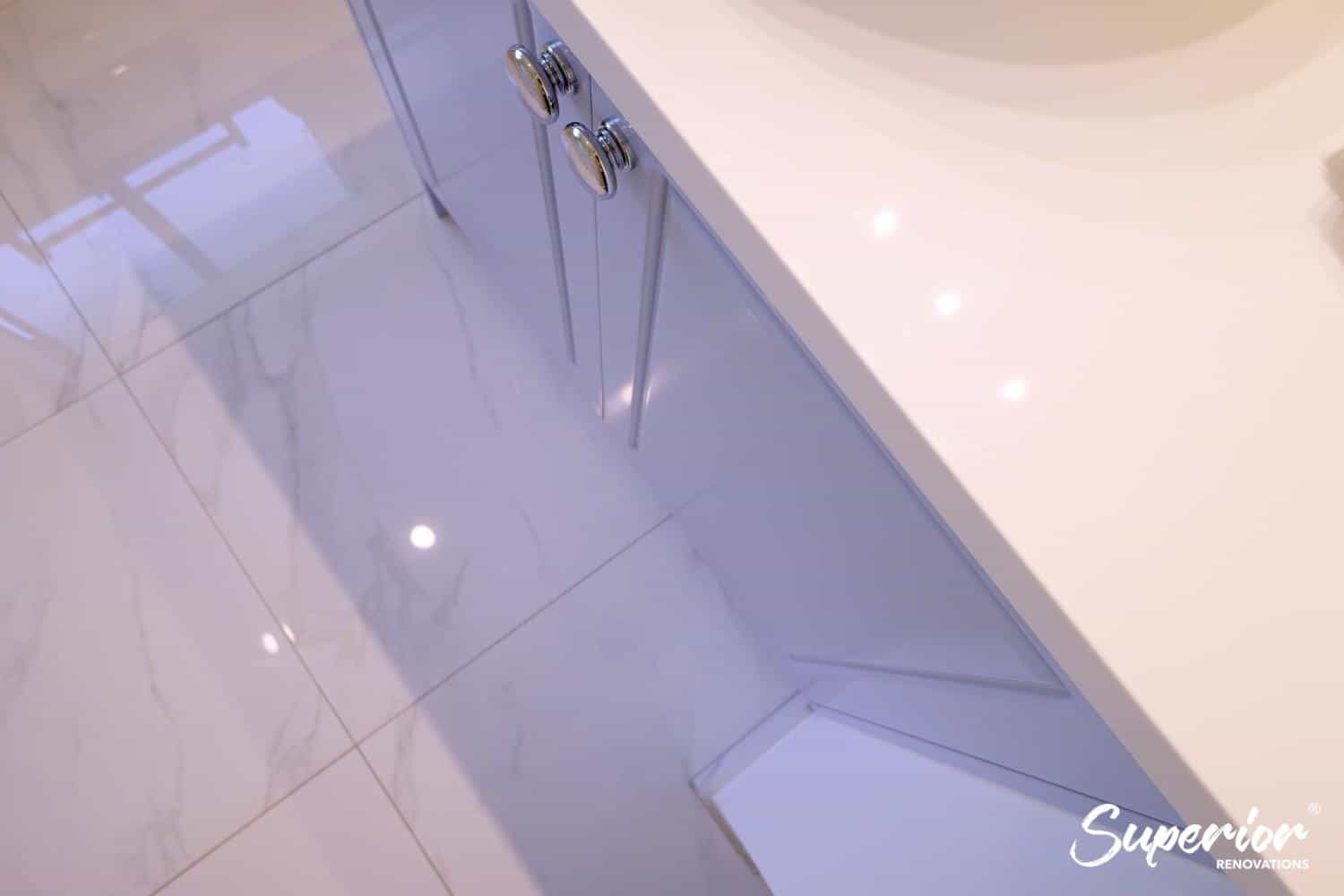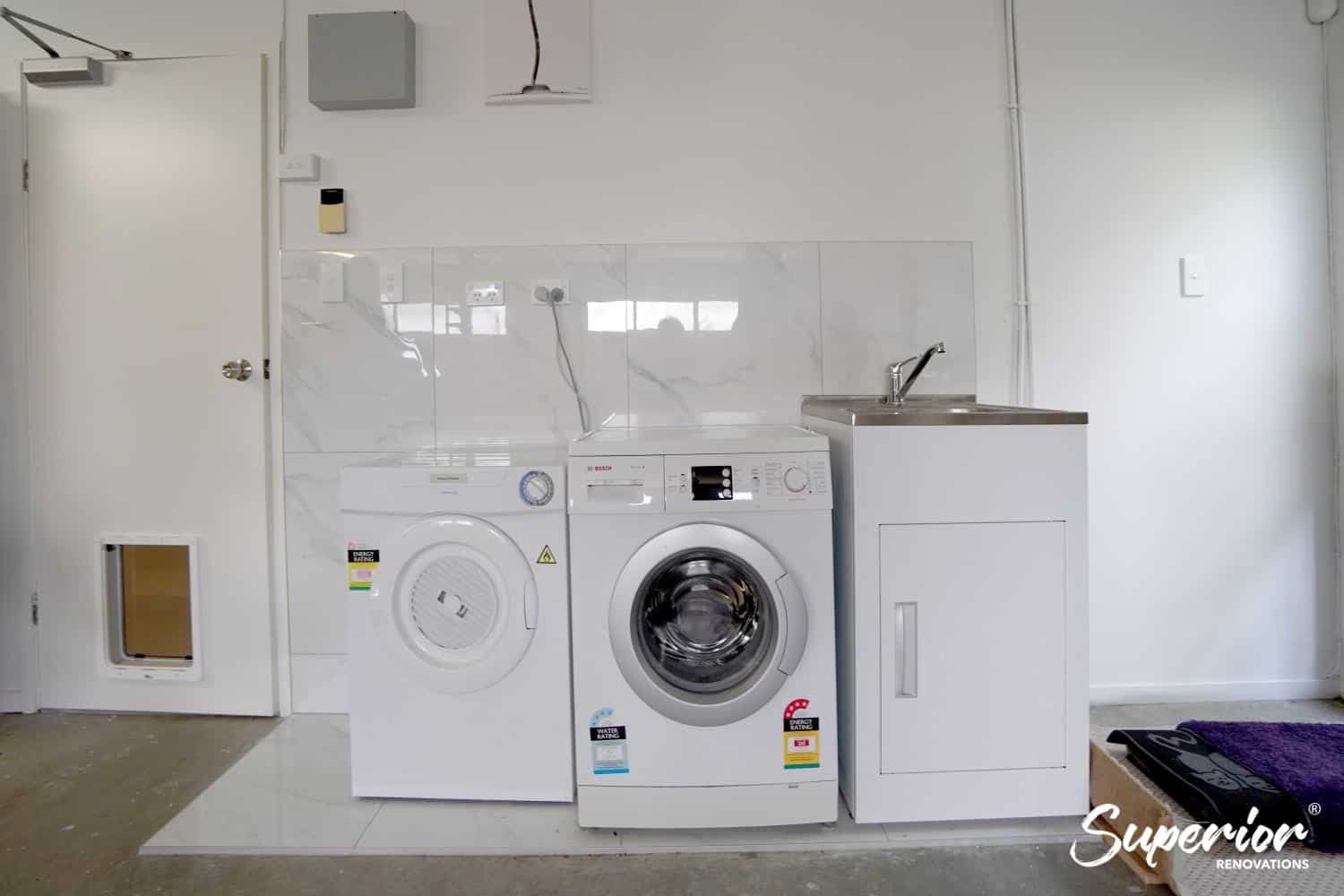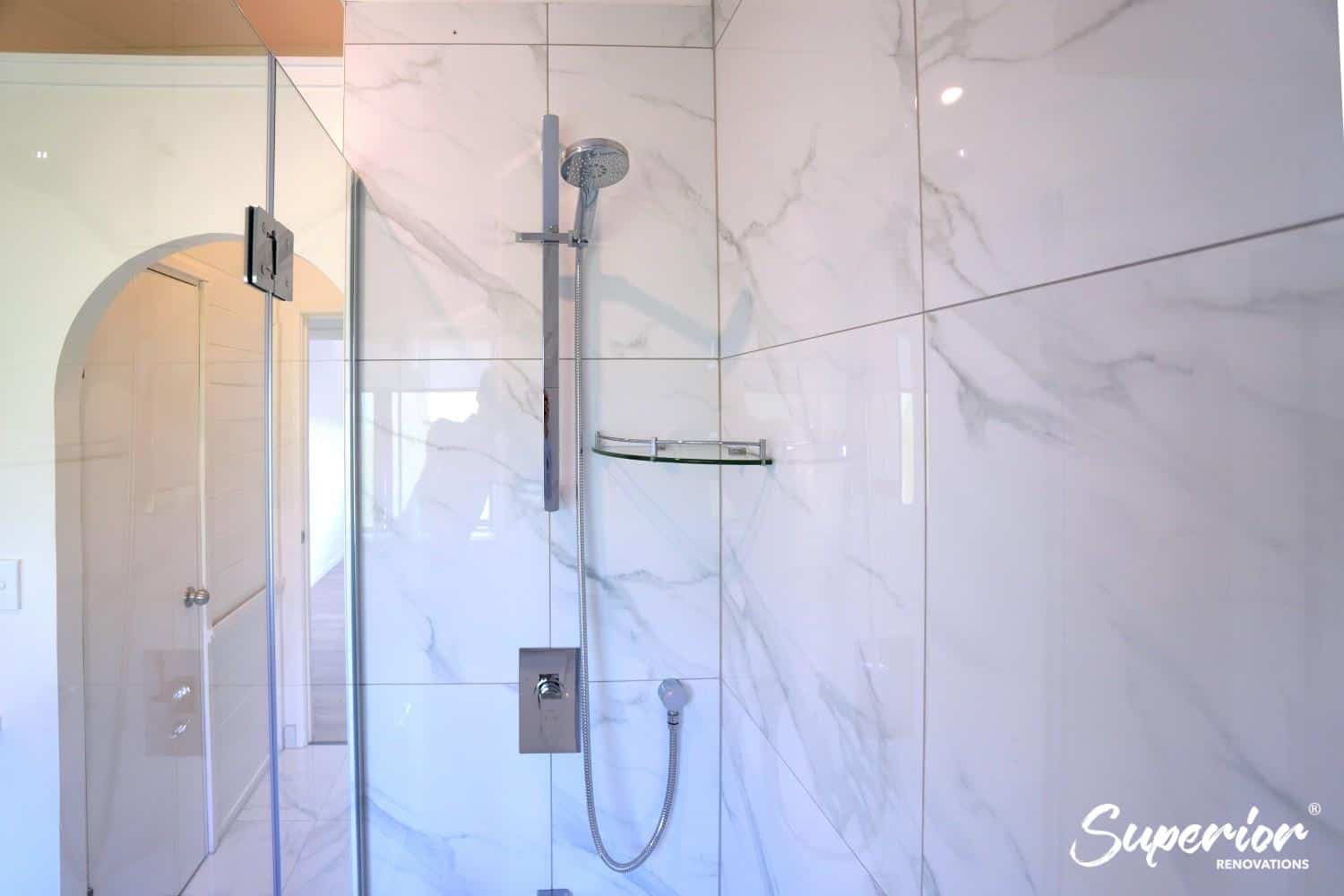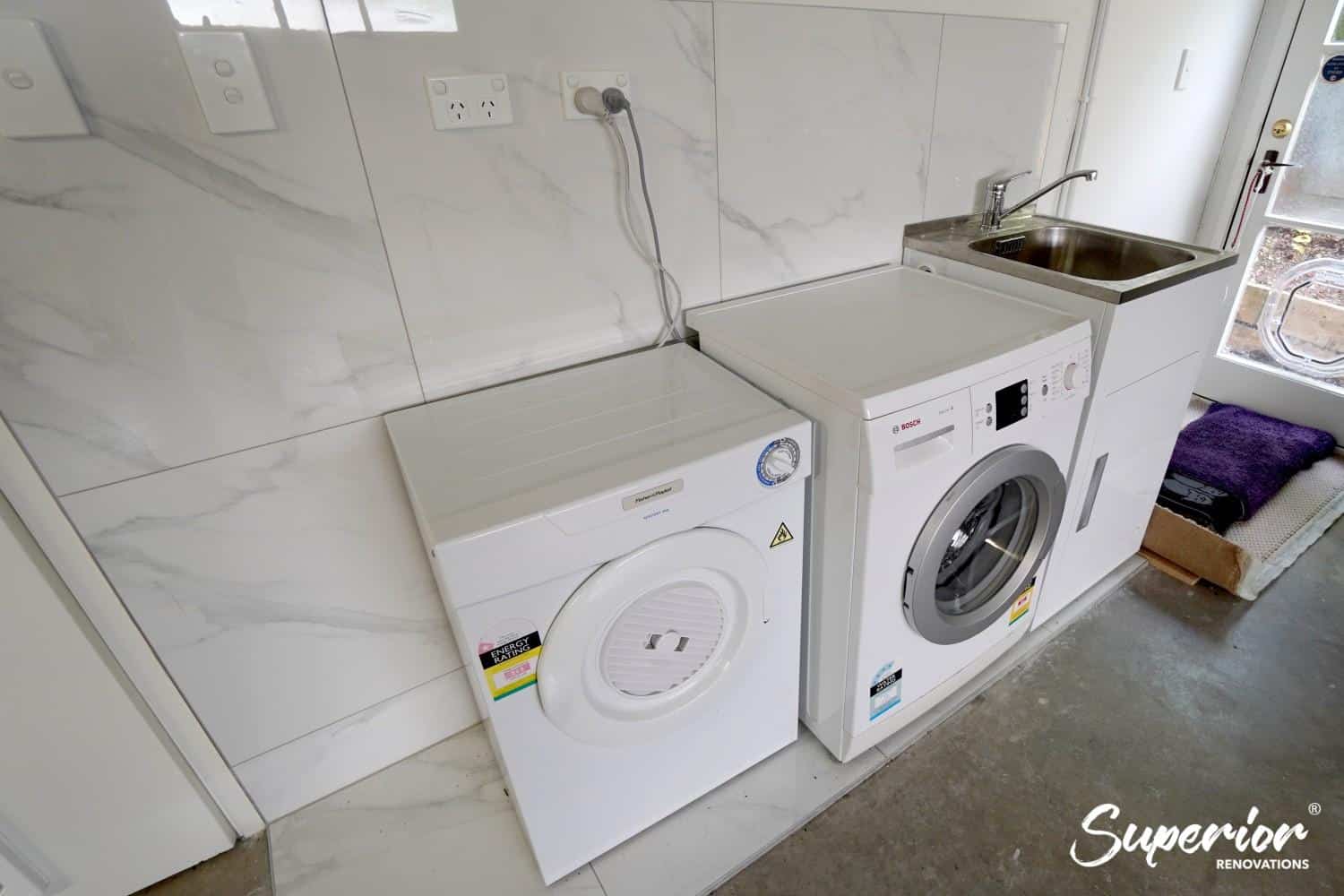 What our Client had to say
When we had removed all previous flooring, we realised that the house was not level. We had to alter the quote to re-level my lounge but I trusted them completely. Whatever improvements they suggested were for my own benefit and there was never a question of just adding money as they went
All I can say is that your teams were very hardworking. I would take my dogs for a walk in the mornings and evenings and they were always there working on the agreed schedule