Designing An
Entertainers Kitchen
Guru & Neeta
---
Completed on January 2020
Design Case Study
Designed By

Dorothy Li
Designer/ Sales
dorothy@superiorrenovations.co.nz
0800 199 888
Entertainers Dream Kitchen/Bar, West Auckland
Project Finish Date
January 2020
Client
Guru and Neeta
Our client Guru and Neeta were very clear on what they were wanting to acheive, but needed someone to piece it all together. Guru and Neeta were looking for a luxurious yet modern feel for their kitchen when they decided to renovate. They also loved entertaining and wanted a space which would have all the modern amenities and a spacious area where guests could comfortably mingle. There were however several roadblocks to achieve what they had in mind.
The design brief had two main parameters:
1) To specifically design around the existing and surrounding space (without changing anything structural) and this was translated through the overall planning of the kitchen and bar as it extends into the living area.
2) To utlilize the space for entertaining guests by making an open plan lounge and dining with a balcony surrounding the area. The fact that the kitchen was a separate room made their entertaining space smaller and isolated the person cooking. The real showstopper however was the addition of a bar in the lounge area which carried a similar theme as the kitchen in terms of design and colour scheme.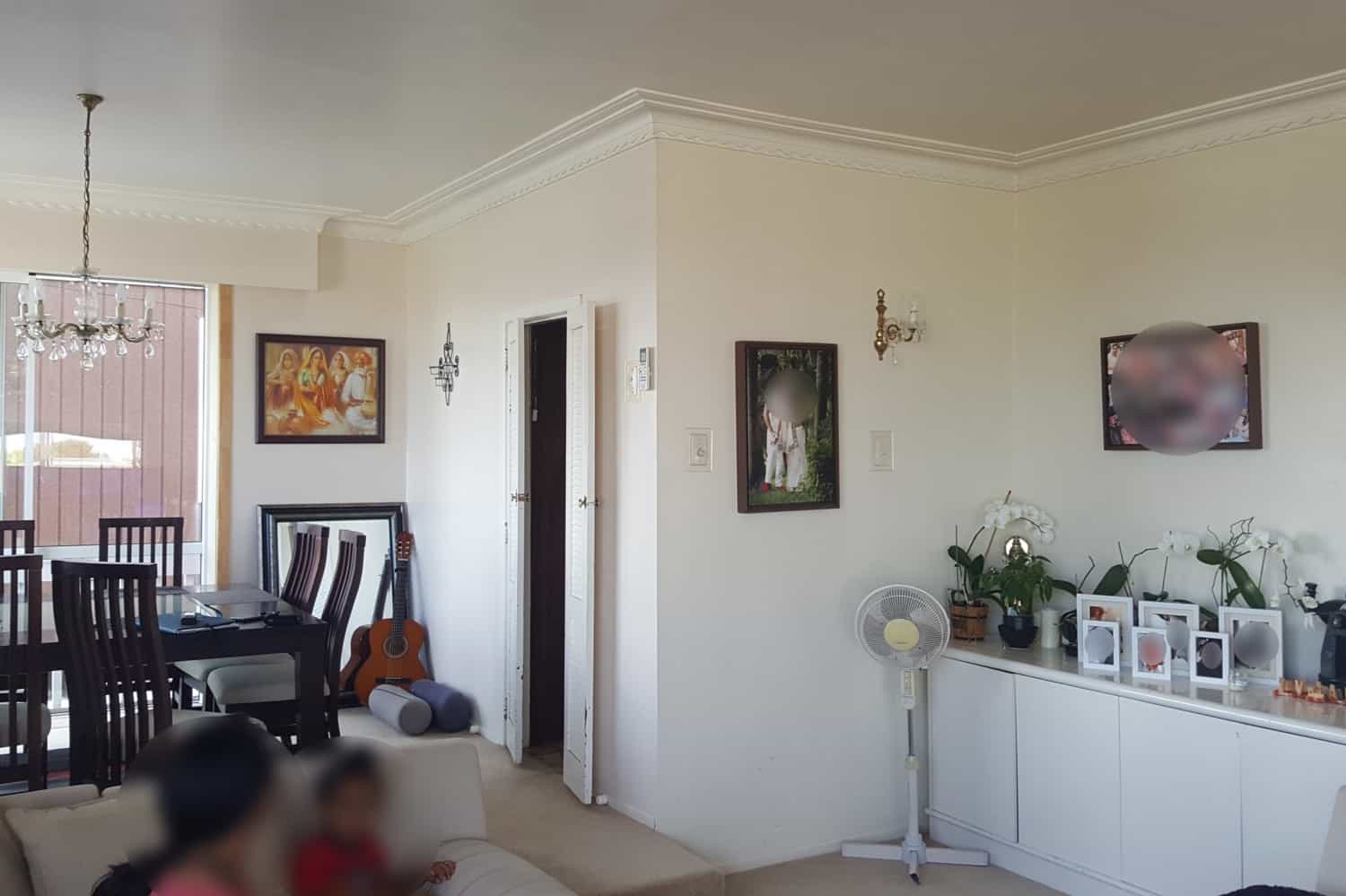 Design and architecture Process:
All walls separating the living areas from the kitchen were demolished to create a large open space
All previous kitchen cabinetry, benchtops and flooring was removed.
Black, White and Gold were used as a recurring theme to add a touch of luxury to the area.
Benchtops and Cabinets:
We custom built black matte finish cabinets and shelves.
White was chosen for the benchtop for two main reasons. First being that it contrasts well with black and the second being that we wanted to give the appearance of space. We custom built the benchtop with white engineered stone.
The engineered stone for the benchtops was made to look like marble to add to the luxury feel.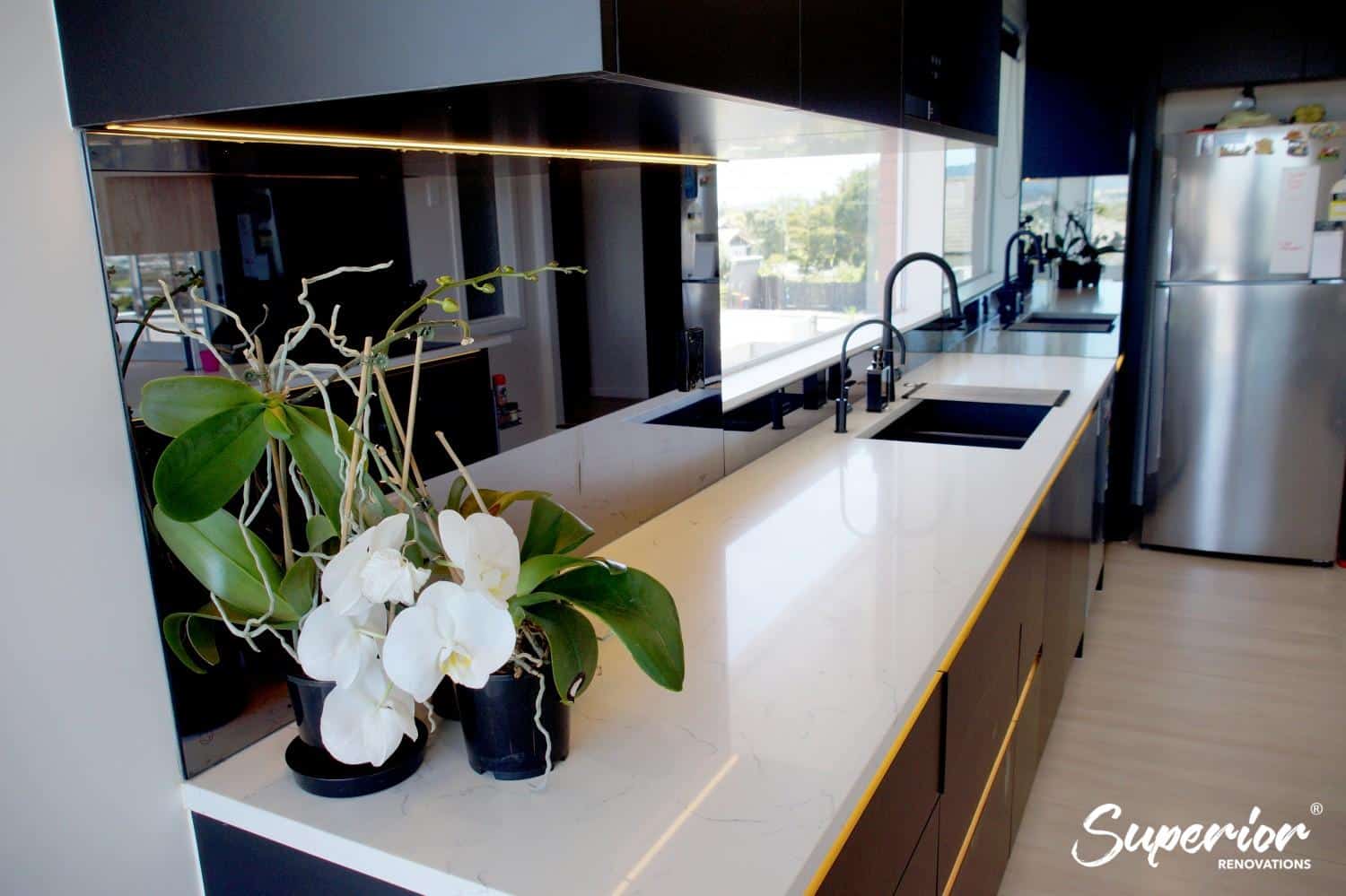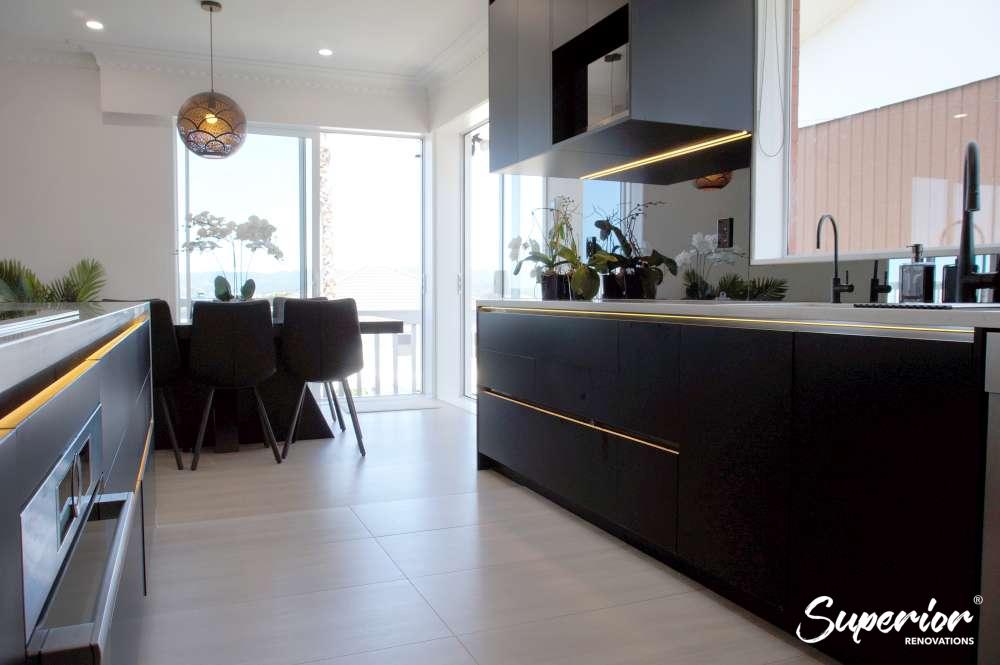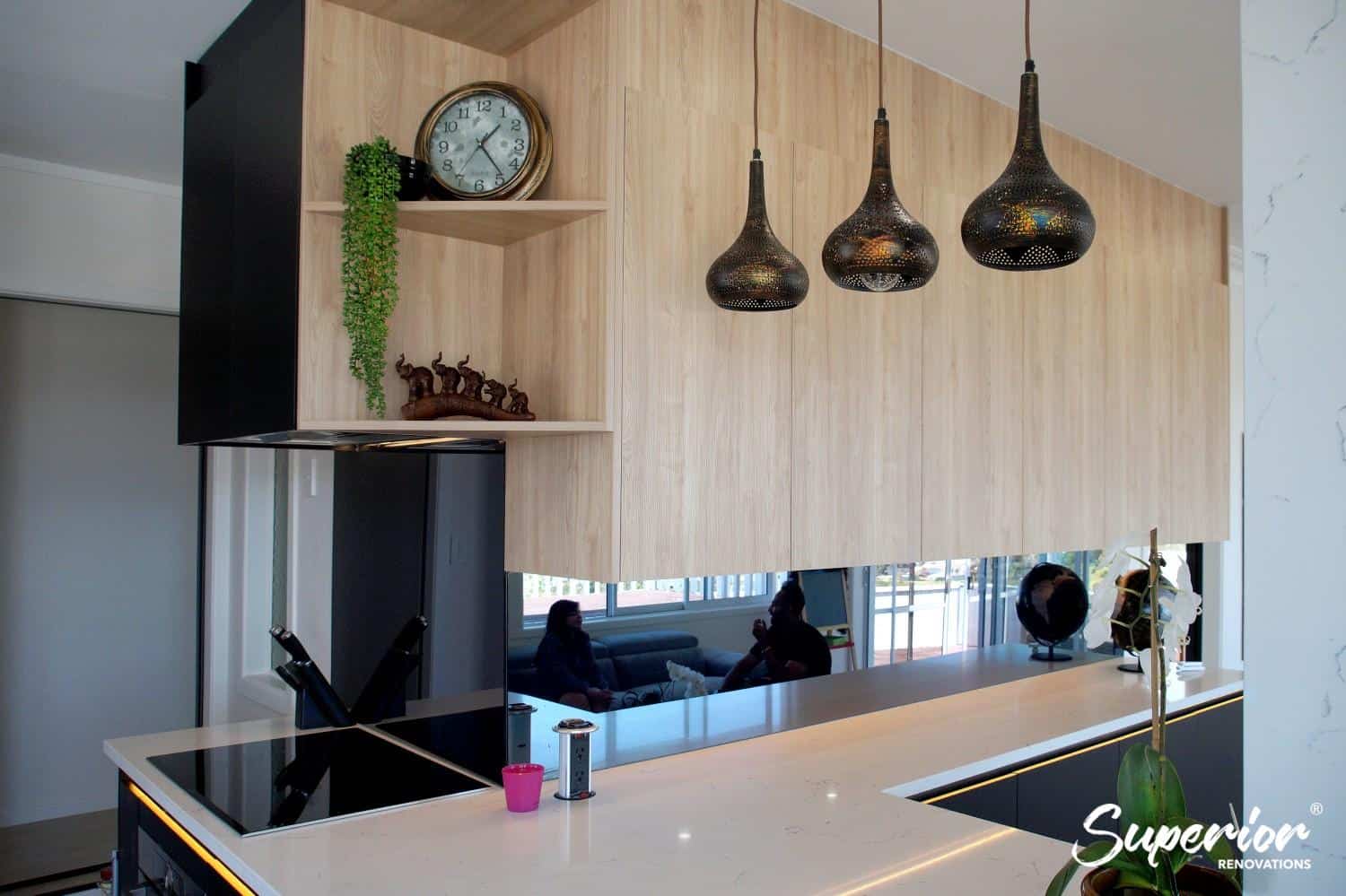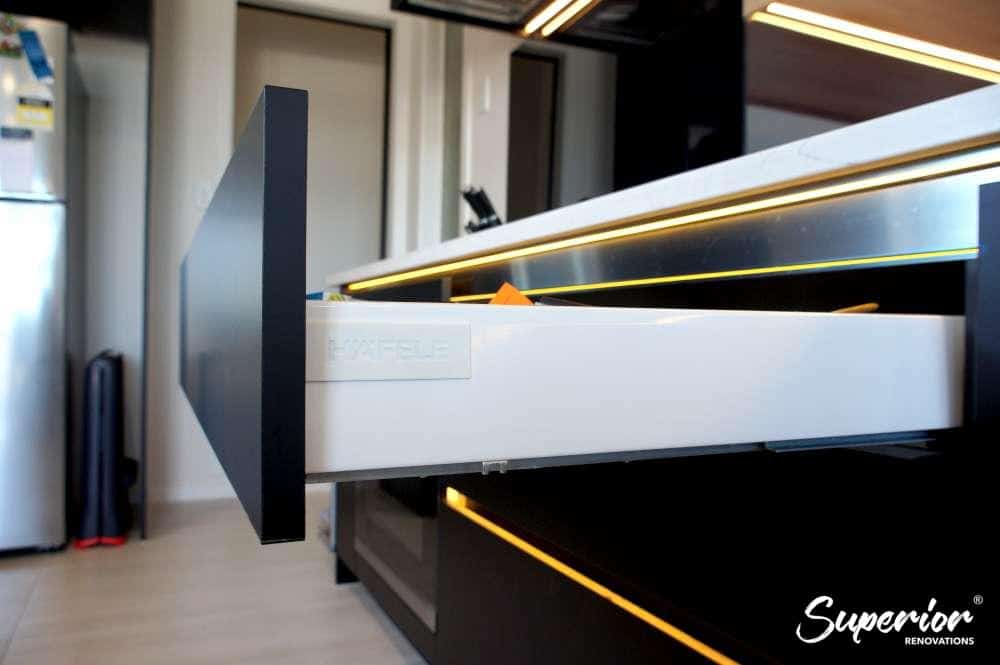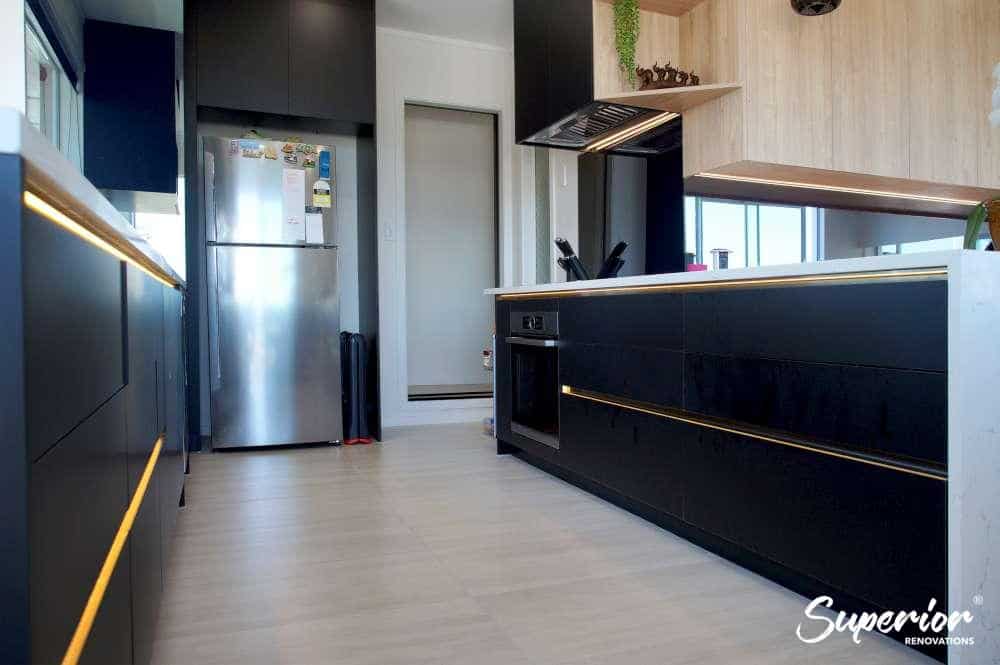 Adding Luxury and Glamour
Mirror finish glass was installed on the wall above all counter tops in the kitchen
The combination of matte black cabinets, white marble stone counter tops and a no handle set up with gold yellow LED lights create a dramatic luxurious feel to the living space.
Modern Amenities
Increasing convenience
Hafele soft close drawer runners
Stefano no handle setup for cabinets with LED lights
Blum soft close door hinges
Pull out rubbish bins
Pull out storage baskets
Undermount Blanco Silgranit sink
Magic corner shelves to maximise storage
Custom built pantry with pull out shelves
Custom made reflector black finish glass splashback behind the sink wall and the wall behind the stove to make cleaning easier.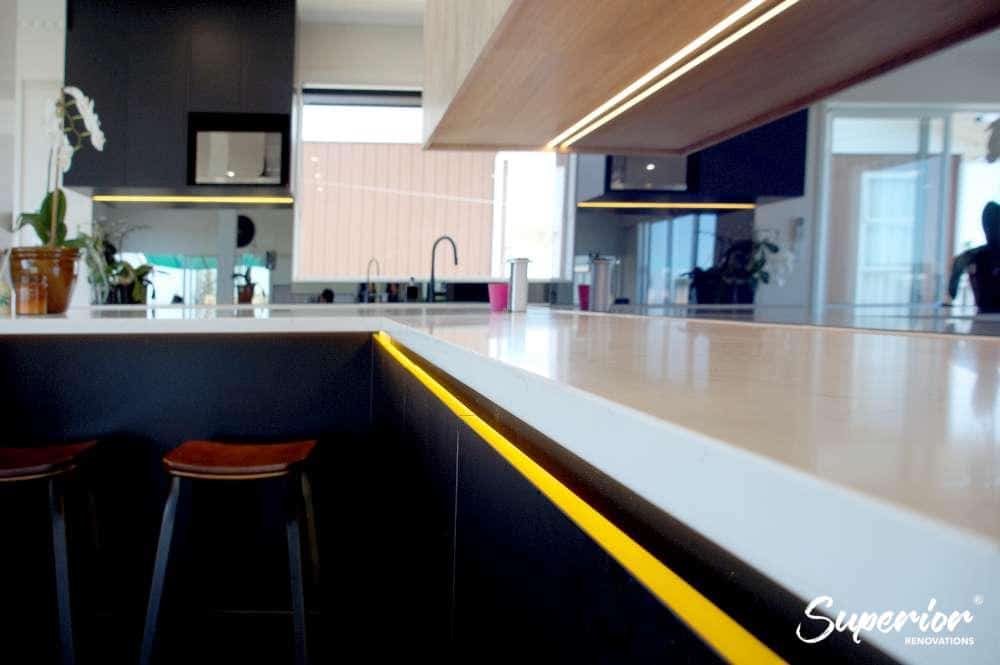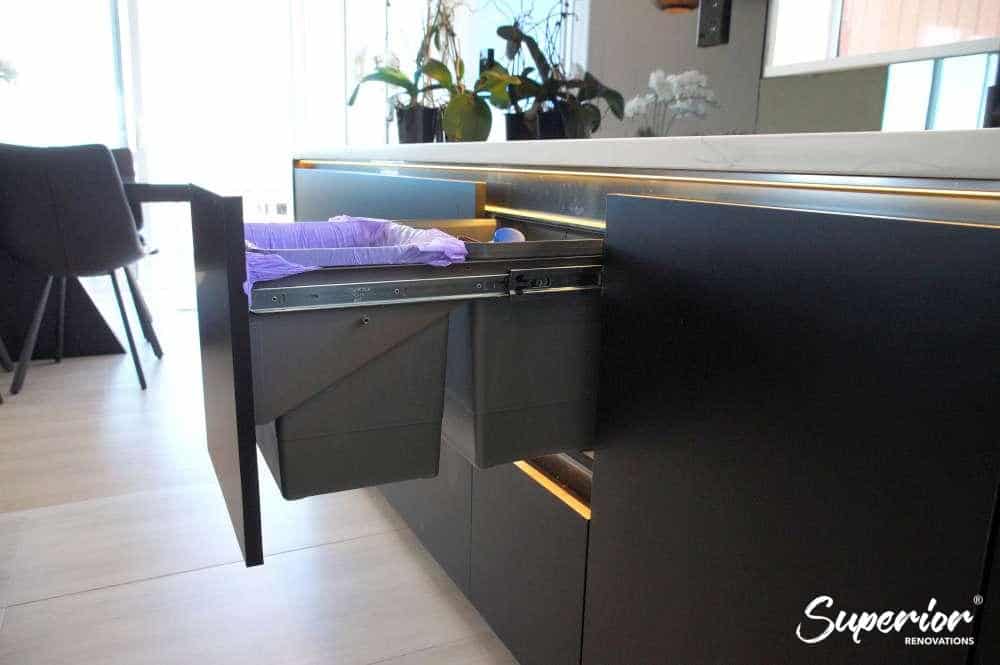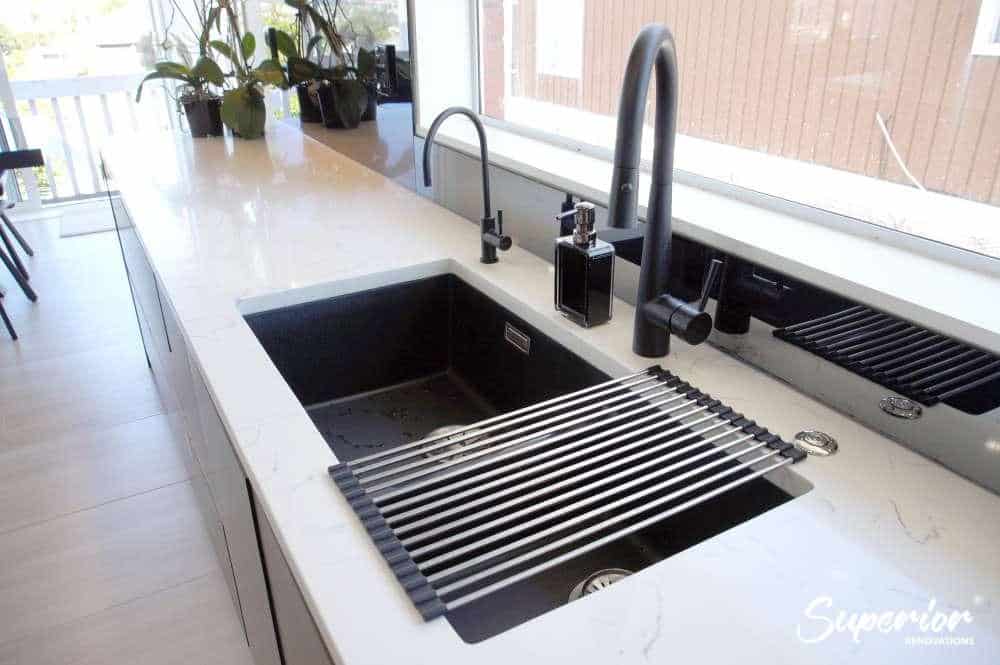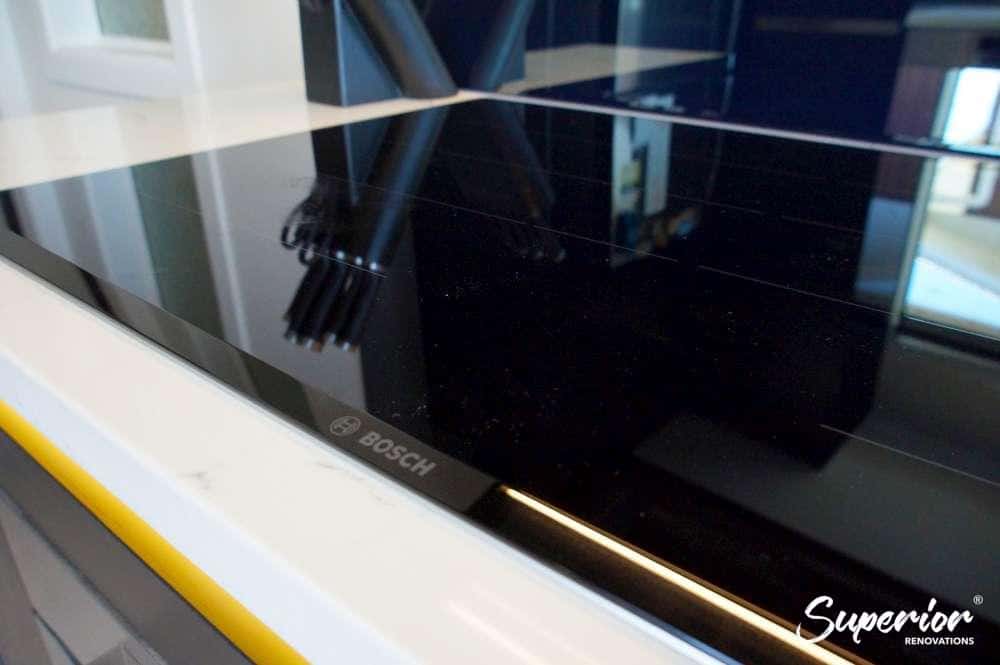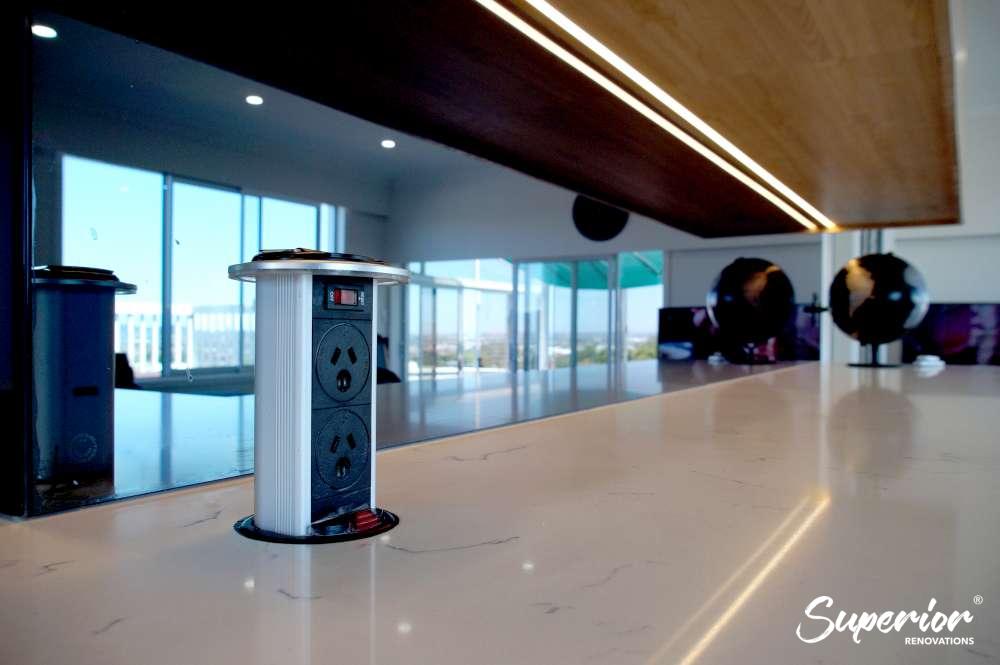 Bar and Entertainment area
Custom built wall cabinets with black matte finish for the doors
30mm Custom built stone benchtop with waterfall ends – made to look like marble
No handle Stefano setup with gold LED lights
Mirror black finish glass on the bar wall
Wine glass hangers installed within the top cabinets
Blum soft close door hinges
Hafele soft close drawer runners
Laminate flooring
Painting and New Flooring
New 10mm underlay for living area
Installation of light laminate flooring in the living area to make cleaning easier
12mm tiles in kitchen and dining area
Previous carpets removed from all bedrooms and new 55-60oz shadow carpets installed
All wallpaper removed from bedrooms
Sanding, plastering and holes filled throughout the house
Oil based undercoat applied in all windows, door frames and doors to increase durability
Water based paints with low sheen applied on interior walls.