Blockhouse Bay, Auckland
Kitchen Renovation
and Design
---
Completed on September 2019
RENOVATION
Project Managed By
Bonnie Cao
Sales and Project Management
bonnie@superiorrenovations.co.nz
0800 199 888
Full Kitchen Transformation in Blockhouse Bay
Project Finish Date
September 2019
Kitchen is where all the magic happens in a home. It is the focal point of every day living, entertaining and cooking of course. If your kitchen however is congested, dimly lit, lacks space and storage then it takes all the fun out of cooking.
Our clients faced similar challenges with their kitchen. The decision to renovate was not a light one as this was a family home where the client had grown up. However, it was time to modernise and create a spacious area that could be enjoyed by the family.
One area of focus with the renovation was opening the kitchen and living space, which were originally separated by a wall – leaving the kitchen isolated from the rest of the house. The client had a very clear idea of how she wanted her new space to look like so that made the design process very straight forward.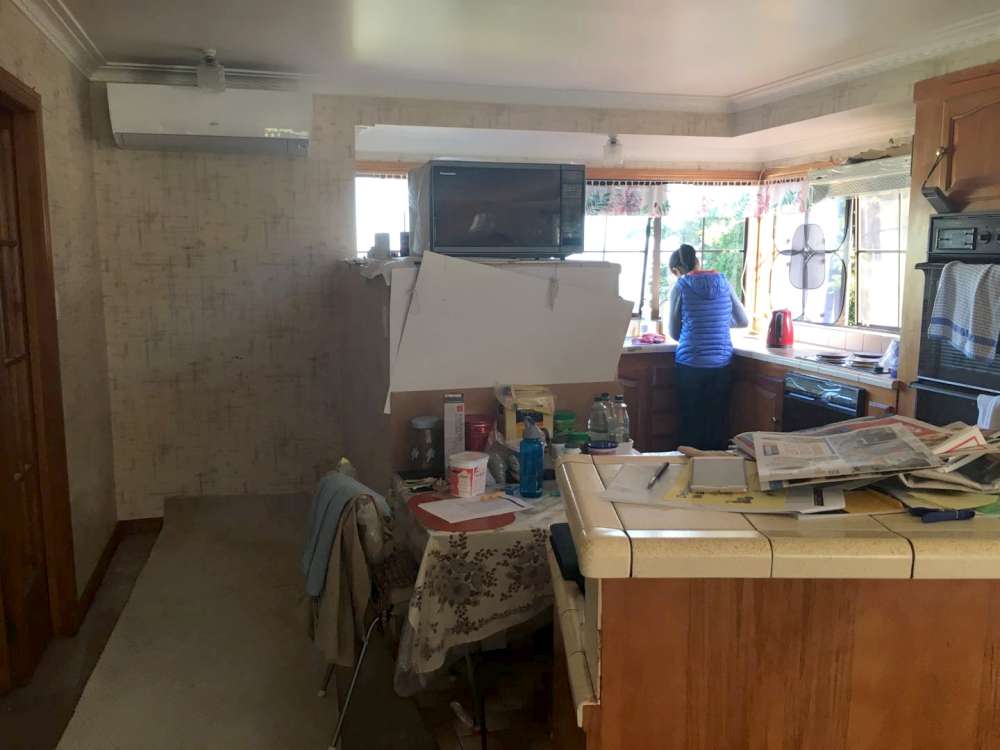 The first step was to break the 2 walls separating the kitchen from the living space as well as removing a whole line of counter dividing the living and dining area. This created a nice and spacious area for us to build a kitchen as well as an area for the dining table.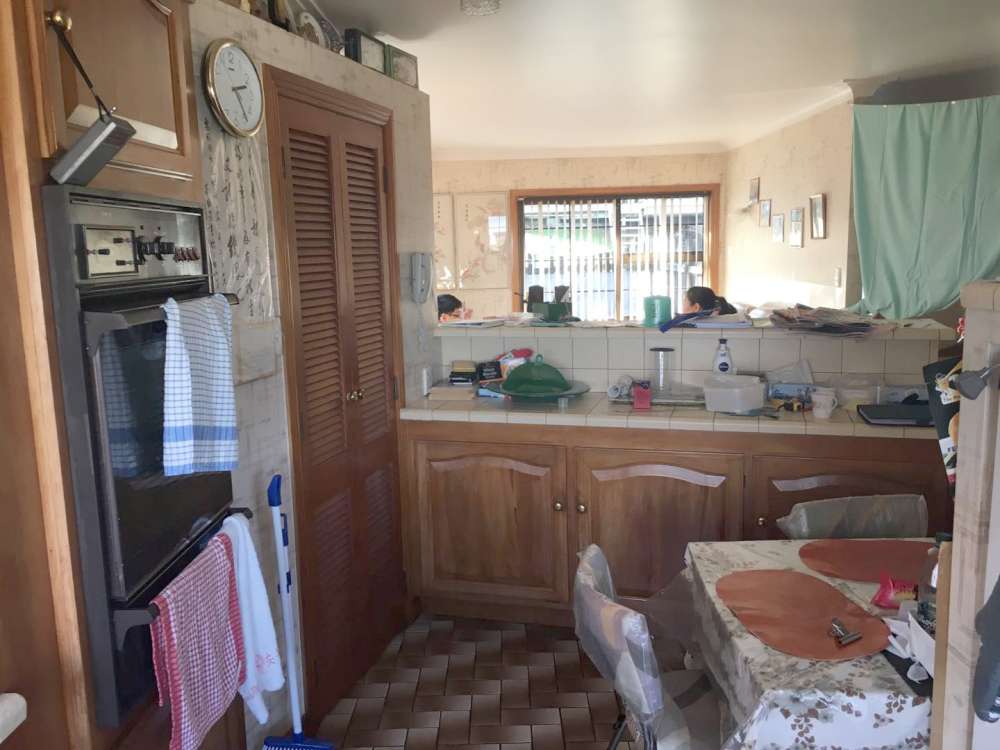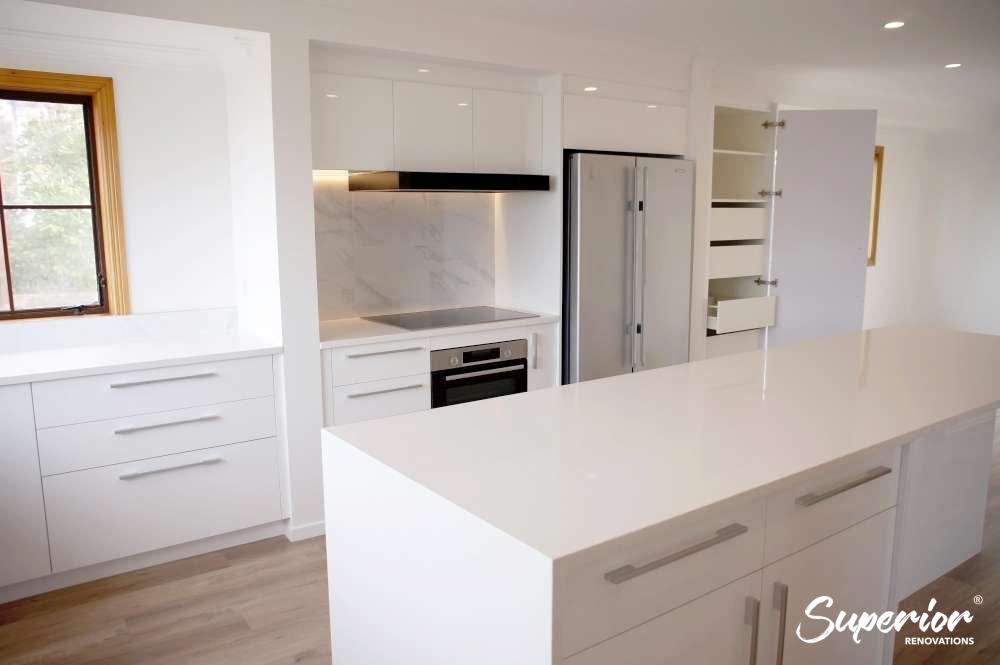 The next challenge was to create make the space look bright and inviting. The brown and bulky counter tops were making the kitchen look small, dim and cumbersome. The carpet in the dining room and brown tiles on the floor also made the area look dated. In order to modernise the kitchen, we ripped the tiled kitchen floors and all cabinetry apart. We then replaced the kitchen and dining room flooring with Light coloured Laminate flooring to make maintenance easier in these high traffic areas.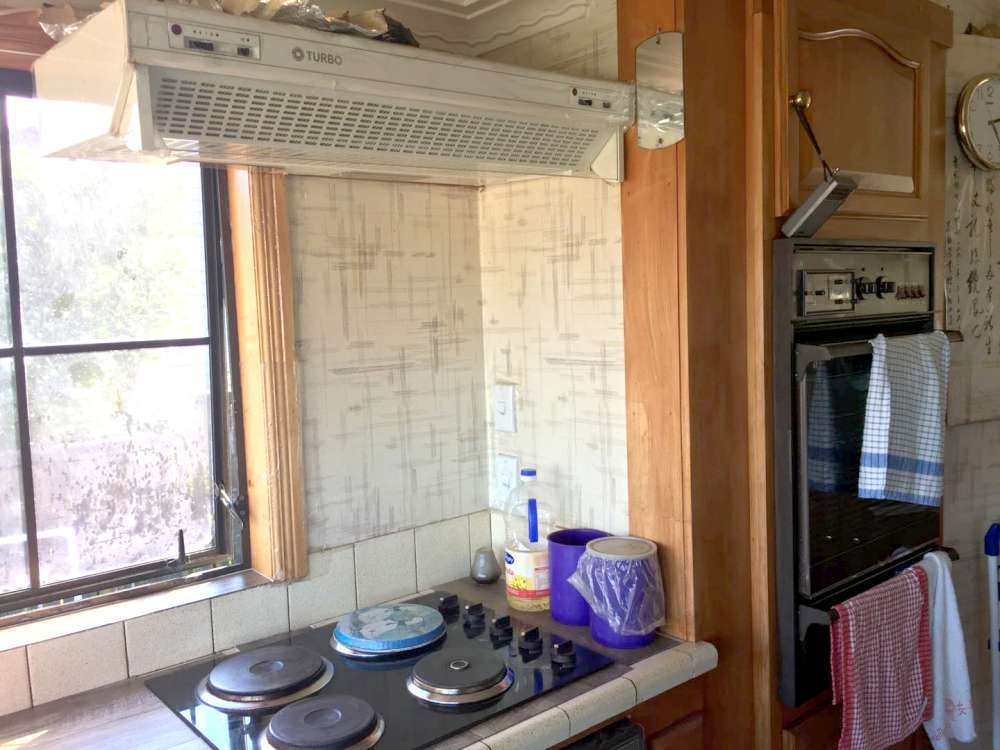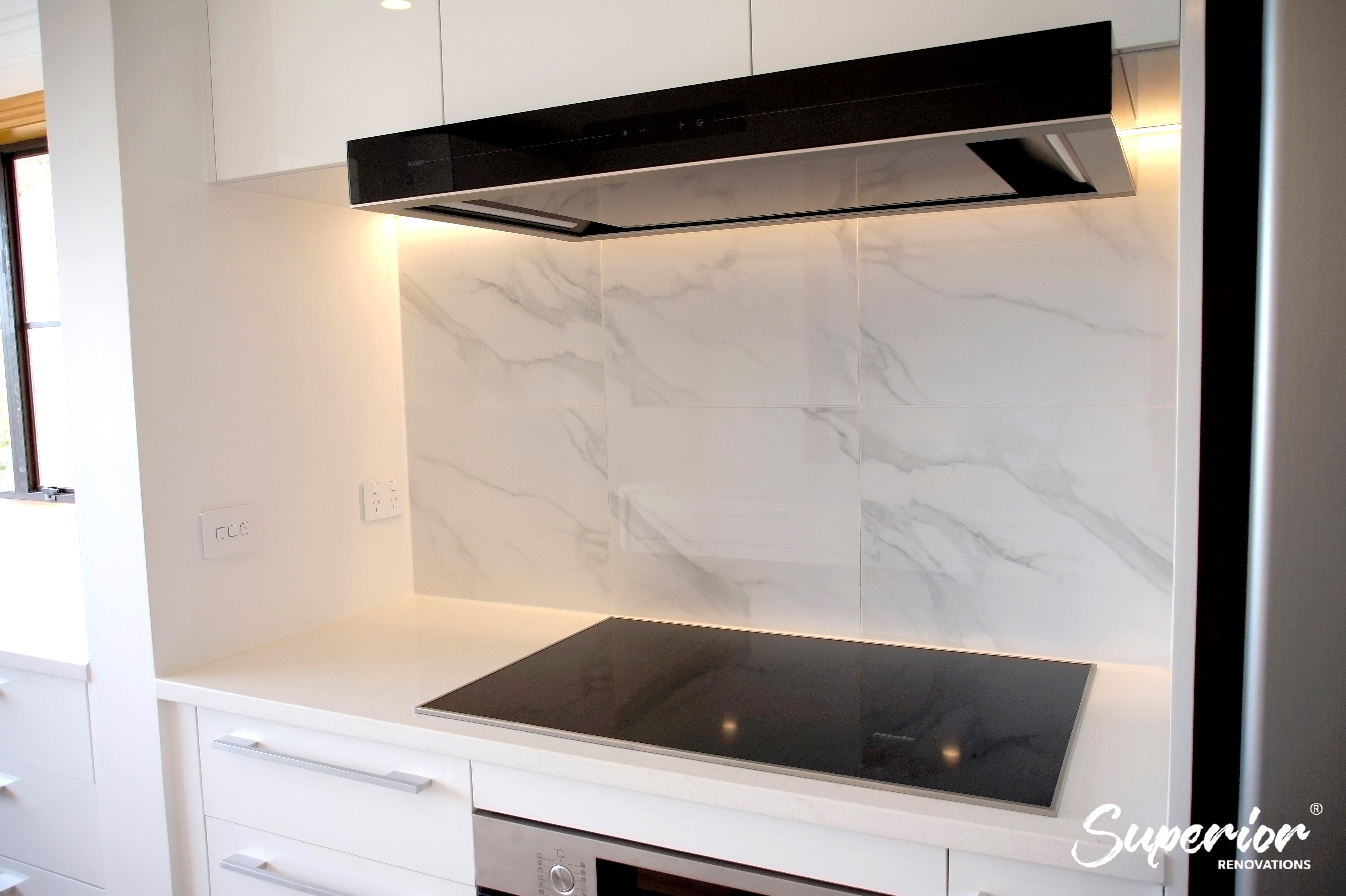 All previous wall paper was removed, and walls were plastered prior to applying paint and under coat. The walls were painted in light white hues, white UV acrylic glossy cabinets were custom built and then installed, and a white engineered benchtop were all combined to brighten up the place, making the area look spacious.
Another issue the client faced previously was hard to clean walls, benchtop, cabinets from the oil splatters while cooking. Hence another focus was to make the kitchen area easy to maintain. All the different materials used during this renovation were chosen by keeping maintenance in mind.
Details of the renovation
Easy to clean materials used during this project
Acrylic MDF Gloss white finish cabinets
Engineered stone bench top
Laminate flooring
Storage solutions for this project
300mm Pull out Rubbish Bin
300mm Pull out basket
Custom made inner drawer system for the pantry
Blum soft close door hinges
Appliances and Fittings used for the project
All new appliances from Bosch, Asko and Miele cooktop
Stephano Designer fittings (handles)
LED lights with Dimma switches
Blanco Silgranit Sink