Epsom, Auckland
Historic Epsom
Bungalow Renovation
---
Completed on July 2020
RENOVATION
Project Managed By
Kevin Yang
Managing Director/Project Management
kevin@superiorrenovations.co.nz
0800 199 888
Historic Epsom home renovation to add convenience for a young family
Project Finish Date
July 2020
Bungalows and Villas are an integral and special part of New Zealand's heritage. Whether it is the quaint white Villas of Parnell or beautiful 2 storey Victorian Bungalows in Epsom, it is always a privilege to live in a villa or bungalow. Our clients bought a beautiful 5 bedroom, 2 storey bungalow in one of the prettiest tree lined streets of Epsom. Unlike most bungalows, this house had no issues with old electric wiring. This bungalow boasted original Timber flooring, stained glass windows, elaborate chandeliers, panel ceilings, french doors and casement windows.
They however had a unique problem with their bungalow. The kitchen had a beautiful layout, timber cabinets, a beautiful gas burner and  granite counter top. However, these materials did not have any modern conveniences like 'magic corners', modern storage solutions, easy to clean cabinets or counter tops. With 2 young children this posed a problem for the young family. Hence they decided that they would modernise the kitchen, repaint the entire house, lay new carpets and restore all timber fixtures to suit their lifestyle.
Full Kitchen Design and Renovation
It was important to our clients to preserve the integrity of their historic home. The kitchen was however something they felt like they had to remodel despite liking the existing kitchen. With two young children they felt like they had to modernise to incorporate easy to clean materials as well as have modern conveniences of today. They did not however want an overly modern look with sleek lines as that would not complement the rest of their house
Hence they decided to go with a classic traditional Victorian theme for their kitchen. Our clients decided to skip the popular 'no handle' set up for cabinets as it was 'too modern' for the house. Instead, they decided to make textured cabinet doors with antique look black handles. The panel ceilings above the kitchen were also closed to make the new kitchen a focal point of the room.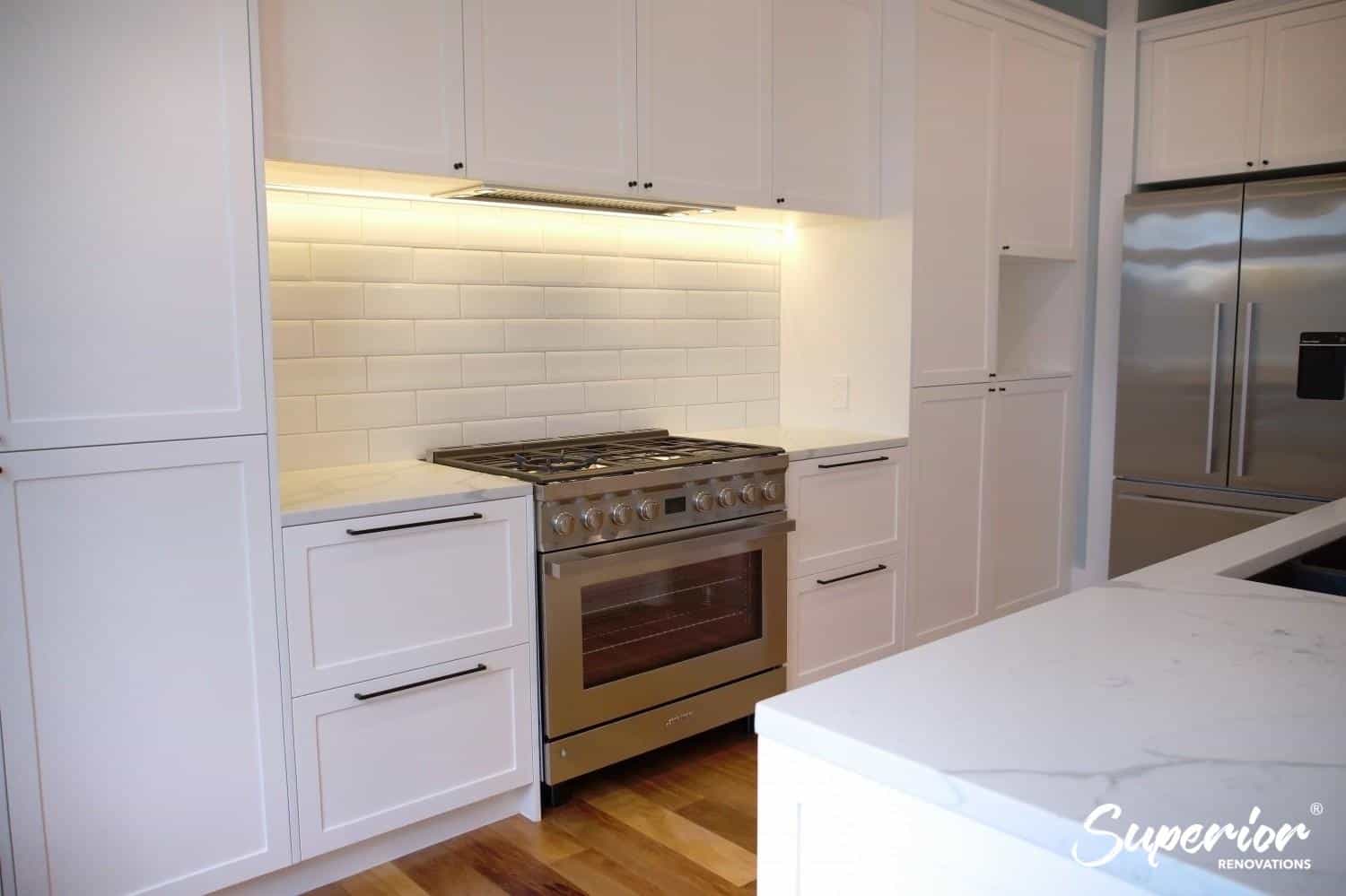 Preserving the Bungalow's Old World Charm
It was important for our clients that they retain the old world charm of the bungalow and only renovate areas that would add comfort to their family.
Panel Ceilings 
There were panel ceilings in the Lounge, dining room, kitchen and the family living room downstairs
Our clients decided to keep the panel ceilings in the family room and formal lounge
The panel ceilings in the kitchen and dining room were however covered.
These panel ceilings were covered to make the modern kitchen a focal point of the room as opposed to the ceilings
Timber Floors
All timber floors and fixtures were sanded and treated
Epoxy was applied in the gaps and holes of the timber floors
3 coats of commercial grade water born Polyurethane was finally applied to preserve the timber and give it a satin shine
Light Fixtures
Our client decided to keep the elaborate chandelier in the lounge and family room
Pendant lighting was added in the kitchen and dining room to complement the new modern look of the space
All other hallway and bedroom lighting fixtures were retained
French Windows and Casement Windows
All french windows and casement windows were retained
They were however restored to their former glory by painting the frames and sills
Floating gas fireplace
The floating gas fireplace is the star of the living area and was retained
Storage Solutions
350mm Rubbish bin pull out
Cabinets were installed with shelving and baskets for condiments
Additional storage cabinets created under the breakfast island
Modern and convenient appliances and Fixtures
SMEG 60cm stainless steel dishwasher installed
SMEG 90cm Portofino Pyrolytic Stainless steel freestanding oven
SMEG 90cm powerpack rangehood
Custom Built cabinets and Benchtop
16mm MRPB high water resistance carcass boards
plywoood boards used for cabinets with high water resistance
The front of the drawers and cabinets were wrapped in Dezignatek Thermoform with a 'Ronda' pattern to give the cabinets a vintage look.
Black handles
16mm HPL sink carcass (high water resistance)
Blum soft close hinges
Blanco Silgranit stone sink for durability
30mm engineered stone benchtop to look like white marble
City White Gloss 100×300 glazed ceramic wall tiles used as backsplash
Ensuite and Guest Bathroom renovation
We renovated an ensuite bathroom downstairs as well as a standalone toilet with a sink to make it more modern and luxurious.
Ensuite Bathroom Design Highlights
Ensuite Bathroom renovation
There was already a wet area in the bathroom which our clients decided to retain
Cassini free standing bath 1500 x 700 from Reece
Bathroom cabinet used – Frosty Catrina Caesarstone with pearl white finish from Reece
Quadra 420 x 380 Athenite Basin from Reece
Waterfall shower installed in the wet area
LED round mirror – Illuminar Demist 690 from Reece
Standalone toilet renovation
Our clients had a very small space to create a standalone toilet with a basin for guests.
Toilet installed and toilet holder installed from Reece
A small basin mixer from Reece
Full repainting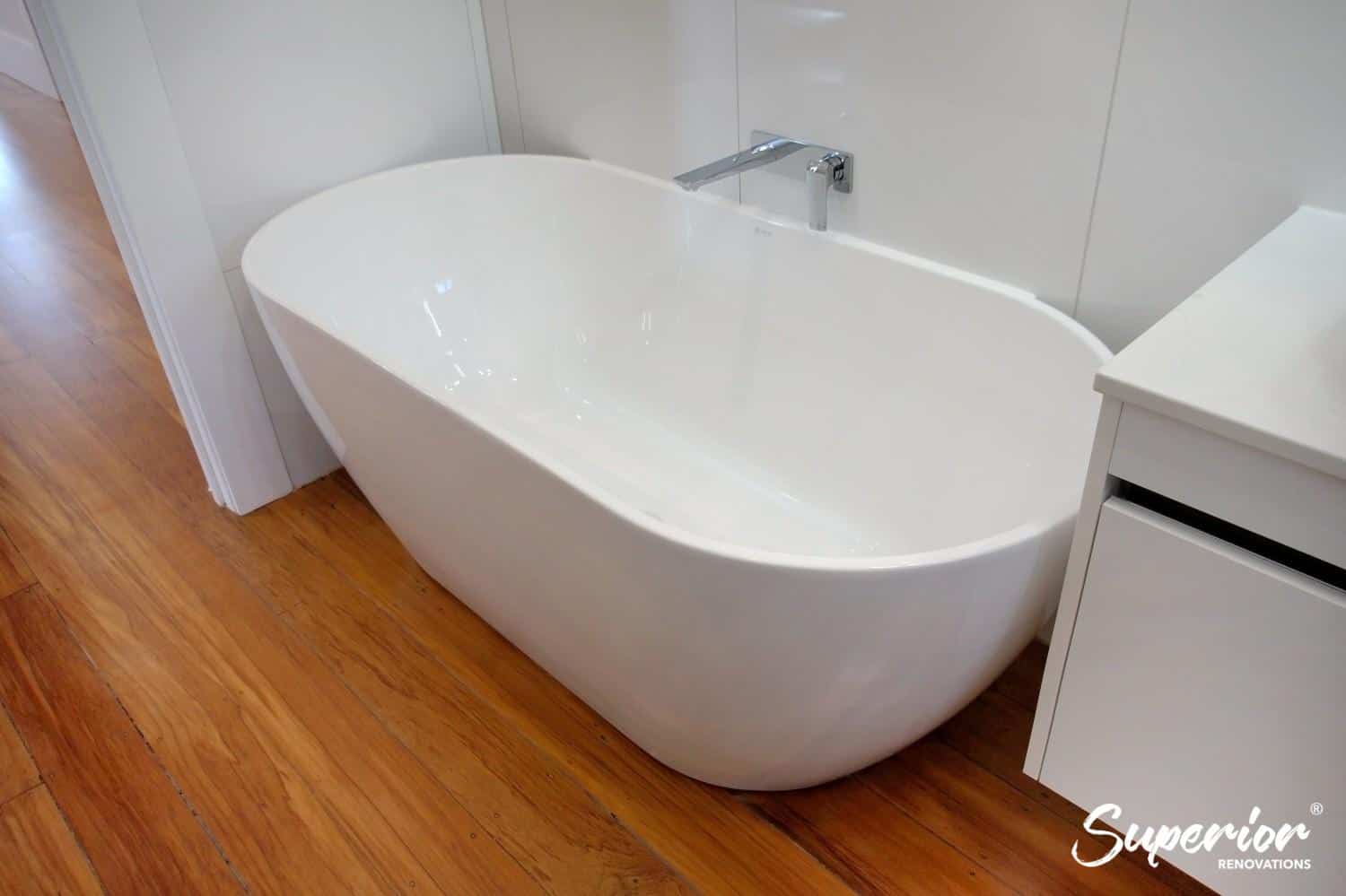 Painting and Flooring
Extensive plastering, GIBing and painting work was carried out throughout the interior of the house. Timber floors were restored downstairs and new carpeting was laid throughout the staircase, upstairs and all bedrooms.
Interior Plastering and Painting
Repair of all holes, damages and defects on ceilings, walls, skirting boards,door frames and window frames
Light sanding and plastering
2 coats of Dulux  water based undercoat and  paint with low sheen on ceilings and walls.
Dulux Oil based undercoat applied to all skirting boards, window frames, door frames and doors
Dulux Oil based paint applied to all skirting boards, window frames, door frames and doors
Flooring
All Timber accents and floors were restored
Light sanding of Timber floors
3 coats of commercial grade water born Polyurethane was finally applied to preserve the timber and give it a satin shine
Old carpets were removed from all bedrooms, upstairs hallway and staircase
Underlay laid out for all areas that needed carpeting
Scenic Rise 0090 carpet laid