Fully Renovated Home
For A Growing Family
Avondale, West Auckland
---
Completed on January 2020
RENOVATION
Project Managed By

Kevin Yang
Managing Director
kevin@superiorrenovations.co.nz
0800 199 888
Fully Renovating Home for a Growing Family, West Auckland
Project Finish Date
January 2020
A full home renovation with structural changes, making space and room for 3 generations to live with comfort and convenience. This home renovation carried out in Avondale came with its unique challenges. This was a family home that our client grew up in and was in the need of upgrading. It was an old house, there were problems with layout and space, it was outdated and lacked all the modern amenities of today.
Moreover, this home needed to accommodate three generations with each generation having its unique needs in terms of convenience, comfort and aesthetics. First there were the grandparents, second a young couple and lastly their 11-year-old twin daughters.
This renovation was managed by Kevin who managed more than 20 different trades for 7 months to turn an old family home into a modern home of comfort and convenience.
Problems
5 bedrooms but only 2 bathrooms between 2 couples and 2 children
Small living space, not enough for family gatherings
Minimal privacy for adults
House out-dated, family was choosing between moving or renovating
Solution
Adding another bathroom upstairs
Master en-suite for couple
Moving the kitchen to the other side of house, to create more living space
New storage in all rooms/ laundry
Upgrade electrical/plumbing
New Flooring
Fully renovate/upgrade the aethetics of house
Master Suite for the couple
The house had 3 bedrooms upstairs and 1 bathroom. We incorporated the bathroom upstairs into the master bedroom and created a walk-in wardrobe to make a nice master suite for the couple. This solution now allows the couple ample privacy and space which is necessary in a big household.
Adding an addition bathroom upstairs
The twin girls already had individual rooms upstairs but did not have a bathroom. As one of the bedrooms was much bigger than the other, we decided to divide one of the bedrooms into a small bedroom and an ensuite. This required consent as we had to install new waste pipes and plumbing to create a bathroom. The result of the above structural change meant that the girls now had two individual medium sized bedrooms and an ensuite to share.
Creating a larger living space
The previous design of the house included a small kitchen which opened into a small living. A corridor from the living space lead to a formal dining room. Hence, we decided to move the kitchen into the dining room, break the wall between the kitchen and living, and taking that space to create a large living space.
Incorporating the kitchen into the dining room also required consent from the council as we had to install new waste pipes and plumbing in a different area of the house.
Complete Renovation of the house – Aesthetics and Building work
The entire house was renovated by demolishing all previous flooring, fixtures, cabinets and scraping previous paint. Kevin managed an extensive range of trades in order to renovate this house in 7 months. He managed our plumbers, electricians, suppliers, manufacturers, tilers, grouters, installers, painters, designers and architects for the duration of the project. He was the sole point of contact for the clients. The family had moved out owing to it being an extensive project.
General theme and design
The general colour theme used was neutrals, beige and whites. This was to create an illusion of space as the rooms in the house were mostly medium to small sized. We only chose easy to clean materials as this was a busy household with children.
Bathroom Renovations (2 bathrooms renovated, and 1 bathroom created)
All previous fittings, fixtures, vanity, tiles, flooring, showers, and tubs were removed.
Underlay was laid in all three bathrooms
Waterproofing was done for the walls and floors.
All damaged GIB was removed and new GIB fittings done
Glossy White and grey designer tiles installed throughout the floors and walls.
Light plastering and Painting done for all bathrooms
New Vanity, Toilet, and showers installed in the all bathrooms. A tub also installed in the master suite.
LED lights installed in the bathroom and in front of the mirrors
Kitchen Creation and Renovation
White was used as a general theme in the kitchen to make the small space look larger
Custom built cabinetry manufactured, built and installed
16mm MRPB carcase boards installed for cabinets (high water resistant for longevity)
30mm engineered stone bench top manufactured and installed. We gave it a marble look to add a sense of luxury.
The cabinets were made of acrylic to make cleaning easier
Grey Blanco Silgranit sink installed for its durable and low maintenance qualities.
Blum soft close hinges
No handle set up in order to maintain and clean and uncluttered look
Laminate flooring installed for easy maintenance
White Subway tiles chosen for backsplash
Westinghouse hob and hood installed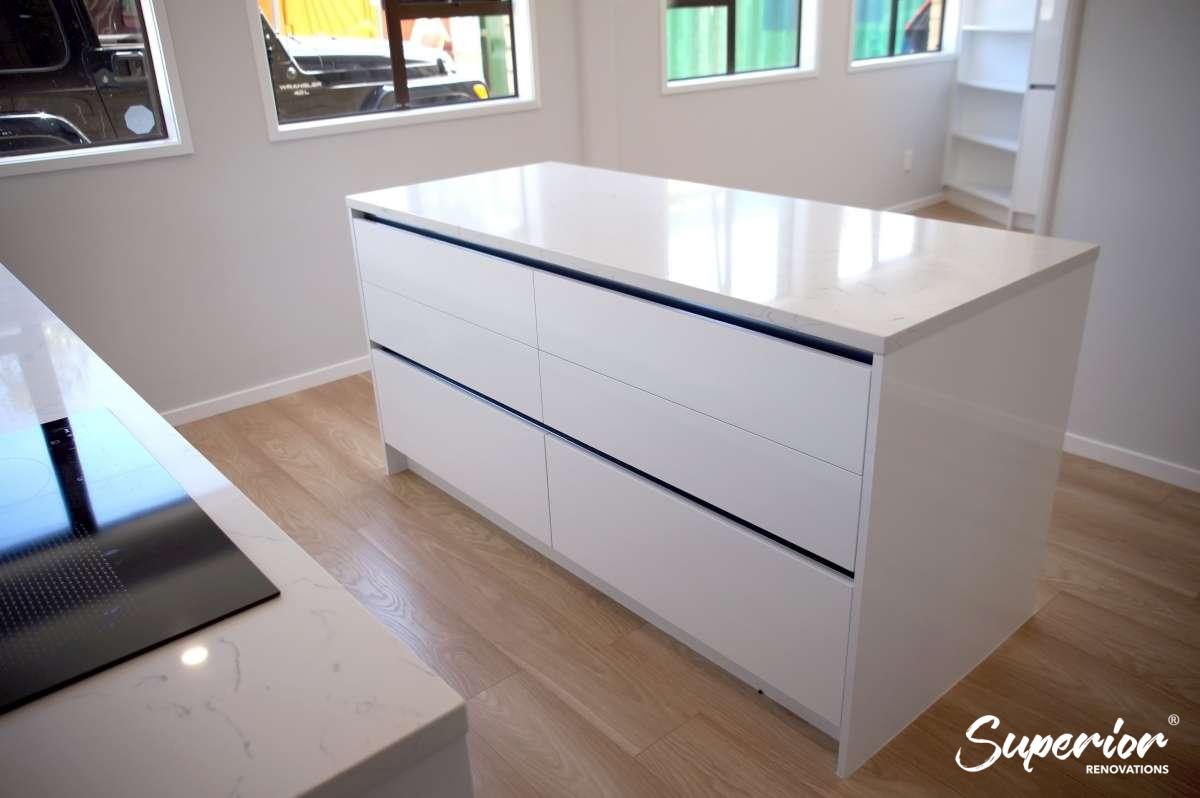 New Flooring
All flooring in the house removed
New Carpets installed in all bedrooms, upstairs hallways and staircase
New underlay for all bedrooms upstairs and downstairs
Laminate flooring installed in the open space kitchen, dining, downstairs hallway and living room.
Electrical Work and Painting
The entire house was rewired
Installation of new LED lights throughout the house
Installation of a smart vent system
We switched all power banks and switch to PDL 600
Entire house plastered, repaired and repainted
3109+ Stainless Steel Digital Mortise Door Lock installed for the main door
Building work
Cladding of front entrance way
A new main door made through the deck
Building of a new wall between the bathroom and bedroom
Removal of wall between the lounge and kitchen
Repairing of sub floor where needed