Greenlane, Auckland
Joanne & Steve's
Full Home Renovation
---
Completed on October 2019
RENOVATION
Project Managed By
Kevin Yang
Managing Director/Project Management
kevin@superiorrenovations.co.nz
0800 199 888
Renovating an old house to modern standards
Project Finish Date
Oct 2019
Joanna and Steve initially bought this house as a rental property. They were living in a modern Auckland home and were about to make a permanent move to the UK. Their plans however changed and they decided to postpone their move which meant that they would now have to live in this Greenlane property.
"So when we decided that the move was not going to happen, we were stuck with this. I mean it was okay, it was just not very modern. We had come from a very modern house into an older house, so I wanted to add that modern touch to it. I think the toilet was the most important to us. We had come from a house that had multiple toilets to a place with just one toilet. So that was the kickstart of the whole renovation" explains Joanna.
"The kitchen and was old, and coming from a new house I mean we are not cooking buffets at all but we like a nice kitchen. The kitchen was old" added Steve about the problems that they faced.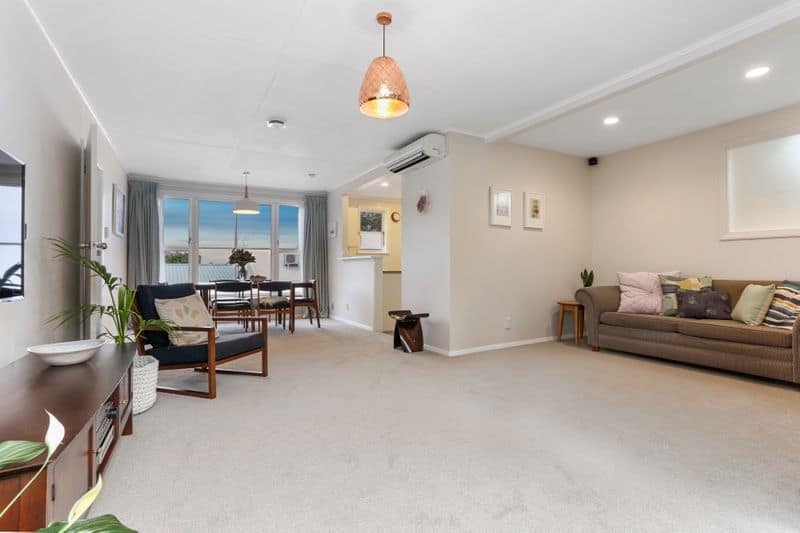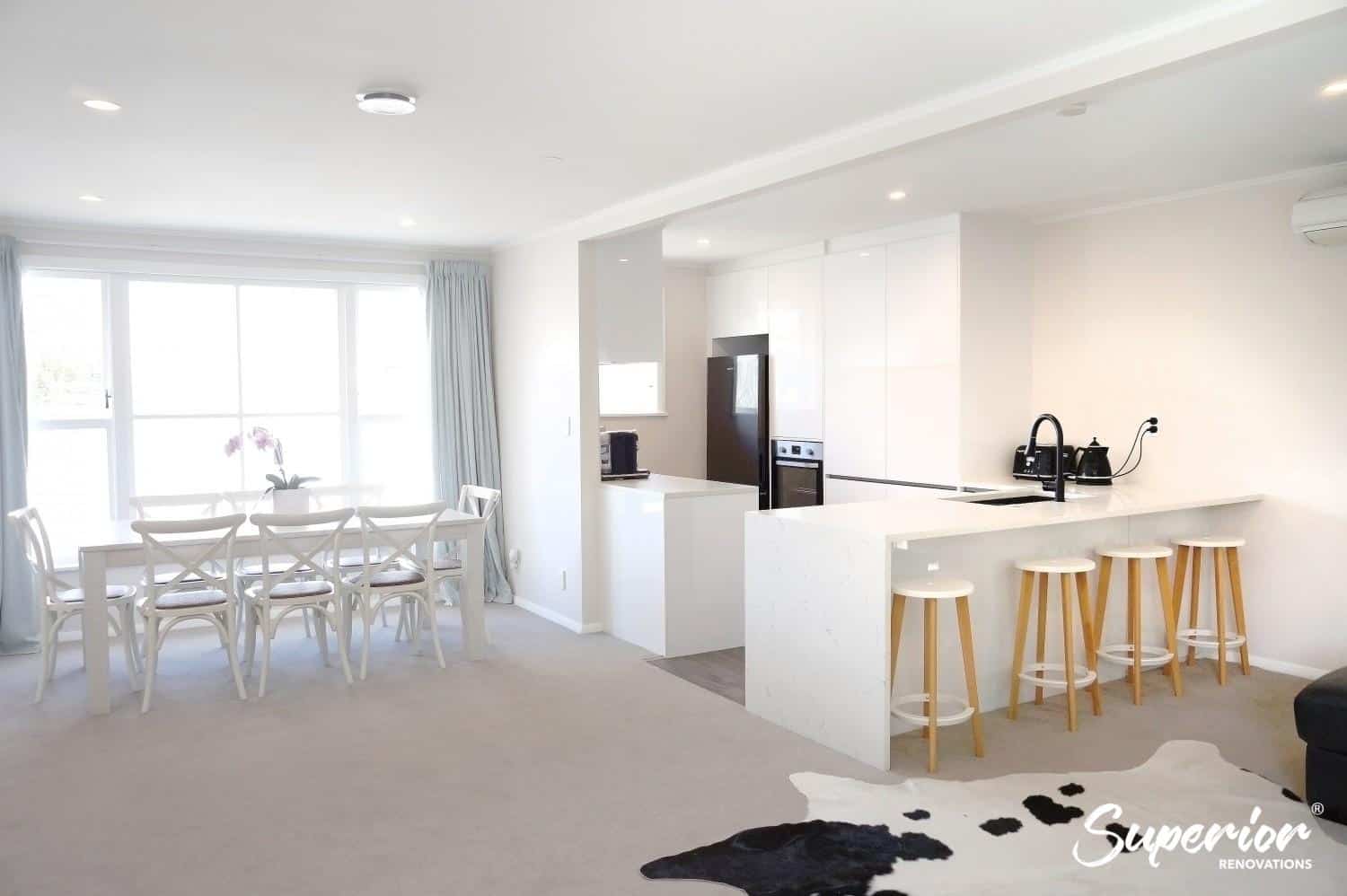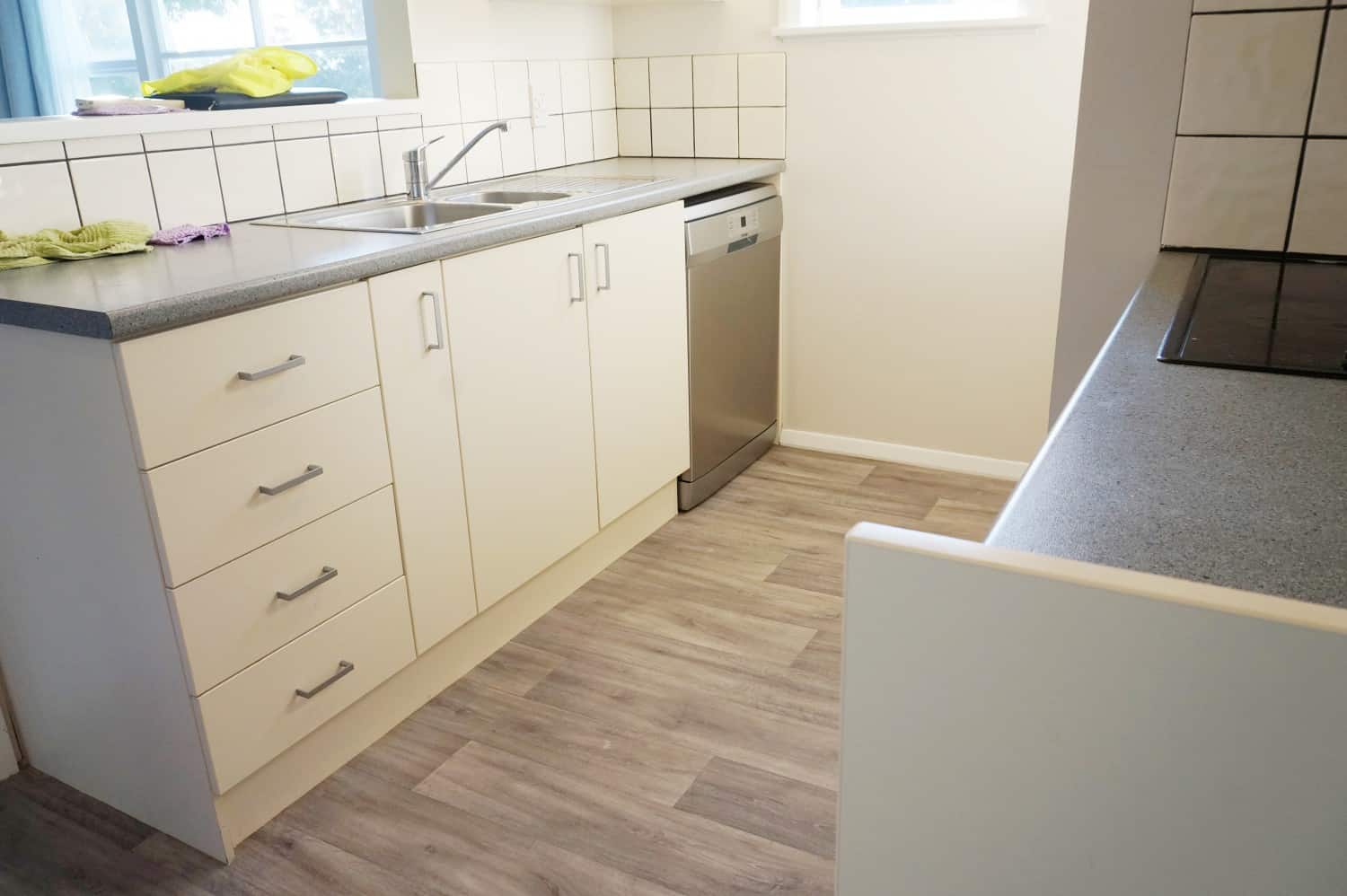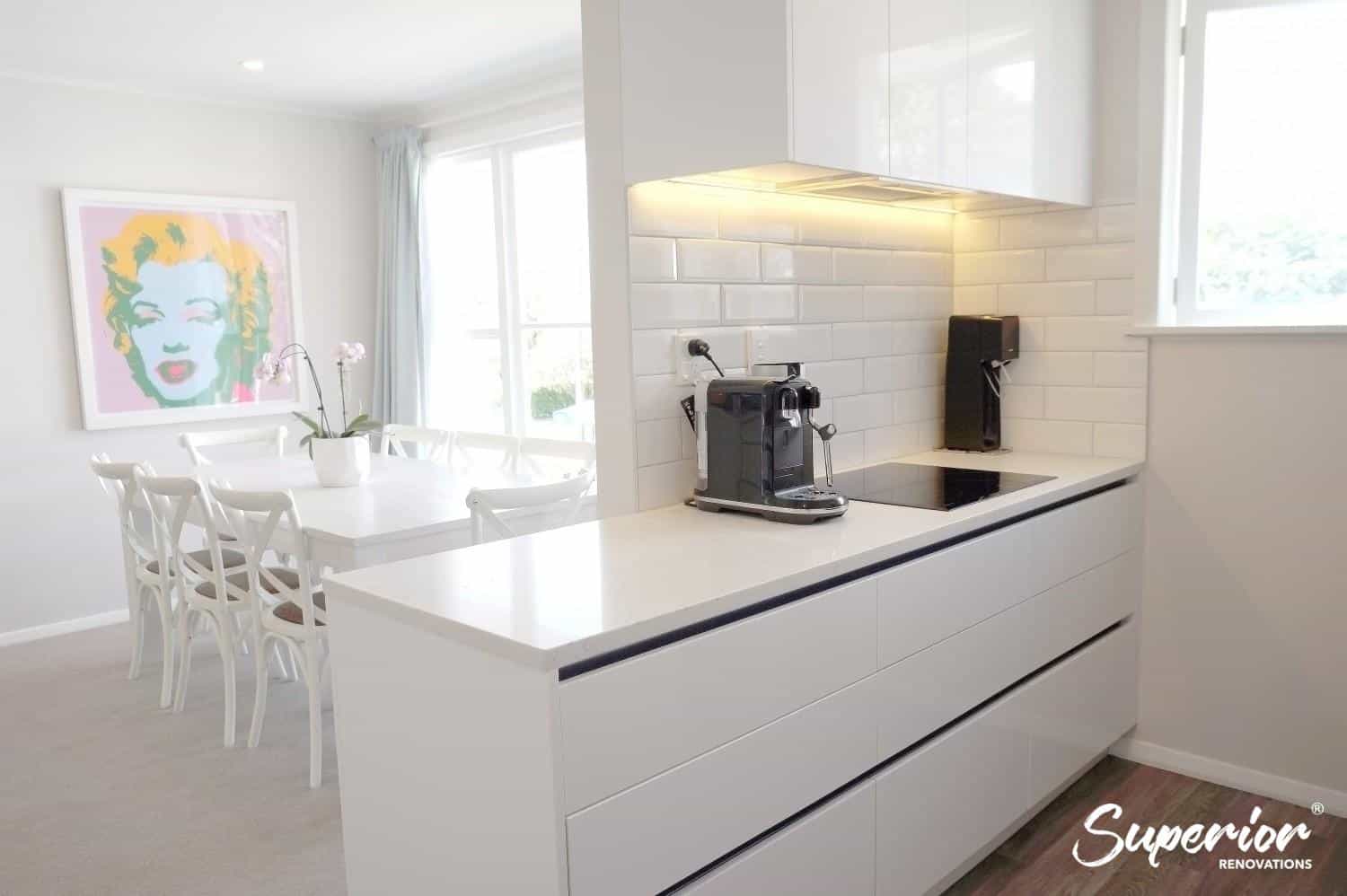 Full Kitchen and Laundry renovation
The kitchen in the house was in a decent condition. However, Joanna and Steve who had previously always lived in modern and new homes could not reconcile themselves to a closed off kitchen with old laminate benchtops, yellowing laminate cabinets with brown handles, square tiled splashback and  old flooring.
Building work
We demolished the wall between the lounge and kitchen to create an open space
This also enabled us to create a breakfast bar with stools which was more in line with Joanna and Steve's lifestyle
We replaced the ceilings in the lounge, kitchen and dining in order to rewire the ceilings with downlights
Low Maintenance modern materials
16mm MRPB high water resistance carcass boards made for all kitchen cabinets
These were custom built for the kitchen space
DTC soft close drawer runners and soft close hinges from BLUM
A no handle setup for all cabinets and drawers
30mm engineered stone benchtop was custom built with a white marble look
Modern white subway tiles were chosen as a backsplash for easy cleaning
Blanco silgranit sink was installed for its high durability
Samdung 60cm 70L SS oven from Kitchen things
Samsung 60 Ceramic cooktop from Kitchen things
Samsung 60SS FS Dishwasher from Kitchen things
Classique 53cm powerbank
Apploco 1/HP white Waste disposal from Kitchen things
Flooring and Painting 
Havanna Oak 966D Vinly sheets from Flooring Xtra were used for flooring in the kitchen
These wooden floor lookalike Vinyl flooring were used because they are very easy to maintain and also quietens footsteps
Laundry 
A storage area behind the lounge was converted into a laundry space
Havana Oak 966D Vinyl sheets were installed
Full painting of ceiling and walls
A window between the lounge and laundry was removed
SAMSUNG 8.5 kg FL washer was installed
The same cabinets as the kitchen were custom built and installed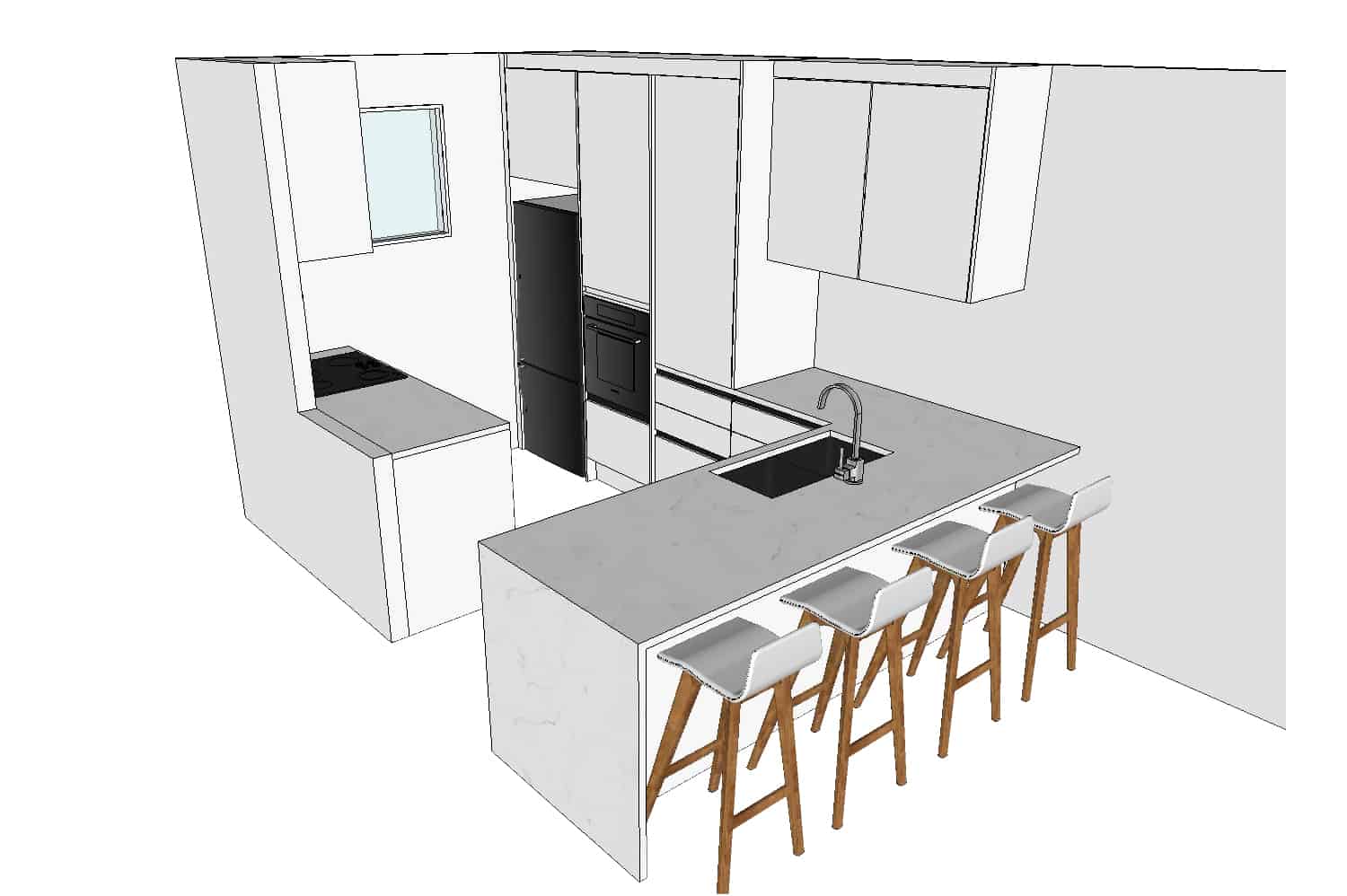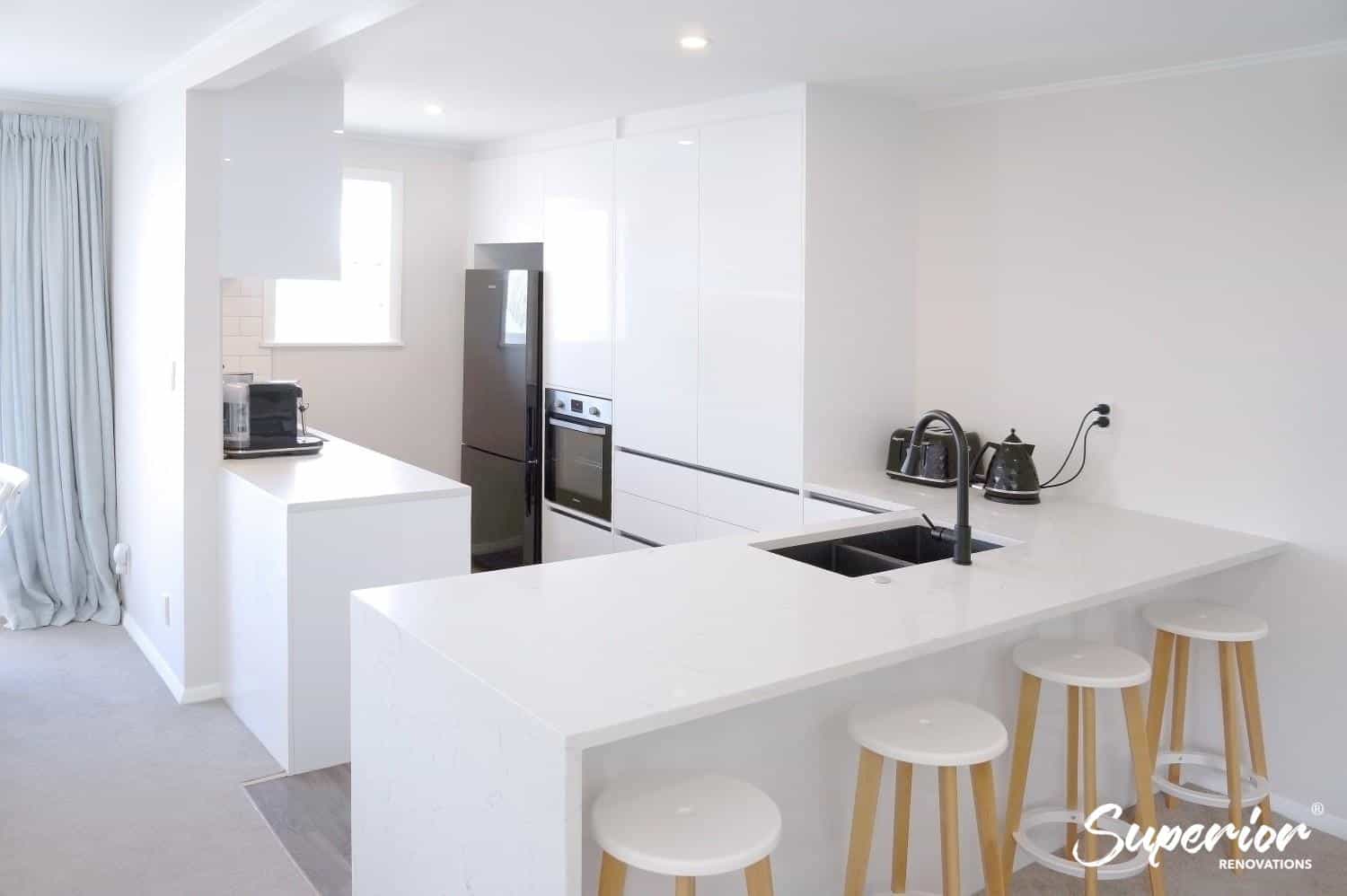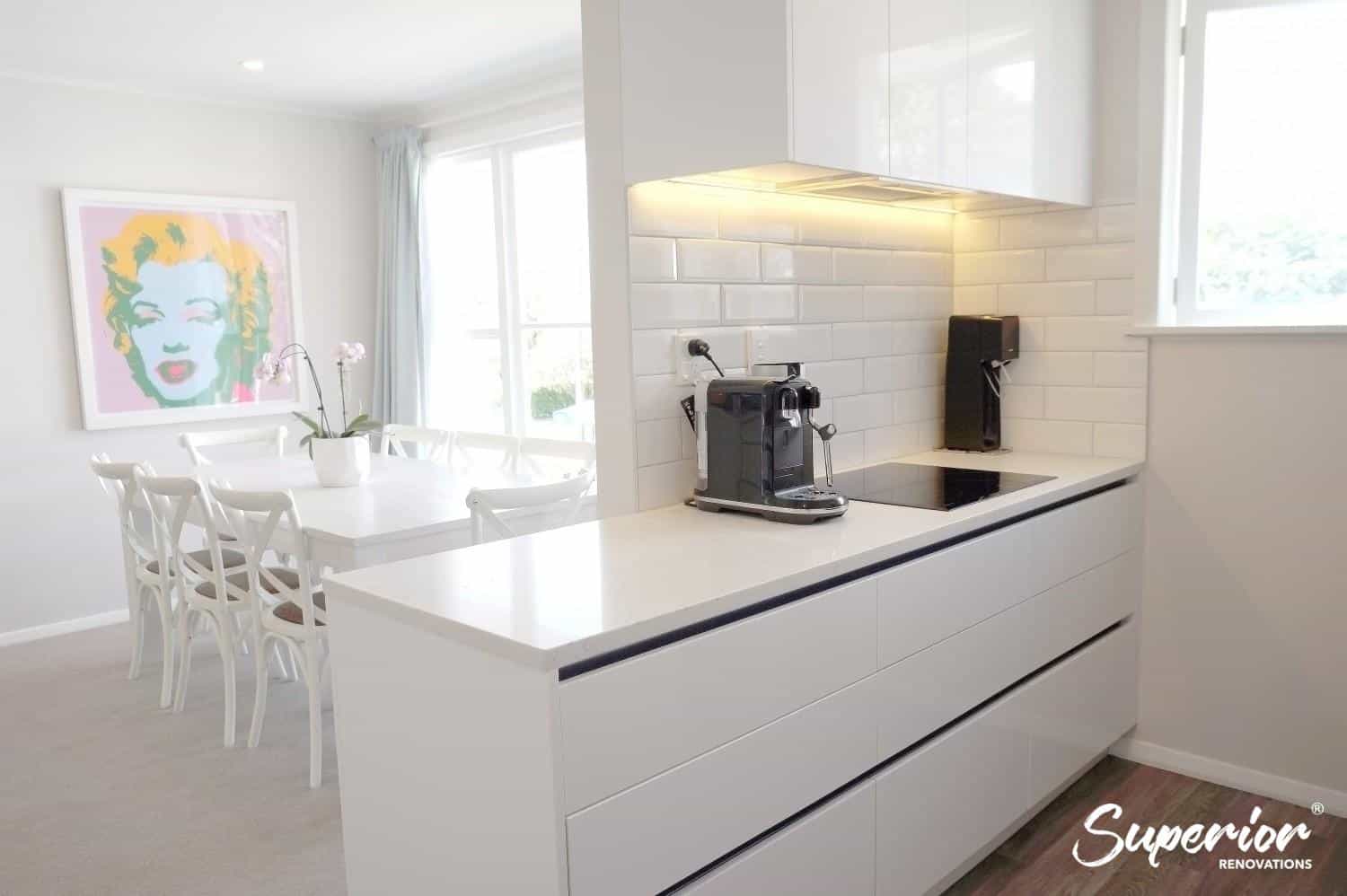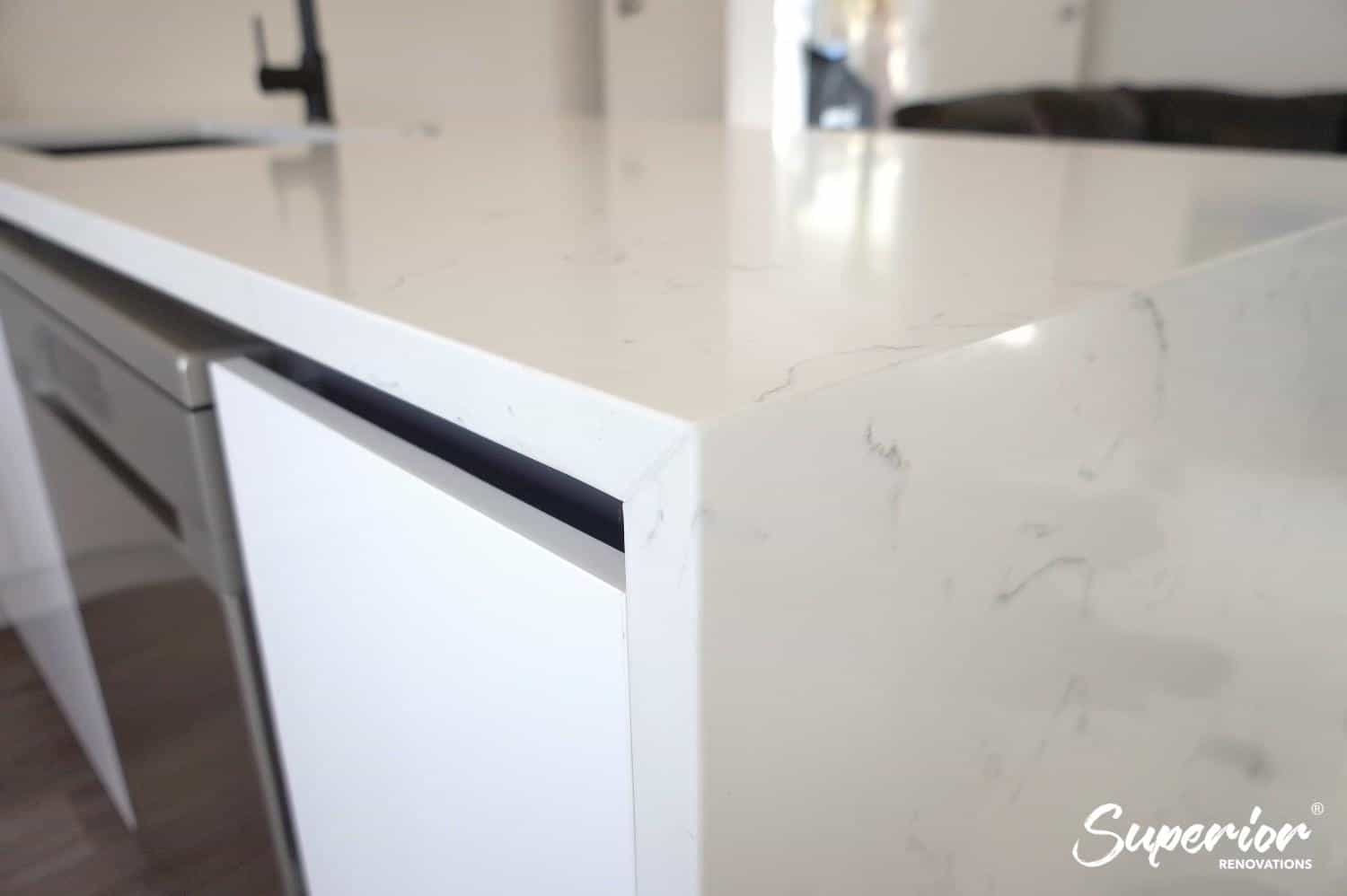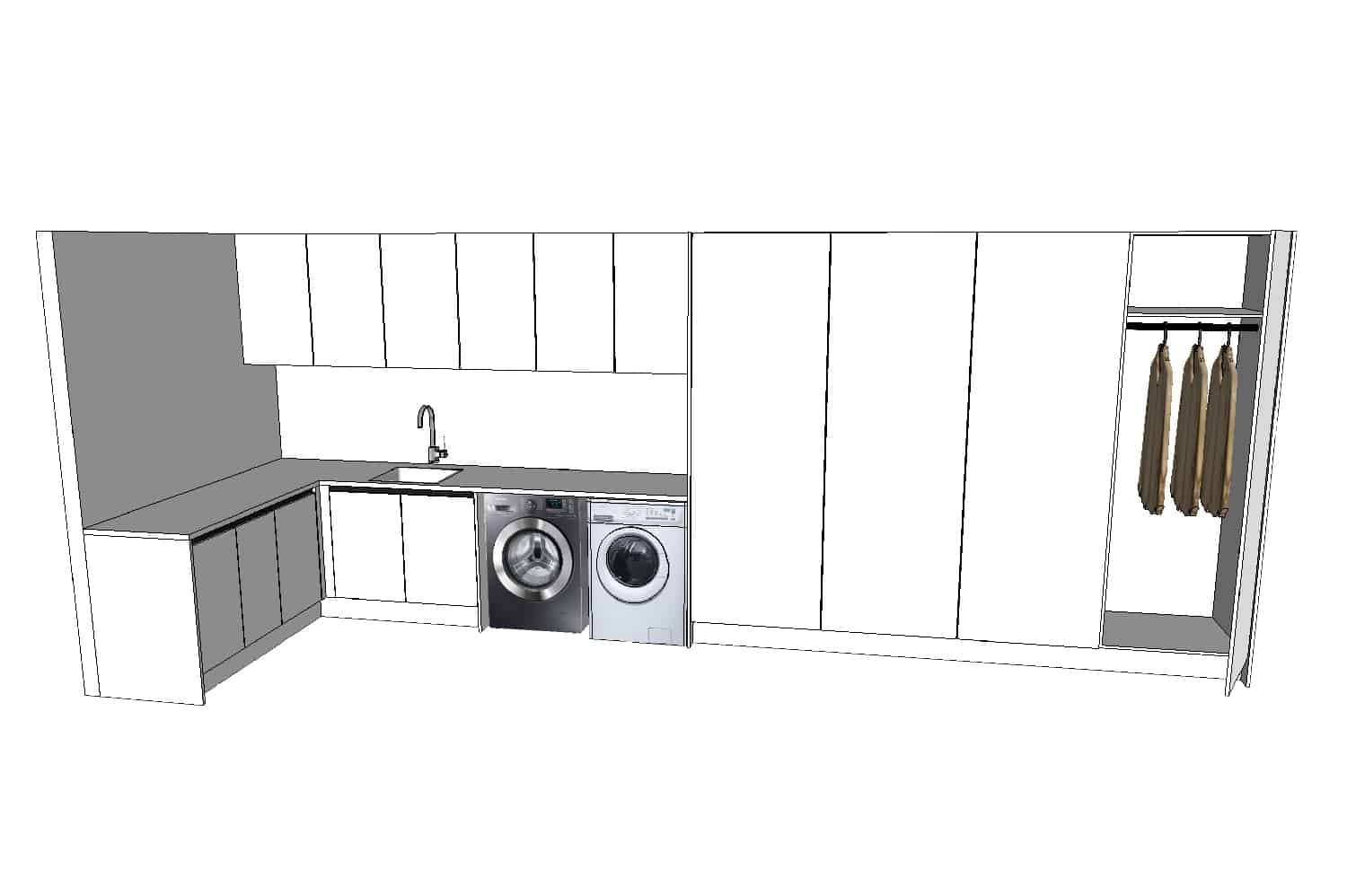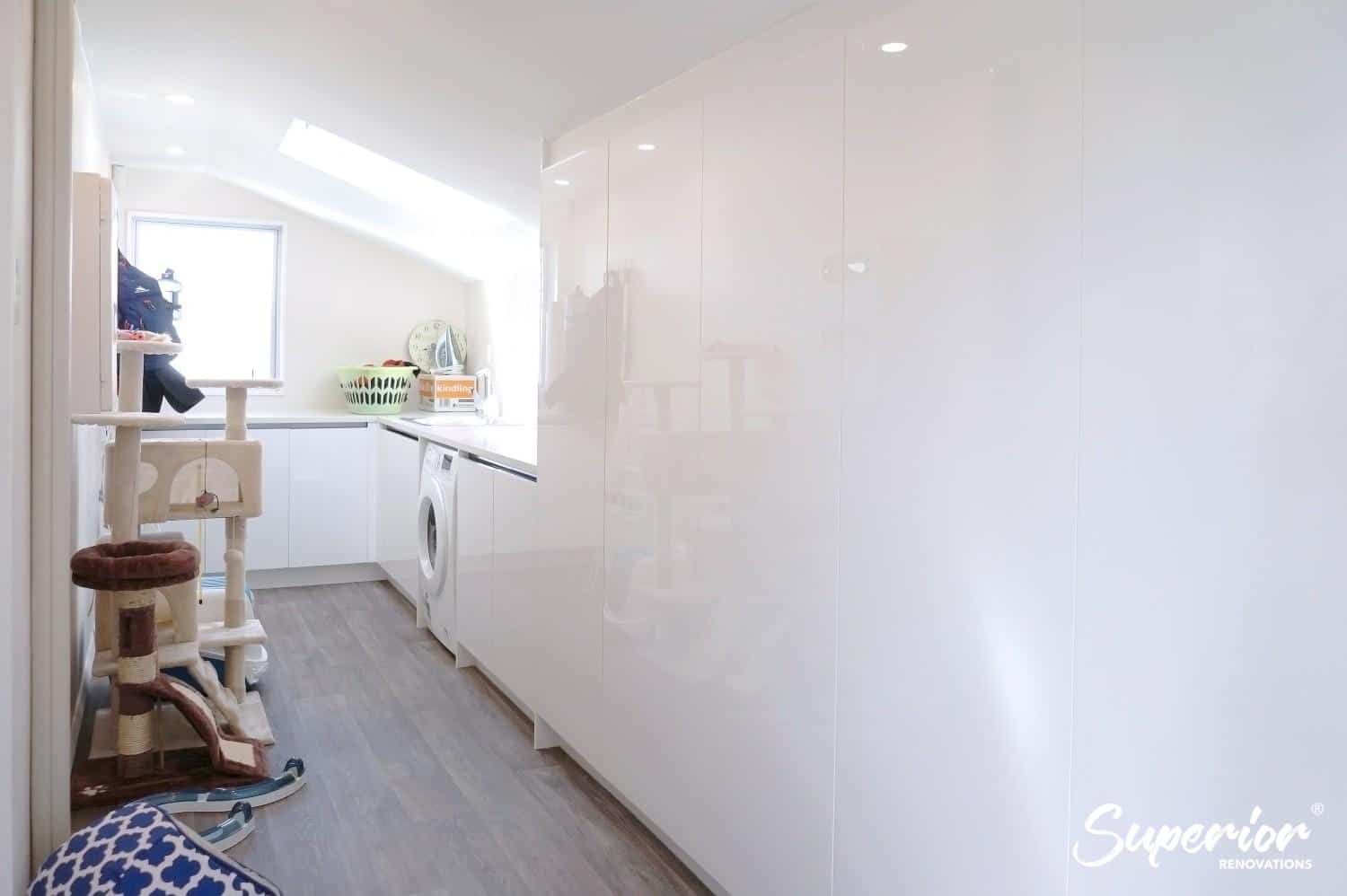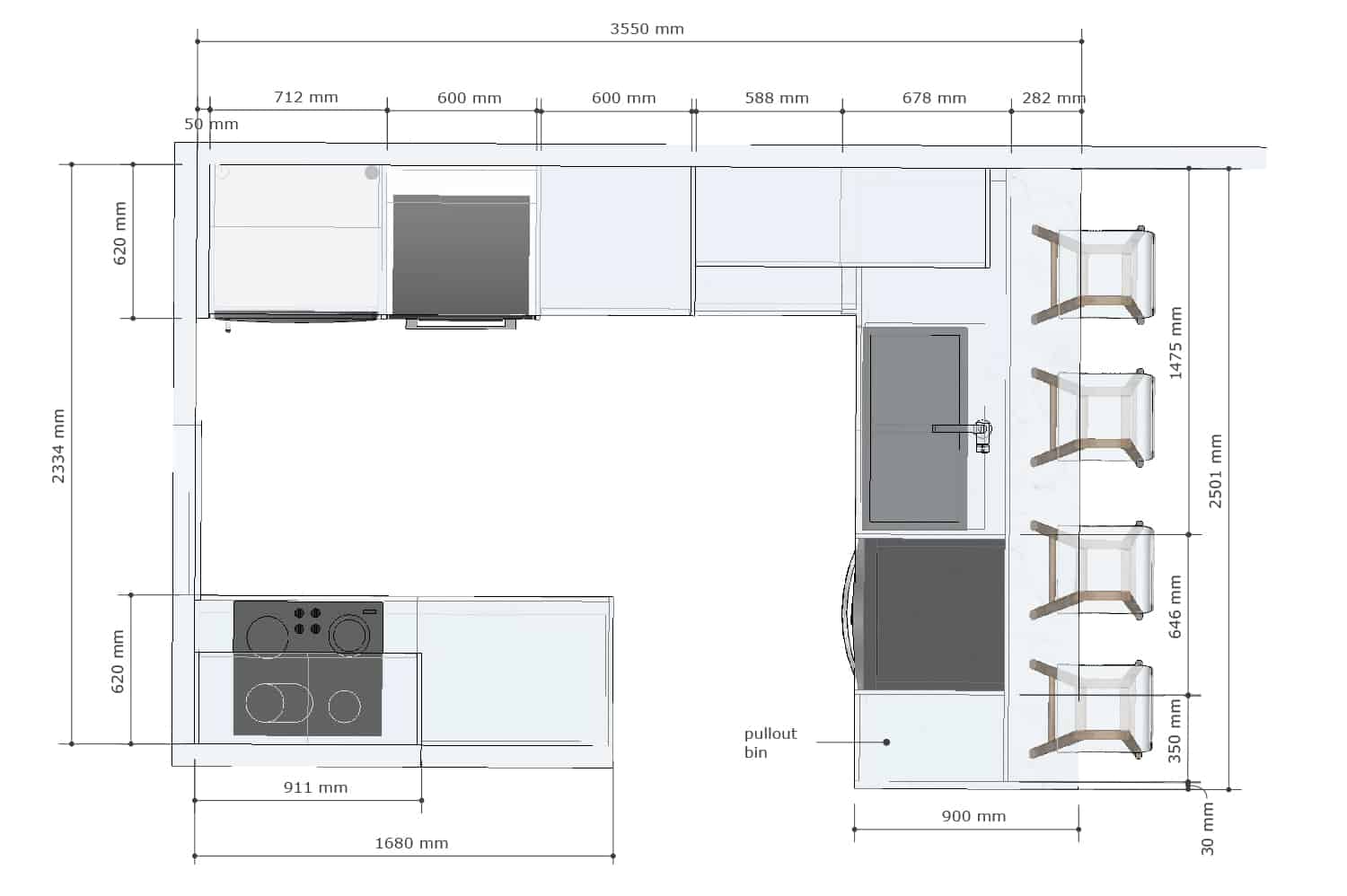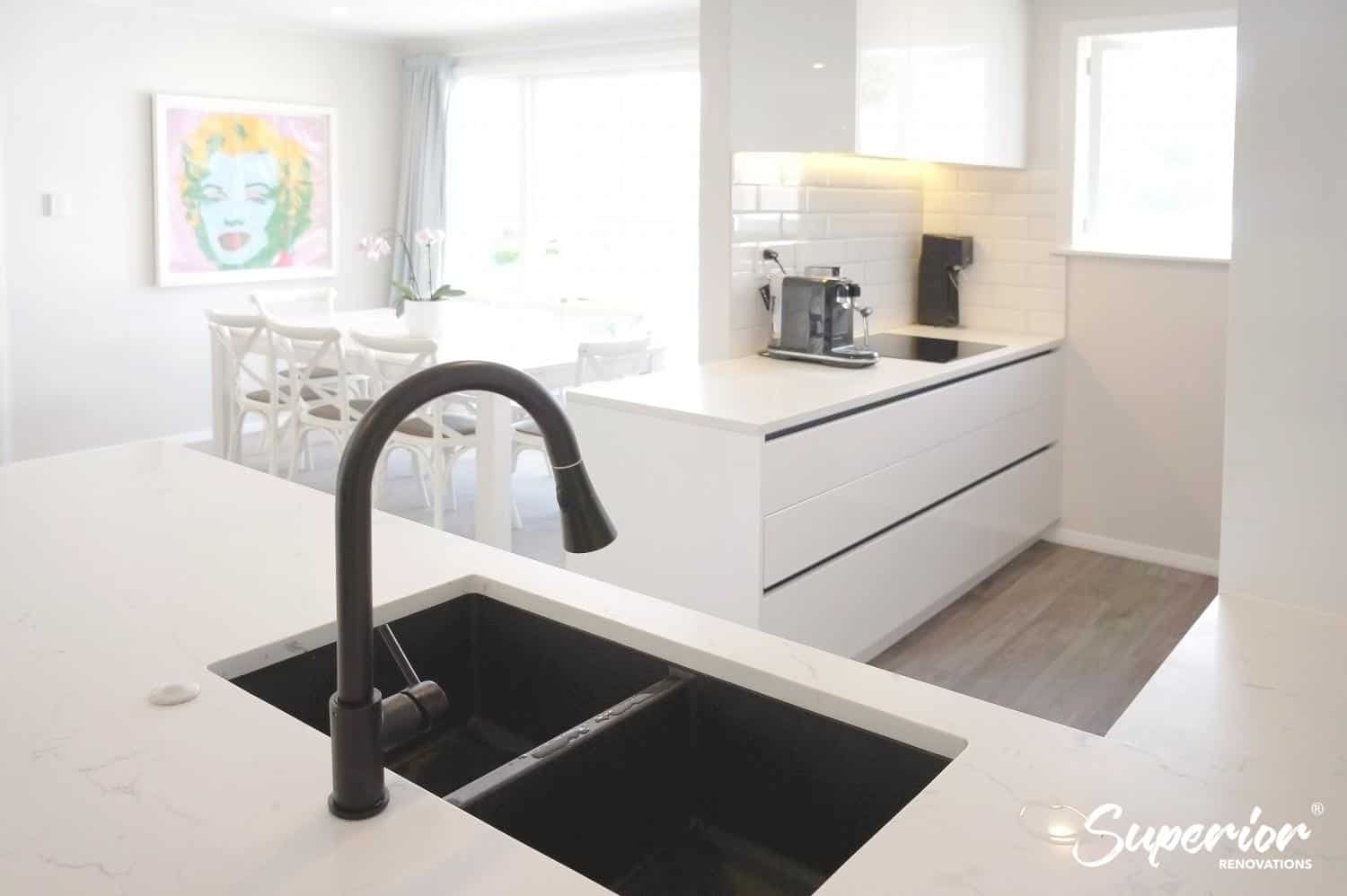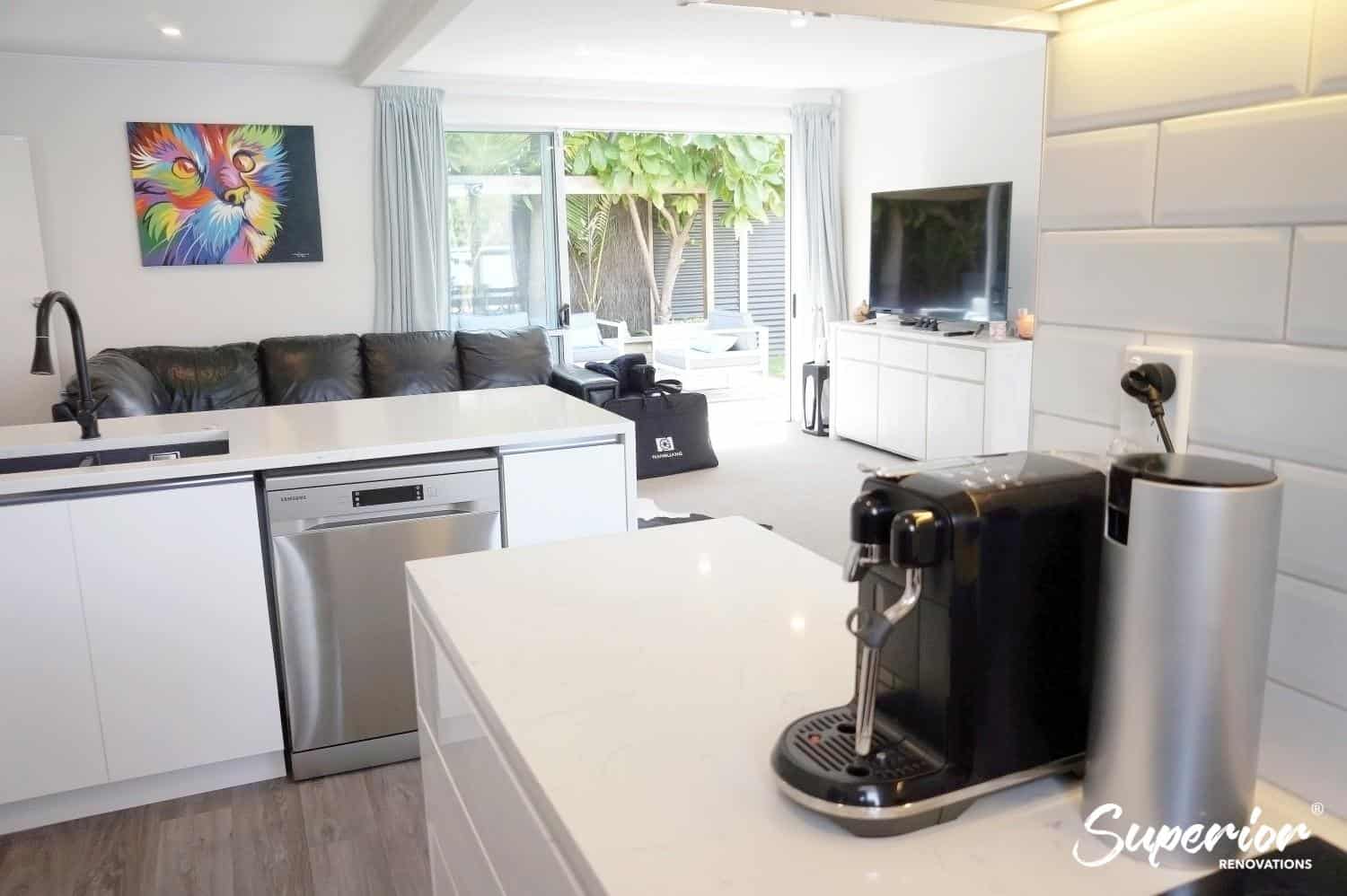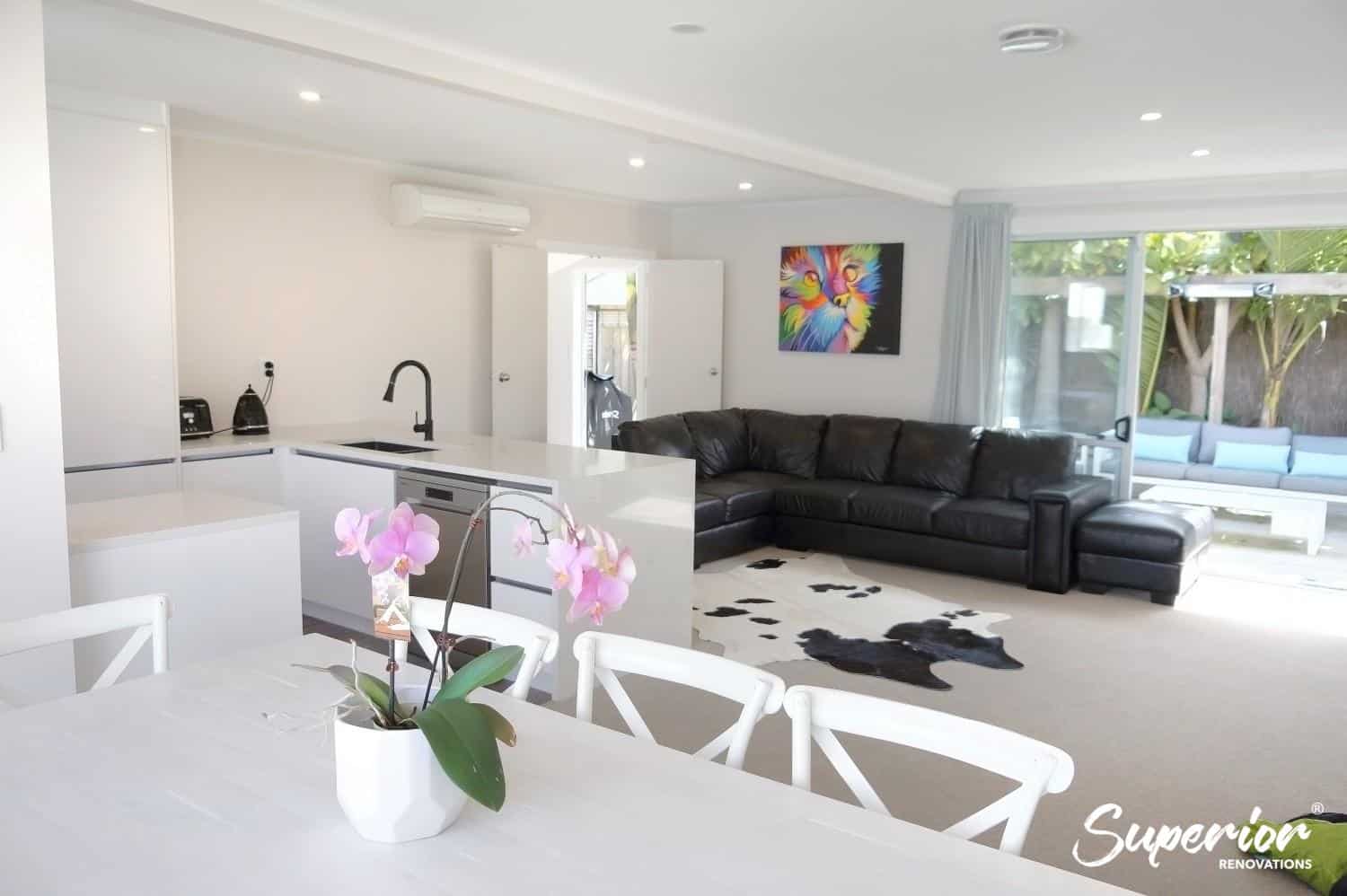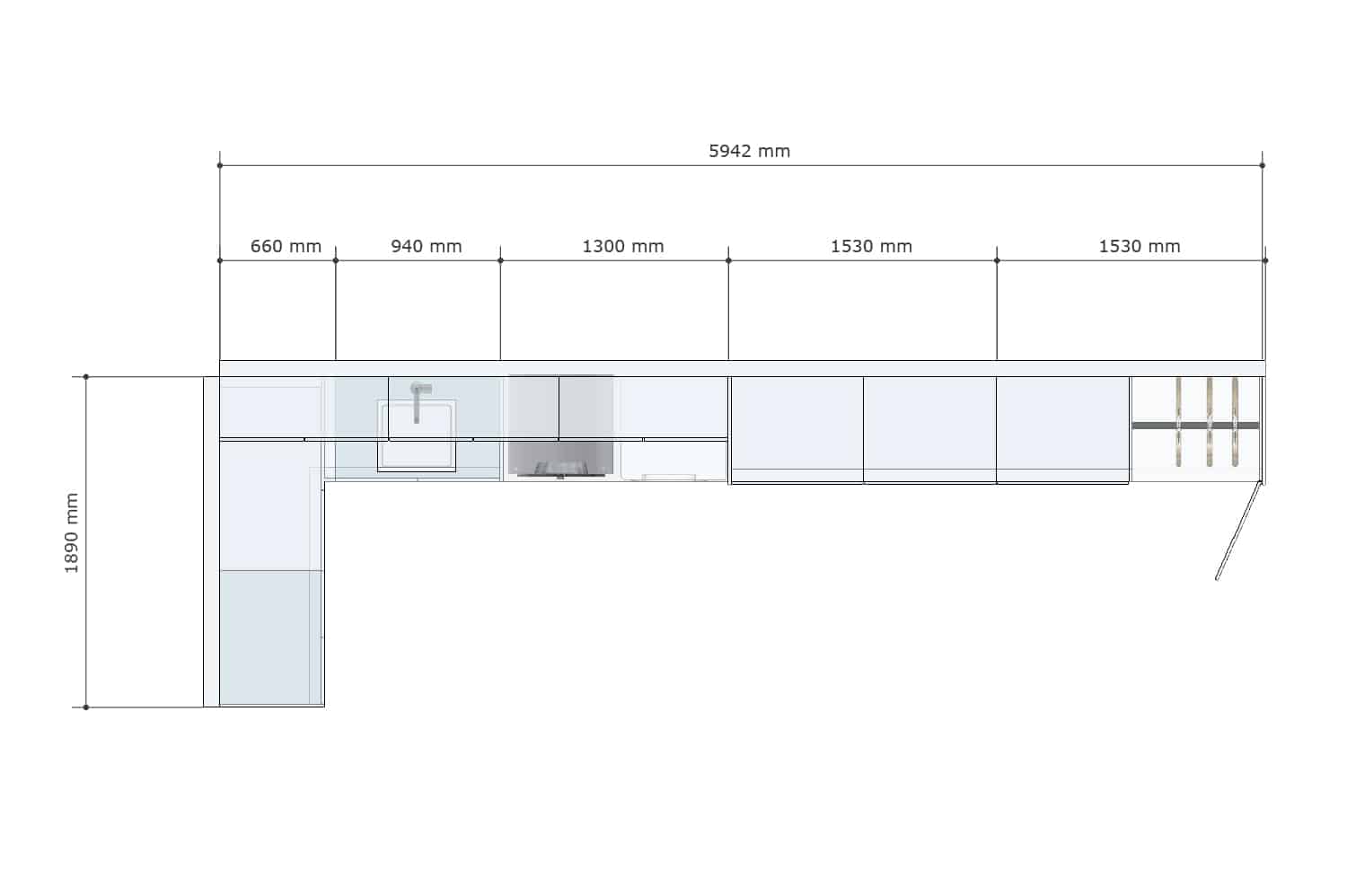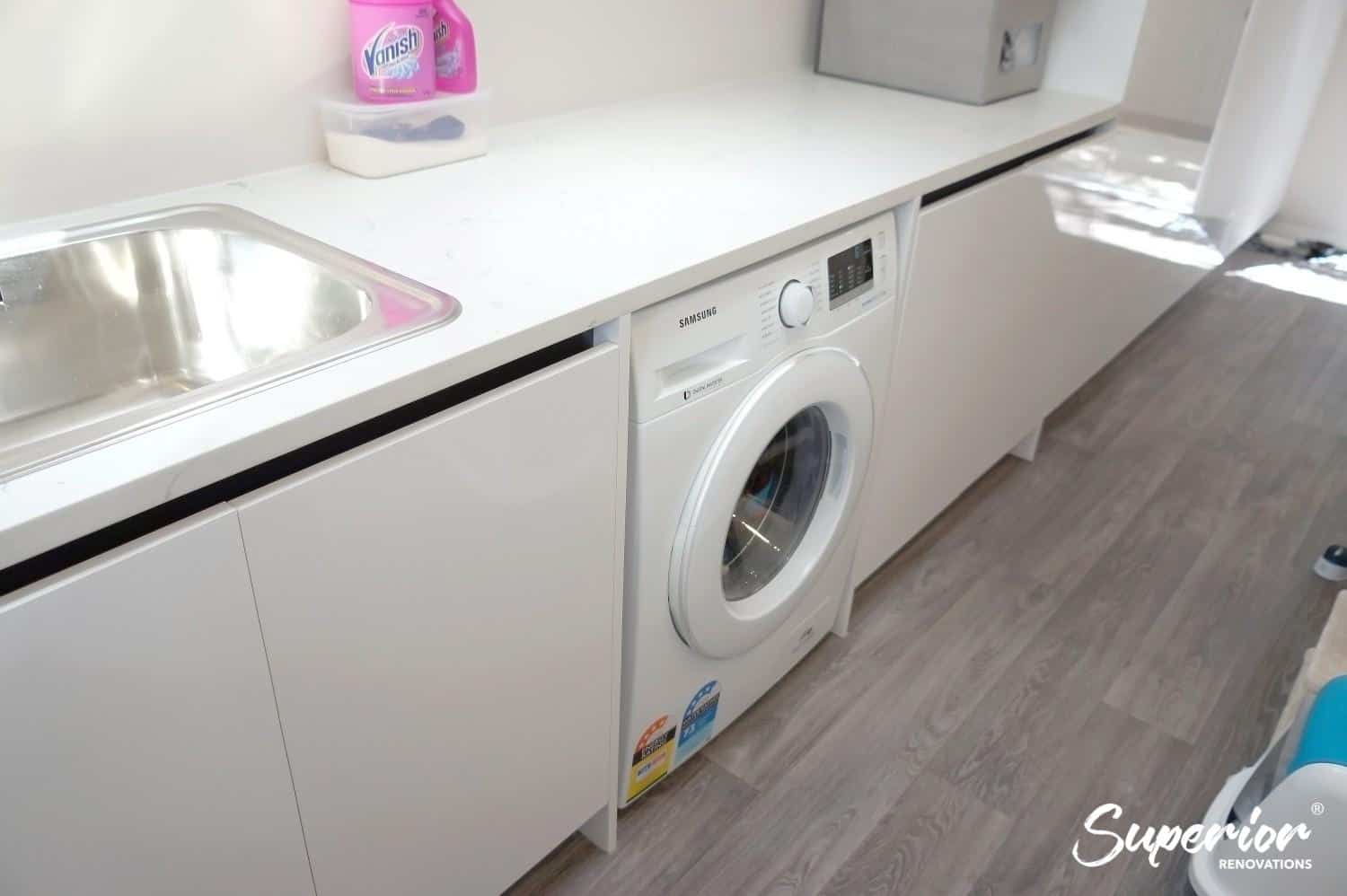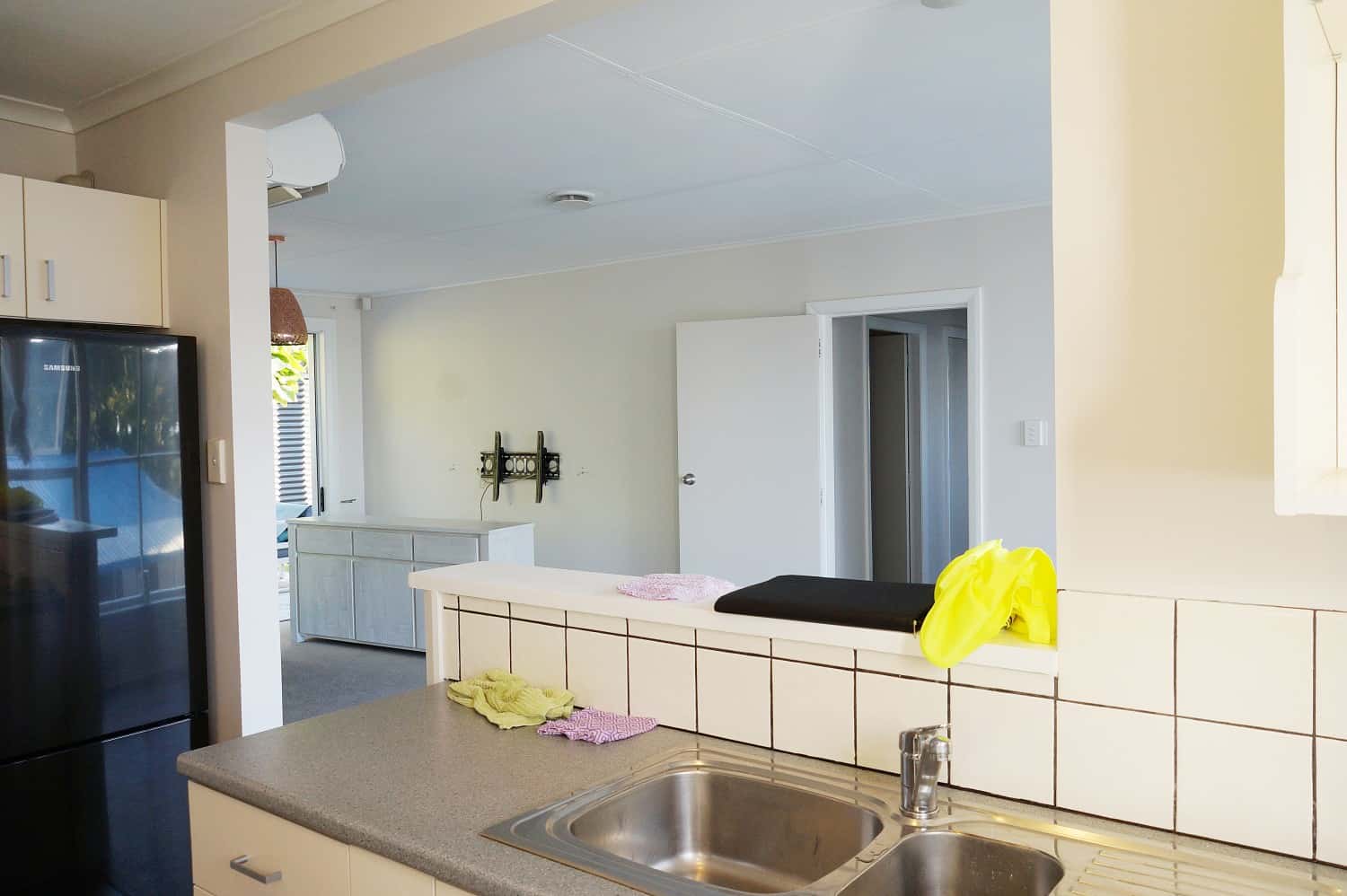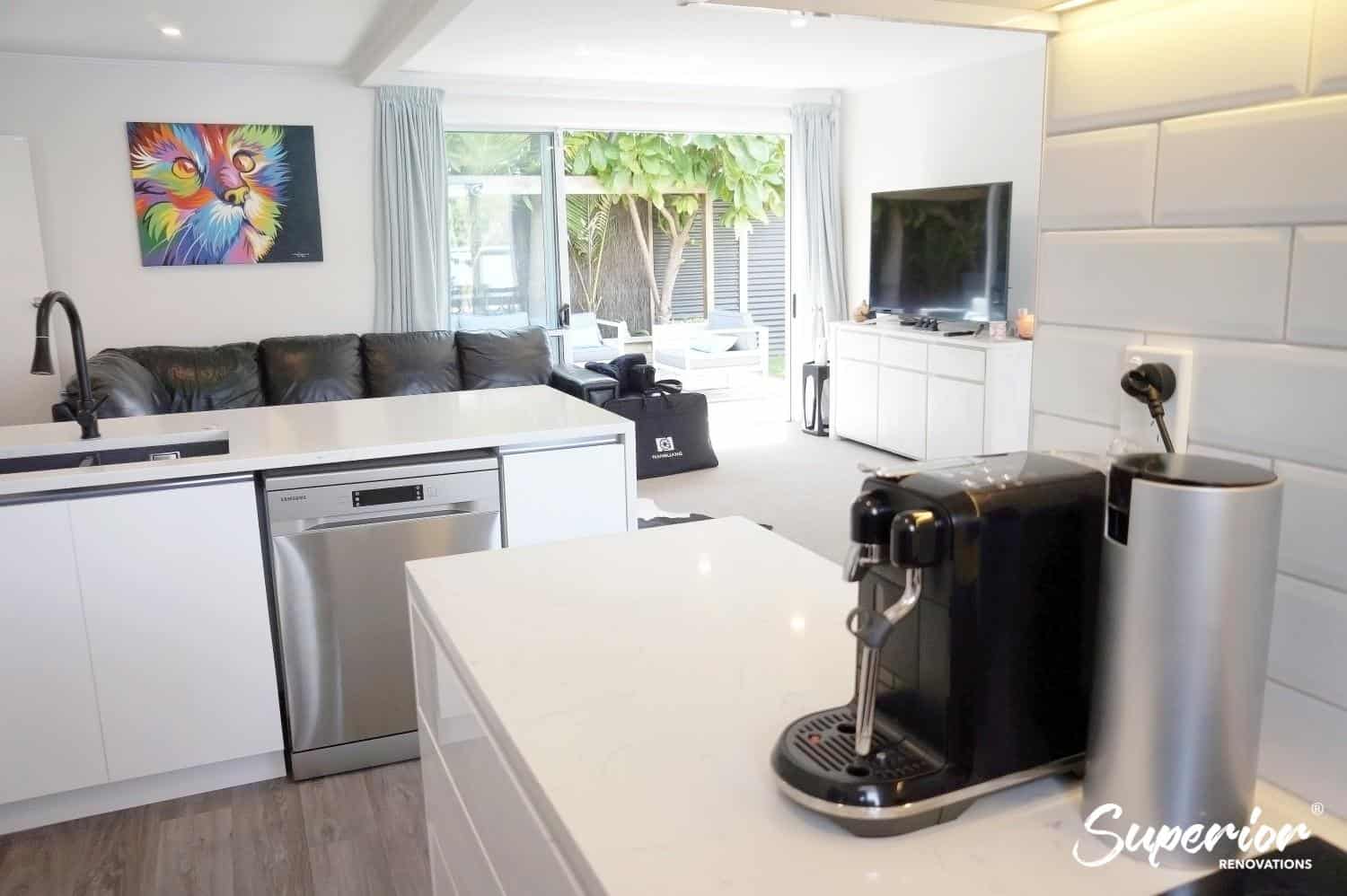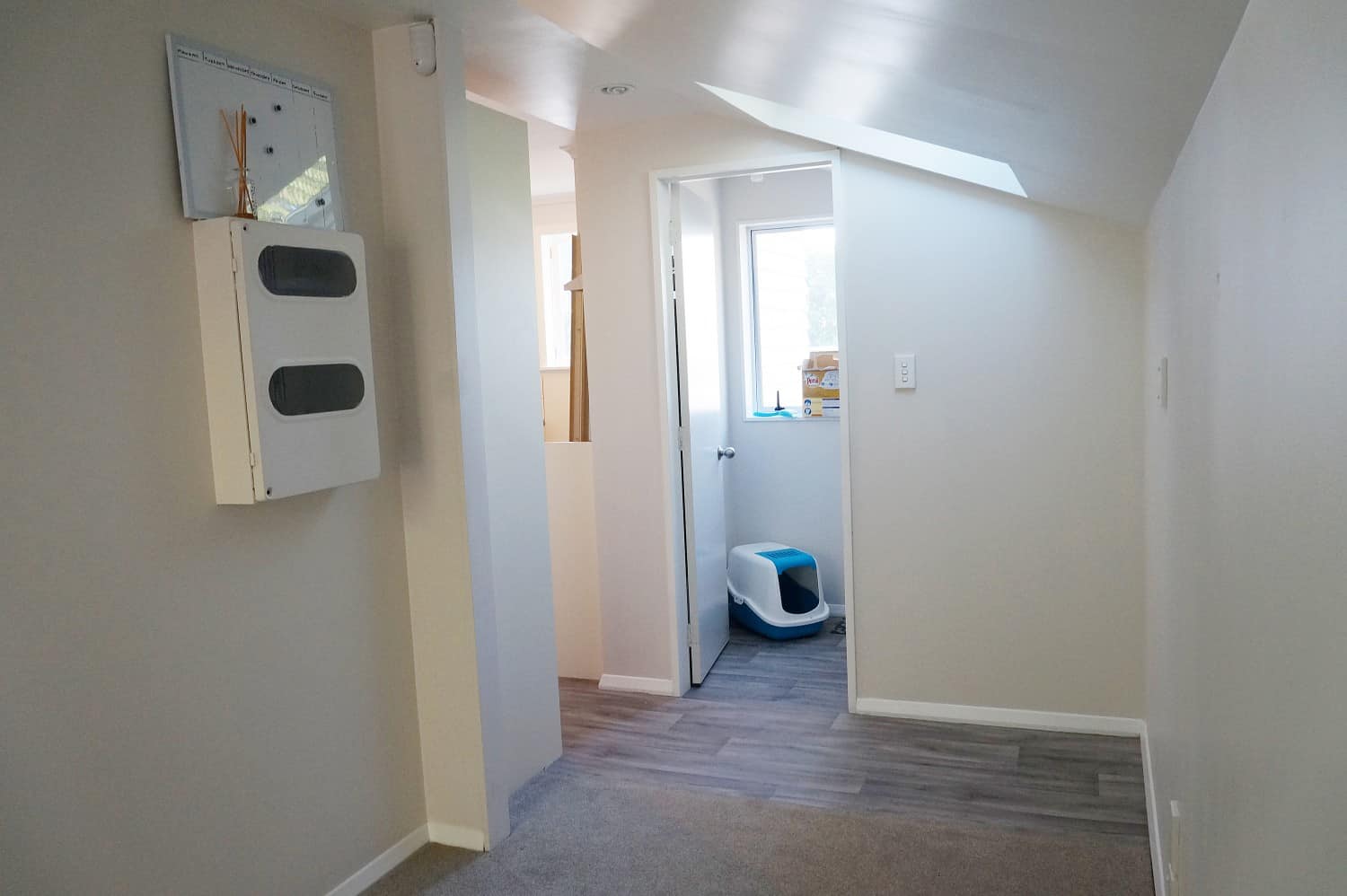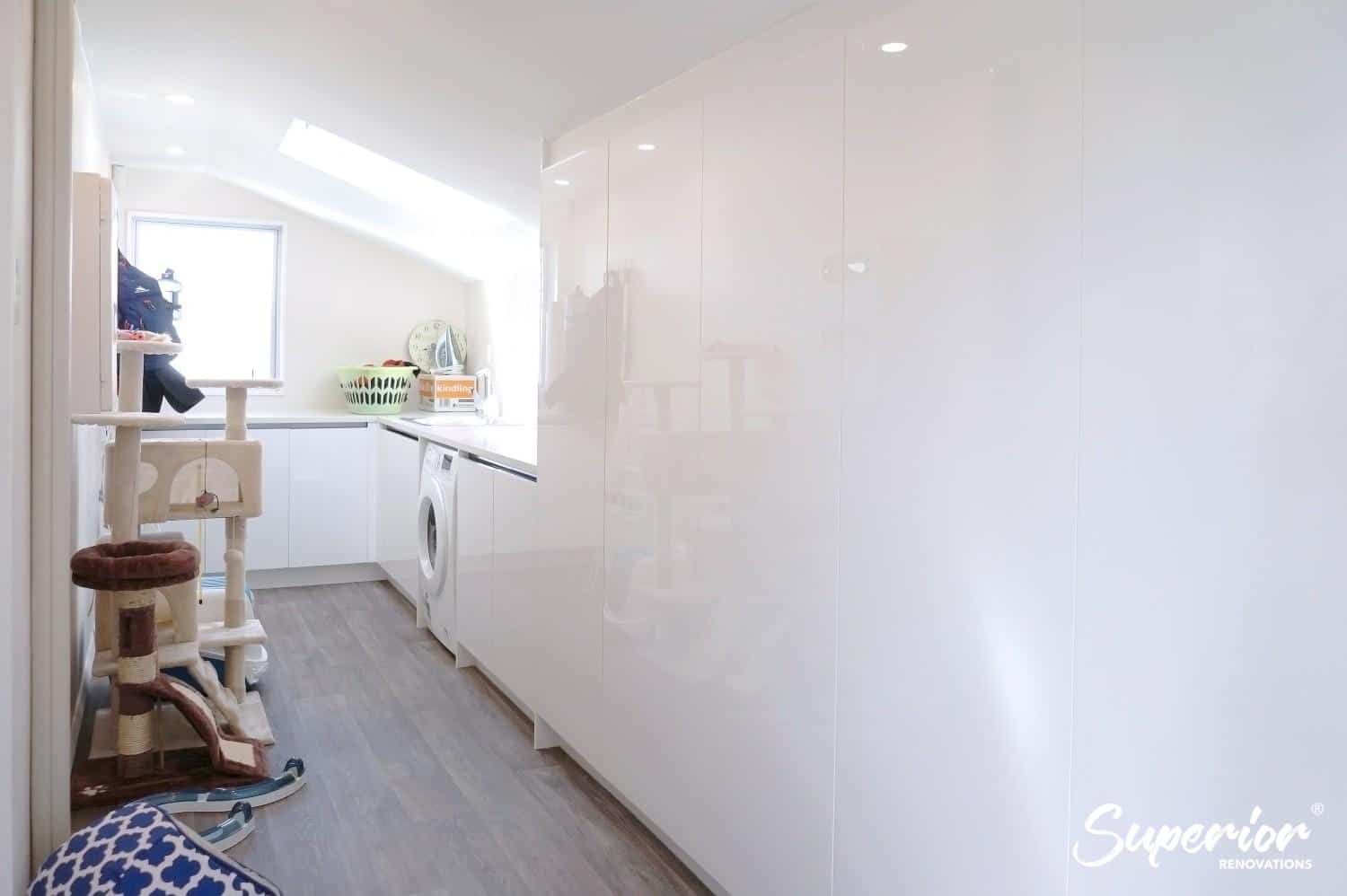 Ensuite Creation and Toilet Renovation
The house had a separate toilet and bathroom which did not suit Joanna and Steve's lifestyle as all their previous homes had multiple bathrooms. Hence we decided to add a toilet in the bathroom which required a consent process. We also renovated the standalone toilet as a guest toilet.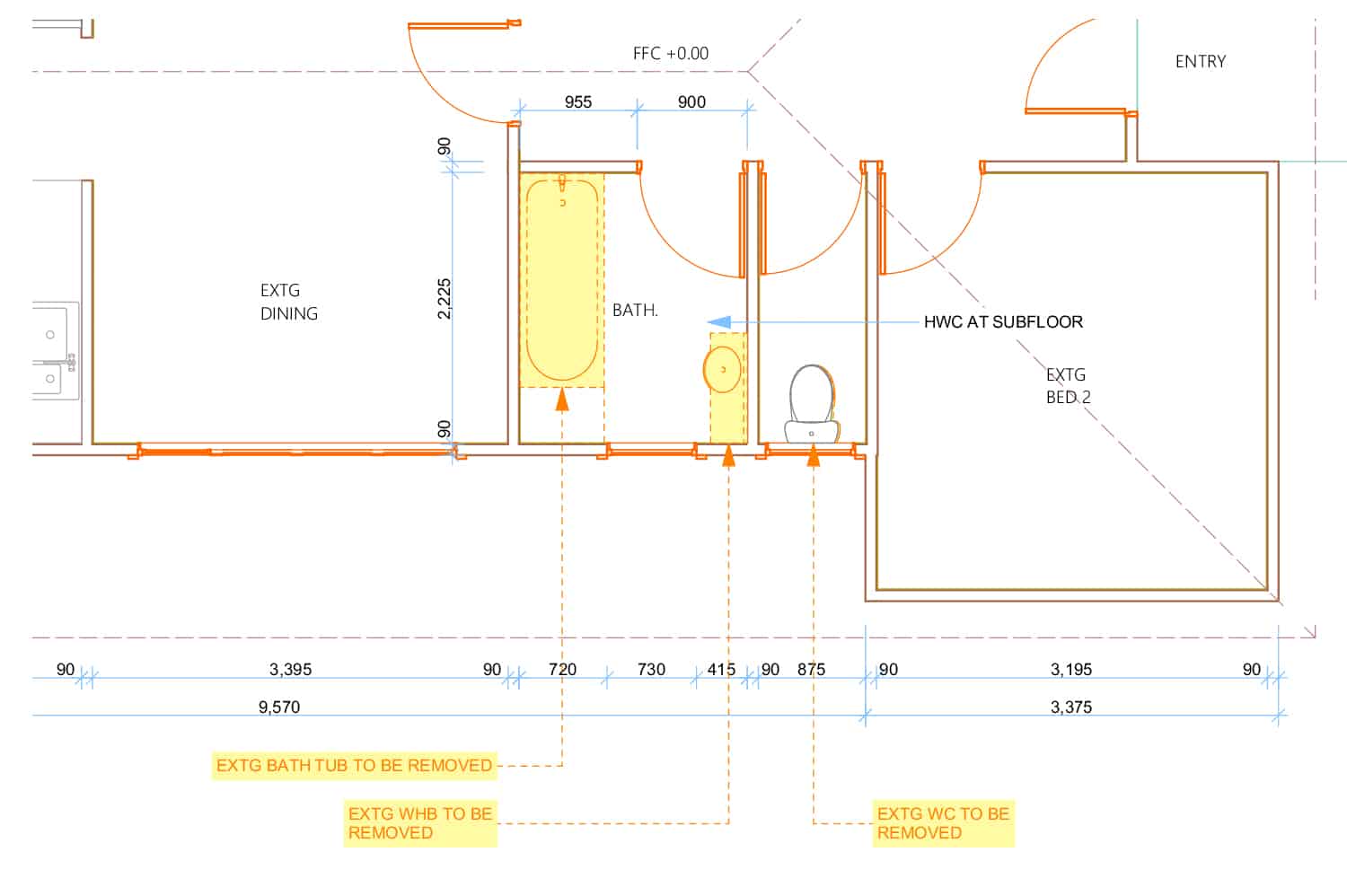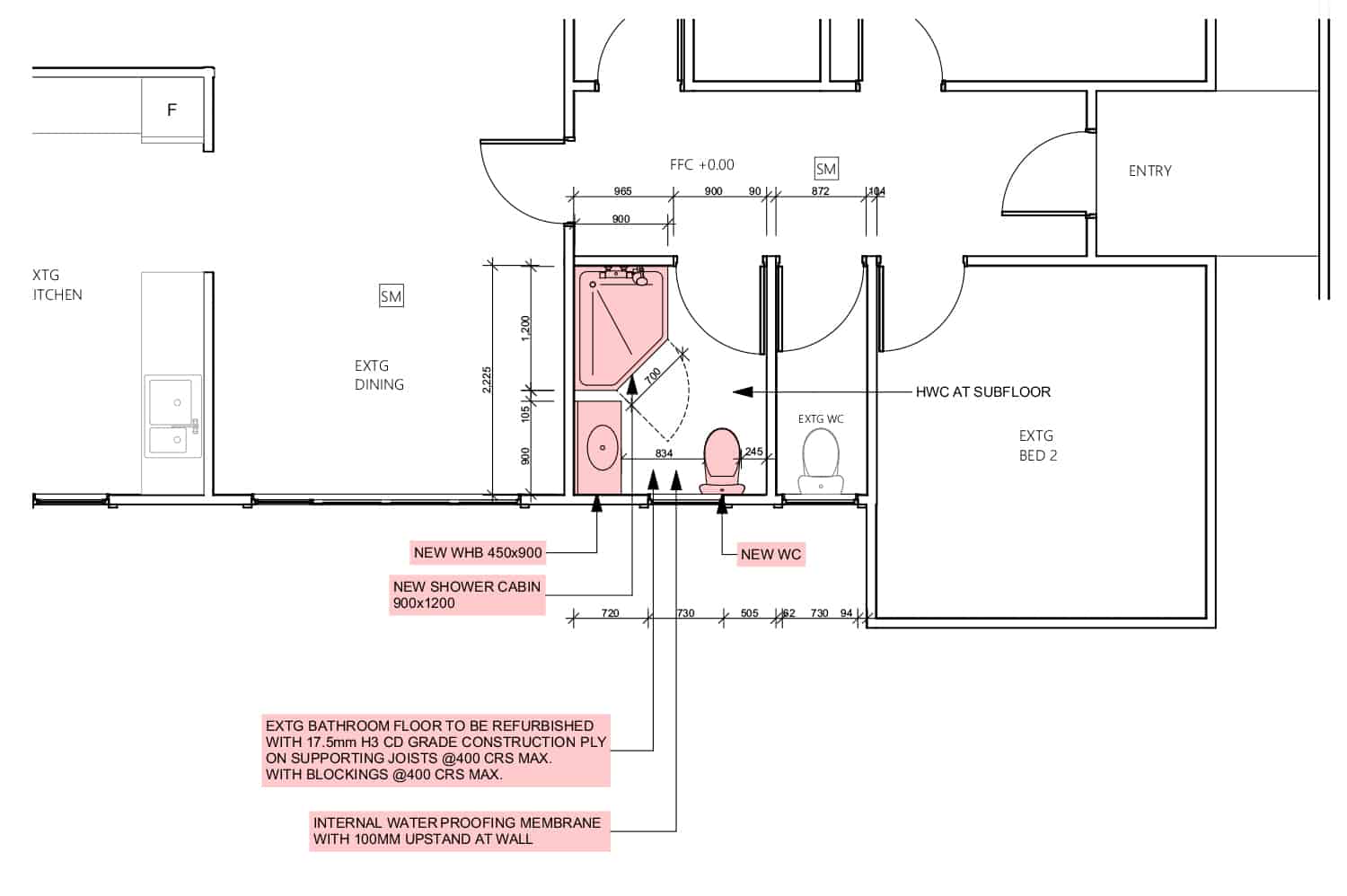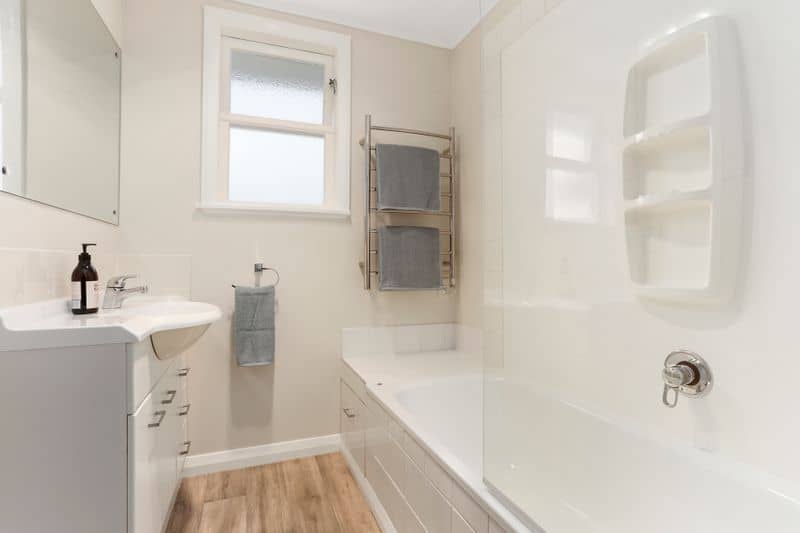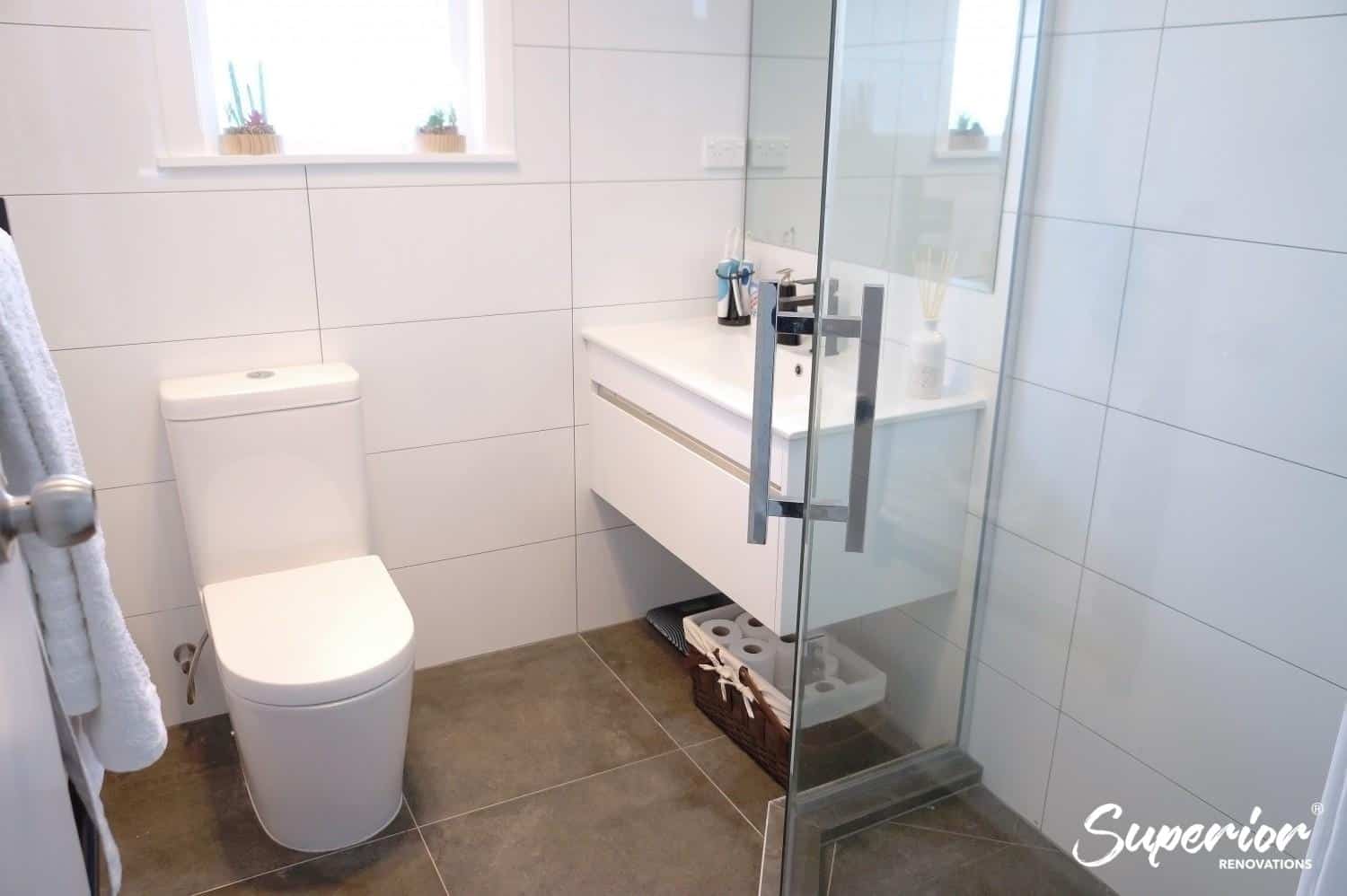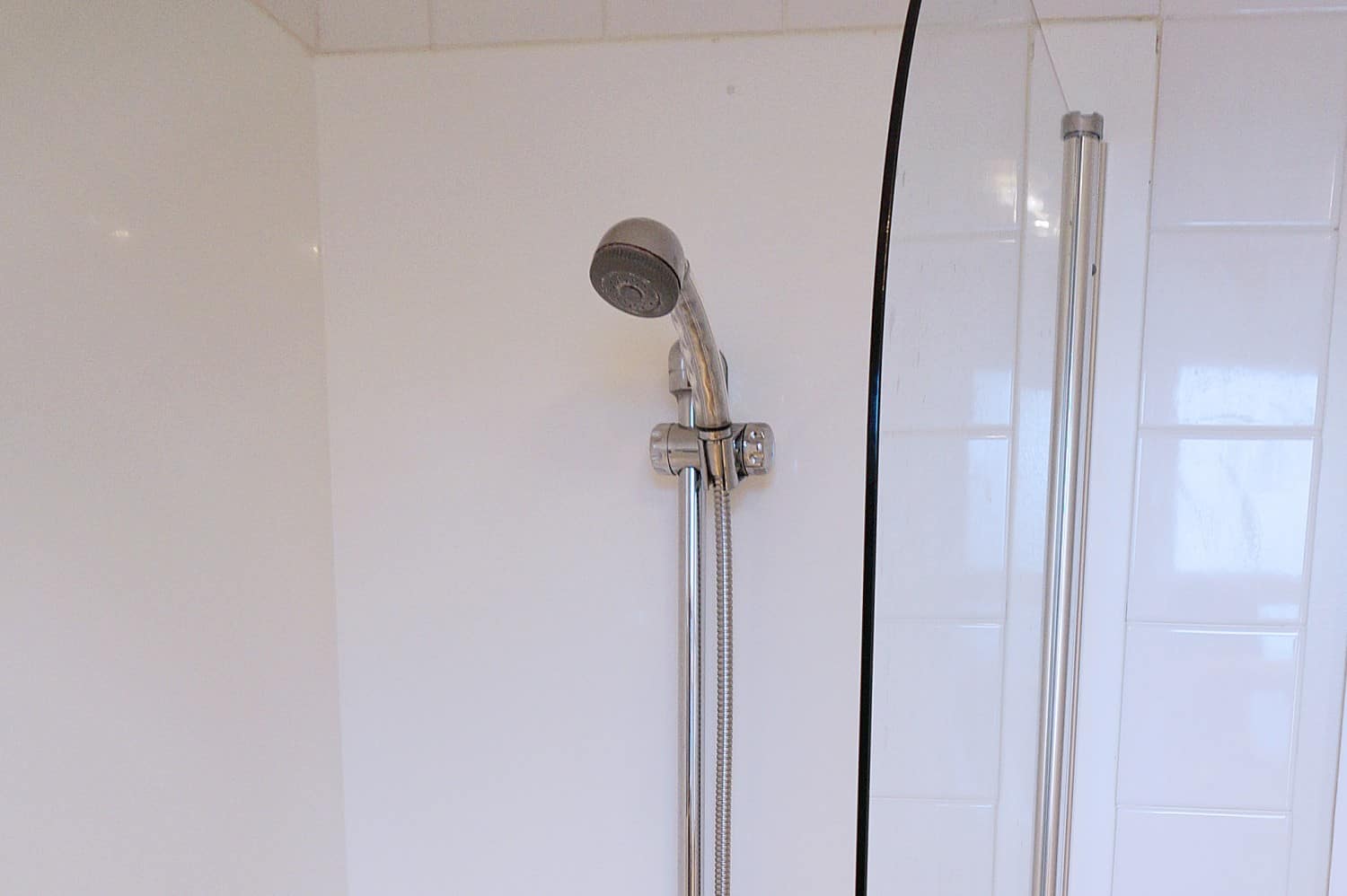 Ensuite Bathroom Creation
New Vanity, mirror, towel rail, and flooring was installed
A new toilet was installed which included a consent process which we handled for our clients
As this was a small space, our designers decided on using shades of white for the toilet and vanity cabinet
To add some character they decided to use black tapware as well as showerhead
A glass tiled shower was installed
Floor and Wall tiles
As the space within the ensuite was small, we decided to use large 600 by 600 tiles for the floor
Large tiles work well in a small space as they open the space up and make it appear larger
This is because there are less 'breaks' in the design for example in this case it would mean lesser grout lines
ALES Dark grey Lappato 600 by 600 tiles were used from Tile Depot
For the walls, we decided to go with white tiles as we did not want to make the bathroom feel closed in
We used Blanco Brillo white gloss 300 by 600 from Tile depot
Separate Standalone Toilet Renovation
The standalone toilet was fully renovated for guests
We used the same tiles as the ensuite for the walls and floors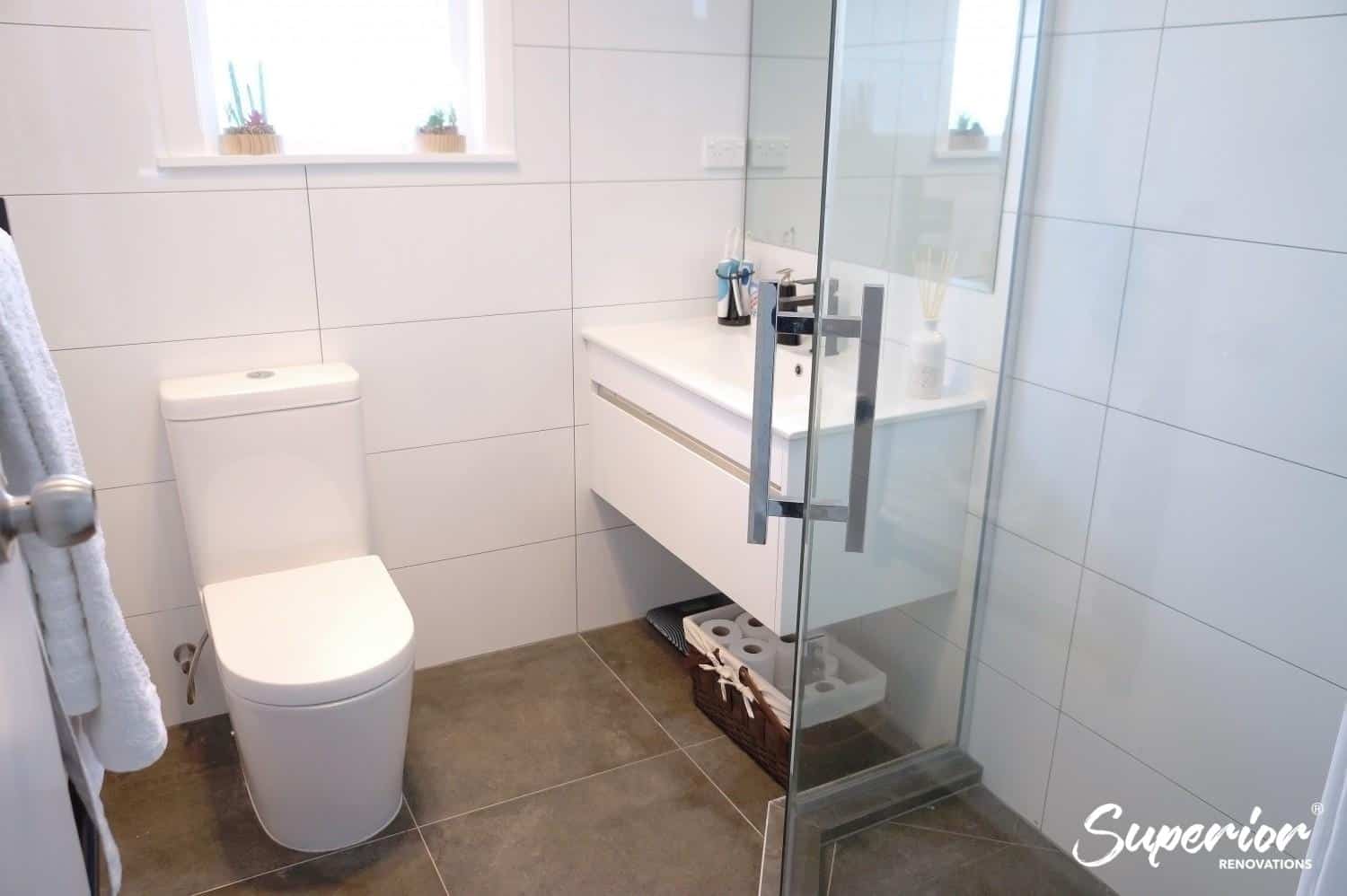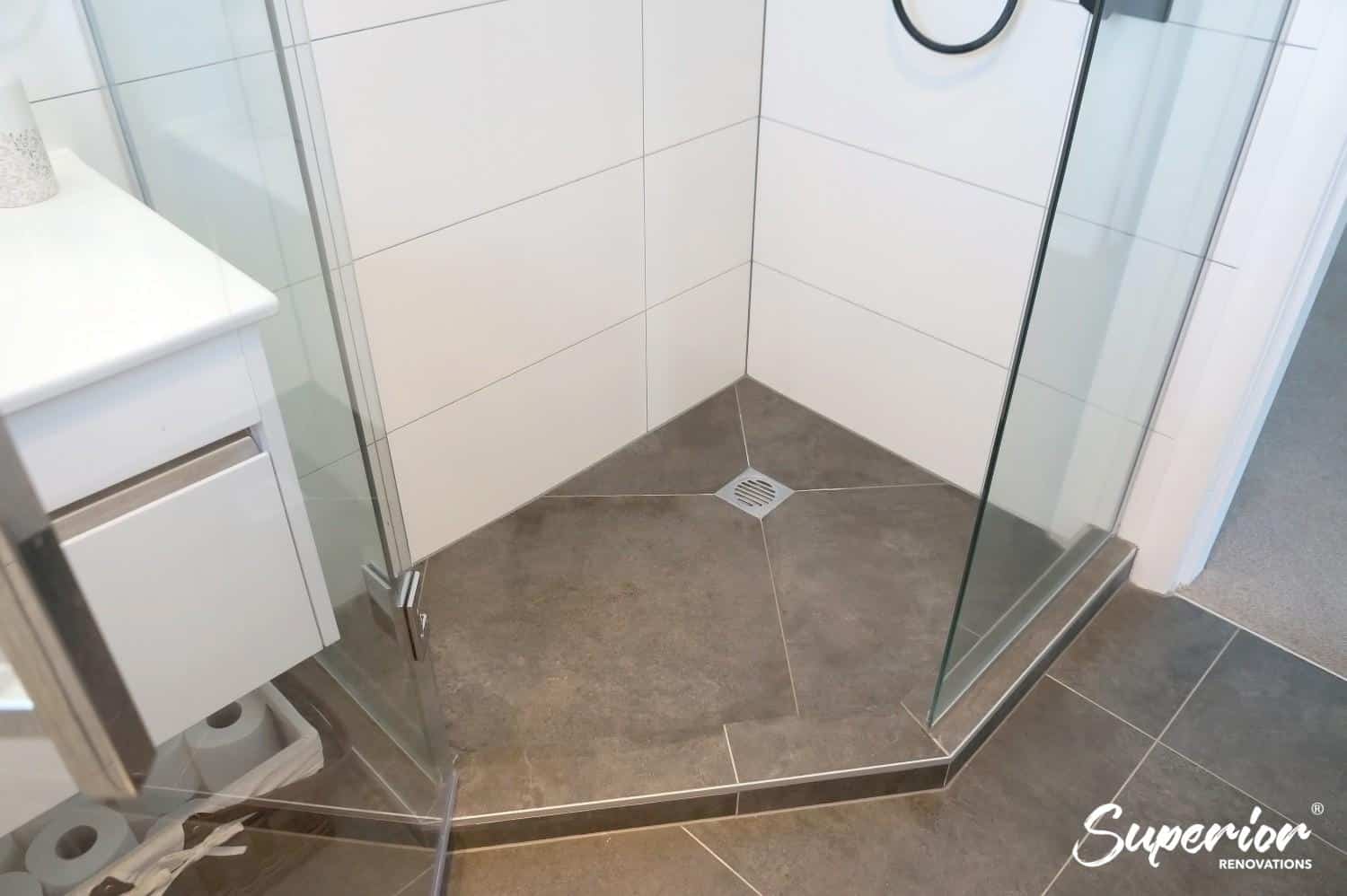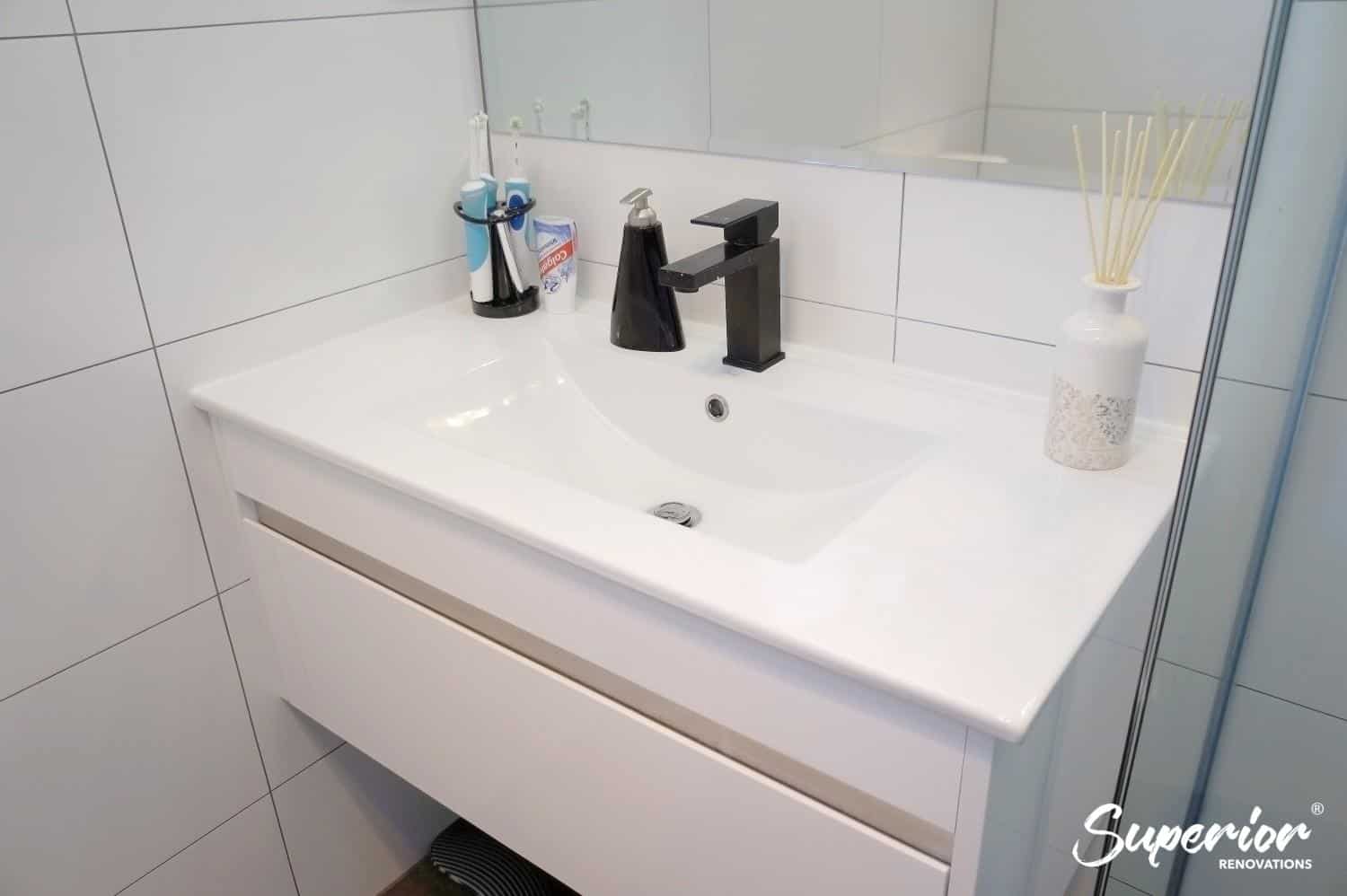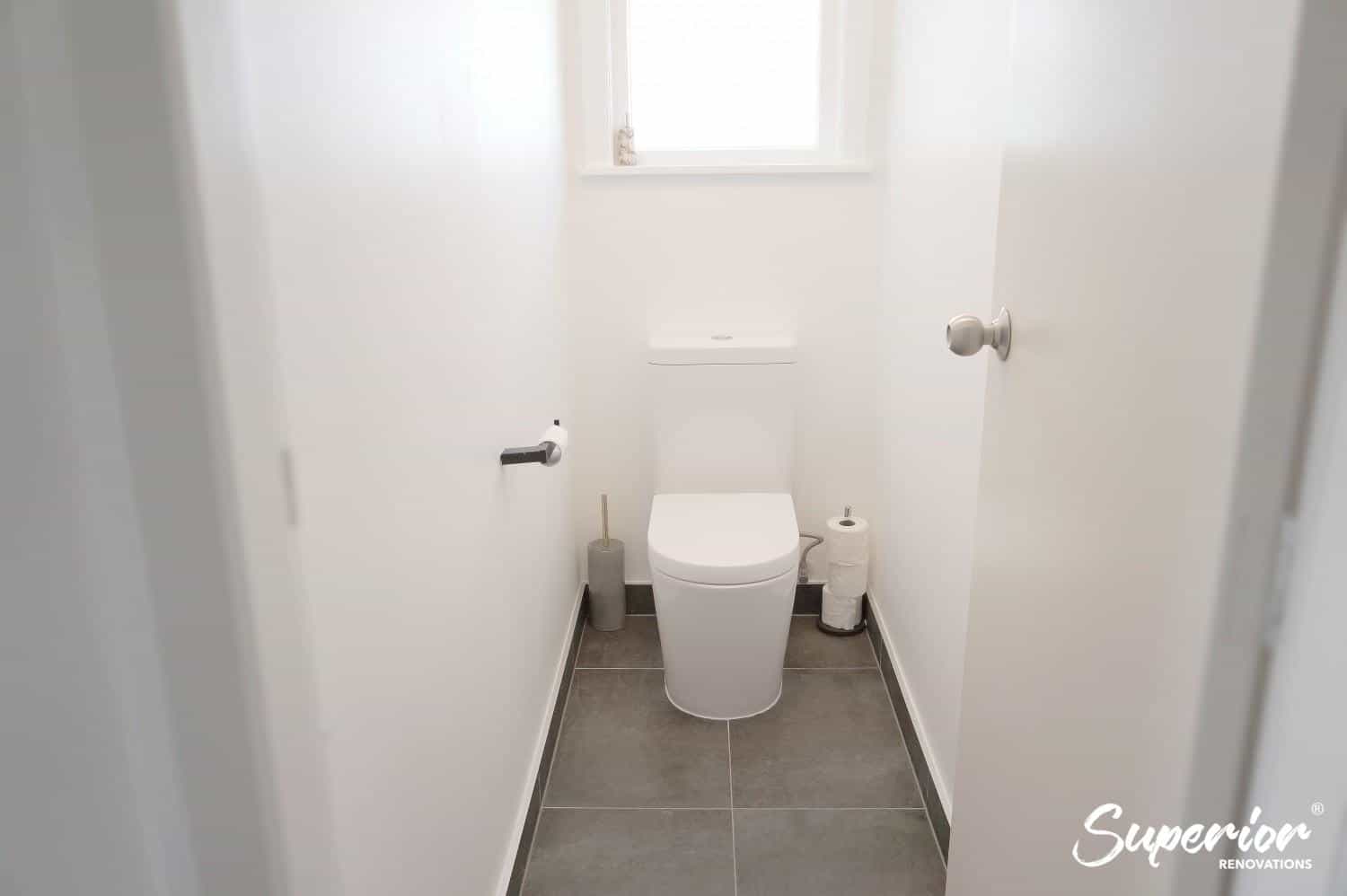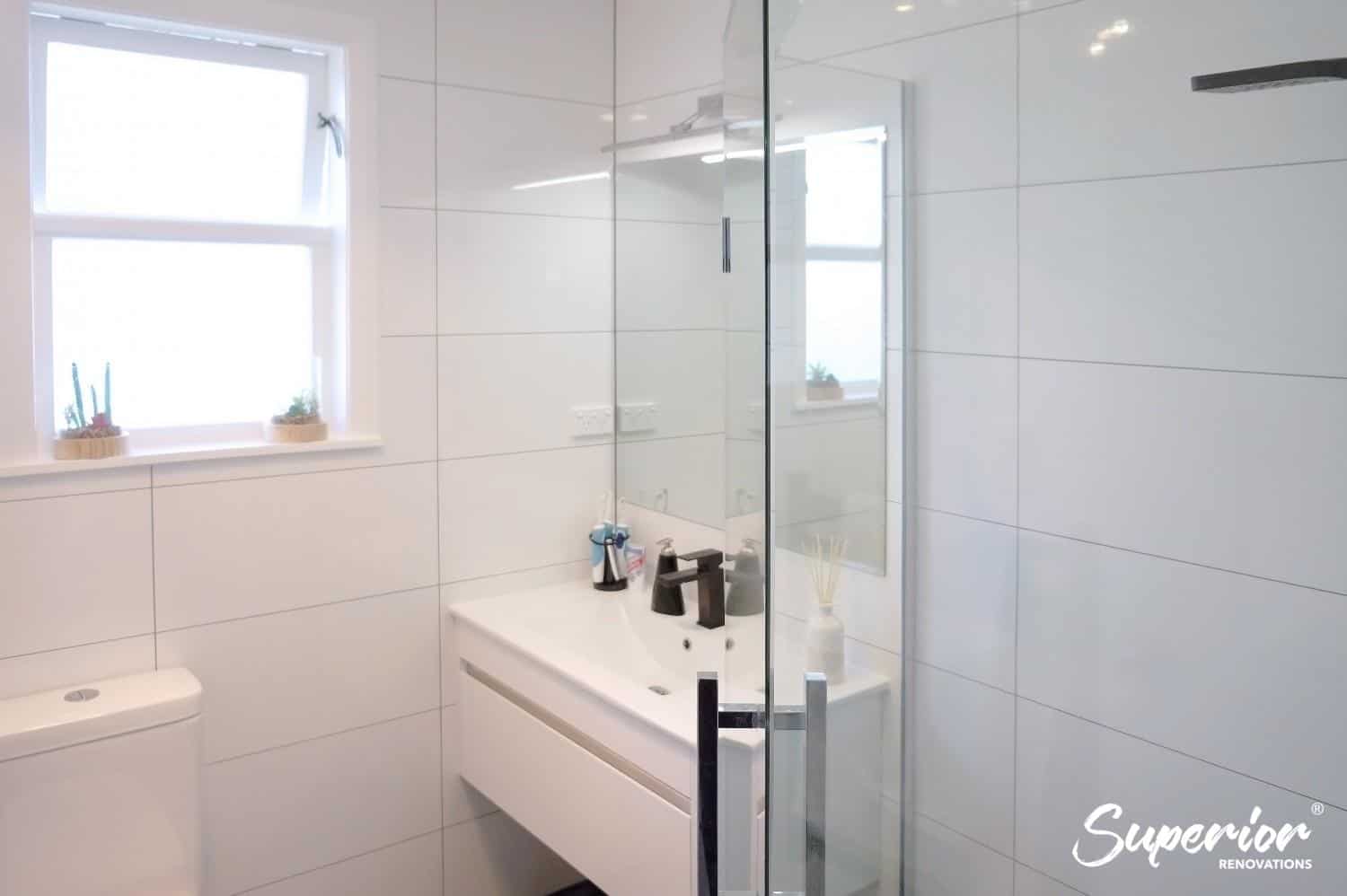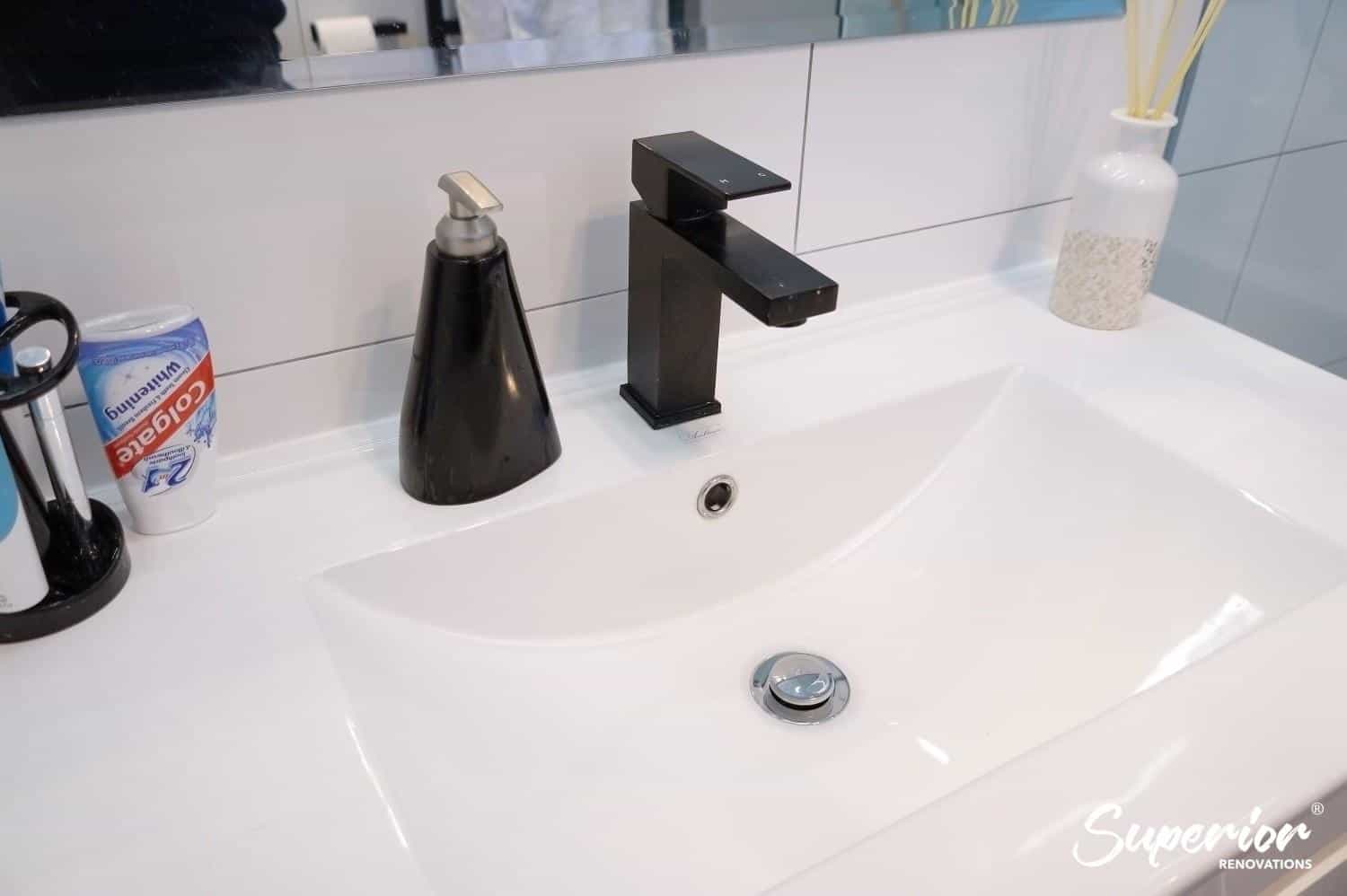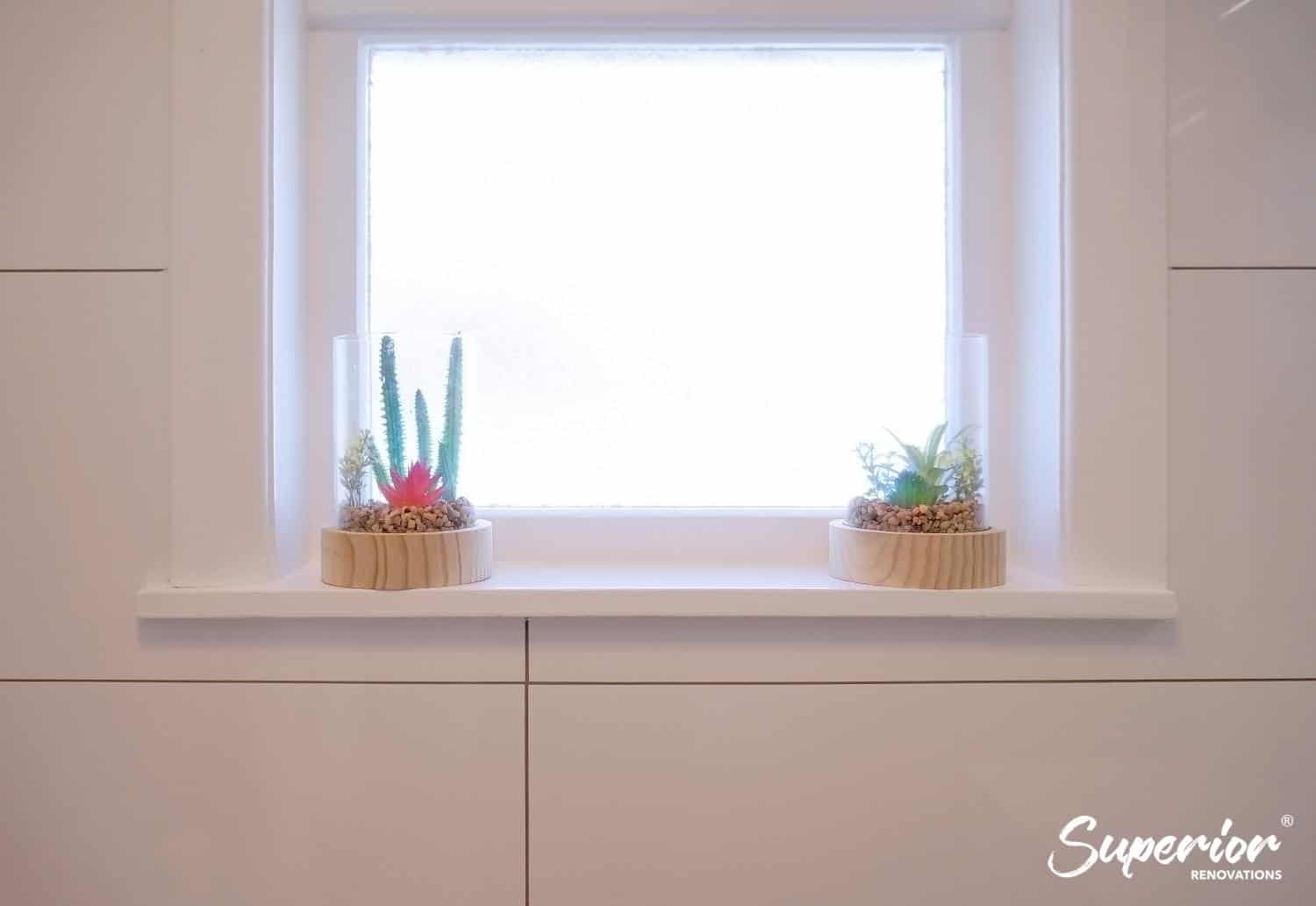 Rumpus Room
Once Joanne and Steve's renovation was completed, they decided to go ahead and renovate their rumpus room into a den. The previous space was 2 separate storage rooms which were combined together to make one large rumpus room with storage space.
The wall between the two storage rooms was demolished to create one space
3 doors were removed and 1 window was removed
Instead, another window was installed
New underlay and carpets were installed in the rumpus room
A new pantry was custom built next to the entrance of the room for storage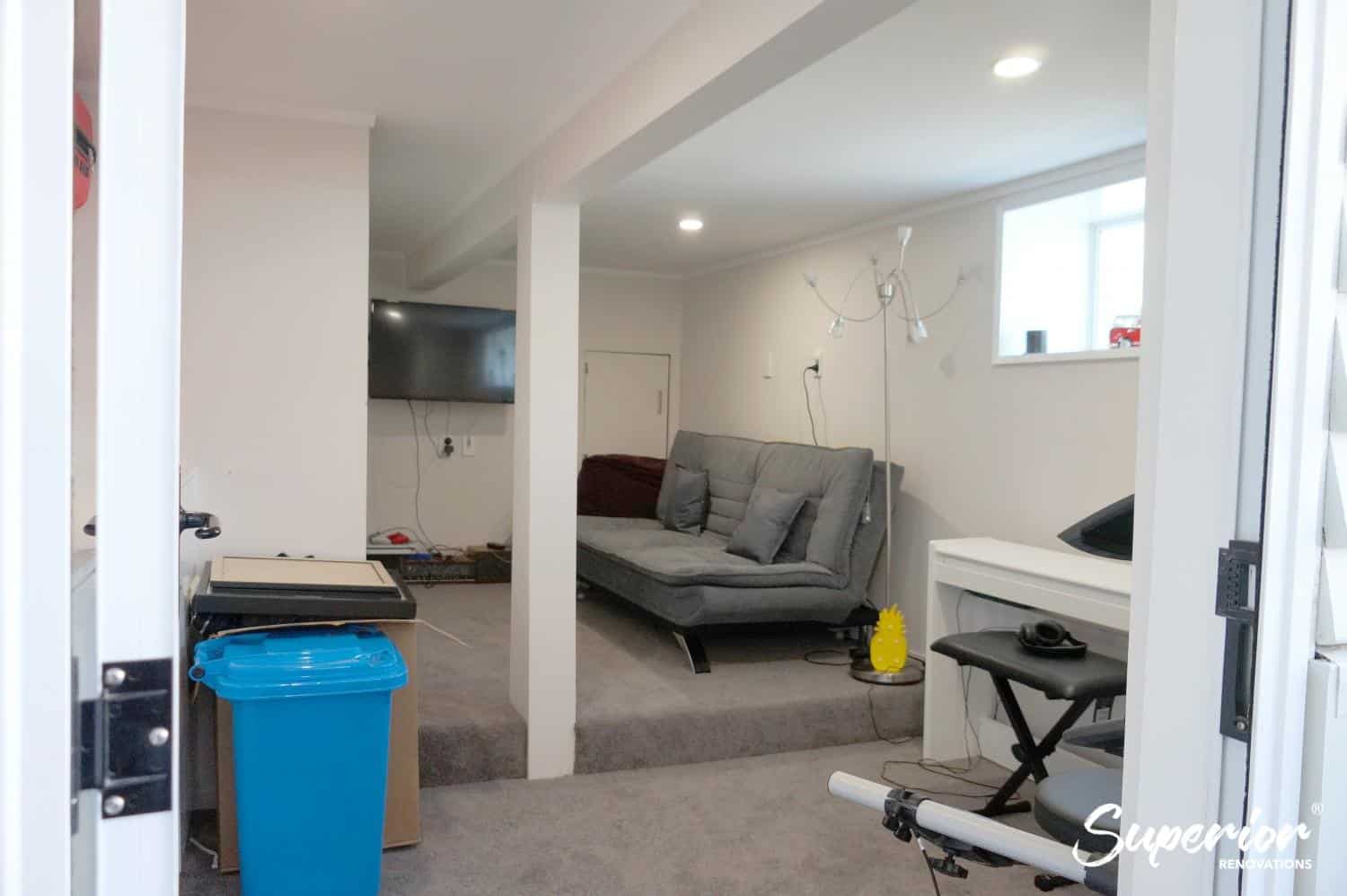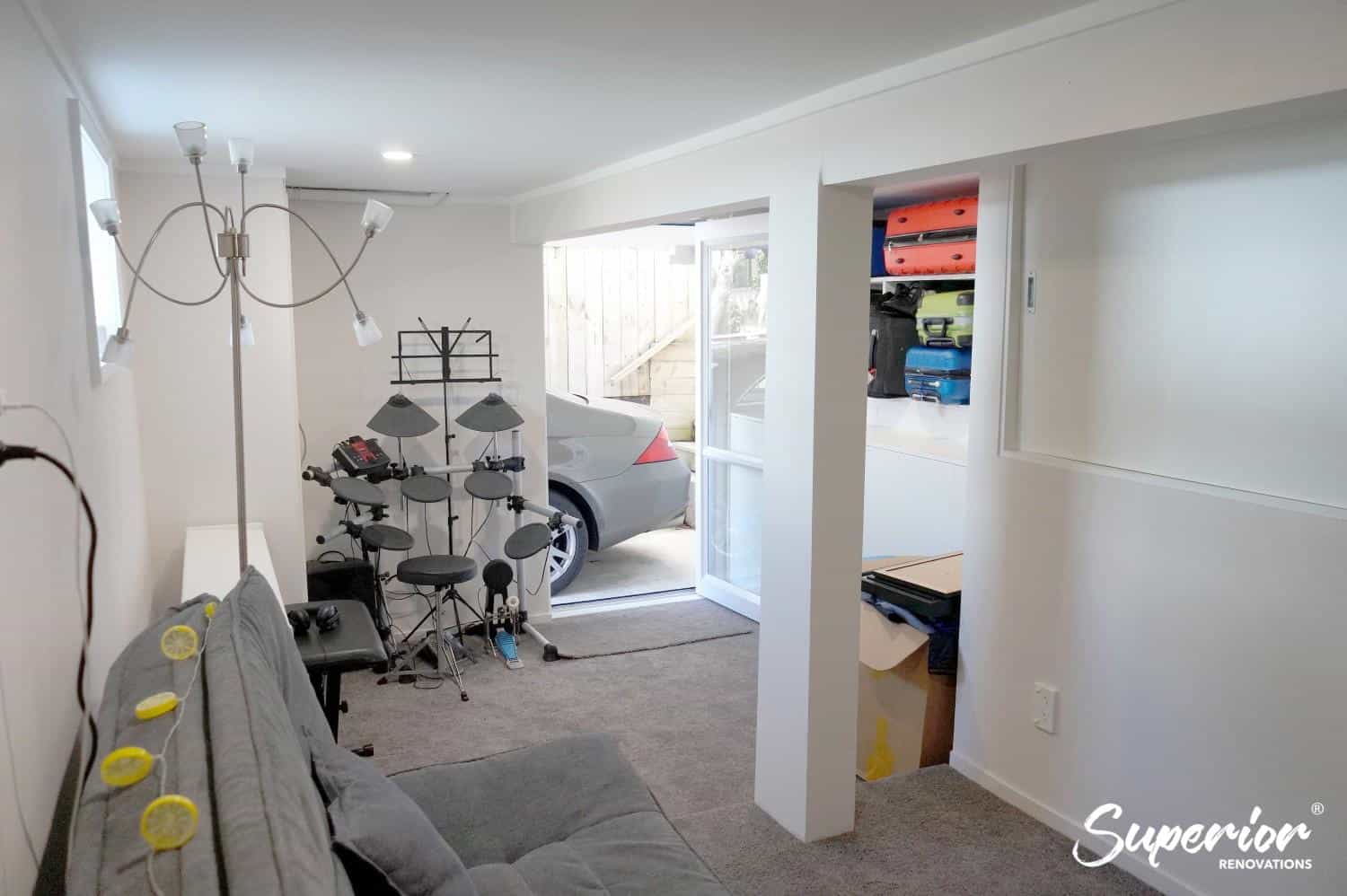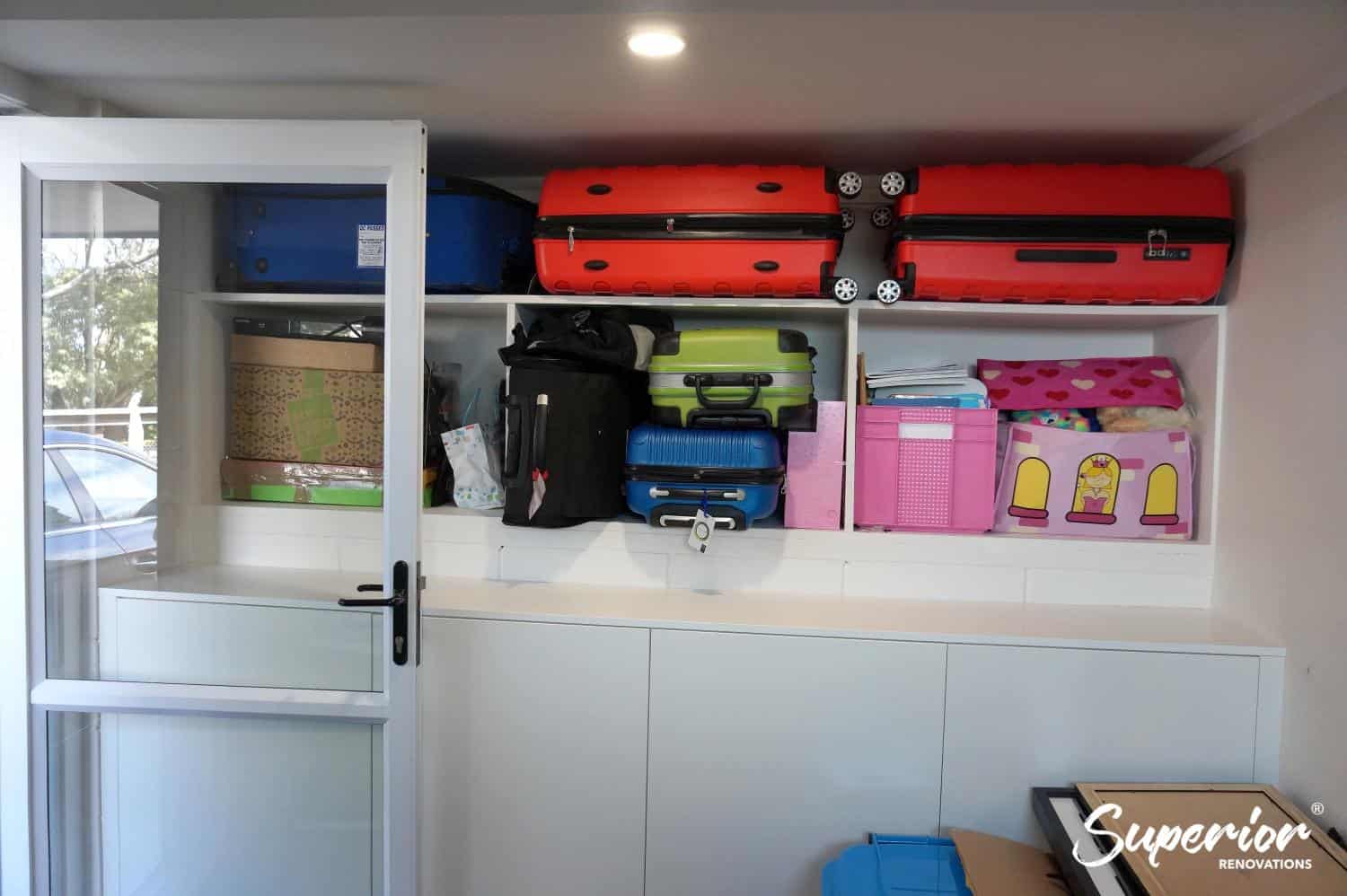 See what Joanna and Steve
had to say about their renovation
"Working with Kevin and the team was easy because we weren't having to ring up different suppliers ourselves, it was like one team does this, another team does that – and everything was done for us under one roof. Kevin had a contact for everything, and the experience was simple. You hear a lot of horror stories about doing renovations and I was like, well that was very easy…" Jo