Papatoetoe, Auckland
Kitchen and
Laundry Renovation
---
Completed on August 2019
RENOVATION
Project Managed By
Bonnie Cao
Sales and Project Management
bonnie@superiorrenovations.co.nz
0800 199 888
Kevin Yang
Managing Director & BDM
kevin@superiorrenovations.co.nz
0800 199 888
Kitchen and Laundry Renovation in Papatoetoe, Auckland
Duration of project
August 2019, project took 5 weeks
Our clients are just like any other young family, facing the issues that come with having young children.
"We wanted to have an upgrade and the shelving was getting old and we just wanted to change things before the kids grow older and we get busy with other things" explains our client as a reason for renovating their kitchen and bathroom.
With two working adults with young children aged 5 and 7, a practical kitchen with plenty of storage and easy maintenance was high on their list.
Initially they only wanted to get a few cabinets upgraded in their kitchen but after speaking to Kevin our senior project manager they decided to get their entire kitchen, bathroom and laundry redone.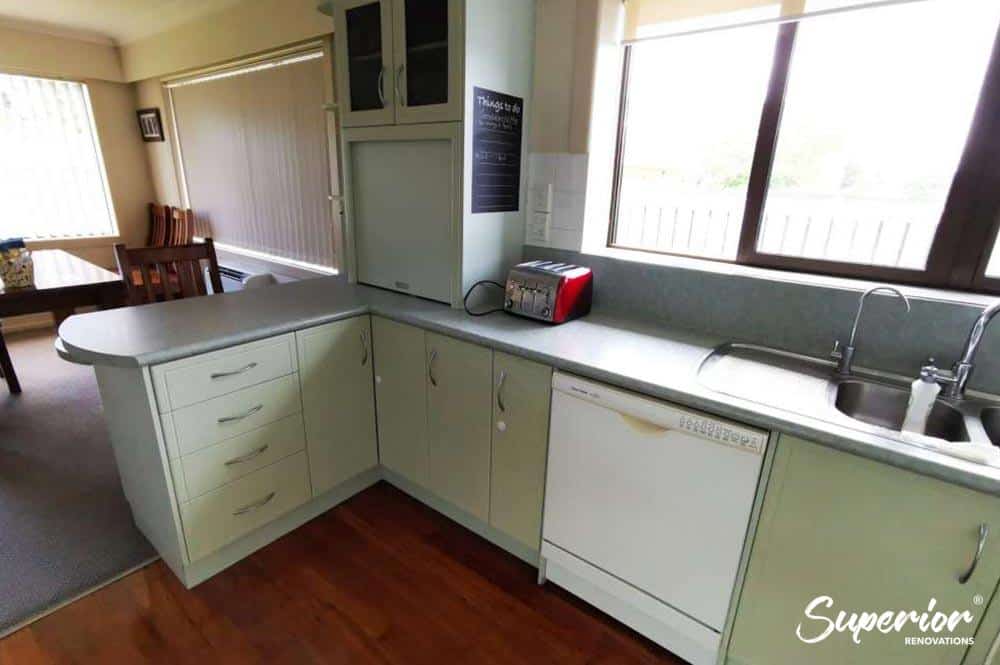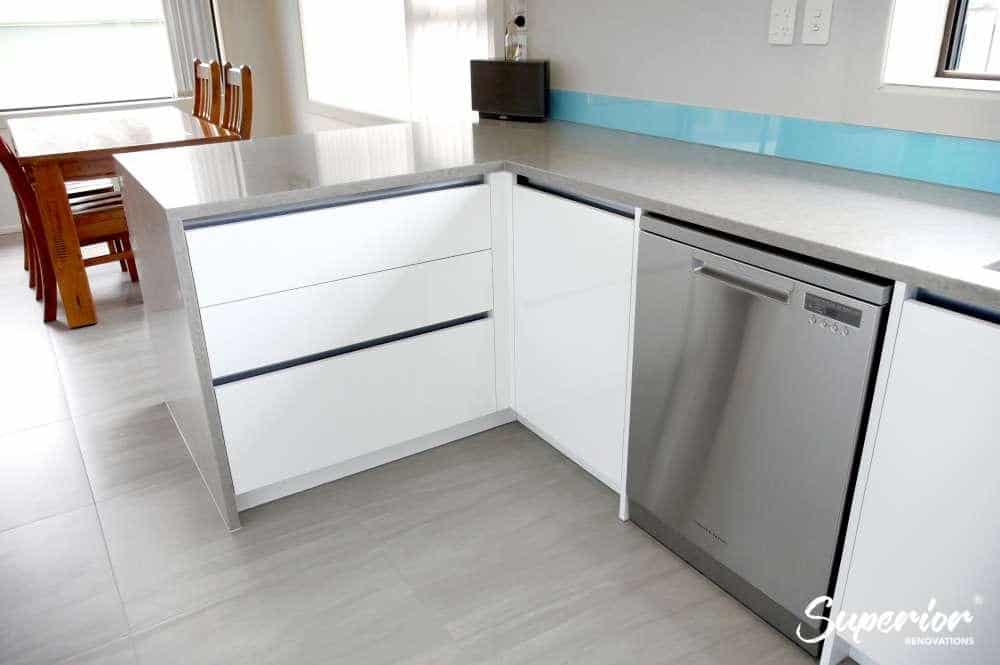 "We had certain things the way we wanted at the back of our mind but talking to Kevin we realized that there were a few problems with it. We just thought that he was trustworthy" says our client about his initial consultation with Kevin.
While his wife says "About interior of the cabinets he told us the new designs that were out that were more practical and more modern designs".
In order to add more storage and convenience we added a 'magic corner'', custom made  storage trays within shelves and a pull out drawer system for the pantry.
Kevin himself has two twin daughters which means that he is well versed with what is practical in a kitchen with young kids.
"We did have a few hiccups just like with anything but we worked through it" – client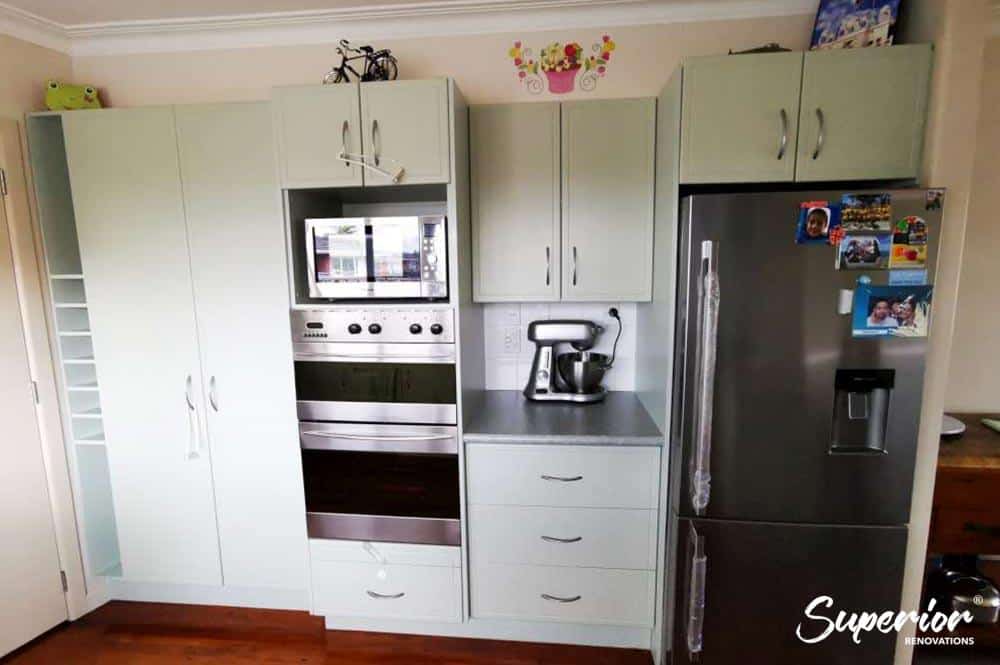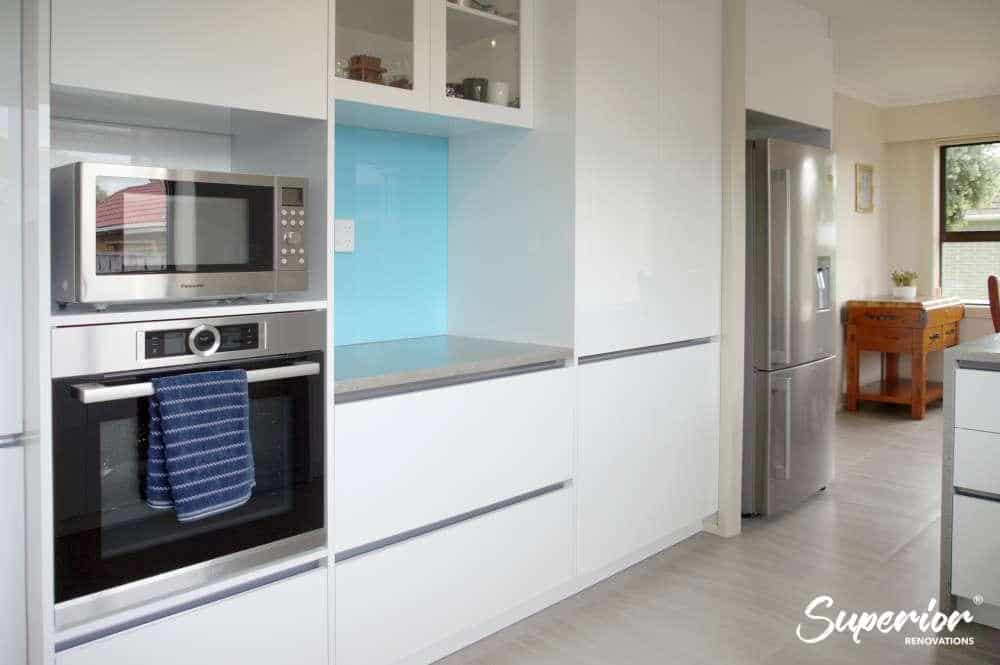 One of the hurdles that we faced during the project was with the custom drawers in the pantry. Our junior installer took longer than we had anticipated which extended the project time slightly. However Bonnie who was the main project manager ensured that it was re-done according to our clients' satisfaction.
"Everyone was very respectful of us living in the house" – Client
Their kitchen renovation was completed in 3 weeks after which they went on to get a bathroom and toilet renovated.
"Bonnie made a schedule for 3 weeks and everything was mostly delivered on time"  – Client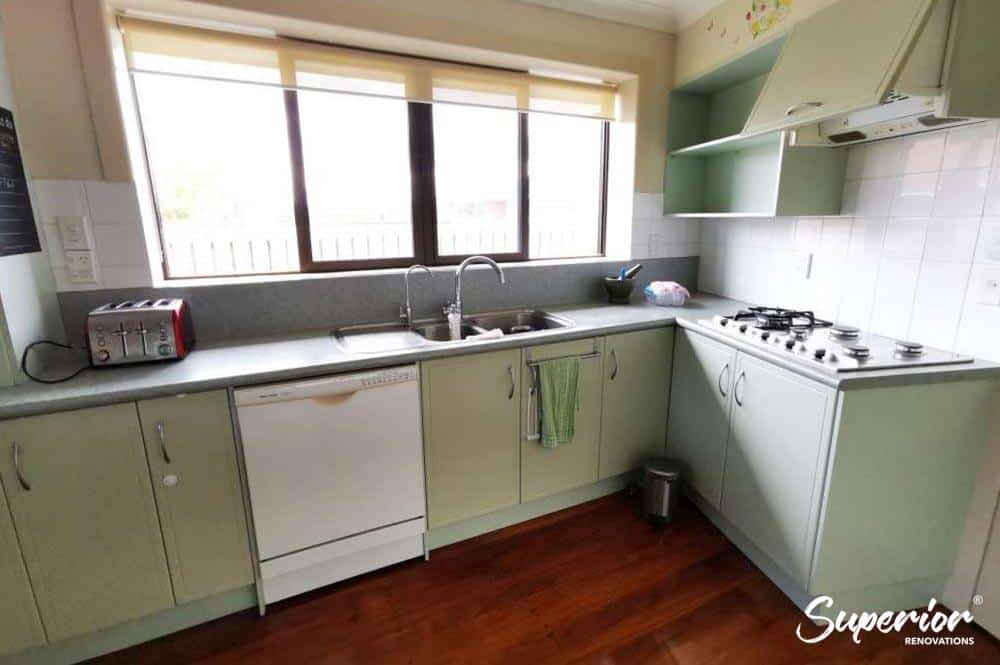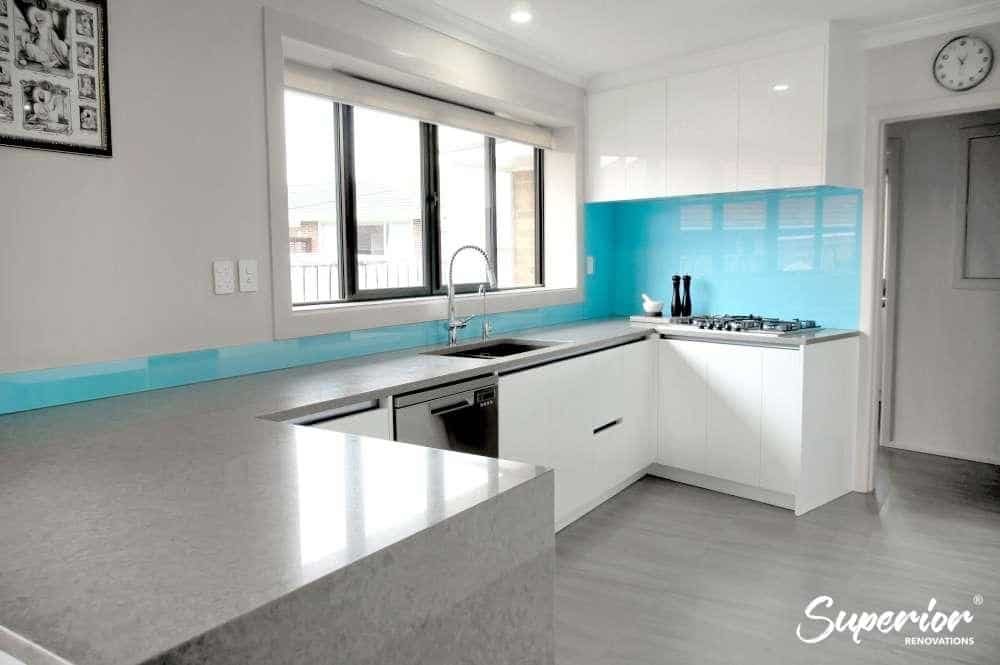 Our Clients' Kitchen transformation

Into a functional, Practical and Low maintenance kitchen.

Top Mount Blanco Silgranit Sink—Grey
"Like for the sink we were going to go with stainless sinks and Kevin said no no you have to have this sink (silgranit)" – Client
Cannot be scratched making is durable with young kids. The high proportion of granite makes it dense and durable
Dirt does not penetrate the surface so easy to clean with just one wipe.
Comes with variety of colours and finishes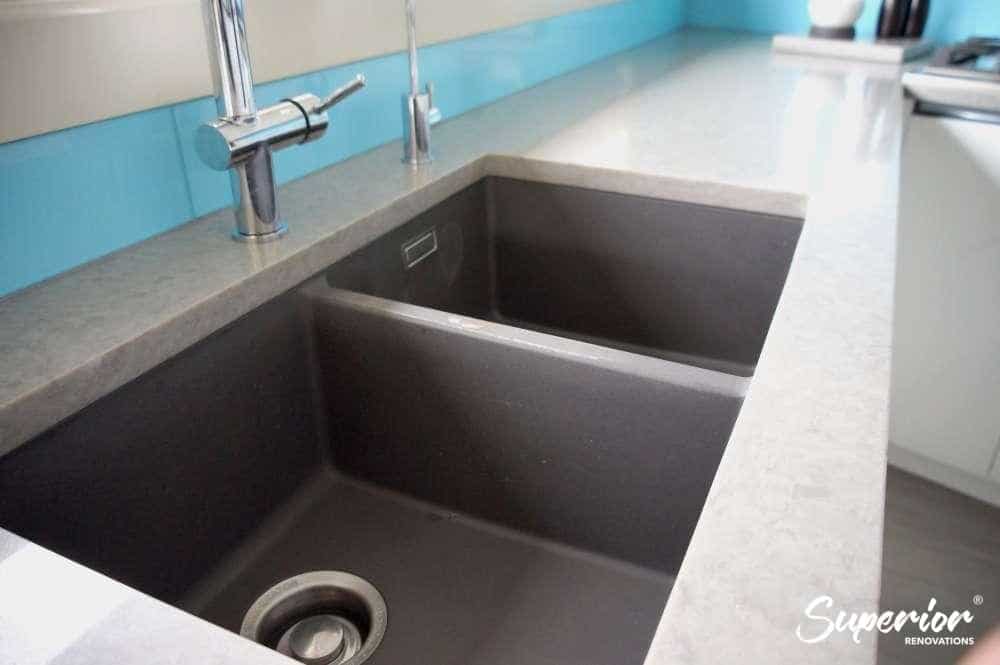 Pull out Rubbish Bins and Laundry basket
Pull out rubbish bins are a great way to keep you kids away  from the bins
Overall having rubbish drawers is a more hygienic way of keeping bins within the house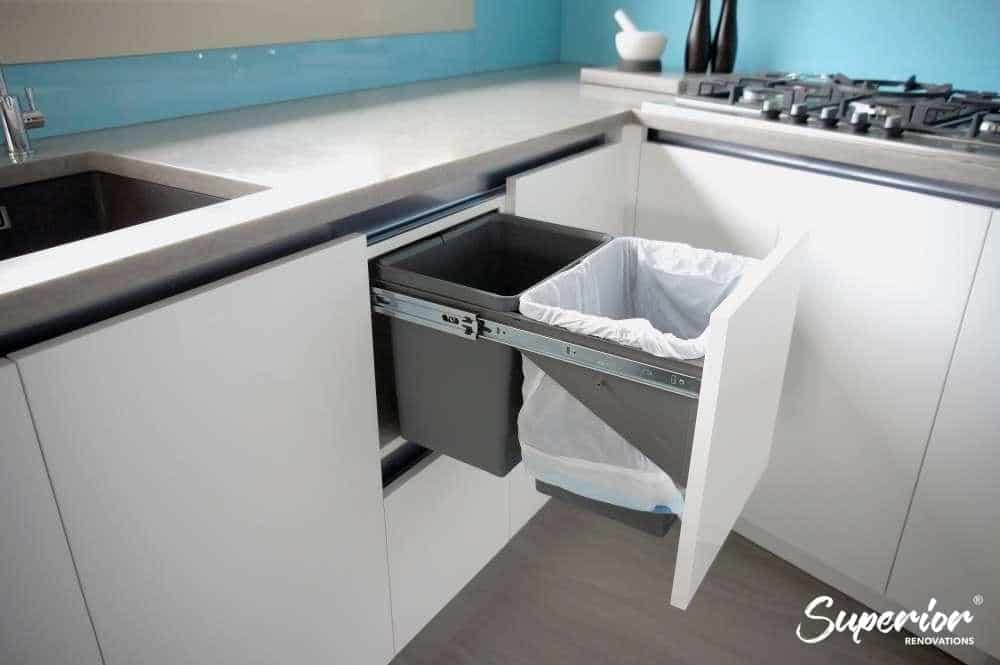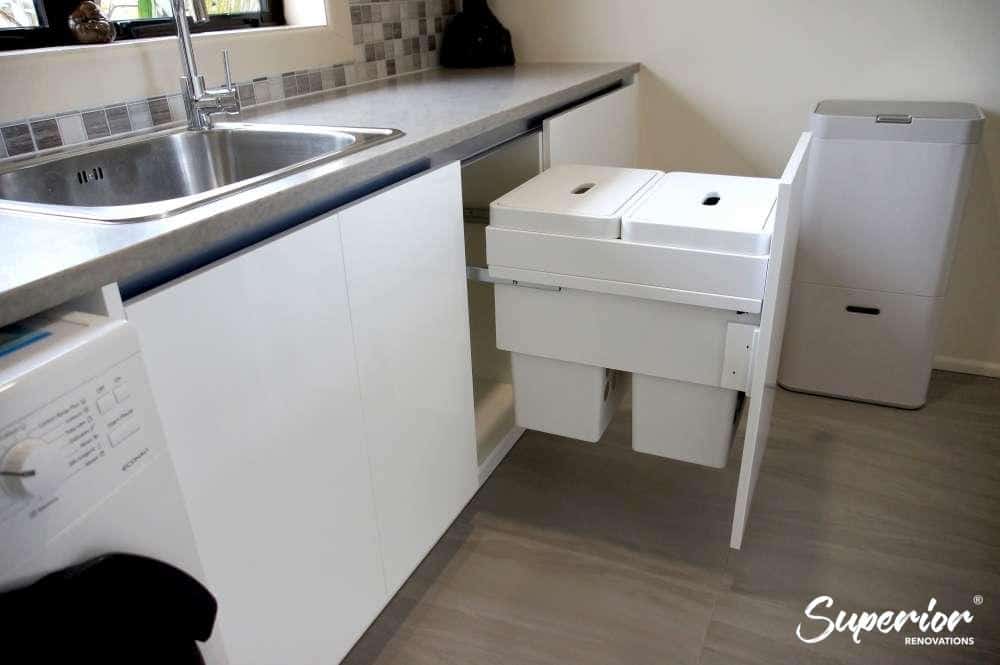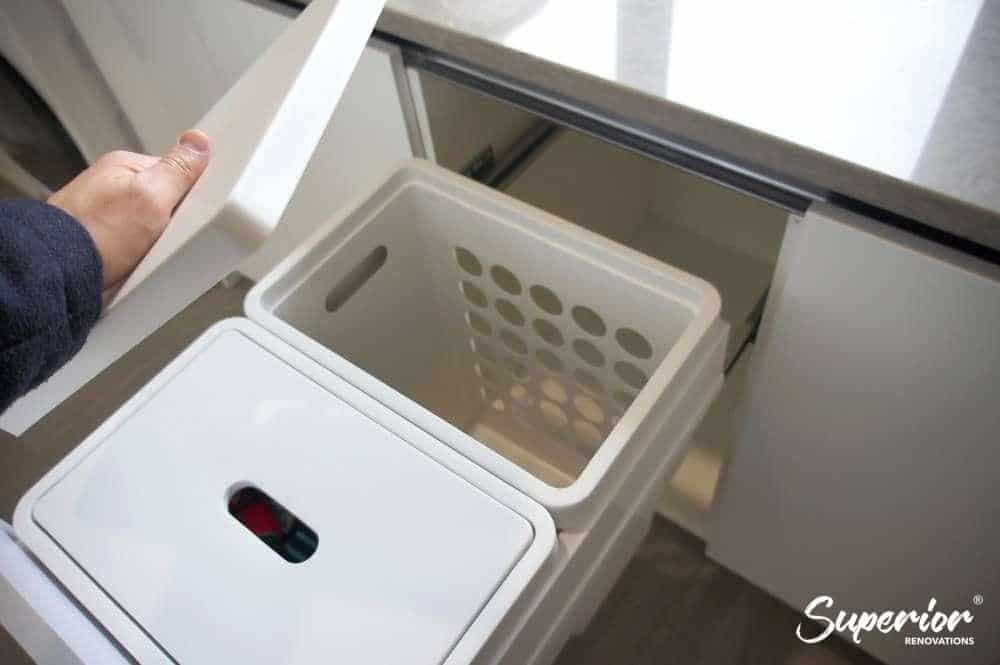 Storage Solutions—Magic Corners and Pull Out Spice Rack
Just open the doors and pull on the handle to make the front shelves swing right out of the unit
The back shelves can be pulled out individually for easy loading and unloading
The perfect solution for storing tableware, pots and pans
Excellent access and a clear overview across the entire storage space from three sides
Makes best use of the available space
Integrated Softclose soft-closing mechanism
The front shelves can easily be removed for cleaning and clipped back into place
For hinged doors: the hinges can be on the right or the left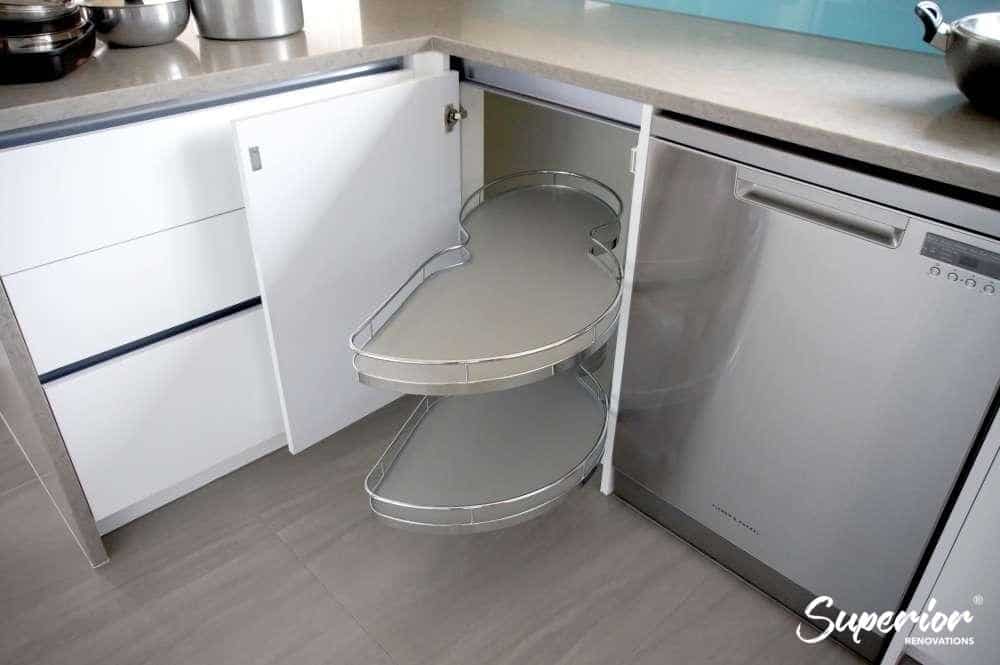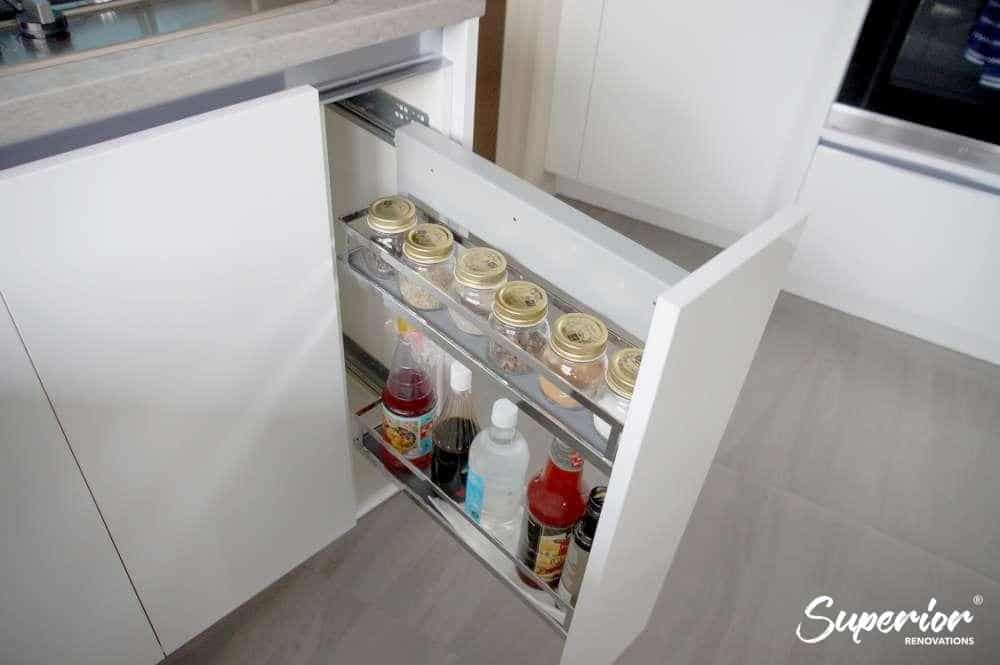 Acrylic UV Panel cabinetry with Blum soft close drawers/doors
"Like the acrylic cabinets we would not have gone for it but now that its done its good and it is so easy to maintain" – Client
Acrylic cabinetry with Blum soft closed cabinets were custom made and installed in the bathroom, laundry and kitchen
Soft close drawers and doors are a great relief in homes with young kids who can get prone to banging the doors.
Acrylic cabinets are also easy to maintain as they are easy to clean and durable.