Parnell, Auckland Central
Urban Luxury
Renovation
---
Completed on Jan 2020
RENOVATION
Project Managed By
Jin Park
Sales and Project Management
jin@superiorrenovations.co.nz
0800 199 888
Full home renovation to add Urban modern style and Luxury
Project Finish Date
February 2020
Space always seems to be the issue when it comes to unit style homes in central Auckland. Our client in Parnell had the same problem. His unit was centrally located in Parnell which allowed him to enjoy the quaint yet an Urban lifestyle of Parnell Village. This 2 storey unit consisted of a small living space and an even tinier kitchen without much counter space. There were 2 bedrooms upstairs which had started looking dated and overall the unit lacked character, convenience, and style.
Good planning along with some creativity is vital in order to maximise storage and comfort in small spaces. We first moved the kitchen from the left side of the room to the right and tore down a wall between the lounge and dining room.  Opening up of the kitchen area also allowed the client to incorporate a space for a bar as well as a decent size dining area. The living room was transformed into a hi-tech space with an electric fireplace and concrete flooring. The bedrooms and bathrooms upstairs were given a modern luxurious look to imitate the feeling of being in an upscale hotel. The highlight of this project was incorporating technology within the renovation of each room.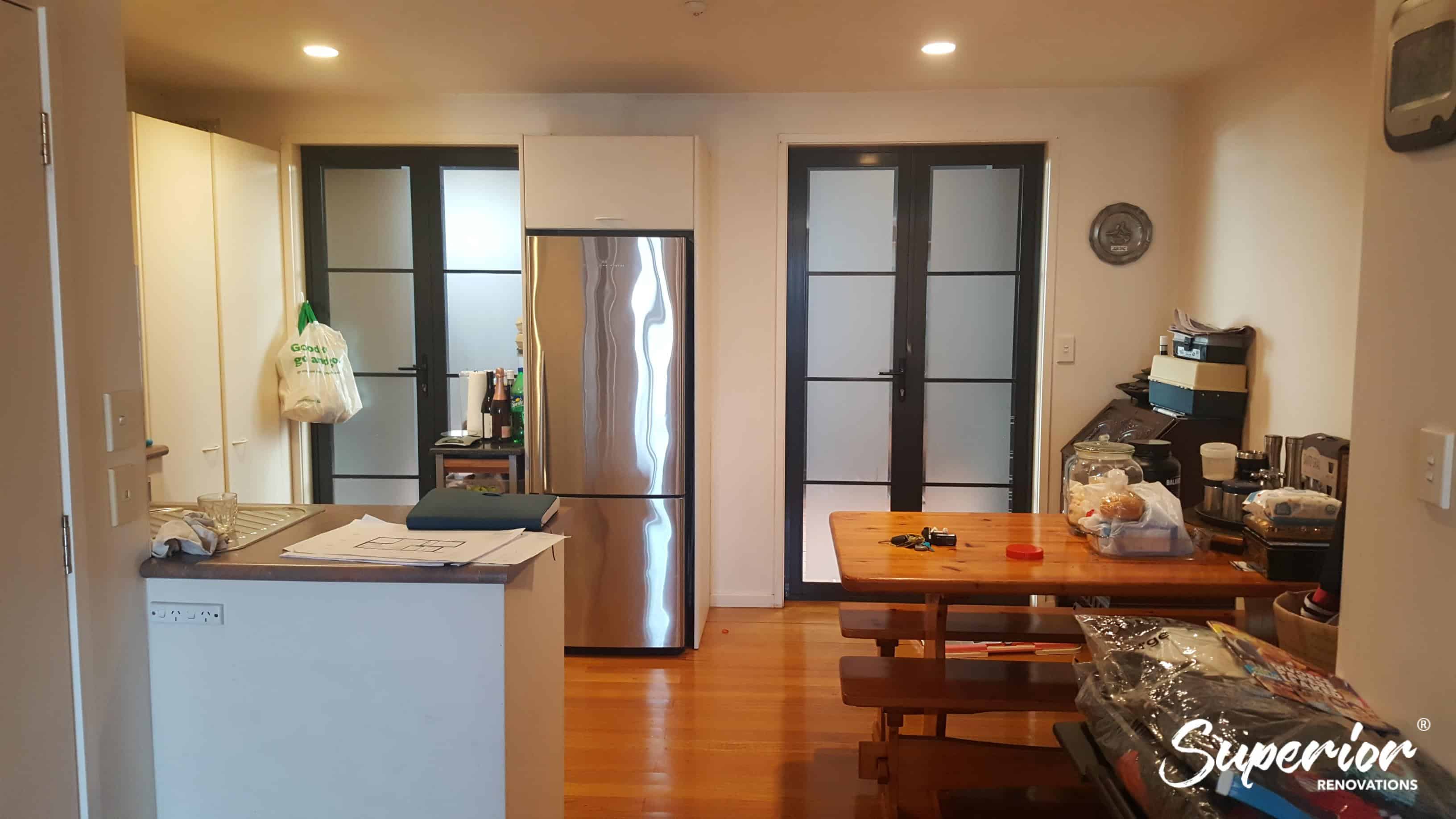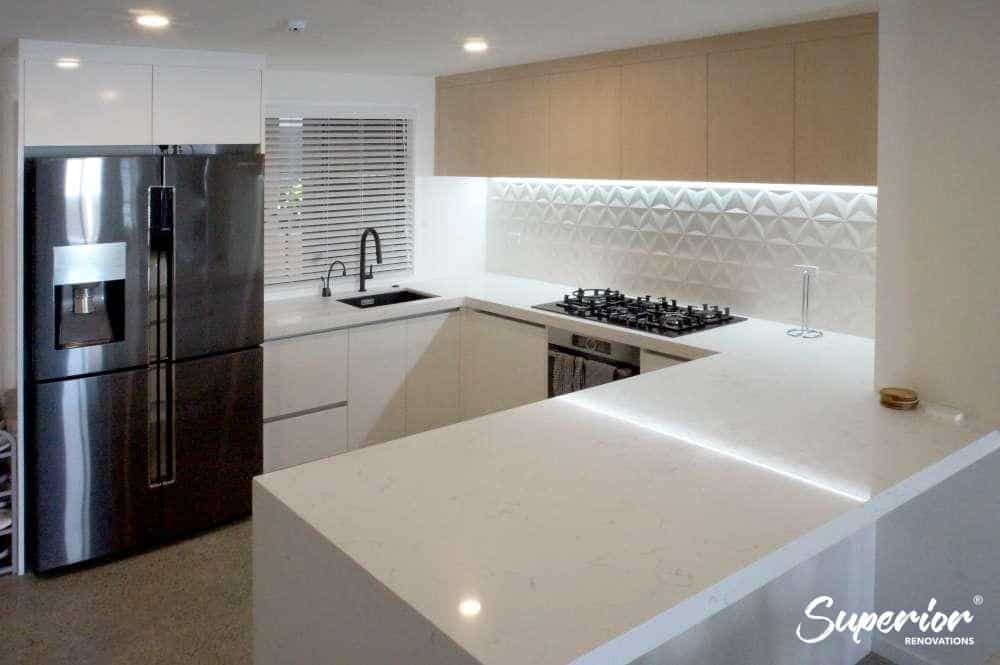 This was not a regular kitchen renovation where we demolished everything and then replaced it with new cabinets and fixtures. This kitchen renovation required some creativity and extensive planning to turn a small and dingy kitchen into a open plan spacious kitchen with plenty of counter space along with storage. The client's kitchen was on the left side of the room and we decided to actually move it to the right. There was a toilet and dining space on the right so we decided to demolish the toilet and take that in to make a large kitchen. The left side of the room was then turned into a closet laundry space as well as a pantry next to it.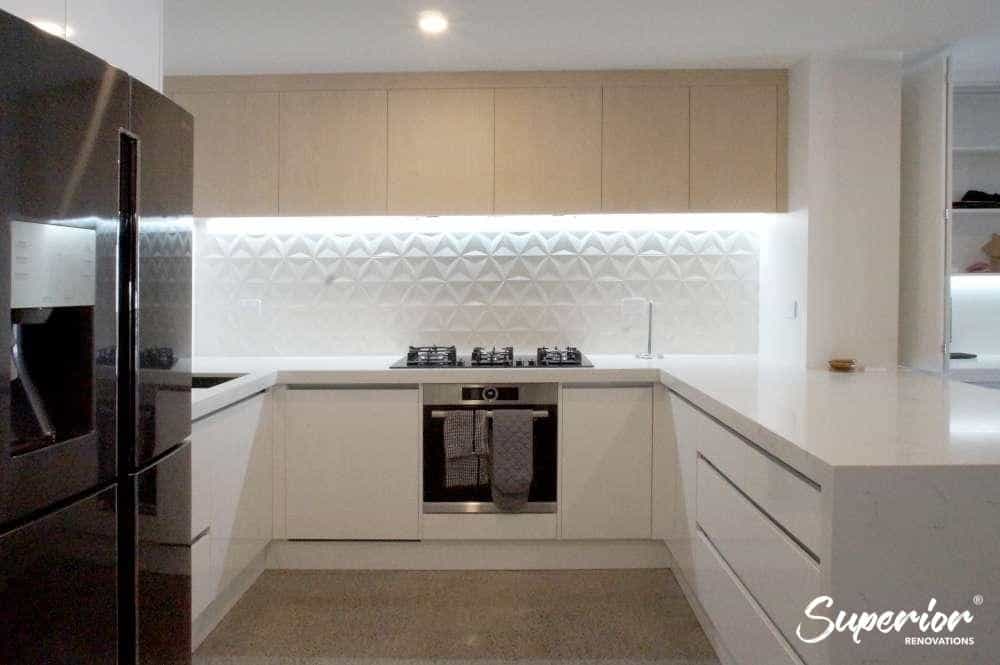 Kitchen renovation Specifications
Building work
Removal of wall between the dining room and kitchen
Closing of downstairs toilet to add more space for the kitchen
Custom Built Cabinets
16mm MRPB carcase boards (water resistant)
No handle set up for all cabinets
Soft close cabinets. DTC soft close hinges and drawer runners (Blum soft close)
30mm engineered stone bench top which was given a marble look
Adding modern conveniences
Custom built pantry with pull out drawers to make storage and organisation easy. Pull out drawers with built in bins
Blanco silgranit sink for easy clean up
Hot water tap installed for easy and quick access to hot water as well as being sustainable
Splash Back – the star of the kitchen
The 3D splash-back adding texture, character and depth to the kitchen.
BIS374 White Frozen Crystal tiles used.
Tile size – 258X298
Technology
Integrating technology was one of the highlights of this project.
LED lights were installed above the splash-back, and under all handle less cabinet doors.
These remote control LED Lights were installed with a remote with a various functions to dim or brighten them.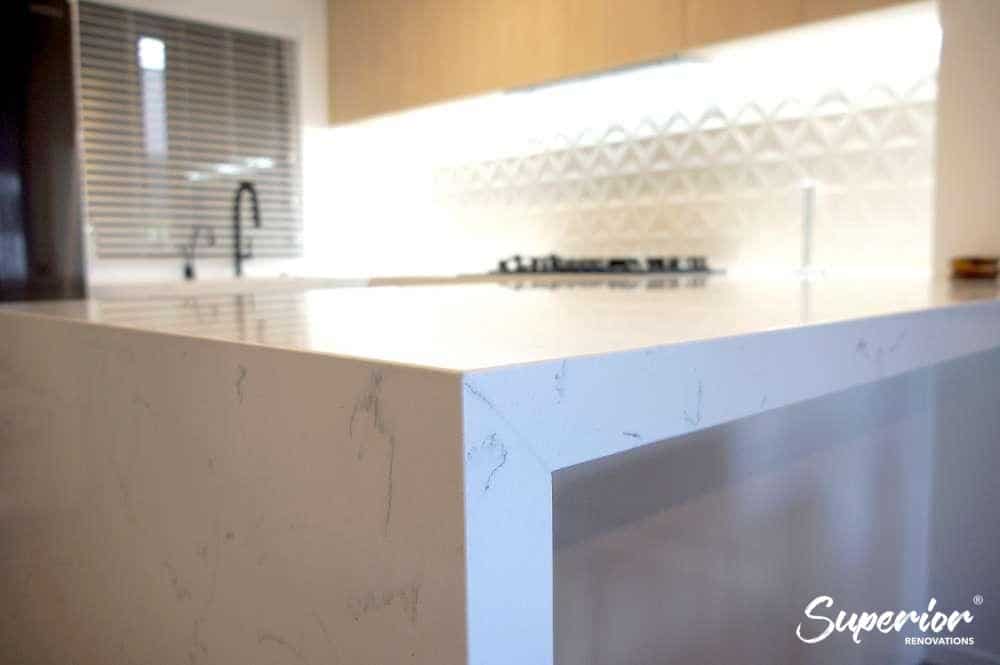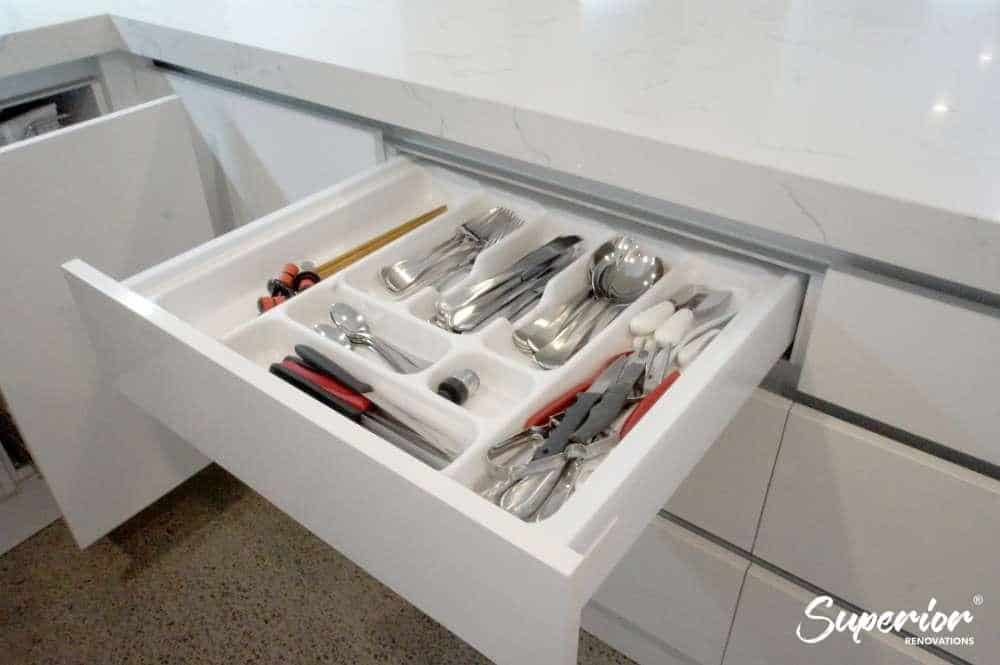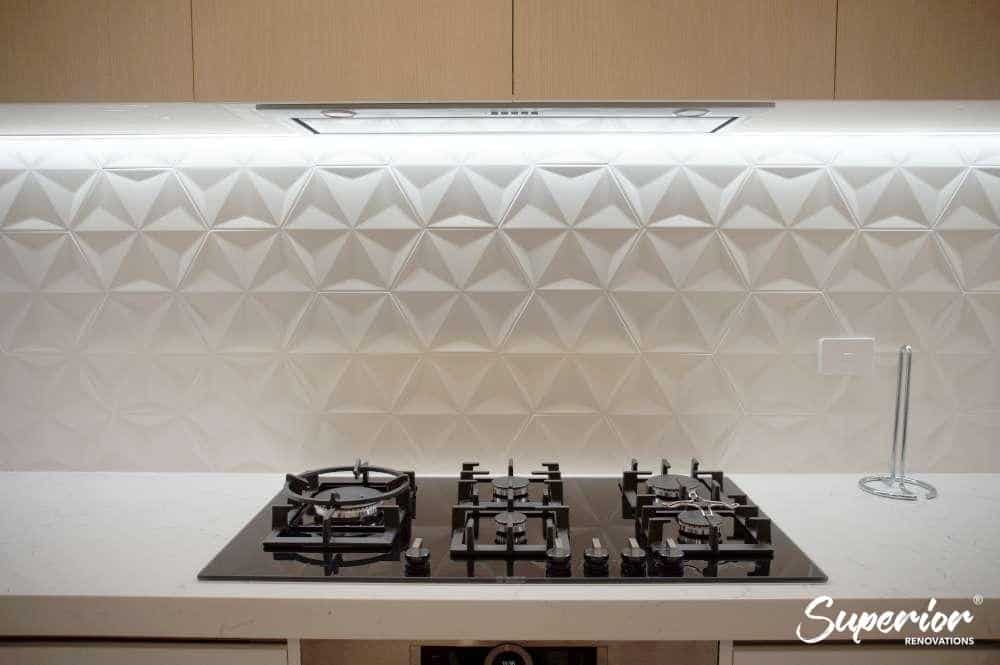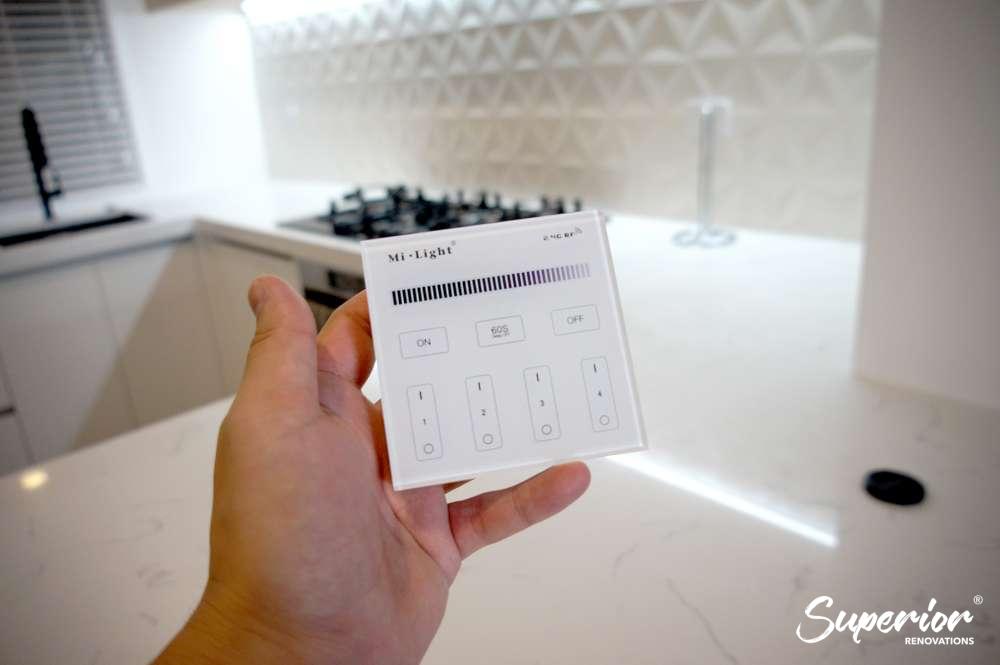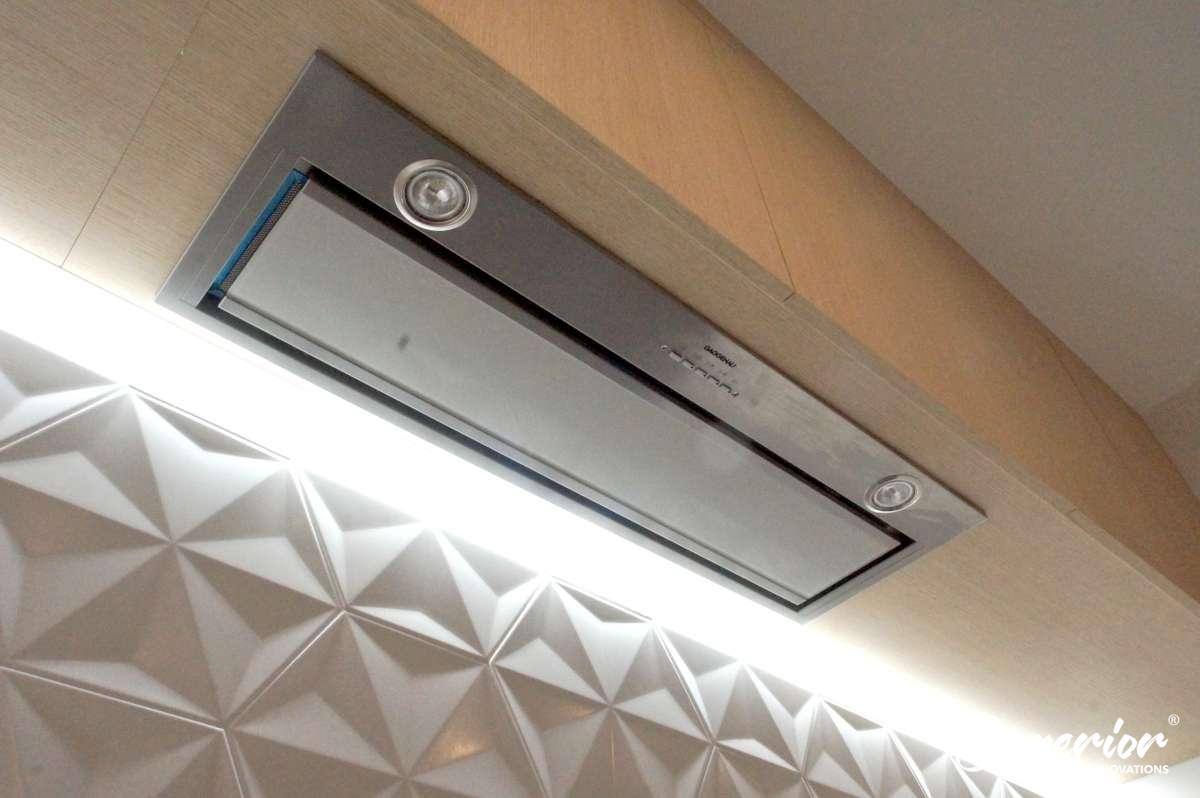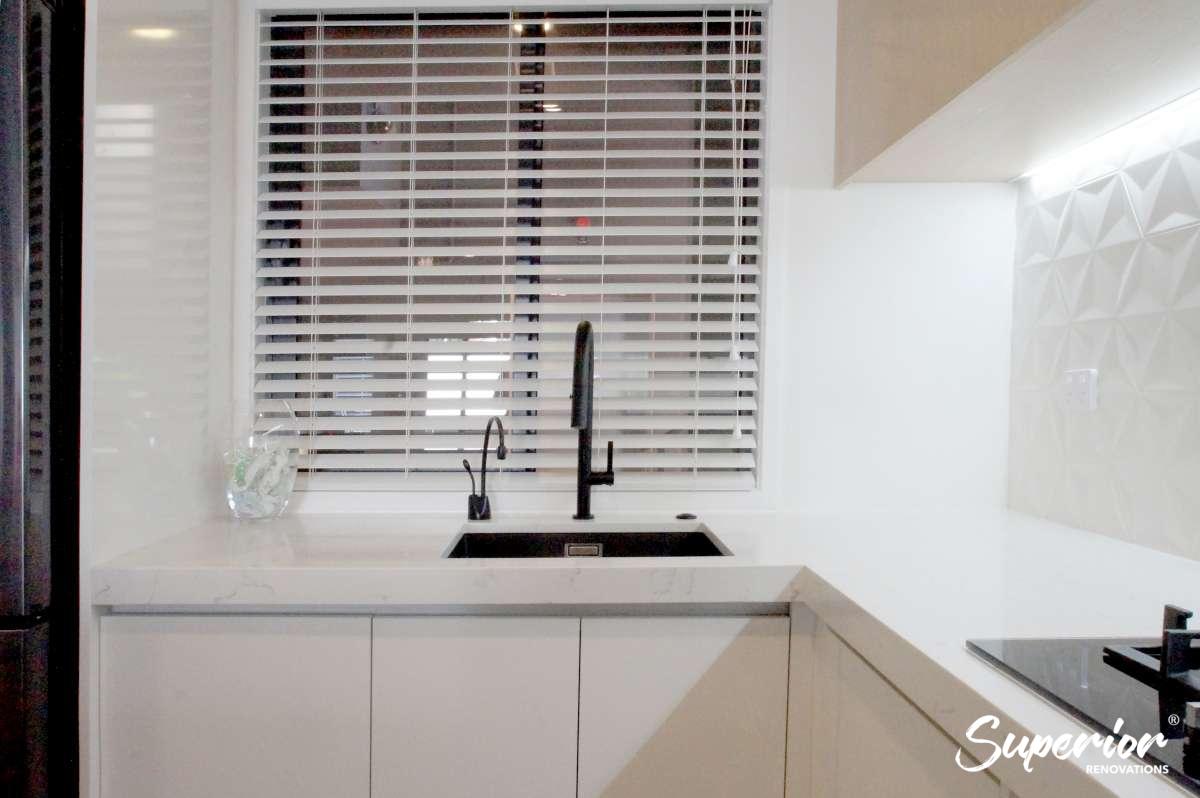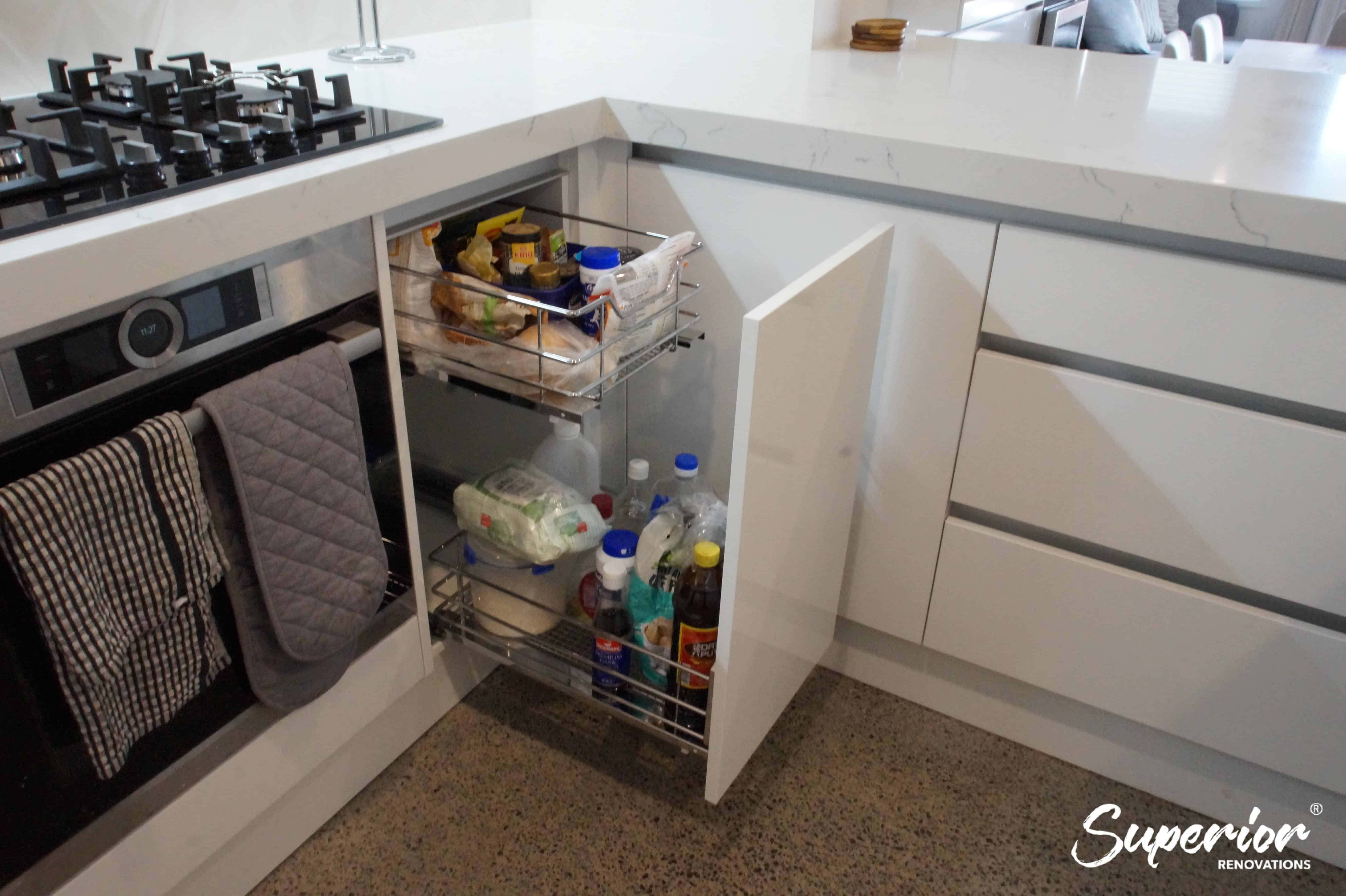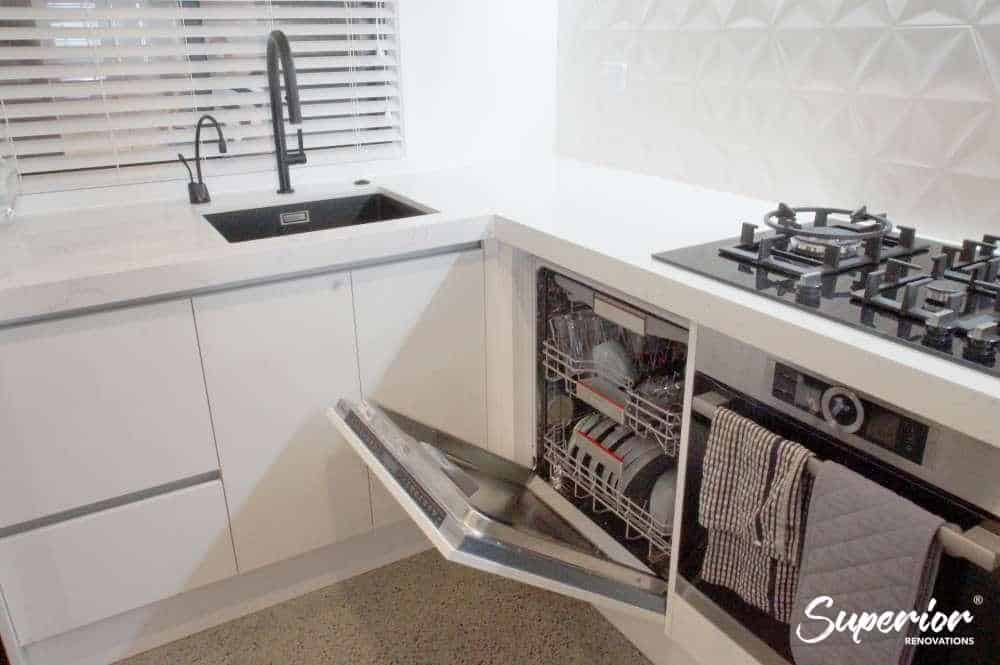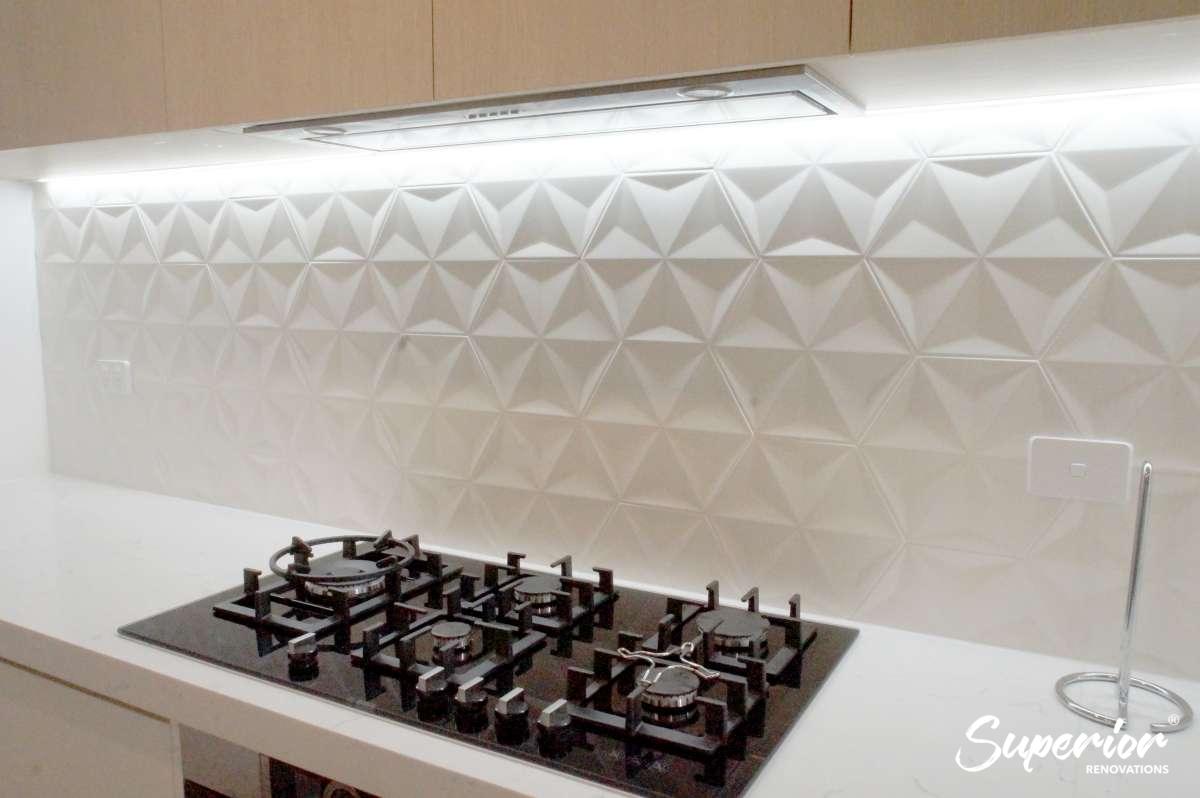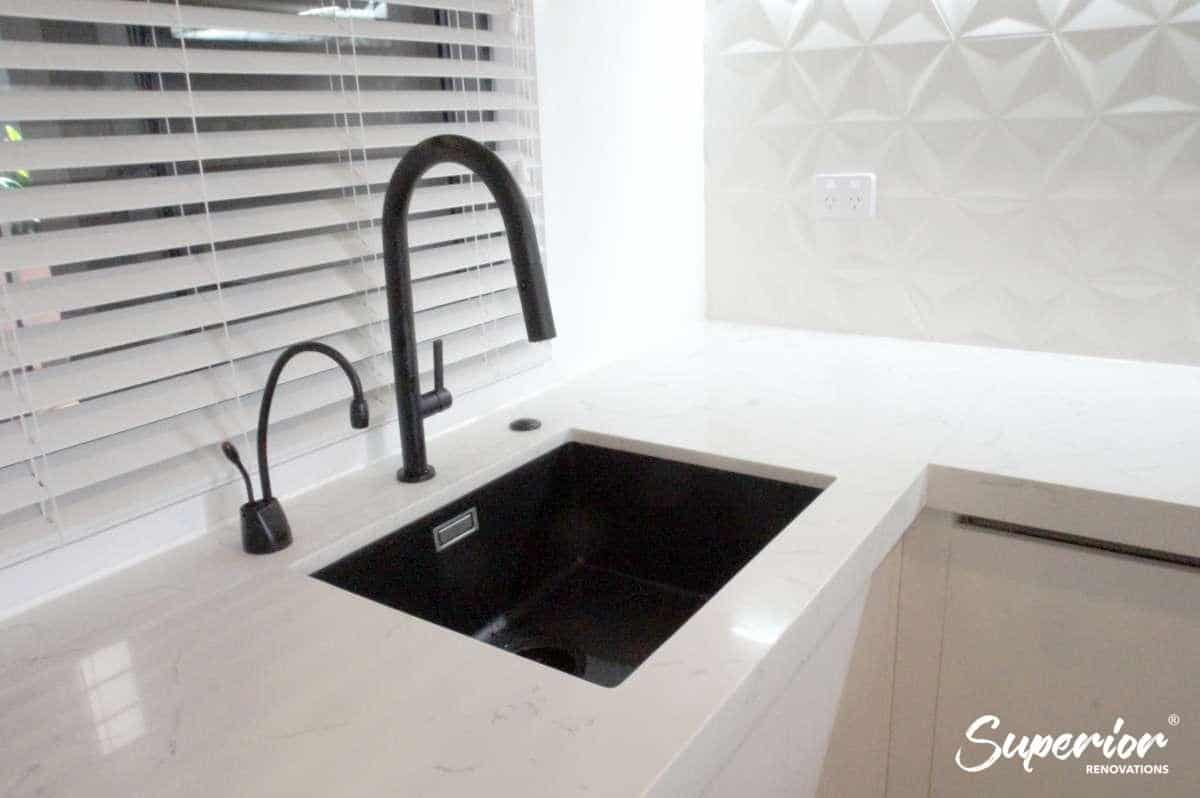 The Living room was renovated with neutral and off whites to transform it into intimate entertaining space. A custom built bar with LED lights was added in the dining space complete with a wine fridge. stars of the living and dining area were the concrete floors and an electric fireplace.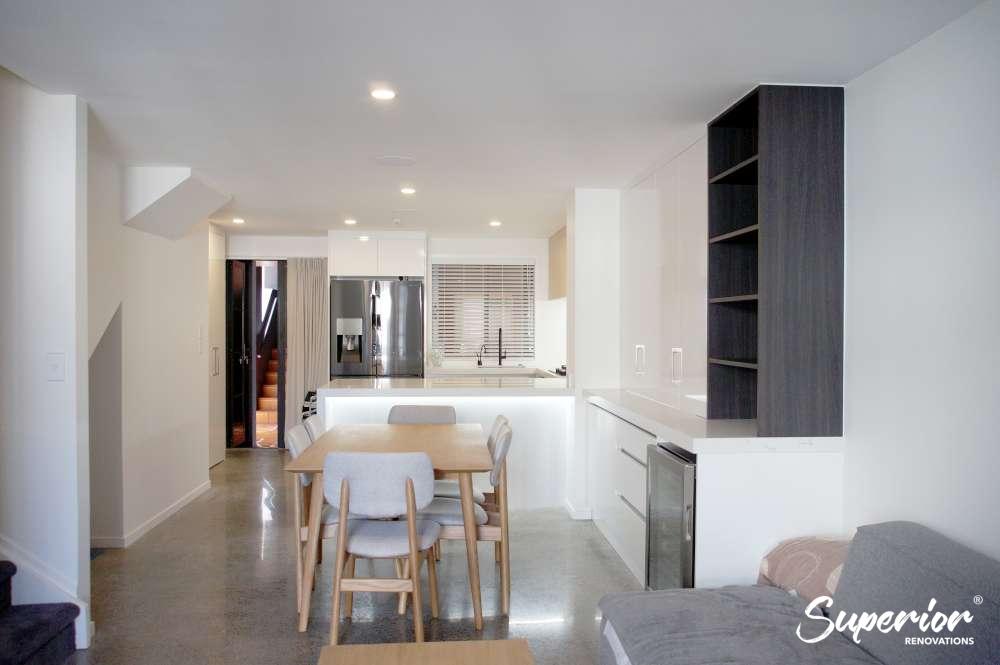 Design Highlights
Bar
Custom built cabinets with LED lights
Wine fridge installed to complement the bar
Electric Fire place
A false wall was built in front of the main wall as it was not possible to build one on the existing wall
30mm engineered stone (marble look) was used for the mantle of the fireplace.
Concrete Floor
Concrete Pad laid in the 1st floor which included the kitchen, dining, and living space.
light to medium Stone exposure diamond polish system applied to concreete
Epoxy tie coat applied. Polished the concrete and a stain guard applied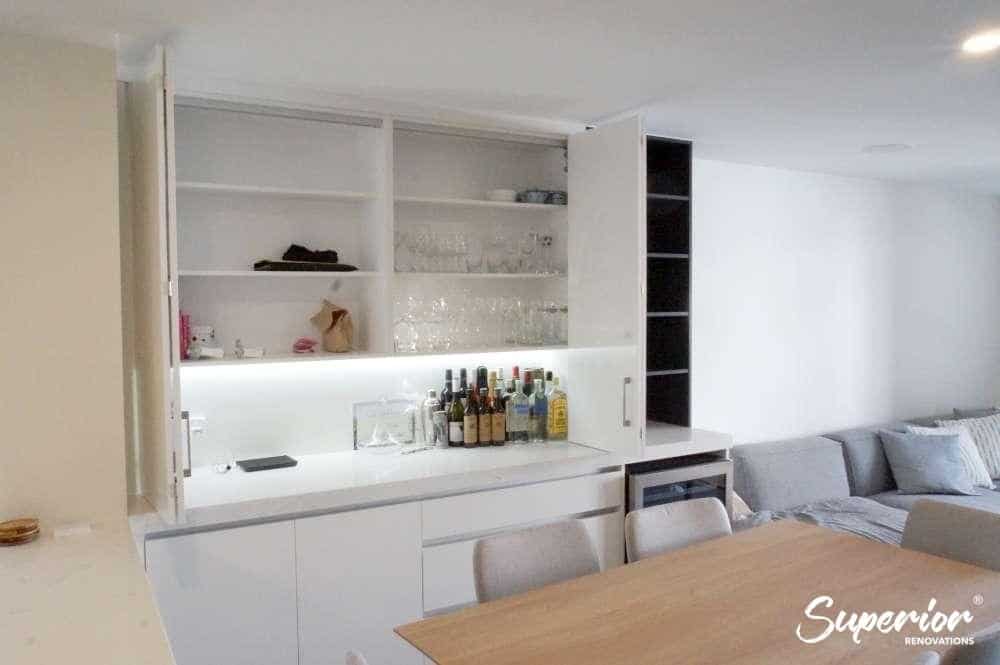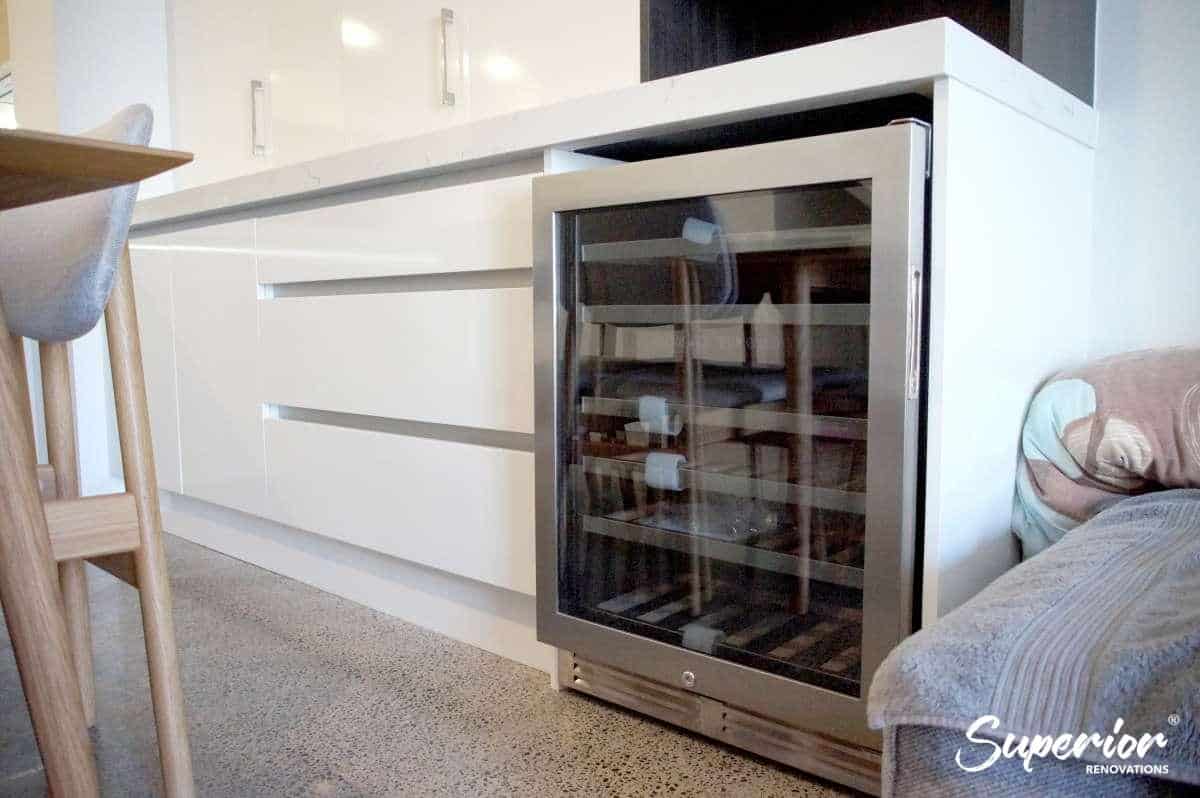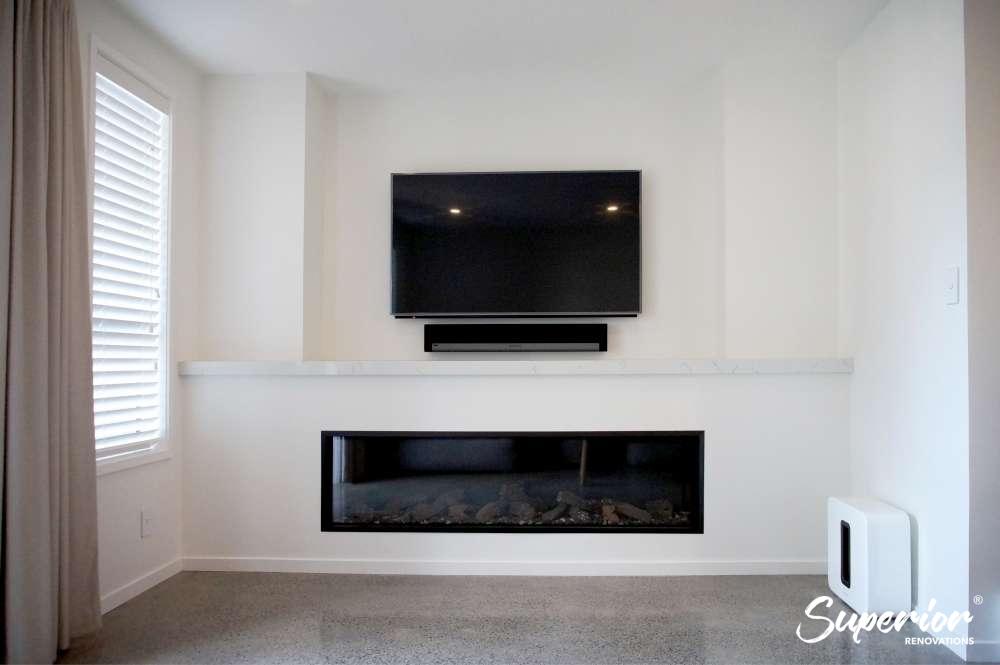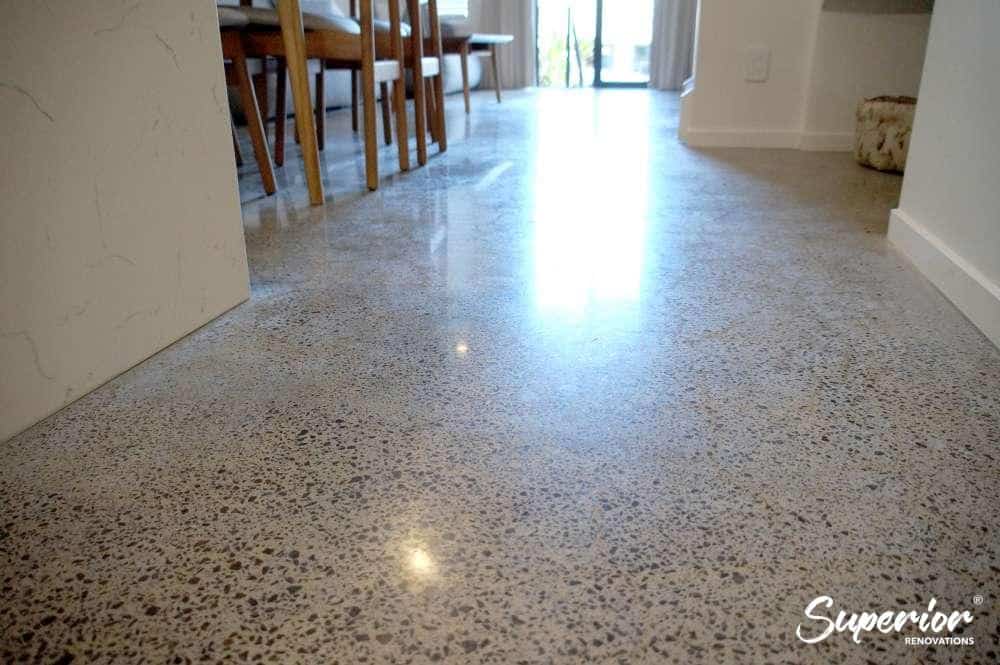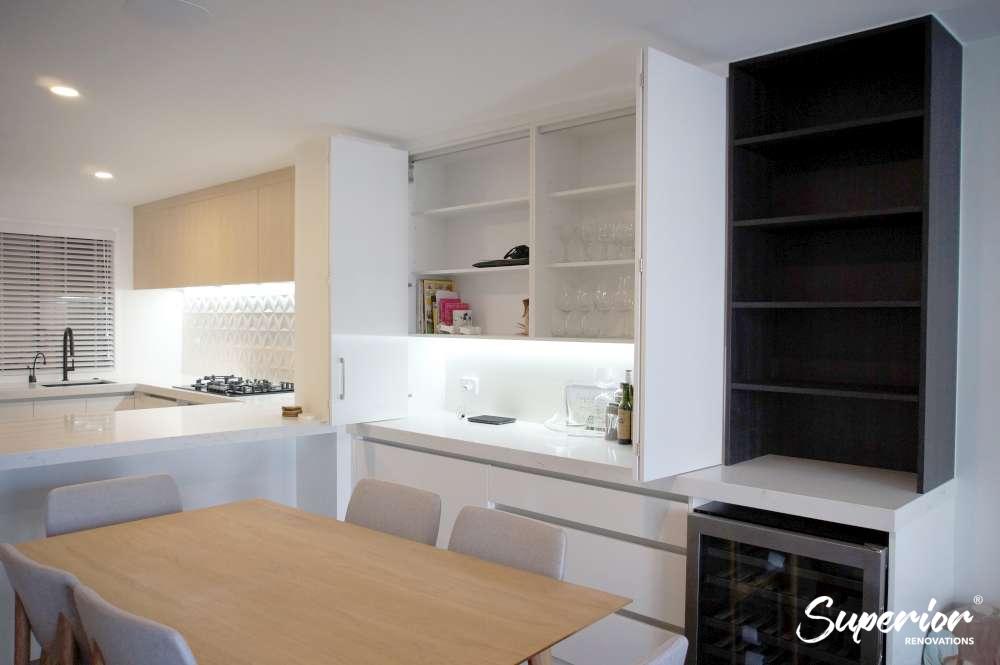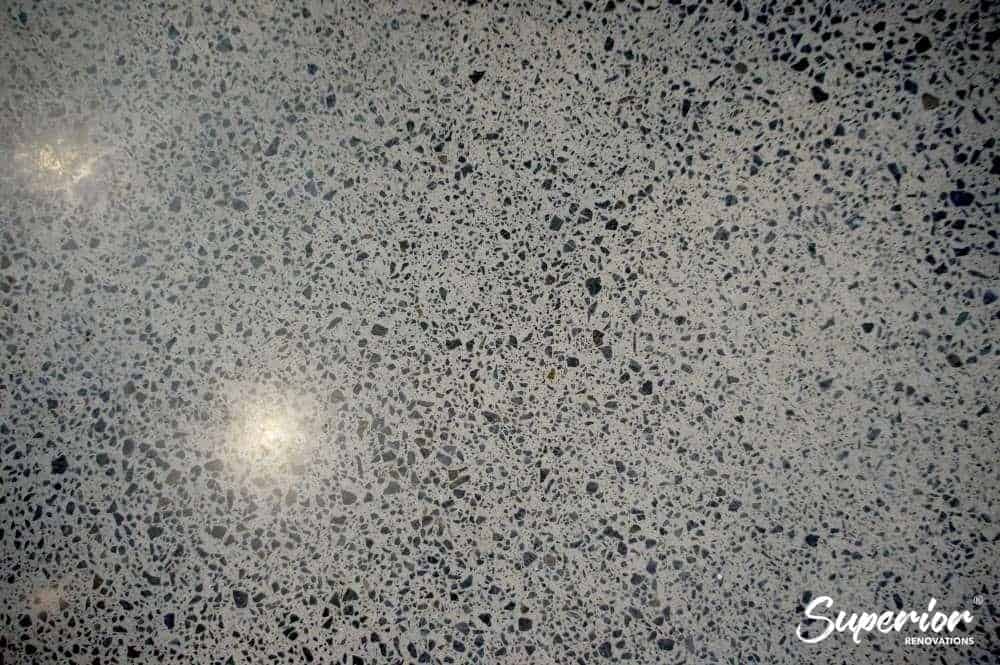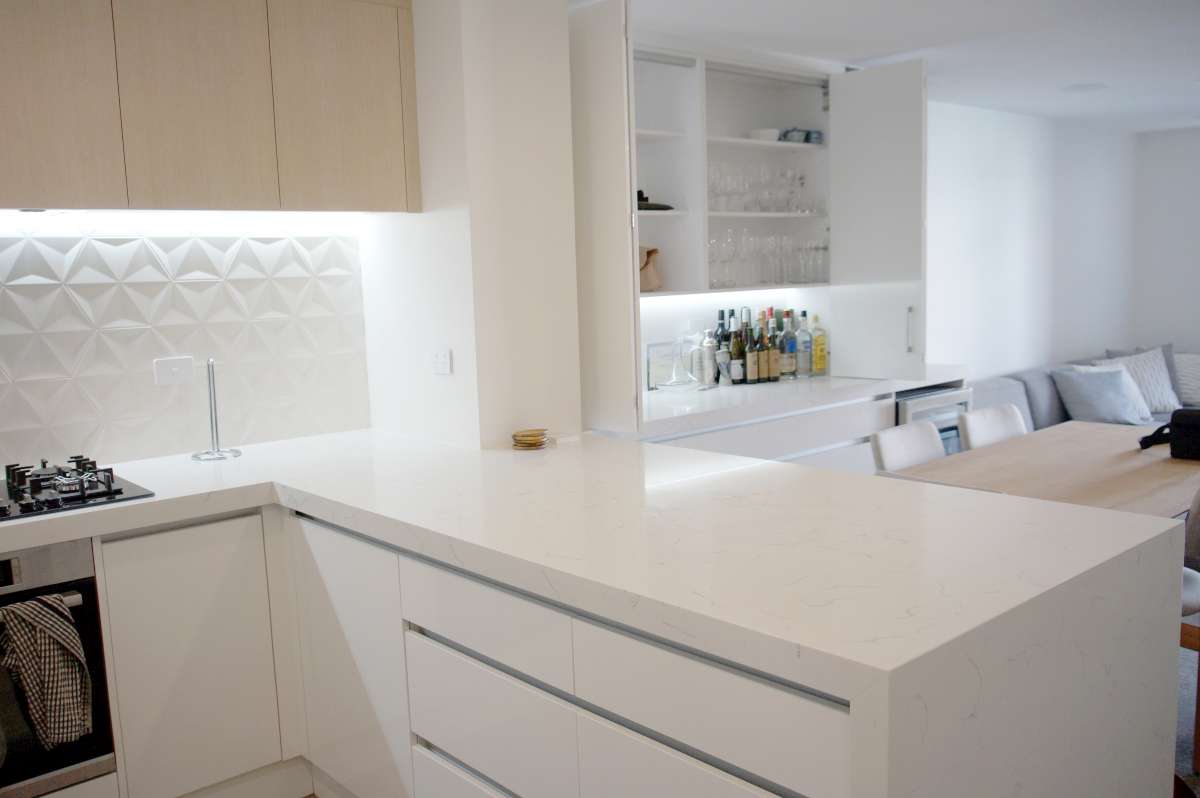 The second storey of this unit consisted of 2 bedrooms and 2 bathrooms. Our client's vision was to make it look like a luxurious modern hotel suite. We re-did all the floors, bedrooms and bathrooms to emulate a luxury hotel.