Mangere Bridge, Auckland
Cottage Style
Country Kitchen
---
Completed on December 2018
RENOVATION
Project Managed By
Jin Park
Sales and Project Management
jin@superiorrenovations.co.nz
0800 199 888
Cottage Style Country Kitchen Renovation in Mangere Bridge
Project Finish Date
December 2018
This was a very special kitchen for our team as it involved turning a dated and inconvenient kitchen into Chic Cottage style country Kitchen with modern amenities.
The client's home was situated in the country with lush surroundings and a home that exuded old world charm. Their kitchen however had started looking dated and lacked modern conveniences like soft close cabinets and induction cooktop.
Having modern amenities did not mean that the client had to choose a contemporary design with straight lines and a minimalistic look. The client wanted to complement the rest of her house and the scenic surrounding that she lived in.
Together with the design team, our client decided on a country style kitchen with wooden counter tops, white textured cabinets, antique brass handles and a butler's sink.
Our client was very particular in wanting a benchtop which was neither stone, acrylic nor laminate. She wanted to have natural products that reflected the country surrounding she lived in.
Jin was the project manager for this kitchen renovation as he specialises in unique kitchen renovations. He has a vast knowledge and expertise on the different types of materials and styles that work within a kitchen to achieve any particular style.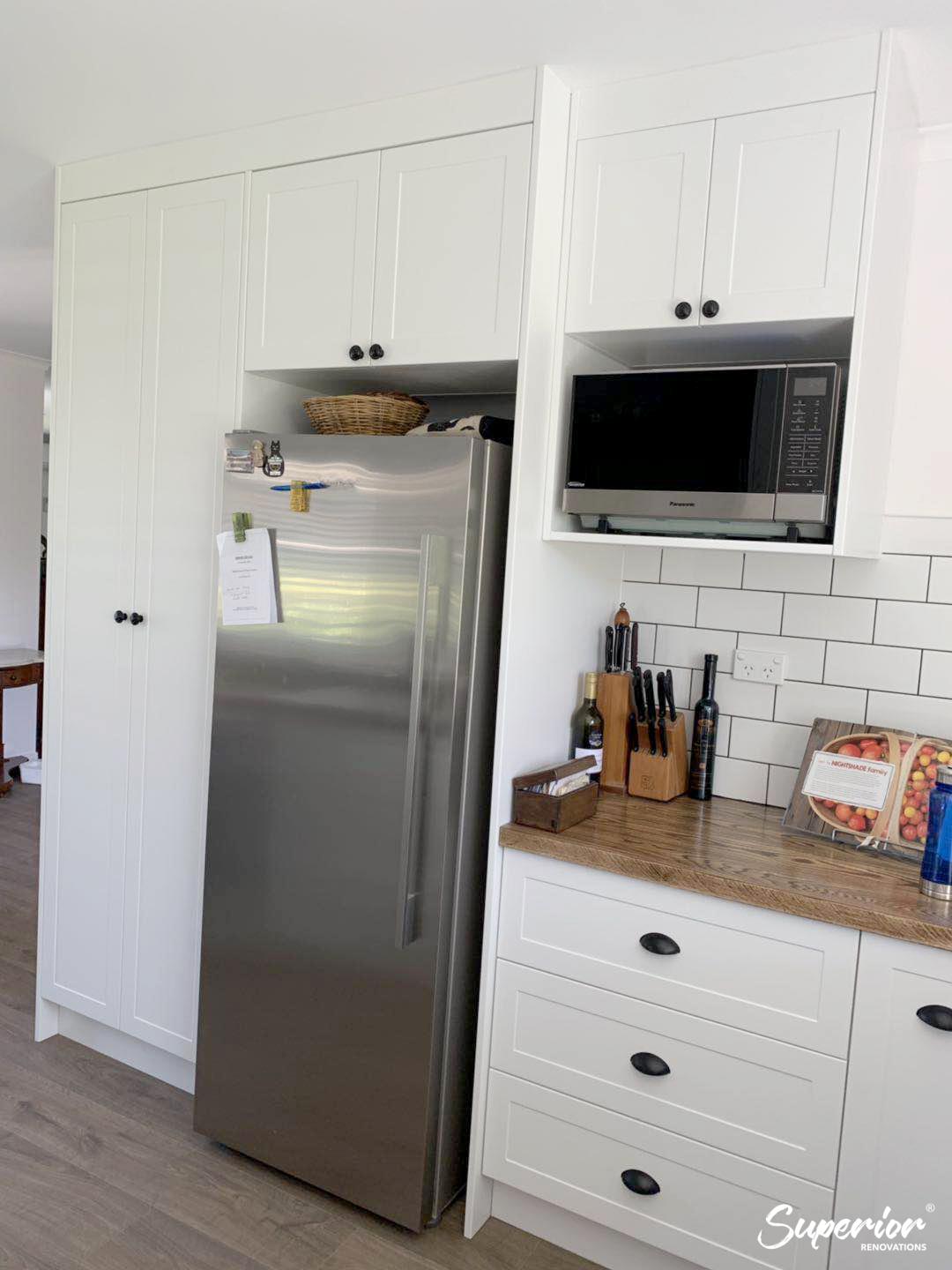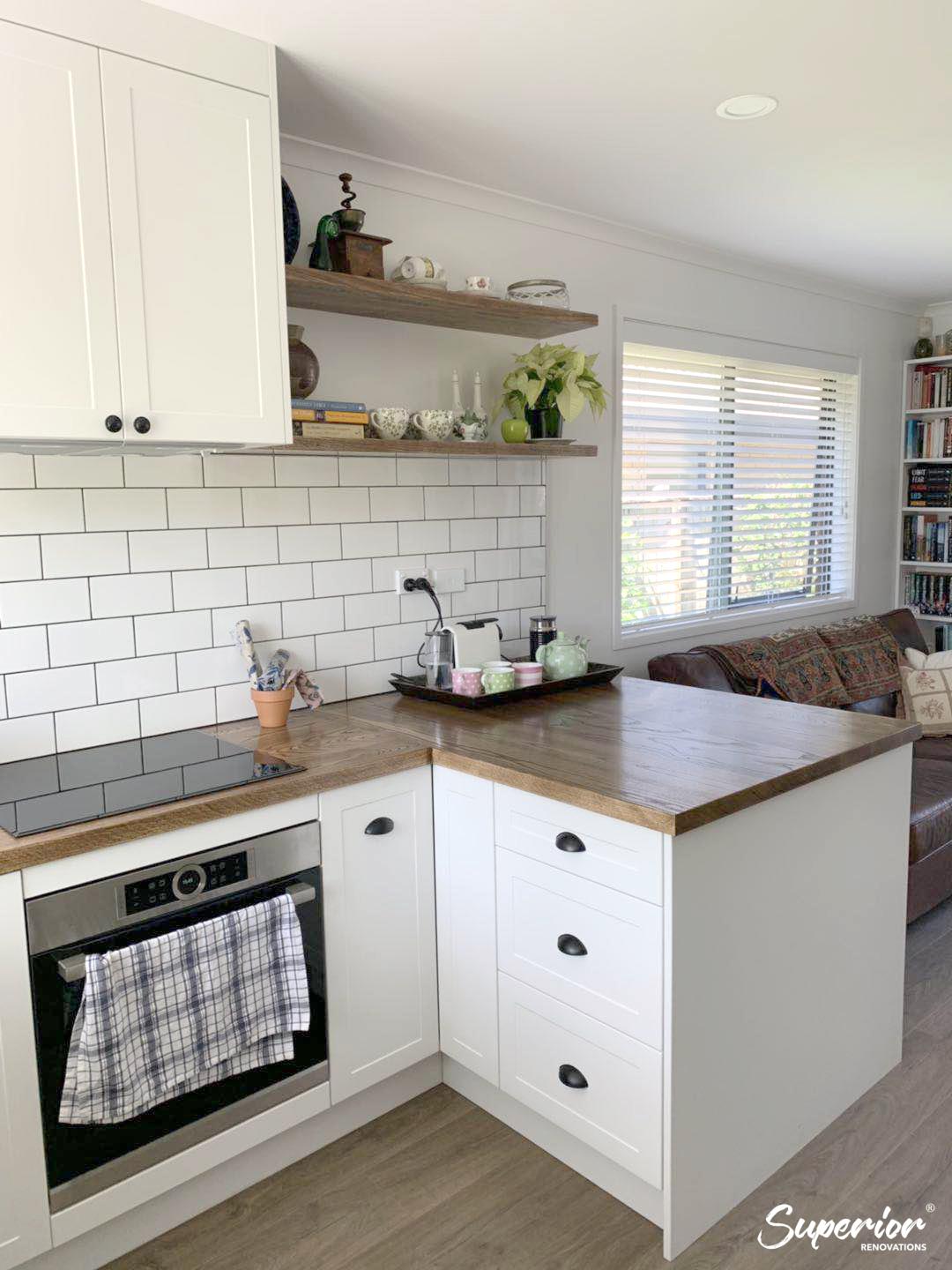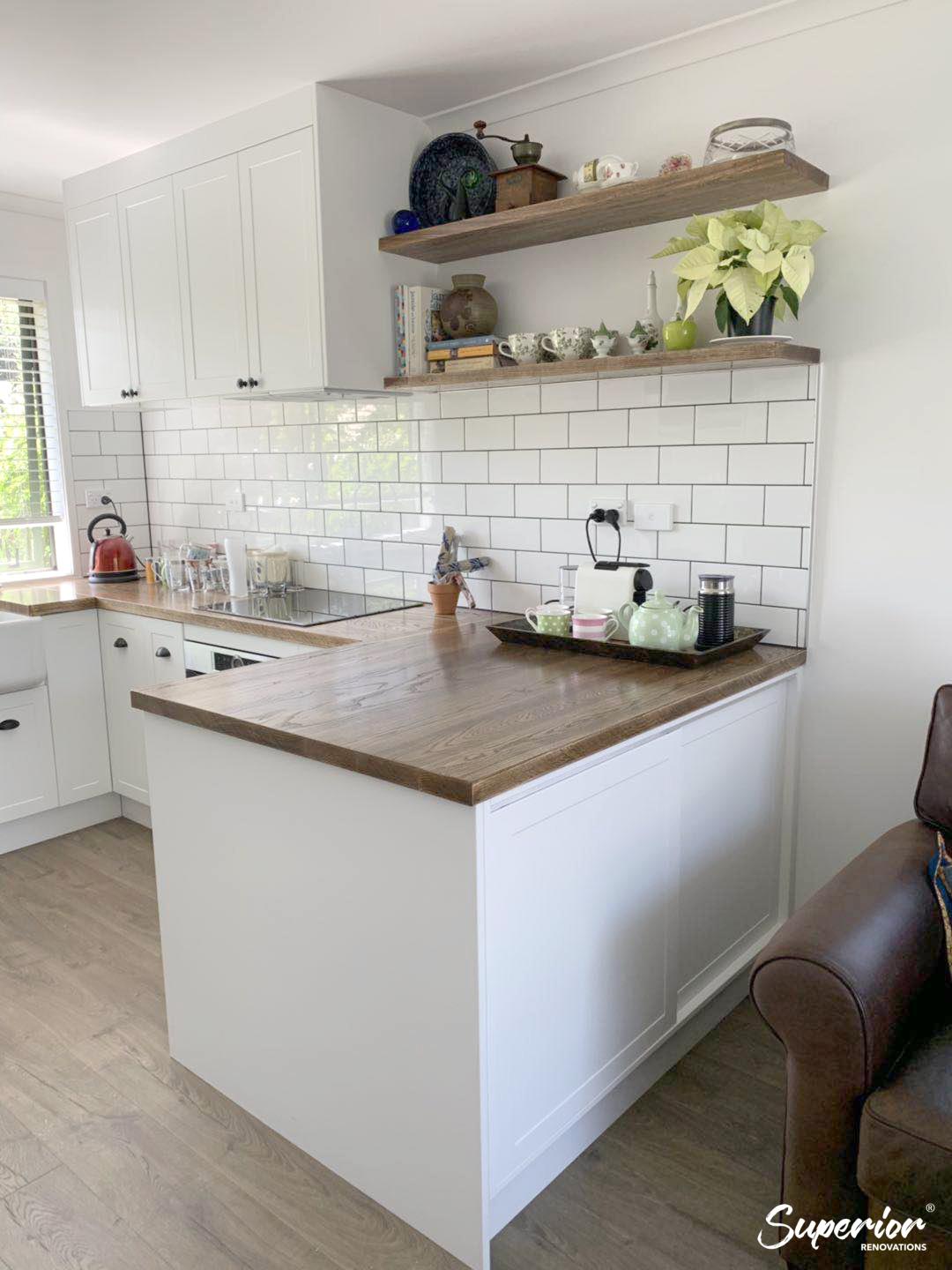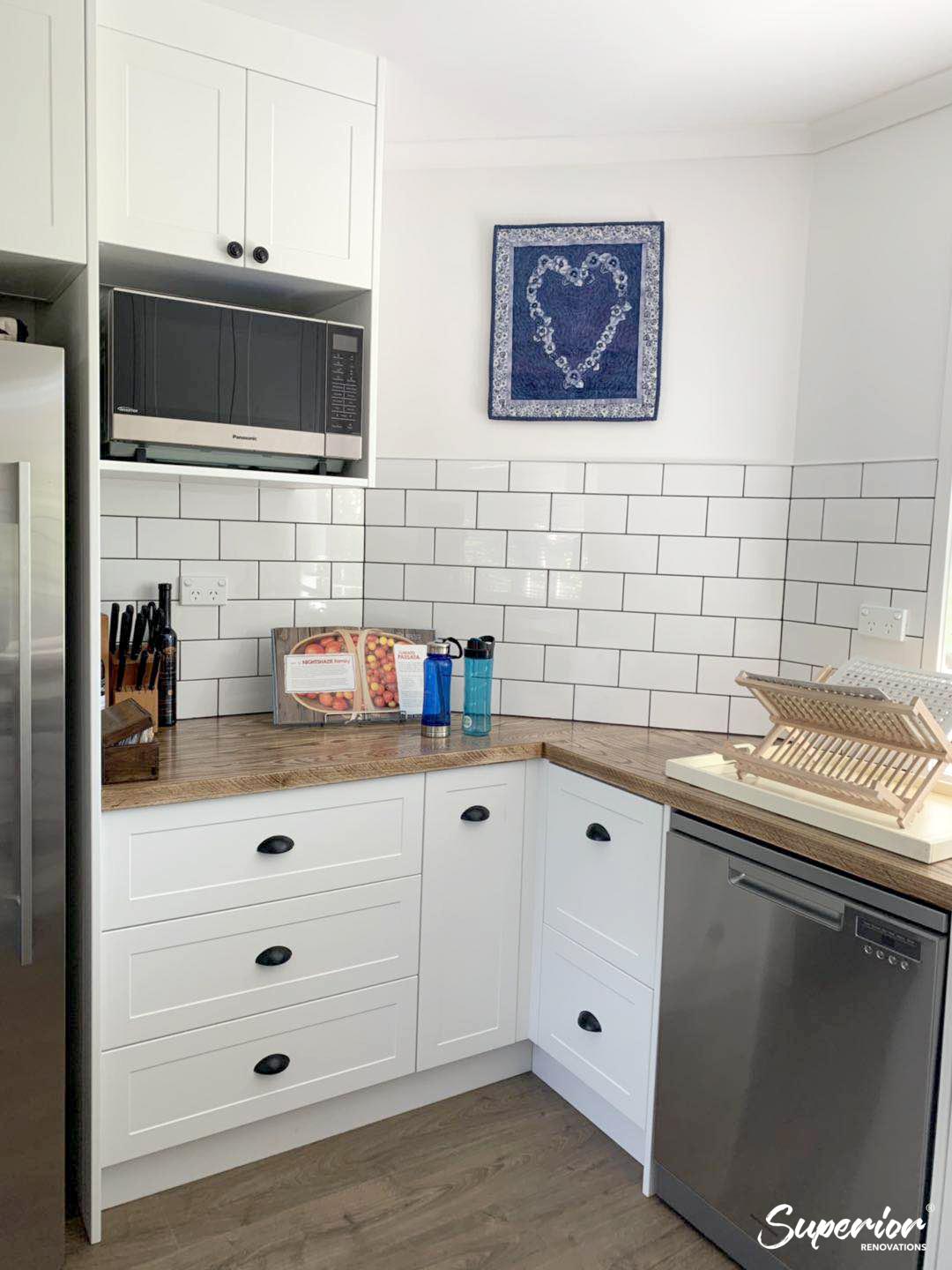 Design Highlights
Wooden countertop and Floating Shelves
Textured Cabinets, Butler's Sink and Antique brass handles
Modern Amenities
Wooden Countertop and Floating Shelves
A benchtop made with wood comes with its unique challenges. This is because constant spillage of water and food can eventually rot the wood and reduce its lifespan. We also had to stain the wood to give it a more antique look that the client preferred.
Steps taken to treat and protect the wood
American Ash wood was used and then stained to 'Walnut' for the desired colour.
Epoxy Urethin Vinyl Coating was applied on the wooden floating shelves and benchtop to protect the wood from wear and tear. This coat lasts up to 15 years and has to be reapplied after that duration to keep the wood from rotting.
Finally, we applied Varnish to make the wood in order to give it a shine. We recommend our clients to apply varnish regularly in order to maintain lustre.
Textured Cabinets, Butler's Sink and Antique brass handles
Our inspiration for white cabinets came from country cottages found in the UK. The use of white for cabinets and walls enabled us to open up the space to make the small kitchen look spacious.
The front of the drawers and cabinets were wrapped in Dezignatek Thermoform with a 'Ronda' pattern to give the cabinets a vintage look.
The 'Ceramic Butler's sink' and antique brass handles on the cupboards were also incorporated in the design keeping the country cottage theme in mind.
Modern Amenities
Hafele soft close door hinges were used for all drawers and cupboards.
Hafele Alto soft close drawer runners
Some cabinets were fitted with baskets to store condiments keeping convenience in mind
Induction cooktop and Range hood were installed