The kitchen is the
heart of our home
Lynette & Henry
---
Completed on November 2019
RENOVATION
Project Managed By

Jin Park
Sales and Project Management
jin@superiorrenovations.co.nz
0800 199 888
The kitchen is the heart of our home
Project Finish Date
November 2019
Client
Lynette & Henry
Location
Bucklands Beach, East Auckland
"We bought this house because of the place. Since my kids go to Macleans. It's always about the location" explains Lynette about the decision to purchase their home 6 years ago in Bucklands Beach, East Auckland.
Lynette and Henry, along with their two sons came to Auckland from the Philippines 13 years ago. They bought their current home 6 years ago purely because they had been living in Bucklands for a long time and did not want to move from the area. When they first moved in, they renovated their bathrooms and other areas that needed immediate attention, leaving their kitchen for later.
Lynette decided that it was time to modernise their kitchen. They opted to invest in a kitchen renovation instead of going to their holiday to the Philippines.
"I told Henry that lets not go Philippines this year. Let's invest in the house. We talked to the family. No holiday this year. Whatever we save and the mortgage this year we will do the kitchen".
Lynette initially wanted to treat her kitchen renovation as a DIY project but upon reflection realised that having a fulltime job and managing all the trades involved during a renovation would not be possible.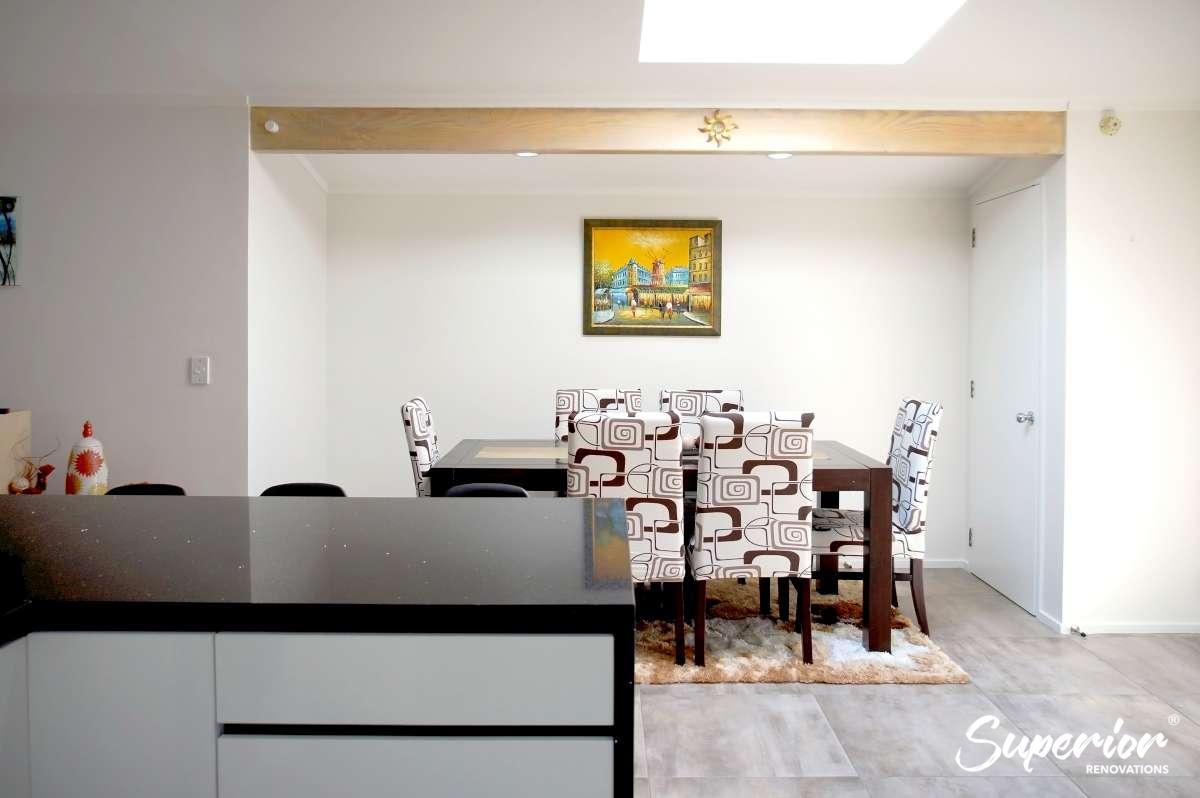 "You need someone to plan or have the time to plan. But I am working, and I don't want to work and be on phone all day arranging and coordinating. That's not me" says Lynette. Managing and coordinating deliveries and different trades can be a very time-consuming experience. It should only be done as a DIY project if you have plenty of time in hand..
Our project manager Jin who specialises in Kitchen renovations met them for their initial consultation. "First when I spoke to Jin he discussed everything and answered all my questions that I had on my list. All my concerns. The schedule" explains Lynette about her initial interaction with Jin.
As a company we depend on Jin for advice on improving our processes and client experience owing to his extensive experience in building effective and strong processes within a company.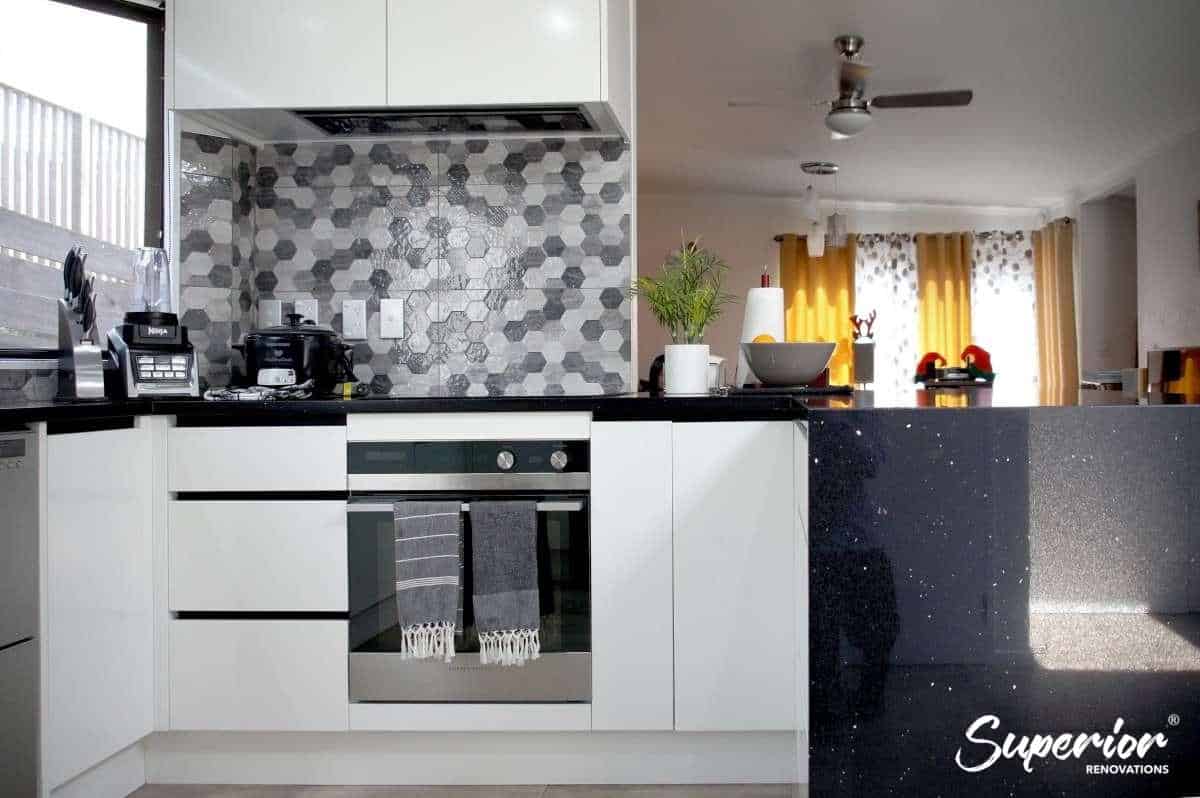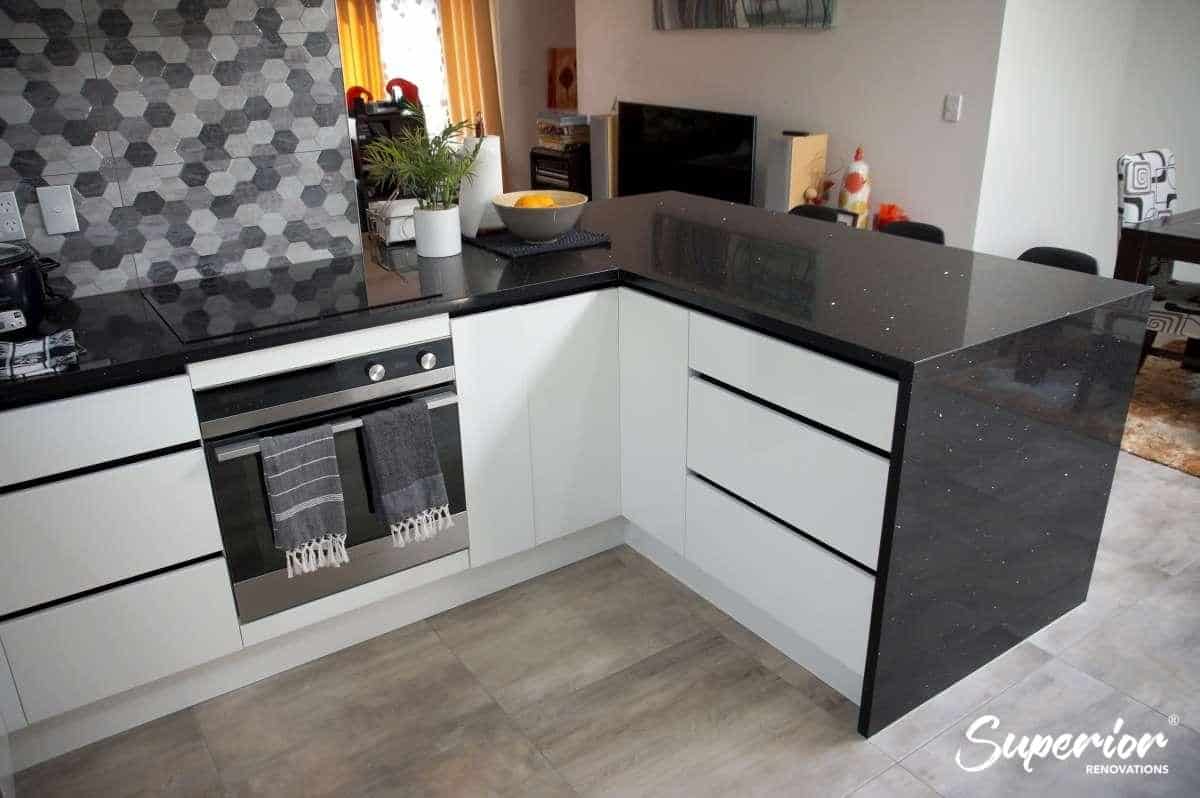 Lynette's kitchen was a special kitchen for us as the requirement was not strictly functional. Lynette needed a space which would bring her family together.
"Kitchen is the heart of our home. We never use the dining area but instead just crowd around the kitchen's breakfast area" explains Lynette. As the kitchen was a focal point for Lynette's family, we decided to create an L shaped island bar where the family could have breakfast.
Aesthetics were also high on Lynette's list and she wanted a kitchen which had a timeless look but also some fun creative elements. The backsplash Lynette chose was for its timeless retro look which also made cleaning easy.
The light tiled floors also complemented this modern yet classic kitchen. The tiles were chosen for their timeless look as well as for easy maintenance.  Lynette's vision was very clear from the start about creating a kitchen that would not go out of style in a few years. She wanted a kitchen with a timeless feel with her own personality shining through.
"It was smooth sailing for our project. it was not painful for me as I was just talking to one person" explains Lynette about her overall experience with her renovation.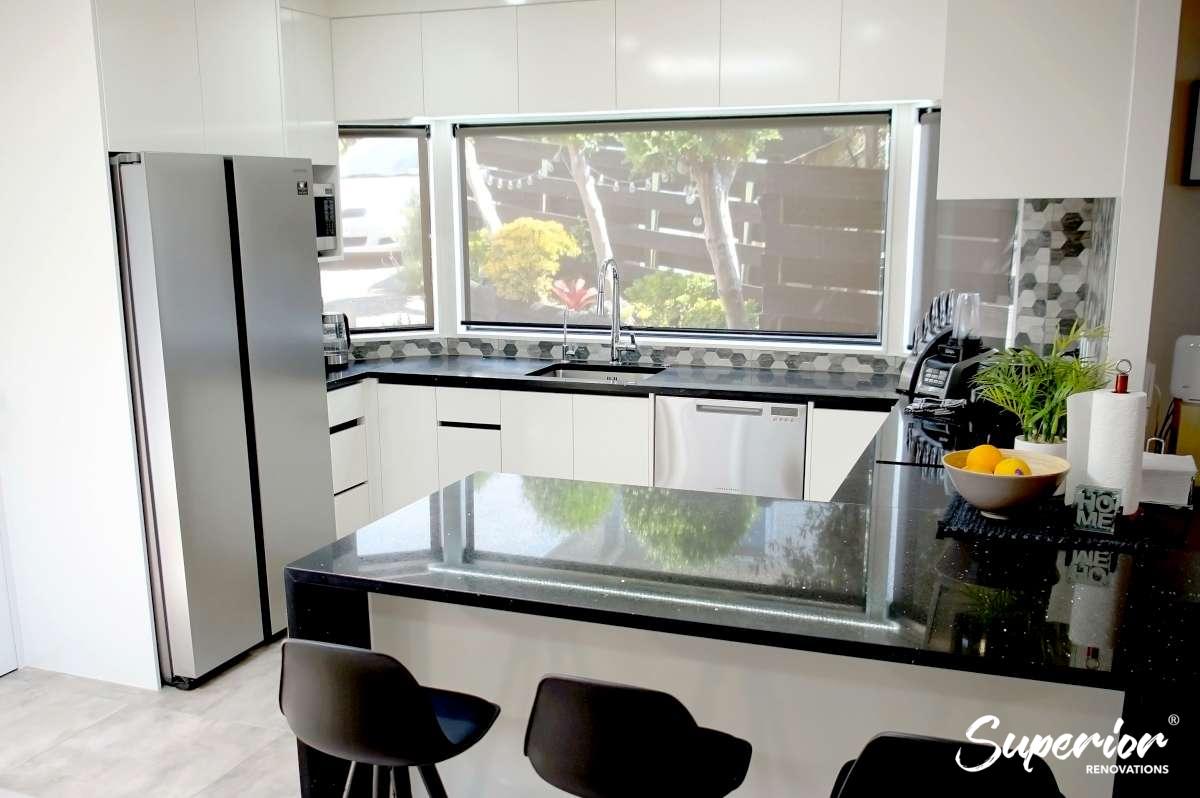 Design Highlights
Lynette and Henry's coffee corner
Talking to Lynette we realised that having a little corner for their coffee machine was a must. Lynette and Henry love their coffee and are happy that we could create a small coffee space for them in their kitchen.
"the coffee place and my tiles. Everyone says my benchtop and tiles look flashy and modern" says Lynette when asked about her favourite space in her newly renovated kitchen.
Splash back
"I don't like glass splashback" "I know it is easier to clean but I am not just functional it should also look good" says Lynette about her preferred choice of a tiled splashback.
Lynette chose black and white retro tiles for her splashback as she wanted her kitchen to look different and unique from the generic subway tiles that are popular in most Auckland homes. Contrary to popular belief, tiled splashbacks are easy to maintain and are more durable than acrylic splashbacks.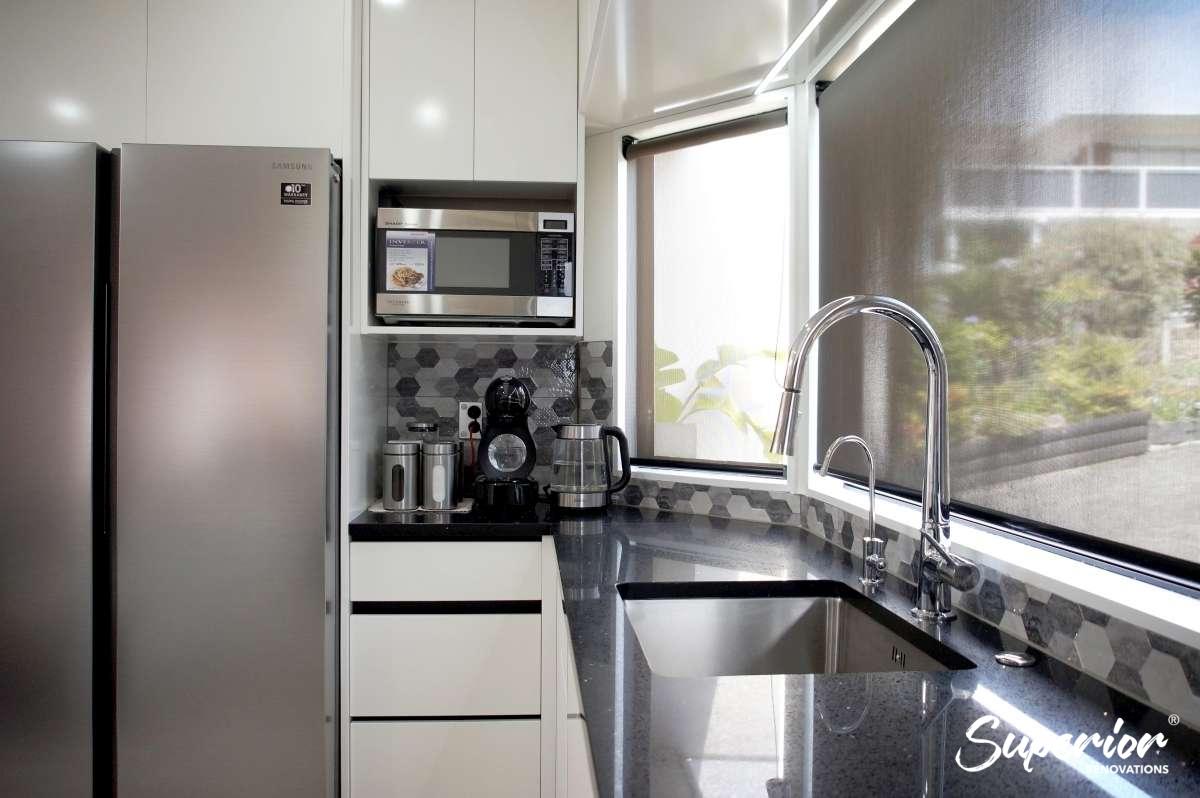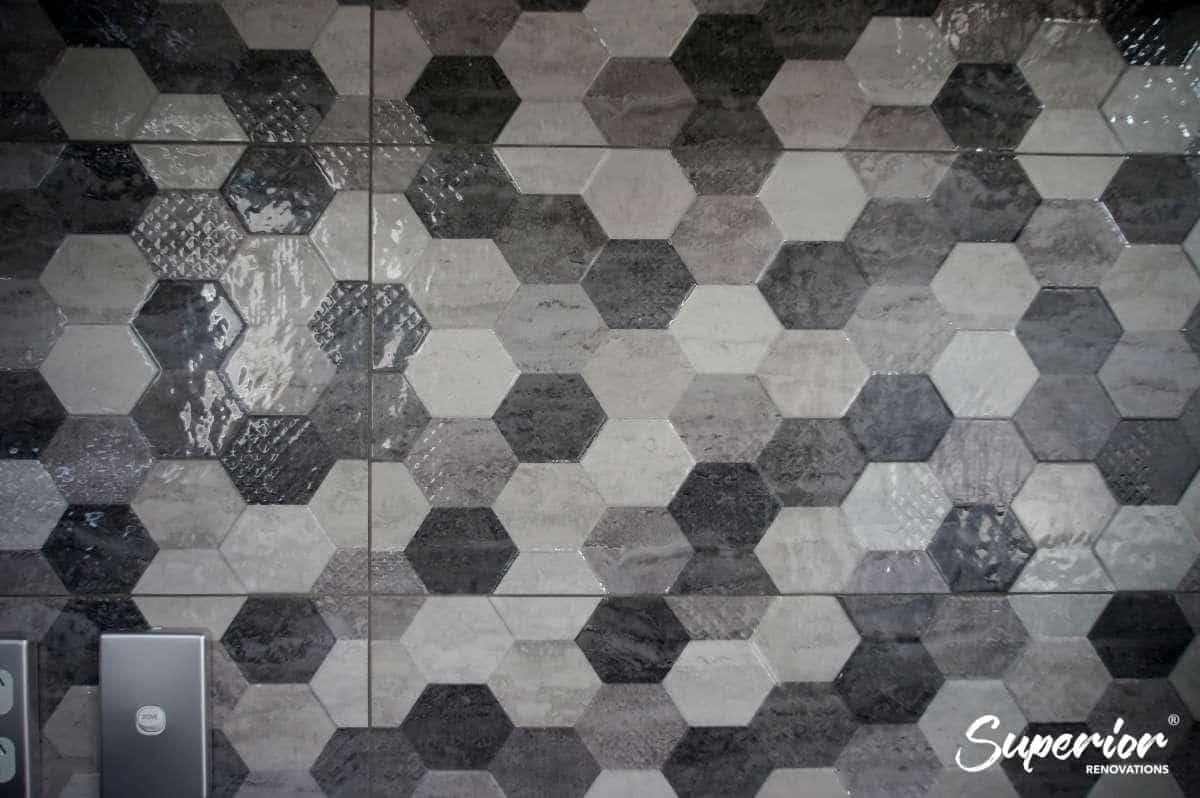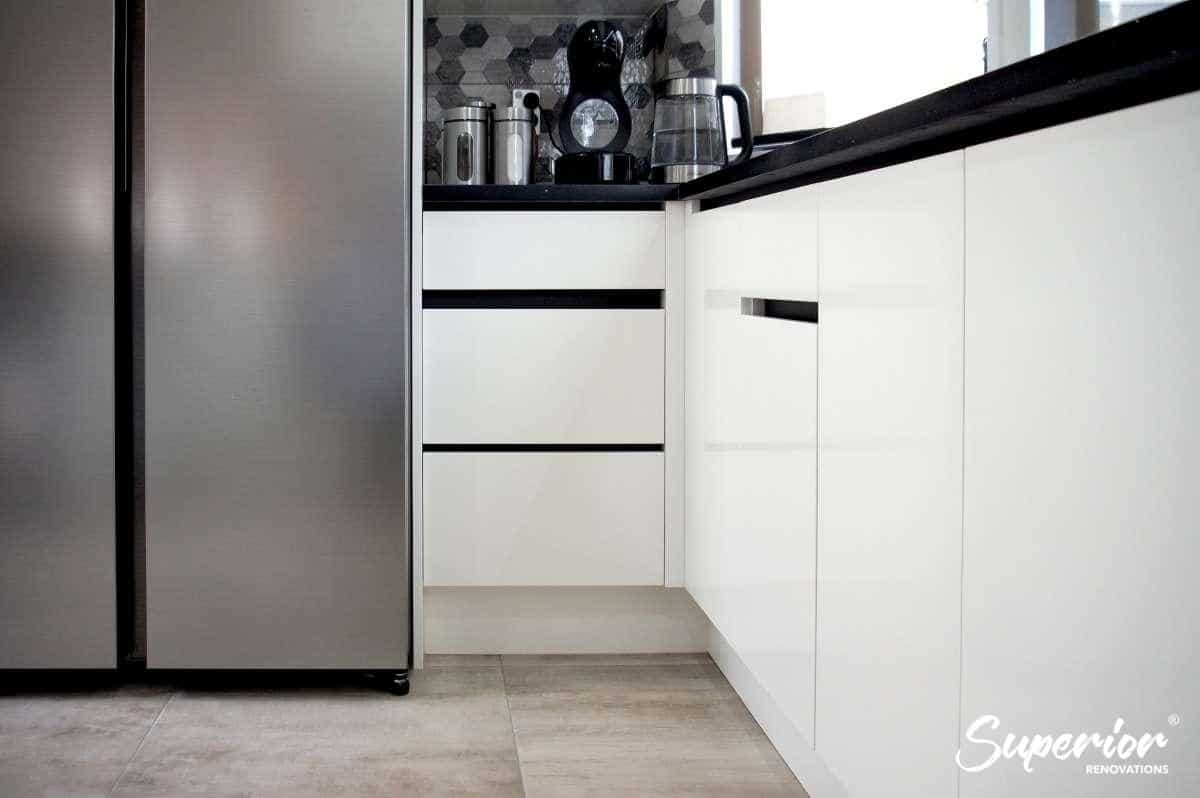 Stone Countertop
We custom built Lynette's kitchen countertop with black engineered 30mm stone. This was done with an undermount cutting and had small specs of sparkles ingrained in the stone. This added some glamour and spunk to an otherwise plain black stone.
Cabinets and Drawers – adding convenience
The colours chosen for the kitchen were the classic combination of 'white and black'.
We custom built all cabinetry in shades of white to contrast with the 'black' of all countertops.
All the cabinet doors were made with recessed handles to make the area look less cumbersome and sleek.
Hafele soft close hinges and runners were used
Pull out rubbish baskets were installed
200mm sauce basket was also installed in some drawers.
Electrical work and New Tile Flooring
Rewired the entire kitchen
LED lights installed in the kitchen
Light tile flooring installed in the kitchen and dining area keeping the timeless theme in mind.
"the way I wanted my kitchen and it is right here" "Exactly one month to finish my kitchen" – Lynette & Henry