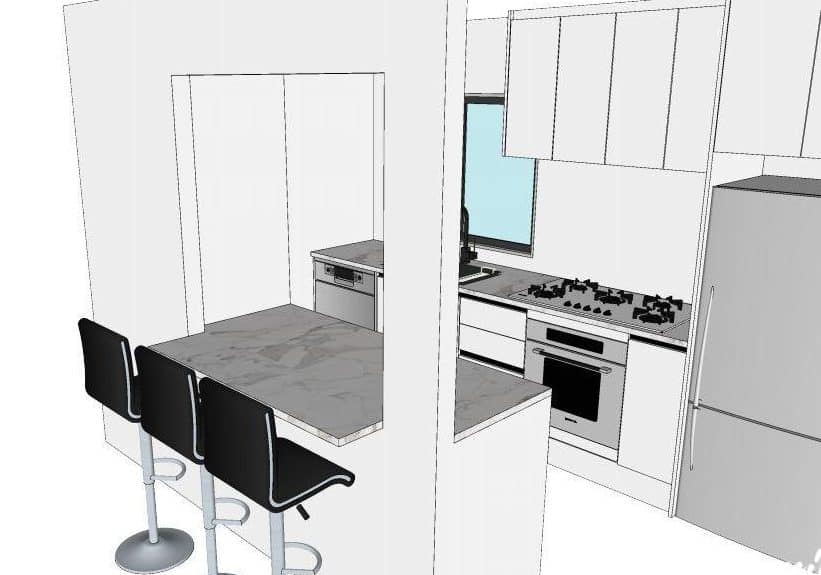 Kitchen Layout Guide To Create a Functional Kitchen Design – 2023 edition
This blog has been updated with additional information to ensure you create a functional kitchen design. 
If you are planning a kitchen renovation, then you must be looking for kitchen design ideas that works best for the space that you have available. Not everyone is able to build a brand-new house to live in. This means that most people have to renovate their existing kitchen and have to decide on a kitchen design that transform their current space into something that is functional and works for their family.
Our kitchen designers often work with our clients to custom built a kitchen within their current space. We spoke to our designers and they said that deciding the right type of design does not just mean deciding on a U shaped, L shaped or galley kitchen. There are a few technicalities that need to be kept in mind before deciding on a layout for the kitchen. They work by 7 rules that go into designing a kitchen that works for our clients.
In this article we will discuss the following:
7 core technicalities to keep in mind when designing your kitchen layout

Kitchen Ergonomics 101

7 tips to keep your kitchen functional

6 Most popular kitchen layouts – which layout is right for your kitchen design?
Whatever shape your kitchen has, it must be livable first. It has to be an area where you can walk around at ease without bumping into things. You need to align your cabinets in a way that when opened they are not bumping into something else. Therefore, space planning is vital before you can decide a shape for your kitchen.
7 Essentials to keep in mind when deciding on a Layout for your Kitchen Design
In the first section of this article, we will discuss the 7 essential features that you should keep in mind before deciding on a layout for your kitchen.
How do you decide what kitchen layout to go with?
There are several different kitchen layouts available, each with their own set of pros and cons. Some common kitchen layouts include:
U-shaped: This layout features cabinets and countertops on three walls, creating a "U" shape. This layout is great for larger kitchens and allows for plenty of counter space and storage.
L-shaped: This layout features cabinets and countertops on two adjacent walls, creating an "L" shape. This layout is great for smaller kitchens and can be used to create a work triangle.
Galley: This layout features cabinets and countertops on two parallel walls. This layout is great for small kitchens and allows for easy movement between the sink, stove, and refrigerator.
Island: This layout features an island in the middle of the kitchen that can be used for additional counter space and storage. This layout is great for larger kitchens and can also be used to create a work triangle.
Single-wall: This layout features cabinets and countertops on a single wall. This layout is great for small kitchens and allows for easy movement.
When considering a kitchen layout, it's important to consider the size and shape of your kitchen, as well as your cooking and storage needs. Additionally, it's important to consider the flow of traffic and the ease of movement within the kitchen. If you have a small kitchen, it's important to maximize the space you have by choosing a layout that works well with your available space. If you have a larger kitchen, you may have more options for layout and can choose a layout that works best for your cooking and storage needs.
Kitchen Ergonomics and the work triangle
Kitchen Ergonomics is important in order to achieve a great kitchen design. Ergonomics is a study of designing an environment that fits people instead of people fitting into an environment.
A work triangle was initially devised as a measure of efficiency of a kitchen. The triangle ensures that there is a clear pathway from your stove, the cleaning area which is your sink and your refrigerator. There should be no other traffic through this triangle.
1.Foot traffic and designated storage areas
One of the top priorities in your kitchen design should be to ensure that you have a clear primary pathway throughout the kitchen without obstructing the oven or dishwasher doors when opened.
Kitchens are almost always a high traffic area in any household. Your kitchen design must include clear designated areas where you will be storing your appliances, which will be your living area and where you will be doing most of the cooking. Make a list of all your big appliances, your cutlery, your regularly used utensils, your washing area, your cooking area and make sure that your kitchen design includes a designated area for these things. An example below shows a rough drawing of how the areas should be designated in your kitchen designs.
2.Distance between all your fixtures
It is important for your kitchen area to not be too cramped. There are many kitchen designs that include all the amenities, but they end up having very little space between fixtures. This means that in reality when you are working in the kitchen it will not be a very functional space.
Hence think about the distance between your cooking area and your sink for example. You also do not want your fridge to be too far away from your stove because it will end up becoming inconvenient. Your dishwasher should also be in an easy distance from your sink so that you can rinse and easily load your dishwasher.
3.Distance between your island and cooking area
If you have an island in the kitchen then you should make sure that there isn't too much or too little space between the island and the cooktop. Islands are usually a great area to prep your meals which means that if its too far from the cooktop then it will complicate things.
| | |
| --- | --- |
| This L-shaped island from our renovation in Blockhouse Bay is installed a good distance from the counters | L Shaped Kitchen from our Stanmore Bay renovation with a large island with  bar stools and a hob |
On the contrary if there is too little space between the island and the stove then you cannot have more than 1 person comfortably cooking and prepping in the area. Also, most island do have storage cabinets built into them and they should be able to comfortably open and not collide with the parallel countertops or yourself.
4.Place the Cooktop and Kitchen first within your kitchen design
A good rule of thumb is always to figure out where the sink, cooktop and the dishwasher goes before deciding on other designated areas. The sink and cooktop are the areas where most of the action happens in the kitchen. Designers often first decide on these elements before designating areas for preparation of storage cabinets. Also ensure that there is ample room around the sink and cooktop. If you have a large island with quite a bit of surface area, then you can install your sink on it as it could provide you with lots of area to work with.
Everything should comfortably open and not obstruct the pathway or any other fixture in a functional kitchen design (Image courtesy Room Sketcher.com: https://www.roomsketcher.com/blog/kitchen-layout-ideas/)
5.Be smart about where you place your cooktop
Ventilation is very important in kitchens so that there is not too much moisture in the kitchen. Too much humidity and moisture in your kitchen will end up making your walls mouldy and ruin your furniture especially if its an open plan setting. You can install a cooktop on your island, but it will be expensive to install a good ventilation system and you will have no splashback to catch all the splatters. Hence, we recommend our clients to install their cooktops on an exterior wall where installing a ventilation system becomes easier, plus you will be able to install and splashback.
6.Keep Vertical Storage in Mind
Storage is one of the most important components of a functional kitchen design. A kitchen can be beautifully designed but if it lacks storage then it makes for a bad kitchen design. Not everyone has the choice of having large and spacious kitchens with numerous storage cabinets for storage. However, a lack of space however does not have to equate to lack of storage in small kitchen designs. You can consider installing wall-mounted vertical storage that is reachable by kitchen ladders. A moveable ladder can be included into your kitchen design, and you can store products that you use regularly in the top cabinets. In order to give your kitchen design more depth, you can also place hooks and open shelves on the walls.
7.Create a Floor Plan and Visualize Your Kitchen in 3D
Once you have decided on materials, dimensions, and aesthetics of your kitchen, make sure that you create a 3D plan for your kitchen. Most renovation companies like ours provide 3D drawings for clients so that the client can visualise the kitchen before manufacturing and installation begins. Even if you are doing a DIY project, it is always a good idea to generate 3D drawings for a kitchen via an app or a designer.
7 Tips to Keep Your Kitchen Functional 
1. Vertical Wall Storage 
when planning your kitchen layout design, you'd always want to consider a functional kitchen design. Having storage in your kitchen plays a huge part in making your kitchen functional. Create organizational central by using magnets, hooks, and rods. use vertical wall storage in your kitchen as it's a great idea for any size kitchen and there are a variety of customisable layout options.
2. Live On The Big Island 
in your kitchen plans NZ, always plan for an island if possible. A kitchen island is a place where everyone gathers and can act as extra storage space. Consider a kitchen island in your kitchen layout design as it makes your kitchen more functional.
3. Hidden, Not Forgotten 
Our kitchen designers Auckland recommend that you think about installing a two tiered carousel to free up counter space and make the most of corner cabinet storage. This is a great idea to consider in your kitchen layout ideas NZ as you can store both often used and infrequently used goods hidden away but within easy reach.
4. Clean Lined Cooktop 
For your designer new kitchen, think about using a flat glass ceramic cooktop if your kitchen has limited counter space. This kitchen plans NZ works regardless of which kitchen style you're after, thanks to it's streamlined shape, and complements the kitchen.
5. Spiced Up Organisation 
Creating a functional kitchen design may be tricky as there are many elements to consider. Purchase small containers to fill up drawers with all the different spices you own. Have a designated drawer that is dedicated to only spices that would take your organisation to the next level.
6. Keep Continuity In Mind
You don't need to spend big to get the functional kitchen design you're after. To get a unified, finished kitchen layout design, opt for kitchen appliances covered in integrated doors that complement your cabinets.
7. Illumination Innovations 
Nobody likes fumbling around in the dark for something, even if it is to find a flashlight. In your kitchen plans NZ, purchase some plug in lighting strips with motion sensors to install into your drawers. To create a functional kitchen design, having good kitchen lighting is the way to go.
---
6 Most common Layouts for your Kitchen design – Which one is right for your space?
Now that we have discussed the essential dimensions and distances required for a functional kitchen design, lets discuss the 6 most popular kitchen design layouts of today.  A good layout will help you maximise the space available to give you a functional kitchen for your family.
A kitchen is different from all the other rooms in a home as ergonomics has a huge role to play in its design plan. Getting the right heights and distance between objects is important for its functionality.
1.U-shaped kitchen
U shaped kitchens work well if you have a lot of space available. U-shaped kitchens have counters on three walls of the kitchen forming a U shape. These types of kitchens offer ample space to eat, cook and entertain. Larger U-shaped kitchens can also accommodate an island in the middle to provide additional bench space.
U shaped kitchens are usually found in a standalone room of itself or in the corner of a large room. The modern U-shaped kitchen has evolved from being made on three walls into an L-shaped kitchen with a disconnected island to for a U shape. This allows people the flexibility to enjoy an open planned living which is the most popular style today.
Project specifications + Photos – Guru and Neeta's modern U-shaped Kitchen Project
If you do have a small kitchen then a U shaped kitchen is possible to have but opt for the modern U-shape design with an L-shaped kitchen and a narrow island that can double as a breakfast bar.
Project specifications + Photos – Amber and Craig's U shaped Kitchen renovation in Hillsborough
5 Ideas for U Shaped Kitchen Designs
1. Central Dining Table 
If your kitchen layout design has enough space, consider adding a kitchen island in your kitchen plans NZ. Having a kitchen island adds additional storage and can be used as a gathering point. If you happen to have a large kitchen, instead of adding a kitchen island, add a dining table. Having a dining table might be more comfortable than gathering around an island.
2. Add Depth With Paint 
Having a U shaped designer new kitchen can become too boxy. In your kitchen plans NZ, include some dark paint on a singular wall. If you happen to have a kitchen island add dark paint to the base of it. This will help create a focal point in your kitchen and add depth to the space.
3. Pendant Lighting 
Having a large kitchen requires you to consider lighting as you'd want to ensure the kitchen is well lit. Our kitchen designers Auckland  suggest that you hang some pendant lighting in the middle of the room to above a dining area. This way it will help define the area and make the kitchen more welcoming.
4. Open Shelving 
In your kitchen layout ideas NZ, plan to have some floating/open shelves to replace some cabinet spaces as it will open the room. To create an inviting atmosphere, be sure to add décor elements and keep the space orgnaised.
5. Create An Entertaining Space 
Creating a functional kitchen design has many elements to it before it becomes functional. A kitchen has always been somewhat of an entertaining space. If you're a fan of hosting parties at your house, make sure there is space for you to converse with guests while cooking or preparing meals.
2.L-shaped kitchens
An L shaped kitchen is great for small spaces like apartments and units. They are different from U-shaped kitchens as they have one less wall where you can put counters and storage. It is great for small families, couples or single inhabitants of a house.
While there is less counterspace and storage available in an L-shaped kitchen, it is a more cohesive design for smaller spaces. With ingenuity and some innovation, you can maximise storage by building storage vertically and reach these spaces with a trendy kitchen ladder.
Project Specifications + Photos – L-shaped Kitchen design + Large island in Blockhouse Bay renovation
L shaped kitchens are also great if you have a corner that is not being used and if you are looking at maximising this space. If your kitchen is in an open plan living, kitchen and dining area then you can potentially build a small island that can double as a dining and do away with a dining table all together. This will give you more bench space and you will not be stuck with a dining table that you do not use.
5 Ideas To Maxmise Your L Shaped Kitchen
1. Link With Materials 
To create a cohesive look in your kitchen layout design, try to link sections in your kitchen by matching materials. Consider using the same surface material, cabinetry paint, and hardware. This will not only give the area a coherent aesthetic, but it will also make the room appear larger because your attention won't be drawn to anything different elsewhere in the space.
2. Balance Your Storage 
Storage space is highly important in your kitchen, ensure you have enough storage space in your kitchen layout design. In a L shaped kitchen, you're able to have storage up high and down low. Our kitchen designers Auckland suggest that you paint your high cabinets the same colour as your walls, as it will give the impression that the space is bigger without sacrificing storage space. Paint your lower cabinets a lighter, brighter tone.
3. Create A Practical Workspace 
A functional kitchen design consists of having a practical workspace which is why you should always keep in mind of the working triangle in your kitchen layout ideas NZ. To have a successful functional kitchen, you'd want everything to flow smoothly.
4. Balance The L Shaped With A Window
If possible, try to position your L shaped kitchen under a window as it will help you balance out the kitchen. This designer new kitchen will give equal function to the other part of the L shaped kitchen. Having windows in your kitchen will lighten up the room.
5. Store Vertically 
As mentioned before, storage space is an important factor that you should consider in your kitchen layout design as having enough storage space creates a functional kitchen. Use an entire wall to have floor to wall ceiling cabinets if possible as it will utilise your kitchen space. Take your kitchen layout ideas NZ a step further by adding a magnetic rail to hold knives.
3.Galley Kitchen:
Galley kitchens have two parallel walls with countertops and a walkway in between them. Traditionally galley kitchens often feature in standalone rooms of their own. This style is very popular in older Auckland homes with more people choosing to remove one of the walls to integrate the galley kitchen into an open plan living space.
Galley kitchens work best if you have a narrow room and prefer your kitchen closed off from the rest of the house. A galley kitchen can easily be converted into an open style kitchen by demolishing the wall between the kitchen and the living space. If you are demolishing a wall that has countertops adjacent to it then you can convert this row of countertops into a long island instead. This way you can keep the storage and work bench space. Another great way to integrate a galley kitchen into your living space is making a large open window without a glass pane on the wall that has one of the countertops adjacent to it.
Photos and Project specifications  – Open style Galley Kitchen (or one wall + island Kitchen) in Epsom
5 Galley Kitchen Design Ideas 
1. Add Lighting 
Allowing natural light in your designer new kitchen is ideal but if you're unable to let natural light in, opt for good lighting fixtures in your kitchen layout design. In your galley kitchen layout ideas NZ, take into account lighting options such as worktop spotlight and properly positioned pendants. Shiny materials like tile, metal, and glass will reflect light to give the impression that the room is bigger.
2. Keep It Simple 
In your designer new kitchen, keep it simple as it will make your space feel airy. Choose sleek, click close doors that don't have handles. Skip the colour scheme and stick with monochromatic, light neutrals. Choose a unique rug or a high end faucet for your kitchen if you'd like to make a statement in your kitchen layout design.
3. Open it up 
Creating a functional kitchen design for your galley kitchen can be tricky. The easiest way to create more functionality in your kitchen is by adding a kitchen island for food preparation and storage. As it can allow for casual dining, including an overhang and stool seating.
4. Hanging Storage
Counter space is important no matter what style kitchen you have. In your kitchen plans NZ consider having some hanging storage options as an alternative if you're low on cabinet or counter space. Our kitchen designers Auckland always recommend hanging storage solutions to hang your pots and pans where they can be easily accessible. Another alternative is to have floating shelves to display anything you like.
5. Clear The Contents 
Our inhouse kitchen designers Auckland suggest that you keep your kitchen countertops clear if possible. As this will provide your kitchen with an airier look and make the space look clean. Consider installing a microwave drawer to get the appliance off your counter. Provide goods with a home by having tall storage, especially if you don't utilise them frequently.
4.Island Kitchen:
Kitchens in the past always featured islands which were predominantly used for prep work in kitchens. Islands phased in the past few decades as the space available for them became lesser and other kitchen designs provided more storage.
This however has changed in the past decade as islands of today feature storage cabinets on all sides, they provide extra prep space and act as a small breakfast nook. Installing an island is not possible for all spaces but there are more sleeker styles available today. It is possible to incorporate a an island in L-shaped, U shaped and Galley kitchens as long as there is enough room to move around all the counters.
Read – 20 Top Kitchen design trends for 2021 and 10 trends to avoid
5 Island Kitchen Design Ideas 
1. Squeeze In A Moveable Island If Space Is Tight 
To create a functional kitchen design, it's been proven that having a kitchen island plays a huge part in making your kitchen more functional. Having an island may only seem like it's possible only for a spacious kitchen but that's not the case. Think about having a portable island as it can be easily moved to different areas of the kitchen when needed as it can provide as additional work surface and seating options.
2. Refresh The Kitchen With A Splash Of Colour 
Kitchen designers Auckland advise that if you have a neutral kitchen, use your kitchen island as a space to add a splash of colour in your kitchen plans NZ. In your designer new kitchen, consider painting the island a contrast colour as it offers a quick and simple update that can work wonders in the kitchen without you having to commit to a full kitchen renovation.
3. Incorporate Extra Storage At One End 
Kitchen layout ideas NZ for your island, ensure you take advantage of your island by adding additional storage to it. Put this unused area to better use by including a set of shelves rather than the typical end panels. Make sure it has a thin gap that might be used as a spice rack or a place to store condiments and oils, as it should be at least 10cm deep to create a functional kitchen design.
4. Position Appliances Away From Entertaining Space 
If your island is in an open-concept kitchen, you probably want to create a lively and appealing environment for entertaining. in your kitchen layout ideas NZ, you might want to consider placing cooking appliances on the inside of your kitchen island. Our kitchen designers Auckland highly advise this as having cooking appliances on the outside of your kitchen island is not a good idea. To create a more inviting atmosphere, incorporate your oven and hob onto the island facing the social area.
5. Make Sure Your Kitchen Is Well Lit 
Lighting is extremely important as if you have an island, it will become a focal point. Ensure you have the right lighting in your kitchen plans NZ so that your kitchen has sufficient lighting. As your kitchen island will be a primary location for food preparation and entertaining, it needs to be adequately lighted. Keep this in mind in your kitchen layout ideas NZ.
5.Peninsula Kitchen:
In peninsula kitchens your island extends from the rest of your kitchen. This type of island provides more benchtop space or a dining area when there isn't much space available for an standalone island. This works especially well for L-shaped kitchens as seen in one of our renovations below. Lynette's family really wanted a breakfast nook in their kitchen design but did not have the space for an island in the middle of the kitchen. Hence we created a peninsula design for her kitchen which allowed her to have her breakfast nook without making the area cumbersome.
Project specifications of the above Kitchen
3
Peninsula

Kitchen Design Ideas
1. Add Banquette Seats On The Back
Many kitchen designs that have been completed by our kitchen designers Auckland express how important it is to create a space for seating where the family can all get together. If your open-plan peninsula kitchen has room, you might want to think about installing banquette seating there. This kitchen layout ideas NZ is an excellent approach to fit more people around the table as it will create a social space for entertaining and serve as a kitchen extension in your designer new kitchen.
2. Open Shelving
Like many designer new kitchen, you'd want to create a perfect kitchen layout ideas NZ to open your kitchen and make the space appear lighter and larger. Open shelves make it simple to reach for necessary appliances when working in the kitchen and lets more light into the room.
3. Add Light Fixtures 
Remember to install lighting over your peninsula. It not only brightens up your workspace, but it also gives your house more visual appeal. You can add pendent lighting to the space to offer visual contrast in your kitchen plans NZ.
6.Two Island Kitchen:
This type of kitchen is only possible for a kitchen design which has a large space to work with. You can create a lovely 2 island kitchen which can be installed in the middle of the kitchen design with a pathway in between them. You can use one of the islands for prep work and in the other you can even install a cooktop and make that your cooking area. Two islands of a smaller size work better than one large island in the middle as there is more accessibility available with two small islands. It is also better for walking around and the general flow of your kitchen.
---
Featured Projects
Urban Luxury Kitchen renovation in Parnell – An open plan U-shaped Kitchen
This townhouse was centrally located in Parnell but the kitchen was tiny and lacked counter space. We completely changed the layout of this kitchen by first moving it from the left side of the area to the right. We then added cabinets in the dining area as an extended storage space. This cabinet featured shelves with internal lights which could be opened when required. To see Before and After pictures and project specifications see more
---
Entertainer's Dream Kitchen and Bar – A modern U shaped Open plan kitchen
Guru and Neeta from Massey had a closed off kitchen which did not let them enjoy an open plan living. They wanted to renovate to introduce a feel of luxury but also make it an open space which could double as an entertaining space. We opened up the space for them and also extended the kitchen counter towards the lounge to act like a bar. The black and white see more
Kitchen, Lounge and Dining room renovation in Massey
---
Cottage Style Kitchen in Mangere Bridge – Peninsula Kitchen
This was a special kitchen as it was about incorporating natural elements into the kitchen to reflect our client's country surroundings. The kitchen was dated and was transformed into a chic country style kitchen complete with treated real wood as bench-tops, butler's sink, floating shelves and cabinets that were wrapped in Dezignatek Thermoform with a 'Ronda' pattern to give them cabinets a vintage look see more
Full kitchen renovation in Mangere Bridge, Aucklandd
---
Open Plan Galley Kitchen in Epsom
We renovated this historic bungalow in Epsom to make it more functional for a young family. The materials used were durable and easy to clean. This open style galley kitchen allows our clients the freedom to spend quality time within one space. See full details for this project here
Further Resources for your house interior design
---
Do you have a In-house Kitchen designer?
Yes, we do have an In-house Kitchen designer who will help you create a Kitchen design for your kitchen renovation. We provide all our clients with 3D drawings when we create a proposal for you.
What kind of Kitchen layout is best for me?
This will depend on various factors. Read our article on Planning your layout for a functional and practical kitchen design here to understand more about the layout that is right for you : https://superiorrenovations.co.nz/kitchen-layout-planning-guide-to-achieving-a-good-kitchen-design
Do I have to get my own plumbers and electricians?
We provide a full renovation service for any given area. This means that our service will include design, demolition, sourcing of all renovation materials from local supplier showrooms, custom built cabinetry, installation of all cabinets, flooring, fixtures, project management and all trades like electricians, plumbers, grouters, builders, tilers, and any other trades.
---
Still have questions unanswered? schedule a no-obligation consultation with the team at Superior Renovations

---
Or call us on   0800 199 888
---
Have you been putting off getting renovations done?
We have partnered with Q Mastercard ® to provide you an 18 Month Interest-Free Payment Option, you can enjoy your new home now and stress less.
Learn More about Interest-Free Payment Options*
*Lending criteria, fees, terms and conditions apply. Mastercard is a registered trademark and the circles design is a trademark of Mastercard International Incorporated.