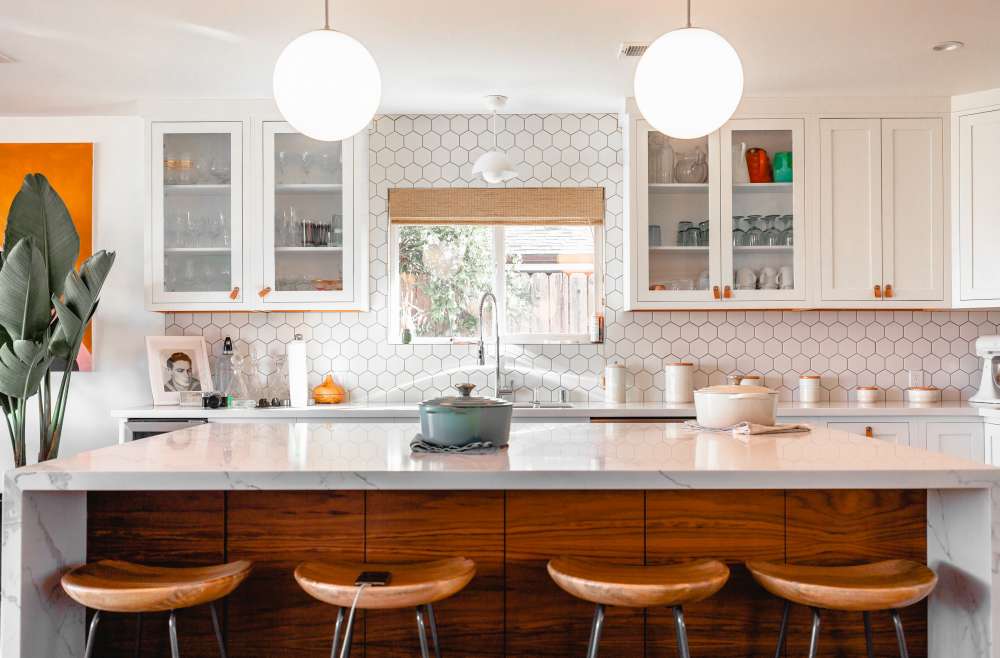 Kitchen Renovation Cost NZ wide – explained by Experts
 Cost of New Kitchen NZ Wide
Are you ready to renovate your Auckland kitchen? Kitchen remodelling is an excellent investment for any homeowner. A newly remodelled kitchen creates a beautiful space to enjoy family meals and entertain your friends. Renovating a kitchen can also have a good return on investment in the real estate market!.However, a kitchen renovation is a large project. It requires careful planning and budgeting. Many factors affect your kitchen renovation cost, including the size of the kitchen and the chosen materials.
So how much does it cost to renovate a kitchen NZ wide?
In this blog post, we are breaking down all the factors that go into determining a kitchen renovation cost. We also wrote down our tried and true tips to help you build the kitchen of your dreams.
So How much does it Cost to renovate a Kitchen in NZ?
When determining how much it costs to renovate a kitchen in NZ there are three questions you should be asking yourself.
What is the resale value of other homes in your neighbourhood?
How long do you plan to remain in your home?
What is your personal financial situation? 
These factors will be unique to you based on your personal situation and where you place the most value.
Other important factors that affect the cost of new kitchen NZ are:
Your selection of material for the cabinet doors, bench tops, flooring, fixtures and appliances have a significant impact on your kitchen renovation cost. In general, wood alternatives such as laminates are a cheaper option. Natural materials such as wood and stone will be on the more expensive side. Natural materials will however be more aesthetically pleasing and last a much a longer time.
Your cabinet configuration.
Cabinets with drawers will be more expensive than the ones without them. This is because cabinets with drawers require additional work and finishing. Eliminating one drawer glide can save you anywhere from $300-$500! That is why make sure to decide on the drawer system because it will have a significant impact on the cost of new kitchen in NZ.
Decorative details and accessories.
Adding patterns, glass, columns and other decorative features will eventually raise the final cost of your new kitchen. Things like spice and garbage pull-outs and organisers will also add cost to your kitchen remodel.
As you can see, there's no short answer to the question "How much does it cost to renovate a kitchen NZ wide?" Many variables go into pricing your kitchen renovation.  As we are a full renovation company we have a team of kitchen Designers and renovators that do exactly that. The entire team will help you establish your budget, determine the scope, and get closer to achieving your dream kitchen!
What are the other factors that go into the cost of new kitchen NZ wide?
The extent of renovations can determine the cost of your renovation in Auckland. Kitchen Renovation costs in Auckland can be determined by the following factors:
1. Cost of a Basic Kitchen Renovation/Alteration
A basic kitchen renovation involves changing few thing in the kitchen such as cabinets, appliances and flooring. Depending on the size of your kitchen and supplies you use, this type of kitchen renovation will typically cost between $15k (basic alterations) to $20K.

2. Cost of a Mid-Range Kitchen Renovation
A mid range renovation could involve choosing natural materials for flooring, cabinets and benchtops. This type of renovation can also include changing the layout and plumbing of the kitchen. A mid range kitchen renovation will cost between the range of $18k (basic kitchen renovation) -$22k, depending on the materials you select.
3. Cost of a Custom/Designer Kitchen Renovation
You could tear down a load-bearing wall in order to expand and reconfigure the entire kitchen footprint. You could also look into adding an Island. Islands are all the rage due to their functionality and look. Include the option to refinish adjacent areas like the hard-wood floors. To make a custom kitchen is not impossible. Some clients do not want a standard kitchen that they can choose from a catalog. At Superior renovations we can custom make your entire kitchen right here in Auckland. All your cabinetry, bench top etc is made according to your specifications. This type of renovation may cost between $20K-$30K (Custom based, to designer kitchens)
| | | | |
| --- | --- | --- | --- |
| Type of Kitchen Renovation | Low | High | Estimate |
| Basic Kitchen Renovation/Alteration |  $            5,000 |  $          10,000 |  $            7,500 |
| Mid-Range Kitchen Renovation |  $          10,000 |  $          20,000 |  $          15,000 |
| Custom/Designer Kitchen Renovation |  $          20,000 |  $          30,000 |  $          25,000 |
 Tips from the kitchen remodelling experts:
 How much does it cost to renovate a kitchen NZ? Before starting on your new kitchen remodelling project, it's vital to determine your goals. We always recommend answering these questions to plan your kitchen renovation cost successfully.
Why do I want to remodel my kitchen?
Is my kitchen's primary purpose cooking meals, entertaining guests or to re-selling?
Do I want to change the layout of my current kitchen?
Do I want to update the finishes?
What are the top things I would like my kitchen's design to accomplish?
The answers to these questions will provide you with better insight and will help you understand the scope of your kitchen renovation. They will also help eliminate any unnecessary things that you thought you needed and will bring everyone on the same page.
One of our tried and true tips when it comes to a kitchen remodel budgeting is to follow the rule of one-third. According to this rule, you simply need to divide your expenses into three parts:
One-third of the kitchen renovation cost should be allocated to new cabinetry
Another third can go towards finishing touches such as accessories, new countertops and flooring
The final part of the total remodelling cost of your Auckland kitchen is installation and labour expenses. 
Frequently Asked Questions
How do I prepare for a kitchen renovation?
To get on your way to getting your new dream kitchen, start by gathering together ideas, designs, and your own thoughts to a new kitchen scrapbook. This might be a physical book with written, printed and cut out ideas. Importantly also make a list of the appliances that you are intending to build into your new kitchen. Model numbers are usually enough to find the accurate dimensions online. Your new kitchen cabinets will need to be able to accommodate these whether they are new or recycled from your current kitchen. When it comes to designing your kitchen, we'll need the measurements of your new appliances so we can build around this.
Do I have to organise sub contract specialist trades such as plumbers or electricians?
We have all trades covered. Superior Renovations have a network of trusted and well respected team of trades who understand our system, follow up process and can work effectively with the rest of our team to ensure a smooth renovation project. So you're just engaging us (not multiple companies) to complete the whole job from start to finish.
Will I have a choice of fixtures and fittings and can I supply them myself?
Absolutely – if you would like to purchase anything directly and provide it for installation at the appropriate time then we have no objections to this but we always suggest clients to choose our suppliers for a number of reasons, we're confident of the quality, we can manage the logistics, trade prices, and any troubleshooting during the renovation is easier since we can direct contact.
How long does a kitchen renovation take?
Generally a kitchen renovation will be between 5-6 weeks from date of demolition and this assumes design is finalised and parts have been manufactured (not including splash back which takes additional time for manufacturing)
How much does a Kitchen Renovation cost?
Average cost of a kitchen renovation in Auckland is between $18,000 - $26,000; dependant on the type of materials you choose, design/layout, and if consent it required.
How do you pay for a building project?
Usually it's setup on a progress payment system as detailed in the building agreement. One advantage of full contract is you only need to make payments to one company and payments are made at specific stages of the project. When you receive a written contract quote, we will provide you with a payment schedule and also a construction schedule so you know what to expect and when to expect it.
 Kitchen Renovation Cost: The Final Word
A kitchen renovation can drastically improve your quality of life. With well-thought-out decisions, careful planning and budgeting, you can achieve phenomenal results. Even if you're planning on selling your house in the future, a high-quality kitchen remodelling will bring a significant return on investment. If you have any questions about the cost of the new kitchen remodel in New Zealand, you know where to find us!
Have you tried our Kitchen Renovation Cost Calculator?
Need more information?
Take advantage of our FREE Complete Home Renovation Guide (48 pages), whether you're already renovating or in the process of deciding to renovate, it's not an easy process, this guide which includes a free 100+ point check list – will help you avoid costly mistakes.
Download Free Renovation Guide (PDF)
---
Still have questions unanswered? schedule a no-obligation consultation with the team at Superior Renovations

---
Or call us on   0800 199 888