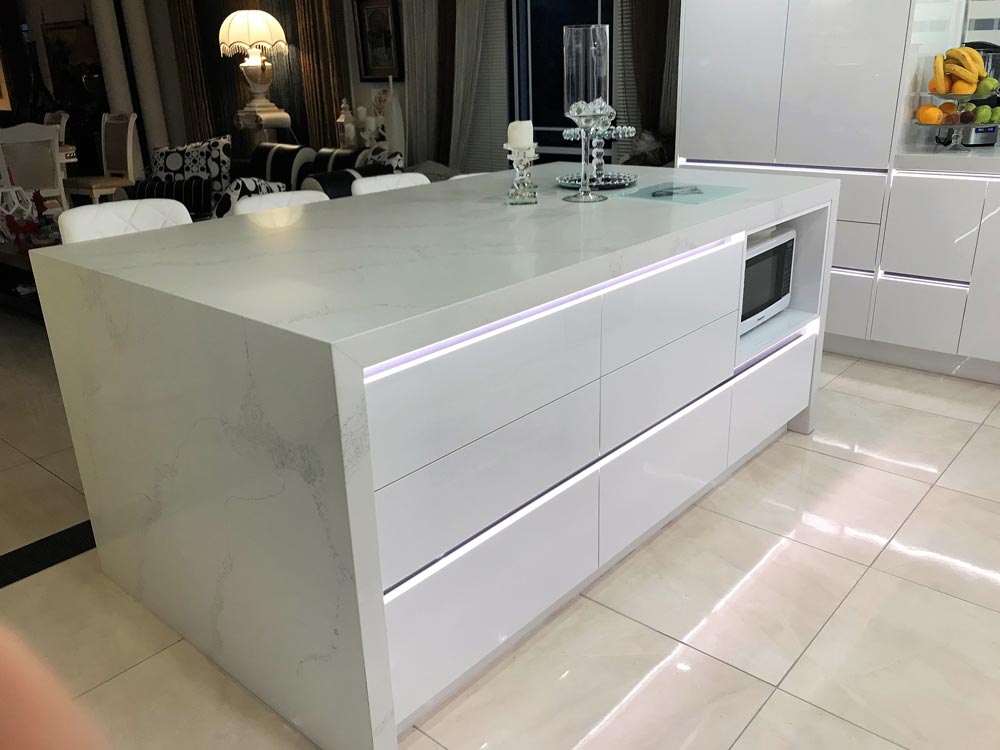 Kitchen Countertop Options To Consider While Renovating in NZ
Seven years ago when I was choosing countertops for our own kitchen for our Auckland based home, I exhausted myself researching all the choices that were on the market and finally settled on a marble countertop + wood on the island combo. I've never regretted it, But seven years have passed and much has changed in the world of kitchen countertops.
We have other kinds of countertops in our home, white laminate in the laundry room, wood in the hall bathroom, and modern cultured marble in the master bathroom. All have performed well based on our expectations. Innovation is inevitable, trends come and go, so the decision as to which countertop to choose in a kitchen remodel requires much consideration. Let's start with a classic favorite.
Marble Style Kitchen Countertop
Marble will never go out of style so for the price you pay, you do get the "timeless" label with the investment.
Always elegant, it complements both Old World and modern kitchens equally; for bakers it's a favorite, no surface is better for pies and pastries.
Properly sealed marble cleans up easily with a mild cleanser and cloth. Marble can stain so it must be sealed, and since it's softer than granite, it can chip easily (we've suffered several small chips around our kitchen sink).
Any acidic food like citrus can etch the surface or leave white stains. There are two varieties of gray and white Italian marble that are similar in appearance, both milky white with gray veining, and they are Carrara and Calacatta. Carrara has more delicate, lighter veining; Calacatta is a rarer, pricier stone and has bolder more defined strokes, yet both are a desirable luxury stone. Calacatta Gold and Crema Marfil marbles have brown or gold veins and offer homeowners warmer tones.
Marble stone is formed from limestone, superheated to form its unique crystalline structure. Marble countertop surfaces are timeless with their classic beauty and elegance. If you are looking for a surface to sustain through the ages, this natural stone countertop material is perfect for you. Its naturally cool temperature is pleasing for cooking as well as keeping any workspaces temperature controlled.
Wooden Style Kitchen Countertop
Wood countertops are having a moment in the spotlight right now with butcher block being so affordable
Wood countertops are higher maintenance than stone, they require sealing with various natural products like beeswax or mineral oil, or waterproof varnishes.
Wood countertops cannot withstand heat which requires the consistent use of hot pads or trivets. Water spills or rings can leave permanent marks if moisture is left too long, but they have classic appeal and add a warmth that no other countertop can compete with, especially in traditional, craftsman, or cottage style homes. The use of wood in any space brings character to your home and when cared for properly, wood countertops will remain useful and beautiful for years.
Real wood kitchen countertops are an old-world idea that is back in vogue. And as homeowners pore over options in kitchen design in the constantly changing world of styles, more and more are turning to unique, out-of-the-box ideas. Wood countertops also have a place in the green-building movement, since many kinds of wood are fully renewable and are often gathered from recycled sources.
Engineered Quartz Style Kitchen Countertop
Quartz kitchen countertops are manufactured man-made surfaces with contemporary appeal created from pigmented resin and ground quartz chips.
They are readily available in multiple colors and in either honed or polished sheens. Quartz countertops share the durability of stone but are easier to care for since they are non-porous and anti-bacterial.For the most part, you won't find the natural variegation that you do in granite or marble products yet some natural quartz manufacturers like Cambria are mimicking them well.
Engineered quartz (not to be confused with Quartzite, another appealing natural stone used as counters) is a manmade product created mostly from natural materials. It's made of 90 to 94 percent ground quartz and 6 to 10 percent resins and pigments that are combined into durable and nonporous slabs. The strength of quartz, even in a manufactured form, makes it naturally resistant to abrasion, scratches, dents, and even acids without the need for sealants. And the environmental impact of manufactured quartz is low: Quartz is an abundant material and the finished product is nontoxic and nonallergenic, and will last a lifetime, reducing the need for replacement.
Granite Style Kitchen Countertop
Granite has been the countertop of choice for many contractors and homeowners since the 1990s.
Many granites have a speckled or mottled surface with varied colors throughout but they are extremely durable. Although porous, when sealed granite resists stains, withstands heat, and is waterproof, hence the popularity.
There are plenty of reasons to go with granite countertops for your kitchen if you are updating you're renovating. It is a natural stone that is both heat and scratch resistant. To make it even more durable, sealing the material will also prevent staining while helping to keep the surface bacteria free along with regular cleanings. Granite also comes in lots of beautiful colors and patterns―some options even resemble marble, which typically costs more per square foot. Whether your style is traditional or modern, there is a granite countertop out there that will suit your cooking space.
Solid Surface (Corian) Style Kitchen Countertop
Solid surface countertops like Corian are artificial, made of acrylic and polyester; they are non-porous so sealing is not required.
They can scratch or burn under extreme conditions but any mistakes can be sanded out so they are virtually maintenance free.
Corian is DuPont's brand name for its flagship solid surface countertop material. It is a man-made product composed of 33 percent binding resins and 66 percent minerals. Corian was the original solid surface brand name. First developed by DuPont in 1967, solid surface countertops are now made by several other manufacturers and include the brands Avonite, Staron, and Mystera.
Limestone Kitchen Countertop
Limestone is made of calcite and is shaped from sand and aquatic life (and fossils) over time.
It's softer than granite, yet heat resistant and moisture proof when sealed. Limestone is available in off white to sand tones and shows a beautiful patina with age. Limestone is often honed and because it is softer porous stone it can scratch easily and requires sealing.
Limestone in our opionion is the most beautiful stone that exists in the world. It is not only incredibly elegant, it also tames bold colors that you might have as a part of your interior design, while also fitting into more minimalist designs as well. The thing about limestone is that no matter what the rest of the room looks like, limestone is always going to fit. Because limestone always fits, it's one of the most popular stones in the world.  You can't match the beauty of limestone, making it an incredibly elegant choice of natural stone that will easily fit into the aesthetic of any room you have take on the task.
Soapstone Kitchen Countertop
Like concrete (see below) soapstone is growing in popularity as a kitchen countertop material of choice.
When installed it's often a medium gray tone that deepens over time to a more charcoal color. It's composed of mineral talc and some slabs can have a green tint, the material is often used in labs because it is heat and chemical resistant. Soapstone is a softer surface like marble; it requires polishing to avoid cracks and can scratch or nick but it is water resistant.
When it comes to natural stone countertops, there are more options out there than just marble and granite. If you love the dark beauty of granite and the light veining of marble, consider soapstone instead. It's durable, relatively low-maintenance, and has a lovely, old-world feel. Here's everything you need to know. Why choose Soapstone for your kitchen bench?
Soapstone does not stain.
Soapstone counters are not harmed by hot pots, citrus, wine, acids or chemicals.
The only maintenance recommended, not required, is the mineral oil treatment to enhance the natural darkening process the stone goes through and to ensure the soapstone darkens evenly. Mineral oil is not recommended to protect the soapstone, it does not need protection since it is naturally non- porous.
The cost of soapstone is comparable to other natural stones.
Soapstone can be offered in a variety of different textures, unlike most other natural stones that are only available with a high polished finish. Some clients like the stone to feel rougher to the touch, others like it a little smoother and some like it in between, we can please all tastes by re-finishing the top of the slabs, at no additional cost.
Soapstone countertops are harvested from the earth and simply custom cut to fit your kitchen. It's all-natural and can be recycled completely. No sealers or toxic chemicals of any kind will be introduced into your home. Nothing needs to be done to make soapstone beautiful since nature has taken care of this all on its own. Once it has been quarried from the earth it simply needs a cleanup and a trimming before it arrives at your door in its natural state.
Modern Laminates Kitchen Countertop
Laminates are manufactured with a blend of resins and paper fused to particle board and they have been a budget smooth countertop surface for decades.
In the past, laminate hasn't always had a reputation as stylish, but that's all changed, there are several reasons to choose laminate countertops as the newest designs mimic marble, granite, and limestone.
In the past, laminate countertops required an over mount sink but as one reader pointed out (see comments), that's not the case anymore.
Our personal favourite is the Formica® brand
There are other companies that make laminate—but Formica was the original, and the first of its kind. They've been in business since 1913, and that is a testament to their quality craftsmanship and customer service. Over time, the Formica brand has become interchangeable with the word "laminate".
Formica laminate is an affordable way to reinvent your kitchen countertop. With over 200 colors and styles to choose from, there is a Formica option for every visual palette. Their designers stay on top of the industry trends and regularly add stylish new options to the collection.
Concrete Kitchen Countertop
This style is trending in the past few years and for good reason. Concrete is practically indestructible and is both heat and scratch resistant.
These countertops are either precast based on a template or poured on site, the labor intensity adds to the price per square foot which is often $100 or more, but look how fabulous they can be!
Pro: Concrete is durable. The strength of the cement-and-sand mix alone has some hailing it as a rock solid (we had to) design choice. After all, concrete is made up of the same material found in sidewalks.
Con: But it can crack. Does the thought of a hairline fracture make you cringe? That's a risk that comes along with concrete countertops, most commonly when poured in place rather than pre-cast. Of course, you can prevent cracks to a certain extent by adding fiber reinforcement, rebar, and/or wire mesh. Still, cracks happen, whether because of pressure or the natural settling of the house.
Most affordable countertop option for Kitchens in Auckland
Here are our five recommended best budget kitchen countertop options.
Quartz
Granite
Laminate
Ceramic Tile
Concrete
There are so many other countertop products coming to market in recent years, how can anyone keep up !?  Zinc, recycled glass, stainless steel, the list goes on. What solid surface countertop(s) do you have in your kitchen? Are you pleased or displeased with yours?
Need more information?
Take advantage of our FREE Complete Home Renovation Guide (48 pages), whether you're already renovating or in the process of deciding to renovate, it's not an easy process, this guide which includes a free 100+ point check list – will help you avoid costly mistakes.
Download Free Renovation Guide (PDF)
---
Still have questions unanswered? schedule a no-obligation consultation with the team at Superior Renovations

---
Or call us on   0800 199 888
---
Have you been putting off getting renovations done?
We have partnered with Q Mastercard ® to provide you an 18 Month Interest-Free Payment Option, you can enjoy your new home now and stress less.
Learn More about Interest-Free Payment Options*
*Lending criteria, fees, terms and conditions apply. Mastercard is a registered trademark and the circles design is a trademark of Mastercard International Incorporated.