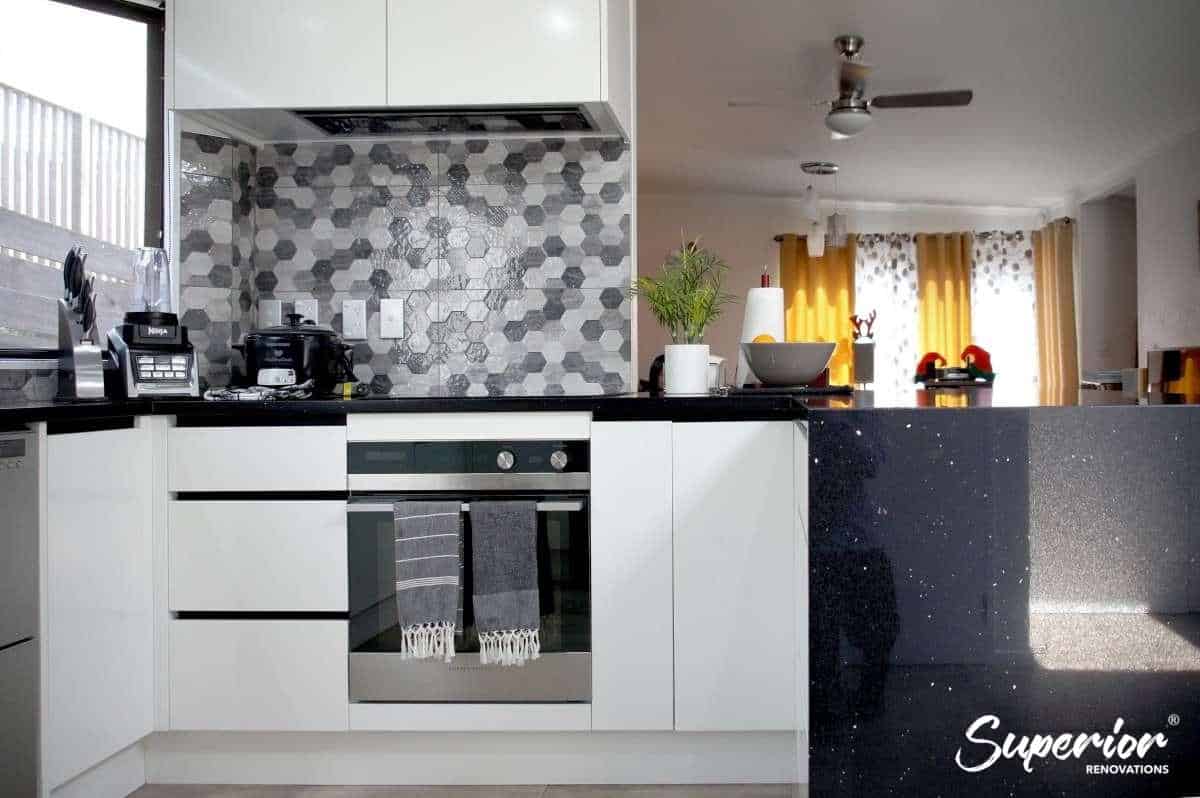 15 Top Trends for Kitchen Design for 2020 – Superior Renovations
What a kitchen means today for a family is very different from what they meant in the past. Traditionally kitchens have always been a place for cooking and cleaning only. Kitchens today are a place where most of the family congregates. It is a place that brings the family together whether it is in the form of a breakfast island bar or an open plan kitchen which opens into your living space.
Here's what we concluded as the top kitchen trends for 2020
Smart Kitchens
Eco-Friendly Kitchens
Cabinet Colours: Dark Colours Are Finally Here & White Is On Its Way Out!
Streamlined Designs, Materials and Textures
Quartz is Still King
Effective Storage Solutions
Open Shelves for Small Kitchens
Hardwood Flooring is Still the Shining Star but Ceramic Tile is on its Heels
Single Level Multipurpose Kitchen Islands
Backsplash Trends
Connecting With The Great Outdoors
Adding a Pop of Colour
Mix and Match Metals
Steel Hoods
Statement Accessories
Technology advances and changing social dynamics have contributed greatly to the rise of the modern kitchens. There is a far bigger focus on open concept homes that revolve around the kitchen so everyone can be together.
As with any modern design trend, clean and simple styles have become favourites for homeowners with natural light becoming an essential aspect of the overall look and function of the kitchen space. There are 3 fundamental things that make a great kitchen design and it doesn't often change, the three things are:
Functional Layout that works with the given space
Choice of materials/fittings – the quality of these are crucial and you will notice a difference.
Storage – the design and placement is key to make sure you end up with a well-utilized space
With advice from design experts, here are the top 15 trends in kitchen design we expect to see in 2020.
Trend #1. Smart Kitchens
Technology has entered the kitchen in full force and not just in the form of fancy gadgets and appliances. Today, you can have a kitchen with technology integrated into every function and appliance–from the faucets to the fridge to lighting. This is what we call a smart kitchen.
Smart kitchens are an evolving aspect of design. In fact, a lot of kitchens today are built smart from the ground up. For older kitchens, sensors, smart gadgets and other devices can be added to add convenience.
Kitchen renovation in Massey: These 'pop out power outlets' were installed on the counter top which can be pulled up when needed and pushed back down when not in need
Easy add-ons are motion sense-equipped kitchen faucets that can sense the presence of hands underneath and will come on automatically or try a one-touch feature. Refrigerators that can alert you when your groceries items are running low or a coffee maker programmed to have your coffee ready when you wake up.
There is also a gadget that monitors your eggs, telling you which ones are almost going bad. Do not forget to update your lighting system–allowing you to control all the lights from your smartphone or tablet. Technology integrated kitchens are becoming more popular as homeowners experiment with novel technologies. This is one of the biggest trends going into 2020.
Trend #2. Eco-Friendly Kitchens
As the awareness around sustainability grows, people are getting more conscious about using materials that are environmentally friendly. Taking steps towards sustainability could include having built in recycling bins in the kitchen, installing an induction cook top to reduce energy waste, and installing a 3 in 1 hot water tap.
A
Kitchen renovation in Parnell – the hot water tap is installed on the left side of the main tap fixture
Hot water tap is a great way of reducing water and energy waste. When boiling water we often boil too much water or use a kettle. When you install an instant hot water tap, you are using just the amount of water you need and less electric energy is being used to get the water to boil. This is also an added convenience to having access to instant boiling water for coffee or food preparation.
Trend #3. Cabinet Colours: Dark Colours Are Finally Here & White Is On Its Way Out!
Although white cabinets are a classic look that can be used in almost any kind of kitchen style, we are slowly starting to see them on the way out! We expect white to start declining in popularity throughout 2020 . To break up the monotony of all-white kitchens, expect to see islands in a variety of different paint colours or wood stain colours. The mixing of finishes creates a needed accent piece and additional pops-of-colour for the brave of heart.
Blue and green will be the most popular shades to add colour to your kitchen.  Apart from natural and neutral shades green, emerald, and other earthy tones will also be popular this year.
Kitchen renovation in Massey: Our client in Massey wanted black cabinets against white to give a luxurious feel to his kitchen. LED lights were also installed under the cabinet handles to add to the glamour of the kitchen.
Dark kitchen cabinets portray elegance and a deep rich luxurious atmosphere. You must however be careful that the dark accents or cabinets you use does not overpower the room as it could make the room feel perpetually dark or dingy. But more homeowners are getting bolder and opting for a kitchen with dark cabinet colours in 2020. Expect to see tons of black and darker colour shades in the trendiest home of 2020.
Trend #4. Streamlined Designs, Materials and Textures
While styles like farmhouse and mid-century modern are still popular, homeowners are getting more streamlined in their overall aesthetics, designs and alternative materials for kitchens. Simple looks are all about modern clean lines. They will continue to be a huge hit throughout 2020.
Removing upper wall cabinets has become a growing trend in the last few years since it opens up the visual space making the kitchen appear much larger and brighter.  It allows you to utilise the countertop space more productively as most people cannot reach the top shelves anyway.
A streamlined design does not equate to boring. It simply means that a design which is less cumbersome and more tasteful. Consider using materials with different textures. For example when using open shelving, consider rough cut wood as your material for a natural look or metal tubing for a more industrial look.
Kitchen renovation in Mangere Bridge: American Ashwood was used as the benchtop to add texture and a natural element to the kitchen. 
Floor tiles in a natural stone or backsplash tiles that are sculpted, beveled, or stacked make for the perfect focal point.  These interesting textures are very different compared to the usual polished or glossy finishes we see everywhere. You may even want to consider a ceiling treatment to add another dynamic to your kitchen.
Kitchen renovation in Stanmore Bay: The Spanish tiles installed in this kitchen are a great design element that can be used to enliven a space.

Kitchen renovation in Parnell: We added textured 3D tiles as a backsplash for this client to add character and interest in the kitchen wall
Trend #5. Quartz is Still King
For high-end kitchen countertops, quartz still reigns supreme. The material is extremely hardy, can last virtually forever, is a breeze to maintain and is anti-microbial. Granite, the main competitor in the high-end bracket, requires slightly more maintenance.
When quartz countertops first came into the market, the main worry was lack of variety in terms of colours and finishes. But through technological advances, manufacturers can now provide a range of colours and patterns. You can even get quartz finished with elaborate swirls and large veining to imitate other materials like natural stone. These unique styles have become immensely popular.
Kitchen renovation in Bucklands Beach: We engineered stone to look like black marble which was then infused  with shiny specs to add a touch of luxury for this kitchen renovation
But there is a notable trend toward softer and more neutral colours. More and more homeowners are opting for colours like grey, taupe, creamy or white finishes.  This follows the trend towards cleaner styles seen in most home spaces.
Kitchen renovation in Stanmore Bay: Engineered stone used to look like pattered granite. The pattern chosen by our client was Autumn Leaf. 
While we are still on the topic of countertops, it is important to mention the rising popularity of composite sinks. These are sinks made from the same material as the countertop.  This creates a cleaner uniform look and makes cleaning and maintenance much easier. However, it is going to be a tough battle against the still very popular stainless steel, ceramin and Silgranit sinks.
Trend #6. Effective Storage Solutions
One of the biggest drawbacks with kitchen cabinetry is the unnecessary waste of space. The way the basic shelves and drawers are structured leaves a lot of wasted space. Worst of all, available space is often too small for some of your larger things or the opposite: it's too wide and does not give you a way to properly and efficiently organize the space.
One of the foundations to a functional kitchen is kitchen storage. If it is inadequate or ineffective, you will be faced with endless frustrations and challenges.
To counter these storage challenges, homeowners are starting to look for better storage solutions within the cabinetry. These can include:
drawer dividers for cutlery & utensils
pull-outs for spices
tray dividers
roll-out trays
magic corners for pots & pans
wastebasket cabinets for garbage and recyclables
deep drawers.
Pull out Rubbish and recycling bins
Custom built Pantry drawers to add convenience and maximise storage
Magic corners to utilise the space in corner cabinets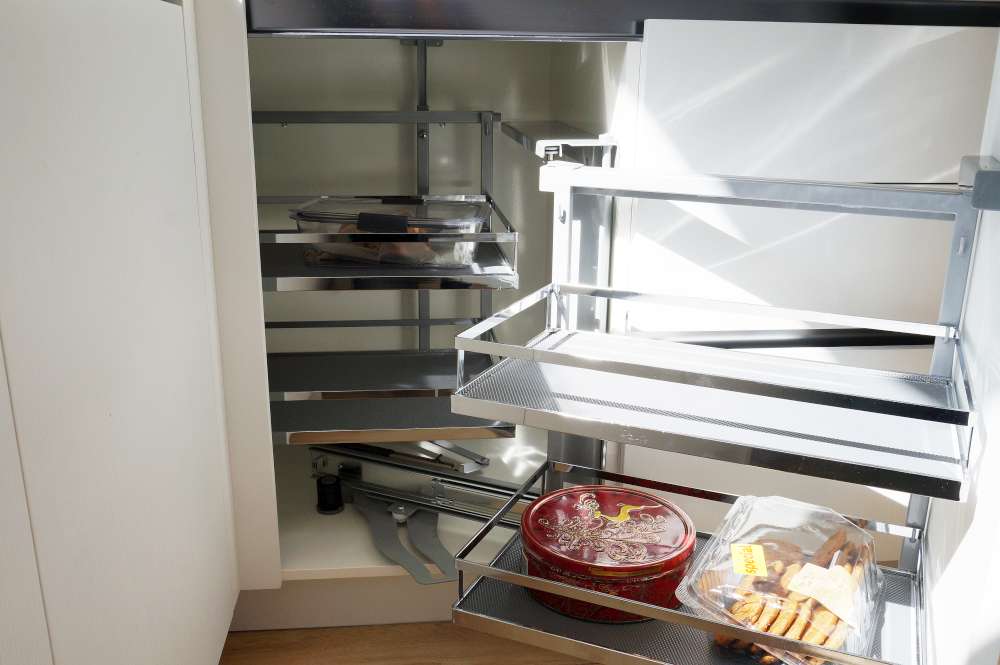 A different variation of a magic corner to effectively utilise corner space for cabinets
Custom built storage solution for cabinets to store condiments
The most popular storage solutions we have seen with our clients are the 'magic corners' as they effectively utilise the wasted space in the corners of the kitchen. The other popular storage solutions have been custom built cabinets with pull out drawers.
Trend #7. Open Shelves for Small Kitchens
While Hidden storage solutions will always remain popular, they are not always feasible in a small kitchen. Small kitchens do not have the space for bulky cabinetry with storage drawers and hence need a different storage solution.
Open shelves for small spaces can provide effective storage solution and can also add a great design element. Following are some of the ways you can maximise storage in an open shelf for a small kitchen:
Use magnetic holders for knives. These can be screwed on to the wall so you do not have a bulky knife holder on your counter top
Laddle hangers and wall spice racks. Small hooks can be installed to hang all your spoons and laddles used for cooking. You can also find smart hangers where you can place your spice bootles.
You can also create a wine glass hanger which would reduce the need for shelves.
Floating open shelves were added  to increase storage and add a design element to the kitchen
A great tip is also to buy colourful pots, pans, bowls etc which can be placed in the open shelves. This would create interest and also add a pop of colour to your kitchen.
Trend #8. Hardwood Flooring is Still the Shining Star but Ceramic Tile is on its Heels
Hardwood flooring is still very popular when it comes to kitchen flooring. But the second most popular option, ceramic flooring. Thanks to technology, ceramic flooring now comes in a wide variety of designs, styles and sizes.
For example, you can get ceramic tiles that look exactly like hardwood flooring. So if you want to retain the hardwood look but want a material that is easier to maintain, consider using ceramic tiles. In addition to wood, ceramic tiles can be designed to resemble a range of other materials including natural stone. Even the surface texture is changed to mimic these materials.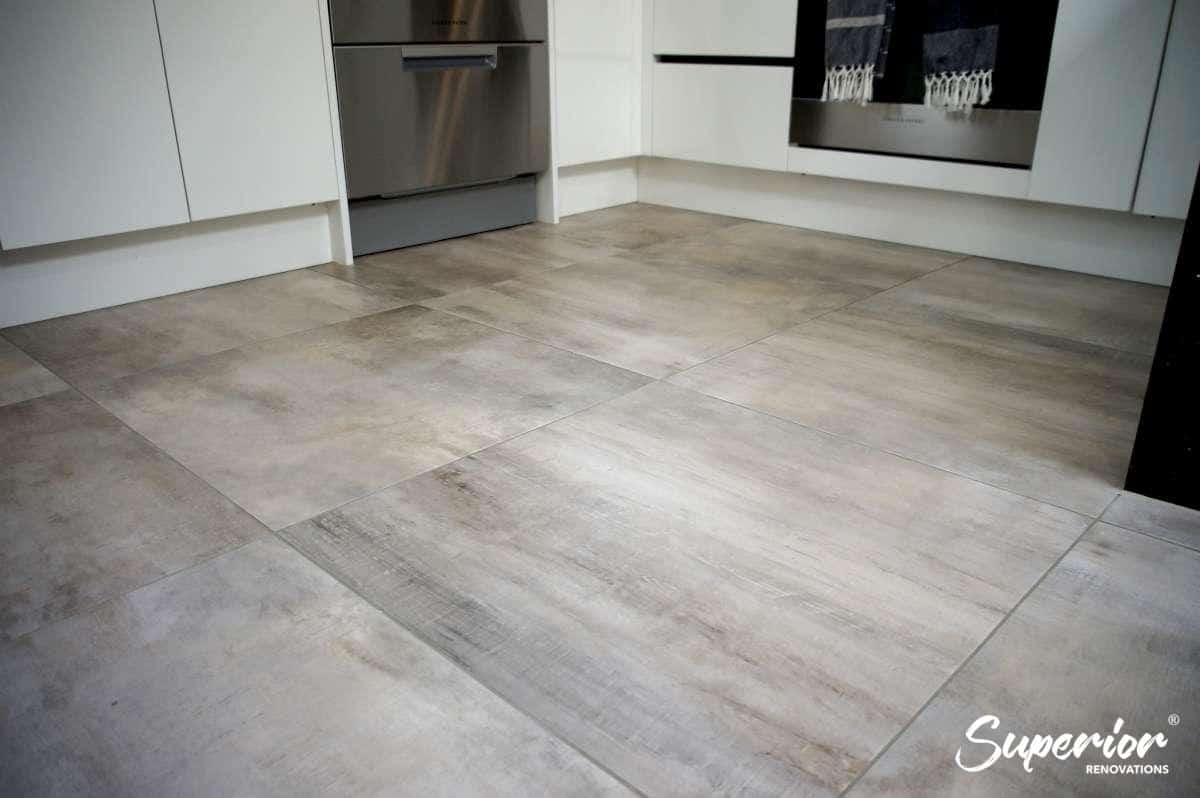 Kitchen renovation in Bucklands Beach: Ceramic tiles which mimic hardwood were installed for easy maintenance and as a cost effective option
In terms of size, you do not have to go for traditional sizing any longer. It seems like the sky is the limit with variety and larger format tiles. You can get single plank tiles that resemble actual wide planks of hardwood once laid down on the floor. Or you can get custom cut tiles to create a uniquely patterned kitchen. Larger tiles make an are look bigger in space as compared to smaller sizes. This is because there are lesser grout lines and the area hence looks less 'busy'.
Trend #9. Single Level Multipurpose Kitchen Islands
Kitchen islands are no longer an afterthought or something small to squeeze into the space. They have become the point and the hub of the kitchen. One of the changes emerging is the single level larger sizing, serving multiple uses. Large islands now also have ample shelving below to maximise storage.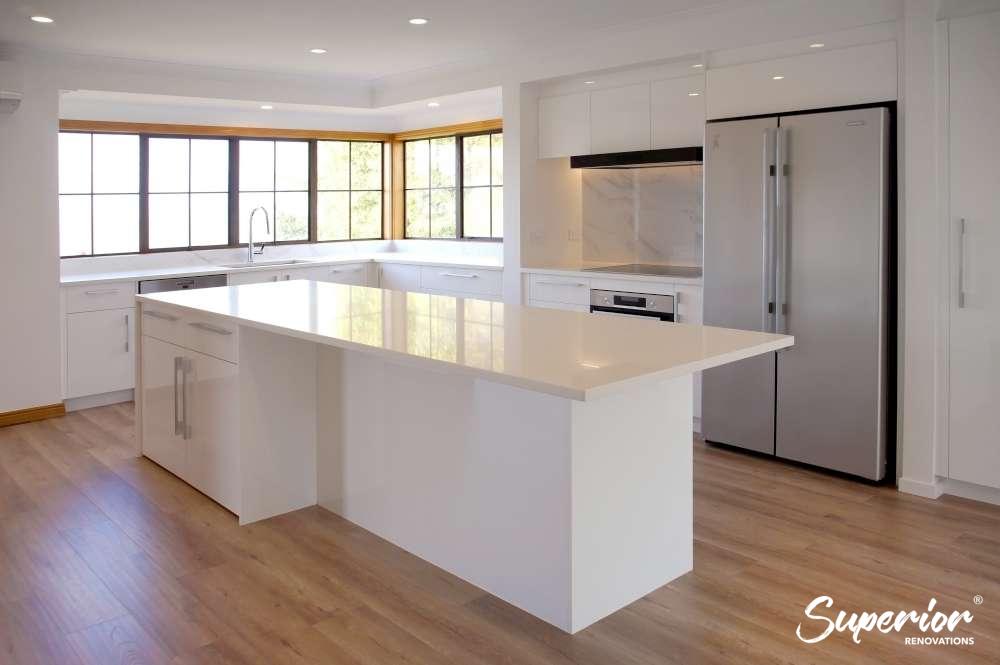 Kitchen renovation in Blockhouse Bay: Custom built large island which doubles as a storage solution with cabinets and as a breakfast and prep bar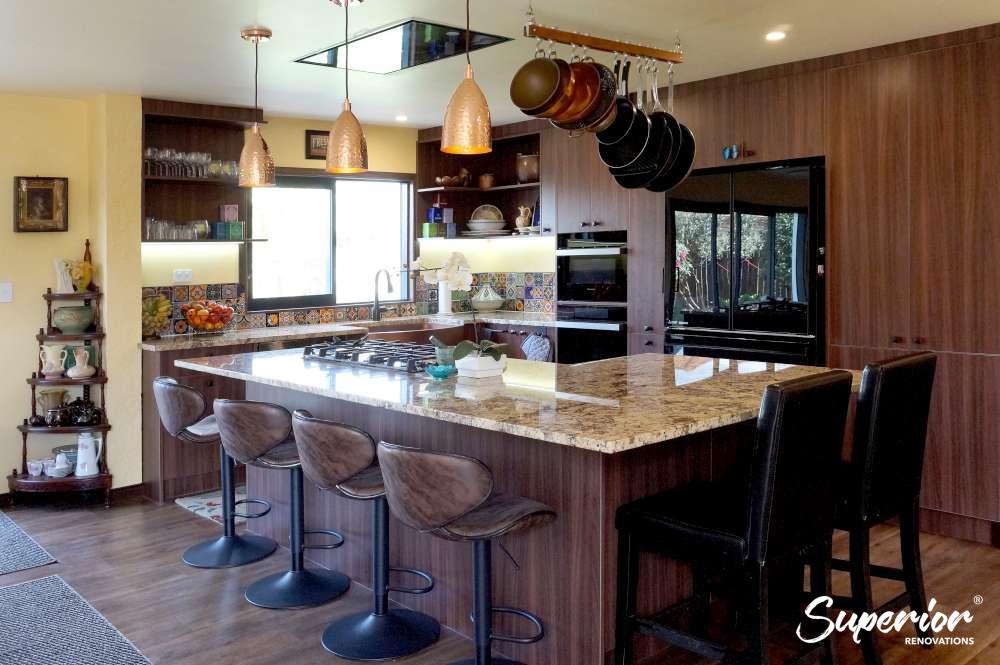 Kitchen renovation in Stanmore Bay: An island bar which doubles as a dining table and cooking bench
In the year 2020 large kitchen islands will become the jack-of-all-trades. They will have storage solutions and would be fitted with various under-counter appliances while also providing seating–serving as a casual dining and/or drinking bar. To accommodate the increased size, we are seeing a tendency for the kitchen island to extend into living room spaces in homes with open plan designs. This ensures the kitchen island can be multi-functional without cluttering up space in the kitchen.

Kitchen renovation in Massey: Kitchen island extending into the living room space to double as a bar that can be used for entertaining
Trend #10. Backsplash Trends
First things first, subway tiles are out! Okay maybe not completely out, but they are no longer popular in the 'white brick' size. People are moving on to larger slabs of tiles with various textures and patterns.  Adding a bright and vibrant backsplash will add the much needed character in a neutral kitchen. Neutral patterns with natural texture is another option for those looking for a classic look.
Kitchen renovation in Bucklands Beach: Hexagon shaped black and grey textured tiles were added as a backplash to add interest, drama and texture to the kitchen
Another big change we're seeing in tile backsplashes are their size and the portion of wall they cover. More people now opt for larger tiles to make the area look less 'busy'.  These slabs can be made to look like marble, quartz, wood, copper, stainless steel, glass…. the list goes on forever!
Trend #11. Connecting With The Great Outdoors
As discussed above, open plan living and kitchen has been a popular trend for a while now. This trend Homeowners are connecting the kitchen to an outdoor space or patio. They are also adding entry points from the kitchen to outside entertainment areas. By installing a glass door in your kitchen, you can easily connect these two spaces in your home.
Trend #12. Adding a Pop of Colour
As mentioned above, white will always be a popular colour for kitchens as it is a versatile colour to work with. In past people have always gone for a traditional look for kitchens with either white surfaces and cabinets or dark wood. The trend has now been changing towards adding colour to otherwise white kitchens.
A sky blue backplash was added to add some colour into a neutral themed kitchen in Papatoetoe
People are now looking at ways to add colour to their kitchens. We spend most of our time in this area of the house, entertaining our friends and family, so why not put our favourite colour in the space? We have and will be seeing this on cabinets, islands, hutches, and feature walls.
The colours predicted for these spaces are inspired by the elements with blues, earthy tones of green and red.
Trend #13. Mix and Match Metals
We get this question a lot: is it okay to mix metals in the kitchen? The answer is YES! Mixing metals adds character in the space, especially if it is done correctly. We will be seeing more of an eclectic style in 2020. Overly matched and coordinated spaces is a trend that is slowly fading.  If you love gold fixtures, but don't want it all over your kitchen, add a soft gold faucet with black or nickel hardware.
Light fixtures can be a completely different metal altogether, while having hints of the same metal you are using elsewhere. These pieces are the finishing touch to the space. Make them stand out! Another way to mix in metals, would be in your furniture selections for kitchen tables chairs or island stools. These can be easily interchangeable when you want to change things up a bit!
Kitchen renovation in Stanmore Bay: Textured Brass sink and tap fixtures added metal elements to this kitchen in Orewa
Textured metals that are the same colour as other pieces in the kitchen are a nice way of adding a different element, while not getting too crazy.
Trend #14. Steel Hoods
In 2020, we will be seeing homeowners focus on their hood designs. This piece can be a major focal point in the space, especially depending on the layout of the kitchen. Most of the time, we design the space with the range and hood on a wall that is seen from other rooms in the house. Why not make this piece a statement?
Custom steel hoods are a way to add in a breaking point to a long row of wood cabinetry. These are a nice feature, but they do come with a cost. Custom steel hoods can range anywhere from $5-7k, but they sure do make a beautiful addition to your new kitchen, so make sure you budget for this correctly. Let's get rid of those boring matching stainless hoods and be creative with your space! This is also your chance to add metal as a component to your kitchen.
Trend #15. Statement Accessories
Installing statement is a great way to liven your kitchen up and give it a unique design element. Use statement taps and fixtures like brass to give your kitchen a rustic look or industrial look.
Brass sink and tap-ware added for our client to create a rustic look for this kitchen we renovated in Orewa
If you have a kitchen which is mostly designed in neutral and white colours then use black for all your taps, fixtures and cabinet handles to instantly make it a classic black and white kitchen without making any drastic changes.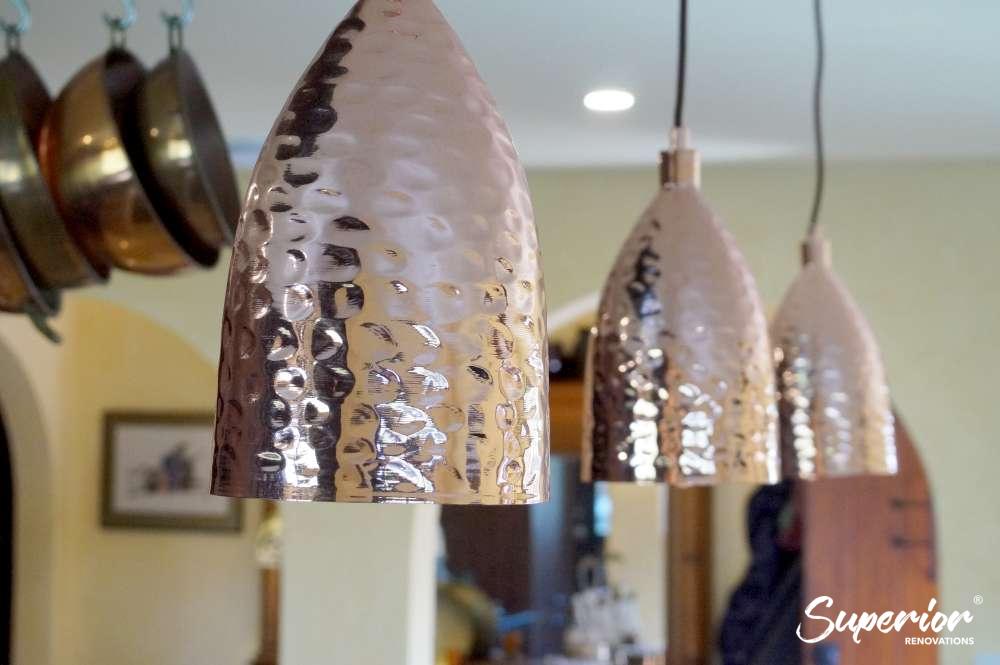 Rustic looking bronze hanging lights also added to the rustic feature of this kitchen in Orewa
How much does a kitchen renovation cost?
Kitchen renovations start from 23K and can go up to 50K depending on the level of customisation and the type of range you use for products. If you are looking at a basic kitchen renovation with minimal change in layout and use mid range products/fixtures then you can get a fully renovated kitchen in 23K. However if the level of customisation is high and products used come from our premium range then it can cost anywhere above 30K.
How do I budget for my kitchen renovation?
First you should make a list of why you want to renovate your kitchen. Is it to increase functionality by including modern amenities and changing your layout? Is it to make minor upgrades as things are starting to look old? Is it to convert a closed of kitchen into an open space living? Is it to upgrade a rental property to yield better rent in the market? These questions will largely affect your budget. If you are looking at upgrading an investment property to either add value or yield better rent should be getting a basic renovation with little customisation with the use of medium range supplies. However, if your intention is to increase functionality and add comfort then you can use our mid-range to premium suppliers and customise your kitchen to the extent that your budget allows.
Do you have finance options for my Kitchen renovation?
Yes we do provide finance options for people wanting to renovate their kitchen with us. We realise that it is not always possible to put aside a huge chunk of money for your renovation and we have hence partnered with Linda from Loan Market to provide finance options for our clients. To understand more about our finance options, visit our page: https://superiorrenovations.co.nz/guide-to-financing-your-home-renovation-in-nz-by-superior-renovations/
Does a Kitchen renovation increase the value of my home?
Kitchens and Bathrooms are the two main parts of your home that will increase the over all value of your home. Kitchens especially have become a focal point for buyers when choosing a home. This is because kitchens of today are a lot more than just a place for cooking. They are a place where the family congregates, a place for interaction and entertainment. Hence when buying a home, kitchen is mostly a first property for buyers.
Where can i find help to design my kitchen?
Renovation companies like ours that provide a full 'design to build service' will include design in to their process which means that you do not have to find your own designer. Having a designer in the same team as the rest of the renovation company is an added benefit as you do not have to liaise with two different companies.
Do i have get my own plumbers and electricians for my kitchen renovation?
This will depend on the company that is carrying out your renovation. Renovation companies that offer a complete 'design to build' service will include everything from designing your kitchen, demolition of previous kitchen, disposal of rubbish, supply of products like flooring/bathroom fixtures/showers,vanity, installation process, all the different trades involved and project management of the entire process and trades involved. The costs for kitchen renovation will include all the above. However there are kitchen manufacturers that focus only on manufacturing a kitchen and installing it. They would not provide any electricians, tilers, plumbers etc. Do your research to see what fits you best.
---
Still have questions unanswered? schedule a no-obligation consultation with the team at Superior Renovations

---
Or call us on   0800 199 888