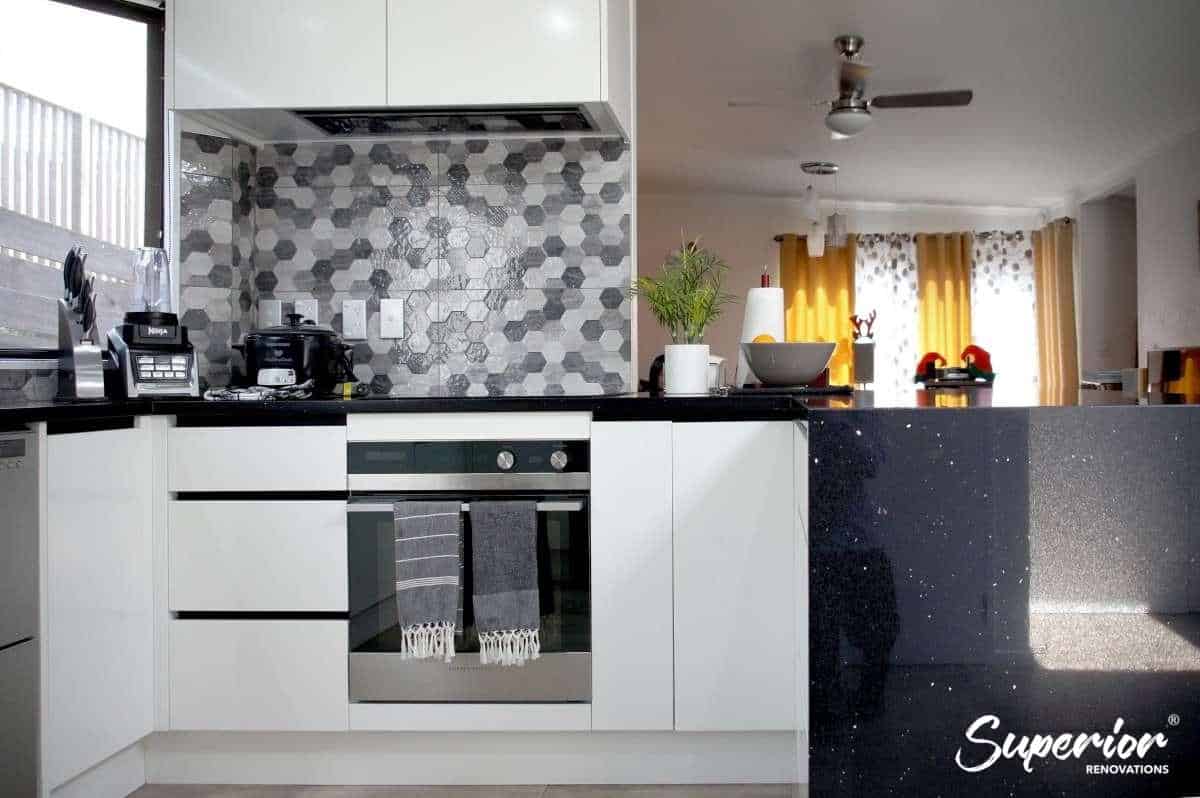 26 Top Trends for Kitchen Design for 2023 (and What To Avoid)
This article has been republished to include further content on kitchen renovation trends and top 6 key features that a good kitchen design must include. This recommendation has been made by our in house kitchen designers .
Kitchen renovation trends usually change slightly from year to year with no big changes seen in the coming years. It is easy to change certain elements within your existing kitchen to keep up with the new trends. For example if you have a traditional white kitchen and want a change then you can easily add a pop of colour by adding a  vibrant textured backsplash. If you are lacking in storage, then you could easily replace your existing island with a multi-functional kitchen island which could be used as a breakfast bar, storage unit as well as a cooking area.
What a kitchen means today for a family is very different from what they meant in the past. Traditionally kitchens have always been a place for cooking and cleaning only. Kitchens today are a place where most of the family congregates. It is a place that brings the family together whether it is in the form of a breakfast island bar or an open plan kitchen which opens into your living space.
In this article we will discuss the following:
the top 20 newest kitchen renovation trends for 2023
10 trends that you should stay away from in the coming years. 
6 Key Features that every good kitchen design must include – Recommended by our Kitchen designers
Here's what we concluded as the top kitchen renovation trends for 2023
Smart Kitchens
Eco-Friendly Kitchens
Cabinet Colours: Dark Colours Are Finally Here & White Is On Its Way Out!
Streamlined Designs, Materials and Textures
Open plan Kitchens and Broken plan kitchens
Quartz is Still King
Effective Storage Solutions
Open Shelves for Small Kitchens
Kitchens with a bar island for entertainment
Hardwood Flooring is Still the Shining Star but Ceramic Tile is on its Heels
Single Level Multipurpose Kitchen Islands
Double Islands
Ceiling high larders
Backsplash Trends
Connecting With The Great Outdoors
Adding a Pop of Colour
Mix and Match Metals
Steel Hoods
Statement Accessories
Hanging cups, Colourful pans and Colourful Appliances
Welcome with a Sociable Kitchen
Embrace a Wood Resurgence
Layered Lighting
Handle less Designs
Create a Space for a Pantry
Technology advances and changing social dynamics have contributed greatly to the rise of the newest kitchen renovation trends. There is a far bigger focus on open concept homes that revolve around the kitchen so everyone can be together.
As with any modern design trend, clean and simple styles have become favourites for homeowners with natural light becoming an essential aspect of the overall look and function of the kitchen space. There are 3 fundamental things that make a great kitchen design and it doesn't often change, the three things are:
Functional Layout that works with the given space
Choice of materials/fittings – the quality of these are crucial and you will notice a difference.
Storage – the design and placement is key to make sure you end up with a well-utilized space.
Trend #1. Smart Kitchen Design
Technology has entered the kitchen in full force and not just in the form of fancy gadgets and appliances. Today, you can have a kitchen with technology integrated into every function and appliance–from the faucets to the fridge to lighting. This is what we call a smart kitchen.
Smart kitchens are an evolving aspect of design. In fact, a lot of kitchens today are built smart from the ground up. For older kitchens, sensors, smart gadgets and other devices can be added to add convenience.
Kitchen renovation trends in Massey: These 'pop out power outlets' were installed on the counter top which can be pulled up when needed and pushed back down when not in need
Read more…
Guru and Neeta's Luxury kitchen renovation in Massey – Pictured above
Townhouse Luxury Urban renovation in Parnell
Easy add-ons are motion sense-equipped kitchen faucets that can sense the presence of hands underneath and will come on automatically or try a one-touch feature. Refrigerators that can alert you when your groceries items are running low or a coffee maker programmed to have your coffee ready when you wake up.
There is also a gadget that monitors your eggs, telling you which ones are almost going bad. Do not forget to update your lighting system–allowing you to control all the lights from your smartphone or tablet. Technology integrated kitchens are becoming more popular as homeowners experiment with novel technologies. This is one of the biggest trends going into 2023.
Trend #2. Eco-Friendly Kitchen Design
A growing kitchen renovation trends has been being eco-friendly. As the awareness around sustainability grows, people are getting more conscious about using materials that are environmentally friendly. Taking steps towards sustainability could include having built in recycling bins in the kitchen, installing an induction cook top to reduce energy waste, and installing a 3 in 1 hot water tap.
A
Kitchen renovation in Parnell – the hot water tap is installed on the left side of the main tap fixture
Hot water tap is a great way of reducing water and energy waste. When boiling water we often boil too much water or use a kettle. When you install an instant hot water tap, you are using just the amount of water you need and less electric energy is being used to get the water to boil. This is also an added convenience to having access to instant boiling water for coffee or food preparation.
Trend #3. Cabinet Colours: Dark Colours Are Finally Here & White Is On Its Way Out!
Although white cabinets are a classic look that can be used in almost any kind of kitchen style, we are slowly starting to see them on the way out! We expect white to start declining in popularity throughout 2023 . To break up the monotony of all-white kitchens, expect to see islands in a variety of different paint colours or wood stain colours. The mixing of finishes creates a needed accent piece and additional pops-of-colour for the brave of heart.
Blue and green will be the most popular shades to add colour to your kitchen.  Apart from natural and neutral shades green, emerald, and other earthy tones will also be popular this year.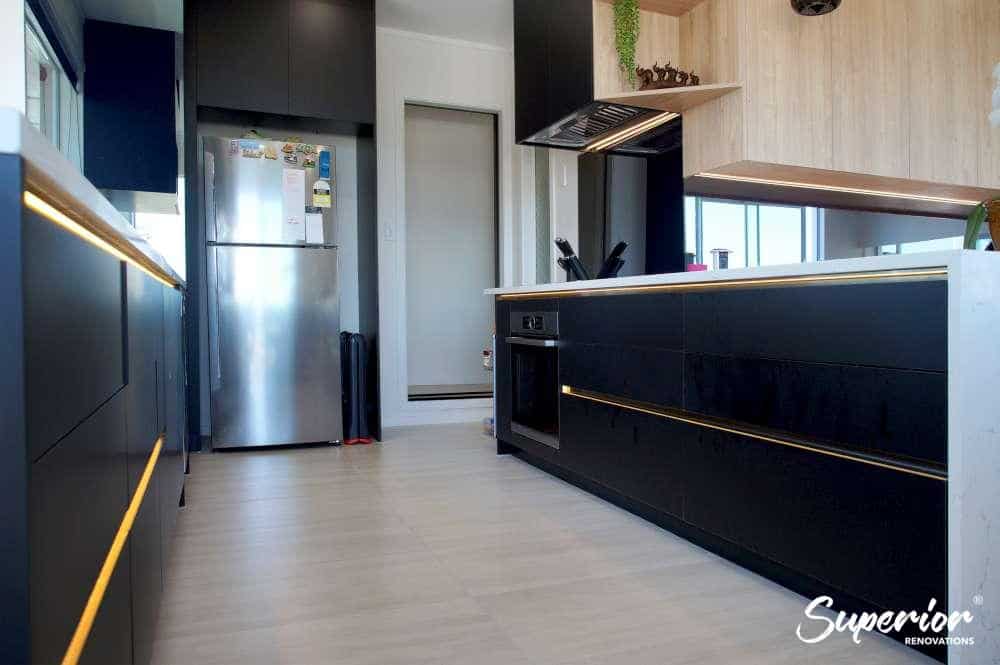 Kitchen renovation trends in Massey: Our client in Massey wanted black cabinets against white to give a luxurious feel to his kitchen. LED lights were also installed under the cabinet handles to add to the glamour of the kitchen.
Dark kitchen cabinets portray elegance and a deep rich luxurious atmosphere. You must however be careful that the dark accents or cabinets you use does not overpower the room as it could make the room feel perpetually dark or dingy. But more homeowners are getting bolder and opting for a kitchen with dark cabinet colours in 2020. Expect to see tons of black and darker colour shades in the trendiest home of 2020.
Trend #4. Streamlined Designs, Materials and Textures
While styles like farmhouse and mid-century modern are still popular, homeowners are getting more streamlined in their overall aesthetics, designs and alternative materials for kitchens. Simple looks are all about modern clean lines. They will continue to be a huge hit throughout 2023.
Removing upper wall cabinets has become a growing trend in the last few years since it opens up the visual space making the kitchen appear much larger and brighter.  It allows you to utilise the countertop space more productively as most people cannot reach the top shelves anyway.
A streamlined design does not equate to boring. It simply means that a design which is less cumbersome and more tasteful. Consider using materials with different textures. For example when using open shelving, consider rough cut wood as your material for a natural look or metal tubing for a more industrial look.
Kitchen renovation trends in Mangere Bridge: American Ashwood was used as the benchtop to add texture and a natural element to the kitchen. 
Floor tiles in a natural stone or backsplash tiles that are sculpted, beveled, or stacked make for the perfect focal point.  These interesting textures are very different compared to the usual polished or glossy finishes we see everywhere. You may even want to consider a ceiling treatment to add another dynamic to your kitchen.
Kitchen renovation in Stanmore Bay: The Spanish tiles installed in this kitchen are a great design element that can be used to enliven a space.

Kitchen renovation in Parnell: We added textured 3D tiles as a backsplash for this client to add character and interest in the kitchen wall
For further ideas on using Tiles as a focal point in a 
Kitchen
Urban Luxury Kitchen in Parnell with 3d textured tiles
Spanish mosaic tiles as a feature in the kitchen in Stanmore Bay
Henry and Lynette's kitchen in Bucklands Beach with dark hexagonal textured tiles 
Trend #5. Open plan concept and Broken plan concepts
The open plan concept for kitchens has been a growing trend for many years now. Today's homes are mostly made of 2 working parents where evenings are the only times that families get together to spend quality time. Open concept kitchens allow families to spend time even if one person is in the kitchen whereas the others in the living. Open plan kitchens are easily achievable by tearing down a few walls that separate the kitchen from the rest of the living space.
An open plan Kitchen: The above picture is an open plan concept as the room is very clearly divided from the living room by a wall and from the dining room with some counters. There are still some breaks in the room which divide the room into specific areas. The above kitchen was renovated by us in Bucklands Beach. 
Broken plan kitchens are a trend of the next decade, taking the open plan concept to another level. Imagine a large room which has different zones for living, dining and cooking. These zones are not divided by any half or full walls. This makes an area look more spacious as there is little that is 'breaking' the large space or room.

Broken Plan Concept: The above is a good example of a broken plan kitchen. The room is a large space where there are allocated zones for different purposes. However, there are no walls making a specific 'break' between the different zones. 
Trend #6. Quartz is Still King
For high-end kitchen countertops, quartz still reigns supreme. The material is extremely hardy, can last virtually forever, is a breeze to maintain and is anti-microbial. Granite, the main competitor in the high-end bracket, requires slightly more maintenance.
When quartz countertops first came into the market, the main worry was lack of variety in terms of colours and finishes. But through technological advances, manufacturers can now provide a range of colours and patterns. You can even get quartz finished with elaborate swirls and large veining to imitate other materials like natural stone. These unique styles have become immensely popular.
Kitchen renovation in Bucklands Beach: We engineered stone to look like black marble which was then infused  with shiny specs to add a touch of luxury for this kitchen renovation
But there is a notable trend toward softer and more neutral colours. More and more homeowners are opting for colours like grey, taupe, creamy or white finishes.  This follows the trend towards cleaner styles seen in most home spaces.
Kitchen renovation in Stanmore Bay: Engineered stone used to look like pattered granite. The pattern chosen by our client was Autumn Leaf. 
While we are still on the topic of countertops, it is important to mention the rising popularity of composite sinks. These are sinks made from the same material as the countertop.  This creates a cleaner uniform look and makes cleaning and maintenance much easier. However, it is going to be a tough battle against the still very popular stainless steel, ceramin and Silgranit sinks.
<BR<
Trend #7. Effective Storage Solutions
One of the biggest drawbacks with kitchen cabinetry is the unnecessary waste of space. The way the basic shelves and drawers are structured leaves a lot of wasted space. Worst of all, available space is often too small for some of your larger things or the opposite: it's too wide and does not give you a way to properly and efficiently organize the space.
One of the foundations to a functional kitchen is kitchen storage. If it is inadequate or ineffective, you will be faced with endless frustrations and challenges.
To counter these storage challenges, homeowners are starting to look for better storage solutions within the cabinetry. These can include:
drawer dividers for cutlery & utensils
pull-outs for spices
tray dividers
roll-out trays
magic corners for pots & pans
wastebasket cabinets for garbage and recyclables
deep drawers.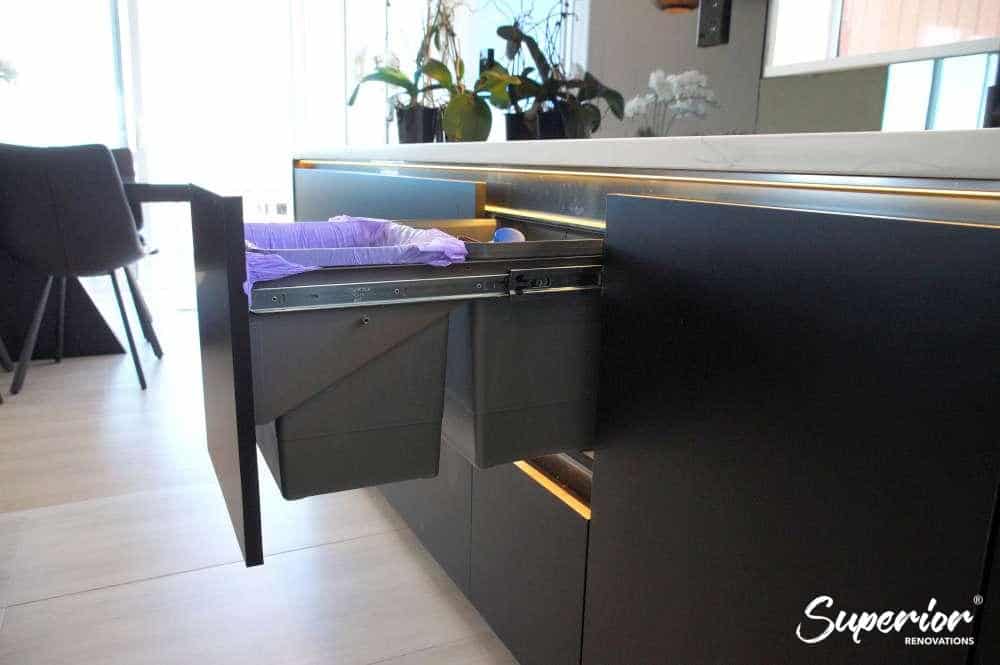 Pull out Rubbish and recycling bins
Custom built Pantry drawers to add convenience and maximise storage
Magic corners to utilise the space in corner cabinets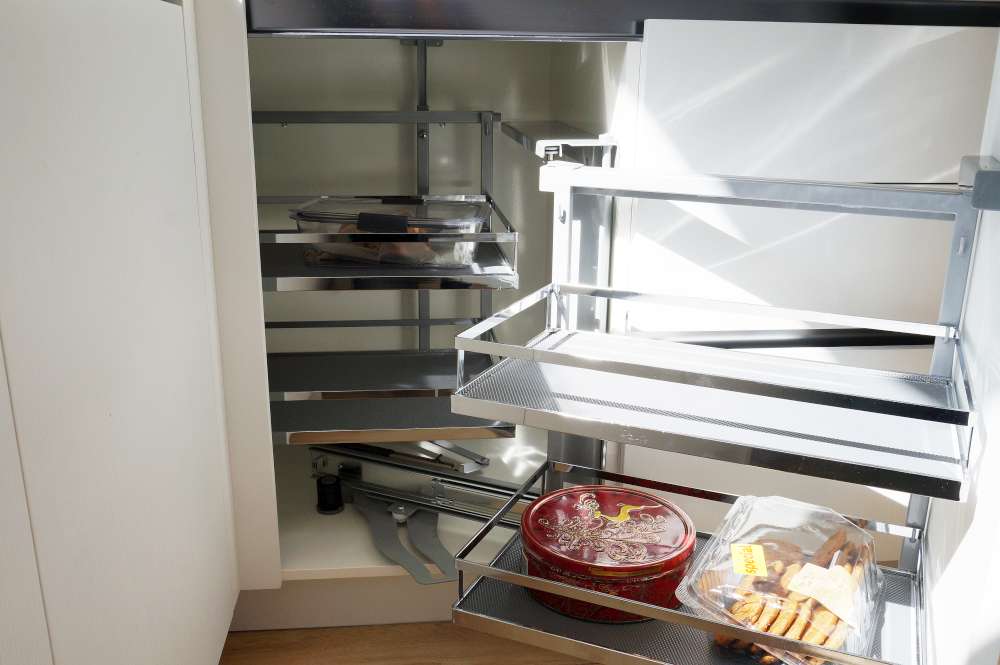 A different variation of a magic corner to effectively utilise corner space for cabinets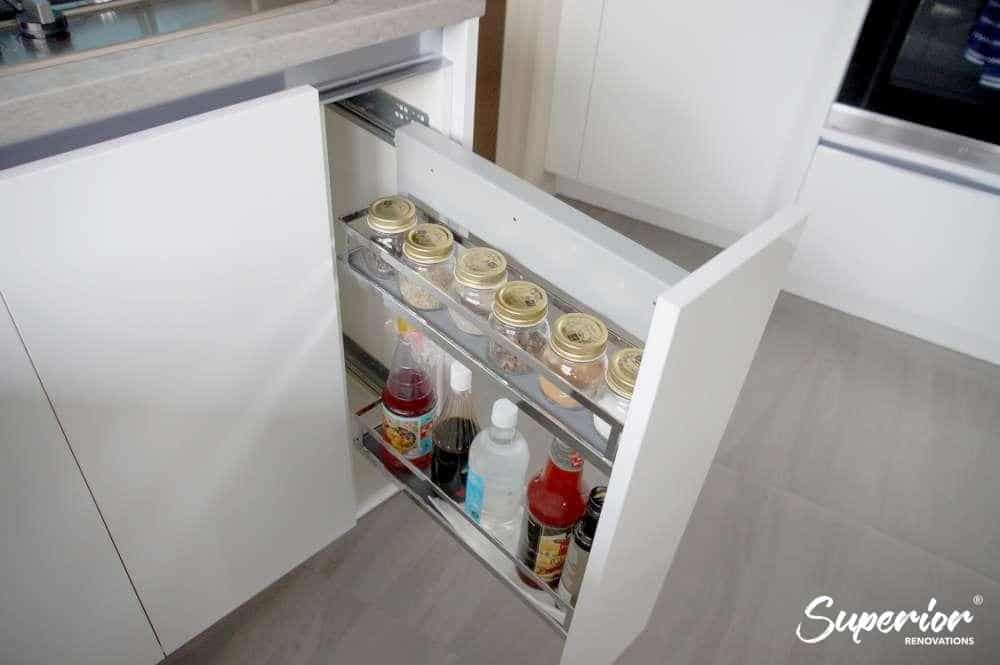 Custom built storage solution for cabinets to store condiments
The most popular storage solutions we have seen with our clients are the 'magic corners' as they effectively utilise the wasted space in the corners of the kitchen. The other popular storage solutions have been custom built cabinets with pull out drawers.
For more storage solution ideas…
Trend #8. Open Shelves for Small Kitchens
While Hidden storage solutions will always remain popular, they are not always feasible in a small kitchen. Small kitchens do not have the space for bulky cabinetry with storage drawers and hence need a different storage solution.
Open shelves for small spaces can provide effective storage solution and can also add a great design element. Following are some of the ways you can maximise storage in an open shelf for a small kitchen:
Use magnetic holders for knives. These can be screwed on to the wall so you do not have a bulky knife holder on your counter top
Laddle hangers and wall spice racks. Small hooks can be installed to hang all your spoons and laddles used for cooking. You can also find smart hangers where you can place your spice bootles.
You can also create a wine glass hanger which would reduce the need for shelves.
Floating open shelves were added  to increase storage and add a design element to the kitchen
A great tip is also to buy colourful pots, pans, bowls etc which can be placed in the open shelves. This would create interest and also add a pop of colour to your kitchen.
Trend #9. Hardwood Flooring is Still the Shining Star but Ceramic Tile is on its Heels
Hardwood flooring is still very popular when it comes to kitchen flooring. But the second most popular option, ceramic flooring. Thanks to technology, ceramic flooring now comes in a wide variety of designs, styles and sizes.
For example, you can get ceramic tiles that look exactly like hardwood flooring. So if you want to retain the hardwood look but want a material that is easier to maintain, consider using ceramic tiles. In addition to wood, ceramic tiles can be designed to resemble a range of other materials including natural stone. Even the surface texture is changed to mimic these materials.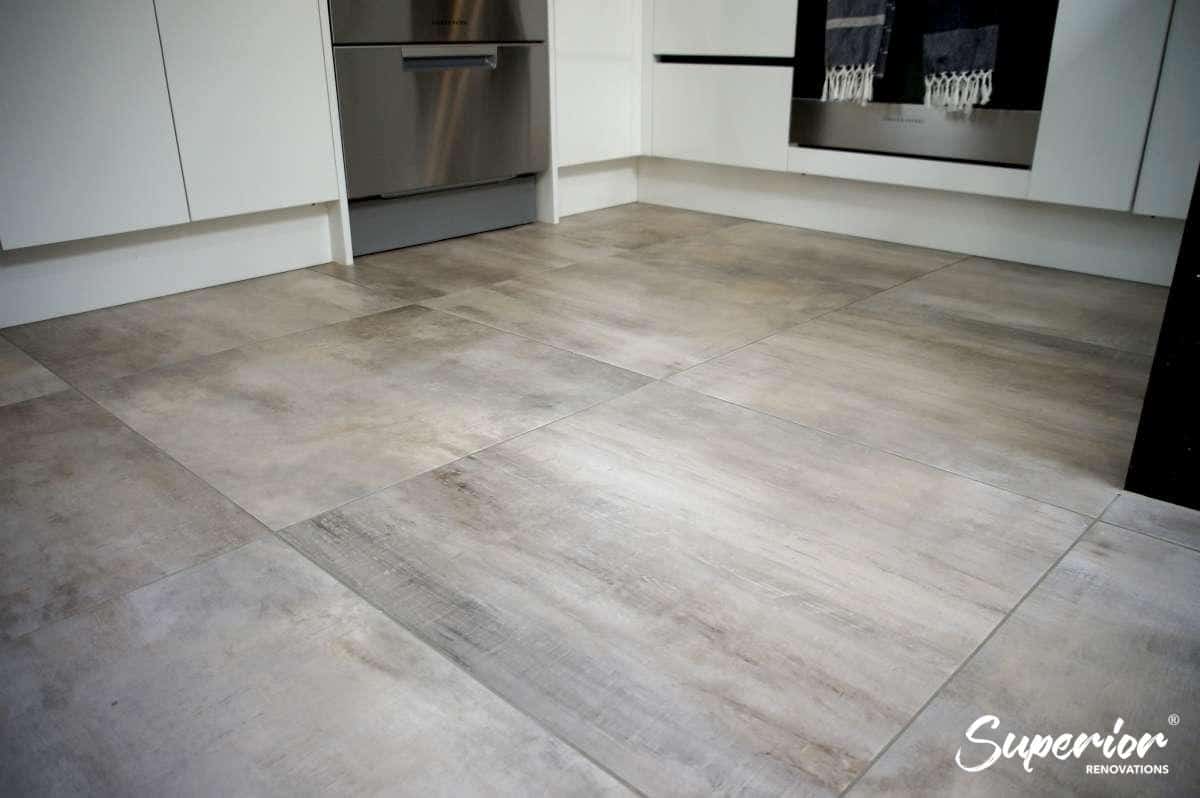 Kitchen renovation in Bucklands Beach: Ceramic tiles which mimic hardwood were installed for easy maintenance and as a cost effective option
In terms of size, you do not have to go for traditional sizing any longer. It seems like the sky is the limit with variety and larger format tiles. You can get single plank tiles that resemble actual wide planks of hardwood once laid down on the floor. Or you can get custom cut tiles to create a uniquely patterned kitchen. Larger tiles make an are look bigger in space as compared to smaller sizes. This is because there are lesser grout lines and the area hence looks less 'busy'.
Trend #10. Single Level Multipurpose Kitchen Islands
Kitchen islands are no longer an afterthought or something small to squeeze into the space. They have become the point and the hub of the kitchen. One of the changes emerging is the single level larger sizing, serving multiple uses. Large islands now also have ample shelving below to maximise storage.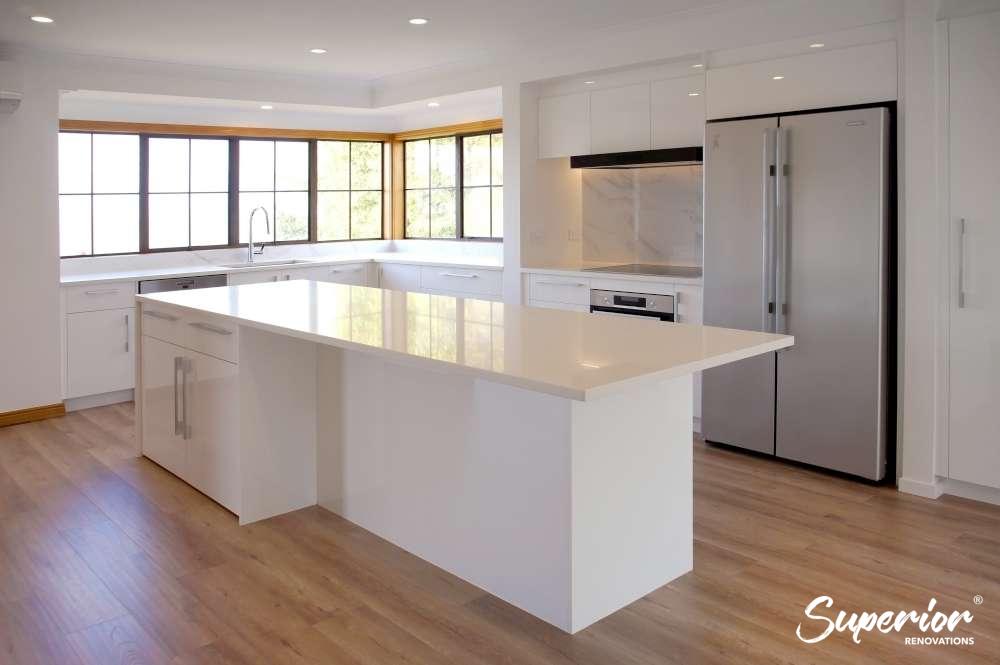 Kitchen renovation in Blockhouse Bay: Custom built large island which doubles as a storage solution with cabinets and as a breakfast and prep bar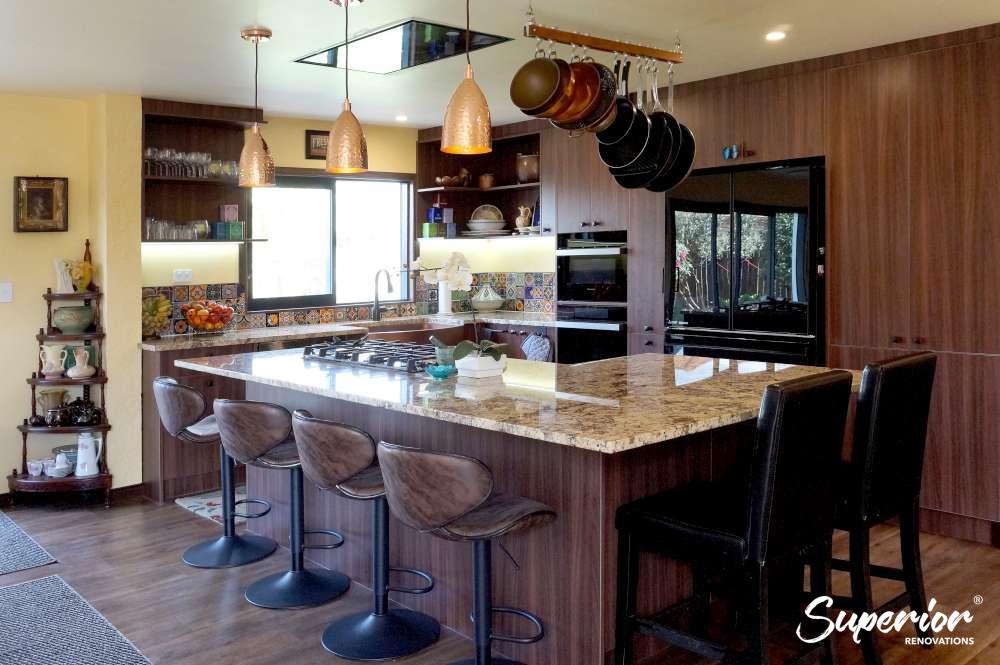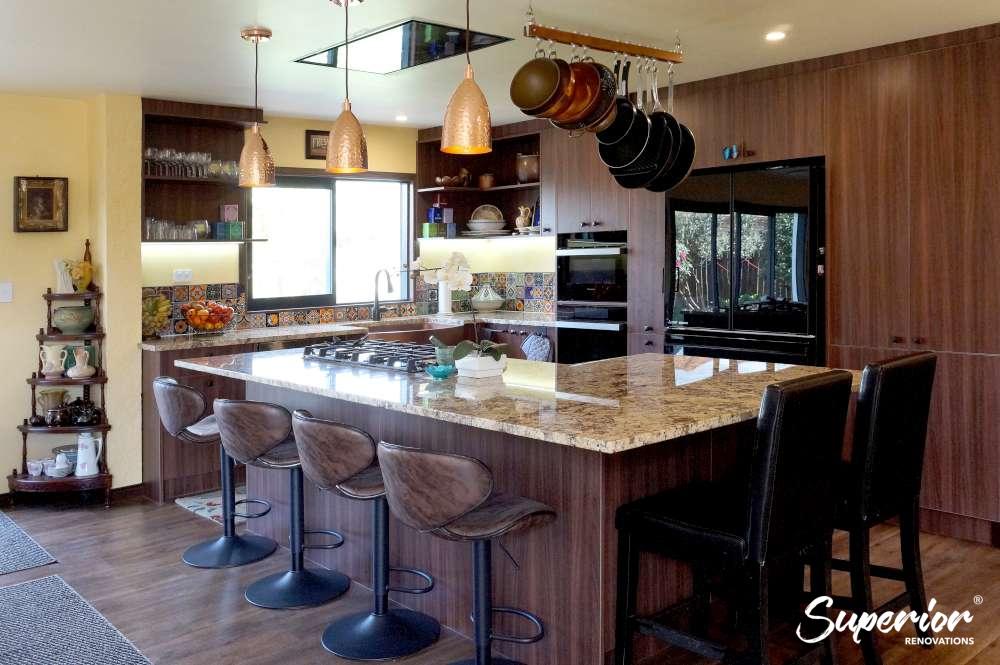 Kitchen renovation in Stanmore Bay: An island bar which doubles as a dining table and cooking bench
In the year 2023 large kitchen islands will become the jack-of-all-trades. They will have storage solutions and would be fitted with various under-counter appliances while also providing seating–serving as a casual dining and/or drinking bar. To accommodate the increased size, we are seeing a tendency for the kitchen island to extend into living room spaces in homes with open plan designs. This ensures the kitchen island can be multi-functional without cluttering up space in the kitchen.

Kitchen renovation in Massey: Kitchen island extending into the living room space to double as a bar that can be used for entertaining
Trend #11. Double Islands
If you have the space, then we would advice you to get two smaller island in your kitchen rather than 1 large island. Having 2 smaller islands improves the flow of the kitchen as well as the ease of movement. Having two separate islands also means that you could use of as a breakfast bar and the other as a counter top for preparation as well as installing a cook top.
Double islands have become a growing trend in the last year and are seen to be on the rise for large kitchen spaces as well as open plan living.
Trend #12. Ceiling high larders
Kitchen is not just a functional space these days. With the rise in open plan kitchens, it has become important to make kitchens aesthetically pleasing along with good functionality. Many people now prefer to have open shelves in their kitchen rather than bulky cabinetry as it makes kitchens look more spacious. Buy some colourful pots and pans and you have a beautiful focal point full of colours and textures.
The same logic applies to larders. The trend in 2023 is seeing a rise in larders that are open and built up to the ceiling. This gives you more storage and will also add a beautiful design aspect to your kitchen. To access the higher shelves on your larder, consider buying a trendy movable ladder that you can rest against your larder.

The above is a great way to built an open larder with trendy storage containers and a larder to access the higher shelves. Add some light within the larder and you have a great focal point for your kitchen.
Trend #13. Backsplash Trends
First things first, subway tiles are out! Okay maybe not completely out, but they are no longer popular in the 'white brick' size. People are moving on to larger slabs of tiles with various textures and patterns.  Adding a bright and vibrant backsplash will add the much needed character in a neutral kitchen. Neutral patterns with natural texture is another option for those looking for a classic look.
Kitchen renovation in Bucklands Beach: Hexagon shaped black and grey textured tiles were added as a backplash to add interest, drama and texture to the kitchen
Another big change we're seeing in tile backsplashes are their size and the portion of wall they cover. More people now opt for larger tiles to make the area look less 'busy'.  These slabs can be made to look like marble, quartz, wood, copper, stainless steel, glass…. the list goes on forever!
Trend #14. Connecting With The Great Outdoors
As discussed above, open plan living and kitchen has been a popular trend for a while now. In New Zealand we love Bbqs and entertaining our guests outdoors. This way of living in NZ has given rise to the trend of connecting the kitchen/dining area with the deck or outdoor area. Some of our previous clients have also used their outdoors as an extended kitchen area.
This is mostly done by building a covered outdoor area equipped with grills and cooking equipment which can be accessed from the kitchen through french doors.
Trend #15. Adding a Pop of Colour
As mentioned above, white will always be a popular colour for kitchens as it is a versatile colour to work with. In past people have always gone for a traditional look for kitchens with either white surfaces and cabinets or dark wood. The trend has now been changing towards adding colour to otherwise white kitchens.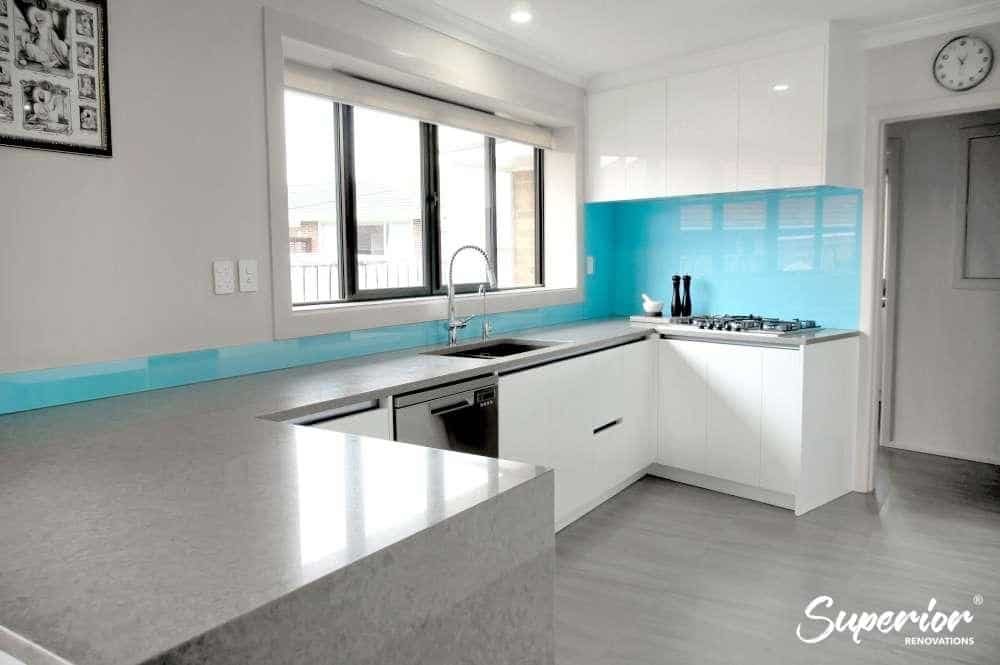 A sky blue backplash was added to add some colour into a neutral themed kitchen in Papatoetoe
People are now looking at ways to add colour to their kitchens. We spend most of our time in this area of the house, entertaining our friends and family, so why not put our favourite colour in the space? We have and will be seeing this on cabinets, islands, hutches, and feature walls.
The colours predicted for these spaces are inspired by the elements with blues, earthy tones of green and red.
Trend #16. Mix and Match Metals
We get this question a lot: is it okay to mix metals in the kitchen? The answer is YES! Mixing metals adds character in the space, especially if it is done correctly. We will be seeing more of an eclectic style in 2023. Overly matched and coordinated spaces is a trend that is slowly fading.  If you love gold fixtures, but don't want it all over your kitchen, add a soft gold faucet with black or nickel hardware.
Light fixtures can be a completely different metal altogether, while having hints of the same metal you are using elsewhere. These pieces are the finishing touch to the space. Make them stand out! Another way to mix in metals, would be in your furniture selections for kitchen tables chairs or island stools. These can be easily interchangeable when you want to change things up a bit!
Kitchen renovation in Stanmore Bay: Textured Brass sink and tap fixtures added metal elements to this kitchen in Orewa
Textured metals that are the same colour as other pieces in the kitchen are a nice way of adding a different element, while not getting too crazy.
Trend #17. Steel Hoods
In 2023, we will be seeing homeowners focus on their hood designs. This piece can be a major focal point in the space, especially depending on the layout of the kitchen. Most of the time, we design the space with the range and hood on a wall that is seen from other rooms in the house. Why not make this piece a statement?
The Steel hood above adds a certain drama to the kitchen
Custom steel hoods are a way to add in a breaking point to a long row of wood cabinetry. These are a nice feature, but they do come with a cost. Custom steel hoods can range anywhere from $5-7k, but they sure do make a beautiful addition to your new kitchen, so make sure you budget for this correctly. Let's get rid of those boring matching stainless hoods and be creative with your space! This is also your chance to add metal as a component to your kitchen.
Trend #18. Natural Wood Tones in Kitchen Design
Stained, treated or imitation wood has been used in kitchens for more than a decade. Natural wood is making a come back in the next year as natural forms of wood brings warmth into a kitchen and gives it a nice rustic feel.
Kitchen renovation in Mangere Bridge: Natural wooden counter tops treated with Epoxy Urethin Vinyl to increase durability. 
If you have a white toned kitchen then adding either a wooden island, drawers or counter-top will add a vintage charm to your kitchen. In order to increase durability of your natural wood elements in the kitchen simply apply Epoxy Urethin Vinyl Coating on your counter tops. Natural wood however can be used in its true form as a nice rugged looking breakfast bar.
Trend #19. Statement Bronze Accessories for your Kitchen design
Installing statement is a great way to liven your kitchen up and give it a unique design element. Use statement taps and fixtures like brass to give your kitchen a rustic look or industrial look.
Brass sink and tap-ware added for our client to create a rustic look for this kitchen we renovated in Orewa
If you have a kitchen which is mostly designed in neutral and white colours then use black for all your taps, fixtures and cabinet handles to instantly make it a classic black and white kitchen without making any drastic changes.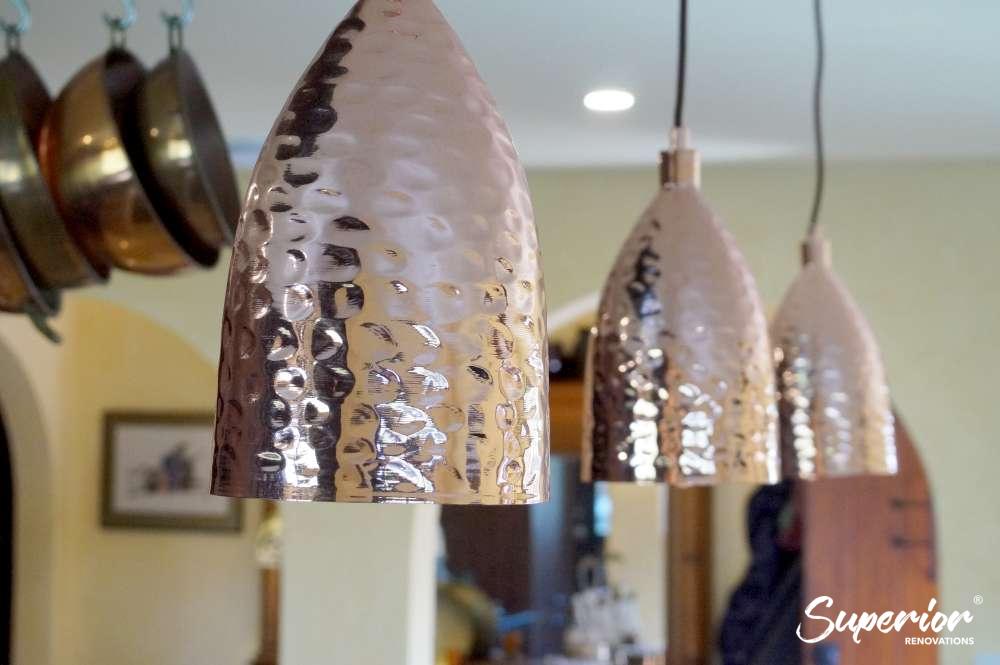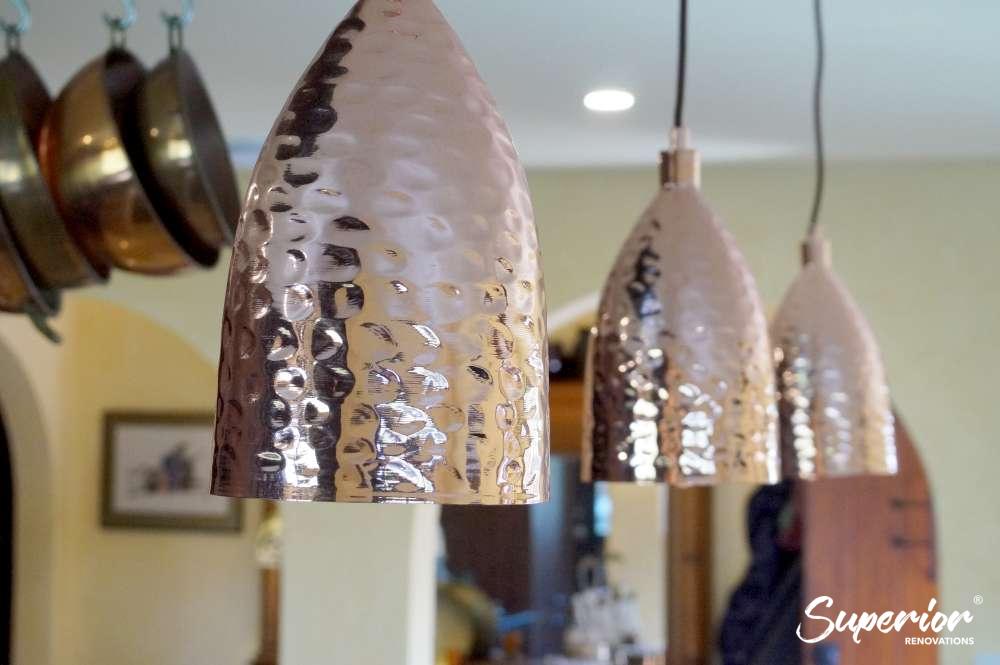 Rustic looking bronze hanging lights also added to the rustic feature of this kitchen in Orewa
Trend #20 Plate racks, Hanging cups and colourful appliances
As mentioned above, a great way to spruce up you kitchen aesthetics is to bring some colour into the kitchen. If you are not looking for a big change then putting colourful crockery on display is a great idea to add some colour.
The above kitchen looks dramatic and bold due to simple red utensils and black cabinets. The red utensils create a lot of interest to an otherwise monochromatic kitchen.
All you have to do is add some hooks for colourful cups or add a wall mounted plate rack complete with pattered plates to create interest into a drab kitchen.
Another example of adding colour to a white toned kitchen.
If you are not afraid of colour, then add colourful appliances like a SMEG fridges or accessories can add some fun elements to your kitchen without having to renovate.
Trend #21 Welcome With a Sociable Kitchen
One of the kitchen renovation trends 2023 is the use of curved design elements to enhance the ergonomic benefits and functionality of the space. Rounded kitchen islands are becoming popular as they facilitate socialising and movement in open-plan kitchens with multiple entry and exit points. This kitchen renovation trend encourages smooth transition between spaces and is perfect for entertaining guests.
Modern full home renovation in Greenlane 
Trend #22 Embrace a Wood Resurgence 
Wood kitchen cabinets are becoming popular and may be part of kitchen renovation trends 2023. Using wood cabinets like walnut or oak kitchen cabinet ideas provides your kitchen with a timeless or classic look. A popular option amongst homeowners.
Trend #23 Layered Lighting 
A major kitchen renovation trend 2023 is layered lighting to create a well-designed and functional kitchen. Instead of relying solely on task lighting in specific preparations area, layered lighting will create a more balanced and visually appealing look. This kitchen renovation trend of layering lighting is a key aspect of designing a successful kitchen.
Trend #24 Handle Less Design 
The modern kitchen renovation trend 2023 is focusing on multi-functional, open-concept spaces with a minimalistic aesthetic. With the advancement of push-open and close doors, handle less kitchen cabinets are becoming increasingly popular as it provides a sleek and streamlined look. This trend emphasises simplicity, placing emphasis on the detail of cabinetry for a clean, uncluttered look.
Read – Contemporary Kitchen Renovation with Rustic Features 
Trend #25 Create a Space for a Pantry 
Pantry cupboards are becoming increasingly popular in modern homes as they provide a convenient and organised solution for food items. This kitchen renovation trend 2023 emphasises the importance of having all food goods in one central location, instead of scattered around various wall cupboards. This not only makes it easier to keep track of groceries, but also creates a more orgnaised and functional kitchen space.
---
10 Kitchen Trends to avoid in 2023
It is always a great idea to not renovate your kitchen wholly after one trend. This is because some trends start becoming an eye sore after a time. We mostly recommend our clients to go for classic designs and use elements of upcoming trend to complement the kitchen as opposed to wholly changing the kitchen to suit a 'current fad'.
We have compiled a list of trends that do not work well anymore and that you should avoid.
Trend #1 Themed Kitchen design
Kitchens that are fully renovated to emulate a certain time period or style can quickly run out of style, leaving you with a kitchen that you no longer like. An example of this would be a kitchen would be a retro themed kitchen. If you like retro styled kitchens then think about perhaps using a few elements from that era in an otherwise classic or modern kitchen.
Trend # 2 Kitchen desks and workstations within a kitchen design
Kitchen desks were very popular a few decades ago. The birth of kitchen desks came from an era where there was no internet or online accessibility of recipes. People used these desks to work on their menu and store recipe books. However, kitchens is a space which is prone to getting messy and you do not want your desk to bear the brunt of it. Re-locate your kitchen desk to another area of the house and instead add an extra pantry in the kitchen area.
Trend # 3 Dark wooden cabinets
Unless you have a large kitchen, dark cabinets can make your kitchen look bulky and cumbersome. It will close the space up and make your kitchen look dated. Opt for a lighter wood to open your space up and add a modern clean touch to your kitchen.
Trend # 4 Over the range microwave
Older kitchens mostly feature a space above the counters for microwaves. Not only is this cumbersome but it is also inaccessible sometimes with food being split or dropped ever so often. Instead, make a space for your microwave which is below eye.
Trend # 5 Tile Counter-tops
Tiled counter-tops may be cheaper compared to other materials but they are not easy to maintain. They are prone to chips and grouting stains which can become unsightly very soon. If marble or granite is not an option for you then try using engineered stone which can be made to look and feel like marble. They are a whole lot easier to clean and maintain.
Trend #6 White Subway tiles
Subway tiles have been used over and over again in the last decade or so. It is almost an overkill to use them when renovating a kitchen. Try glass, acrylic, stone or tile instead. If you do however like the 'subway' look then try colourful subway tiles instead so they add pop of colour to your kitchen.
Trend #7 Closed kitchens
As discussed above, closed off kitchens just do not suit our contemporary tastes anymore. Sure there is a pressure to keep your kitchen tidy in an open plan concept however, no one parent or two want to cook the evening away in a closed off kitchen while kids are hanging in the living room.
Trend #8 DIY backsplashes and cabinets
Doing a DIY job of either painting your cabinets or installing them will never give it the finish that you desire. If you are not a professional then stay away from doing a DIY job as it will only give you problems in the future.
Trend #9 Ornate Styles
If you prefer a rustic, classic or traditional kitchen then that is completely okay! Modern kitchens with sleek lines is not everybody's style. Even if you are after a traditional kitchen, do not go for ornate decorations on cabinets, doors or oddly shaped islands. Ornate designs on wood etc make a kitchen look dates and unappealing. Instead, make the use of colours, wood and other accessories to bring out the traditional style.
Trend #10 Mismatched styles
When you think about renovating your kitchen it is always a good idea to see what the overall feel of your home is. If your home reflects a more classic traditional style then renovating your kitchen to a sleep modern kitchen would make it look like an eye sore. Instead you could have a traditional kitchen with modern elements to still maintain the theme of the rest of your house.
Trend #11 All White Kitchen 
Minimalistic kitchen designs are trending, but to avoid a barren look, it's important to incorporate neutral colours in addition to white. Incorporating colours such as tan, grey and black into a white kitchen can add depth and interest while maintaining a minimalistic aesthetic. This kitchen renovation trend 2023 focuses on simplicity and clean lines, so be sure to avoid having an all white kitchen.
Read – 10 Mistakes to avoid in your kitchen by our kitchen designers 
6 Key features to incorporate within your Kitchen Design
There are several features that you can incorporate within your kitchen design when renovating a kitchen for comfort, functionality and aesthetics. A well planned kitchen design includes key features that maximise the space for the lifestyle of the homeowners. The good news is that there are several innovative solutions available today  that work within small as well as large spaces. We spoke to our Kitchen designer and she listed the top 5 features that a good kitchen design should include.
#1 Layout is important for a Kitchen design
Deciding a layout of your kitchen will depend on the space available and how much your family uses the kitchen. If your kitchen is a high traffic area with various family members cooking together then your kitchen design should include a substantial amount of bench space. We have listed the most common layouts below:
One walled kitchens
These kitchens are best suited for smaller units or apartments in Auckland where space is limited. Units and apartments mostly feature open plan living. With one walled kitchens you can make a small area look less cumbersome and you get the flexibility of having a small dining area and a nice living room space.
Galley Kitchens
This layout works good for small spaces as well as it is a lean layout which is ideal for 1-2 person households. The galley kitchen layout features two walls or countertops running parallel to each other with a walkway in between. If you do have a small unit and a one wall kitchen does not provide ample space then a galley kitchen is the right type of layout for you. You can also use one of the countertop area as an island with bar stools and skip on a dining table. This will give you extra counterspace as well as an area to eat your meals.
L-Shaped Kitchens
L-shaped kitchens are great when you want to maximise the corner space of your home. L-shaped kitchens work well for small to medium sized homes as they do not make the area look cumbersome. These kitchens consist of countertops that on walls perpendicular to each other. An L shaped kitchen also provides more storage space as you can built additional storage cabinets on the wall above the counter. If you have the space then you can build an additional island which can act as a dining space as well. 
U-shaped Kitchens
U shaped kitchens have counters or cabinets in three walls of a kitchen making a U shape. They work best for larger spaces and traditionally have worked best for kitchens that are not open plan. However as more people are leaning towards open plan living concepts, this U-shaped design has evolved to include an island instead of counters on all three walls. The modern version of U-shaped kitchens includes an L shaped kitchen along with an island. This also allows for easy foot traffic throughout the kitchen.
Islands in a Kitchen
As discussed above, it is possible to include islands within most layouts when designing a kitchen. The size of the island should however be in proportion to the space that you are working with. If you do have a one walled kitchens then you are probably working with a small space which means that the island that you install should be sleek and no overcrowd the space.
Peninsular Islands
Peninsular islands can be seen as an extension of an L-shaped kitchen. They are attached to a part of the L shaped kitchen to form a U-shaped kitchen. Below is a great example of an Peninsular island that we designed in a full kitchen renovation in Bucklands Beach.
Read – Our complete 2021 guide on Planning the right Kitchen Layout for your kitchen
# 2 Storage
Storage is one of the most important aspects of achieving a functional kitchen. The first thing that we recommend all our clients is to draw up an inventory of all their large utensils and kitchen appliances. If there is anything that you do not use regularly then this would be a great time to get rid of them.
Next think about your pantry and how much groceries do you store on a regular basis. Do you need a larger pantry or are you satisfied with the current one? These questions are important before a renovation so your kitchen can be custom built according to your family's functionality.
When working within tight spaces we incorporate space saving designs such as 'magic corners' for corner cabinets, pull out cabinets, pull out rubbish bins and pull out pantries. Such designs help save space, and maximise storage when not a lot of it is available.
# 3 Durable Benchtop
Benchtops need to be durable in any kitchen whether it is used often or now. Most times benchtops cannot just be changed without changing the carcass of your cabinets as well. This means that it is vital that your benchtops survives atleast 25 years. Most older homes in Auckland have durable benchtop made of laminate which are not prone to cracking or breaking but they are prone to staining. Laminate benchtops get stained very easily and hence start making your kitchen look shabby.
Stainless steel is a very durable benchtop as it will not stain and has a long life. Stainless steel is not for everyone though as it can make a kitchen look cold and more like a commercial kitchen. Stainless steel is not the best option if you are going for a traditional or classic kitchen. Stainless steel can work well with industrial, modern and contemporary styles.
Quartz is another material that works great for countertops as it comes in various designs and is very durable. Due to its versatile option in design, it can be used in all types of kitchen styles. It is however an expensive choice for benchtops which might not be right for everyone's budget.
Engineered stone has become one of the most popular choices for our clients as it is durable as well as cost effective compared to quartz. Engineered stone is exactly as it sounds, it is engineered in the factory. It can be made to look like marble or any other material which makes it a versatile design choice. It is also not as expensive as marble or quartz and does fit into most budgets. Engineered stone does not stain like laminate and is a very easy to clean material.
# 4 Good durable Flooring
The floor of the kitchen can easily get dirty and messy. Most people live busy lives and cannot spend a long time cleaning and maintaining the floors. Tiled or Acrylic floors are the easiest to maintain when it comes to kitchens. Tiled and Acrylic floors now come in various textures, designs and patters and can be made to look like wooden floors or any other type of flooring. This means that you do not have to compromise on style and aesthetics. They are also very easy to maintain and do not get damaged with any water spillage.
Carpets and Real hardwood floors are easily the hardest to maintain. Carpets are easily stained and can be a nightmare to maintain in a kitchen even with a kitchen mat. Real hardwood floors can begin to rot overtime if there is constant water spillage which is often not avoidable in a kitchen. If you have real hardwood floors then a good idea will be to protect them in order to avoid them getting damaged.
We have renovated old bungalows in Auckland where our clients chose to keep their timber floors and we preserved them by taking the following steps:
All the floors were cleaned thoroughly and then sanded
All the rows of nail holes were fixed
 3 coats of commercial grade water Born Polyurethane was applied on the floors
After 5 days we then applied a satin finish of moisture cured and water based polyurethane.
# 5 Good Quality Fittings
If you're considering which items to spend more on in your kitchen, it's worth paying attention to the fittings. A standard cabinet can be lifted by a beautiful handle, while a basic sink can look high-end with the addition of a well-chosen tap.
The fittings in your kitchen are going to be used a lot, so it makes sense to invest in quality to ensure they're strong, durable and nice to touch.
It is important to use good quality fittings when renovating a kitchen whether it is a DIY project or through a renovation company. You are not going to be renovating your kitchen every 5 years or so which means that the fittings you choose should be lasting you at least 15-20 years. It is better to put off your renovation for a few more years in order to save enough to invest in good quality fittings for your kitchen renovation.
Your fittings will be used a lot and quite regularly so there is a high chance of wear and tear. The materials you choose for your cabinets, benchtop, sink and door handles should be durable and sturdy.
# 6 Easy to clean splash back
A well chosen splashback can transform your kitchen in terms of design as well as reduce the time it takes you to clean while cooking. One of the key functions of a splashback is to protect the wall from the splatters made while cooking. Hence decide on a sleek tiled splashback without many grout lines or a glass splashback.
If there are too many grout lines or if the tile used is rough or textured then cleaning the splashback will be harder. If it is a smoother tile without too many grout lines then it would be a whole lot easier to clean your splashback.
---
Featured Projects
Urban Luxury Kitchen renovation in Parnell
This townhouse was centrally located in Parnell but the kitchen was tiny and lacked counter space. We completely changed the layout of this kitchen by first moving it from the left side of the area to the right. We then added cabinets in the dining area as an extended storage space. This cabinet featured shelves with internal lights which could be opened when required. To see Before and After pictures and project specifications see more
---
Entertainer's Dream Kitchen and Bar 
Guru and Neeta from Massey had a closed off kitchen which did not let them enjoy an open plan living. They wanted to renovate to introduce a feel of luxury but also make it an open space which could double as an entertaining space. We opened up the space for them and also extended the kitchen counter towards the lounge to act like a bar. The black and white see more
Kitchen, Lounge and Dining room renovation in Massey
---
Cottage Style Kitchen in Mangere Bridge
This was a special kitchen as it was about incorporating natural elements into the kitchen to reflect our client's country surroundings. The kitchen was dated and was transformed into a chic country style kitchen complete with treated real wood as bench-tops, butler's sink, floating shelves and cabinets that were wrapped in Dezignatek Thermoform with a 'Ronda' pattern to give them cabinets a vintage look see more
Full kitchen renovation in Mangere Bridge, Auckland
Already have all your own trades and you're comfortable managing them for your kitchen renovation?
Although we don't recommend if you haven't renovated a kitchen before and/or you don't have trades people you can trust, most renovations if not all comes with it's own surprises because not all homes are the same – this is where experience/project management plays an important role in minimises risks to maintain costs/delays giving you higher certainty of outcome/quality backed by associated guarantees and warranties.
However, if you do intend to manage the kitchen renovation yourself, it does work out more cost effective to contact a kitchen cabinetry manufacturer directly to get the kitchen cabinets designed, manufactured and installed – leaving you to manage the other trades such as flooring, demolition, painting, plastering, splashback/tiling, electrician, plumber, and sometimes a carpenter/builder.
Try Little Giant Interiors cost calculator below to see what you can expect to pay for cabinetry.
Further Resources for your house interior design
---
How much does a kitchen renovation cost?
Kitchen renovations start from 23K and can go up to 50K depending on the level of customisation and the type of range you use for products. If you are looking at a basic kitchen renovation with minimal change in layout and use mid range products/fixtures then you can get a fully renovated kitchen in 23K. However if the level of customisation is high and products used come from our premium range then it can cost anywhere above 30K
How do I budget for my kitchen renovation?
First you should make a list of why you want to renovate your kitchen. Is it to increase functionality by including modern amenities and changing your layout? Is it to make minor upgrades as things are starting to look old? Is it to convert a closed of kitchen into an open space living? Is it to upgrade a rental property to yield better rent in the market? These questions will largely affect your budget. If you are looking at upgrading an investment property to either add value or yield better rent should be getting a basic renovation with little customisation with the use of medium range supplies. However, if your intention is to increase functionality and add comfort then you can use our mid-range to premium suppliers and customise your kitchen to the extent that your budget allows.
Do you have finance options for my Kitchen renovation?
Yes we do provide finance options for people wanting to renovate their kitchen with us. We realise that it is not always possible to put aside a huge chunk of money for your renovation and we have hence partnered with Linda from Loan Market to provide finance options for our clients. To understand more about our finance options, visit our page: https://superiorrenovations.co.nz/guide-to-financing-your-home-renovation-in-nz-by-superior-renovations/
Does a Kitchen renovation increase the value of my home?
Kitchens and Bathrooms are the two main parts of your home that will increase the over all value of your home. Kitchens especially have become a focal point for buyers when choosing a home. This is because kitchens of today are a lot more than just a place for cooking. They are a place where the family congregates, a place for interaction and entertainment. Hence when buying a home, kitchen is mostly a first property for buyers.
Where can i find help to design my kitchen?
Renovation companies like ours that provide a full 'design to build service' will include design in to their process which means that you do not have to find your own designer. Having a designer in the same team as the rest of the renovation company is an added benefit as you do not have to liaise with two different companies.
Do i have get my own plumbers and electricians for my kitchen renovation?
This will depend on the company that is carrying out your renovation. Renovation companies that offer a complete 'design to build' service will include everything from designing your kitchen, demolition of previous kitchen, disposal of rubbish, supply of products like flooring/bathroom fixtures/showers,vanity, installation process, all the different trades involved and project management of the entire process and trades involved. The costs for kitchen renovation will include all the above. However there are kitchen manufacturers that focus only on manufacturing a kitchen and installing it. They would not provide any electricians, tilers, plumbers etc. Do your research to see what fits you best
What are some Kitchen backplash trends?
A backsplash can really change the look of your entire kitchen. Whether it is pop of colour that you want to add in an otherwise white toned kitchen or make it into a sleek modern kitchen by adding a glass splashback. You can read our article on newest trends for kitchen backsplash for 2020 and 2021 here: https://superiorrenovations.co.nz/how-much-do-kitchen-splashbacks-cost-in-nz/
throom fixtures/showers,vanity, installation process, all the different trades involved and project management of the entire process and trades involved. The costs for kitchen renovation will include all the above. However there are kitchen manufacturers that focus only on manufacturing a kitchen and installing it. They would not provide any electricians, tilers, plumbers etc. Do your research to see what fits you best. " image-5="" count="6″ html="true" css_class=""]
---
Still have questions unanswered? schedule a no-obligation consultation with the team at Superior Renovations

---
Or call us on   0800 199 888
---
Have you been putting off getting renovations done?
We have partnered with Q Mastercard ® to provide you an 18 Month Interest-Free Payment Option, you can enjoy your new home now and stress less.
Learn More about Interest-Free Payment Options*
*Lending criteria, fees, terms and conditions apply. Mastercard is a registered trademark and the circles design is a trademark of Mastercard International Incorporated.