Greenhithe, Auckland
Adding a Modern Touch
to a Classic Bungalow
---
Completed on Jan 2020
RENOVATION
Project Managed By
Kevin Yang
Managing Director/Project Management
kevin@superiorrenovations.co.nz
0800 199 888
Adding a Modern Touch to a Classic Bungalow
Project Finish Date
Jan 2020
Our clients bought a beautiful bungalow in Greenhithe as a future family home. The bungalow boasted original timber doors, timber wooden beams, timber floating shelves, stained glass doors, ornate light fixtures and a trim of colourful strip of tiles on timber floors. While the beauty of the bungalow could not be denied, there were some major issues that needed to be rectified before the family could move in.
Typical issues of old Bungalows in Auckland
Old electrical wiring making it a health and safety hazard
Shabby old paint with holes in the walls
Old and frayed carpets
Old bathrooms
Kitchen lacking modern and convenient amenities
The plus side to bungalows is definitely its structure. They have a good solid structure with windows and doors that will last a lifetime. Our clients hence decided to tackle the issues before moving in. They wanted to keep all the Timber floors, wooden accents and doors. They simply wanted to renovate to include the modern conveniences available in today's age.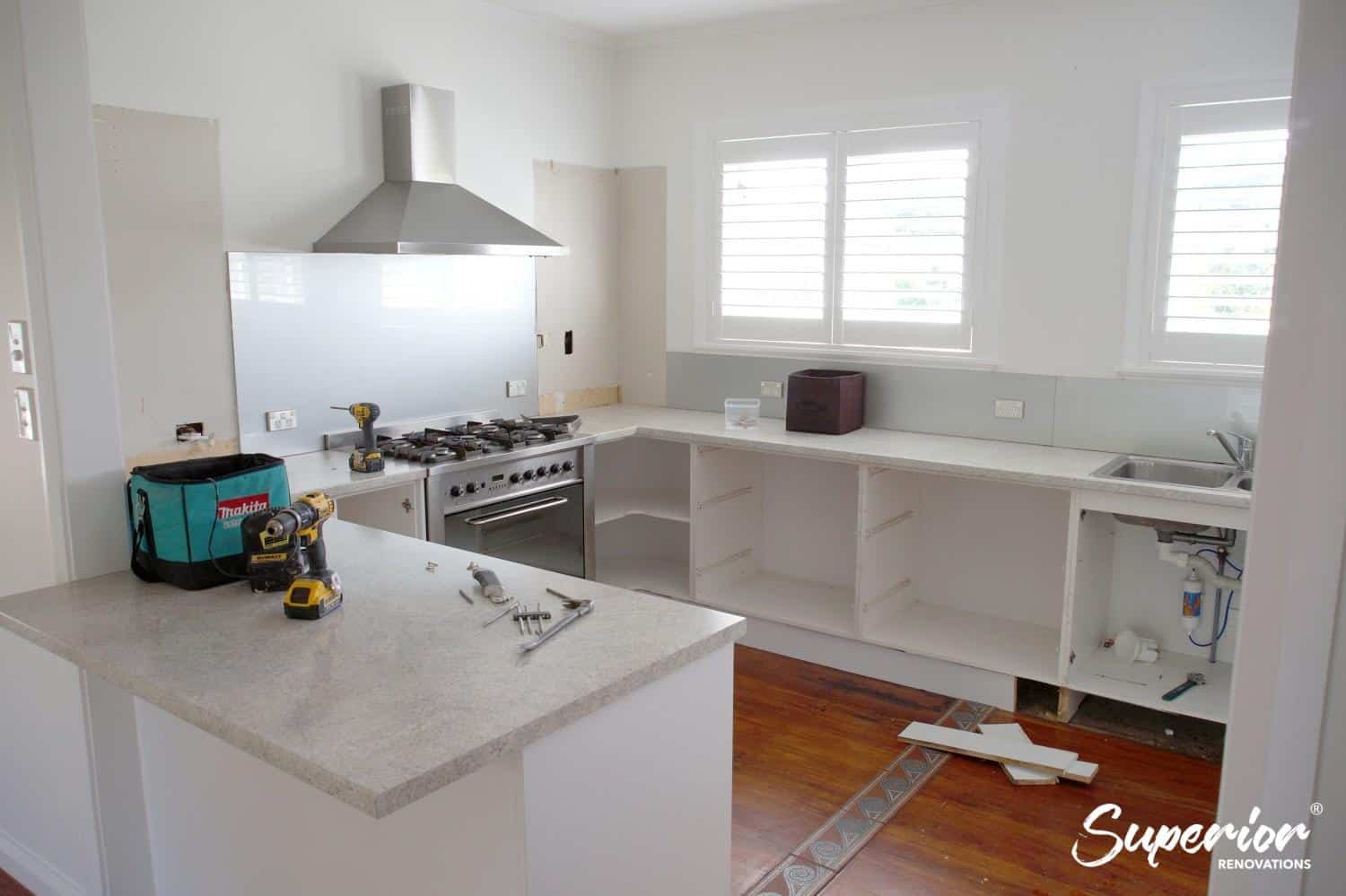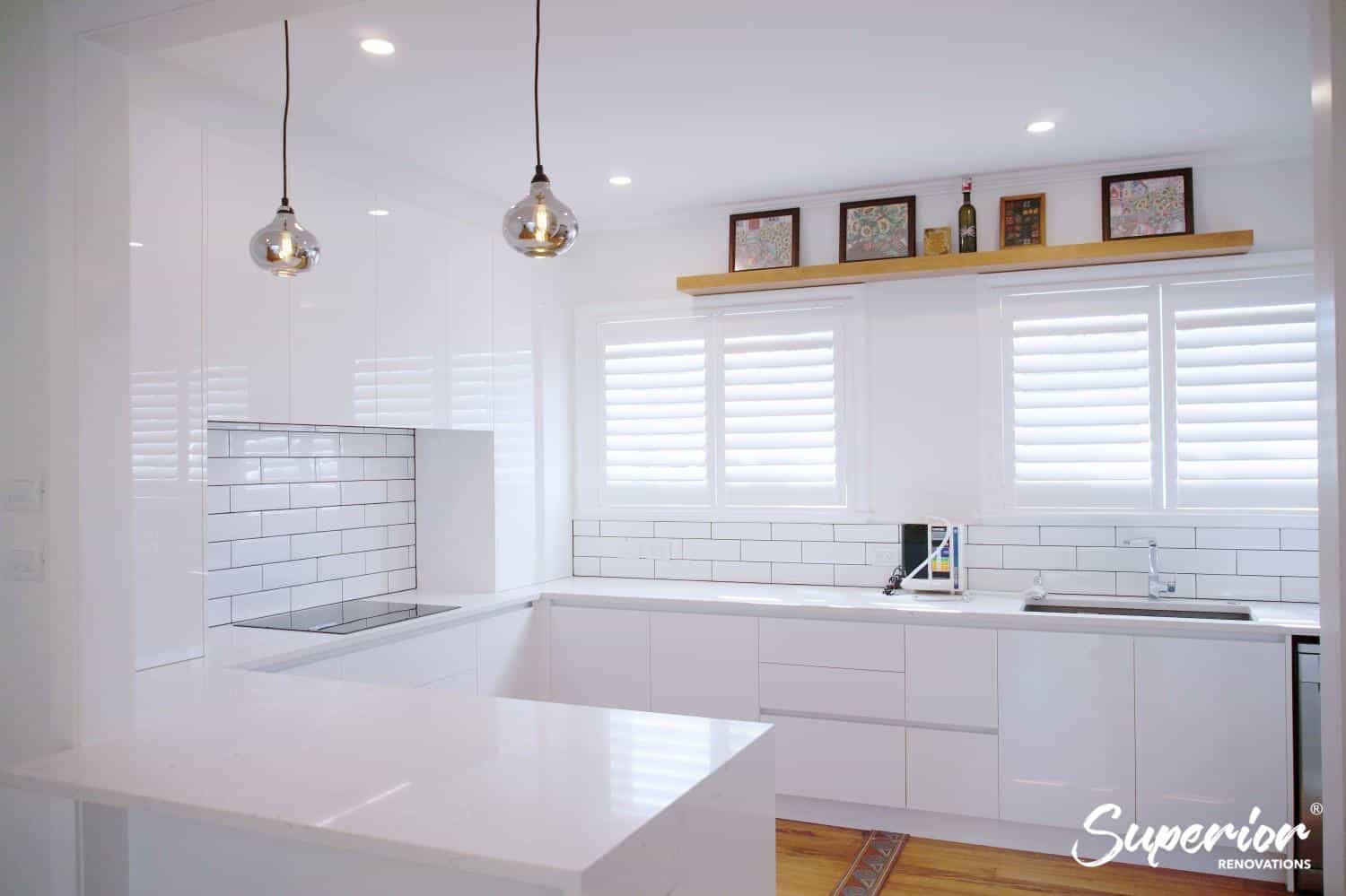 Full Kitchen Design and Renovation
The existing kitchen in the bungalow lacked good storage, modern conveniences, had a laminate countertop, and steel sink. We demolished everything within the kitchen apart from the flooring. New Cabinets were custom built with low maintenance and easy to clean materials. The same materials were used to build the laundry adjacent to the kitchen. Storage was maximised by building wall cabinets and shelves within the cabinets.
The kitchen was renovated in shades of white to retain the traditional classic feel of the house. We retained all the original wooden panels, trimmings and flooring which complimented brilliantly with the white cabinets and walls, overall exuding an old world charm.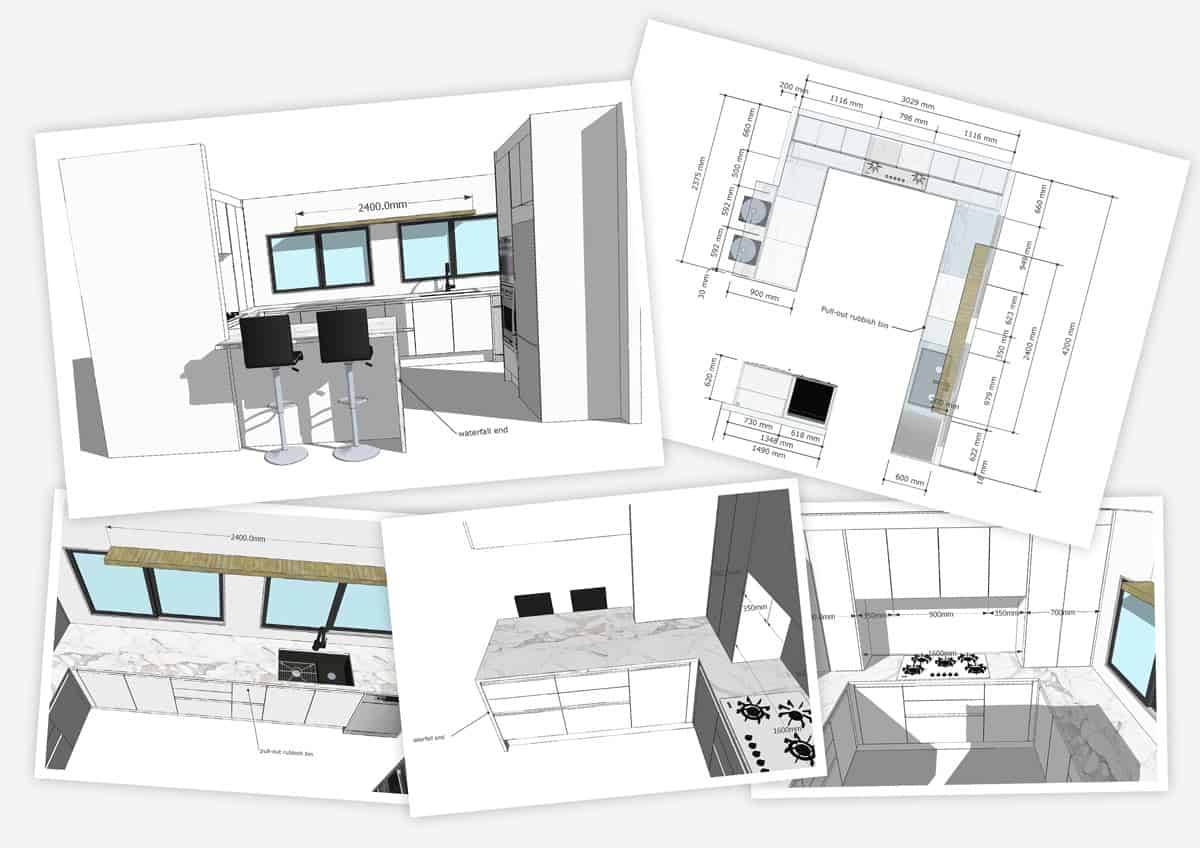 Storage Solutions
'Magic corner' Blum shelves were created to utilise hard to access areas
350mm Rubbish bin pull out
Cabinets were installed with shelving and baskets for condiments
Open shelves were created all around the cooking area and next to the fridge
Additional cabinets were created above the cooking area
Modern and convenient appliances and Fixtures
Induction stove top and range hood
MDF boards used for cabinets with high water resistance
18mm HPL sink carcass (high water resistance)
Blum soft close hinges
DTC soft close drawer runners
Stefano no handle set up for cabinets
Blanco Silgranit stone sink for durability
30mm engineered stone benchtop to look like white marble
Pull out matte Chrome kitchen mixer
City White Gloss 100×300 glazed ceramic wall tiles used as backsplash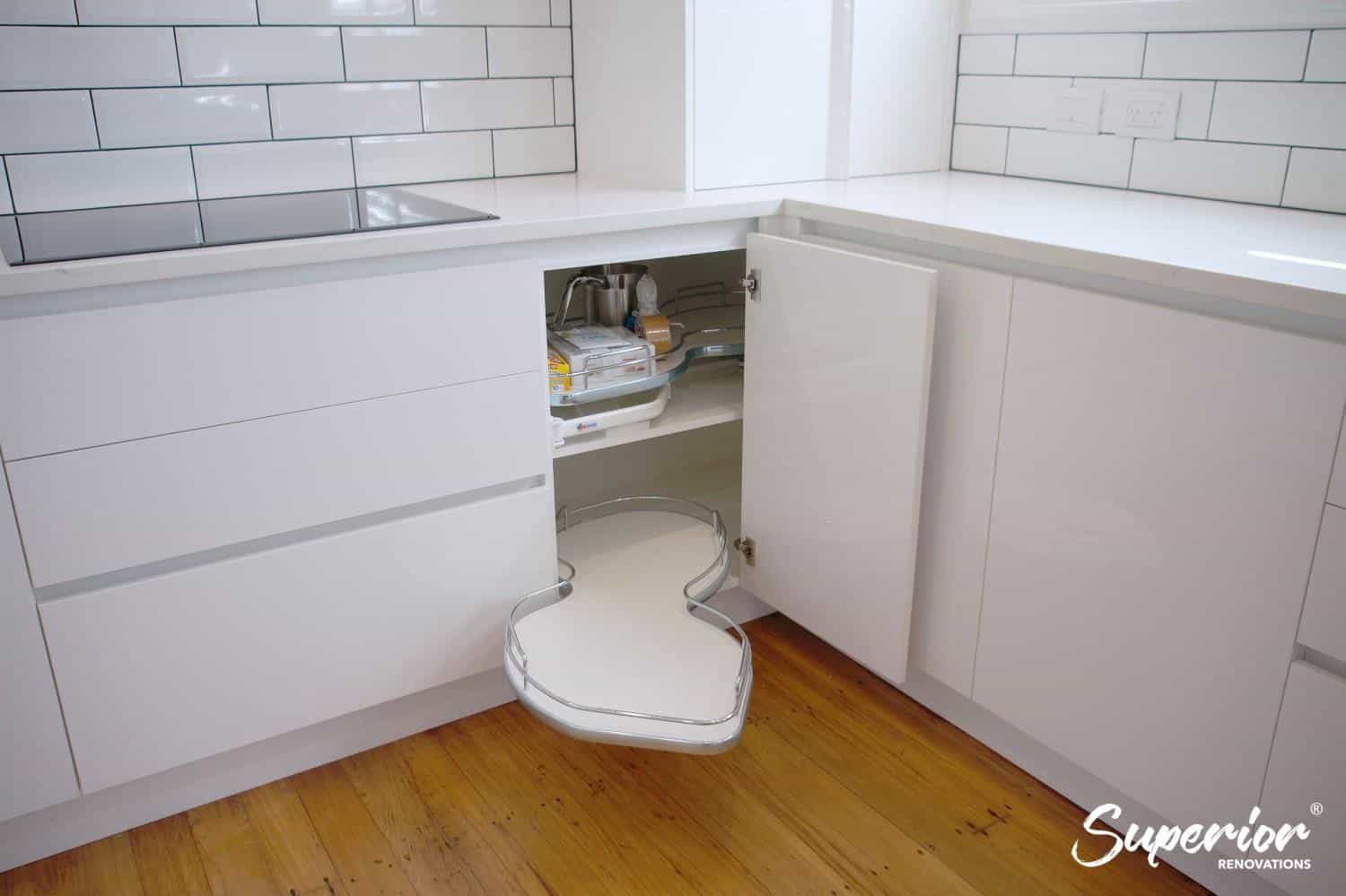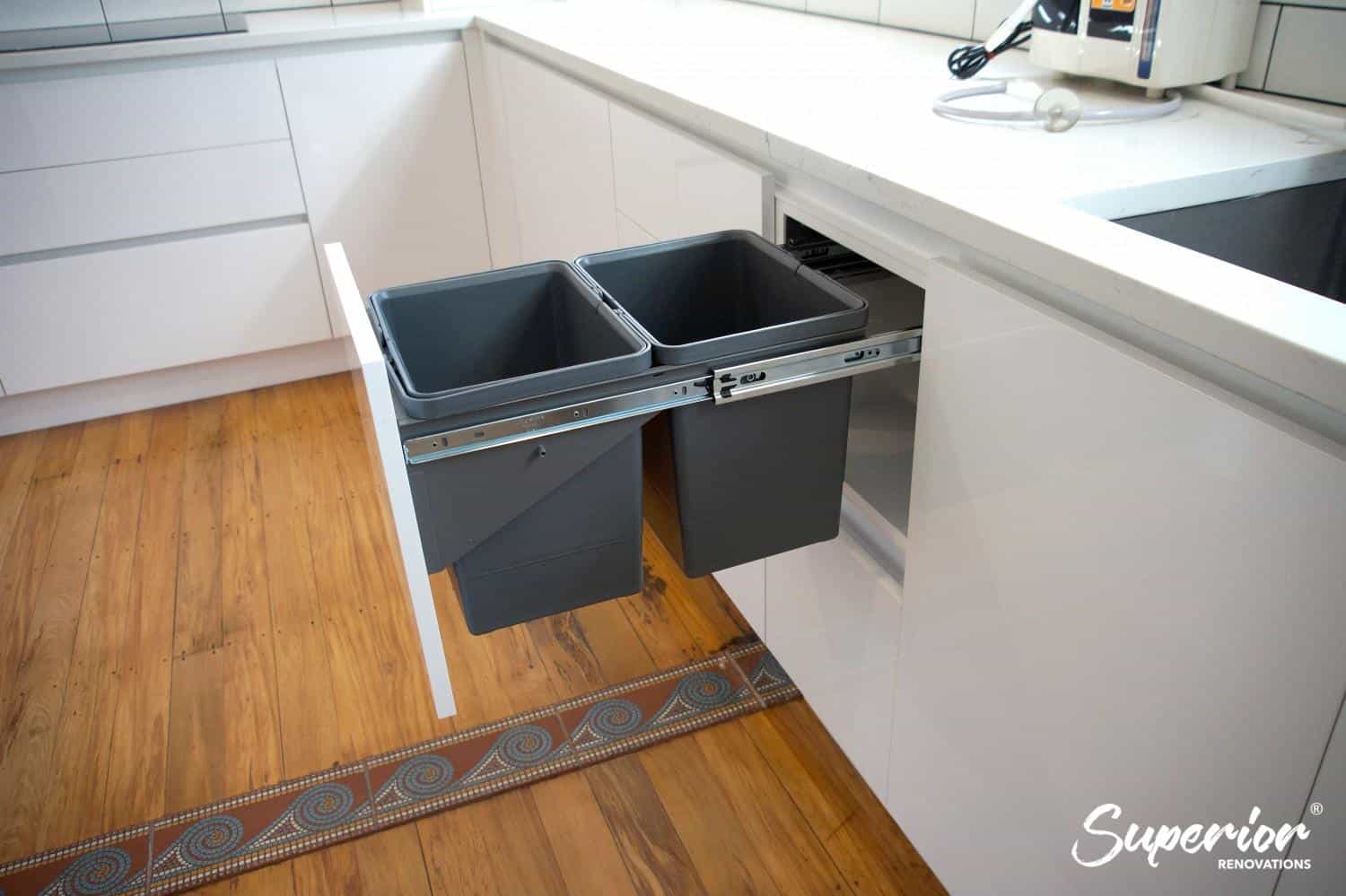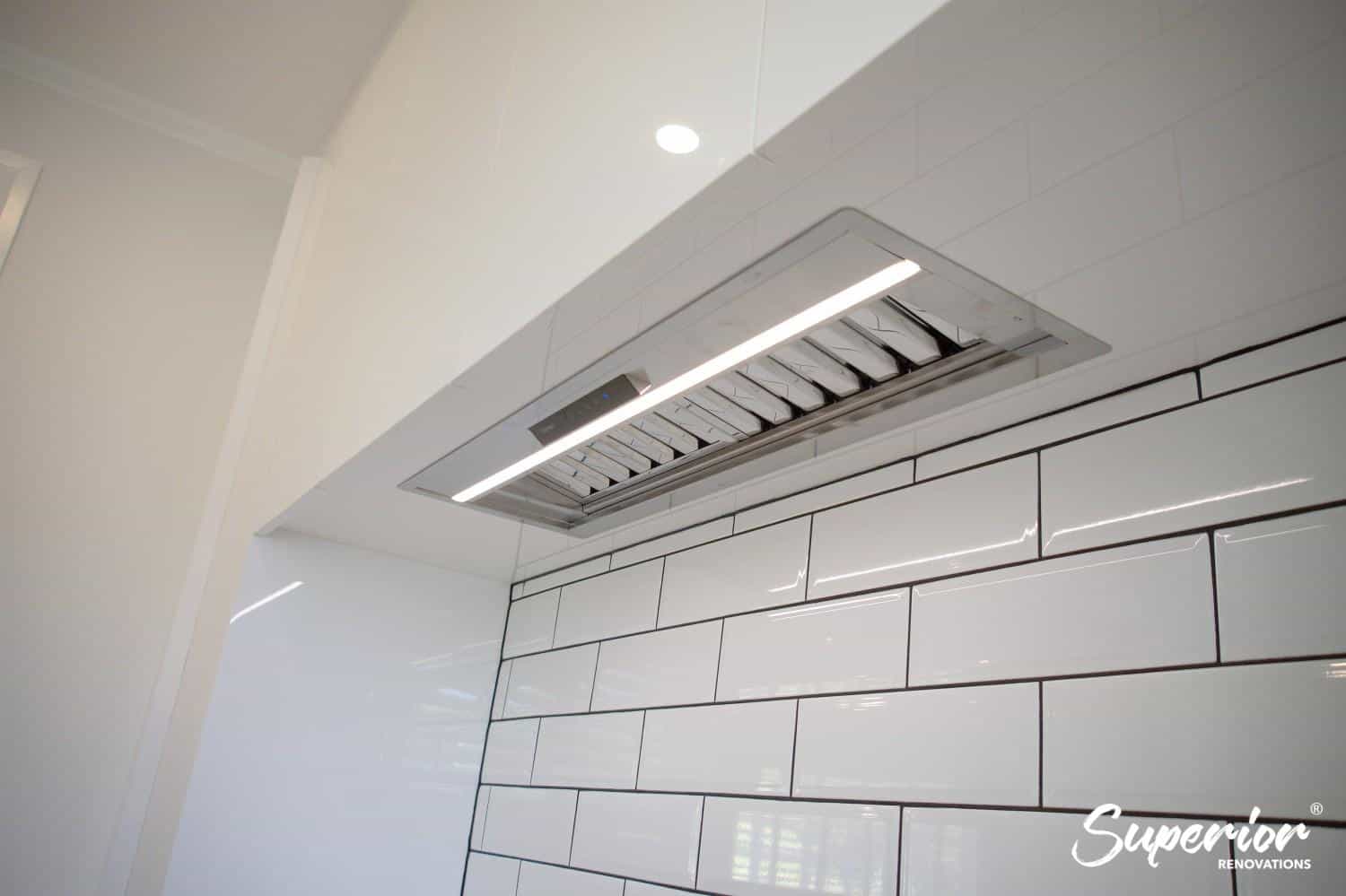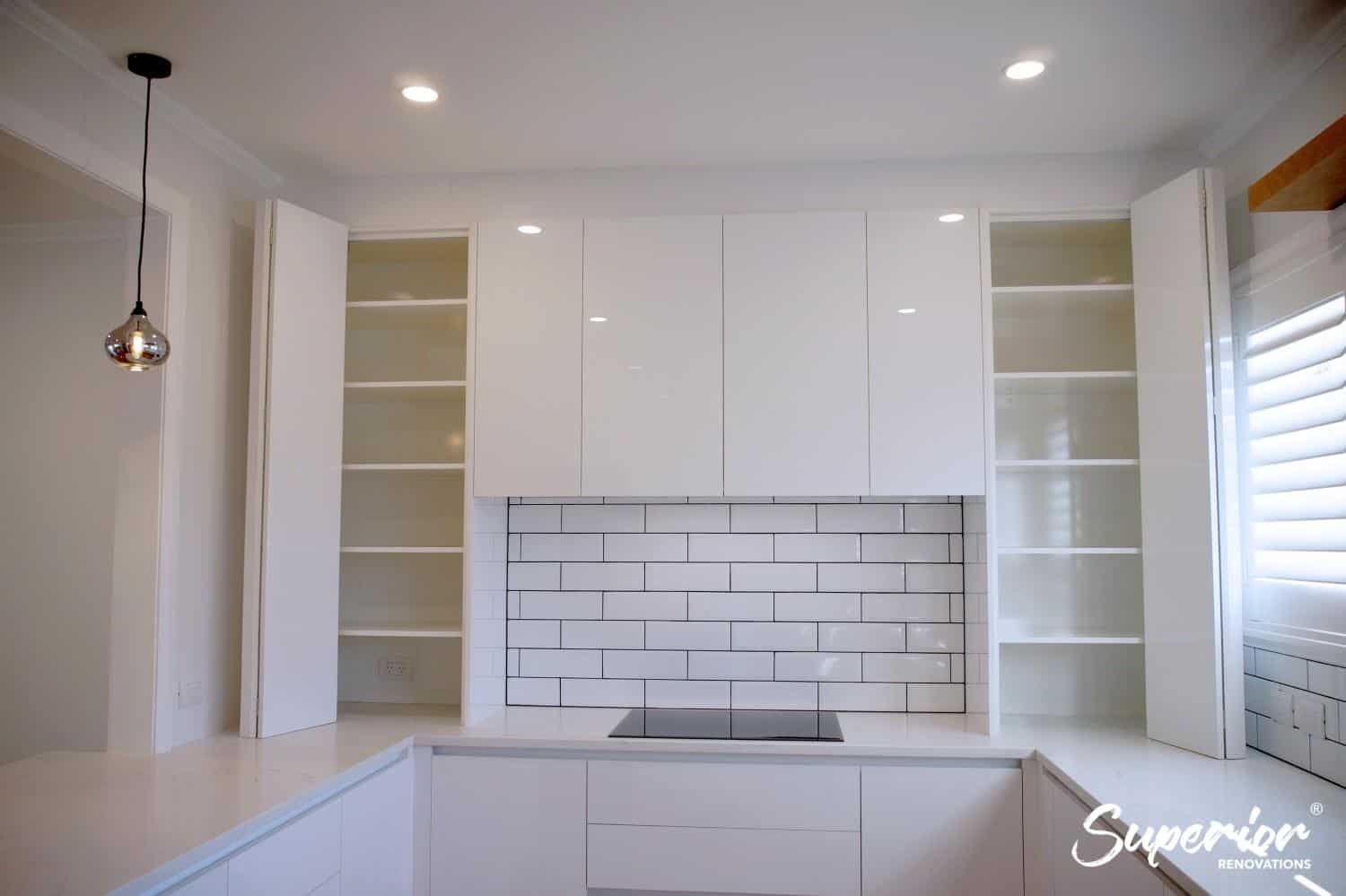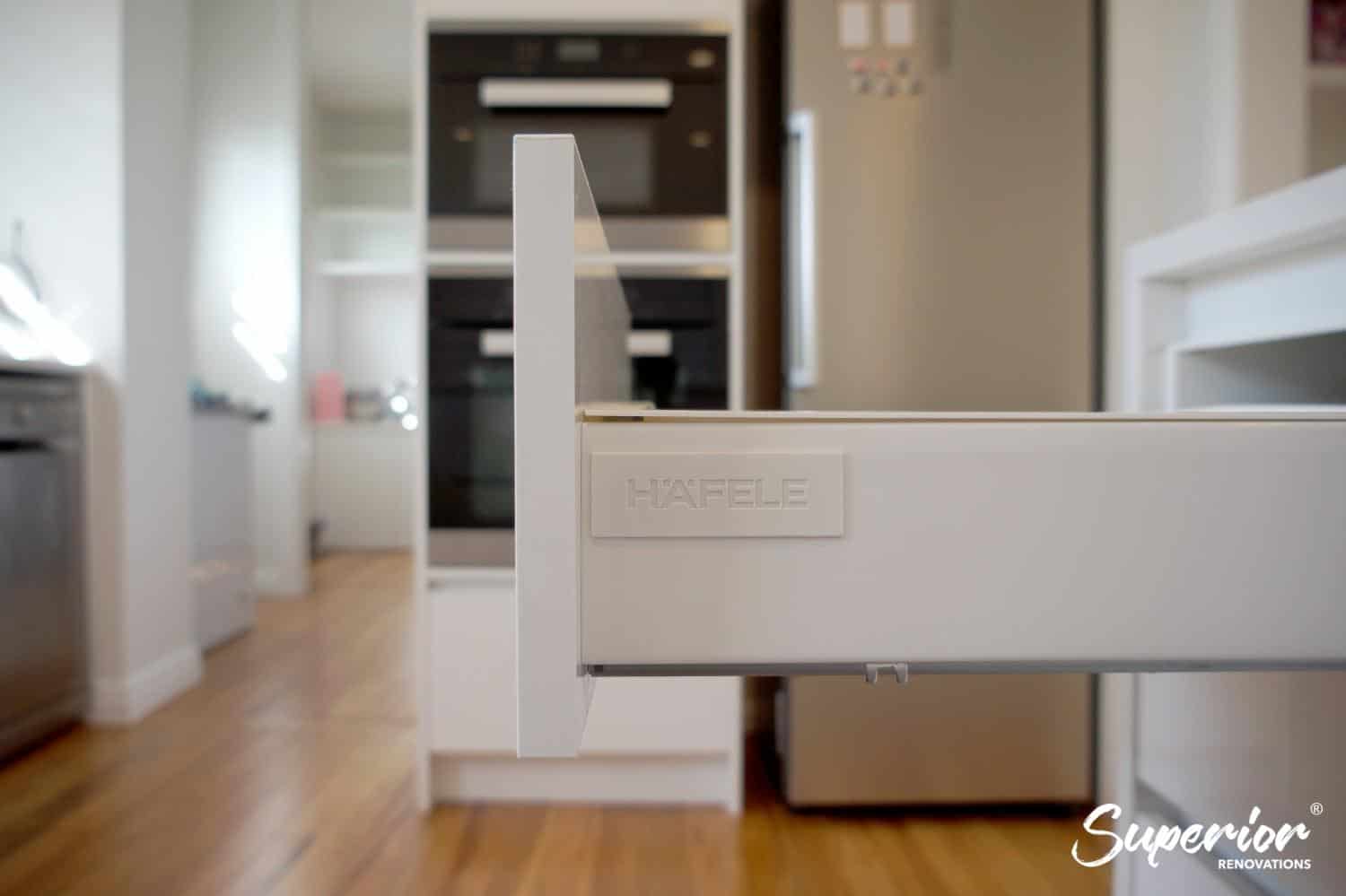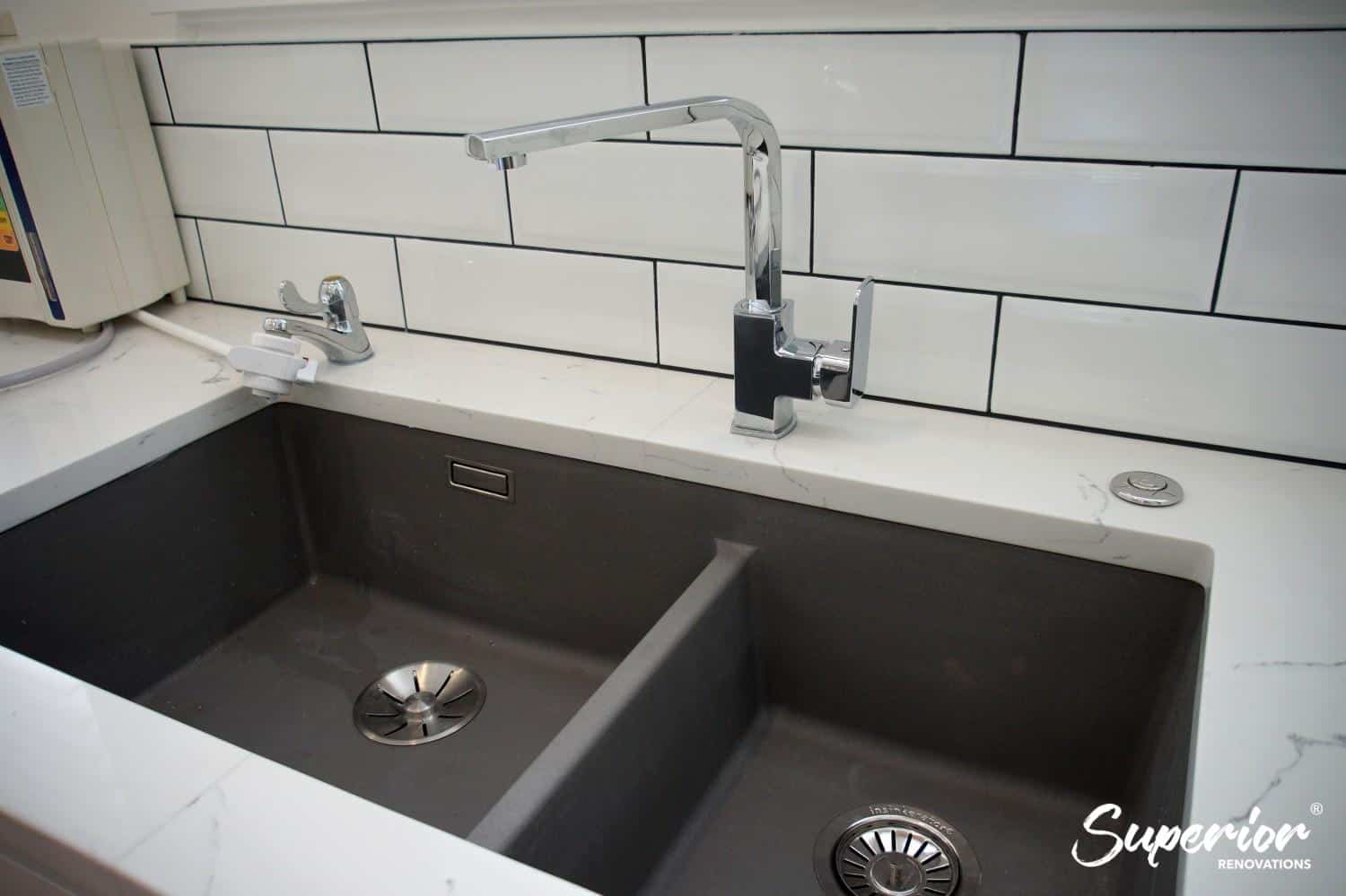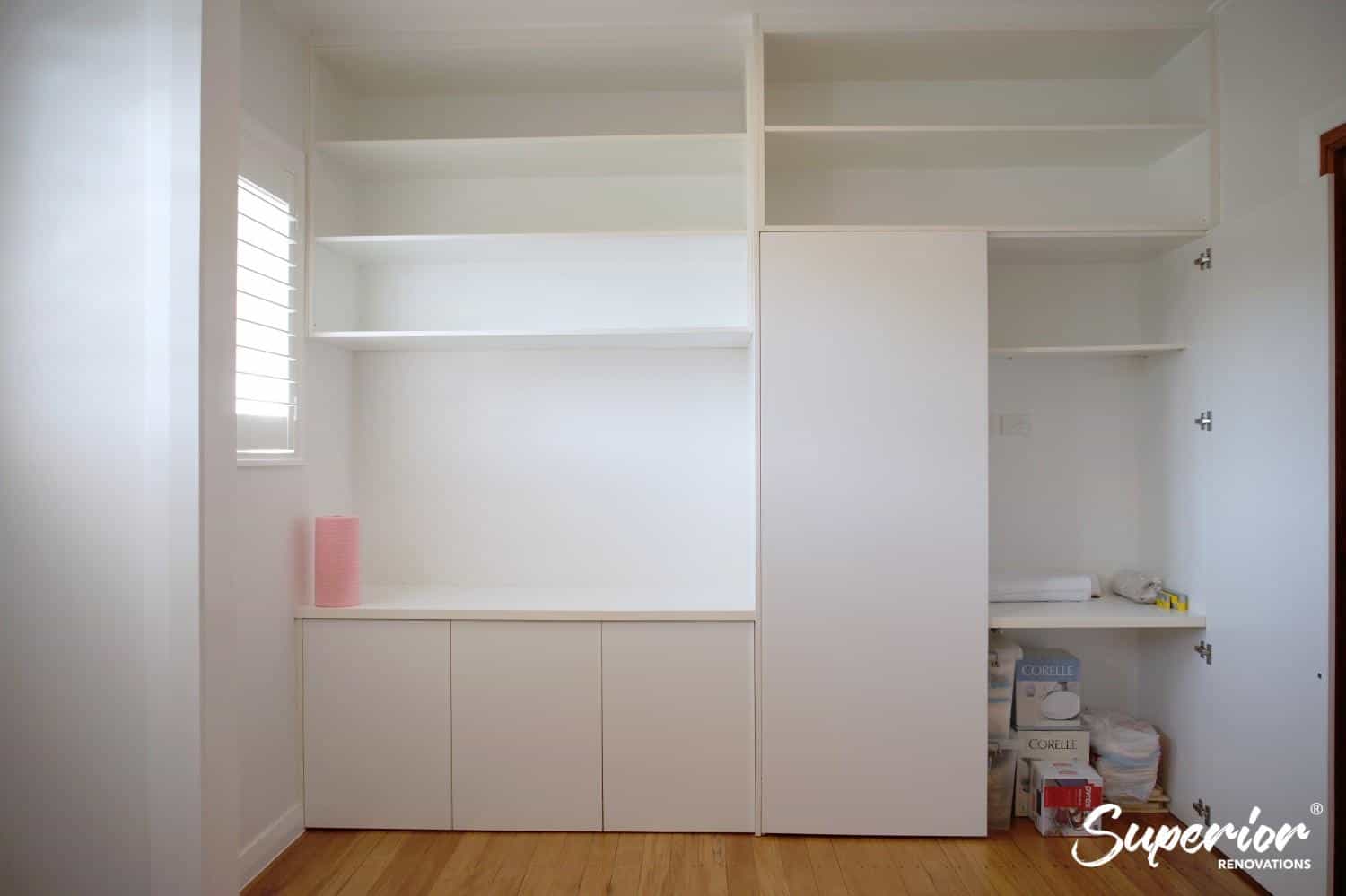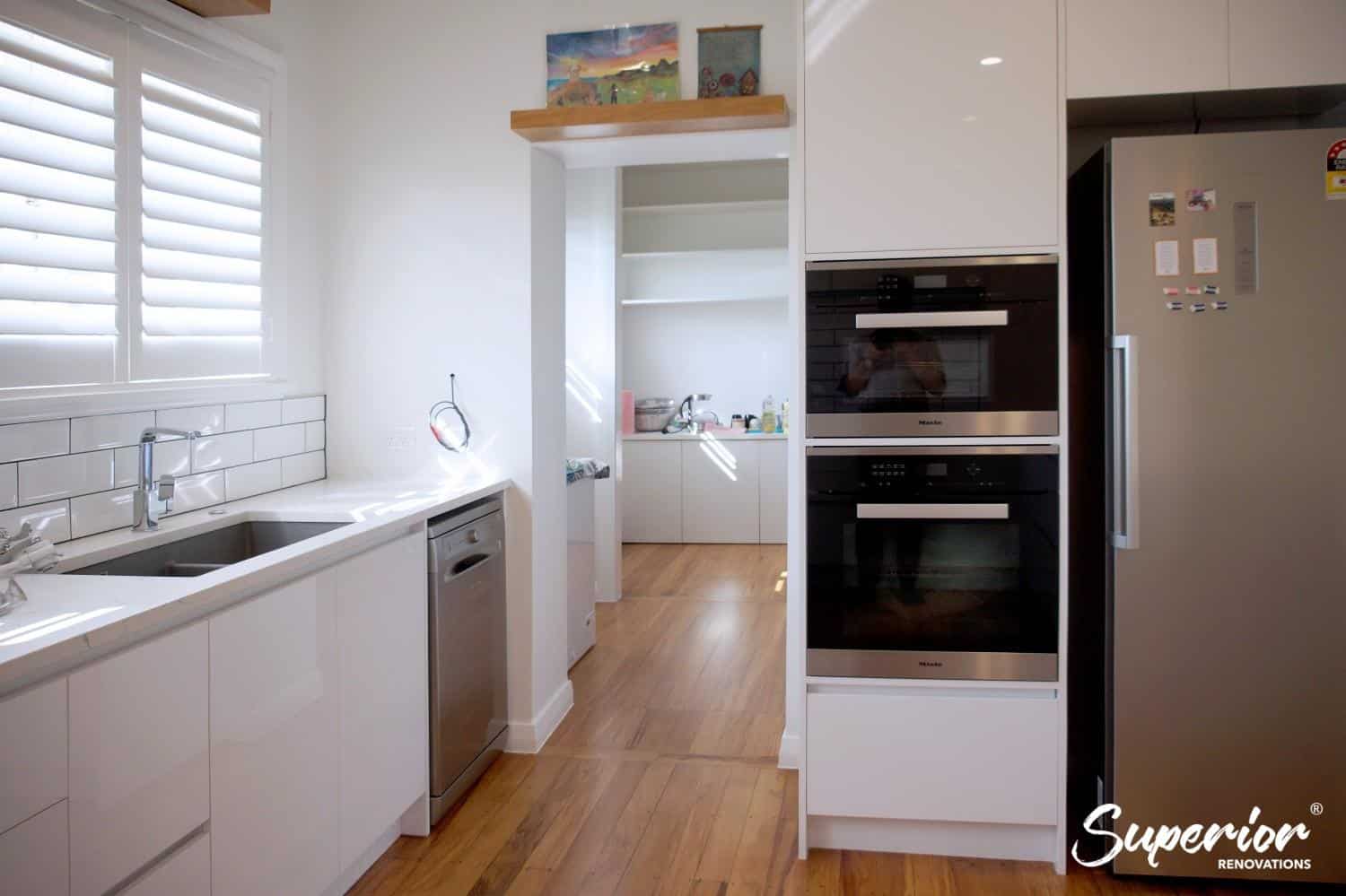 Restoration of original Timber fittings 
Our clients wanted to retain the old world charm of the house and decided to keep all the original Timber trimmings, flooring and doors. They however had to be restored before they could move in as it had lost its shine and luster.
Steps taken to restore:
Cleaned all the floors, trimmings and doors
Sanding of bare timber
Filling rows of nail holes across the floors
Application of 3 coats of commercial grade water Born Polyurethane.
After 5 days we then applied a satin finish of moisture cured and water based polyurethane.
This was applied across the kitchen, lounge, dining and laundry.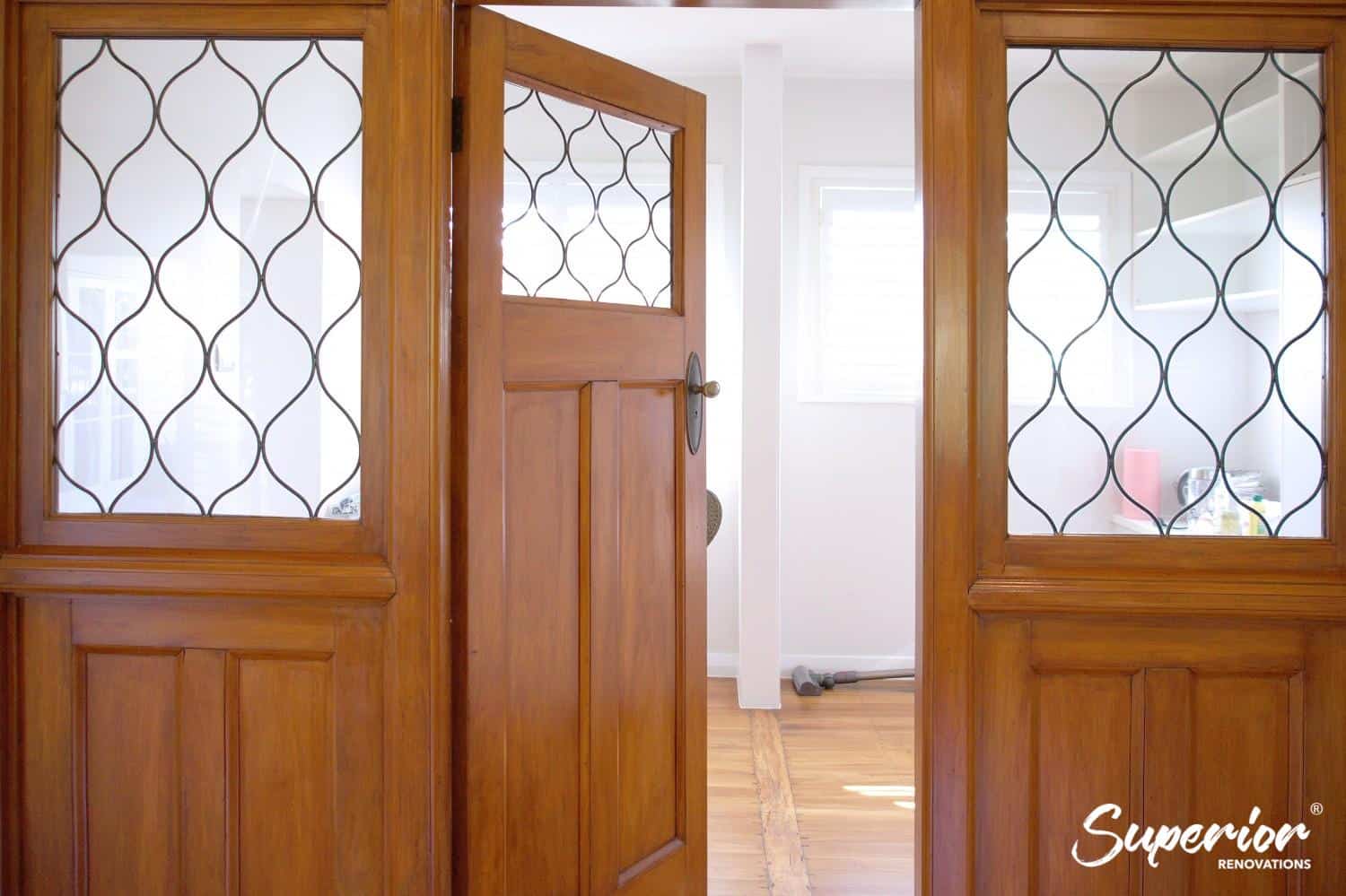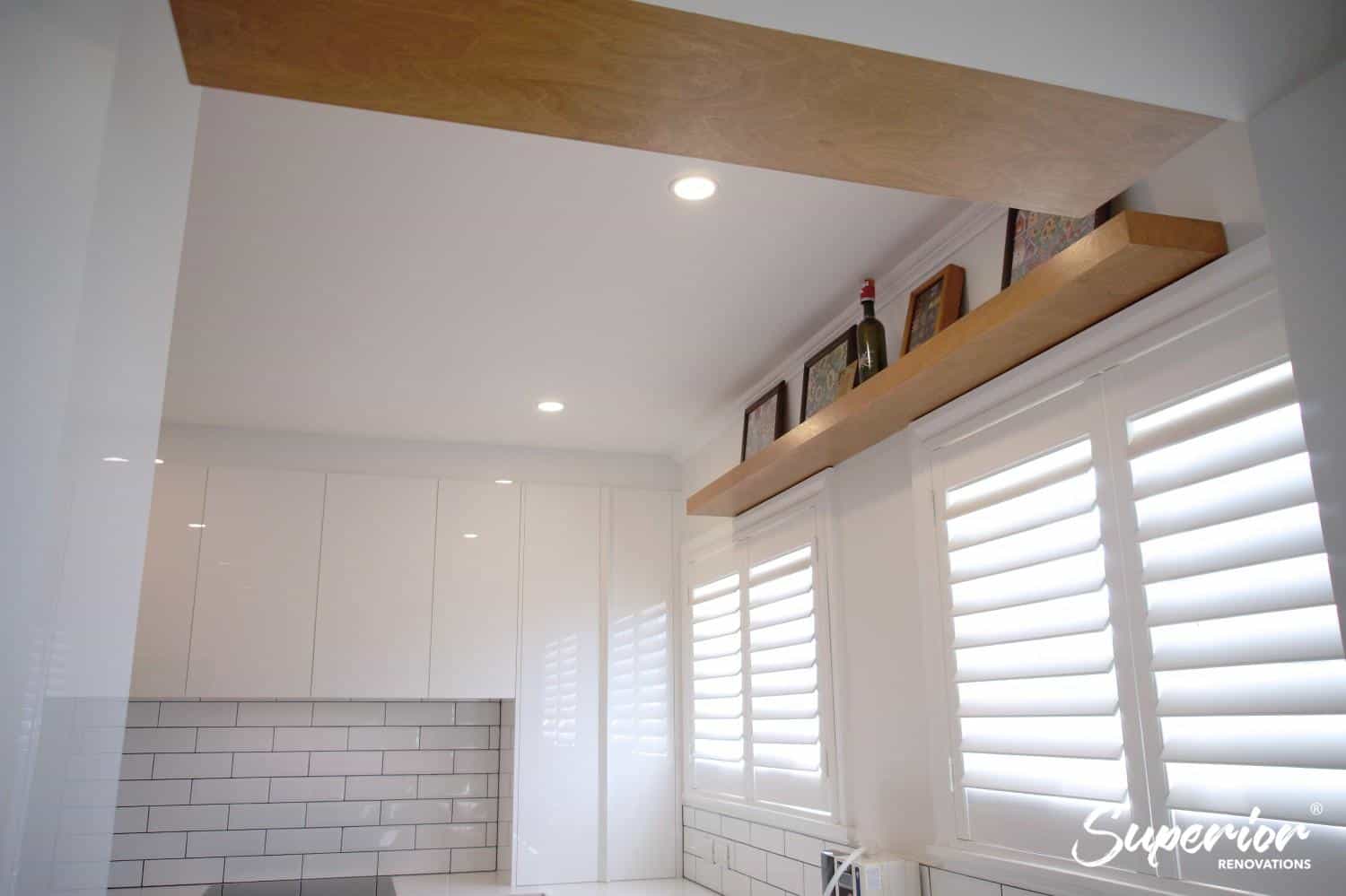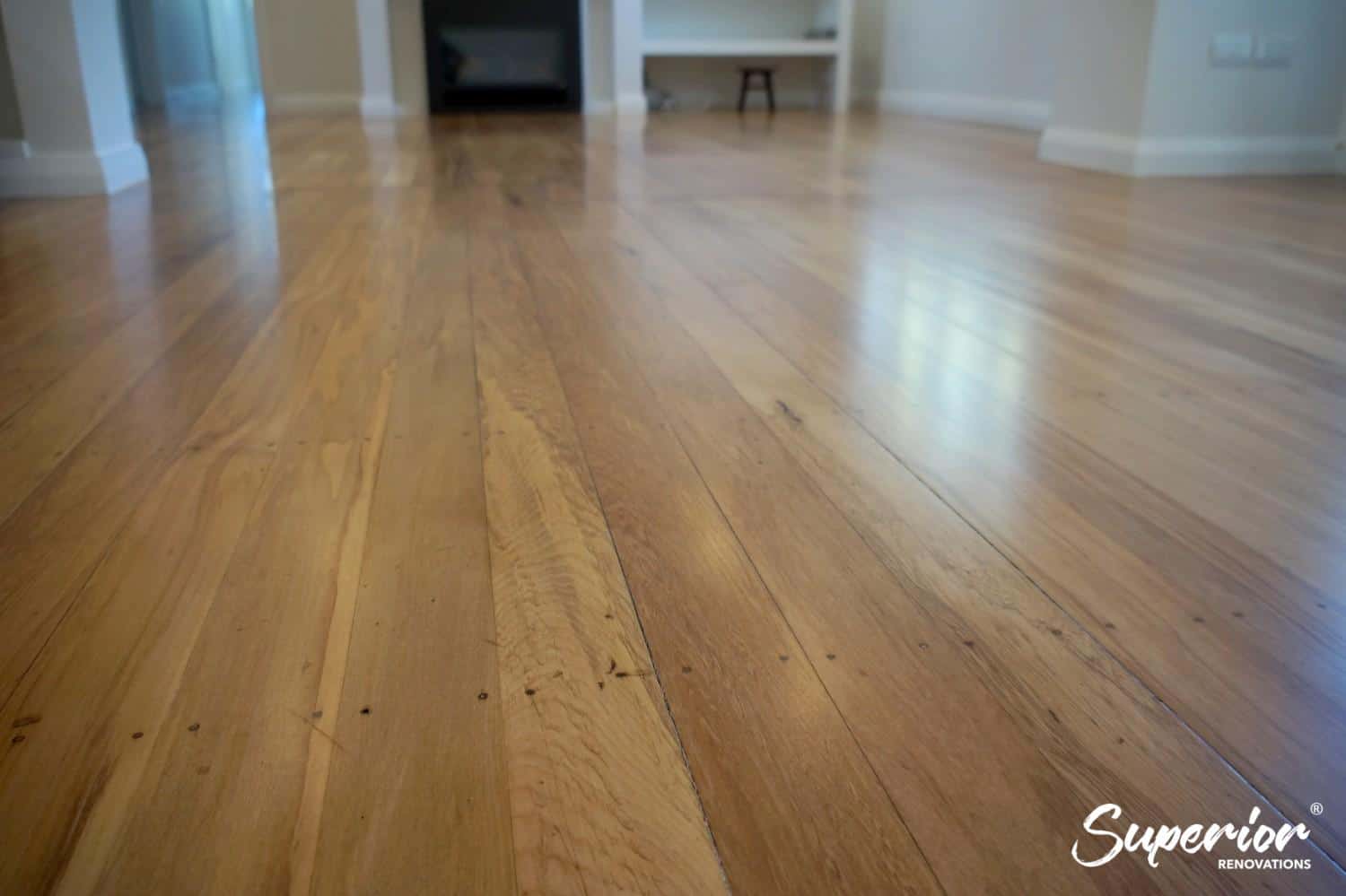 Flooring, Painting and Electrical work
Extensive painting and electric work was carried out as all the wiring and paint was very old, posing a health and safety hazard.
Plastering and Painting
Repairing all holes, damages, defects on ceilings, walls, doors, door frames, and window frames
Light sanding of all areas where filler has been applied until smooth
Cleaning and plastering of all interior areas
Oil based Dulux undercoat applied twice to high traffic areas such as skirting boards and once on walls and ceilings
2 coats of Oil based Dulux top coat applied to all ceilings, walls, doors, door frames, and window frames
Electrical Work & Security System
Rewiring was done throughout the house
New LED down lights were installed throughout the house
All Interior and Exterior power banks and switches changed to PDL 800.
Panasonic VL-SWD272 Wireless video intercom system 7" wide installed
Screen display voice changer – Night and day vission
Full installation, configuration and trainings
ESL-2 Controller in plastic container with KP-TOUCH-W 5″ Touch keypad installed
5 x PIR sensors, 1 x indoor siren, 1 x outdoor siren
1 x DAHUA 4 channels network video recorder with 2TB HDD
4 x DAHUA 6MP IP PoE Camera