Complete Guide to Bathroom Design & Bathroom Trends (2023)
This guide has been updated to include modern master bathroom ideas, bathroom trends 2023 and bathroom layouts.
Designing a bathroom is a hefty topic. How do you design a bathroom efficiently?
Unlike other rooms in your home, designing a bathroom will take more time and thought. There are so many bathroom design ideas to go through to find the perfect inspiration to make your own unique space. The kitchen may be an exception, but there is always the reassuring presence of a kitchen designer to make the process a little bit smoother.
However, with a bathroom you will find yourself juggling with a wide range of contractors, from plasters, plumbers and even floor installers. This can get pretty overwhelming and scary.
With a variety of bathroom designs and bathroom design ideas to choose from, it is always efficient to have some sort of design service to help you out. Whether it is from an interior designer, a specialist bathroom designer or even a highly experienced builder who has an eye for bathroom designs.
In this article:
Which bathroom layout works for your bathroom design?
What is the best layout for a bathroom?
Bathroom trends 2023
Family bathroom design ideas for NZ homes – How to design a family bathroom?
How to design a Master En-suite?
Designing Wet Rooms, Guest Bathrooms and Shower rooms
Our in house designer Cici gives her 12 best bathroom lighting ideas – How lighting plays a pivotal role in a bathroom design?
How do you light up a small bathroom?
Bathroom Flooring – What is right for you?
Modern small master bathroom ideas
Bathroom storage – What to consider?
Other considerations when planning a bathroom design.
Will your bathroom renovation Add value to your home?
What makes for a good bathroom design?
Bathroom Design trends for 2023
How to Design a Bathroom that Works for your Home & Bathroom Layout
Designing your bathroom is very similar to the planning process of a kitchen. To start your bathroom renovation and bathroom designing journey you will need to start off by analysing how you can use your current bathroom. Note down things like what bathroom design ideas can work, and what cannot.
After that, research and look at all the different types of bathrooms designs such as, small bathroom designs or modern bathroom designs. By doing this you will be able to get an idea of what type of bathroom deign you want to achieve, and what your individual needs are. For example, if you are after a family bathroom, it will require looking into a more luxurious bathroom design idea with a nice bath and splash proof surfaces.
Planning a Bathroom Layout
There are so many bathroom layout designs and layout ideas to choose from when starting your bathroom renovation journey. The layout you choose will depend on many factors from the function and size to who will be using the bathroom. Choosing the right and a good bathroom layout is very important. Each layout can contribute to different bathroom design effect, below we will highlight few benefits.
5  Bathroom design which create a visual impact – How to gather bathroom design ideas
Bathroom view upon entrance – Think about your bathroom layout
An important aspect of bathroom design is to make sure that your bathroom design has a good visual impact when you first see it upon entrance. At the starting point of a bathroom layout you want to see the bath or basin first, not the toilet. So when you are brain storming bathroom design ideas, make sure that you think about your bathroom layout.
Choose one key bathroom design aspect to make it the star of the room. Whether it is a freestanding bath, a beautiful vanity or a luxurious tiled shower. This way your renovated bathroom will have a clear and seamless bathroom design.
If your bathroom layout and proportions lean are symmetrical, enhancing the structure is important. Try plotting a symmetrical layout through aligned architectural gems such as an original sash window.
Having space around each fitting is a smart bathroom design aspect to make. This is because the extra space will allow comfortable use of the fixtures. Make sure to pay attention to the swing of the shower doors, if you have limited bathroom space choose inward opening doors or an over-bath shower. If you do want to incorporate a shower in your small bathroom design then think about creating a wet area and not a tiled shower box. A wet area opens up the space as it involves having a single glass divider instead of glass on all sides. If you have a small bathroom then steer away from installing an acrylic shower box as it will close up the space and also make your bathroom design look dated.
Ask experts – For bathroom ideas
Seeking help from a professional will allow you to see beyond your current bathroom layout or any bathroom design ideas that you may see online. You will be amazed how even the smallest bathrooms can be transformed into a sanctuary with creative design ideas from bathroom designers.
When starting your bathroom renovation journey, it is important to understand the kind of layout that is possible to have to create a functional bathroom design. The layout of your bathroom will mostly revolve around where your pipework is located. Although it is possible to relocate pipework, it will require significant amount of work and permits from council. Thus, the first step to bathroom renovation is locating where your toilet will be. We recommend choosing a bathroom layout following the directions of the home floor joists.  If you do want to change the position of the toilet then it is possible but you will have to involve an architect. The architect will then draw waste pipes from the current council pipes to the new position of the toilet. This will then be submitted to the council to approve. Once it is approved then your bathroom renovator will build the pipes. The building of the pipes will not take too long but it is hard to predict how long the council takes to approve the drawings. It could take 2 weeks but it could also take 4.
After the position of the toilet is located, you will need to consider where the basin, bath and shower will be placed. Make sure to brainstorm your own bathroom design ideas you want, because at the end of the day it is your bathroom! Pipework regarding the basin, bath and shower tend to be more flexible than the toilet for repositioning. Search for keywords such as Bathroom Design NZ or Bathroom Design Trends to gather inspiration.
Once you have your desired bathroom layouts and design inspirations you can create your mood boards and explore samples for possible products. Don't forget to look into towel rail placement and heating options. No one wants to walk to the other side of the bathroom to get a towel after a shower.
Read more…
Insight on the Designing Processes for Bathroom Renovations
What Is The Best Layout For a Bathroom?
What is the best layout for a bathroom? The options are endless. There are many different bathroom layouts that you can choose from that would be best suited for your needs. Below we have given 4 popular bathroom layout that may align with your needs. When asking the question, what is the best layout for a bathroom? There is no right answer, and everyone has different uses in their bathroom plans.
1. Statement Bath Layout
This bathroom layout may be something you'd want to consider in your bathroom plans, if your bathroom is big enough to fit a bathtub. You'd want to utilize that space and install a bathtub in your bathroom design ideas. Place your freestanding bath in the middle of the room or close to a prominent feature, like a window, to make it the center of attention.
More details on this bathroom renovation
2. Over-bath Shower Layout
If you're eager to add a bathtub into your bathroom layout but there isn't enough space for everything. You can choose the over-bath shower bathroom layout. That way you're able to incorporate a bathtub into your bathroom plans. What is the best layout for a bathroom? This bathroom plan might be perfect for you if you have children as it would be useful when bathing them. For this bathroom plans, you can either install an electric shower over the bathtub or replace your current faucets with ones that have a hand-held shower mixer.
3. Bath and Shower Layout
This bathroom layout is if you have a big bathroom you're looking to spruce up. For this bathroom layout, a big space is necessary if you'd want to add a bathtub and a shower. With this bathroom layout, you'd want to design the space on how frequently you'd use it. If you prefer baths, then you'd pick a bigger bath and a smaller shower. If you prefer showers over baths, then you'd pick a smaller bath and bigger shower. If necessary, you'd also have double basins in your bathroom plans. What is the best layout for a bathroom? This bathroom plan will be perfect if you love taking baths and taking long showers as well.
More Bathroom Layouts…
Black and White Bathroom Renovation 
Bathroom Renovation in Milford 
Growing Family Home Bathroom Renovation 
4. Shower room layout
For this bathroom layout, it would be considered a 'wet room'. This means that your entire bathroom would need to be waterproof. This bathroom layout would only have a shower, toilet, and vanity sink. If you're looking to incorporate a bathtub in your bathroom plans, then this bathroom layout may not be for you. By separating one end of a long, narrow room with glass doors or a screen to create a walk-in shower, you can build a shower enclosure. A small room will have more space thanks to bi-fold doors.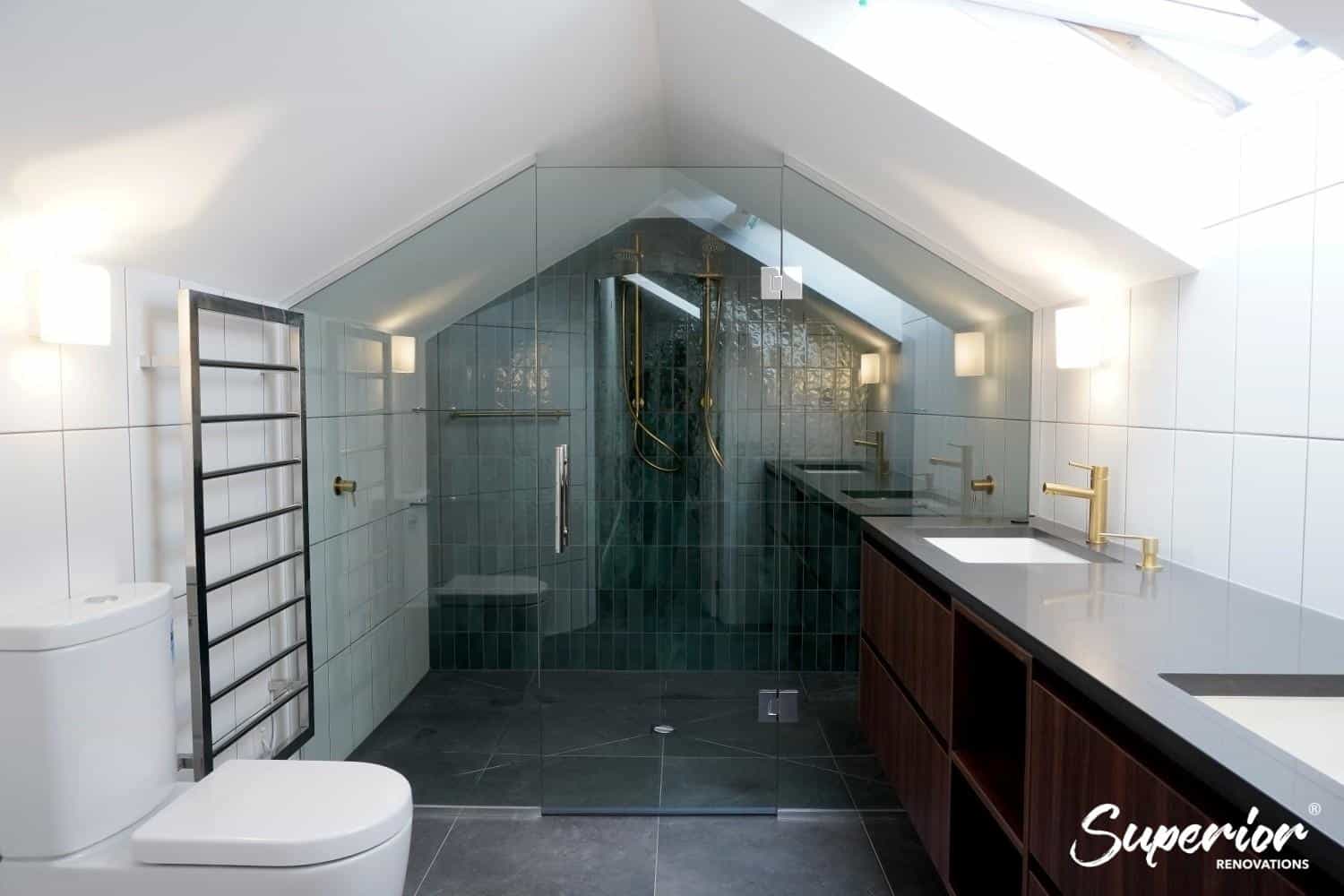 Want more information on bathroom layouts?
Check out our blog on bathroom layout, costs and design. 
Bathroom Trends 2023
Keep up to date with the new bathroom trends 2023. There are always new trends every year and it's hard to keep up to date with them. Whilst you may not feel the need for a full bathroom renovation, you can replace a feature or two to keep your bathroom modernize. Or if you're looking to make your bathroom modern you can also switch a few features. Below we have listed a few bathroom trends 2023.
1.     Backlit Mirrors
Consider backlit mirrors in your bathroom design ideas as they're efficient due to them being LED lights and use less energy and last longer than ordinary lightbulbs. Not only that, but they're also easy to install. Backlit mirrors also eliminate any shadows that you'd normally get from regular lighting fixtures. Add a backlit mirror to your modern small bathroom ideas.
View more…
Urban Luxury Bathroom Renovation 
2.     Terrazzo Floors and Walls
For your bathroom design ideas, consider opting for terrazzo floors and walls as their materials are highly sustainable and environmentally friendly. Because terrazzo is so strong and resilient compared to other types of tile, it is perfect for use as flooring in areas with a lot of foot traffic. Terrazzo is a material that is genuinely one-of-a-kind and is available in almost any colour imaginable, from eye-popping hues to natural tones, making it possible to create anything. Consider adding this to your bathroom plans.
3.     Rich Earthy Hues
When it comes to choosing a colour scheme for your modern small bathroom ideas, it can be tricky. We suggest adding earthy hues to your colour scheme. Either combine many shades inspired by nature or stick to the multiple saturations of a single hue. Whatever option you select, the result should be beautiful and serene. It's a straightforward yet powerful technique for establishing a connection with nature indoors.
4.     Geometric Tilework
If you're opting for a modern small bathroom ideas, then adding geometric tilework to your bathroom design ideas might be the finishing touch you need. Adding geometric tilework will have an eye-catching structure by adding a sharp-edged form that isn't captured by more organic designs. Using geometric tiles to create a focal wall in your bathroom can brighten up the area and perhaps give the impression that it is larger than it is. Which is what you'd want in a modern small bathroom design as you'd want to create an illusion that your bathroom is bigger than it is.
5.     Minimalist Wall Sconces
You can't go wrong with add wall sconces into your bathroom design ideas.  Your bathroom will have an eye-catching structure by adding a sharp-edged form that isn't captured by more organic designs. Because of their extreme versatility, geometric shapes can stand out by using bold, yet understated, colours and sizes. patterned tiles Using geometric tiles to create a focal wall in your bathroom can brighten up the area and perhaps give the impression that it is larger than it is.
Read More…
Bathroom design ideas for modern, classic, contemporary bathrooms
Past bathroom renovations for more ideas 
6.     Sliding Doors
If you have a modern small bathroom ideas, then switching to a sliding door would help give your bathroom more space. Especially if you're looking a master bathroom ideas. That way you're able to create more space in your modern small bathroom for decorations.
7.     Closed Storage
Having open shelving may add decorations to your wall and you're able to put plants and little decorations on those shelves to complete your bathroom design. Having closed storage will conveniently conceal all your belongings, which would otherwise attract unwanted attention and further clutter up your little bathroom. One of the trends of bathroom ideas 2023 is to have closed storage, which is not only a sensible solution but will also give your space a cleaner, more modern appearance. Perfect for your modern small bathroom design.
8.     Glass Shower Door
When having a small bathroom, one main goal is to make the space look bigger. Which there are many different factors that contribute to creating that illusion. In your modern small bathroom ideas, think about having a glass shower door. It is primarily because glass doors provide the impression that the room is much larger thanks to their transparency and ease with which they blend in with the rest of the wall. They also have a very opulent, glossy appearance.
Need more inspiration?
Read our blog on bathroom trends 2022
Family Bathroom with Design Ideas NZ – Factors to keep in mind
The family bathroom is usually the biggest bathroom in the household. Fixtures, fittings and finishes with low maintenance and durability should be kept in mind during the research process. A trendy bathroom design in New Zealand is using porcelain tiles in the family bathrooms. Porcelain tiles are perfect for family bathrooms as they are very hard wearing and will still look amazing in years to come. They are low maintenance which is a must for family bathrooms. For vanity ideas try double top on basins and mirrors, allowing movement is crucial in a busy environment such as the family bathroom.
Also think about who will be using this family bathroom. Do you have younger children or older teenage/adult children? You should ask yourself these questions and discuss this with your bathroom designer. It is important to tell your designer about who will be using any particular bathroom so the bathroom designer can recommend relevant storage solutions, functionality and materials for your bathroom renovation.
Bathroom design ideas with young Kids – How to design you
How to Design a Master En-Suite Bathroom
The master en-suite bathroom is the place to explore luxurious materials and complex lighting scheme. Try look into luxury bathroom design ideas and modern luxury bathroom designs and trends. The en-suite bathroom is the space to splash out expensive modern bathroom ideas such as a steam shower or elaborate in a sound system. This bathroom is a perfect environment to explore all your design options as it is majority used by responsible adults. Research bathroom design ideas and indulge in luxe surfaces to match your individual style.
If your en-suite bathroom layout is quite limited, get creative with small bathroom ideas such as a simple bathtub paired with a sectioned area for the toilet and basin.
Planning Shower Rooms, Wet Rooms and Guest En-Suites
Guest en-suites and shower rooms usually have a small footprint. Therefore, it is important to use space-saving fittings and a cloakroom basin. Keeping it simple and safe through the use of thermostatic valve showers and are easy to clean is a must.
The first thing to consider during the small bathroom design process for your shower room is what type of floor you will have. Will it be a tray or tiled floor? Despite the texture of the floor choosing an anti-slip option is essential. Steel trays are a perfect option for an anti-slip flooring and often have a matter finish providing additional grip. If you are wanting tile floors for your small bathroom design it is extremely important to choose a matte finish for grip rather than a gloss which will be very dangerous.
After considering the texture of the floor for your small bathroom design idea, it is important to think about the width of the panels. If the panels are larger than 1100mm a bracing bar for stability is recommended. Bracing bars can be either fixed to the wall or celling, this mostly depends on the bathroom design. Enclosed showers are also very popular bathroom design with some homeowners rather than a walk-in shower. A big benefit of an enclosed shower design is that it heat is kept within the showering area.
Pick the Perfect Bath
The bath in a bathroom is a key component. Baths come in many different shapes, styles, and materials, and consequently there are bathroom design ideas for every different budget, style and need.
Some popular bathroom design ideas are freestanding stone, composite, and cast-iron baths. Baths that are at the high of the price spectrum offer substantial benefits compared to cheaper inset steel and acrylic bathroom tubs. Composite bath rubs are warm to touch and can be repaired very easily and iron baths have the best hear retention properties.
Find the Best Brassware
When designing your bathroom and researching potential design elements, brassware is one of the most important elements to consider. Brassware is the structure and working parts of a bathroom with continuous water flowing through them. Therefore, it is important the chosen brassware is durable enough to withstand the wear and tear of daily use.
All the elements that make up the bathroom require brassware. We highly recommend investing in quality brassware to ensure longevity. Brassware are usually wall mounted which make it harder and a hassle to fix. Thus, investing more when picking out your fixtures and structures of your bathroom will pay dividends later. Another quick tip we recommend is to pick out products that suit the water pressure of your property.
Prioritise Bathroom Lighting at Bathroom Design Stage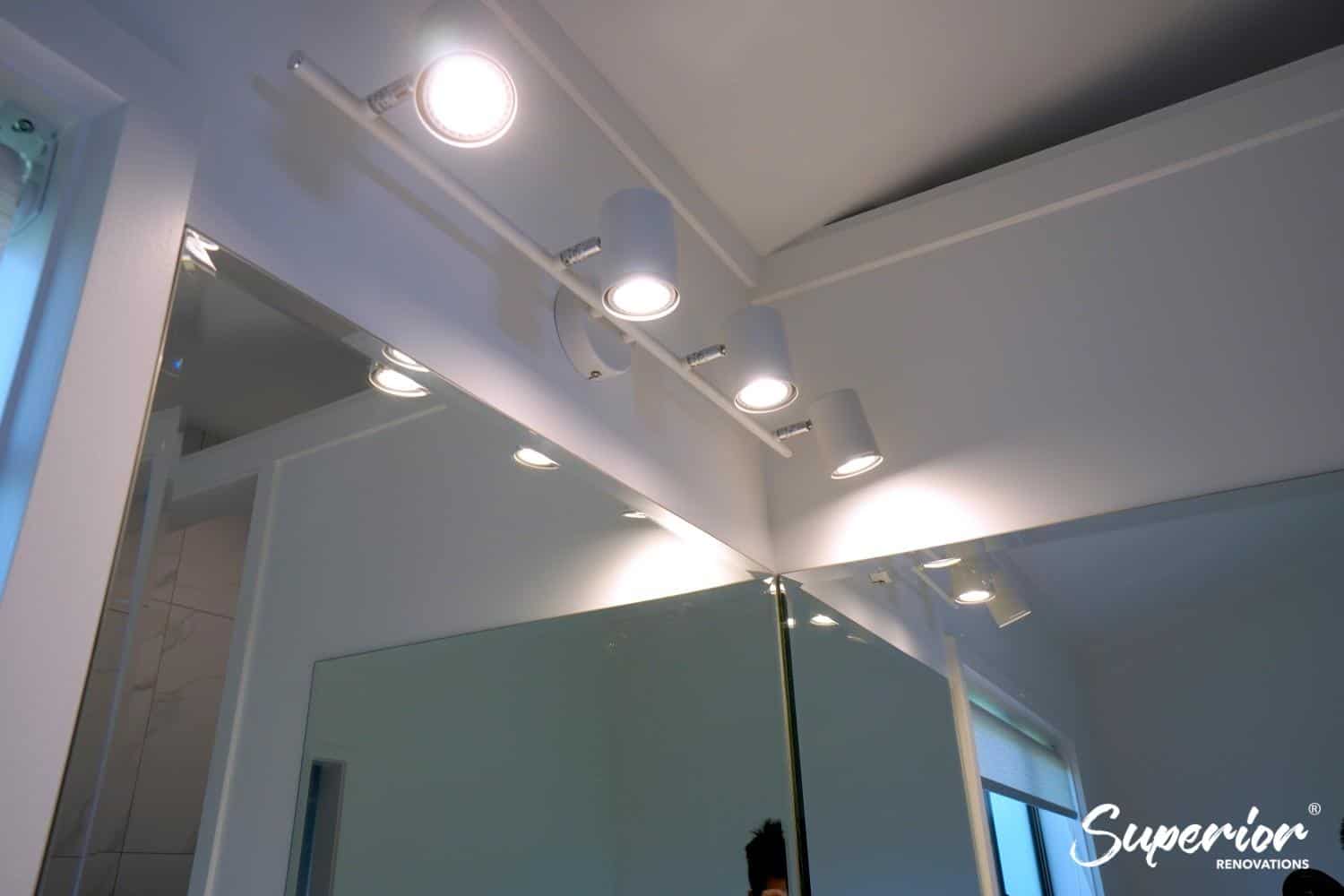 Smart bathroom lighting ideas are gaining popularity between homeowners. Smart bathroom lightings have a massive impact to the result and should be planned on the early stages of your bathroom renovation journey. This is to ensure all key fittings are illuminated properly.
Bathroom lighting plays an important part to the overall atmosphere of your bathroom. It holds the power to make a small bathroom look bigger and a large bathroom feel more intimate. Lighting can make your bathroom seem like a spa-like sanctuary or a busy family bathroom feel fresher and crisper. Try incorporating layers of light such as a dimmer option and separate circuits which allow you swap between bright light and softer lighting.
The lighting in a bathroom is just as important as the positioning of bathroom fixtures. The mood and atmosphere of the bathroom set by lighting choice should be decided during the design and research process prior to signing off any designs. Try incorporating two lighting circuits, one for the down lights and another for feature lights such as recess lights, under basin lights, wall lights or marker lights. For showers and vanity areas and areas around your bathroom aim for sufficient task lightings.
Smart lighting controls also provide the option for pre-programmed settings. This will automatically change the lighting scenes to cover every aspect of the day. From dim early morning lights to gradual illuminating lights to fit the daytime and a relaxing soft light to create a peaceful atmosphere for the evening to relax and unwind. Look out for wireless lighting controls when designing your bathroom.
Read more…
Bathroom Design dos and don'ts 
Our Top 12 Bathroom Lighting Ideas from our Bathroom Designer Cici
1. Balance Practicality with Mood-Creation
The best way to start any design process is to analyse your current space and its properties and how it's going to be used. Most bathrooms can be spilt into zones; the vanity area, the bath, and the shower area.
Task lighting is generally concentrated around the vanity. Around the vanity you want bright light, but be practical with the installation locations such as, LED lighting in vertical rows down the side of the vanity mirror as opposed to above. The correct placement of lights will provide a more flattering light with less shadow creations.
In more tight areas, look at mirrored cabinets with integral lighting as a simple and effective solution to make the space look bigger. Layering lights and building an option to switch between lights to fit a particular atmosphere is highly recommended by many bathroom designers.
2. Be Smart with Spotlights
Lighting can have a massive impact to your bathroom atmosphere and should be planned early to ensure all key fittings are illuminated properly. We recommend using sufficient task lightings around the shower and vanity areas, and ambient lighting for the bath.
The main light of the bathroom design ideas is usually provided by recessed downlight. Instead of positioning them in the ceiling in a central grid, decide which feature you wish to highlight and locate the down lights accordingly. Another tip one of our bathroom designer Cici recommend place lighting on the walls to accentuate its role in the design to make the room seem bigger rather than placing lighting on the centre ceiling.
The latest smart lightings come with controls that allow pre-programmed settings to create the perfect atmosphere for any occasion.
3. Go for a Luxe Look

Having a statement lighting is very popular bathroom design idea. Whether it is a crystal lighting, all-out glamour is the way to go.
More Inspiration…
Modern Bathroom Renovation North Shore 
4. Light up the Vanity
Choosing the correct lighting can create different looks for your bathroom throughout the day, night and seasons. In most rooms and bathrooms you will likely need several types of lightings, as one central light won't do every job. This can be easily achieved through layering lights.
Wall lights are a perfect option for down lighters. Down lighters have become very popular with its array of different styles. Placing wall lights on your bathroom vanity can add interest and ambiance to your focal wall and overall bathroom design.
5. Integrate Lighting into the Ceiling
Bathroom lighting has to work on so many levels. It is crucial to think about how you will use the bathroom at different times of the day.
In the mornings you want your bathroom to be bright and functional especially around the mirror. In the events you want to be able to wind down and take a relaxing bath or shower.  Having bright lights pointing in all directions along the wall will create a relaxing space around the bathrooms with no danger of dazzling beams. Recessed walls and ceilings are a perfect way to hide spotlights and LEDs.
6. Mix Materials for Character

With the increase in the last innovations, now you do not have to completely overhaul a scheme in order to make a difference in your bathroom design.
Effective lighting can transform your bathroom by defining space and highlighting the bathroom design schemes. It can also create atmosphere and interests to the area. Not only does lighting help transform the atmosphere of your bathroom but different textures and materials can change it too.
Bone china gives a gentle, ambient glow and prismatic glass exaggerates and intensifies light. Whereas aluminium and other metals bring more of an industrial feature and greater visual impact to your bathroom plan.
More Inspirations…
Luxe Rustic Bathroom Design Renovation 
7. Install a Large Pendant
Beautiful lighting fixtures are the equivalent to an artwork or luxury furniture in a living area. It can transform the bathroom and is a good starting point for your bathroom design plan.
8. Evoke a Spa-Like Atmosphere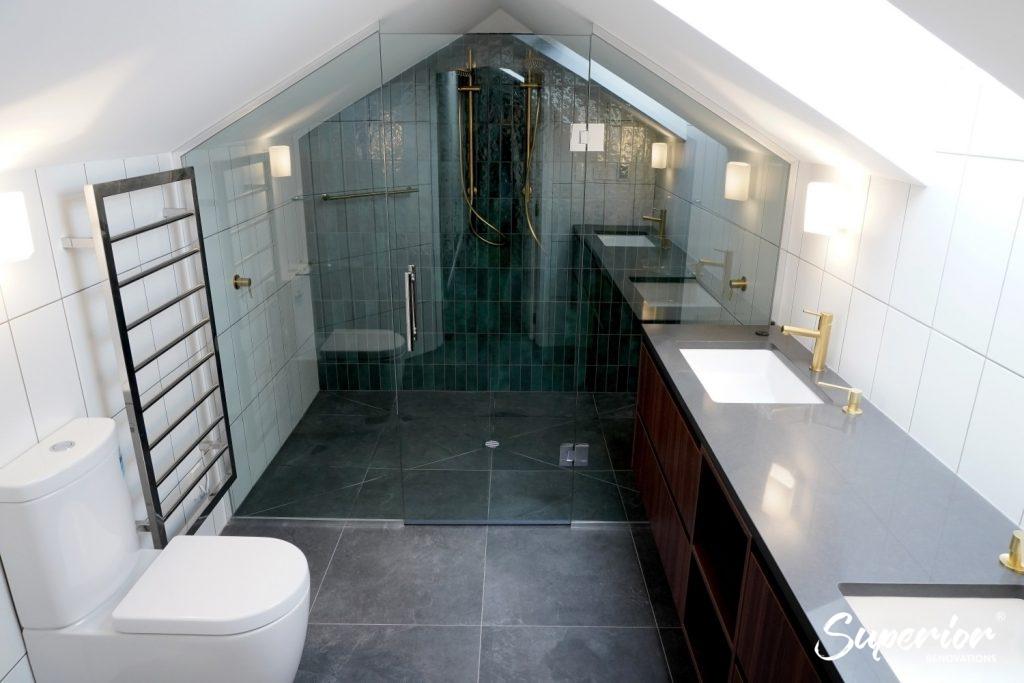 Lighting is a strategic way to create a soothing bathroom atmosphere that is as indulgent as your favourite spa. To plan this start by working out how you use the bathroom and plan your bathroom ideas and design schemes.
If you are someone who prefer a bath, focus on atmospheric bathroom lightings that create ambience near the bath. Waterproof light fittings are recommended to add inside the bath and shower to create a luxurious spa effect as they shimmer through the water. During your bathroom design process introduce layers of illumination through using lighting effects at different levels. For example, if your bathroom layout has a bath in front of a window you may want to choose to light the windows with tow miniature up lights and one narrow beam downlight over the tub.
Read More…
Spa-like Bathroom Renovation in Westmere 
9. Keep the Bathroom Lighting Hidden
Set the mood lighting within cabinetry and niches so you can't see the source. These types of lights must be designed for bathroom use and IP rated according to proximity to water. This should be designer during your bathroom planning process and advised with your bathroom designer and electrician.
LED bathroom lighting ideas are more energy efficient than normal bathroom lighting. These lights are 50-90 per cent more energy efficient and are the best options for uplighters, downlights and LED ropes. Try incorporate LED lighting fixtures during your bathroom planning and bathroom design process.
10. Make a Statement
Low-slung pendants and statement chandeliers now come in bathroom-friendly designs. If you are wanting to incorporate statement fixtures in your bathroom design make sure to select designs which are made from moisture-resistant materials such as chrome, lacquered brass and nickel.
It is important to consult with your bathroom designer during the planning process to find bathroom lighting and fixtures that have the correct levels of IP according to the area it will be place.
11. Create Drama with a Bold Fitting
Recently, bathroom designers recommend overhead lighting fixtures. Overhead lighting fixtures are perfect to bridge the gap between your bathroom floor and high ceilings. Ceilings, especially in the bathroom are usually a blank canvas unlike floors where tiles can be incorporated. A perfect modern bathroom design you can incorporate is using pendants to help link the whole space together. While it cannot be seen as an atmospheric light source, this modern bathroom design can make the space feel cosier.
12. Choose Antique Style Fittings for Glamor
Bathroom lightings does not need to be boring. Bathroom lighting ideas should be decorative too and a perfect way to give your bathroom character and a modern design twist.
Choose fittings that match the other accessories within the room and choose a bulb colour tone that complements these design aspects. Some modern LEDs can give a vert stark image, while white light can make the bathroom seem cold. On the other hand warmer light tones can provide a more welcoming bathroom atmosphere.
Read More…
Antique Tile Work Bathroom Renovation in Stanmore Bay 
Do I Need a Certain Light for a Bathroom?
As mentioned above, it is important to incorporate lighting fixtures that are bathroom friendly. Bathrooms especially have strict design regulations you must follow. To ensure that your chosen lighting fixture is certified for bathroom use, identify its IP rating is appropriate for the area it will be located in.
How Do You Light a Small Bathroom?

Lighting a small bathroom can be scary as there is a risk the space can look smaller. It is best to start analysing the area you will be working with, with your bathroom designer. Plan the space, its properties and what the space is going to be used for.
Most bathrooms can be easily spilt into zone: the vanity area, the bath, and the shower. A perfect modern bathroom design scheme is to think about installing spots or LEDS in vertical row down the side of mirrors that will be placed above the vanity. By doing this it will give more flattering light with less shadows.
In compact areas such as in a small bathroom design, try opt out for mirrored cabinets with integral lighting.
Good lighting schemes offer more than mere practicality. A good lighting scheme in your bathroom or small bathroom design is an easy way to transform your home. It can make a space seem larger and airier. It can also play with proportions and disguise less flattering aspects of your bathroom. Good bathroom lighting fixtures can radically change the mood of your bathroom layout and design, running the spectrum from dramatic and enlivening, to soft and relaxing.
A well planned lighting structure and design can even make a basement bathroom feel as if it is above ground.
Read More…
Current Design Trends Recommended by Designers 2022
Achieve Beautiful Bathroom Flooring
How to plan design a bathroom? One of the first steps during your bathroom renovation journey is to think about what type of flooring a bathroom design you want to achieve. Porcelain, natural stone, terracotta are all possible bathroom floor tile ideas that provide a luxurious yet practical flooring design. Our bathroom designers recommend taking practicality into consideration when designing your bathroom floor. Avoid materials that are unsuitable for wet environments such as wood flooring.
Read More…
Bathroom Tile Design Recommendations and Trends 
Modern Small Master Bathroom Ideas
What is the best layout for a bathroom? How do you make the most out of a small bathroom? While we can't necessarily change the size of our bathrooms, it doesn't mean we can't change it to suit our needs and aesthetic. Make the most out of your small bathroom with these following ideas.
1.     Install a sliding door
If you have a small master bathroom and want to utilise the space as much as possible, install a sliding door instead of having a regular door. This is a great feature to include in your master bathroom ideas as it can make your modern small bathroom look bigger.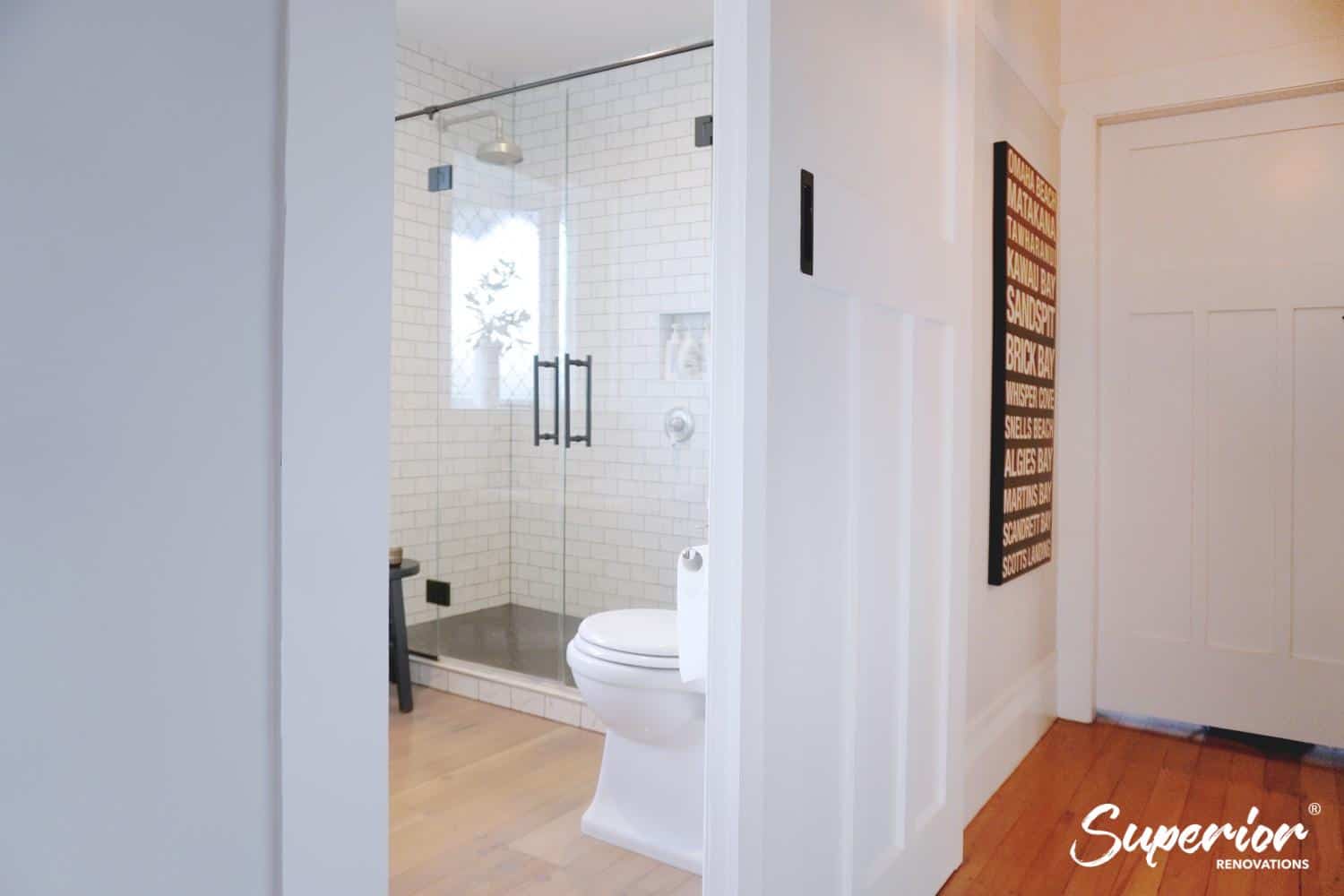 Take a look at this vintage bathroom 
2.     Use a large-scale pattern
A key tip to create the illusion of space in your small master bathroom ideas is using large scale tile pattern. Using larger tiles can help make your modern small bathroom look bigger due to having fewer grout lines. You're also able to put the tiles on both floors and walls. You'd want to continue using the same tiles as it would create a more cohesive look in your master bathroom ideas.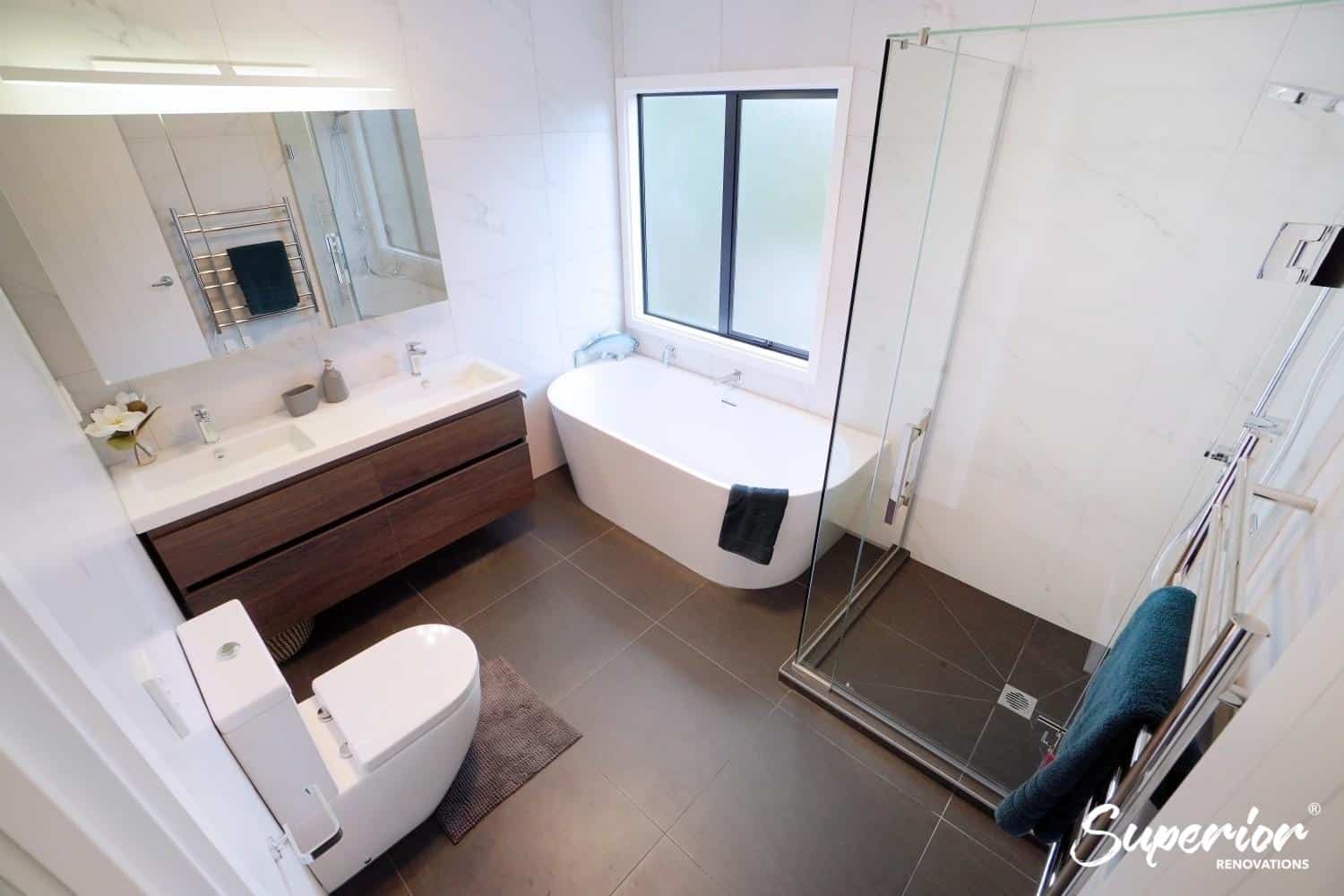 View more…
Bathroom renovation North Shore
3.     Install a skylight
If possible, think about adding a skylight into your master bathroom ideas. This is a fantastic idea for a small master bathroom since it will use diffused natural light rather than direct artificial light. Allowing as much natural sunlight as possible in your master bathroom ideas would help make your modern small bathroom look more spacious.
4.     Floating Vanity
Another popular feature that many people choose to make their modern small bathroom look bigger is having a floating vanity. For a small master bathroom ideas, you'd want to have enough space for storage, and you'd want to have closed storage to make your modern small bathroom look cleaner. Having a floating vanity allows for storage space underneath the vanity for storing items in basket.
View more photos from our case study of this bathroom renovation. 
5.     Install under cabinet lights
Installing under cabinet lights will add more lighting to your modern small bathroom ideas as it will also part of your bathroom lighting. Under cabinet lights are usually used with LED lights which are cost efficient last a long time, so you won't need to constantly change the lights. Consider this in your bathroom design ideas as cabinets and countertops darken spaces underneath. Adding cabinet lights will get rid of the darken spaces and help make your modern small bathroom look bigger.
6.     Expand the mirror
For your modern small bathroom ideas, think about expanding the mirror instead of having a small mirror in your bathroom plans. Expanding your mirror will help maximize space in your master bathroom and help make the room feel bigger. Mirrors can improve and brighten a space.
7.     Choose fixtures with storage
Space is limited in a small bathroom, so storage is important. You'd want to make sure you utilise space and ensure that there is enough storage for everything even if it's for a master bathroom. Storage is an important aspect to consider in your bathroom plans as you'd need space to put your items. If possible, pick a mirror that has shelves at the back of it. A place to store a few things that you use daily. This would be a great addition to your bathroom design ideas.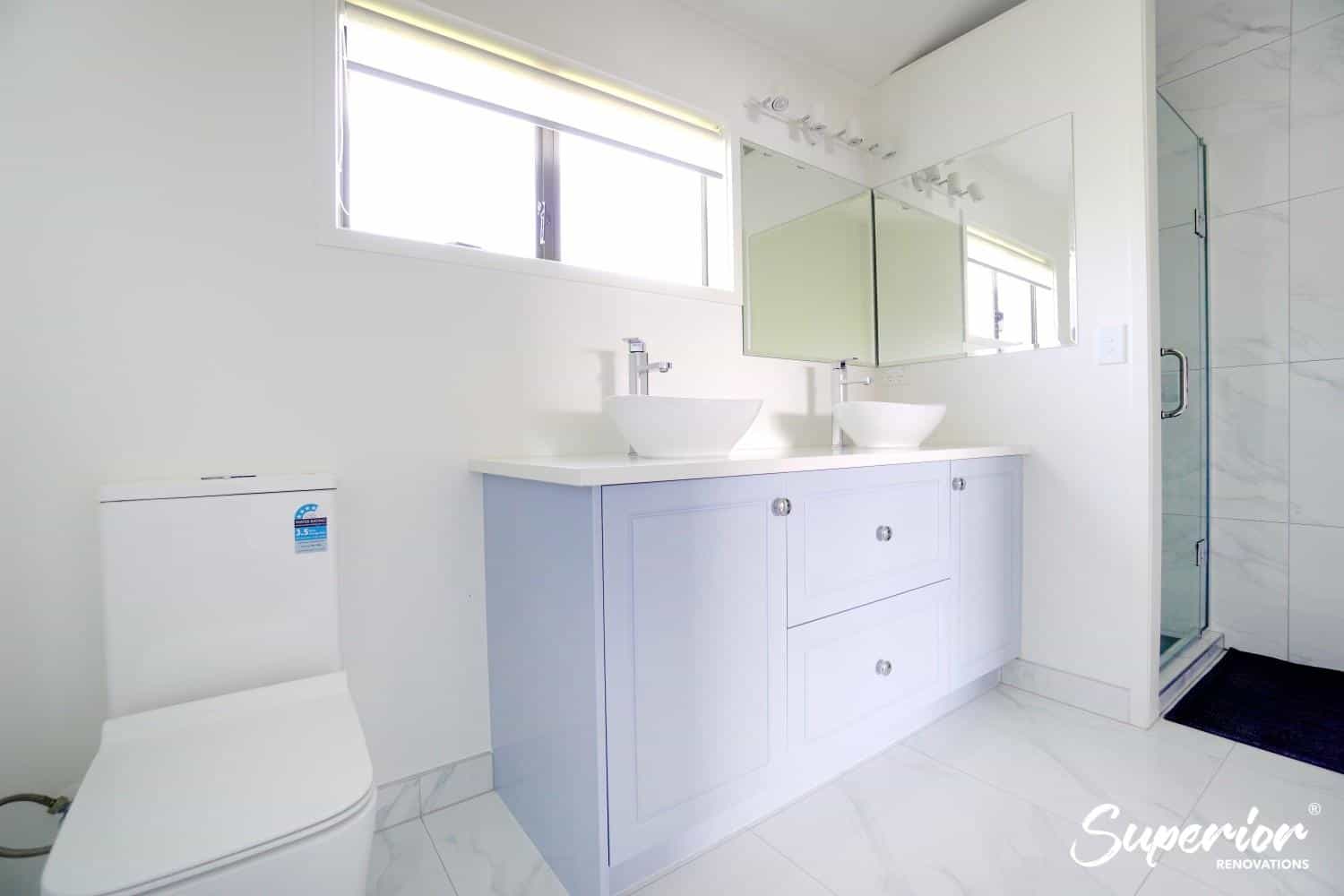 Ensure you don't make these mistakes in your small bathroom design by having a read of our blog.
Ensure you Cater for Bathroom Storage
At the starting point of your bathroom design scheme, think about bathroom storage ideas. Particularly the amount and type of storage you need that will tailor to your specific requirements and lifestyle.
Bespoke joinery can be made to fit the space and style of your bathroom design. A popular modern bathroom design for a small bathroom is a vanity unit wrapped in tongue and groove panelling to match the wall and built to the same height. This will make your small bathroom and small bathroom design look less obtrusive whilst achieving good storage options for your bathroom.
What Else do I need to Consider when Planning a Bathroom?
So, how do you design a bathroom and what else do you need to consider when planning a bathroom?
Shiny new fittings can highlight imperfections of your original bathroom space, so it is worth updating architectural elements such as doors, plinths and cornicing. A simple skim of plaster can tidy up a scrappy messy ceiling and a well-dressed windows will also help contribute in making a change to your small bathroom/bathroom.
Don't forget to keep some budget for beautiful bathroom accessories that will bring the whole bathroom design together. Make sure you are incorporating plenty of lovely toiletries and think towels as a finishing touch to your luxurious new bathroom layout and design.
Will an Extra Bathroom Add Value to your Home?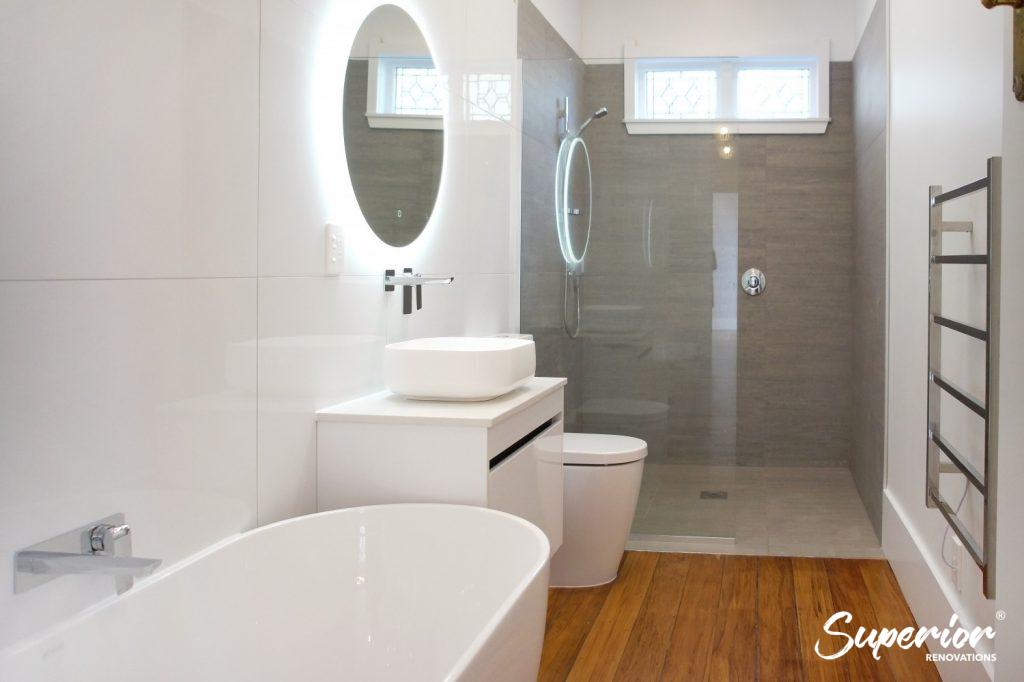 A common question our bathroom designers get asked is whether adding an extra bathroom will add value to your home. It will most certainly will and a bathroom renovation and change up of your bathroom design will significantly pay off when selling your home.
Some ways you can add an extra bathroom is turning an adjacent box room into an en suite. Turning a unused area of an upstairs landing to a bathroom is a perfect renovation project. A cloakroom can be turned into a shower room if there are no shower rooms upstairs or in the bathrooms. However, plumbing a new room is easier and cheaper to renovate into a bathroom if it is located next door to an existing bathroom or above a kitchen. This will allow limited pipework making the bathroom renovation process more affordable.
Read More…
Home Extension Cost Calculator 
What Makes a Good Bathroom?
The secret to a good bathroom is measured entirely on how well the space supports individual needs. Every individual will have their different priorities. For example, a family bathroom might require booth a bath and a shower and a lot of storage options. Whereas an en suite might just need a small shower and toilet.
In both situations the bathroom layout is key and understanding the bathroom layout of your space is a good place to start. Think about both lighting and storage and what the best ways of achieving these are for your own bathroom space.
Read More…
Our Top Bathroom Renovations of 2021
Bathroom Renovation Cost Calculator 
When designing a bathroom, where do you start?
Create your ideal bathroom layout plan! It is important to have good knowledge of your current layout. Be aware of where your pipelines are and start constructing a general layout.
How much does a bathroom renovation cost?
The price for each renovation process varies. The cost depends on what type of materials and fixtures you decide to use for your bathroom. Some materials are sufficiently more expensive than others. Try out our bathroom cost calculator to get a rough estimated cost: https://superiorrenovations.co.nz/bathroom-renovation-cost-calculator-auckland-homes/
Is it difficult to renovation your bathroom?
Not at all! With the right team and guidance from a professional such as a designer and/or builder renovating your bathroom should not be difficult nor scary.
---
Further Resources for your house renovation
Featured projects and Client stories to see specifications on some of the projects.
Real client stories from Auckland
---
Need more information?
Take advantage of our FREE Complete Home Renovation Guide (48 pages), whether you're already renovating or in the process of deciding to renovate, it's not an easy process, this guide which includes a free 100+ point check list – will help you avoid costly mistakes.
Download Free Renovation Guide (PDF)
---
Or call us on   0800 199 888
---
Have you been putting off getting renovations done?
We have partnered with Q Mastercard ® to provide you an 18 Month Interest-Free Payment Option, you can enjoy your new home now and stress less.
Learn More about Interest-Free Payment Options*
*Lending criteria, fees, terms and conditions apply. Mastercard is a registered trademark and the circles design is a trademark of Mastercard International Incorporated.
Please note: Whilst all information is considered to be true and correct at the date of publication, changes in circumstances after the time of publication may impact on the accuracy of the information. The information may change without notice and Superior Renovations is not in any way liabe for the accuracy of any information printed and stored or in any way interpreted and used by a user.[/vc_column_text][/vc_column][/vc_row]