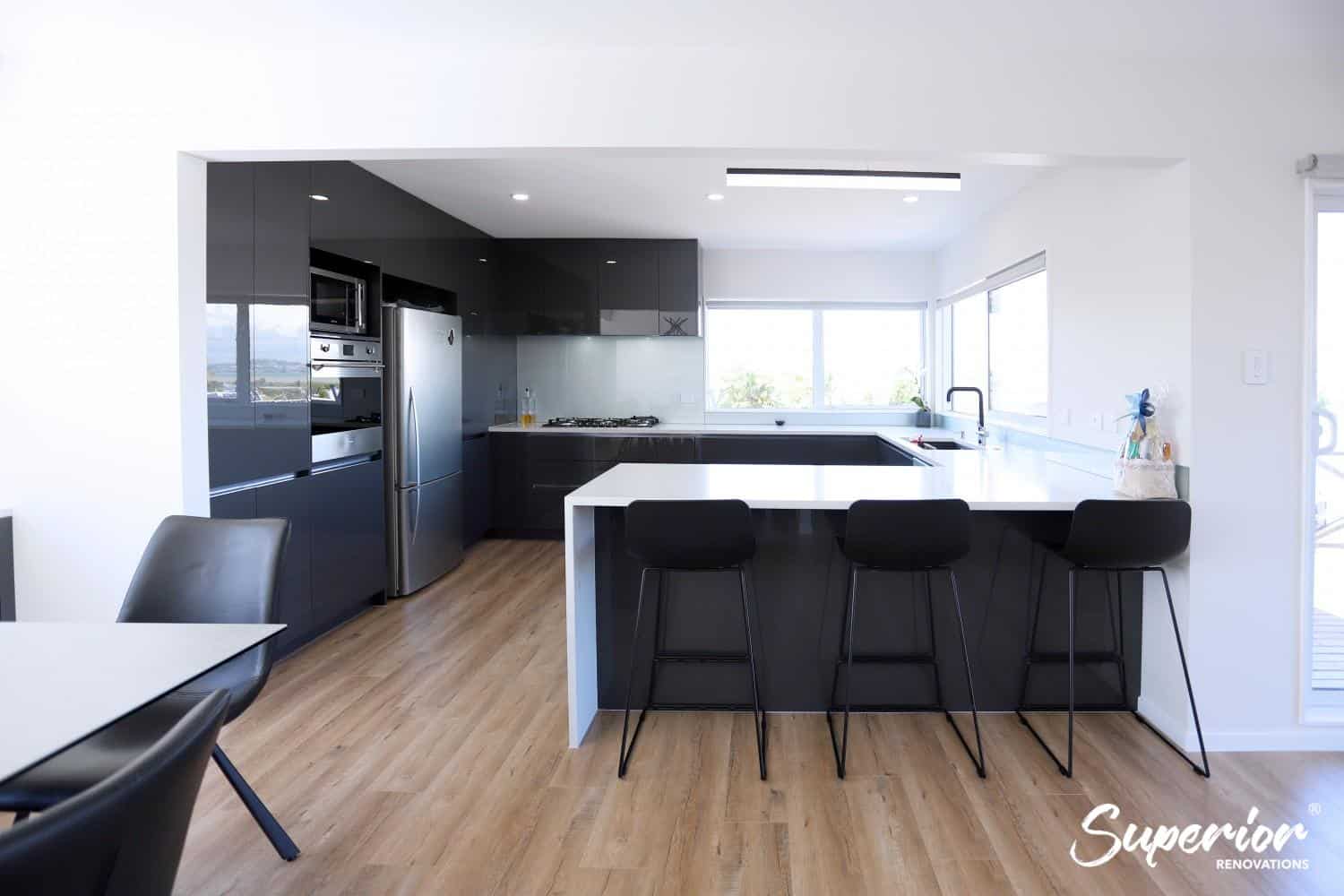 A Guide on designing 6 different Kitchen designs and styles in Auckland
Kitchens today have a multi faceted role in our lives and are not merely a place where the cooking is done. As we evolve more towards an open style living, our kitchens have become a focal point of how families interact on an everyday basis. It is a place where everyone gets together to cook, it is also a place where family and friends come over and hang around on bar stools while others cook.
This open style living has made it even more important for our kitchens to be functional, have a good kitchen layout and be aesthetically attractive. Having an open plan kitchen means that the aesthetics of the rest of your home is often extended to the kitchen in order to have some continuity.
This guide will discuss elements that go into creating 6 distinct types of kitchens that are popular today. Read this guide if you are thinking of renovating your kitchen or planning an upgrade.
Key Elements to design:
---
---
Key Elements of Classic Kitchen Designs  ↑
Classic kitchens are supposed to reflect a timeless kitchen design that does not go out of style. They should not however be confused for traditional kitchen designs. Classic kitchens have a neutral palette that gives it a fresh new feel.
As classic kitchens mostly have a neutral palette, they might not be for everyone. They might feel too bland for people who love colours and perhaps too ornate for people who like sleek modern lines for their interiors.
Due to their neutral palette they will easily complement the rest of your home's interior. If the rest of your home is modern, then a few small changes in your classic kitchen can modernise it.
Colour Schemes in  Classic Kitchen Designs
As mentioned above, classic kitchens are meant to have a simple and light design with minor ornate detailing. They are not too dark, traditional, or complicated in their kitchen design. Classic Kitchen designs have a neutral overall colour palette for their walls and cabinets. This however does not have to mean that they need to look bland.
A great way to add some interest and colour is to add a dark countertop/benchtop. Create contrast by adding dark light fixtures, benchtops, flooring, or minor detailing to the neutral colour scheme.
The above kitchen was renovated in a Historic home in Epsom. The previous kitchen was in a traditional style but the new owners wanted a more timeless look for their kitchen. We demolished the previous fixtures and custom built the kitchen in a classic style.  See full project specifications: Classic Kitchen renovation in Epsom
Cabinets in Classic Kitchen Designs
Always remember your design brief when choosing fixtures and materials for your classic kitchen design. A classic kitchen needs to be timeless which means that the cabinetry should be chosen keeping simplicity in mind. Too many ornate features on the cabinets will make the kitchen design look too traditional. Instead, opt for shaker style cabinet doors which feature clean lines with a recessed centre in the middle. If you do want to add more details on the cabinets then you can add some bead moulding on the edges.
When renovating classic kitchens, we use Dezignatek Thermoform that is wrapped around the cabinets with minor detailing. Thermoformed doors are of a high quality and are highly durable which makes them a great choice for cabinets in a classic kitchen.
Handles and Doorknobs
A no-handle set up which is often featured in modern kitchens, does not work well for classic kitchens. This style is too modern for a timeless look which means that you should opt for cabinet door handles in your classic kitchen design.
You can also create contrast to an otherwise neutral kitchen with door handles. Try using matte black door handles to add elegance and interest in your classic kitchen design. Shiny handles can make your kitchen look more contemporary.
Benchtops
Although it is quite high-maintenance, marble is one of the essential elements in a traditional kitchen. Granite or Caesar stones can work too, as long as you opt for a monochrome color scheme.
A black marble bench top would provide a great contrast to an overpowering all-white kitchen.
Marble countertops are an essential for classic kitchens. However marble is very hard to maintain and can prove to be very expensive. Alternatives to marble can be stone engineered countertops that can be given a marble or granite look. Stone engineered countertops can be made to look like marble with a design on them and can be made in any colour.
If you want some contrast in your kitchen then you can opt for darker shades for your countertop.
Fixtures and Hardware
A great thing about classic kitchens is that they can be transformed into any other style by mixing elements of different styles within the design.
Sinks and Faucets
Sinks in classic kitchens are usually not chrome or stainless steel. A white butler's sink works great for classic kitchen designs. If you do not want to butler's sink, then opt for a Silgranit sink which comes in various colours and textures. More of our clients are going with classic Silgranit sinks as they are more durable and can make your kitchen look more contemporary.
| | |
| --- | --- |
| Black Silgranit sink used in a Kitchen renovation in Rosedale, Albany | Textured double grey Silgranit Sink used in a Kitchen renovation in Papatoetoe |
Antique looking taps with a high spout works in matte brass colours can be within a classic kitchen design to add something of the past and present. If you are not fond of brass looking taps then you can also opt for taps in chrome or other colours as long as they do not look too sleek or ornate.
Astra Walker range from Kitchen Hub has several designs in their classic and contemporary range to choose from for any type of classic kitchen design.
| | |
| --- | --- |
| Kitchen Hub's classic kitchen tapware | Long sprouted curved tap in a kitchen renovation in Epsom |
If you are looking for a purely classic theme, then you can use the Astra Walker classic range to add some history and drama to the design.  Use matte black fixtures to create contrast or you can use shinier chrome for a more neutral design.
Cooking Range and Splashback
A cooking standalone cooking range which slides in between your cabinets makes for a great focal point in a classic kitchen. A dark grey rangehood with iron grates and upward knobs should be used instead of induction cooktops as they look too modern for a classic kitchen.
The size of your tiles is not important when choosing a splashback for your kitchen design. As mentioned above, it is more the colour palette that is important in a classic kitchens. You can add textured tiles or even marble in neutral colours as your splashback. If you want to add some interest then you can use dark grey grouting between tiles.
Light fixtures
A great way of introducing focal points and interest in your classic kitchen design can be through pendant lighting. A long antique looking pendant lightings which hangs above your island can really lift your kitchen design. Their height can be adjusted to suit the length that you prefer.
| | |
| --- | --- |
| This long multi-bulb pendant light was installed above the dining table | Two separate long pendant lights installed above the breakfast Island |
We do however suggest only getting a couple of pendant lights for your kitchen as too many of them can give your kitchen a cluttered feel. If you have a large kitchen then you can install wall mounted lighting which do not look to sleek.
---
---
Key Elements of Traditional Kitchen Designs  ꜛ
Traditional kitchens are all about intricate features in cabinets, ceilings, and countertops. They put an emphasis on details and most traditional kitchens work well in larger spaces. This is because most traditional kitchen designs feature a darker colour palette and a furniture-like pieces that can feel bulky if you have a small area to work in. More modern traditional kitchen designs feature a lighter palette which have dainty and delicate crown mouldings etc which are often seen in old villas and cottages of Auckland.
Colour scheme in Traditional Kitchens
Classic and contemporary kitchens often feature cool colours in their kitchens but the colour scheme in traditional kitchens mostly feature warm colours. Light beige, yellows and shades of brown are often popular in traditional kitchen designs which mimic the kitchens of the past. Having a traditional kitchen does not mean that your kitchen must look dingy, dark or outdates.
Understanding the different shades of brown and yellows and how well they work together can make all the difference in designing a beautiful kitchen that almost mimics Villas in Tuscany and Spain. If you are going with dark cabinets then choose a lighter beige countertop with orange or yellow undertones.
The above renovation was done in Stanmore Bay for our client who hailed from the US. She wanted to renovate her closed off kitchen into an open plan kitchen in a traditional style. Her brief was that she wanted her kitchen to feel like a rustic style Spanish Villa. The use of brows, yellows, brass, wood and mosaic are reminiscent of Spanish Villas. See full project specifications – Mary Stuart's Kitchen Renovation 
Since there is a lot of dark colour used in cabinets in a traditional kitchen, we often suggest our clients to go for lighter walls as this will make the rest of your kitchen stand out more. You can also opt for lighter white cabinets if you have a small space, but this is usually seen in cottage style kitchens. We will discuss cottage style kitchen designs later in this article.
Some traditional kitchens also include features and cabinets that are a darker blue and are mostly popular in the UK. These kitchens could also be categorised as country kitchens or cottage style kitchens.
Cabinets in Traditional Kitchen Designs
Cabinets are the star of a traditional kitchen as they are full of character through rich warm colours, details and ornate handles. Unlike contemporary or modern style kitchens which focus on simplicity, traditional cabinets focus on embellished designs for their cabinets. If you want a traditional kitchen design, then stay away from shaker style cabinets or plain smooth ones.
Instead, opt for a more vintage raised panel or a classic raised panel for the cabinet doors. Also stay away from a shiny finish and choose matte materials for your kitchen cabinets. Another great way to incorporate a traditional feel for your kitchen would be to use glass display doors for one side of the wall mounted cabinets. Traditional kitchen designs often feature a mix of open shelves, closed bottom cabinets and a few cabinets that have a glass front door. This will also make you kitchen appear more spacious.
Mary wanted her cabinets to look like they had been made by real wood like Oak or Timber. Oak and Timber are however very expensive especially in New Zealand. We custom built all cabinets with MDF boards and the front panels were made with textured woodgrain 'Jarrad Legend' Melteca.  This is a highly durable material that does not require much maintenance. We also used rustic looking dull cupboard handles for all cabinetry.
Handles and Doorknobs
Cabinet handles should exude a sense of old-world charm in traditional kitchens. Think brass ornate handles or even drop-down handles for your kitchen cabinet and drawers. If you feel that drop down handles are too bulky or too traditional looking then choose small, rounded knobs for a cleaner look.
You can also look for cabinet handles which are decorative to bring out a more Spanish feel to your kitchen design. If you want a more unified look then use the same doorknobs as the handles for your kitchen cabinets.
Benchtops
As discussed above traditional kitchens are usually found in larger spaces which means that they have an island. Benchtops in traditional kitchens often add a sense of luxury to the overall design. This is because they are often the only shiny element in a traditional kitchen design. The cabinets and other elements of a traditional kitchen are often found in matte finishes so shiny finish benchtop is a great way to add another dimension and depth to the design.
Granite, Quartz and Marble are popular materials for a benchtop in traditional designs. These materials however can prove to be expensive and are hard to maintain. If you have a busy household and do not want to spend time cleaning your benchtop then we would recommend you use a custom-built stone engineered stone for your benchtop.
Most of our clients opt for stone engineered countertops as they are easy to maintain and highly durable. They are also very versatile when it comes to design features as they can be custom built in any colour or texture. We often recommend our clients to use light beige with inbuilt patters for benchtops in traditional kitchens as they complement the darker cabinets well.
Fixtures and Hardware for Traditional Kitchens
You can choose your fixtures based on how traditional you want your kitchen design to be. If you are going for a very traditional design, then keep your appliances ornate and follow our guide below. If you want to include elements of a contemporary or classic design, then simply include fixtures from contemporary or classic designs. Classic and contemporary kitchens complement traditional designs so you will still be able to achieve a symbiotic design. Modern design fixtures however do not go well with traditional styles and hence should not be incorporated into a traditional kitchen design.
Sinks and Faucets
The things that make a traditional kitchen are its details. If you are going for a more Tuscan style or Spanish style traditional kitchen then use brass sinks and long arched brass faucets. If you are however going for more English style kitchen then use chrome taps with ornate details and a separate hot and cold tap.
Cooking Range and Splashback
Traditionally cooking ranges were not mounted on a benchtop with screws which has become a growing trend now for contemporary and modern kitchens. Traditional kitchens mostly feature a standalone cooking top with canopy style rangehood. They are usually gas burning and are slid in between two countertops.
If you do not want the slide in type of cooktop then you can also get a gas hob with grills which can be screwed on top of the countertop. The canopy style rangehood however can still be attached over the gas hob to bring out a more traditional feel.
Splashbacks in traditional kitchens should be kept simple in design. This is so that your countertops and cabinets remain the star of the show. You can use either tiled splashbacks in light beige or neutral colours. Keep the finish of your splashbacks on the duller and matte side and do not go for an overly shiny finish.
KITCHEN LAYOUT GUIDE TO CREATE A FUNCTIONAL KITCHEN DESIGN – 2021 EDITION
Light Fixtures
Light fixtures in any kitchen should be installed in a way that they highlight all the working areas in the kitchen. This is important as a lot of kitchen designs end up looking dingy if they are not properly lit. Traditional kitchens often have a chandelier that is installed above the island and ornate wall mounted lighting on the walls. If you feel like a chandelier is making your kitchen look too bulky and busy then you can also opt for pendant lighting which have a more antique feel to them. If you have cabinets on the top half of your kitchen then you will be unable to install wall mounted lighting. In such cases you can also install lights lamps that hang closer to the ceiling. A great way to create interest is to add some stained-glass lamps on the ceiling.
---
---
Contemporary Vs Modern Kitchen Designs

ꜛ
The term modern kitchens and contemporary kitchens are often used interchangeably these days. This however is not entirely correct. While some elements do overlap for these two designs, they are fundamentally different. While the term 'modern design' refers to a design movement that begun in the 1940's, which completely broke from the traditional kitchen designs.
It is important to understand the difference between contemporary and modern kitchens before you finalise your kitchen design. Contemporary kitchens reflect the trends of today and often feature various patterns and colours in their design. Saying this, contemporary designs usually borrow elements from other styles as old trends are always coming back in fashion. They also use renovation materials that are of the current era for example stone engineered benchtops. One of the biggest differences of modern and contemporary kitchens is that modern kitchens lack ornamentation. Contemporary kitchen designs on the other hand are a marriage of various styles and patterns which can also be ornamental depending on the trends of today.
Modern Kitchens feature a clean uncluttered look and were revolutionary for their time as they broke free from traditional kitchens. See full project details – Full Kitchen renovation in Blockhouse Bay, Auckland.
The contemporary Kitchen is very different from modern kitchens as it is constantly evolving to include trends of the day in their kitchen designs. See full project details – Guru and Neeta's Kitchen renovation in Massey, Auckland
In this section we will discuss the differences and similarities between modern and contemporary kitchens and the design elements that make each design possible.
Similarities of Contemporary and Modern Kitchen designs
Contemporary and modern styles favour a seamless and uncluttered overall look for their kitchens. They feature clean lines smooth spaces that exude a comfortable and calm vibe in the room. The features seen in contemporary and modern kitchens are not cumbersome, bulky, or ornate.
Both types of designs often integrate shiny surfaces and materials such as stainless steel, other metals or glass. Contemporary designs also feature lots of wooden elements such as countertops or a feature wall. This should not be confused with all wooden cabinets found in traditional kitchens. The wood used in contemporary kitchens is usually raw and without any ornate details. While modern kitchens have a 'no fuss' design, contemporary kitchens often borrow elements from other styles and can incorporate elements from traditional, modern, classic, or industrial kitchens depending on the trend of the day.
In short, the similarities of both styles are as follows:
Both have a minimalistic look to them
They both exude an open space feel which is calming
Clean architectural line is the hallmark of both these designs.
What makes a Contemporary kitchen design?
Contemporary kitchens are ever evolving, and their design changes every decade or so to reflect the new trends of the decade. Contemporary kitchen designs borrow elements from various styles like art deco, traditional, industrial, and modern designs.
Contemporary kitchens are simple and minimalistic but have a layered look which comes from using several materials, patterns, and textures.
The above renovation has a contemporary design with a no-handle set up, soft close cabinets, marble look-alike benchtop, hexagonal tiled backsplash, silgranit sink with a hot water tap, and concrete floors. This is a great example of how current trends are incorporated within the overall kitchen design. See full project details – Luxury Kitchen renovation in Parnell, Auckland
Cabinets
The cabinets in contemporary kitchen have clean lines, are sleek and lack ornamentation. They are built in a simple rectangle or square and are constructed as a full overlay. Little to no cabinet frame can be seen which gives it a seamless look. The cabinet fronts do not have any ornamentation and are completely smooth. The cabinets usually feature a no-handle set up with LED lights that give it a more futuristic look. As contemporary designs are all about latest conveniences and trends, they have creative storage solutions like 'magic corners', pull out drawer pantries and hidden bins.
| | |
| --- | --- |
| Yellow LED lights installed below the countertop which provides a great contrast to black cabinets | White LED lights installed below the top cabinets to highlight the backsplash and cooking range |
Technology
Technology plays a vital role in a contemporary kitchen design. The electronics are sleek and high functioning. Induction cooktops built in coffee machines and commercial grade appliances are often seen in contemporary kitchens.
| | |
| --- | --- |
| All LED lights in this kitchen can be made dimmer or brighter with this central remote | The above plug points can be pushed back into the countertop when not needed |
Colour scheme
While lots of contemporary kitchens stick to a grey, black, or white, there is ample ways that colours ca be infused into their kitchen design. If colour is added then it is often pure saturated tones. Contemporary kitchens often feature bold colours and have a larger colour palette. You will often see an accent wall with a bold colour or patterns. They also include splashbacks that come in various shapes and textures. Some contemporary kitchen designs make a bold impact with coloured countertops or cabinets.
Other Materials
As mentioned above, contemporary kitchens have a layered look about them which is achieved through various textures, colours, and shapes. This is a huge difference between modern and contemporary kitchens. Concrete, wood, concrete, stainless steel, and glass are great examples of materials that are used in combination to give a layered look. Stainless steel is especially popular in contemporary kitchens as it makes a kitchen look more commercial which has been a prominent trend of today.
Concrete is also often featured in contemporary design as it is a material used in industrial designs. Industrial designs have become increasingly popular in the last few years and will be growing stronger in the next decade. Today's contemporary design borrows several elements from industrial kitchens. The most popular is the use of concrete for flooring and benchtops. Other elements include tapware and pendant lighting. Glass tiles are also featured in contemporary kitchens. They can be used as a backsplash or cabinet doors.
| | |
| --- | --- |
| Poured concrete floor was chosen for this kitchen in Parnell | Hexagonal textured tiled used as a backsplash |
More Contemporary Kitchen Renovations in Auckland: 

Lynette and Henry's contemporary kitchen in Bucklands Beach
Guru and Neeta's Contemporary Kitchen in Massey
Urban Luxury Kitchen in Parnell
Kitchen renovation in West Harbour
---
What makes a Modern Kitchen design?
Modern kitchens first emerged in 1940s as a break from traditional kitchens. They were suddenly an extension of the living and dining room as opposed to a separate room. This made it necessary for the kitchen to look good along with being functional. The key features of modern kitchens is clean sleek lines and no embellishments or ornamentation.
The above Kitchen was renovated with a modern design in mind. It shows how simple modern kitchens actually are. They look clean and have no embellishments. See full project details – Modern Kitchen renovation in Papatoetoe for a family with young children
Cabinets
Like contemporary cabinets, a modern kitchen design has a full overlay over the cabinets which means that you cannot see the frame of the cabinets. They also feature slab door and cabinet fronts without any design on them. This gives it a smooth and sleek look which the hallmark of modern design. These cabinets also have sleek door cabinet handles and do not have a no-handle set up.
| | |
| --- | --- |
| Simple slab door fronts with long handles – Modern kitchen in Blockhouse Bay | Another example of plain slabs used for cabinets – Modern kitchen in Avondale |
In both the pictures seen above, white has been used as a dominant colour for the kitchen with flooring the only contrasting feature colour wise. The picture on the left has handles as seen in most modern kicthens while there are no handles in the kitchen seen on the right.

See full project details (picture on the left) – Modern Kitchen in Blockhouse Bay 
See full project details (picture on the right) – Modern Kitchen in Avondale
No ornamentation
Modern kitchen designs do not have pattered tiles, multiple shapes, textures, and colours in their design. The countertops, benchtops, cabinet fronts and backsplash have a smooth surface without any veining or texture.
Highlighting natural materials
Highlighting the natural materials is key in creating a beautiful modern kitchen. Use horizontal grain of Oak or manufactured Oak for your cupboards. For benchtops think marble or stone engineered stone without any veins. Always remember to keep the elements as simple as possible. Let the quality of materials shine through.
Horizontal Lines
Modern kitchen designs often emphasise on horizontal lines in their kitchen design. The look could include long wide lines of stacked cabinets that are stacked in a row. This could also be done by installing a splashback or an accent wall which has wide horizontal panels stacked together on top of each other.
Choose elements that are of a similar colour and design.
All elements in a modern kitchen are chosen in a similar design and colour with no ornamentation. Think of pendant lights, dining chairs, bar stoons and tables. They should all be simple and in similar shades of colours of each other. This creates a clean and sleek look which is what a modern design is about.
Benchtops
Modern kitchens are all about highlighting good quality materials in their design. Think about quality when choosing a benchtop for your modern kitchen. Quartz is a great choice for modern kitchens are they need no design or ornamentation to look and feel good.
Quartz can prove to be a very expensive material in New Zealand so you can try and find alternatives to fit your budget. Today's technology allows us to engineer materials to emulate the look and feel of quartz at a lower cost.
---
---
Key Elements of Cottage Style Kitchen Designs ꜛ
Cottage style kitchen designs are supposed to exude a sense of warmth, comfort, and cosiness. Their design is inspired from old English cottage kitchens which are inviting, homely and a place for the family to get together. They often feature a small dining area within the kitchen space and is supposed to have a casual feel.
Many people are reverting to a cottage styled kitchen for their villas, bungalows or baches in rural areas as they complement the rest of the exterior architecture of such homes.
The above kitchen was renovated to reflect the abundant nature around the house. Our client wanted a cottage style kitchen which was inviting. It features tiled wooden lookin floors, real wood which was treated in order to preserve it, white recessed cabinets with cup style pulls, open floating shelves and a butler's sink. See full project details – Cottage Style Kitchen renovation in Mangere Bridge, Auckland
Colour Palette
If you think about cottages, you always think of a light palette. Neutral whites, beige, light pinks, and pale blues work best in cottage style kitchens. Pale pink and blue can however make your kitchen look a bit dated, so we mostly recommend our clients from using shades of white or light beige for their kitchens. Buttercup yellow is also a nice way to infuse some colour in cottage style kitchens. You can however incorporate colour within the kitchen by choosing natural wooden looking benchtops or cabinet handles.
Cabinets and Handles
We recommend using shaker style cabinets with minor detailing for an overall vintage look. Choose a light colour for your cabinets and create contrast by adding matte black handle. You could also incorporate a free-standing cabinet with a sliding glass door to display crockery. Add some corbels under your upper cabinets which is a very common feature for cottage kitchens.
For handles think about brass, or matte black simple knobs or cup-style drawer pulls. Cup style drawer pulls complement a white shaker style cabinet very well and add to the cottage style.
Open Shelving
Open shelving was very popular in older cottages as they allowed cooks to easily retrieve cooking utensils. They were often found in place of today's upper cabinetry and were also installed as building additional upper cabinets was expensive. Open shelves today are mostly used for decorative purposes. You can also use them to store your cups, plates, and other crockery to create some interest.
Sinks and Tap-ware
We recommend installing a butler style sink for your cottage style kitchen. These sinks are large, rectangular and very deep which means that they also have a practical advantage over other types of sinks. Butler's sinks are usually made of ceramic and you will be able to wash your biggest pot comfortably in it.
You can pair your sink with old English looking taps with a separate handle for hot and cold water. Kitchen Hub's Astra walker collection has an 'olde English' range which works great with a Butler style sink. You can either use a brass toned colour or go for a classic chrome.
Benchtop
Having a benchtop in a brown shade or using real treated wood is a great way to add some contrast and colour to your country style kitchen. Most country kitchens feature wooden benchtops, but they are not always very practical. One of our clients in Mangere Bridge, Auckland wanted a wooden benchtop for her country style kitchen, so we treated it in a way that it would avoid future wear and tear.
We used American Ashwood as a countertop for the above renovation. It was then stained to a walnut colour which was a perfect shade to for this design. After staining, we applied Epoxy Urethin Vinyl on the benchtop as well as the floating shelves. This was done to prevent the wood from rotting and to avoid wear and tear. This would have to be re-applied every 15 years. After the coating we finally applied varnish to give it some lustre. The varnish will have to be re-applied every couple of years in order to maintain the shine. See full project specifications – Cottage style kitchen renovation in Mangere Bridge, Auckland
Wall Panelling
Wall panelling was a big part of interior design in the past. Homes designed in the traditional style featured dark panelled walls in most rooms. Cottages on the other hand had white panelled walls with vertical grooves. They were usually found in whites or creams or the same colour as the cabinets. This however might feel dated today so instead install dull subway tiles between the countertops for a similar but more contemporary feel.
Q & A WITH HOLLY (THE KITCHEN HUB) – CHOOSING THE RIGHT TAPWARE FOR YOUR BATHROOM DESIGN
Hardwood Floors
Cottage style kitchens mostly feature hardwood floors to give them a nice warm homely feel. This also creates a contrast with cabinets that are often found in light colours. Hardwood floors however are not very practical as they require high maintenance and are also expensive.
An alternative to hardwood floors would be to use tiles that emulate hardwood floors in texture, design, and aesthetics. These tiles are easy to source, install and are very easy to maintain.
Lighting
Olden day cottages did not have recessed lighting and had to depend on pendant style lighting for their kitchens. Low hanging pendant lighting also makes a space feel homely and inviting. You can either choose vintage inspired lighting or have a stained-glass pendant lighting to add further interest.
---
---
Key Elements of Industrial Kitchen Designs ꜛ
Industrial styled homes and kitchens depend on their materials for the overall look of their design. Materials such as iron, concrete and cement are often highlighted in industrial styled kitchens. They also feature high ceilings, large windows, and exposed brick. The style first originated from the USA and is sometimes also referred to as New York style apartment design. This design first started in homes that looked like loft style or warehouse style apartments. If designed well, this style can be replicated within normal homes designs in Auckland. Following are some key features that will help you design an industrial styled kitchen for your home.
Open Space and a minimalistic look
One of the most obvious traits of an industrial kitchen is open space and high ceilings. The rough look has become increasingly popular because of its 'airy' nature. Typically, you'll find brick walls, rustic furniture and exposed pipes and beams in an industrial style kitchen, with appliances often dressed in stainless steel. The rough textures blend perfectly with the smooth steel surfaces to form a harmony.
This Industrial Kitchen is a great example of how this design works best in a high ceiling room. You will an exposed air duct at the top of the kitchen which gives the kitchen a raw rustic look. The design includes a large polished concrete island which doubles as a dining area with metal stools. The materials used in this design are the real stars of the show with an overall minimalistic look.
Think of a rough and not overly processed look for your industrial kitchen design. One of the most obvious features of this design is an open plan space with a minimalistic look. The ceilings are high, and all the pipes and beams are exposed. The overall look of this style is however minimalistic without any frills or details on their cabinets or walls. The combination of different materials, their rough texture and raw feel are the highlights of this design.
Materials used in an Industrial Kitchen Design
Cement
Cement is often featured in this design due to its versatility. It can be used wither as a waterfall edged benchtop, as a floor or a splashback. If you are using it as a splashback then we would recommend you use it as a smooth texture so that cleaning is easier.
Brick
Rough looking brick walls can make your space instantly look like an industrial kitchen. If your home is not made of brick then you can also create a false brick wall or you can even use textured brick look alike vinyl.
Iron
Another key element of an industrial kitchen design is iron. Use iron bar stools, furniture, lamps, light fixtures, and shelves for an overall industrial look.
Wood
Using wood in the design will add some warmth to your kitchen design. However, do not use overprocessed or over-polished wood and let is have unpolished and rough edges. You can use wood for the front of your cabinets or even as a countertop.
Stainless Steel
As most of the elements in an industrial kitchen have a matte finish. This can make the design however look a bit dull. Shiny stainless-steel appliances and a big professional looking gas hob can add some depth in the design.
Colour Palette
Most Urban industrial kitchens have a colour palette between grey, brown, and black. You can also add some bold saturated hues as red or mustard. You can use this for your backsplash or even as your benchtop. Another great way of incorporating colours is through furniture like bar stools and lighting accents.
Lighting
Low hanging pendant lighting over countertops and islands in steel or iron is great for industrial themed kitchens. You could even use high hanging exposed bulbs without a screen which is becoming increasingly popular.
Statement Art Pieces
The industrial style was conceived to give a platform to artists which means that they often have iconic pictures of people or movements within their design. They do not have traditional painting but gravitate towards modern and abstract art.
Modern Kitchen Renovation in Papatoetoe, South Auckland
This renovation was done keeping convenience and low maintenance in mind as it was for a family with young children.
See Full Project specifications + Before and After pictures
---
Modern Kitchen Renovation in Hillsborough
This kitchen was renovated in a modern style for a family whose kitchen had started leaking. They needed a complete renovation as the old kitchen had become very shabby.
See full project specifications + Before and After pictures
---
---
Further Resources for your house interior design
---
Do you have a In-house Kitchen designer?
Yes, we do have an In-house Kitchen designer who will help you create a Kitchen design for your kitchen renovation. We provide all our clients with 3D drawings when we create a proposal for you.
What kind of Kitchen layout is best for me?
This will depend on various factors. Read our article on Planning your layout for a functional and practical kitchen design here to understand more about the layout that is right for you : https://superiorrenovations.co.nz/kitchen-layout-planning-guide-to-achieving-a-good-kitchen-design
Do I have to get my own plumbers and electricians?
We provide a full renovation service for any given area. This means that our service will include design, demolition, sourcing of all renovation materials from local supplier showrooms, custom built cabinetry, installation of all cabinets, flooring, fixtures, project management and all trades like electricians, plumbers, grouters, builders, tilers, and any other trades.
---
Still have questions unanswered? schedule a no-obligation consultation with the team at Superior Renovations

---
Or call us on   0800 199 888
---
Have you been putting off getting renovations done?
We have partnered with Q Mastercard ® to provide you an 18 Month Interest-Free Payment Option, you can enjoy your new home now and stress less.
Learn More about Interest-Free Payment Options*
*Lending criteria, fees, terms and conditions apply. Mastercard is a registered trademark and the circles design is a trademark of Mastercard International Incorporated.